LIKE LEAVES + THE SWISS + FROM THE DEAD SEA
"FIRST BIRTHDAY JAM" @ THE ED CASTLE / Saturday May 16th 2009
Rock is dead. It's been dead a long time now. Ever since it discovered cocaine back in the 80's it's been a spent force. Ever since it invented disco, hiphop and electro it's been rendered obsolete. Ever since it broke up The Sex Pistols to form
Bow Wow Wow
and a littany of eighties
bubblegum pop
it's been nothing but a joke. Blame Michael Jackson's "Thriller" for breaking the mold. Blame KLF for
writing the book
and burying it before half of you were even born. Blame Buddy Holly, Elvis Presley, Jimi Hendrix, Jim Morrison, John Lennon, Ian Curtis, Bon Scott, Kurt Cobain and Ozzy Osbourne's brain; why? because all of them are fucking dead! Rock is dead. We've been
fucking a corpse
. We've been
smoking its ashes
. Every weekend is a "Weekend At Bernie's", a Mexican Day Of The Dead and a regurgitated mix tape of greatest hits from the 60's, 70's and 80's. There's truly nothing new out there! Rock is dead. "The record industry discovered some time ago that there aren't that many people who actually like music. For a lot of people, music's annoying, or at the very least they don't need it. They discovered if they could sell music to a lot of those people, they could sell a lot more records."
T Bone Burnett
once said that, I don't know who the fuck he IS but I'm pretty sure he's now dead. Rock is dead. It's an entire industry built on it, their fossil fuel source is now depleted; and now they're fucked. We're stealing all that's left. We're the monks hoarding and copying those manuscripts. We're filling our ipods with it and shutting out the rest of the world going "la-la-la" oblivious to it all; but it doesn't make it any less true. We're living in the dark ages maaan! Rock is dead. It's
Paris Hilton
,
Lindsay Lohan
and
Scarlett Johansson
releasing albums. It's Kayne West, Lady Ga-Ga and MSTRKFRT. It's a ringtone, a reality show contest and a 12" remix. It's a stabbing four four loop, an 8bit squaretooth synth, a robot vocoder and a gender ambigious fashion accessory. It's bling, it's a men's cologne, it's a name brand. It's a dancefloor, it's a doorlist and your name's not on it. Rock is dead. It's long gone. Long live rock & roll!
Still there's always exceptions to that rule. Adelaide's full of them. The live music venue. They've been keeping those fires burning for years! Rock isn't dead, it's been thriving all this time, you've seen it here every week! Sure no one ever turns up to see this shit unless it's a
CD launch
,
Triple J sponsored
or a
farewell show
(and DJs get ten times the crowds every week no matter what.. isn't that awesome!?) but it's the THOUGHT that counts! YEAAAS!! And tonight we're celebrating one such proud sanctuary, to everything that's STILL vibrant in this live music scene, right here at The Ed Castle for their
first birthday party
tonight! To think
how far they've come
in little over a year!? From a dilapidated drag queen haunt well past its mirrorball glitter back in 2007, to that brief moment of insanity when it almost considered itself a mecca to the
avant garde fringes
, and now it's packed overflowing every week!? Yup, every week it's a metrosexual wonderland of glowsticks and laserbeams, DJs, designer handbags, and skinny jeans! Has it come
full circle
!? *pfft* never! It's better than ever! Everyone's been beating each other off and lining up around the block every Saturday night to get through that door! And for the last two months I've ran screaming: lest it blind me, drown me gargling, or poke my eyes out bleeding with its gargantuan splendour!
And tonight at long last I'm back with my swim fins on to witness the mad spectacle! A venue SO packed to capacity it's overflowing, smashed, compacted and cooking like a microwave. All these smiling faces pressed up against the glass, licking the windows, walls and ceiling. Be caught breathless by the inability to take it all in without breaking a rib and blacking out cold; a domino cascade of people all around me bursting like popcorn kernels. Bring a snorkle, your own oxygen and dive right on in! It's a symphony of lights, a feast for the senses (I especially recommend the complementary crabsticks: I ate a whole plate of them!). I dare not photograph it lest I punch myself in the face with it but they're out there aplenty, take my word for it: the glitterati, fashionista and scenster cutting edge, I'm a knuckle dragging ape of misbegotten genetics by comparison! I duck for cover past the overflowing beergarden, long ago barred to further intrusions by a bouncer with arm extended. Past the impossibly long lines to toilets both male and female. Until finally like a toothpaste tube, I squeeze free into the darkest room of all where the "live bands" are hiding. I know, it took me a while to find this shit too; and I
used to be
a regular!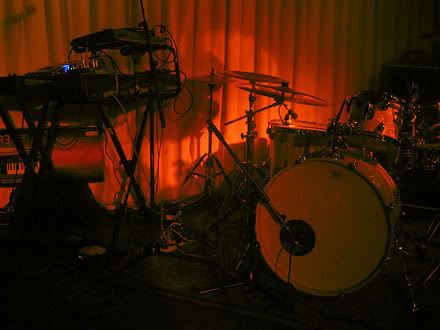 FROM THE DEAD SEA
(****)
myspace
::
And it's with our opening act that we're brought right back to where we started again. From January to March 2008, before it even "
officially opened
" this sound reigned supreme; they were the
only ones here
! Stoners, art geeks and math rockers they "christened" this place and made it their own. How could we forget the bass player, the artist formerly known as "
Smoking Man Dave
"? That night he got caught in the act with his girlfriend in the incomplete beergarden extension, did a runner with his trousers around his ankles, attempted to scale the fence; only to end up in crutches for the next six weeks!? He's a living legend around here! Or what about
Mathias
on guitar? We're unsure what the fuck HE did around here short of growing voluminous quantities of hair, tripping balls on illicit substances and smashing anyone in the face who dared call him Nic Cester; but he's celebrated all the same! Without these two fine individuals (and
others just like them
) we wouldn't be in the thick of it now! And this band that both Dave and Mathias have formed with that scruffyarse Wookie on drums (anyone!?) is nothing short of exemplary to this venue's proud psychedelic tradition. From The Dead Sea. What strikes me first is the surprising coherency at play in their instrumental compositions. I've grown increasingly wary of many of the OTHER stunts that Adelaide's psyche and prog rockers have pulled in the past, all in the mistaken belief it equals "artistry" (ie: see
many
of Mathias' other
side projects
) but there's an actual character arc at play here beyond all the spastic effects pedals. You feel it in the ebb and the flow. From the gentle notes and nuances, to the blues stampedes and the shitstorms, none of it feels random at all but well thought out, articulate and effortlessly assured. You can't help but be carried away, like following a river's journey from mountain top to ocean view in its many twist and turns. Overall it reminds me of Wolfmother's first EP (ie: back when they were STILL relevant) mixed up with Pink Floyd's "A Momentary Lapse Of Reason" and Jimi Hendrix's "Star Spangled Banner". There's even a moment here where I swear Mathias cuts it up so insane on guitar it sounds just like Tom Morello reinterpretting Jean Michel Jarre's "Oxygene IV". The warbles, bubbles, squeals and electronic 303 squelches from that guitar as they combine with Dave's morse code grooves and bass pedal delays; quite simply mesmerising. It's a class act through and through, lean and mean, there's not a single inch of bloat. And with the Wookie's ever articulate war drumming, marching it ever onward, without a single word uttered; they speak volumes here tonight!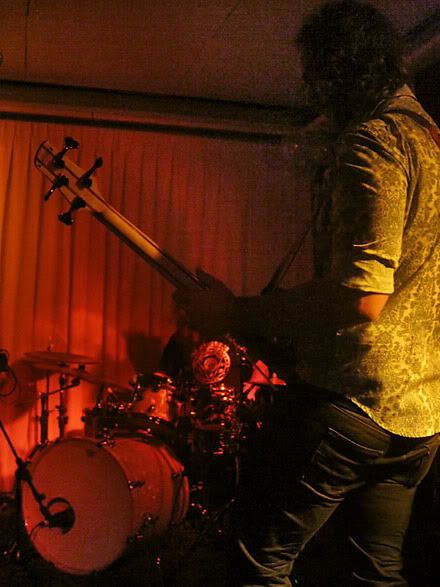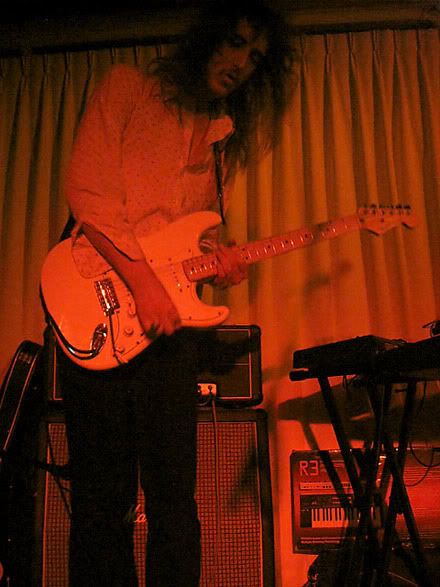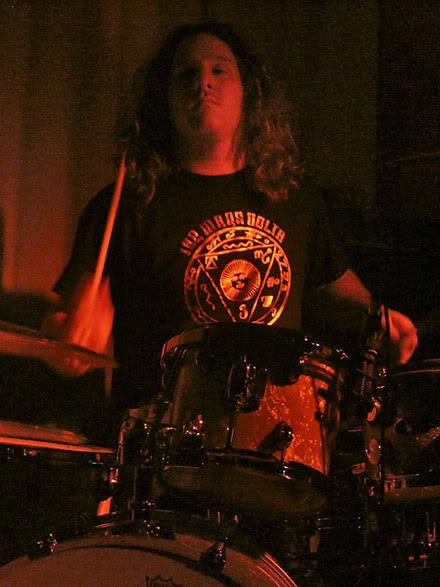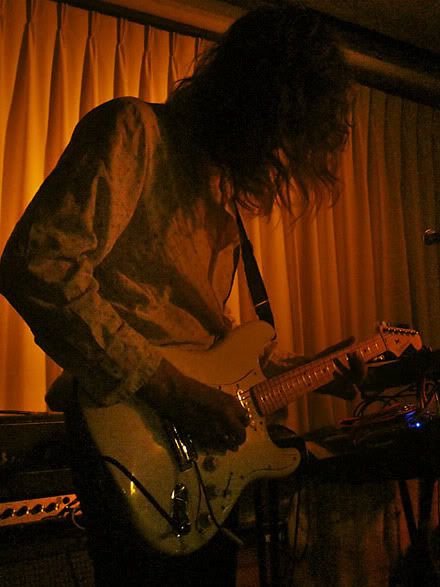 THE SWISS
(****)
myspace
::
The ever increasing swarm spilling into the band room may've looked a little lost during From The Dead Sea's set but we ALL know who they were REALLY here to see. In fluoro, seemingly fresh out of Electric Circus, their blinking goldfish stares said it all. They were all here for The Swiss tonight, or maybe more accurately to see
Donnie Sloan
(aka: knob twiddler for both
Empire Of The Sun
and
Sneaky Sound System
) as he made his brief cameo appearance onstage with the band. Or maybe it was all just an insane coincidence. One entirely unrelated to the fact that he got top billing on the
poster
. Or the fact that The Ed Castle may have reached its lung puncturing "density" (pun intended) in and around the time that this band miraculously chose to play on stage. Fuck.. maybe these pillmunchers were SO blissfully unaware there was even a "band room" to begin with that they stumbled into these dark surrounds and "unloaded" in the mistaken belief that they'd found the handicap toilets. Either way they were in for a real treat tonight, as this band's never short of offering the odd "brown note" to help them along the way. The Swiss. In essence they're electro. Banging four to the floor, square synths, robot vocoders, the works; and before you roll your eyes at me they're actually DAMN good at it. The trick I find, is that unlike many others, they've taken this whole schtick back to their decadent Studio 54/Italo Disco/Detroit funk roots. Think George Clinton, Isaac Hayes and a 70's cop show theme all rolled into one. It's authentic, gritty, and raw as fuck live. Try as you might you can't deny this shit. First and foremost its Tony Mitolo on the drums. It's damn near hypnotic watching that shaved ape play. It's like he's The Hulk stuffed into a volkswagen, rolling roof over chasis down a hill moments before it explodes. He drills those beats quite like a gorilla attacks a typewriter, head tilted, eeringly off kilter, killing those jams over and over. Throw in Surahn Sidhu on bass, squinting and clucking like a chicken; and they're a pop and lock funk battle weapon. They're that mad buzz you get from The Chemical Brother's "Dig Your Own Hole", "Electrobank" and Daft Punk's "Around The World" blasted at high speed. And with Luke Godson supplying the synth cheese, the disco biscuit fills, the robot vocoder on top; it may be mind numbing dancefloor filler but brilliant as such. It makes you wanna hoover so much cocaine, red bull and amphetamines simultaneously into every orifice: that you become nothing more than a single input/output fucking machine to this shit. Donnie Sloan's cameo appearance, at most, was trivial after all that. He teamed up with them for a rendition of "
Walking On A Dream
" and meh.. you could take it or leave it. I didn't remember much more beyond all that, in fact I was SO out've it I completely spaced and forgot to capture ANY of it on video (or more accurately I did, only I accidently deleted it afterwards *shit*). Still, take a mad hit of
this shit
(from last year) and you'll know just what I'm getting at. Grab both ends of that porcelain and prepare to evacuate: The Swiss are one helluva fucked up rollercoaster ride!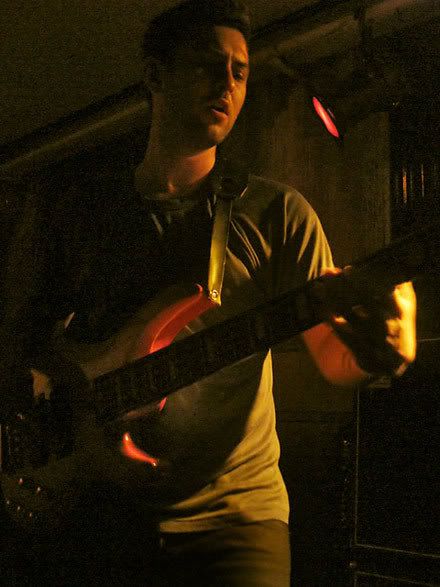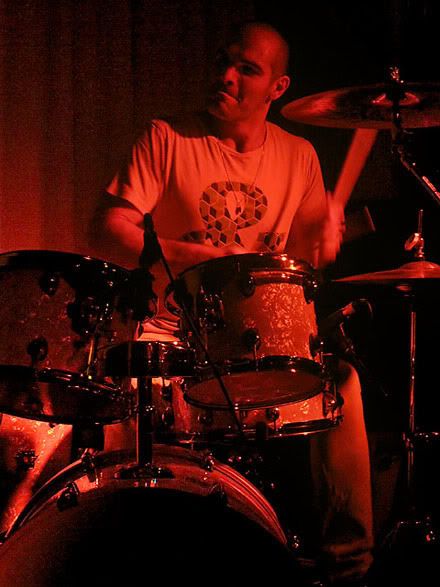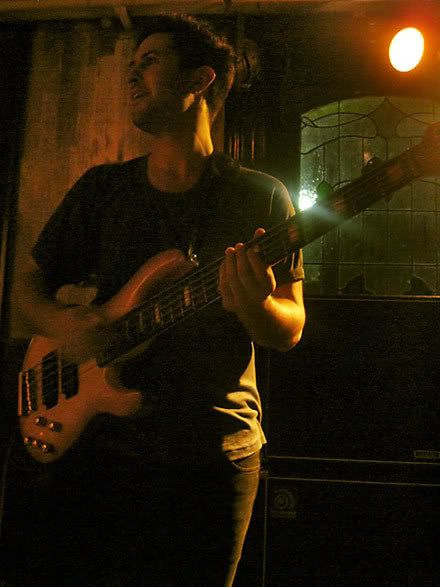 LIKE LEAVES
(****)
myspace
::
And evacuate they did. Moments after The Swiss cleared the stage, half of The Ed Castle's crowd left as well and simply vanished off into the night. It's unclear exactly where they all went, although I can postulate two possible outcomes: either they all buggered off to Electric Circus again to play "bugzapper" with the strobelights, or maybe Swine Flu's doing the party circuit in pill form now!? Either way this "mass exodus" was made no less ironic by the fact that we were STILL left with a remainder sizeable enough to populate any given night at WOW! that'd end with Van She filing rape charges against Adelaide's entire metrosexual population (or possibly just Josh Moore from The Touch). Sure I could've just been imagining things but our headliner did reference the freak anomaly throughout their set by continuing to thank everyone for "sticking around" as if it were miraculous somehow. A prevailing mood helped no less by the interim DJs in the band room, slamming the most hideously brutal, dehumanising, and arse reaming electro ever heard outside of Rocket Bar on a
Friday night
that I'm half expecting to crap out a Pacman the size of a schoolbus in nine months time that would usher in the apocalypse. Yup to put it mildly, Like Leaves had their work cut out for them. Tonight's set as a result played out like a "funeral". Their increasingly murky stage presence in sight and sound nailed that aesthetic. Their haunting performance, their choice in songs (especially in the antagonistic refrains of "
Sword Fight
" and the artful discord of "
Falling For A Fleeting Moment
") only added to this feeling of impending doom. Sure it wasn't them at their most inviting but you couldn't help but be captivated by it all the same. If you could imagine Johnny Cash fronting a supergroup formed between Jefferson Airplane, Sigur Rós, The Mars Volta and Nine Inch Nails you'd be halfway there. If ever you've read Dante's Inferno you'd know the rest. We were witness to a nightmare of Christmas futures. We were witness to a police lineup of oddball
antagonists
pulled straight out of Japanese horror. Bedraggled hair, guitars gnashing, ethereal wailing in chorus; all judging us for our sins. There was a real gravitas here, an aristocratic black mass to their proceedings. Watch that finale on video and you'll hear it too. If the phone rings moments later:
don't answer it
. Step away from that puddle of water slowly forming at your feet and warn your friends, make copies, spread the word! This is the end of days and they're ringing those bells for our mortal souls. And as for WHO (or what) this "funeral" was intended for in the first place? dude it's anyone's guess!? but wow I was certaintly moved!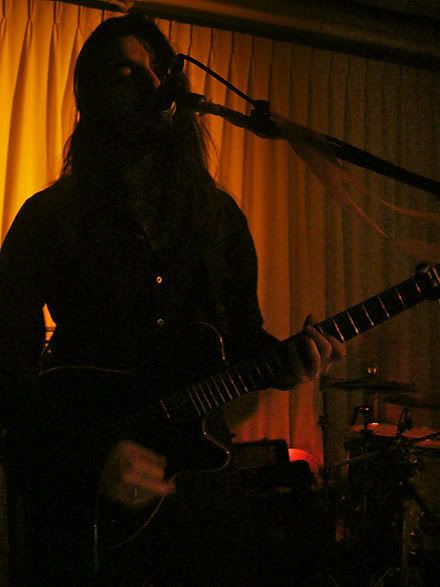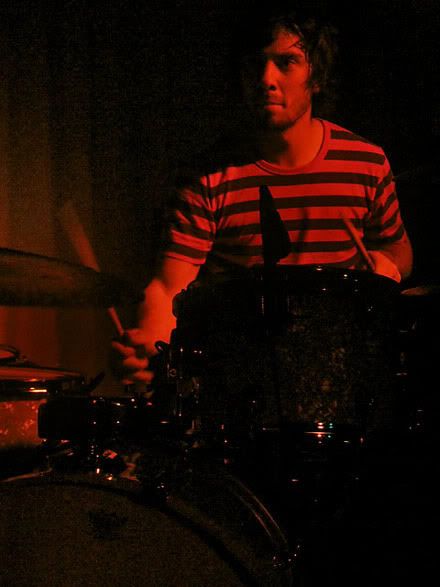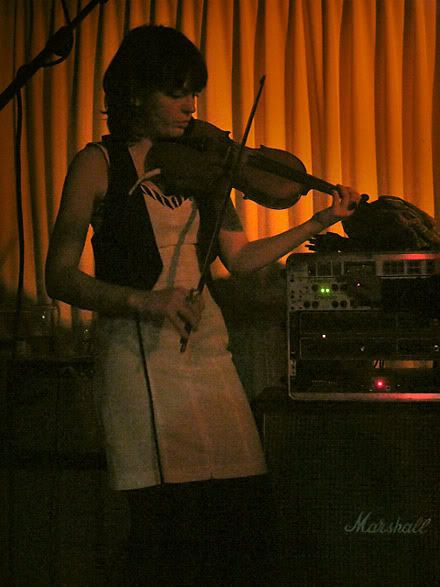 2:38AM
- The littany of destruction left in their wake, when Like Leaves "made like a tree" told the true tale here tonight. Shattered remnants, pints, schooners, wine glasses and synapses scattering for the exit signs. It was a glorious battle hard won in this band room tonight! Oh yes! We left this room happy in the knowledge that we didn't go down quietly! We'll haunt this place still, if not in dimming memory of the moths still flickering about and licking the laserbeams outside; then at least in the darkened stains splattered all over these walls! That's not paint, that's blood! And one day they'll come back with spatulas and test tubes, clone that DNA, and we'll feast once more!
But this was barely the tip of the iceberg compared to what was happening outside. The night was still young here. The lights ever so bright. The air filled with their neon cacophany, their square notes, metallic ringtones and skull bludgeoning metronomes. THIS spoke ever so much louder than the squeaky farts we ever made inside. You saw it in the whites of their eyes, their pupils pinpricked, teeth grinding, foaming, clawing and stumbling over each other ever eager to fornicate and replicate. The Ed Castle truly knows the way forward! Rock is dead. THIS is the future!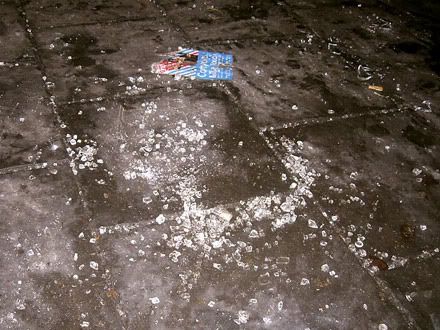 Yup, it'll be just like the Battle Of The Somme. Where one "
WOW!
" ends we'll simply start up
another one
next week! Hundreds and thousands will keep flooding those dancefloors, empty headed, wide eyed and howling in hysterics with a mad taste for "adventure", and each week we'll make an absolute killing hosing them off the dancefloors! It'll be just like a computer game! Every week they'll just keep respawning, polygons and pixels, they'll keep coming back desperate for more! Rock is dead. Why bother fighting the turning of the tide!? I see it now more than ever! This shit is SO much better! The Ed Castle is showing me the way, just like Rocket Bar and Jive before them! Whoever says there's no profit in a war of attrition isn't selling nearly enough bullets!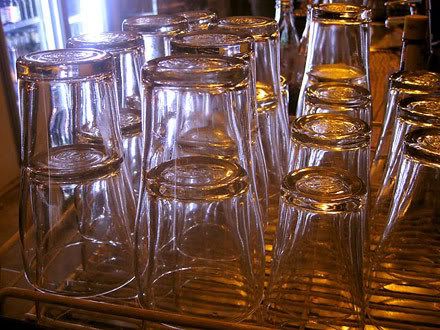 Take Olivia for example. She's all kinds of ridiculously awesome! She's one of thousands of giddy "scensters" flooding dancefloors every week. She's every reason why you'd wanna unlearn anything you ever knew about chord progressions and unconventional time signatures. She's every reason why you'd wanna hit the DJ decks, pick up a cocaine habit and buy shit loads of hair care products instead. She's an inspiration she truly is! She insisted I take this photo, for every reason she KNEW it was gonna backfire on her (I know, I'm SO going to hell!) simply to advertise that she has a vintage Chanel, limited edition, $5000 handbag. Isn't it awesome!? YEAAAS!! What's this got to do with anything!? *cough* I forget, but FUCK damn it's ever so pretty! everyone take note!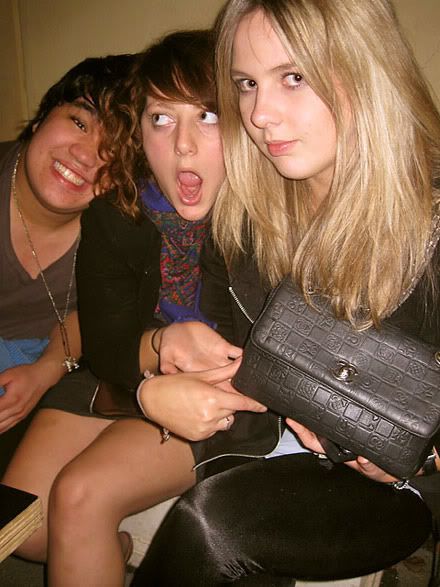 3:57AM
- Newly inspired by everything I've learnt tonight, and ever so fired up by whatever Tony Mitolo is banging on the decks right now that sounds very much akin to the theme tune from Super Mario Bros from the SNES (only blasted through a megaphone with most the melody taken out of it) I leave The Ed Castle all giddy with handclaps, only to blow my brains out with as much alcohol as inhumanly possible down at Supermild.. FUCK YEAH!! I'm in a mood to celebrate tonight!
Rock is dead. It's SO clear to me now. I've been chasing nothing but a dead end. Nothing but a silly anachronism to a shiny mechanised future that's long since outgrown them. I've been hunting in the shadows, in the dark, like a dog, scavenging for scraps for far too long; blind to the truth! It's time to bask in the sun again. Resistance is futile. Rock is dead. It's the eighties now, forever and ever, gleaming in neon and chrome! It'll never leave us! It won't be a silly little fad like "electronica" back in the late 90's (*pfft* never!) it'll loop those beats into eternity; you'll see! Reach for the laser beams kiddies! Celebrate the irony, the gender ambiguity and the full frontal lobotomy! That dancefloor is pumping, they're out there and they're waiting for YOUUU!
Previously on Spoz's Rant:
No Through Road + Fire! Santa Rosa Fire! + Avant Gardeners