SWORDS + THUNDERCLAW
LIVE @ THE ED CASTLE / Saturday January 5th 2008
So here we are: the first Saturday night of 2008. Rearing up it's unshaven visage with a leering grin, bloodshot eye and spitted tooth? Yeeeouch! It's all coming up at us a little too soon isn't it? New Year's Eve is but a toilet flush away, spreadeagled, face down in the gutter with it's pants around it's ankles, coughing up beer cans, party hats and streamers and we gotta contend with all of this!? FUCK! Flee from the light children! Fill your fists full of aspirin! Pack that shotgun! This night is not one fit for the living, only the waking dead dare walk these streets tonight! Yet here we are this Saturday night. Back from the brink on a fool's errand in search of intelligent life and whistling on through emptied cavities? Dare I say it and curse myself with the endless irony but it looks like it's gonna be a "quiet night out" tonight! And we all know what that means don't we? Hold onto you're wiggly bits cause we're in for one FUCK of a rollercoaster ride!
The staging ground for this supersized "hair of the dog" is this infamous bombshell just off of West terrace and down Currie street by the name of the Edinburgh Castle Hotel. Established in 1838 as the first line of defense in the war against sobriety (one year before even the Governor Hindmarsh or The Crown & Anchor were built), this moth eaten carcass has had more than it's fair share in ghosts, apparitions and badly distilled backyard spirits, not least of which being the gaudy linedance of drag queens who until very recently called this beloved rats nest home..
or until just recently that is. As it turns out, that same shock troup of vampire militia responsible for doing over the Exchange and spitting up Producers Bar and Electric Light Hotel on Grenfell street have done the DIY defilement over here. Cue one thousand roachbombs, a hail of paint pellets and a few well placed sledgehammers later and the "Ed Castle" is born..
It's new. It's shiny. So fuckoff with the new in fact, that the venue promoters (one Sid from Morals Of A Minor and one Matt Hills) were damn near gullible and misguided enough to drag me in to promote the joint. BWAAHAHAHA!! you fucking eeeiiidiots! *cough* anyhoo, in effort to placate these monkeys (you owe me bribes for this) here's the sales pitch: it's a live music venue very much inspired by The Pony Bar in Melbourne. Think quirky, arty, indie, intelligent and loungy with big fluffy couches that look like things and stoner live bands wooping it up until way past 2AM. Situated halfway between the brain splattering excesses of Hindley and the bucketbong emporiums of Waymouth. Licensed until 5AM. $10 gourmet pub menu. Expansive beer garden out the back with an ACTUAL trees 'n shit. Even better, this place is so new, not only will your tongue come back a different colour after licking the walls but chances are they'll actually give your 2bit shitmonkey band a gig if you ask nicely for one. Booking now! YEAAS! :)
So in effort to gut this fresh fish, I sent in my very own crack militia in the form of one Joe Blogs and Simone (Stoner Andy was still on hiatus this week) to smash the beer bottles from bow to stern (or in the very least empty out their bar fridge 3 times over) to christen the joint. Yup, let it not be said that we ever do things by half measure on this live music blog.. yeeeouch!
and so whilst Itchy & Scratchy drained all the fossil fuels dry from the bar from A-Z: such as this festive remnant from venue's past by the name of "Mount Gay Rum" (mmmmm fruity!), I headed on over to the band room to do my battle with the epilectic stage lighting..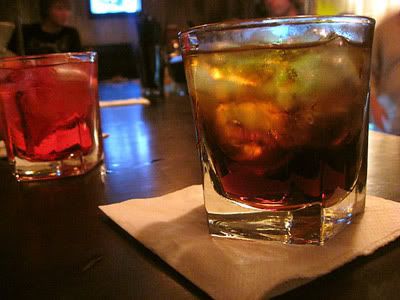 THUNDERCLAW
(**1/2)
myspace
::
In a peanut shell they're math rock: non vocal, jamming, two guitars, one bass, one drums, no vocals. Other mental images bring forth a hessian bag of cats fighting, chainsaws blunting into corrugate and 50,000 rusty nails in a microwave doing a dance. Existing somewhat namelessly between stoner metal and wastoid grunge I wouldn't have the first fucking clue where exactly to catagorise them in my "sounds like" slackarse shortcut, so Joe Blogs (in between doing 5 rounds of tequila and a goldfish at the bar) has rather helpfully ducked in for 5 spare minutes to tell me they sound exactly like the wastoid metal band Isis *cough* yeah, I'd never fucking heard of them either so after some quick searching, I found a
youtube
to get us all acquainted. Yup, apparently they're just like this, just minus all the silly (and entirely unnecessary) vocals, about 130dB heavier and drilled directly into my cerebellum. If I was in the thick of the Salem witch trials with a flickering strobe whilst 3-4 Vikings did devil horns and flailing windmills around me I'd be digging this shit something fierce. As it stands alone though, something's missing tonight and I can't help but feel I'm just watching two guitar nerds and a backing band flick themselves off way beyond the point of blind repetition. Still, credit where credit is due it's still one furious fuckoff sound (bonus points also go to the entirely badarse band name). Get a naked chick dancing in a cage with a few lava lamps and you might really have something.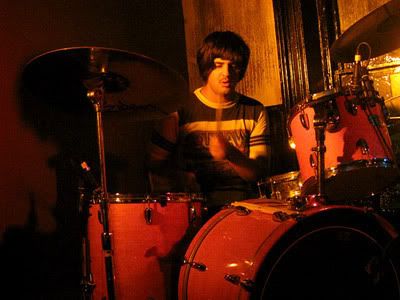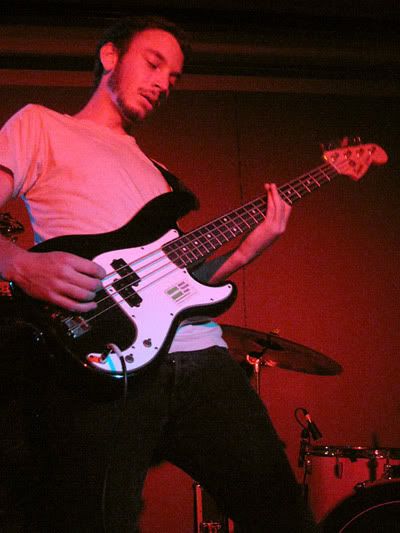 SWORDS
(****)
myspace
::
Continuing with the ponderous math rock vibe tonight, is second band Swords. They're one word in a name. One drummer in the band. Two bass players. No Guitars. No Vocals. Simple, yet bleedingly effective. When you see those two bass nerds attack again and again wielding these devil pronged scimitars you know you're in trouble. Sure, I wouldn't know the first thing about the make or break of bass guitars, but THESE things? duuuude they're fucking evil!
Swords. They're NYC's Battles minus the chipmunks, bled red raw and stabbing like a piston. Every song is a 2-3 minute serrated attack in abruption. Stab stop. Cut percussion. Full stop. Attack! Attack! Aggressive as fuck. Surgical precision. Shoot to kill. Jugular vein. Layer upon layer of screaming buzzsaws. Chargrill textures. Flavour. Rotary blades. Kill! Kill! Kill! This is a science to the slaughter. Exploring the chug at every churn. Writing a gig review this long in sustained sentences in gonna prove nigh on impossible. Swords. The name says it all. It really ain't much to look it, there's no vocal hooks to grab you, but they'll slay you every damn time!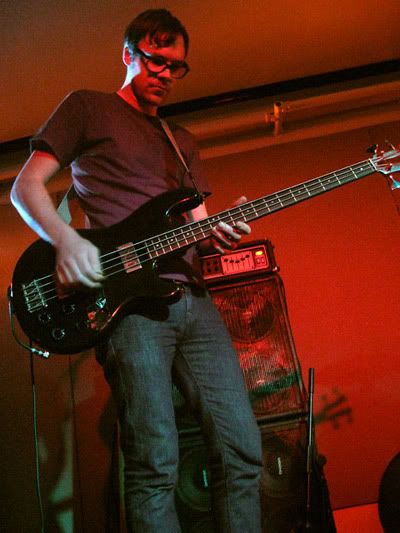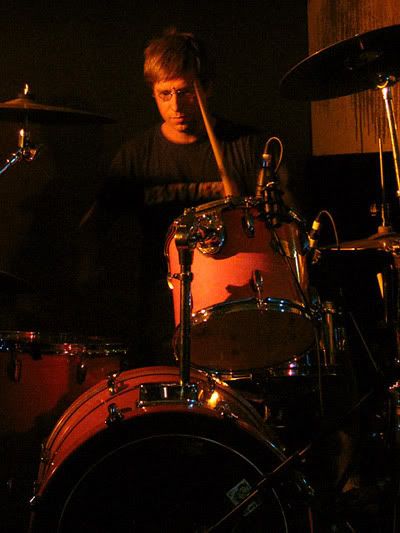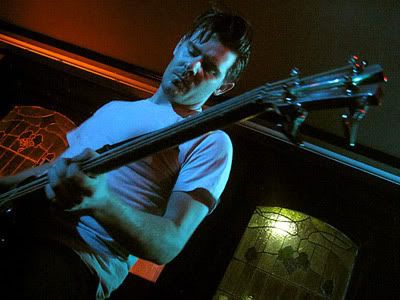 1:11AM
- Sufficiently meat tenderised by both Thunderclaw and Swords, I felt some intelligent conversation was in order in the beer garden to regain my upper brain function. Of course it didn't take to long for the oxymoron of that quest to be made glaringly apparent the minute I bumped into these familiar lunatics huffing up clouds of exhaust with an unnamed (and all to infamous) Adelaide psychedelic act. Was this conventional or "wacky" tobaccy at play? who the fuck knows? either way they look to be siphoning some serious laughing gas out here tonight..
1:55AM
- Many hours lost and wandering later I finally escaped that hall of smoke and mirrors to make my way down to Hindley street. When all else fails, tequila will surely put that fire out!
2:50AM
- A half dozen beers, a few shots of tequila and a chance meeting with Chewbecca and a few ewoks later and I have no fucking clue where I am. As much as I would love to explain what the fuck is going on here the gaping hole in my memory speaks to me nothing but mute..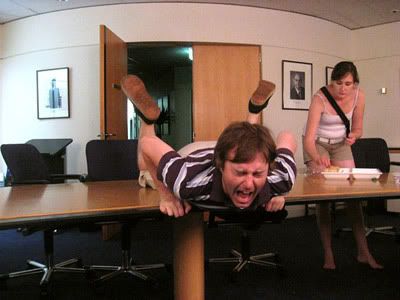 3:29AM
- With nothing but a bundle of nerve fibres in our spinal cords to guide us, we invariably find ourselves splattering all four walls of this all too familiar blue bug zapper..
3:32AM
- more intelligent conversation and communion with the amber spirits follows..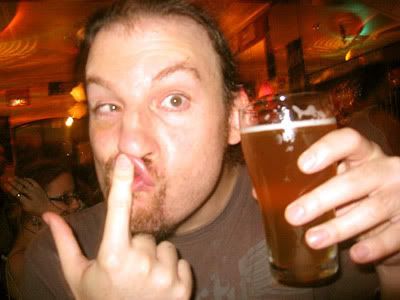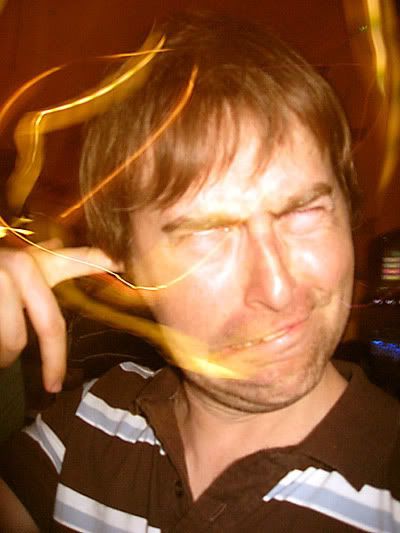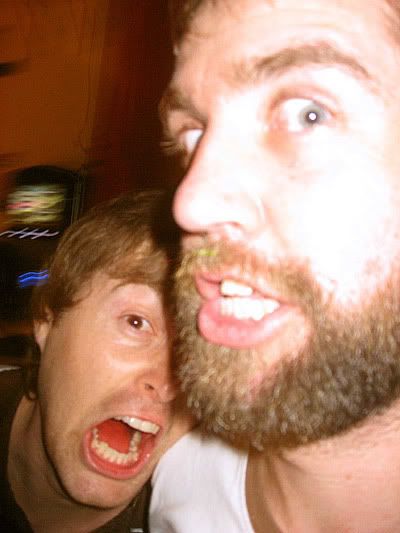 3:51AM
- Last drinks. My fellow space trippers appear overjoyed with this latest development and so we decided we leave this sinking ship in favour of more inebriated exploits at Shotz..
3:54AM
- Somewhere along our epic journey from Cranka to Shotz and after way too numerous of my jokes directed at the expense of Simone's short shorts (and way too much alcohol), it's decided that me and Simone should partake in a quick trousers exchange program..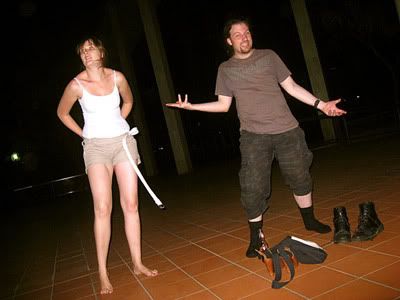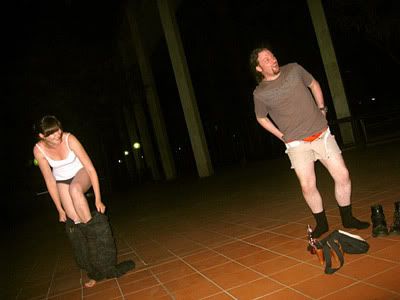 4:04AM
- Despite all the crimes against humanity I was about to inflict on the dancefloor with my idiot red boxers poking through, despite all the stern talkings to I've been given by venue security the last time I dared step foot in this pisshole back in June-July, despite being on their terrorist watchlist for the last 6 months, they STILL let me in tonight with nary a word? Whoa!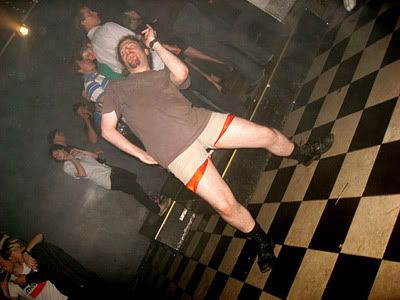 To anyone who's ever remarked in the height of summer: "duuuude, why don't you wear shorts maaaan, it must be like a million degrees!" let this be your lesson. The horror, oh the horror!!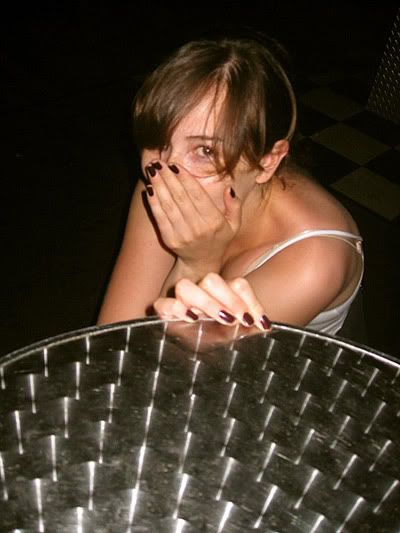 extra credit goes Joe Blogs for expertly capturing all the incriminating evidence on my camera, despite spending most of the intervening moments in my public ridicule with (a) screaming unholy murder at tray after tray of flame retarding intoxicant..
and (b) screaming it all back up again into the porcelain confessional..
4:37AM
- Somewhere out there, an electroencephalogram (EEG) is beeping it's last sustain..
5:09AM
- Having suffiently wound back all of evolution to the blinking diode of an amoeba, we return to the primordial swamp that is Flungry Craps on Pultney to finish the night..
Let me state for the record that I have absolutely next no recollection of being here (or pretty much 90% of the preceding events since leaving Ed Castle). To think this was one year (and a day) to
that fateful night in 2007
when Blogs took a plastic cup of my pee for a joyride around the Cranka. One wonders what more insanity awaits ahead of me in 2008!? eeeeeee!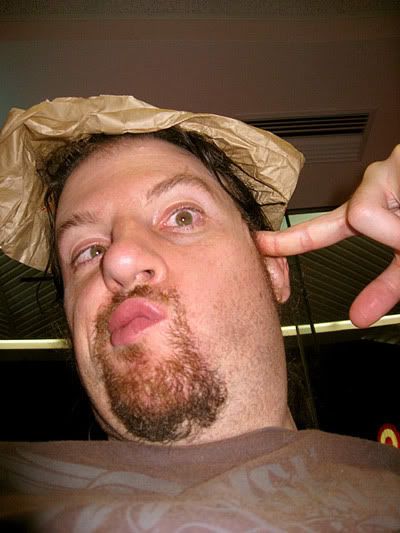 Such is the unfathomable horror that is the "quiet night out". Fear the beast!
Previously on Spoz's Rant:
The Beginning Of The End / Silly Season Blog Episode #2