TAUGHT BY ANIMALS + MIKEY (EX ARTAX MISSION)
LIVE @ ED CASTLE / Saturday February 9th 2008
A little ice age blows through the city streets with steely eyed menace. Buildings ring hollow. Dark shadows. Ghosts and goblins. Long clawing fingernail. Tim Burton's wet dream. One lone figure huddles in a corner, collapses and dies for a cigarette. Have we skipped forward five months in one night, or is this winter in February? My wrist watch breaks, my compass spins and my skull whistles hollow. Where am I? Who am I? What year is this? Damn, who knew that drinking myself retarded for two nights in a row would effect the weather like this? Round three with a bullet? My last rites? Fuckit, let's all go down in flames, rise once more and eat the sun!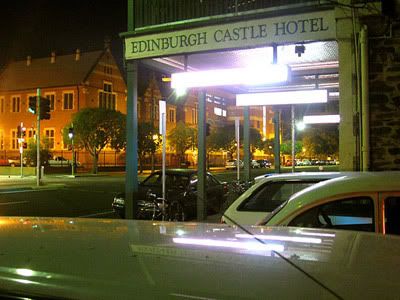 It should be a Saturday night but it feels like a Sunday with an EEG flatline ringing like a bomb just went off in my ear. All I want right now is one giant bean bag, an IV drip, low lights and my brain in a flotation tank, or scratching that this joint will do for a close second. The Ed Castle on Currie street, aka: "We're not gay anymore!". Haunt for indie enthusiasts, scenster antidote, recovery lounge and tonight, nursing home for the post alcoholically deranged. Nobody's in any hurry here this evening (thank fuck!). Just turn up, tune in and soak up the buzz.. aaaah! :)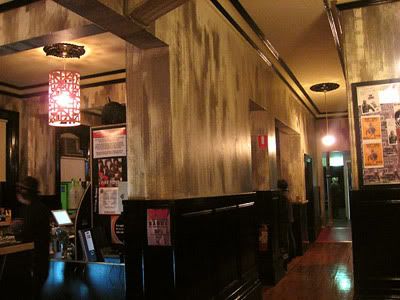 MIKEY (EX ARTAX MISSION)
(****)
myspace
::
Adelaide's answer to Sid Barret has been rather elusive of late. Ever since dismantling the ever legendary Artax Mission last year, he's been moonlighting in local experimental artrock acts
Tall Tall Trees
and
Skeletons
, jamming with Sid from Morals Of A Minor, torturing himself stupid working glass duty at Rocket Bar and (quite possibly) melting his face out with LSD infused brylcreem whilst dreaming up insane songs about bicycles. Thankfully, a few months short of a 30 year exile, he's returned to present THIS, his solo project "Sun": no effects pedals, no howling electrics; just ONE acoustic, a microphone and a chair to sit on. Far from being a newborn giraffe however, Mikey unplugged is a damn terrifying thing to behold. Sure, his acoustic fingerwork may be nothing to speak of beyond jagged chords wraught in a heavy handed psychedelic indian jangle, but the voice is something else: alternating between a soaring arabic chant, a primal scream and sung elements of Billy Corgan, Gordan Gano, Lou Reed, Kurt Cobain and Mick Jagger at their most paranoid; it was a truly hair-raising-on-your-neck experience..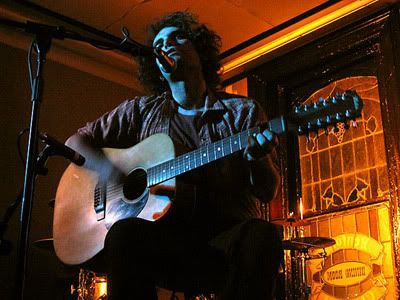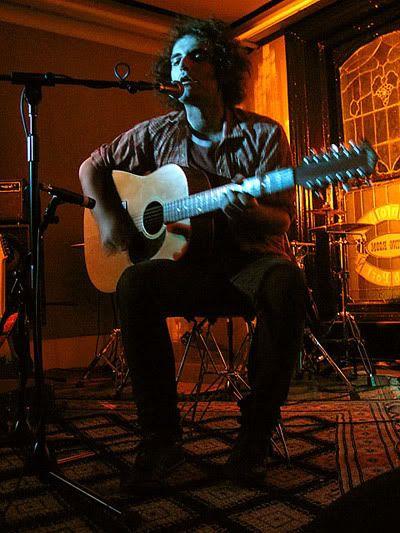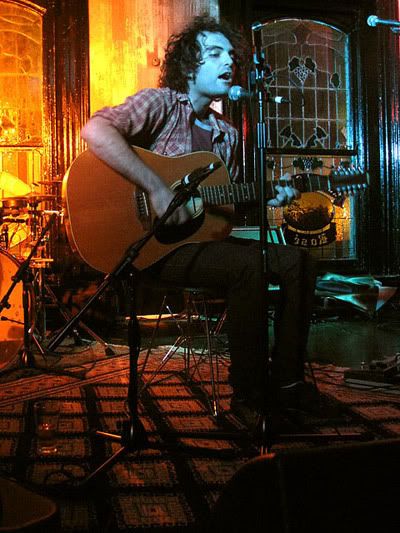 Equal parts conversational, apologetic, flawed, contemplative and snarling with rage; all the material performed tonight was newly inked for the show, all except for THIS familiar ditty he closed the set with: Artax Mission's live favourate "Take a Bullet" (given the raw acoustic treatment). As much as this video barely hopes to capture the energy, it should inspire some of you psychedelic monkeys to catch him the next time he finds his "moment of clarity"; dig it!
TAUGHT BY ANIMALS
(**1/2)
myspace
::
It's been a long time between drinks for Taught By Animals. You may remember them from the million and one live reviews I posted of them last year. This was the band that played just about everywhere, every week there was a PA to plug into. Before too long it got SO hairy out there (excuse the pun), that nobody would dare turn up their stereos in the entire Adelaide CBD lest this band made another surprise appearance. Short of a pokies explosion and a million and one residential sound complaints, Taught By Animals was YOUR live venue's #1 excuse to change management, bring in the lunchtime bistro and throw out the drunks (yeeeouch!) Then ever so mysteriously, somewhere past the month of August 2007 they vanished (damn! and I rather liked this band too!). But now five months later, with matching Planet Of The Apes haircuts they're back to terrorise our scene once more. So one wonders, what's changed in those hiatus? Well for starters, former member Matt Hills has left the band to be replaced by space cadet Gerard Liddle (aka: "Thunderbirds are go!") on bass and guitars whilst their new stage dynamic with both Jon and Gerard flailing about is rather akin to watching The Muppet Show on acid as accompanied by a pack of wet dogs attempting to dry themselves, or very much like what would happen if you attempted to replicate the closing scenes of 2001 Space Odyssey using nothing but strobe lights and overdosing on near fatal levels of caffeine, cocaine and cigarettes.. whooaaaaa!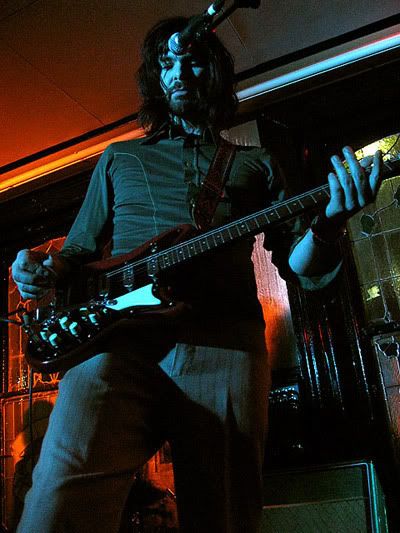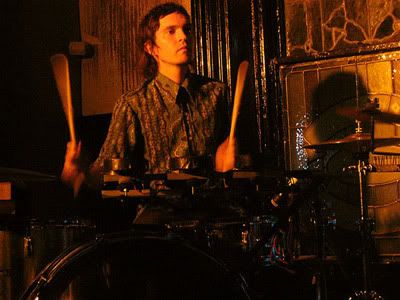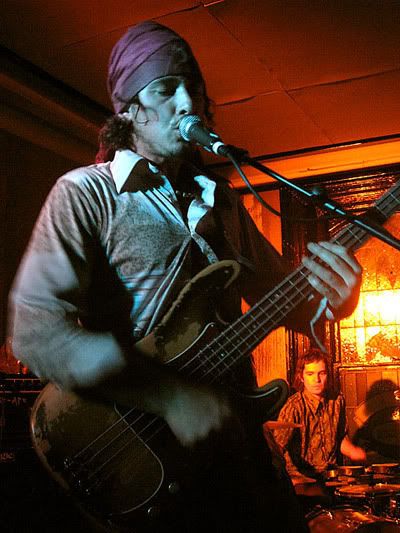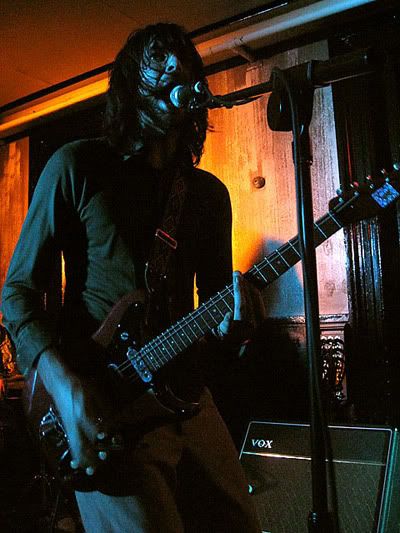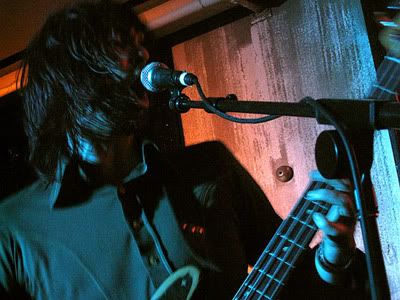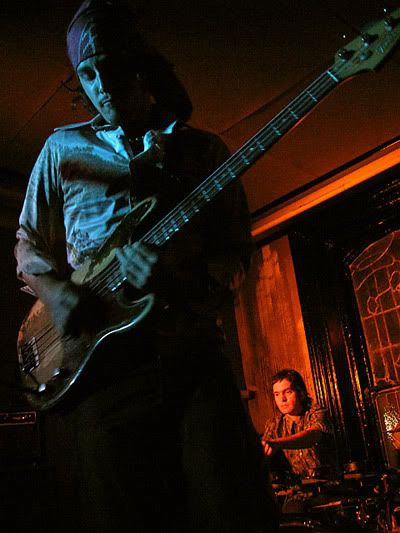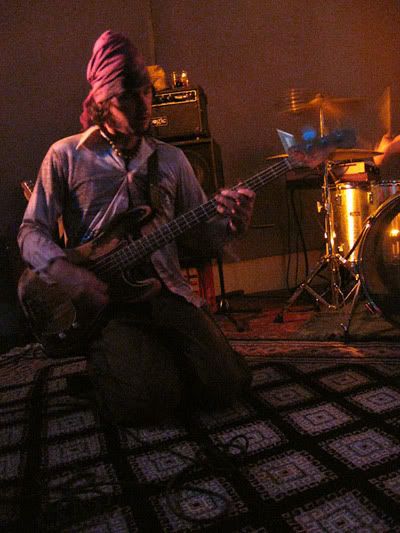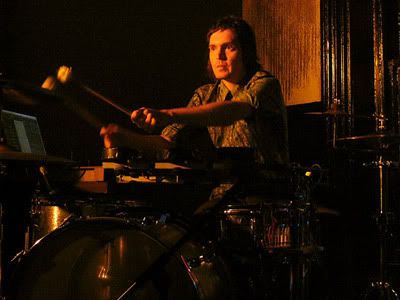 Amongst all the chaos, a few songs remained from their old set: "Clues To The Telepathic" and "Deer Antler Song" being the most recogniseable, as well as one old live favourite from the 2007 repetoir, which I believe according to their setlist was (ironically) called "Distraction Central"..
Still for the most part, compared to the classic Cable Guy vs Captain Caveman dynamic of old, this new shitstorm IS gonna take some getting used to. So it was with great relief when the Cable Guy made one last cameo armed with his stun gun to put these restless spirits to rest. Phew! As much as I'm happy to see these maniacs back once more, and Neil Clark's midget drumming is without compare, next time? duuude I'm slipping them some horse tranquilisers before someone gets their head helicoptered off. Taught By Animals in 2008 is one dangerous beast to behold!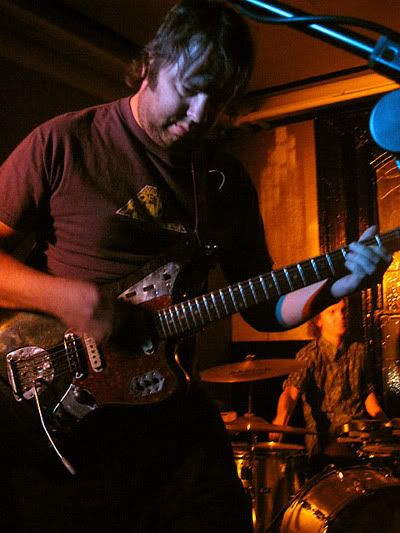 3:26AM
- Many hours hence and here we are deaf dumb and blind twitching in the corner, third round knock out and hitting the tiles cold. Do we stay down? Do we admit defeat? Do we crawl back home thinking this is all that this urban ghetto has to offer us on a cold summer's night?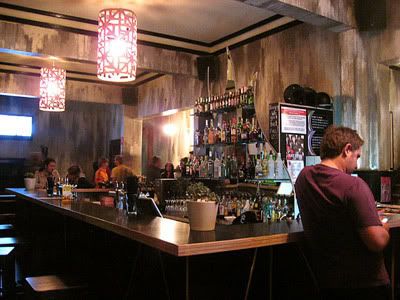 4:11AM
- Pffffft, what do YOU think!? And as much as I would love to horrify you graphically with the furthering stupidity I inflicted on the dancefloor here at Jive, some things are best left unseen and imagined only in your drunkest nightmares (ie: the adventures of
Joe Blogs
). Still, for the record let me just state (a) it was like that when I got there, (b) I didn't do it, (c) nobody saw me do it (d) after ditching all the "evidence" into the Torrens you can't prove anything!!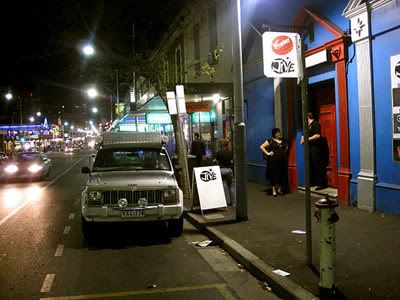 It may be several days before I'm back on solid food again, my sanity may be hanging by a thread thanks in no small part to Sascha's bleeding guitar, Josh going spastic on the maraccas, one shitscary gypsy with a violin, Mikey rebirthing the phoenix and the adventures of "Fraggle Rock" (and I might be in some serious need of sunlight) but the funny thing about weekends like these: just when you think you've killed one, another one is sure to take it's place! :)
Previously on Spoz's Rant:
Lady Strangelove + Mathieu Werchowski