THE DARDANELLES + FIRE! SANTA ROSA FIRE! + THE E.L.F.
LIVE @ JIVE / Saturday November 3rd 2007
Tonight's episode is brought to you in tribute to Smoking Man Dave: one of Spoz's Rant's most laughibly obscure and fuckoff random of cameo appearances. Hero to the people? Liberator of the oppressed? Serial pest? Forgetten by near to everybody who's reading this right now wondering "dude, what the FUCK are you on about!?": yup that's Smoking Man Dave! He's all things to all people! You may've seen him at your favourite live music haunt puffing up a storm, you may've found yourself choking to death on a stinking cloud of his exhaust, maybe you've even offered him a light; either way with the brand new anti-smoking in place in all Adelaide clubs, pubs and rat infested dives (and yes even vinyl brown lounges) he's pretty much right royally fucked now isn't he? Oh yes Smoking Man Dave, we're gonna miss youuuu! :P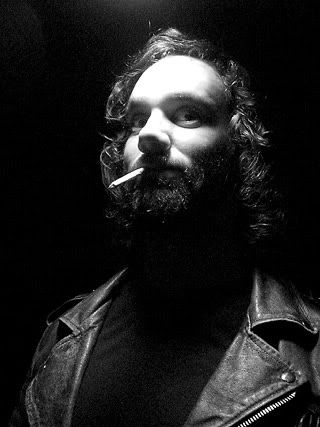 *cough* and now onto less important matters. I know what you've ALL been thinking since I left you all in nail biting suspense after last night's do or die cliffhanger: did my camera survive it's trial by ale with all it's image sensors intact? did it miraculously return from the dead against all odds to fight another day? will I be forced to feature nothing but crudely drawn stick figures in compromising positions to act out all my blogs from now on? or did I simply rush out the following day in a mad panic to blow more than $500 on a replacement unit for a website that no-one in their right mind reads anymore? (aaaah I love the sound of crickets in the morning!). Sheeeiiit wouldn't YOU like to know! Seriously, sometimes you're really better off NOT knowing the insane lengths I go to each week just to keep this increasingly futile dream alive! :)
and so.. against all odds and beyond all reason ($500!? what the FUCK was I thinking?) here I am at it again on a Saturday night, looking to void yet another warranty in record time! Surely anyone else in the same situation would've taken a night off to recuperate from the shock of it all, but as we know well by now I have a death wish and no matter how hard I try I cannot die! *sigh* oh well, y'know what they say.. "if at first you don't succeed, try try and try again!" :)
arriving at Jive at the exceptionally late hour of 9PM (pfffft!) I've already missed out on the first band for the night: Reptiles, who've apparently come all the way from Melbourne to play to a roaring crowd of no-one! YEAAS! (such is the price you pay to play the graveyard shift: 8PM? on a Saturday night? duuuuudes.. you SO drew the short straw!) and so *cough* without further ado (trust me Reptiles, you dodged a bullet) it's onto the second act..
THE E.L.F.
Never heard of him? Shit, neither did I till tonight! So in effort to make an absolute mockery of all the shitty-arse photos I'll be taking of him tonight standing at a desk looking bored and tweaking knobs, I present to you his music video: made for the princely sum of $12..
*cough* aand THAT is The E.L.F: otherwise known as the electro funking side project of one Darren Cross, otherwise known to most of you out there as "that hungover git from Gerling". Aaaah yes! how could we forget that midget?! All his deranged squinting, the screaming, for being that ONE unshaven git in every band most likely to pop an Elvis on a toilet seat? Fuck! how he hasn't died from an exploding blood clot to his brain by now is anyone's guess? (I need 5 aspirin, greasy KFC and a lie down just LOOKING at him.. sheeeiit!) and tonight he's presenting his very own banging DJ set on stage. Equal parts E.L.O. vs KLF, Kraftwerk vs Ween and 2 Many DJ's vs a 4 year old beating a musical Tonka toy to death; it's everything that was awesome about Gerling's first 3 albums and blissfully wipes my memory clean of that fuckarse excuse for a 4th album they coughed up last year (phew!). Sure, all this banging dirty electro may sound a little lost THIS early on a Saturday night at a whisky rock-n-roll dive like Jive; but just imagine if it hit Rocket at 3AM? There'd be nothing but blood and teeth by the end of it! :)
FIRE! SANTA ROSA, FIRE!
Up next we have Adelaide's favourite self proclaimed indie-fags - Fire! Santa Rosa Fire!, aka: Happy Pants on Fire!, Flaming Gay Santa!, Flat! Fanta Soda! or as they sometimes like to refer to themselves as: "Fearless Vampire Killers" (pffft.. you idiots!). Clearly words are meaningless in describing what it is to see them live and no amount of me beating this dead horse is gonna get the point across. So instead I present to you THIS, their finest hour ever caught on video! :)
Yup, that's them in a nutshell. Hard to imagine they have ALL that talent at their fingertips. Such genius! Such intensity! such raw flatulent energy! ( *cough* why are you looking at me like that!? oh!? you STILL want some of them candy sounds!? then why not download their first EP
here
you ungrateful fucks! HA!). Aaaaah yes, what's not to love about Fire! Santa Rosa Fire!? They're bringing nerdy back again and again and again! They're Interpol dressed as Wham! They're the attention span of a hummingbird on a fruit loop sugar buzz! They make the Klaxons sound like Portishead! and they're so damn freakin' red hot tonight Jive better be packing NASA grade Space Shuttle foam tiles or we're gonna boil the oceans dry! weeeeee! :)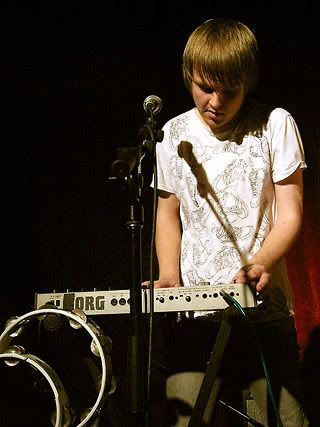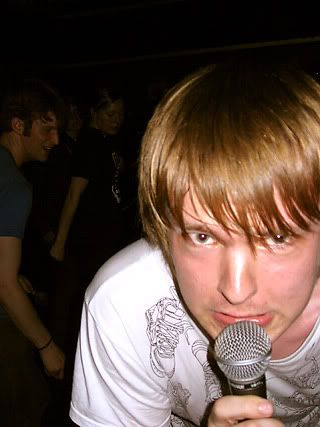 THE DARDANELLES
and quite like a mad sugar rush invariably leads to a crushing comedown, we present the final headlining act for the night: The Dardanelles. You may remember these dweebs from when they
last
toured Adelaide back in July at Rocket Bar. You may remember them for being the staging ground for a botched allied invasion of the Ottoman Empire in April 1915. Or if all else fails (ie: you slept through that week in History class like I did), then you may recognise this..
Yup, nothing quite speaks cutting edge "fuckoff indie" like a music video starring a reject from ZZ top, a pack of street mimes on a fullblown cocaine frenzy and a Teletubbies episode gone oh so HORRIBLY wrong! YEAS! That's The Dardanelles: almost as badly dressed as the Red Riders but nowhere near as euro-trash wanky as the Midnight Juggernauts and their debut album "Mirror, Mirror" is without a doubt the coolest fucking Australian album released this year! Ever wanted to know what New Order, The Cure and Depeche Mode would sound like on chronic blast of horse tranquilisers? then get a mad dose of this and find out! Sure, you don't really necessarily need to be on drugs to enjoy their music, but it helps, especially when you see their idiot-savant of a lead singer Josh flap his arms about like a mad toddler on stage. I dunno what the fuck that space-cadet is on but dammit, I wanna find the
kid's toy to suck
to get it! :)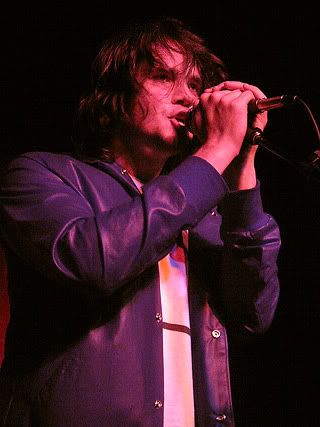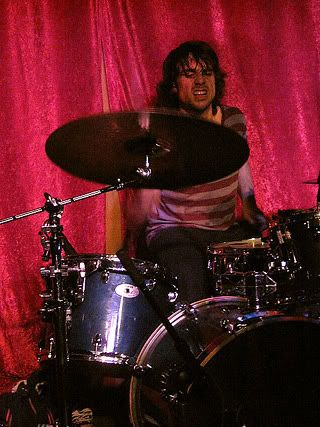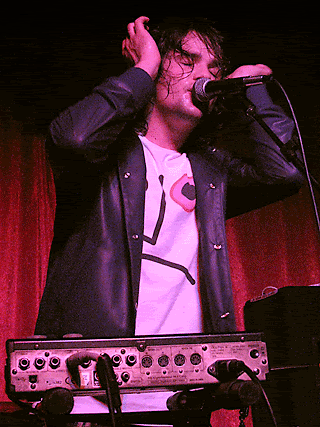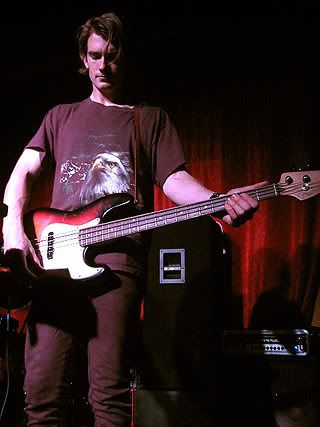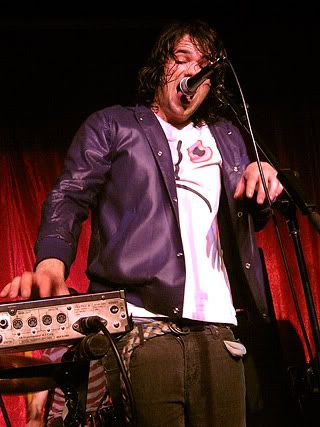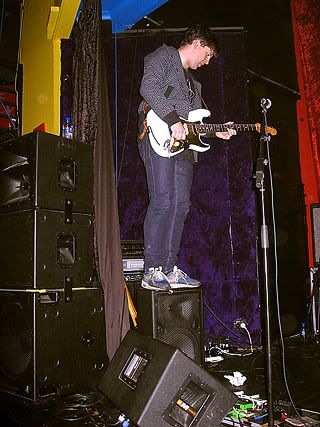 Now that we've experienced all 9 circles of hell from Dante's Inferno, The Dardanelles disappear into the inky shadows of the night, mission accomplished. For the next half an hour or so, I entertain the notion of what would happen if Josh from The Dardanelles, Craig Nicholls from The Vines and Patience Hodgeson from The Grates ever formed a band called "Windowlickers" performing nothing but unintellible punk versions of Bob Dylan songs, before I'm ambushed by one of the twits from the Reptiles: doing his very best to claim 5 seconds of infamy in my blog after I missed out on their opening set tonight. Hmmmmm yup, good luck with that! :P
With the live entertainment done for the night, Jive swarms with all the usual living (brain) dead; here to woop it up into the ugly hours for DJ Craig's fortnightly "Gosh" trainwrecking..
aaaaah.. Rocket Bar, Supermild and Shotz combined have nothing on THIS lunatic!
and as the pint glasses pile up to the ceiling and all the indie dweebs begin to hit the floor, I make my exit out've this grinning shit heap. Happy in the knowledge that despite all my best efforts to kill myself every which way to sunrise, this blog will still live to fight another day! :)
Previously on Spoz's Rant:
Bachelorette + Hit The Jackpot + Home For The Def