NO THROUGH ROAD + LIKE LEAVES + BILLY BISHOP GOES TO WAR
LIVE @ THE METRO / Saturday October 11th 2008
It looks like the end of the world. It looks like the apocalyptic postscript that follows it into the next day: wandering through emptying streets, souls darkened by the lengthening shadows, ducking and weaving through those blasted hulls which once formed the bulkhead of our capitalist might. "My name is Spozzymandias, king of kings: Look on my works, ye Mighty, and despair!" or pretty much like any OTHER night here in Adelaide: "congratulations world, you've finally caught up!" Yup if there's one thing we do right around here: it's crushing your spirit one unearthed murder victim at a time. We've been doing it for over 20 years now. We've been doing it ever since we got here! This is YOUR world now. We'll be happy to show you around! We're Adelaide. We're a cultural slum. We're a festive slag heap. We're a sleepyside retirement village infested by mad hoons, letterbox bombers, drive by shooters and homicidal rock throwers. We're an open sewer that runs right through it. We've also got about as much sex appeal as a dowdy librarian! And no we're not talking one of those "she pulls her glasses off slowly and tousles her hair" kind of librarian "sexy", we're talking some bitter, twisted, tobacco spitting, hag of an old woman by the name of Morag who looks like all of Centrelink's dole queue just threw up all over her (but oooooh you'd love it when she gives you a lapdance!). That's us. That's Adelaide! We're the arse end of the world!
And that's exactly what we want the rest of Australia to think! We're crafty like that! We're full of surprises. You never know if we're being serious or if we're simply taking the piss! Some call it a "cultural cringe", some call it a "pissing contest between east and west", some call a taxi to the airport to get the fuck out of here. We simply call it our running joke on the rest of the world. Why fight the steady decline? Why fight at all? Let's embrace the cynicism and make it shine! Be like Adelaide! Stand tall and be proud! Every sloping brow, slackjaw, feathered mullet and flannelette among you! Let's thrive on the irony! Let's be the music scene that's second to none (as long as we discount all those other music scenes in Melbourne, Sydney, Perth or Brisbane). We're a growth industry. Every week we're opening up yet another live music venue to make up for the three we closed last week. We're at the dawn of a brand new age of enlightenment! Take this unassuming establishment down Grote St way: sure it ain't nearly as pumping as Hindley, Grenfell or Rundle (it ain't no shooting gallery down Gouger either) but THIS is where it's all happening tonight!
This is the Metropolitan Hotel, 46 Grote St, just opposite the Central Markets. For years now it's been a veritable sinkhole for the worst chum-bucket of missing teeth, thinning scalps, shattered dreams, scabies, syphilis, typhoid and cholera you'd ever hope to find this side of a Tom Waits album (or my idea of a perfect night out!). Of course it's no different now (although it helps that half of their "dubious" patronage has either shuffled off this moral coil or since shuffled off to the Crown & Anchor) but thanks to a quick change in management, a quick change in name to "The Metro" (and festive roach bombing to boot) it's now become SO MUCH MORE!
It's now being run by Damien Kelly, who along with his brother Jason used to run the The Prince Albert: the awesomest semi-acoustic live venue in all of Wright Street (or in other words pretty much the ONLY live venue in Wright Street). Where the ladies toilets used to be situated just behind the live stage, where the mens toilets had it's very own honkytonk piano.. yeeeeHA! (and that was before it all went to shit the minute they left!). Yup, Damien sure as fuck knows what he's doing. I mean just look at what he's done with THIS place! *cough* well ok, technically he hasn't done much of anything yet besides add few extra chairs around the front and maybe a fresh coat of paint to hide all those "stains" out the back but lets take the grand tour shall we!?
This is their "ghetto arcade" (aka: the pokies lounge): you'll come here to lose all your money, you'll stay for all the pretty lights. It's awesome! It's freaking massive! It may very well be THE most pictoresque room in this entire establishment (and that's saying something!).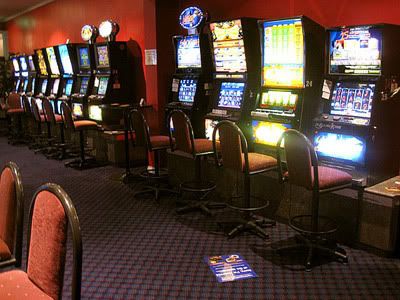 This is their beer garden out back. It's only a beer garden by gross technicality (ie: there isn't any actual "garden" or "fresh air" to speak of) and it's roughly the size of a small shoebox (and equal to its smell), however it does feature a shitload of chainsmokers, its very own private bar and even BETTER: world class window views of their very own brand new "band room"..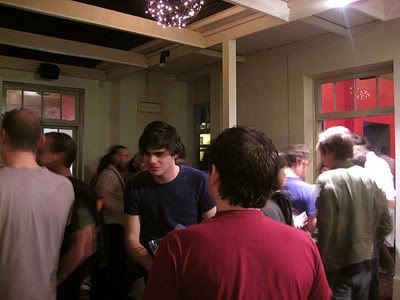 And THIS is the "band room". OOOH YEAAH! just you try and contain the excitement!
Roughly an eight by eight metre carpetted cube (or "granny flat" if you will), this world class live venue features such luxurious accoutrements as: (a) a mixing desk stuffed into a corner, (b) upright speakers, (c) some tables and chairs, and (d) an awesome "state of the art" lighting array that consists of two (count them TWO!) ceiling lights WITH a dimmer switch! Oh and I'm also told you can flicker them like a strobe if you alternate between the "on" and "off" positions. Woweee, when will these wonders ever cease!? we are TRULY hosts to greatness tonight!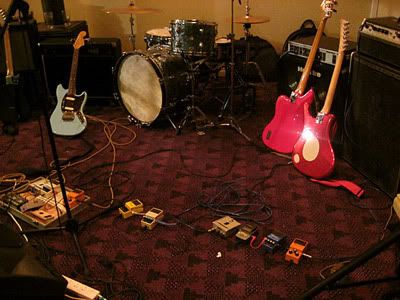 And as for the "genius" behind this whole operation (and the reason I'm here tonight), it would be none other than their band booker: the one and only Matt Banham from No Through Road, providing us with THE very best lo-fi stoner, noise and dirge rock you could ever hope to find in Adelaide (and believe me we've got more than enough of it to go around!). This is their opening "Saturday night". This is their awesome (and in no way badly photocopied) promo. Yup who says Adelaide is boring? Who says we have no nightlife? We've got all you need right here!!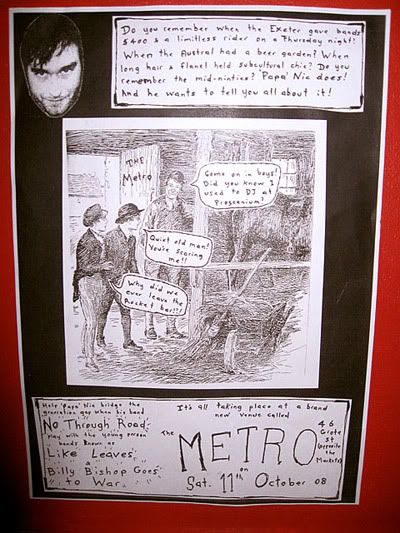 BILLY BISHOP GOES TO WAR
(***1/2)
myspace
::
Here's our opening act for the night. You may recognise them as those five incoherent blurs about two shades to the left to all those other incoherent blurs you thought were the band tonight but are in actual fact some of The Metro's finest dumpster diving derelicts and neardowells looking to pickpocket your wallet when your back is turned. Or in other words you probably can't recognise shit out there but if you squint your eyes in JUST the right way (and take lots of acid to compensate for the loss of vision) I'm sure you'll be seeing dolphins fucking sailboats soon enough. They're Billy Bishop Goes To War and to their credit they've come prepared. This may very well be the DARKEST live venue I've ever had the pleasure to curse-the-day-I-was-ever-born in but thanks to lead singer Josh and his raging case of "the black lung" I've managed to echo-locate him (and his bandmates) down to pinpoint accuracy to take all these awesome low-lit photos tonight. Yeah I know! how badass am I!? or at least I was until I chickened out and used the flash as well. Of other distinguishing note in the first ten minutes of their mindblowing set: (a) one of them managed to break a guitar (or possibly just a string), (b) they borrowed someone else's guitar, (c) I'm pretty sure nobody's died yet; so already things are looking up! Billy Bishop Goes To War. They're everything that is awesome about shoegaze, slacker, noise and post rock as performed by the socially awkward and chronically shy. They're downtrodden stares and hair in their eyes. They're the sounds of Gerling's "Children Of Telepathic Experience", My Bloody Valentine, Dinosaur Jnr, The Pixies and Pavement. And this is us ever so entranced and transfixed by their haunting sounds (even as we're stumbling in the dark in effort to find them). Fuck! Who needs eyes? it's all about the ears! Billy Bishop Goes To War will be our guide dog tonight!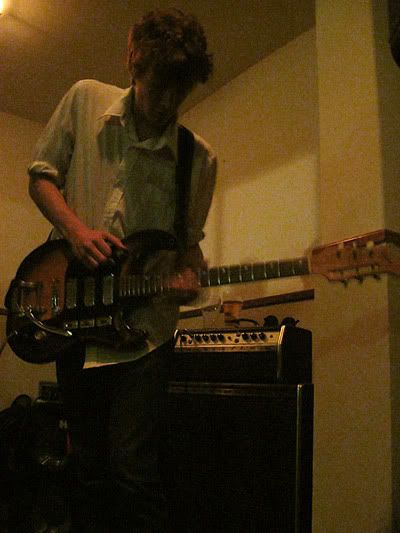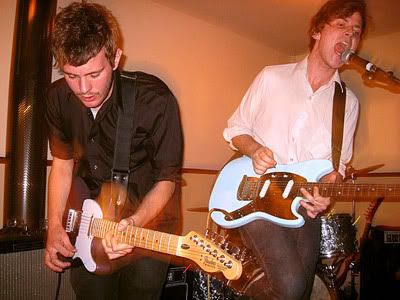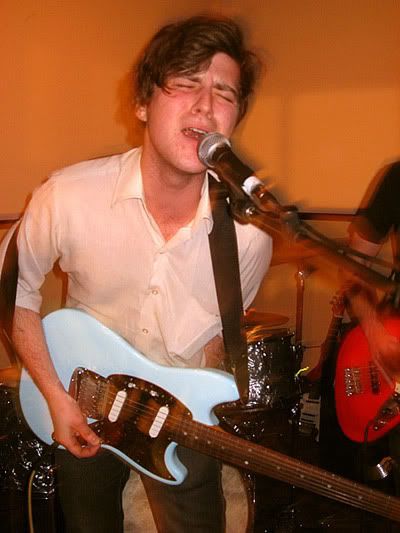 Yup, if you can look past Josh's constant coughing fits, if you can looks past the occassional false starts, if you can look past more than 10cm's in front of your face then you would've "seen" with your expanding ears a candy sound worth wallowing in like a womb for days on end. They're a five fingered fuzz, they're a lightly dappled drone, they're a symphony in sibilance and subsonics, they're a continuous weave of instrumental noodlings briefly accentuated by Josh's muffled lunatic asylum shrieks and interchanged with Tom's Velvet Underground drawl. Billy Bishop Goes To War. These are the songs senior citizens would dance to. These are the songs you'd put dogs to sleep to. These are the sombre serenades of all your bittersweet melancholy given flight to the ebb and flow flock of their guitar pedals breaking into song. Curl up on the floor in front of the stage and let them bury you under six feet of snow. It really don't get much better than this!
LIKE LEAVES
(****)
myspace
::
Following up in act two, the five incoherent blurs of Billy Bishop Goes To War (and one persistent coughing fit) are soon replaced on stage by three subsequent incoherent blurs, who if my eyes aren't deceiving me could be none other than the long black fog of Daniel Varricchio, the frizzy flannel fog of Patrick Saracino and the pip-squeak fog of Ryan Manolakis. In Adelaide's blitheringly obscure art, experimental and noise rock scenes these three could very well be considered a "supergroup" of sorts. The first you may recognise as that wacky "Ringwraith" from Lord Of The Rings (aka: The Nazgûl or The Witch-king of Angmar), from his occassional live appearances with
Wolf & Cub
or from playing backing band to some of Krautrock's finest exports:
Mani Neumeier
and
Damo Suzuki
. The second you may recognise as none other than Fidel Castro, the former "president" and communist dictator of Cuba from late 1959 to early 2008, Gimli The Dwarf, and occassional housemixer at Rocket Bar. Whilst the third and final one you may simply recognise as Frodo Baggins of The Shire, hero to the people of Middle-Earth and drummer for pretty much every second experimental art rock band in Adelaide these days (but most frequently just Mr Wednesday and BrotherSister). They're Like Leaves. They may very well be behind most (if not all) of the unsolved crimes, serial killings and half-baked conspiracies cooked up within this fair city but tonight they've simply come to melt our collective faces off with some of the finest instrumental freakouts and noise jams that an ounce of weed and a party packet of Doritos could ever hope to buy! Which all things considered in this world is a pretty sweet deal..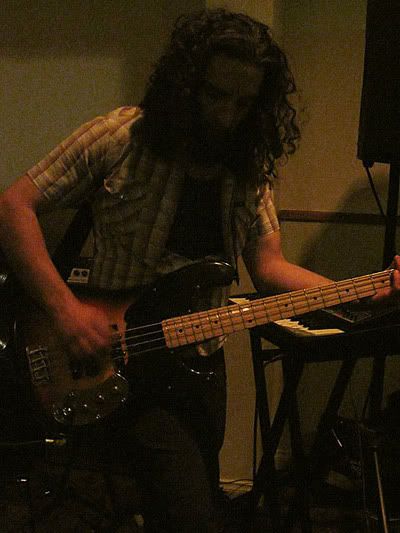 Like Leaves. They're the meat flavoured BBQ sounds of Josh Homme's Desert Sessions and Wolfmother set to twizzle stick kebabs and made to dance like My Disco. They're an opening number called "Dancing" with a "Sick Sick Sick" Queens Of The Stone Age style guitar riff that was so diabolical in it's fiendish simplicity it would sprout a veritable forest of devil horns if ever it was let loose in an Ozzfest come high noon. They're a song called "Complex Denial" with a shitload of "off-mic" shouting and math rock intricacies that would please even the most ardent post graduate naysayer. They're a song called "Monument" that sounds like a flock of bleach white cattle skulls come to roost in the desolation of our blissfully whistleblown minds. Oh yes! they're Like Leaves. They're a stoner dirge you can booty funk to! If ever you needed a spirit guide to take you through the "desert" and lead you home to safety, then these would be the mad freaks to do it!
Wow. It's been a helluva journey so far. All fifty to a hundred of us stuffed into this tiny meat packing plant. This tiny room in the dark. This isolation tank. This moth eaten granny flat. This coffin. All breathing in the same recycled air. All soon to be choking and collapsing dead on the floor with a multitude of wild-eyed grins on our faces. And all those smokers lining those windows like vultures waiting patiently outside for us to drop so they can gorge on our remains. FUCK YEAAAH! It's just like farting in a service elevator, only with tap beer! Yup, say what you will about our "laughable excuse" for a music scene: but right here is proof we can party like the best of them. And if ever you needed more proof, look no further than our headlining act..
NO THROUGH ROAD
(****1/2)
myspace
::
They say the secret to happiness lies in the simplest of things. Sometimes the stupidest of things. Sometimes a few too many beers and THIS band in a broom closet. Oh yes! They spared no expense with this one! They killed what little light remained, they fired up a slide projector and we were dazzled, dumbstruck and amazed by madenning pyrotechnic display they provided in one teeny tiny (and utterly inexplicable) photo of the Colosseum set at a wonky angle. YES! This is our headlining act and this is them rocking the shit out of our world tonight! No Through Road. In effort to explain the gravitational pull of this band, one need only start with their lead singer: Matt Banham. Watching him flail around on stage, flinging his microphone like it was a bar of soap hooked up to 40,000 volts of electricity, throwing himself around like a ragdoll with utter disregard for himself and anyone around him: one is at first reminded of that drunk guy at a wedding who fucks up his speech. One is reminded of that one drunk guy in your office Xmas party who ends up photocopying his arse only to fall down three flights of stairs. One is reminded of Bill Humphries' alter ego "Sir Les Patterson" as a kid. He's UK artist Art Brut after a few too many pints down the corner pub. He's Tim Rogers from You Am I. He's Hurricane Katrina wiping out most of New Orleans. Both ON and off the stage Matt Banham being well and truly shitfaced and out of his mind is THE key to their roaring success! (so much so I feel like joining in! weeeee! :) )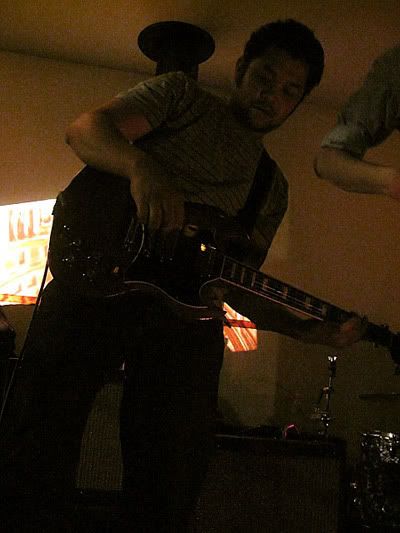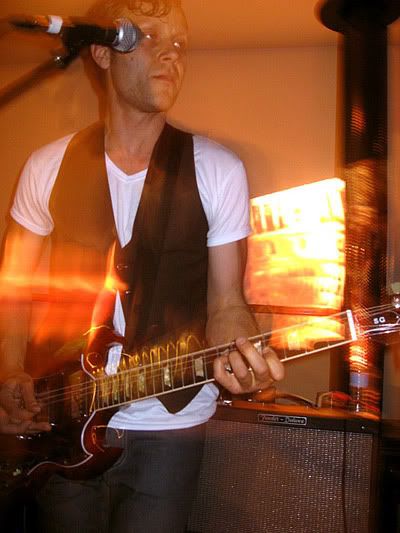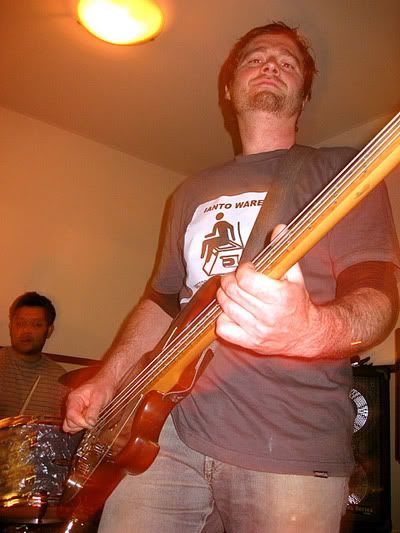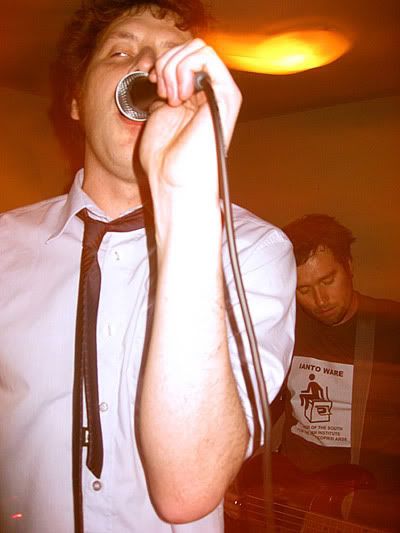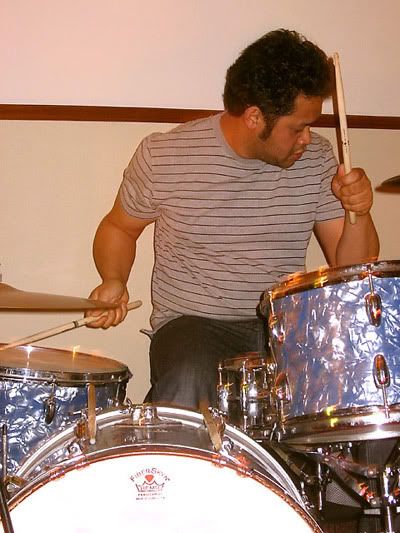 In effort to contain this idiot savant: Matt Banham is backed, aided and abetted by a hitsquad of the equally inebriated who fill the air tonight with a discordant candy cacophany of fuzzing guitars and drums that makes this combined mess sound more like every single hidden song, b-side and badly recorded demo you've ever heard from 1991 to 1995 played simultaneously by a backing band on invisible dodgem cars than anything that would otherwise approach indie guitar rock (phew!). Such is the genius of No Through Road that they actually manage to make sense of this carnage and craft such brilliance out of it. They're the moonshine mindfuck of Modest Mouse, Tapes N Tapes and Babyshambles set to chainsaws and exciteable yelping. They're songs all about self destruction, lonliness, suicide and alcohol fueled redemption. They're a volatile shitstorm that makes you want to smash a whiskey bottle over your head, start a bar fight, crash a party, toilet paper a police car; only to wake up the next day with no pants on trapped inside the ostrich enclosure at the Adelaide Zoo. They're half the band being dragged off into the crowd never to be seen again. Don't fight it, just go with it, and you'll be taken on one hell of a fucked up rollercoaster ride! They're the Adelaide lo-fi indie rock ghetto.. and we're loving it!
Yup, that's No Through Road. Despite missing their bass player Steph tonight (who's currently off on a holiday in Croatia) they did not disappoint. By the end of it there was no stage, there was no crowd, there was no divide, there was simply one seething mess of baboons inside and out all howling at the moon in unison and tearing all of civilised society down around our ears. No Through Road. They're "a beer stain smoking a cigarette". They're a force of nature. They're a band that cannot be denied. They're every reason we have to drink, fuck shit up and party to!
Oh and I'm also told they've just finished producing their second album and they're currently shopping around for a distributor to release it on. So if any of you record labels out there are reading this right now (and from the look of all the emails you keep sending me I KNOW you are!) and if you're willing to pick up the "bar tab" for THIS raging alcoholic doing the rounds of the crowd tonight, then give them a
buzz
! They're not exactly toilet trained and they'll probably cause more damage than you could ever hope to handle in one lifetime but just think: when the whole world's going to shit, when we're in the middle of a credit crunch, when we're in the middle of a binge drinking epidemic the likes of which we've never seen before? NOW is the time to cash in! :)
And there we have it: the opening night of a brand new Saturday of live music at The Metro. Sure it may be the most illbient, fucked up, retarded excuse for a "live venue" I've ever seen in my entire life but DAMN do they know how to party! And with Matt Banham running the show we can expect many more nights just as fucked up as this! Just think of all the stoner, lo-fi, art and dingy dirge rock acts that we could invite to rock out within these claustrophobic walls!? Nothing but Adelaide's finest: Thunderclaw, Megafauna, Leader Cheetah, Hit The Jackpot and whatever insane shit
Mathias
or
Mikey
(from Artax Mission) is currently cooking up involving ten to twelve minute convoluted space jams on the importance of ancient civilisations, an excess of guitar pedals, bodily hair and copious amounts of bong smoke!? Oh yes! All this could be yours Adelaide!!
It's not just The Exeter, Urtext or The Ed Castle anymore! OOOO NO! They're building a franchise, they're building an empire and they're coming for youuuuuu! MWAAAHAHAhAHA!!
(OOOH CRAP! I think that fart just came out three dimensional! mummy!?)
1:29AM
- Deeply horrified by what I witnessed at The Metro tonight (and yet all too curious to come back next Saturday when Mona Lisa Overdrive go for that "Guinness Book Of Records attempt" by playing their six billionth gig for the year), I flee for the surrounding streets. Here dazed and confused (wandering way south of where my compass normally lies) and unsure where the hell to go next but still choosing to photograph the shit out of it all the same.
1:33AM
- I travelled on a vaguely northeast trajectory through these emptying streets, zoning out on my ipod, just to see where my blithering journey to "somewhere" would take me. Ever so blissfully unaware of all the murderers, molesters and freemasons who would otherwise prey upon me if I took that fatal wrong turn and into the front pages of the morning papers. Like say right here and into our ever illustrious Town Hall (they eat people here don't you know!).
1:35AM
- Yup, it's funny to think that I'm always wandering back and forth down these city streets in the dead of night and yet for all the shootings, muggings and stabbings you hear about I'm never witness to any one of them. Which lends me to two equally plausible theories, either (a) my luck is about to run out (and no one will suspect that is was the busdriver of the N262), or (b) I'm actually the diabolical fiend behind ALL this depravity and all those retarded "serial killer" jokes I've been making are not just the indirect result of me watching an entire 2nd season "Dexter" in the space of two weeks but my online confessional. I mean just think about it, how would ANY of you really know!? Hmmm yup.. I dunno about you but I sure AM hungry!
1:42AM
- Moments later down Grenfell Street, I briefly consider snacking on this scooter, briefly consider waiting till the occupant returns and then snacking on them.. or fuckit I dunno, maybe I go eat something stupid at Hungry Jacks instead. After weighing my options I soon realise the error of my ways (Hungry Jacks!? pfffft seriously!?), lose my appetite completely and simply keep on stumbling towards the all too predictable cliche I always find myself in at this time of night..
1:59AM
- Such as Producers Bar here (or in other words: my friendly neighbourhood "medicine cabinet"). As per usual I stay for a few too many beers than is entirely necessary, duck downstairs to feed the shrunken heads, goats and birth defects that they secretly keep in the basement and then infinitely more drunk and incoherent I'm out on the streets and on my way again..
3:29AM
- And as I'm wondering back through the eastend ghetto again and towards Hindley Street, I wonder over all the little things that make this city great. All these little things that I could show off to the world. Like all those homeless freaks who live in the tents cities down in the parklands, all those chalk outlines in the side alleys off Hindley Street, all those shattered dreams that litter these sidewalk day by day. Or why don't we take a cruise down Rundle Street in a beaten up old brown Datsun and an air rifle and scare up some trouble with the wank intellectuals who hang outside The Exeter all night? Aaaaaah just think of all the fun we could have!? Just think of the possibilities! Oh yes, I see what you see! I know what you're thinking..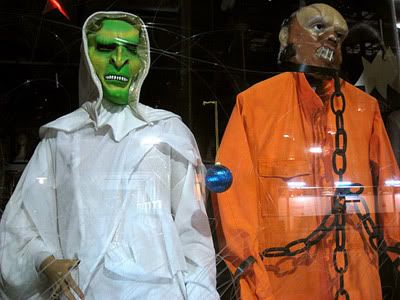 3:48AM
- Which is why out of all the other places I could've gone, I just had to end up in the SAME old shithole I always hit up at the end of the night (no not you Crown & Anchor, the other one!) with all the same laughable stoners, weirdos and retarded wastoids that make this city ever so awesome! Yup, why try something new when you can simply wallow in the same rut! It's what we do best. It's what we've done for years and it only gets funnier with every passing week!
4:33AM
- I mean shit, where ELSE would you want to be on a Saturday night: New York, Los Angeles, Paris, Berlin, London, Tokyo, Melbourne or Sydney or slumming it here in Adelaide with Stripey Shitfaced, Grinning Dickhead With An Indian Headress and Random Jesus With An Afro!? Oh no you don't need to give me an answer! we've got all your answers you need right here!
You may talk of recession, depression, waste and ruin. You may talk of the end of the world like it's something new? pfffft.. we did all that shit 20 years ago when our State Bank collapsed! It was awesome! Economic ruin!? duuuude we never left! We've been here all this time. We've been fighting with sticks and stones. We've been making mountains out of molehills. We've been living it up. We could probably show you a thing or two. We're Adelaide. You're one of us now!
Previously on Spoz's Rant:
Colonel Kernel + Zeta + The Battery Kids