RADIATION RULING THE NATION
beyond the blurring edges of our perception, beyond these measured packets that we syphon piecemeal like ricegrains thru the pinholes of our senses, beyond the uncomprehensible frontiers of all conscious thought, beyond all we experience like dribbling children with our outstretched gummy hands blotting and staining all that we perceive in this tiny freeze frame of the infinite.. there exists a rainbow of blinding frequencies, an impossible palette of energies, a fracturing infinite in oscillations, vibrations, tescellations and pandimensional possibilities multiplying and multiplying beyond all numbers we can pile into the sky to count, beyond all neurons we have to map, beyond all the crunching calculations of shrinkingly nanometric processors we can form to crunch into equations all that stretches before us.. if we were to but catch a glimmer of it all, a fleeting fragment of it all, it would drive us barking insane up the walls.. and to imagine anywhere near it's full magnitude would surely make our tiny frames explode.. and yet it is these inperceptible forces stretching beyond us that surely defines and rules us all.. we may be the aimless puppets of their unseen mischevious machinations, lemming codes spiraling into their oblivion.. and yet try we might, try we must, squint forth with heads outstretched to the infinite to lick that chromatic madness, to push those blinking strobe limits, to dare the infinite to make twisting balloon animals of us all, only to fly farting free and squiggling into the void in our defiance of the acceptable order.. for it is here, near gargling in this hallucinatory brainspace to oblivion where oxygen no longer exists, in this sanitarium grade delerium, that we can dare speak to the mediums, the ghosts that guard the flyscreen pattern of doorways of perception and we ask it to make sense of this all.. for surely, somewhere, somehow this fuckoff lunatic odyssey makes sense, this random stringing of events forms a symmetry and we're not just goldfish swimming loops of deja vu..
am I tickling the frontiers of that infinite? launching that exploratory monkey into the furthest reaches of outerspace? or is this braindamage? you be the judge.. for surely when you're living slackarse weekends like I've been this summer.. it's aaaaall downhill from here :)
WEDNESDAY NIGHT
as many of you regular readers may very well be aware.. ie: the 2-3 people I bribe constantly to read this gargling shite each and every week so I can delude myself into thinking I have a dominant meme in the cultural zeitgiest (or even know what the fuck half of those fancypants words I used actually mean), we here at SPOZ's RANT have no shame, we have no scruples, fuckit we'll
fake
blogs, concoct utterly distateful
pee pee gags
and do all manner of stupifying acts in public indecency just to keep this bloating corpse in internet publishing afloat.. and so it is with this in mind, that I take what could only be called a "shining moment in journalistic masturbation" as I stoop to the level of promoting one of my OWN shows.. *ahem*..
yup that's my photographic art, featuring alongside the works of 9 other shiny artists in an exhibition that had it's official launch party this WEDNESDAY NIGHT.. so for all of you who came along and enjoyed the culturally profound midweek drunkening and mind expansion, my eternal thanks and gratitude go out to you.. you dudes rock!.. and to all the rest of you dweebs and mouth breathing dorks who haven't seen it yet.. never fear, it'll be on display from now till MARCH 18th.. so go see it, feast your eyeballs till they implode and BUY UP ALL ME SHIT YA BAAAAAASTARDS! :)
*end gratuitous self promotion*
(oh, and the less said about this day also being VALENTINE's DAY, the better.. *cough* )
FRIDAY NIGHT

to continue the weirdness that will obviously become a theme for this week.. today began with me being called as a witness to a friend's elopement at 4PM.. all held in the marriage registry offices situated at level 2, 91 GRENFELL ST in the city.. imagine if you will everything you'd expect from a "shotgun wedding" minus the ELVIS IMPERSONATORS, a few spare VEGAS slot machines and a week's supply of complimentary seafood buffet being projectile vomited into the 60's psychedelic shag pile carpeting and you wouldn't be far off.. of course I could present a whole stack of cheesy photos of this event, since yes I was their official photographer.. but since we're dealing with an "elopement" here.. I will neither present photos nor expose the identities of the secret couple involved, but merely wish them crazy kats all the best of luck for their futures.. 'twas such a beautiful ceremony too.. if y'know, you get all flushed in the pink bits over the whole "marriage" bollocks.. meh ;)
anyhoo.. after a quick hit n run on an italian restaurant in PIRIE ST at 6PM, followed by a quick trip home to get changed, dump photos, recharge batteries from 7:30PM to 8:30PM.. I'm back into the city at 9PM, as I arrive for my first live gig this weekend with ARTAX MISSION and DAMO SUZUKI performing at the ROCKET BAR..
and although it's barely been a week in hiatus due to that accursed flu I caught after the BIG DAY OUT weekend (gee, I wonder if anyone spotted anything amiss in my
last blog
.. bwaahahaha!) for me it's felt like some deranged demon slayer had just plunged a sword into me, banished thru a screaming portal into a hell dimension for a few spare centuries only for me to emerge dazed and confused eons later into a world I no longer understood.. like what the fuck man.. since when did they raise the beer prices again!? has it been THAT long in the wilderness?
ARTAX MISSION
anyhoo.. after barely getting over the shock of paying $6 for a rapidly evaporating COOPERS PALE ALE in this stench of a 38+ heatwave (ouch, you guys really know how to torture a guy dontcha?) the first band of the night make their appearance in a swirl of feedback at 10PM..
as we present ARTAX MISSION - ADELAIDE's most notoriously obscure, yet profoundly brilliant art-noise band.. a band who's been on hiatus and in hiding ever since their
last gig
in late AUGUST (when their drummer vanished for a mystery trip of europe) only now to return even more tweakingly obscure for the new year..
yup, here's a band so freakingly underground and hootingly under the radar.. that not only do they lack a myspace, a music sa listing, a website / email / online presence or any of the other convenient trappings of glaringly public band promotion like posters or t-shirts and the like.. but by all appearances, it also appears as if 1/2 of their shows don't even get listed in any gig guides either.. seriously, I dunno how the hell ANYONE manages to find themselves at any one of these shows (but whoaaaaa.. aren't they thankful that they did ;) )
in fact sometimes I seriously wonder if these space monkeys even possess such mortal things as birth certificates, tax file numbers, fingerprints, DNA or any other identifying marks that would otherwise signify them as members of this society, species or planet of origin..
perhaps they don't even have belly buttons, perhaps they were grown in special tubes, perhaps they've been sent from a post apocalyptic future to reprogram our brains to think in 11 simultaneous dimensions.. who the fuck knows?
either way, to be lucky enough to chance upon one of their live sets is indeed a sublime experience to behold.. as they present what sounds all the best elements of SONIC YOUTH mashed together into the one continuous amorphous swirling blob of face melting noise, minus all those annoyingly obvious bits like lyrics, verse-chorus structures, rhythm sections or fuckit even identifiable songs that would otherwise taint the psychosis.. all delivered like a spun candyfloss in hooting dissonance to our ears.. like whoaaaa dude, this stuff was so freakingly and insanely cool tonight I wish I could've had sex with it and produced like a million diabolical offspring, just so I could over populate the planet with their freakingly tweaky likenesses..
most of their 1 hour set tonight was completely improvised and made up on the spot, although you wouldnt've known it from listening to all the carefully constructed head twisting chords and swirling psychedelica they weaved, all the shrieking walls of guitar, the hammering bass, the witches brew in drowned out screaming and sustained ethereality, the cyclic pounding of the drums.. I could've listened to this shit all night.. although it got particularly bizarre when for reasons unknown I could've sworn they were covering DAVID ESSEX's spaced out 70's hit "ROCK ON" (also more infamously covered by SMASHING PUMPKINS on their JUDAS O bootleg) in some kinda valium channeling slo-mo groove..
"hey kid, rock and roll..
rock on, ooh, my soul..
hey kid, boogey too, did ya..
hey shout, summertime blues..
jump up and down in my blue suede shoes..
hey kid, rock and roll, rock on..
and where do we go from here..
which is the way that's clear..
still looking for..
that blue jean, baby queen..
prettiest girl I ever seen..
see her shake on the movie screen, jimmy dean..
jimmy dean..
rock on..
rock on..
rock on..
rock on.. all night long.."
oh yeah.. rock on you psychedelic space monkeys.. rock the fuck on! :)
note: if you wanna catch their next gig.. word of mouth rumour is they've got a CD LAUNCH coming up on MARCH 11th (SUNDAY NIGHT / long weekend) at ROCKET BAR, supported by fellow psychedelics space trippers LADY STRANGELOVE.. it'd be one helluva fuckoff insane gig that you'd be barking mad to miss.. see ya there monkey fukkas!
DAMO SUZUKI NETWORK
and now with my brain sufficiently twisted severe.. up next, we have the headlining act DAMO SUZUKI at 11:30PM to kill what's left of my gelatinous blubbering consciousness..
for the uninitiated, this greying japanese midget (who would've been no taller than 5ft) was apparently part of the infamous 70's psychedelic german act "CAN".. and ever since 1997 has been walking the land like KUNG FU righting wrongs and getting into all sorts of whacked out adventures as part of his continuing "NEVERENDING TOUR"..
the premise of which is that this dude never actually travels with a live band.. he simply lands in a city he's due to play at, randomly selects a bunch of local psychedelic session musicians around him to form an ever changing ensemble he likes to call "THE NETWORK" (I think I recognised two members tonight - PATRICK SARACINO (aka: FIDEL CASTRO) on the bass, and DANIEL VARRICCHIO on guitar.. the rest is anyone's guess) and then they all jump on stage.. no rehearsal, no prior communication or organisation of any kind to produce 100% random face melting jams which gets recorded and sold on CD after the gig..
sure it's an interesting concept, as in theory no two gigs would ever be the same and all us monkeys in the crowd would be in for one helluva ride.. but, in practice.. the whole thing was very much a hit and miss affair..
DAMO SUZUKI led things with his vocals sounding somewhat like a mix between an ethereal YODA, LOUIS ARMSTRONG on acid and a drunken camel attempting to gargle mouthwash all set to a backing band that would unnervingly lurch thru various energy ebbs and flows.. from noodling contemplated silences to howling and crashing waves of dissonant orchestration.. sure there was some really cool moments where it all fell into place beautifully.. but really, at most all I could handle was about 20 minutes of this churning dishwasher sound till it drove me near barking insane (especially when you realise after an hour of it that it never went anywhere), perhaps I was missing something here.. perhaps this was the sorta gig that an armchair noise enthusiast would pop a tweeter knob over.. but for someone with tastes even as ecclectic as mine this experience was really starting to grate on my nerves after too long.. but hey ya gotta give these lunatics credit for pushing the frontiers regardless ;)
anyhoo after having my brain sufficiently twisted into a pretzel, at 1AM I made leave of ROCKET BAR, and made my migration eastwards to catch up with all the usual mental patients at the tail end of the night..
as I ended up the night a dribbling mess on the dancefloor with some familiar idiots and inebriate entourage from TONY FONT SHOW and other likewise fools.. till my brain fell out've my head somewhere past 3AM and I thought best to drag my carcass home..
thus ending one particularly confusing yet enjoyable night in musically avant garde bong smoke entertainment..
SATURDAY NIGHT

continuing the ecclectic theme this week.. I find myself starting this SATURDAY evening at SIMONE's birthday party at 6PM.. situated here at her whacked out party compound somewhere in the eastern suburbs..
as our gift to her.. I presented to her one of those wacky bug-eyed space-alien I formely
encountered
on the AUSTRALIA DAY long weekend (little did I know then, but you could actually find millions of these shiny monkeys infesting TOYS R US.. whodathunkit?) just chuck some AA batteries in 'em.. press some buttons.. and then watch the little blinking gremlin perform all manner of fuckoff bizarre chattering noises, beeps, funky beats, blinking lights and twitching eyeballs all set in time to your music.. hours of wacky entertainment :)
also provided for our amusement whilst we drunk ourselves retarded for the next few hours.. we had game after game of "WHACK-A-MOLE" (where, as much as I understood the aim of the game was essentially to beat the living shit out've chattering head blinking moles with plastic mallets)
also featured for our amusement.. drinking foul VODKA concoctions and other such intestinal warping cocktails..
being blinded by all manner of things loud, sparkly and pink.. AAAAUAUAUAGHH!!!
and getting so retardingly drunk, that I thought wearing every single pair of glasses I could find at once was actually a good idea (although it at least managed to dial down the volume on SIMONE's dress.. woooooo!)
after devouring enough pizza to bloat out a herd of hippos at 8PM, we next made hanging twits of ourselves as we all piled into a bus bound for the city at 9:30PM..
and whilst the main birthday party entourage split off and headed for certain doom at THE CRANKA, I made my way towards ENIGMA for ANGELIK's CD launch with the psychedelic pink haired SARA in tow..
THE BLACK DOVES
first up tonight was some fart-arse band called RICOCHET PETE.. and sure I would've normally gone to see them.. but since quite conveniently I'd only just arrived at 10PM and lets face it, was far too retardingly drunk on this stinky hot night (even at this early an hour) to give a flying goats arse.. I thought I'd just skip straight ahead to the second band of the night, as THE BLACK DOVES hit the stage at 10:30PM..
and I dunno if it was this crazy unrelenting heatwave kicking past 40 degrees and all the disorienting heatstrokes that went along with it.. but there was definitely something particularly fuckarse bizarre in the air tonight..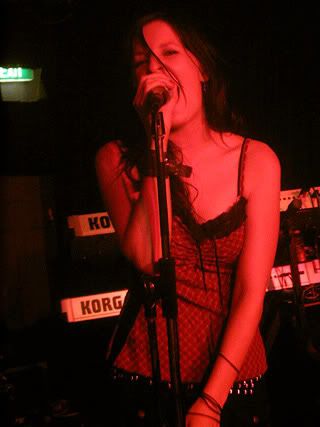 sure even at the best of times, THE BLACK DOVES can often resemble a deranged community theatre experiment gone horribly and violently wrong to some kinda german electro porn soundtrack.. often this can actually be a good thing.. sure it's pure chaos.. but at least you can like, dance to it.. well, perhaps not dance to it.. but at least you can get fucked up rotten to it..
but tonight, I can't quite place why, but things were just a little bit more grinningly askew than usual.. for instance, if anyone could please explain to me what the fuck MARIO and ADAM were attempting to achieve here with the keyboards I'd be very grateful.. perhaps this was the only way they could really hit the "high notes"? perhaps they were shaking it to loose of candy like a pinata? who the fuck knows?
SCOTTY was up to his usual idiot savant hissy fit antics on the guitars.. since, as we all know, SCOTTY often ingests enough blinking pharmaceuticals prior to any given set that he doesn't actually need to exist on the same plane of reality as the rest of the band anymore.. as for how he still manages to keep time with the rest of them is seriously anyone's guess..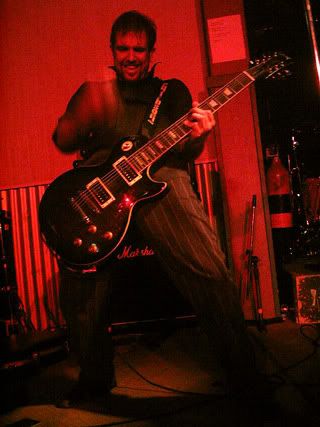 every reliably thru the escalating chaos, TONY here proceeds to beat the drums to the point of a nervous breakdown..
MARIO being the hooting theatrical drama queen that he is, invariably decides to get his shirt off.. thus unleashing a foul stench from his armpits so potent that it manages to black out cold the first two rows of the crowd (oh, and is it just me, or with his new blond hair is he seriously starting to resemble that dude from MY CHEMICAL ROMANCE? bwaaahahahaha!)
to escape the rising cloud of green stench, I flee for saftey to the back of the stage..
until the smell even starts to overpower it's creator, bringing MARIO to his knees and driving fellow vocalist KATE screaming off the stage (they claim she lost her voice.. but dammit.. I know better! it was the smell dammit! THE SMELL!!!!)
before the whole thing comes crashing to the floor, as MARIO damn near takes everyone down with him (with his oft molested victim, SCOTTY being the first one to be claimed) as they all bring to a close in a crushing finale one fuckoff nutty industrial accident of a BLACK DOVES set.. woooooooooooooooooo! :)
ANGELIK
and now that the BLACK DOVES have been safely carried off by attending morgue staff in ziplock body bags.. it's time for the headlining act ANGELIK to flay the skin off our bones, as they erupt on stage just past the stroke of midnight..
presenting in all their gutteral howling rock fury.. the deranged facial puppetry and chainsaw hacking guitar moves of SAM "THE BULLET" BAROUDI..
the surly pissed off bass aggression of NICK "THE PITBULL" HADLEY..
the shrieking vocal contortions of LAKEN "THE BUGEYED EXTRATERRESTRIAL" SMITH..
and the hissyfit spastic drumming of NICK "THE STICK INSECT" HADLEY..
as these grinning bastards damn near tear a screaming hole in the spacetime continuum with their fuckoff fistfucking load of monkey rock aggression..
I mean shit, as much as you're usually guarenteed a lacerating shitstorm in sound anytime these lunatics run around on stage.. with all the crazy epilectic lighting blinking about tonight (cheers to that drumstick monkey SEAN KEMP pissing about on the dials) and the live PA screaming somewhere past the frequencies that'd make dogs explode.. it may've just been all the beers and the heathaze talking.. but this shit freaking went off tonight.. ooooyeah! :)
although, since they were promoting their brand new shiny EP "IT WONT STAY THAT WAY" and most of the songs in their setlist tonight were from their shiny new selection.. I didn't really recognise an awful lot of what they were playing.. although, again.. this could simply be due to how flailingly inebriated I often get by the time these loons choose to play ;)
the new stuff was quite impressively chunky, they had some full throttle insane fuckoff shit in there and it really did my head in nicely in my gargling state of dementia (and if I wuzn't really lazy tonight in writing this I would've already slapped on me complimentary CD and had a listen to 'em all so I'd actually recognise them the next time they played) but yeah, dip me in yellow paint, set me on fire and call me golden boy, but I actually kinda missed some of their wacky oldskool tunes like "GO".. any chance you could throw that puppy back in next time? :P
still as hammering odes to fuckoff rockpig intensity go, old or new.. this rocked out tonight harder than 10 tonnes of freeze dried monkey bollocks being blasted square at ya pink bits with an air cannon.. sure, you may squeal a high note, break out in a cold sweat and black out in a coma if exposed to more than a nominal dose.. but dammit.. it'd be worth the ride.. ROCK! :)
after the gig and swirling beyond coherancy, I pissed on with some of these familiar hooting denizens of ENIGMA..
before piling downstairs and out the door in a blurring haze a little past 1AM, with aims to rejoin SIMONE's birthday party to the east..
wherein I soon discover in my travels thru RUNDLE MALL.. that since my departure, the party has now effectively gotten themselves thrown out've THE CRANKA (an exceptional achievement to be sure) and thus relocated themselves to the fermenting spongiform aroma's of the EXETER.. and when I finally arrived myself it really didn't take all that long to find them.. simply head towards the sound of the loudest twits in the room, look for a storm of flapping arms and legs and lunatics climbing the furniture.. and there they'd be ;)
as you'd expect, the rest of the night is a bit of a blur.. I vaguely remember leaving the EXETER at about 2:30AM and heading to SHOTZ, I vaguely remember JOE BLOGS disappearing in the mess of it all "duuudes.. I'll catch up".. only to lose him for the rest of the night in a dribbling carcrash of misheard voicemails and gargling SMS's.. I have some blurring memories of making an utter twat of myself on the dancefloor.. even foggier memories of chugging down some of the most foul of shotglass concoctions they coughed up over the bar.. and, well.. I guess THIS photo at the end of it all pretty much speaks for itself.. *ahem* ;)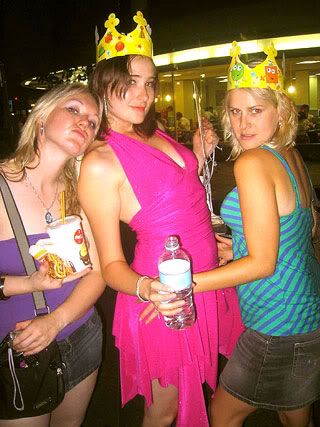 yup, if I was any lesser an individual, with all the carnage I've survived this night, I'd be right there passed out in a pile of newspapers at the window of FRUMPTY DACKS like THIS dude at 5AM (aaaaah, wouldn't this make a brilliantly scenic postcard.. "COME TO ADELAIDE, THE CITY THAT NEVER SLEEPS! WOOOOOHOOOOOOOOOO!")
but obviously.. with the night here just about pushing up daisies (what with this heatwave wearing us down to shrunken pickle dwarves of our former selves) it was high time we bid farewell to this regurgitant zoo of humanity staggering around blindly on the city streets.. and get ourselves taxis the fuck out've there to sleep all the toxins off.. thus bringing to a close yet another successful mission in our continuing quest for flailing self destruction.. I dunno whether were we furthering the frontiers of science or if it was just brain damage.. but either way, who cares? a week was FAR too long.. it's sooo good to be back! :)
Previously on Spoz's Rant:
Non-Zero Possibility