MANI NEUMEIER & THE BITCHES OF ZEUS + SKELETONS
LIVE @ PRODUCERS BAR / Saturday January 19th 2008
Some of the best gigs you'll ever see in Adelaide aren't explicitly advertised. There's no hype, no no hyperbole, no maddening hysteria screaming down your neck. No petitions fueling feverish anticipation for weeks and months in advance only for it all to sell out in the matter of minutes. You can't buy these with booking agents, ticket scalpers, ebay, or overnight lineups around the corner. There's no tv spots, radio, billboards, magazine articles, full pagers, myspace banners, competitions or viral campaigns to drive them. No, these are the freakingly obscure gigs you only find out AFTER the fact. They're the ones you kick yourself over for missing. Spoken through chance rumour, chinese whisper and hearsay. In misdirection, back alleys and broken down bookstores you'll hunt them. In secret handshake, password and badly drawn maps you'll find them. And sometimes, just sometimes, when some random hippy freak hands you a flyer to an obscure as fuck 70's Krautrock psychedelic drummer, you decide to follow it..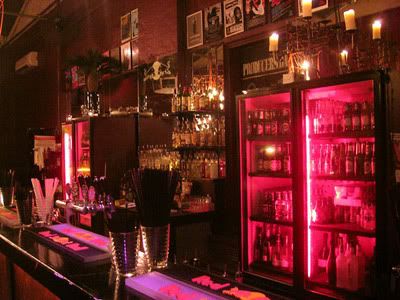 Which is why it's always funny, when you DO finally make it to a gig like this at Producers Bar on a Saturday night for an artist that seemingly NO-ONE has ever heard of (Mani Neumeier & The Bitches Of Zeus anyone?) only to then find it climbing the walls with 100's of people. Weird. Perhaps they all knew (just like I know now) just how fucking spaced out this night would be..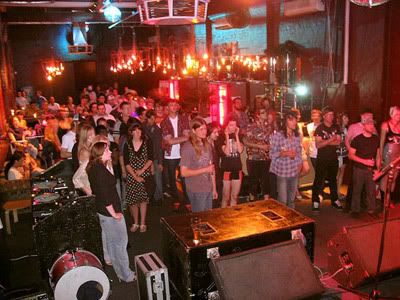 SKELETONS
(*****)
myspace
::
I'd seen previous sets and I thought I knew what to expect. I brought the silver bullets, hand crafted revolver, crossbow, crucifixes, stakes, garlic and holy water just in case. I checked all my available exits. I had my duct tape. Believe me, screaming jazz-noir experimentalists are not ones to fuck with empty handed. But just when I thought they couldn't pull any more surprises, they go and reverse the polarity of my brain with this: their once-off supergroup mashup free-for-all, featuring extra special guests JC (aka: Thom Yorke Jnr from Wolf & Cub) on bongos and Mikey (aka: Sid Barret, ex Artax Mission) on guitar to rewrite the laws of gravity and uppend my splattering innards all over the fucking ceiling. Sure, it did kinda miss the random tribal screaming most notable from their original recipe (thanks in no small part to the absence of key member Sam from Fire! Santa Rosa Fire! on the drums), but in it's place with Mikey's thousand fold guitar bridging both hemispheres of my brain into the one swirling mush and JC's bugged out bongos it was damn near apocalyptic. Seriously, this was so face meltingly awesome, not only do I have NO intelligible words to describe it, but I'd happily live and die here and be reborn as an insect a thousand lifetimes over just to buzz off it for eternity!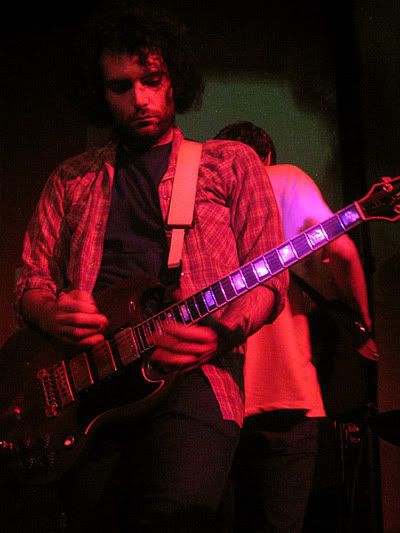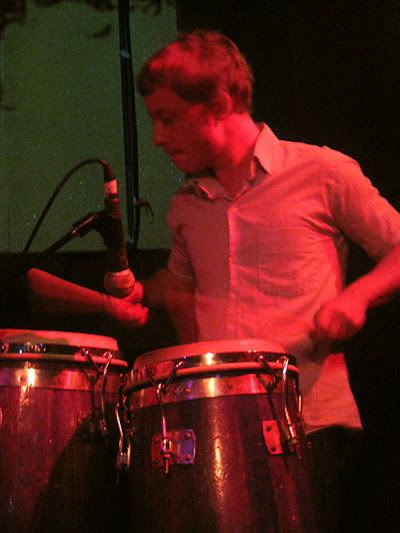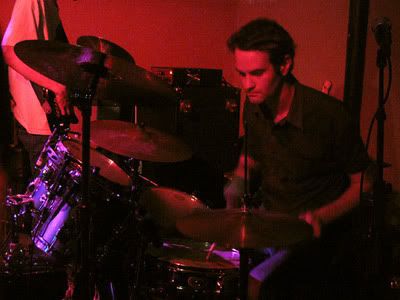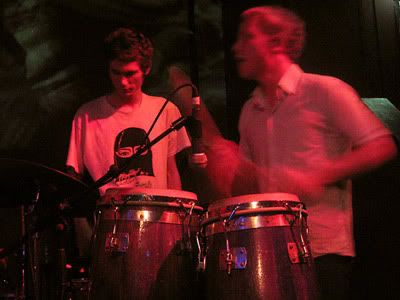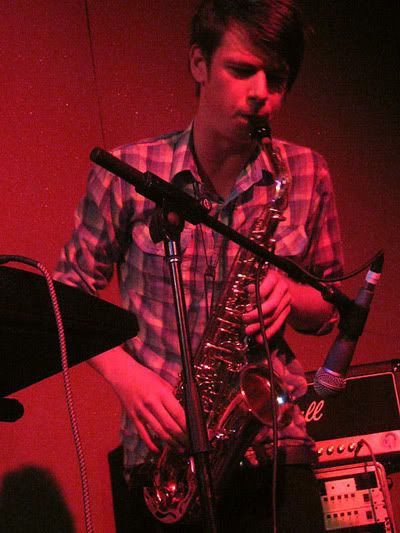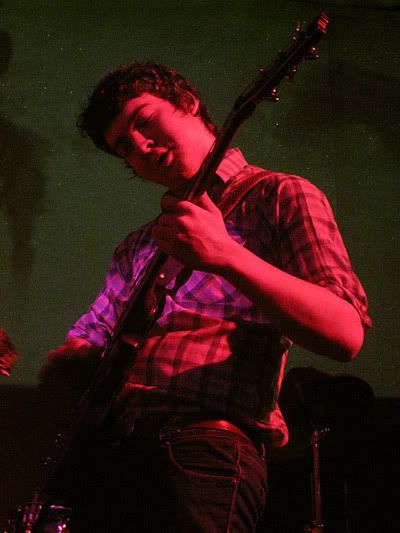 After spending the next 20-30 minutes buzzing around the low slung tentacle lights of Producers Bar convinced I was a reincarnated mass moth collective licking the sun, I was finally brought back to a slightly more coherant reality by the abrupt coke can cacophony from this demented old fool and his mad entourage of mental patients jingling their cans in tow..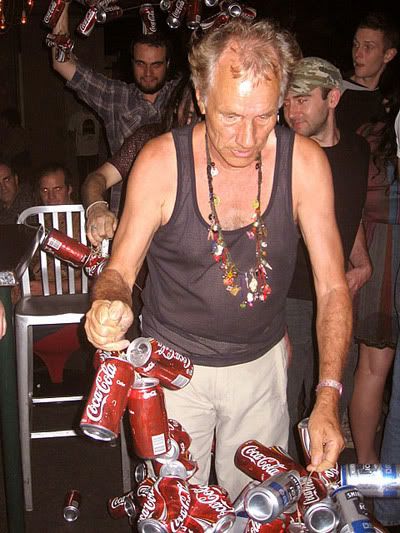 Little did I realise at the time that THIS was to be our headlining act, OOOOOH FUCK!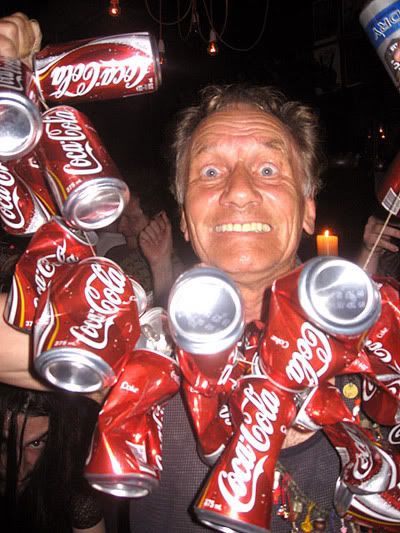 MANI NEUMEIER
(*****)
website
::
Yup, I really didn't have the first fucking clue what to expect. What little
information
I could uncover (thanks to everyone's favourite misinformation source, wikipedia) was cryptic at best. To quote: "Mani Neumeier - German rock musician, free jazz-drummer, artist, frontman (singer and drummer) of the German Krautrock-band Guru Guru - collaborated with numerous bands and artists, such as Dieter Möbius, Damo Suzuki, Harmonia, Hans-Karsten Raecke, Irène Schweizer" (riiiiight big fucking help there!). Damn, I should've known warning words would be useless with a psychedelic space monkey of this calibre and only first hand experience would suffice. As such, it was a free-form improvised set. Mani Neumeier drove the spaced out rhythms in ecclectic percussion whilst Adelaide's usual suspects in session psychedelia: Dan V, Patrick C and Lenin M (aka: The Bitches Of Zeus) would swirl guitar soundscapes into ever more dizzying and spaced out forms. Sure, previous experiments with free form Krautrock jams have been mixed (as was witnessed with Damo Suzuki's utterly confusing set
last year
at Rocket Bar) but thankfully tonight's set was nothing short of liquid gold. Seriously, duuuude, I could curl up in a ball with beer as my umbilical and live here for the rest of my life!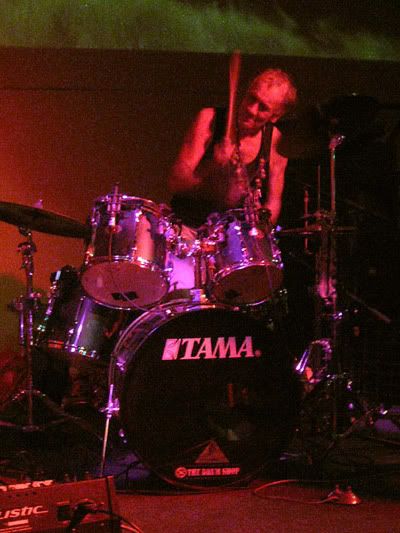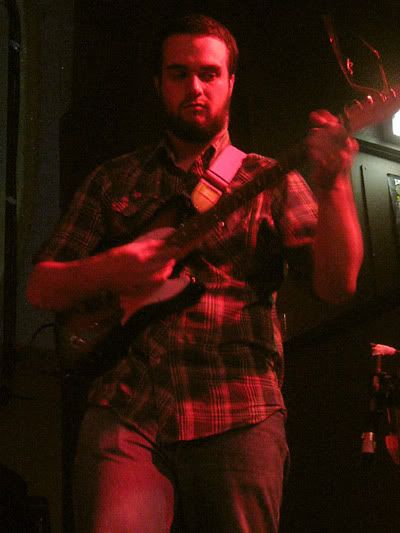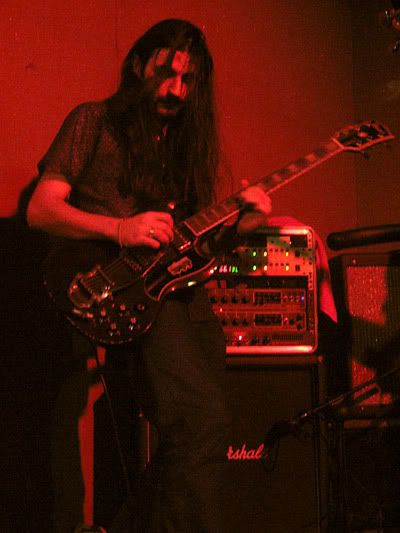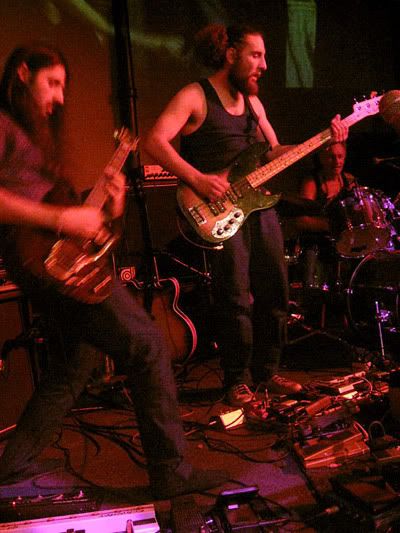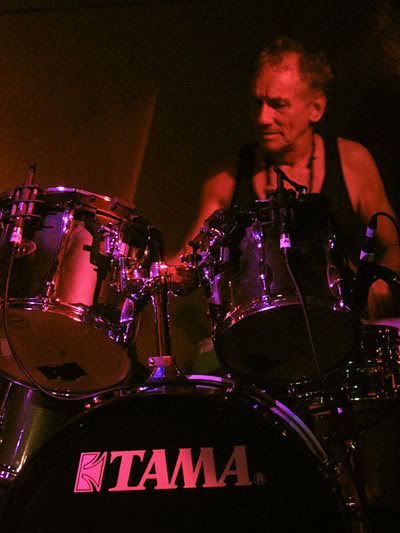 After an hour's set, a short interval was called, at which point Mani leapt off stage, stuffed a black rubber rooster-hat on his head, spilled out a random collection of silver trays and pot lids in assorted sizes from his backpack onto the ground in front of him, before proceeding to jam out a frenetic poly-rhythmical jam like no other. All those different sizes, all those different notes, all dancing around our ears like raindrops and whizzing bullets, it's in a moment like these that you really get an insight into just how fucking paranormal 50 years working a craft can make you..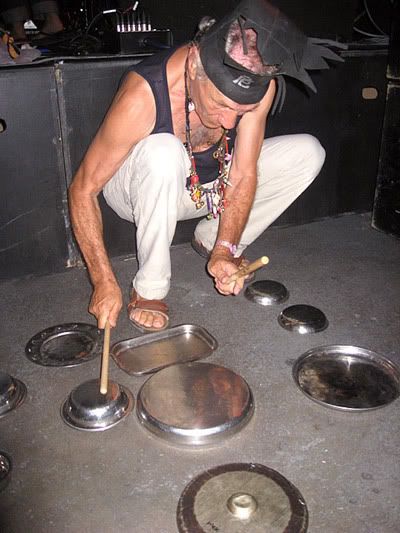 Then it's back on stage for part two, joined in kind by yet more collaborators from opening act Skeletons and beyond to push that weird-shit-o-metre screaming even further into the red. Of course, any language bordering on coherancy is clearly gonna fail in describing this, I know all of you out there are probably STILL scratching your heads, so I shall instead refer to all the mad scribblings I left in my phone SMS: "Pink Floyd whale song set to deep submerg, oceanic trench swims echoes of the ages, liquid stoner flow on the boil, noodles and red wine, tendrils and buzzing borealis clouds, individual krill like acid rain, hard shells dancing the sunspots, keratin and crustaceans snap crackle pop, lava lizard mumma tornado jesus puppet on ping pong strings dancing, develop like a fine wine, digest and develop like foetus back and forth reverse the tape, the perfect absurdity, swimming with the larvae my life lives to a liquid lung whilst the universe sings sweet song chaos to me" *cough* and look, there goes my brain farting up the walls like a helium baloon pissing out air! Take a moment for your pupils to dilate, wait for gravity to reverse you back to your upright standing position and then you'll surely understand..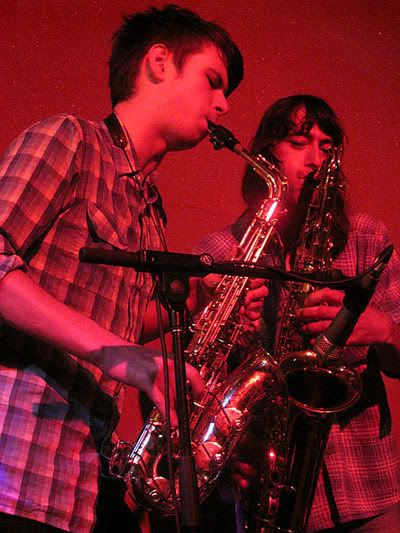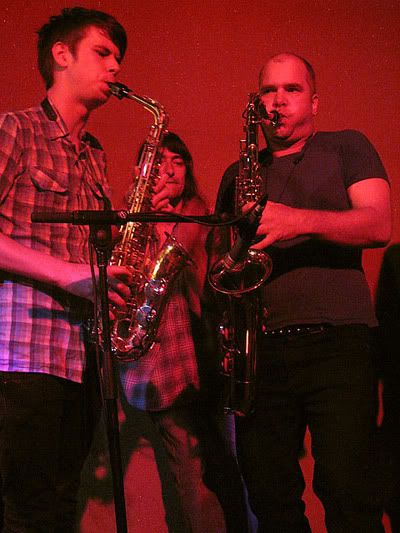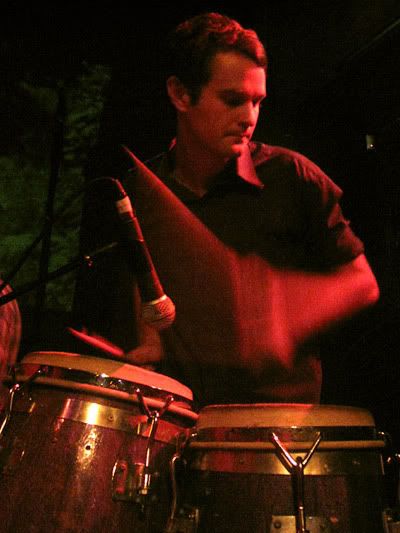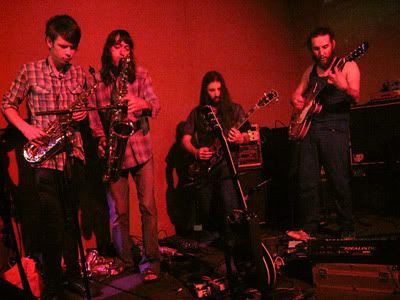 Mani Neumeier & The Bitches Of Zeus do a little bow at the end, looking for all the world like a crack team of cosmonauts making first contact with aliens from Uranus, those in the crowd still able to exercise their base motor functions erupt in applause, and there's your monkey!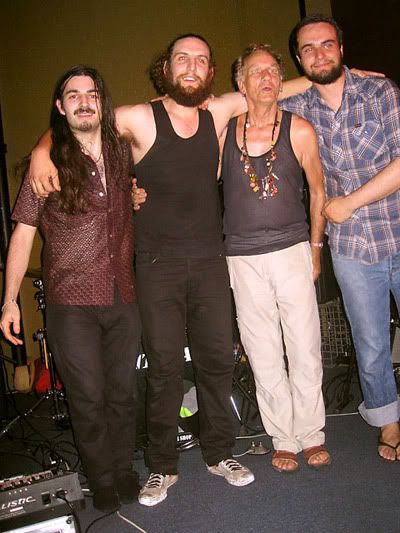 I think I went somewhere else after to drink myself retarded with beer: it may've been the Exeter, it may've been the Cranka, it may've been the moist armpitspace of an oversized intergalactic yak and chances are I'll be in many such places since, but very few in both time or space will ever be quite nearly as utterly spaced out as where I've been just now..
Oh, and that dull thudding percussive rhythm you hear right now? That one that's giving you that dull persistant headache? that's YOU kicking yourself stupid for missing this!
Previously on Spoz's Rant:
Swords + Like Leaves + Megafauna