TYGER TYGER + BILLY BISHOP GOES TO WAR + CORTEZ
LIVE @ RHINO ROOM / Friday December 5th 2008
Albert Einstein once said that the definition of insanity is doing the same thing over and over and expecting different results. On the surface you may scoff at such an oxymoronical and counterintuitive concept; as surely as all our science, civilisation and religion is based on such madenning and hypnotic repetition (and clearly we can't all be batshit insane for following it for all these years.. or can we!?). Still when you also consider that Albert Einsten formulated the General Theory Of Relativity, came up with E=mc2 (the mass-energy equivalence formula), was the father of the atomic bomb and was also the inventor of the white man's afro (and we all know how freakingly awesome THAT is) this shitcrazy highschool dropout may very well have been onto something. We all know it. We all live it. There ain't no denying it. We've been crazy all this time. In fact the very definition of insanity by any other means can also be considered our nine to five job, our daily routine, our daily grind, hamster wheels within hamster wheels, cogs to the machine, wearing us down and pissing all over our ingenuity. And as surely as we rebel from one we inexplicably find ourselves caught in the orbit of another. It's all around us. It follows us wherever we go. It's even right here in the Adelaide music scene where I've spent all of a year in escape of it. I can see it now. It's all the same venues, those same bands, that same nonsensical narrative that links it all together. It's me writing this shitcrazy blog, this mad science experiment every week without interruption for eleven months now just to see if I'll fucking explode. It's me reaching the 103rd episode for the year that you're reading right now? FUUUCK! How did we get here? How did we get this far? How the fuck do I get out!? As surely as I'm loving every damn minute of it? come December, inches from the end, I am its citizen insane teetering on the edge..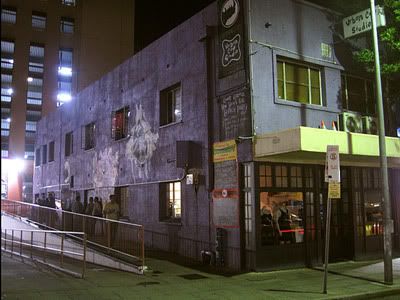 And yet we've come so far and there's only one month to go. So how DO we find the energy to take us to the very end of 2008 and dive off deleriously happy into the beyond!? When everywhere around us this year is giving up the fight, the silly season is upon us and the body count is stacking up those dominoes to document our fall!? It's the definition of insanity that derails us. It's the routine. We are not creatures of habit. We must defy them. We'll break the rules. We'll invent new ones. We'll break those as well. And thus we must find relief in the mad quirks that truly define us. It's in making all the choices so insane they must be right! It's me revisiting the east end ghetto for the first time in
three weeks
despite there being no signs of life here in months. It's me revisiting the Rhino Room for the first time in
six months
despite the fact it drove me nearly insane the last time I was here. It's me publishing this haphazard episode of a blog a day later on a Wednesday just for the mad fuck of it. Why? why the fuck not!? We're beyond all other recorded history here, we have nothing left to lose, we're making it up as we go along!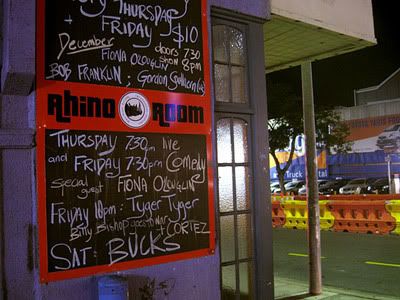 Aaaaah Rhino Room! In any other sane universe I'd choose to exist in, this would be the last place I'd ever want to revisit. As much as it's Adelaide's premiere standup comedy venue it's also Adelaide's worst live music venue to take a camera into. Ask any other photographer and they'll tell you. It's defeated me countless times in the past. It's had me beating my head against those four walls, blood out of stone cursing its very name. For all the awesome intimate surrounds, comfy couch seating, checkered dancefloor, disco retro funk and urban art aesthetic it's also a soul sucking blackhole of woe. I could've been anywhere else tonight. I could've been basking in the warmth of the west end catching Lumonics, Skye Harbour and Black Market Rhythm Co. perform at the Ed Castle under a radiance of light. And yet here I am, back again, fighting this impenetrable murk for another round for the simple fact that the worst decision must also be the most sane decision in our time of need! If not for the glory, fuckit.. at least for the novelty! Not every night is destined for success. Fuck 'em! Sometimes you just gotta wallow in the infinite suck..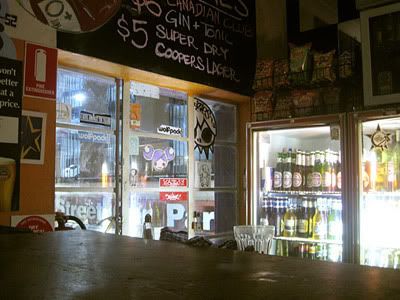 So as I laugh hysterically on the floor, taking photos halfway up this stairwell, the last grip on my sanity slipping further out of my reach; for all the wrong reasons I knew I made the right choice tonight. Sure we're delving the depths, we're upto our neck in it, we're floating down that river without a paddle, we're deep into the heart of darkness. But when you're in the thick of silly season, where else would you ever want to be!? Taking the safe and easy route to ruin? or laughing in the face of defeat!? For all the little details I pick up that I otherwise missed the first time. For every other reason I'd rather say "fuck it all", I still come back for more. Not every night is a celebration of success or lessons hard fought and won. For all the stupidity, the insanity and the depravity you're about to witness? Oh yes! I think I have my reason right here!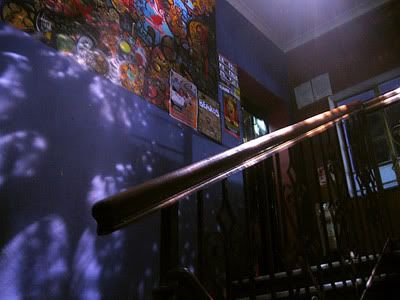 So when you see both Mick and Nick from Tyger Tyger sabotaging my shot moments later. For all the infinite reasons that you have to laugh at their infinite expense (and yes I too wonder why I bring a camera to these gigs sometimes), do not laugh because they are insane, deranged, derailed or demented. Do not shake your heads in dismay. These mad fools are truly the pioneers to invention. Fuck repetition, fuck convention, fuck it all, let that freak flag fly! There is no such thing as crazy, you're not alone. Every single one of us should be out of our minds tonight!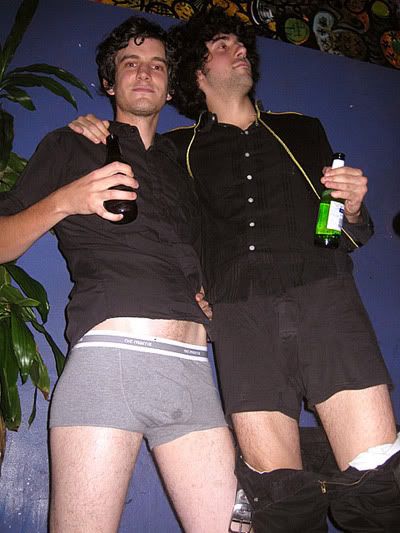 CORTEZ
(***1/2)
myspace
::
And now that you've finished all the screaming (and scrolling that photo out of sight *cough*) it's onto our opening act. If ever there was a band in Adelaide who knew all about the madenning curse born from years of inane repetition, it would be this one. They understood the very limits and the definition. They lived and breathed smoking holes through its swiss cheese extremities (such as any musicians who would have lived long enough in THIS music scene). As unbeknownst to many but the most ardent scenster tragics (who me!?) they once existed as two seperate bands: Mirrorline and Loemax (and in one way or another have played live at least since 2002). Yup for too many years as their seperate entities they knew just how this scene could drive them to the very brink of insanity: the same venues, the same bands, week after week playing to the same 20-30 people, that one idiot out the front with a camera taking the piss out of them wherever they went. Eventually it got to be too much and they all went their seperate ways. They took a much needed holiday from this illbient reality. From Mirrorline: Tom Spall on leads and guitar went on to work the counter at the now defunct Greater Union cinema on Hindley whiling away the hours by seeing just how many M&Ms he could stuff up his nose before he'd black out, Ben White on drums returned to his job as fluffy bunny mascot repetitively kicked in the balls by three year olds at amusement parks (and loving every damn moment of it) whilst Gabe Phillips from Loemax on guitars and vocals returned to his humble life as a guinea pig for medicinal research; or at least that's how I imagine it (I've been known to be wrong in the past). Still after many months to over a year of their absence, after all they'd seen and done, they still yearned to return. They joined forces. They hired some wide-eyed gimp (James Hastings) to join them on bass and everyone was all shiny and new again! They're all the best bits of Shihad, Pacifier, The Mark Of Cain, You Am I's "Sound As Ever", Nirvana's "In Utero" and Helmet's "Betty". They're the 90's coming back for revenge. It's only their second gig, but already their future looks ever so bright..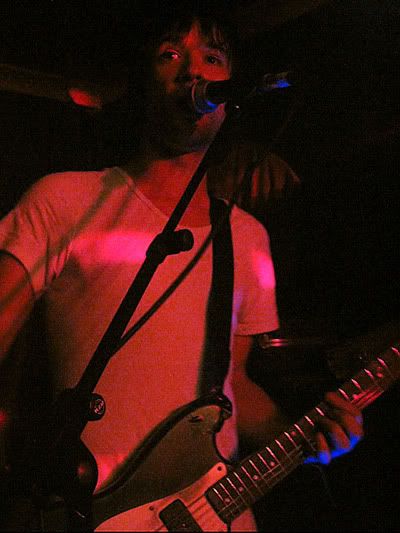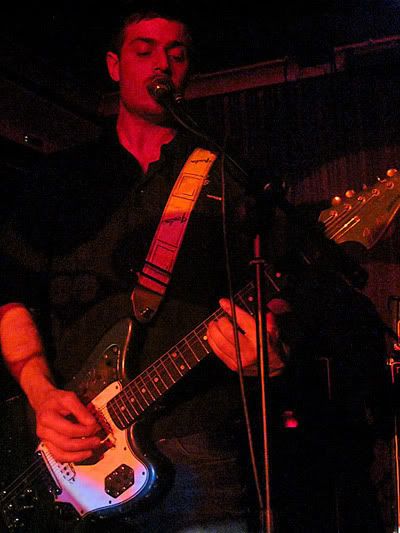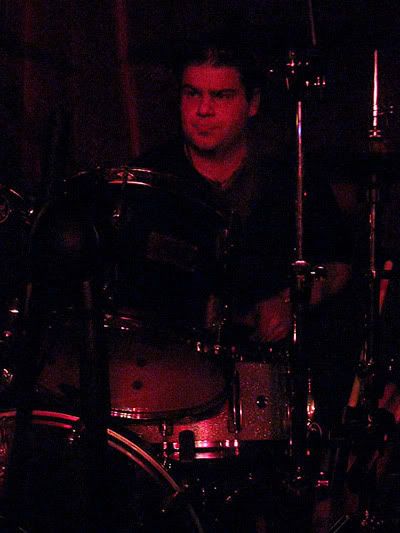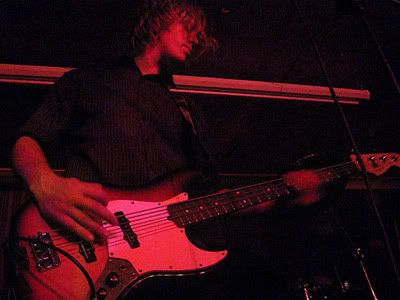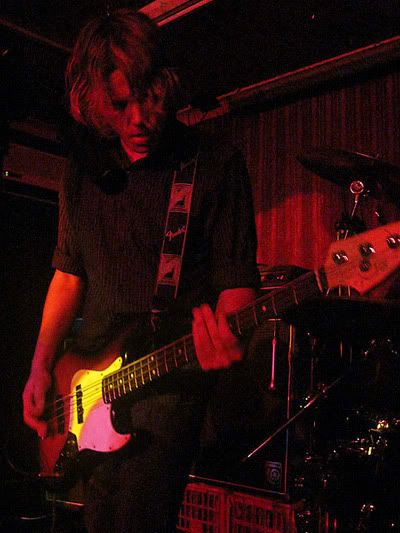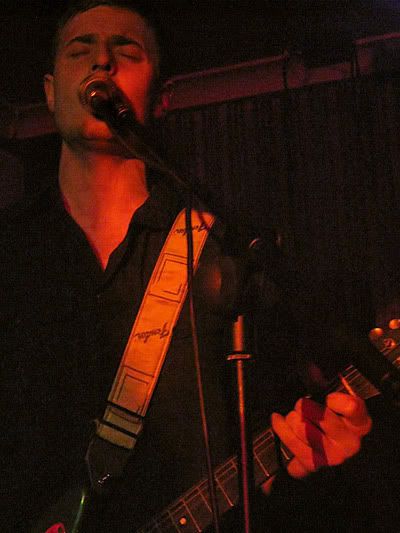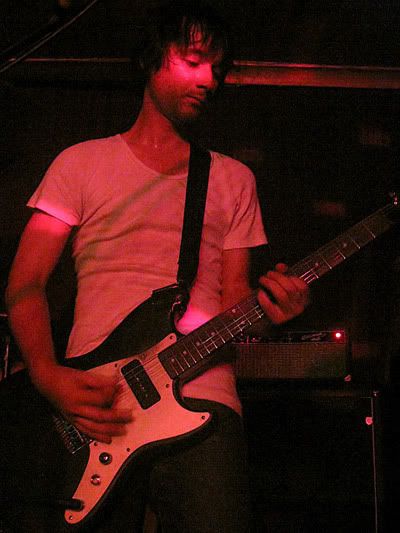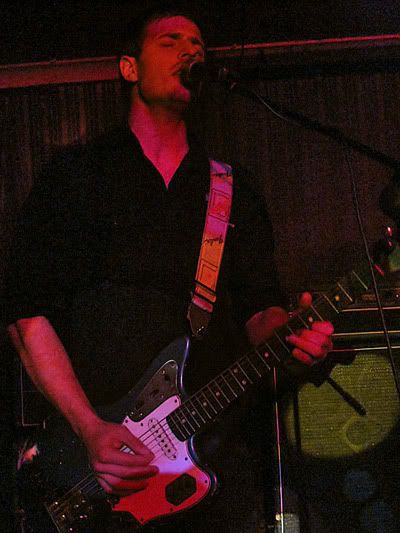 But then they slam headfirst into the blackening abyss of insanity that is the Rhino Room on a Friday and a microcosm for all the awesome insanity and malfunction they'll come to expect in the years ahead (just as surely as they'd forgotten them all in passing). It's all those teeny tiny, ever so niggling, yet all too familiar curses of a being live band on a small scale. It's the stage lights dimmed so impossibly low that Tom Spall can't see his guitar to drive the right chords. It's in the foldbacks constantly winking out before him so he can't even hear his own voice. It's the crowd barely able to hear Gabe Philip's voice, falling flat through the wall of noise the rest of his band are projecting before us. It's the house mixer cursing and swearing through it all, just as I curse and swear in my attempt to photograph it. Granted Cortez are doing their all, there's infinite potential yet to come, but tonight it's just not coming together. The crowd cheers. They decipher the murk from which they erupt. They see the genius crossing over that line. They'll come back for more. Like many bands before doomed to repeat ad nauseam, Cortez know this is just the beginning, this is the ground floor and it'll only get more fucked up from here! But if they lay the groundwork now, they can surely ride this wave right to the top. Insanity has its own rewards!
BILLY BISHOP GOES TO WAR
(***1/2)
myspace
::
Which brings us to our second act for tonight: Billy Bishop Goes To War. Comprised of key members formerly from Poly & The Statics: Josh Phillips on leads, Tom McCarthy Jones on bass and joined by a handful of more than accomplished accomplices and scruffy haired introverts (and by all likelyhood recent mental asylum escapees); they've come so far already but they're no stranger to the madness that still awaits them on the long road ahead (as surely as many of their former brethren from Poly & The Statics were driven screaming over the edges in its existential ennui.. not least of which Josh's hair). Billy Bishop Goes To War. They're six months in, all echo chambers and barking up the walls, but they're here for the long haul. They've won accolades, admiration and respect from many of their peers for their meticulously crafted wall of sound. Part post rock mixed with shoegaze they weave a lightly dappled path in melody, feedback and delay that bridges the great divide between Brian Eno, Broken Social Scene and Gerling. They're linking the uplifting melancholy of The Arcade Fire with the slacker fuzz of Pavement. They're channeling Sonic Youth's "Daydream Nation" and the mystifying meditative quality found in Mogwai. They're the "savant" in idiot savant. Sure it takes them a full forty five minutes to get their shit together on a live stage tonight: but it's well worth the wait. They're slow waltzes and noodling bass grooves delivered in contemplative doses. They're both Josh and Tom taking turns on vocals channeling Darren Cross and Lou Reed respectively. It's my bullet riddled brain slipping into a peaceful delta wave drift as one song bleeds effortlessly into the next. It's everything you could ever want to quieten the chorus of dissent screaming in your head with a chorus of calm in kind.. aaaaaah!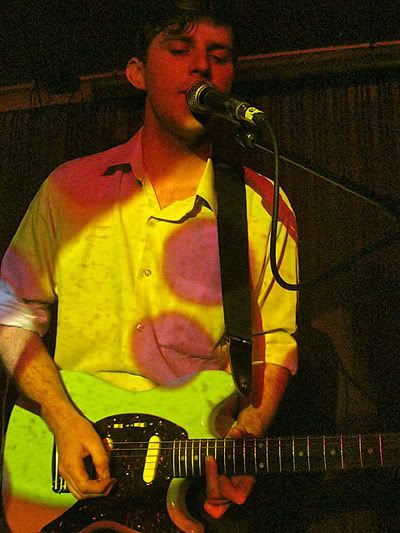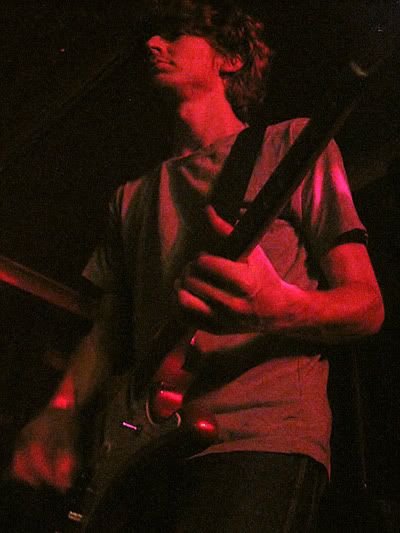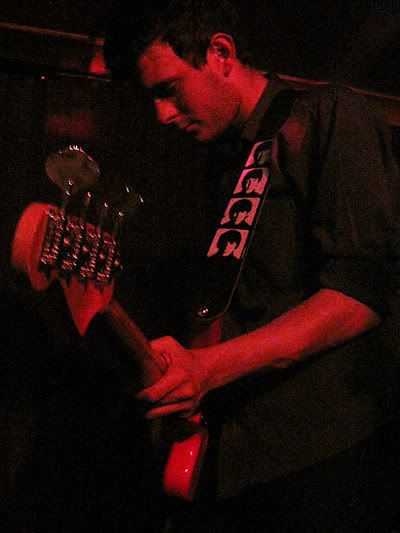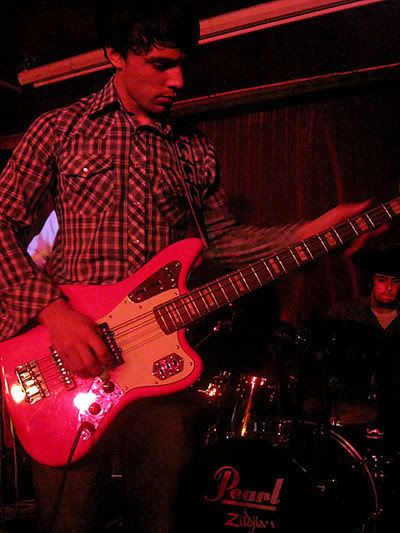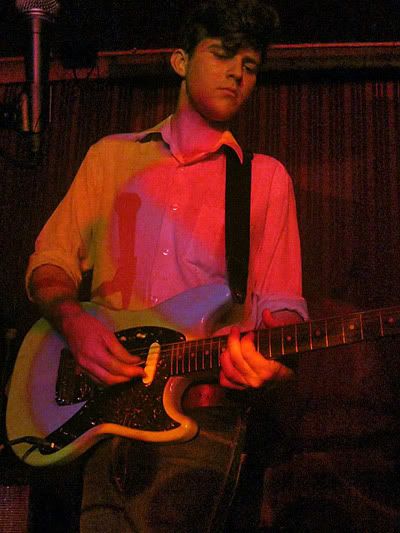 But then disaster strikes. It's beginning to be "one of those nights" for our second act too. Barely four or five songs in everything starts to unravel, the bass amp cuts out, cutting their set all too short and frustrated with barely a gesture they walk off stage, leaving us all wondering what may've been (Shit.. and here I was inches away from capturing the live video too.. damn you Rhino Room!! DAAAAAMN YOU!!). Still we can excuse this glitch, we can hold onto what we know, they've surely proven it in the
past
, there well on their way. If they don't go barking up the walls too soon from this shit and stay on that path, who knows what they could achieve in the year ahead!?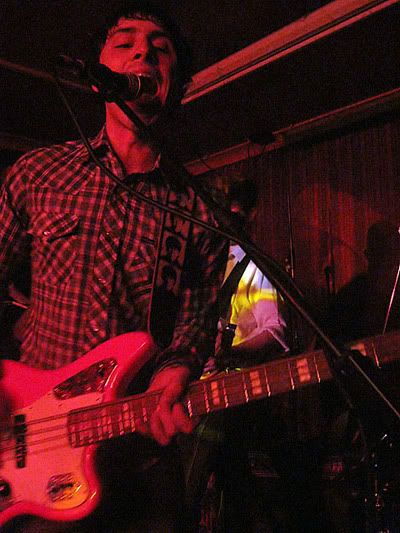 TYGER TYGER
(****)
myspace
::
Two bands down for the count it's now upto our third and final headlining act to save the day. For surely if any others were better suited to pull a drastic turning of the tide and show Rhino Room they can't be fucked with, it would be these six idiots, the infamous band they formed: Tyger Tyger, and the very first gig they played at Rhino Room back in
December the 7th 2007
. It didn't kill them then, they were mad enough to play here again in
April this year
and they're back again tonight! Crazier still, this is their one year anniversary too, a survivor's tale against all odds (for surely we all thought they would've self destructed months ago) and this is yet but one of many milestones they've passed in their victory lap to the top of the tide pool. Tyger Tyger: you wouldn't have thought it one year ago to look at them. Back then they were nothing more than the pack of pissy upstarts sandwiched between a solo set by Jon Marco (formerly from Poly & The Statics) under the alias "The Honey Pies" (which thanks to the curse of Rhino Room would later prove to be his only public appearance), and a set by Zeta waaaay before Sascha perfected the "finger bleed" and the songwriting that soon
proved
their infinite worth. They were seemingly nothing more than a random dysfunction formed between Travis on leads and Mick on guitar from one of Adelaide's many forgettable blues bands The Unspoken Things (waaaait they released an album!? no shit!), joined by a disco doofus by the name of Nick on guitar, Mannix the midget on drums, Tim the dyslexically heterosexual on bass, and the completely expendable Shane on the bongos. I mean shit people.. they had a fucking bongo player! surely that's got to be a recipe for disaster. And yet out of all the improbable odds who could knew what they would ultimately unleash in the year to come? Who knew their crass stupidity would take them to such gleefully giddy heights!?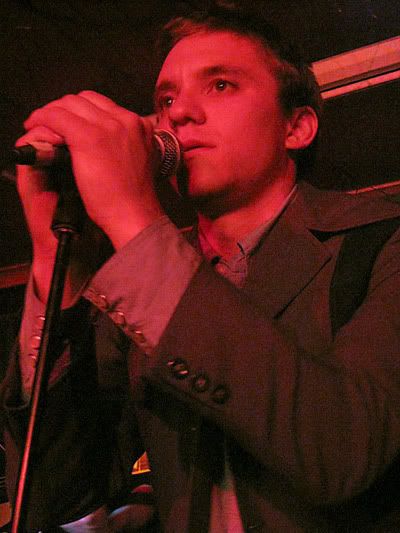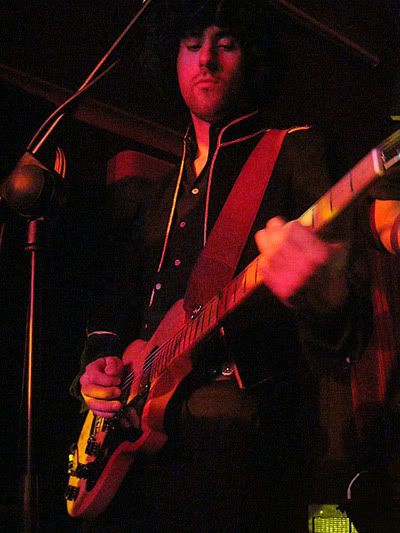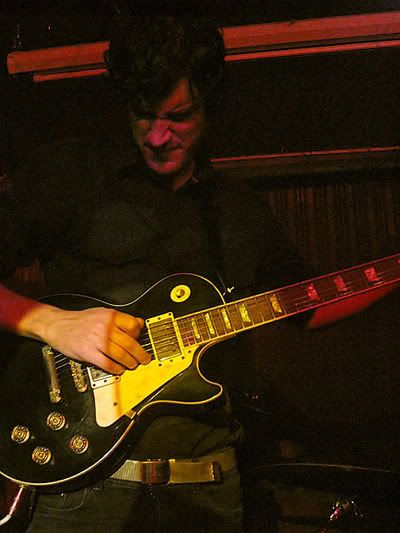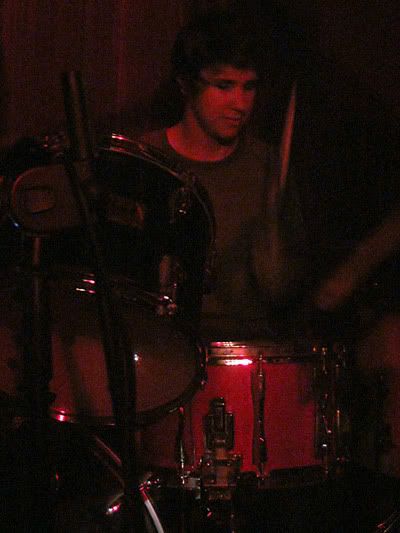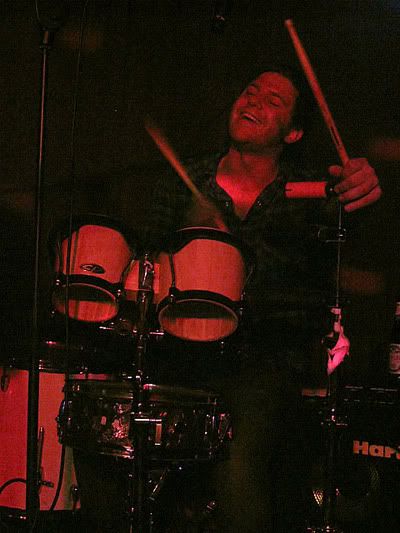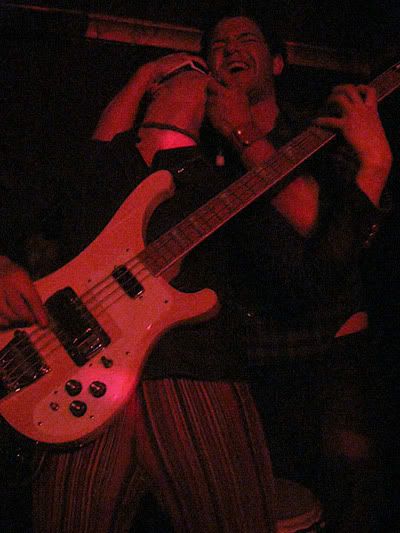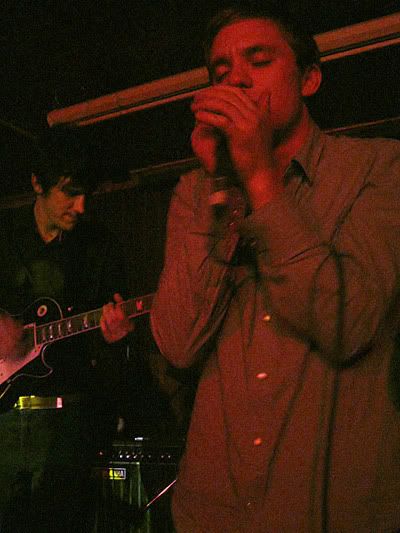 As much as they may've played the smallest room in Adelaide short of a toilet cubicle back in December 2007, they soon claimed the dubious honour of being THE band that defined 2008 for the Adelaide music scene (or at least for Spoz's Rant.. which probably isn't saying much). Oh yes! they were THE gift to gonzo photojournalism that gave to this site again and again: for both the heaping of high praise and hyperbole for (arguably) being one of the best bands in Adelaide to drink yourself retarded to (or for forming a lynch mob against); but more so for a littany of jokes I could make at their expense, most of which aimed squarely at their lead singer Travis for his ever inflating ego, the many comparisons I could make to David Spade, Macaulay Culkin, a deranged ferret, Edward Furlong's career post Terminator 2, or his delusions of hiphop gang banging grandeur. He took it all, laughed it up and gave us a littany of abuse right back again. So much so I didn't even need to use any of the jokes I reserved for the REST of the band (duuude don't get me started on Tim!), fourteen gigs in on this rampage of destruction and I never ran out. Yup, bands like this come but once a year. Like Taught by Animals, Tony Font Show or Central Deli Band before them they defined a year: they become the colourfully dysfunctioal cartoon characters that keep you coming back for more! Even weirder, they actually got popular, they packed their shows out to capacity (especially for their
CD launch party
), and with their retarding combination of The Arctic Monkeys, The Strokes, The Village People and a college frat party gone oh so horribly right, they had everyone in the Adelaide scene hooting and howling for more! They've become the example for all the pissy little upstarts to follow, showing them just how it is done!
So it's a little odd to see them back in the Rhino Room, back where they started. It's true what they say: you can never go home again. One year on everything feels a little too claustrophobic in here tonight and not just for space, the band is running late for time too. Barely moments into Tyger Tyger's set, the venue is already begging for them to wrap it up so they can shut the place down. There's still next no lighting in here, there's no setlist, the band's just making it up as they go along, it's complete and utter fucking chaos and by the skin of their teeth they're barely holding it together: but you still can't deny the insane energy they unleash. As bored as Tyger Tyger must feel by now doing the same shit and expecting different results (the very definition of insanity if ever I saw it) they still rock the shit out of it all the same. It's Travis yelling out: "N I G G A.. it's not a dirty word! it's not a dirty word!" at the start of a song only to find himself climbing the ceiling by the end of it. It's Shane losing his fucking mind on the floor in front of me thrashing the bongos to "10ft Of Rope". It's Tim on the trombone killing it for "Buttons & Levers" (quite possibly one of the best songs of 2008), It's the triumphant send off that is Mannix's last ever show on drums thrashing it out to the very end of an era. It's a weird way for them to end the year in as much as they've come full circle (and it's definitely not the best show they've ever played); but in it's own weird way it also shows us that in the year ahead there's a whole lot more yet to come!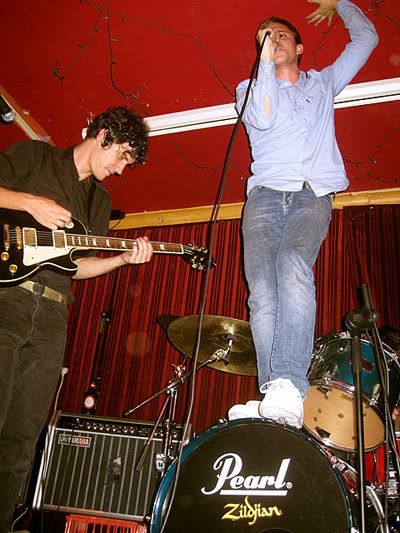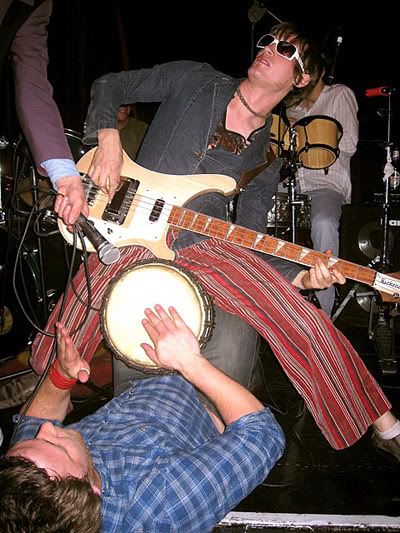 2:01AM
- It's been one hell of a gig, in more ways than one, and we all feel drained by the insane experience (yet weirdly uplifted by the sublime comedy of just how close it came to being a complete and utter failure). It's me spending my entire night fighting against those accursed stage lights: "duuuude why didn't you just use the flash instead if you keep bitching about it!?", "why? um er.. shut the fuck up that's why!". Just as the bands and the mixer fought against that accursed stage sound (and the most unholy of standup comedy PA systems that spawned it). Just as the bar was drained dry by many a punter drinking to it's sweet defeat. Was there any purpose in all this? it's hard to say. Just as surely as there's no purpose to any of the shit we may do each night but we do it anyways for the greater good or perhaps for no good at all. Shit.. now I'm all confused!? Aaaaah fuck it, what better time to get retardingly drunk in the postscript!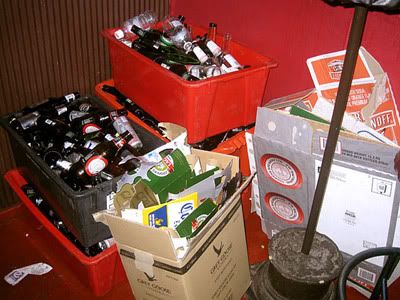 2:15AM
- As such, feeling a little bit lost to the insane and potentially subliminal meaning in it all (or possibly why I quite simply continue to pick venues as fucked up as this), I briefly consider drinking myself blind and partying the night away with the "roaring silence" here on the dancefloor, only to quickly reconsider it and take the next exit sign out of here (as I wonder just when next I'd be mad enough to return). Yup, it's not often that a venue defeats me quite like this, but Rhino Room well and truly showed me out that door in style. Hmmm.. I wonder what I should bring next time we cross paths: night vision goggles? signal flares? strobe lights? chinese firecrackers!? fuckit! let's douse the whole fucker in metholated spirits, light it up like a christmas tree and get high of all the wacky fumes!! or *cough* on second thoughts let's not and maybe one day someone will see fit to install a lighting array that illuminates more than a lit fart in this joint? wishful thinking perhaps? I'm asking a little too much, too soon? huh? HUH!? (arrr fuckit I'm outta here!).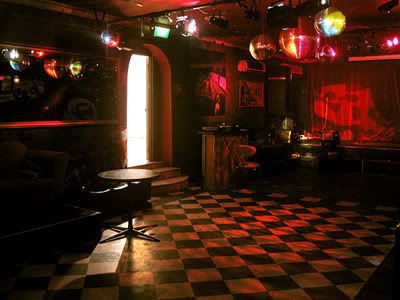 3:03AM
- In following I spend the next half hour or so lost and stumbling down Rundle Street into the Exeter, followed by a brief stint at Electric Light, quite possibly Producers Bar next door (as much as I'd never admit it in detail), only to come to the insane conclusion that there's nothing left in the east end ghetto worth drinking myself retarded for tonight (unless you count the sweet blithering oblivion that only the Crown & Anchor could possibly ever provide; if only my alcohol riddle amnesia could still remember where it is), only to invariably end up at the Bull And Bear for "Transmission" instead: as clearly I've got some kind of death wish above and beyond the normal call of duty (but falling slightly short of the trajectory that would send me to Shotz).
3:05AM
- Only to take one good look around at all the crowds laughing it up and crawling the walls, weight up my odds either way, and quickly decide otherwise and stumble right out those doors again. Yup, any other night I'd be more than happy to celebrate my insane victory against the forces of sobriety here, but considering all we've been through tonight it feels a little bit stupid to be celebrating my crushing comedic defeat here instead (granted to the casual observer it's pretty much the exact same shit after three or four pints.. but it's the thought that counts!).
3:33AM
- And so, thinking I'd just add to my running cliche by finding yet another lame excuse to end my night at Supermild again (ie: when you got long neck bottles of pale ale.. who needs excuses!), I'm subsequently stopped in my tracks by Lynda on the left who was half surprised to see me leaving so soon as she could've sworn the only reason I was here tonight was to give everyone yet another installment of Nick Hadley from the Dead Popes Of The Vatican and his drunken dance of misadventure and dementia. She continues to remind me that it's been a good two weeks since I've last
featured
him in an episode of Spoz's Rant, and it's idiots like these that give most of YOU chimps good reason to read this blog in the first place. So considering my options briefly, realising I had nothing left to lose, I thought fuckit: if MY night's been a total waste? maybe I'd simply make fun of somebody else getting wasted instead.. YEAAAS!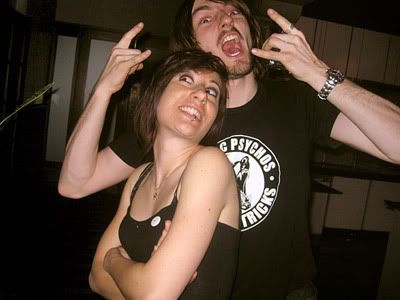 3:37AM
- And so I stumbled into the Bull & Bear with Lynda in tow to capture the many motor dysfunctions of Nick Hadley (and the scant few braincells whistling in between) as he attempts to kidnap Lynda, only to quickly lose his grip, his balance, and collapse drunk on the floor..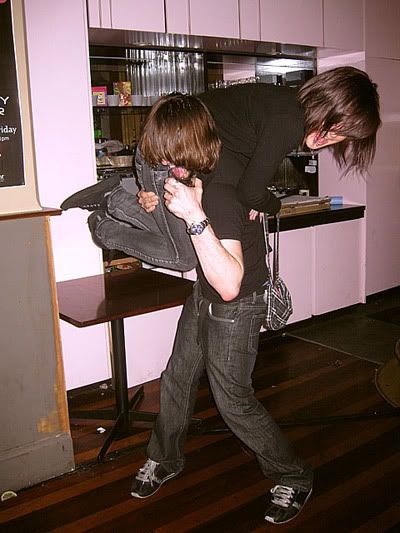 3:41AM
- Followed by him attempting (badly) to balance on one leg on this tabletop: which was freaking hilarious for everyone involved for the five seconds he managed to hold it, before he came crashing down in front of the bouncer behind him and almost got thrown out the door soon after (because apparently this shit
NEVER happens
in the Bull & Bear when "Transmission" is on, and there's no way in hell we're ever gonna encourage this retarded shit now *cough*)..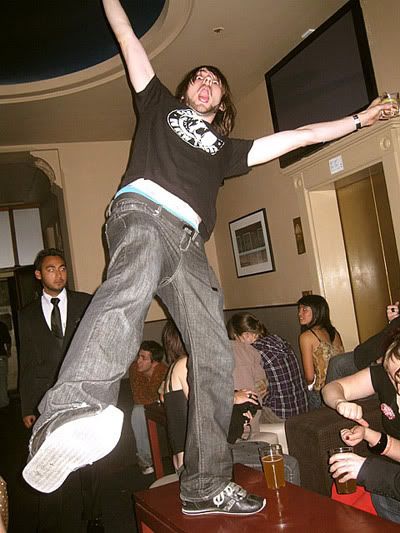 3:45AM
- Followed by both of us throwing him flailing into the middle of that dancefloor: as clearly this was smartest place we could think to put him in his increasingly illbient condition, or quite possibly the stupidest place, or quite possibly both (or quite possibly I'm drunk right now!)..
Which as you can see (in his condition), really didn't quite work out as well as he'd planned..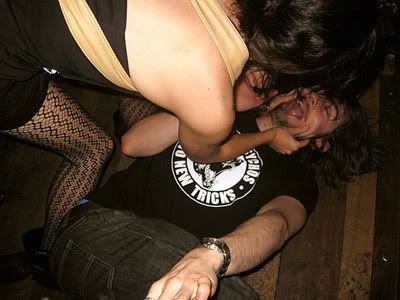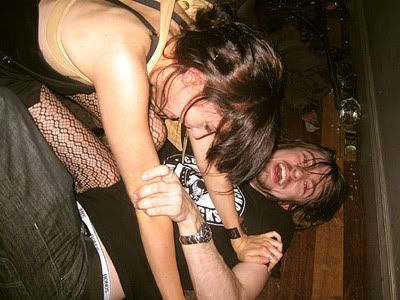 Or maybe it did beyond all his wildest dreams, depending on where you were at the time. Either way there's a good chance Eleanor on the left will kill me when she sees this photo (which she'll probably do just as soon as she kills me for all those OTHER
photos
I've taken of her drunk
recently
). Moral of this story: when you've been having a shit night, nothing quite brightens the mood like making fun of all those infinitely more drunk than you are! weeeeeee!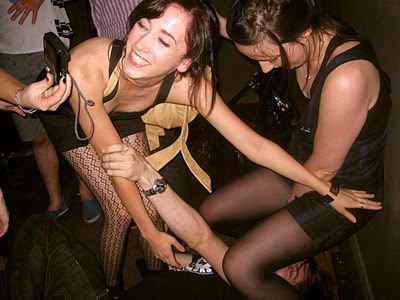 4:10AM
- Which clearly none of the people in this room are doing: as none of them are drunk, have ever been drunk, are planning to be drunk anytime too soon (or especially after appearing in this blog for the upteenth time this year) just as this is in no way Olivia shredding it on the decks tonight when she's not actually a DJ (and everyone's so dribblingly out of their skulls on the dancefloor that they haven't even noticed). Yup, if you knew
half the shit
that ever goes on at "Transmission" you'd realise just how foolish an accusation that ever was in the first place..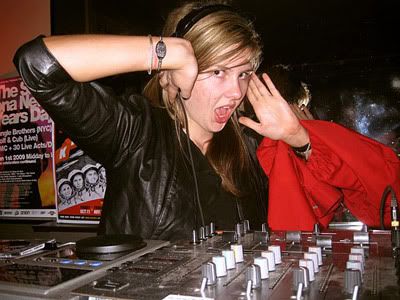 4:16AM
- Either way, deeply horrified at what we had just created (and the fact that Lynda may've been mysteriously swallowed up and eaten by that dancefloor, never to be seen again) me and Ross here vow to burn this place to the ground, salt the earth, lose the blueprints, and NEVER repeat this experiment for as long as we live (or at least not until next Friday when the same five flavours of fucked up materialises in Rhino Room for a follow up night of "Sputnik"); which we would've surely done if not for the riot police, STAR division, and the army clearing up the resulting chaos for us. Aaaah and people say our tax dollars do nothing but go to waste in this city!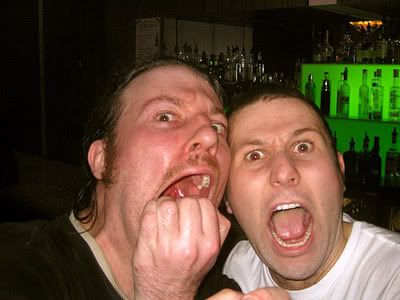 4:30AM
- Fleeing the tear gas, the rubber bullets, the water cannons and the explosions; rather like rats from a sinking ship (or rather like that's the weirdest fucking description ever), we run screaming down Waymouth Street in a mad panic, only to realise no one was actually following us and quite possibly because I made most of that shit up. Only for Nick Hadley to be stopped dead in his tracks by the awesome sight through a shop window EVER that appeared to be a series of coloured tunnels connected to a series of pits filled with coloured balls that appeared to be a kid's adventure playground of some kind. Naturally, seeing a fiendishingly brilliant "photo opportunity" in every way that it clearly wasn't (but not for any lack of trying): Nick Hadley soon runs scrambling right up that window frame and shrieks all exciteably for me to take this ONE shot..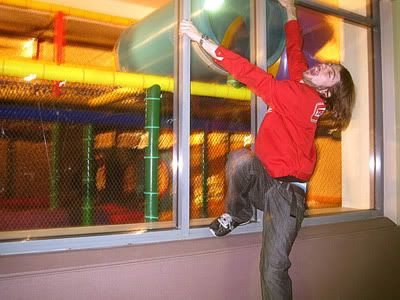 Still, as much as I try to capture the moment (ie: as much as this photo neatly demonstrates just how drunk I am instead), I just couldn't quite get it to "work" to my liking. Thus, quickly changing my mind and inspired by the same insane prank I pulled on Dick Dale over six months ago: when I got him to make a
complete dick of himself
over a pool table with a white ball in his mouth for minutes at a time under the pretense I was still taking photos, I pulled the same exact prank with Nick Hadley tonight. What he STILL believed was me taking "photos" was in actual fact me taking video and pissing myself laughing. Yup, the comedy in following speaks for itself..
4:45AM
- *cough* Yup, all things considered he took it well. So much so he was more than happy to celebrate all our good fortune (and all the jokes I've made at his expense in the past) by shouting me a "Dangerous Mushroom" at the Aussie Pizza House. Wow, after all I've done to this poor bastard he sure IS nice about it! Let's hear it for Nick Hadley.. what a freaking legend!
5:29AM
- Which is exactly what I was thinking until the first bite of that "pizza", only to black out cold, stuffed bound and gagged into the boot of a waiting car, only to wake up almost an hour later many miles down the road to the sound of screeching car tires backing up over my head and him laughing insanely, before he promptly skidded off (but not before throwing a cigarette lighter in my direction). It was this moment that I also soon realised that not only had he stolen my wallet, my shoes, my socks, removed most of my teeth and shaved one of my eyebrows; but for reasons I couldn't quite fathom I was also dressed in a chicken suit, doused in gasoline and now the flames were leaping towards me. Yup, some Friday nights have ALL the luck don't they?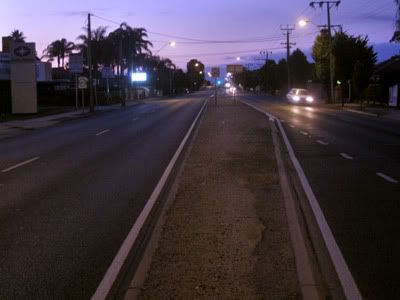 Yup for all those moments that I find myself quite like this gargling half dead, dressed as a giant chicken, on fire, on a road in the middle of nowhere (pffft.. when haven't we all!?), for all the stupid things I do for this blog that invariably repeat themselves, as much as I must be going insane by the very definition in the living of it (and as much as next to none of what you've read as made a dick of sense in the explaining of it); I'm still rather enjoying it. I've survived this long, I'm eleven months in, there's only one month to go and after that.. duuude, all bets are off!
Previously on Spoz's Rant:
Booster + Before The Aftermath + Blistered Palms