LYLA + MONA LISA OVERDRIVE + LUMONICS
LIVE @ ED CASTLE / Friday November 21st 2008
I readily admit that sometimes I don't know whether I'm coming or going with this shit. I don't know whether I'm going around in circles. I don't know whether I'm simply making it up (or whether any of it ever existed in the first place). I'm utterly unqualified, unjustified and mentally unhinged. I'm having way too much fun, and everything I say will eventually come back to haunt me (and yes, if I had any sense at all I'd quit now before someone kills me!). Granted such is the way in a world without gravity, in a world of endless night. There is no reality here, there never was, and I'm more than happy right here in the eye of this storm, whiling away the hours, unravelling it all and going ever so slighty batshit insane. No really it's awesome! Partying through the night and sleeping through the day? Living in clubs, pubs and venues, pissing my life away!? fuck yeah! where do I sign up!? But I'm sensing a change in the wind, a disturbance in the ether, and it has me on edge. It's getting crazier out there, it's getting crazier in here, it's getting crazier everywhere I go, the colours are intermingling, there is no black and white, no day and night, and there is no escaping it now. I'm living in the twilight zone, the eleventh hour, everything is up in the air and everything's in doubt. It's a million angels and devils are dancing on the head of a pin, pissing on our graves and the worlds we see are intersecting as one. Still, there is a time and place for everything, and it chooses this moment well. If ever there was a time to have an existential meltdown, the end of November, at the precipice, is the best moment to share the joy. I may be barking up the walls insane but there's a good chance that we're ALL barking up the walls insane so I'll just blend right on in! It's the silly season, we're in bat country, we're just passing through and the minute we find that exit sign the fuck out of here it's happy times for one and all!
Yup, nothing about this should be all that unusual. It always happens this time of year. Everyone goes completely loses their shit with the stress, the studying, the deadlines, the chaos, the burning, the flailing and the screaming and then, just after New Years Eve it returns to normal once more. It comes and it goes. You go back to your world and I go back to mine. Only this one feels different. This may very well be the eleventh hour of the eleventh hour to the eleventh hour of it all. This may be the big one. We can all sense it. We're just a few chapters from the end. All those interweaving plot threads are now dangling like knives. We're neither here or there. We're stuck between worlds, conditions borderline, a fine line between, clawing at the door and begging to let be out. We've been deep fried, tested, measured and all the votes have been counted. We're lame duck presidents, bankrupt bankers and citizens alike wondering just how it will all end, whether there'll be a sequel, whether it'll be worth seeing, and climbing the walls in mad anticipation for what's yet to come. The compass is spinning. Past, present and future are colliding as one. The dead are rising from their graves. Some of us won't yet live to see the dawn!
So where do we go when it's THIS insane? Where everywhere you turn there's another portent and imminent peril all pointing to the end of the world? Oh wait.. shit you mean I'm meant to have an answer to that!? Well actually I don't but by chance coincidence I stumbled upon one anyways (as quite frankly it was the closest "bomb shelter" I could find moments before all the flaming bat wings came crashing down around my ears) here at the Ed Castle. Where they've been redefining the furthering extremes of mental dysfunction all year long! Where being a
yammering headcase
, short of shoes, scruffy hair, unwashed, missing buttons and pissing into the breeze gives you the golden ticket to the high life! Oh yes, you'll be amongst friends here, drinking yourself to oblivion in this sanctuary to musicians, illbient miscreants and creatives alike; they're fuck full of crazy! Sure they've only inhabited this place for little under a year (and prior to that the sight and sounds within these walls would've surely sent anyone screaming into a rubber room jacked on white noise and glassy-eyed smiles) but even so it's good to see that places like these never change! Here tonight is where I'll call my own. Here tonight is where I'll weather the storm!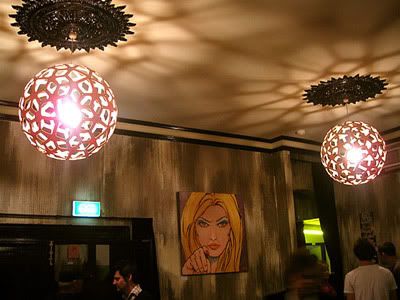 LUMONICS
(****1/2)
myspace
::
Which brings us to our opening act tonight, and a band that is more than familiar with the twilight realm of blurring edges, and of the many shades between light and dark. Not so much through any obvious face melting psychedelics, insane colours, additives, preservatives, a littany of "madchester" freaks dancing about with maracas on stage to 12'' mixes of "Kinky Afro" (or any manner of other illbient substances otherwise prescribed by the shoeless hippies who congregate out back *cough*) but more so from the many curious shapes they interweave to form their soothing sun dappled gloom in blacks, whites and lightly tinted greens. Lumonics. They're a band that connects the dots between New Order, The Cure, Echo & The Bunnymen, Stone Roses, Interpol and Kasabian to form an ever shifting articulance that's years beyond their time. They're a band that defies all observed laws of physics in any way that would otherwise bind them to this plane of reality. Its in the freakish baritone of Alex on bass and how it comes from what looks like a cross between a string puppet and a twig of asparagus reading out a school report. It's in Cosi and how he squints into the light, like a World Of Warcraft player seeing sunlight for the first time in months yet conjuring up every aspect of it glinting and reflecting off from his guitar. It's in all the coin operated moves of Adrian and the equestrian trot of Maguerita holding it all together ever so seamlessly on guitars and on drums. They manifest a songwriting that doesn't quite belong to this (or any other) decade, yet one that ever so effortlessly flits between them all. They're Lumonics. They're the sound of the sun setting low over the horizon. They're the sound of a world without light. They're the sound of a band that's forever forging a path through it all..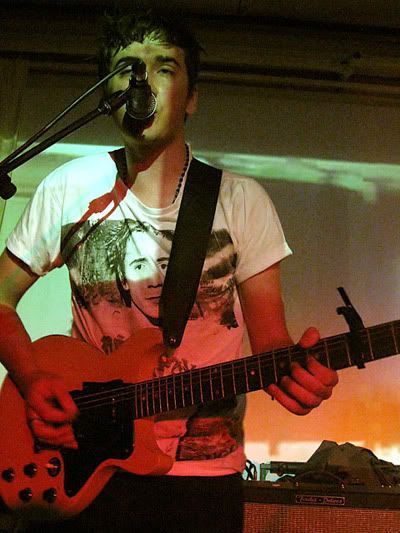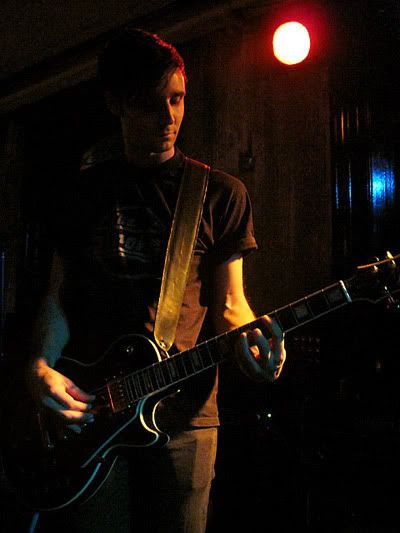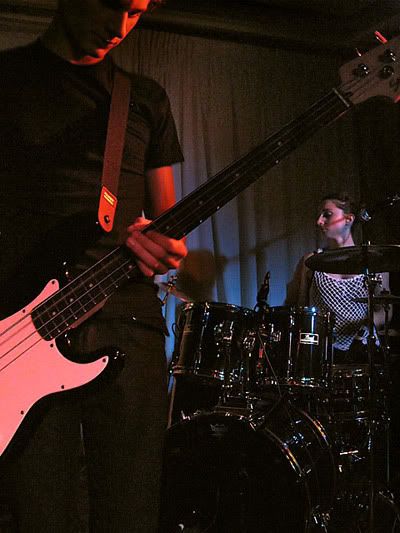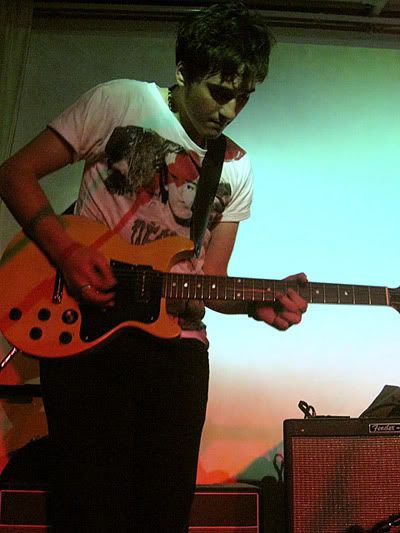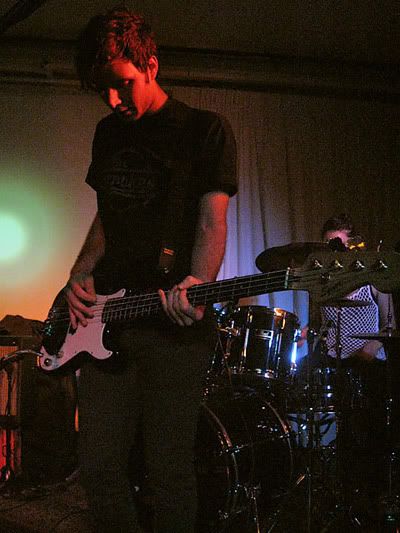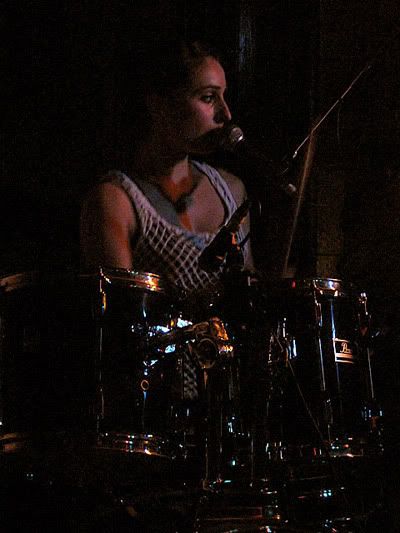 And it appears that after many months of all my dribbling gibberish and hyperbole bordering on hallucinogenic that speaks
no end of praise
for this band (yeah I know, I swear I've been trying to make fun of them all this time but short of Alex's insanely "oversized" head I've got nothing!) they've started to attract a rather sizeable following from far and wide in awe of their ethereal sound. They're the "Maguerita cheersquad" cheering her on between every song as she plays the drums (quite possibly in between shots of her alcoholic namesake that only make them ever more rowdy as the gig wears on). They're the flailing idiocy about the dancefloor to their awesome cover of New Order's "Crystal". They're all the piss heads colliding behind me like dodgems to two of their new songs (making it just about impossible to capture any of them on video). It's in a crowd that knows that soon their time will come. Oh yes! Sure it might not be now; it might be weeks, months, decades or a thousand years hence when their skeletal remains wash ashore, but it's there all the same. If ever you see only band before you died, fuckit you should probably go see Radiohead. Otherwise, go see Lumonics. They're awesome. They're insane. They're far from insane. They're astounding us all in their continuing ability not to suck! FUCK YEAH!!
MONA LISA OVERDRIVE
(***1/2)
myspace
::
Which brings us to our second act. A band that many of you regulars will be more than familiar with as this is the third time I've reviewed these serial offenders for the third week running. Yes I know, it drives me insane too and NO there ain't a damn thing I can do about it. Mona Lisa Overdrive. Out of all the other bands in Adelaide (with the possible exception of Tyger Tyger) they are THE number one serial offenders to playing at the drop of a hat, the opening of a fridge, the licking of a stamp and knifing of a Sudanese teenager (*cough* too soon?). It's been a fun ride, it really has, but I swear THIS shit has got to stop! I'm all out of ideas. I'm stumped. I'm stuffed. What the fuck am I going to write about now!? We all know they're just like Velvet Underground mixed with The Doors and a thousand and one personality dysfunctions that coexist at once in Alex's head on drums. We all know they play the same freaking songs at every freaking gig they've played ever since the day that they started. We all know that in the last two gigs they've since added this trippy section at the end where they swap their instruments: Jess on the drums, Dave on bass, Luke pulling shadow puppets on the walls as Alex melts our fucking faces off (and yes I admit it's ridiculously freaking-arse cool!). And yes I'm also the first one to admit they actually sound surprisingly good now (if their
previous gig
in support of Children Collide was any indication) but still unless they start fronting up to gigs dressed as clowns on unicycles wielding chainsaws cutting up watermellons whilst screaming perverse limmericks in chinese we ain't gonna have shit to talk about. Or at least that's what I originally thought until tonight..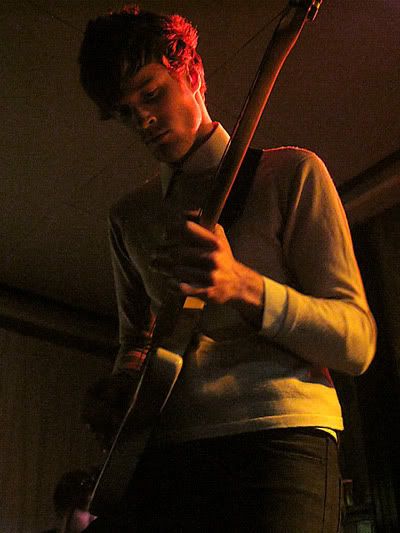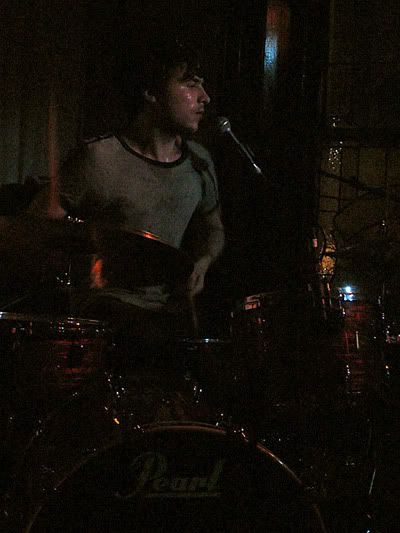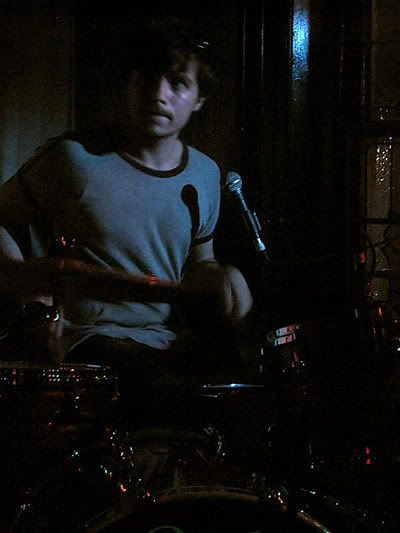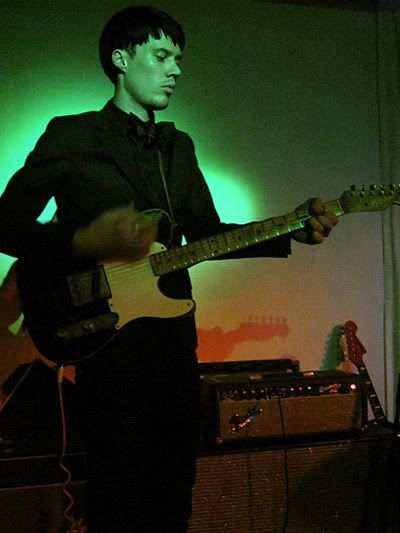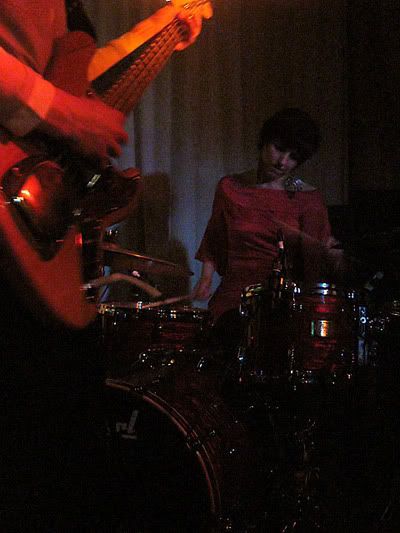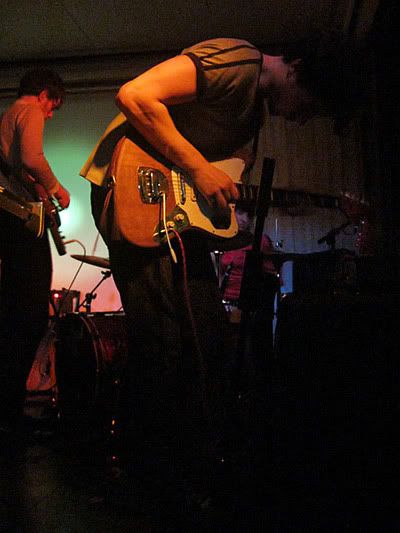 Mona Lisa Overdrive. As much as this band is about anything tonight (and by anything, I mean pretty much anything I've written in a review before that makes a whole lot
more sense
than any of the gibberish I'm about to write now) are a band that's all about the gift to gonzo rock photojournalism that is their guitarist Luke and his all too ridiculous undertaker, black suit bow tie, combo that rather resembles what the hellspawn between Courtney Taylor-Taylor from The Dandy Warhols and Lurch from The Addams Family would look like playing a funeral to all the smoking braincells soon to be since extinguished from inside of Alex's head (and yes, there's a good chance that by the time they're done tonight he'll have barely enough left to power the pilot light on a stove). It's Luke playing to the accompanyment of Lumonic's projected visuals that makes Mona Lisa Overdrive sound ever more creepy and gothic than ever quite intended. It's Luke hammering that same crazy jangling guitar riff. It's Luke creeping about the stage like Nosferatu, like a Nightmare Before Xmas, like the awesome Vitamin D deficiency that he is. Sure I could make plenty more jokes about Alex on the drums (and his many spaced out rainman interludes between songs), I could make fun of Dave and the frisbee sounds he's cooking up on guitar or Jess and all the mad shapes she pulls in between on keys, but tonight it's all about Luke. That mad freak damn near scares me, but he's rocking the shit out of this set all the same!
LYLA
(****1/2)
myspace
::
Which (speaking of sights for sore eyes) brings us to our final headlining act tonight. Their name may not be familiar (as I've only ever seen this band live
once before
), but some of their faces will be more than familiar as the lumbering troglodytes you always seem to find snuffling about in Supermild at 4AM. Ever present, part of the furniture, so much so I've actually begun to suspect they simply live in the crawl spaces under the stairs like trolls for weeks at a time; I may occassionally jokingly refer to them as the Three Amigos, but you may otherwise know them as
Anthony Callisto
on guitar, Sam Bruno on bass and
Stefan Krcmarov
on keys. I see them in Supermild all the time. We cross paths. We talk. We get drunk. We have a laugh. They'd always seem to invite me to all their gigs and I always seem to "accidently" forget to show up. I do this a lot. It's been a long running joke. It's probably pissed them off to no end, but hey we all know I'm an arsehole, it's part of my charm! Still, sooner or later I knew I wanted to return the favour (for all the beers they may've been bribing me with) and tonight was no better time to catch them at their best for their CD launch tonight. Lyla. In a nutshell they sound exactly like Jet. That's pretty much all you need to know. And no I'm not talking about the Jet you know NOW that causes an allergic response verging on homicidal rage as you beat someone's head into a wall (or in other words ask
Mathias Northway
about the time he once punched out Nic Cester for being a complete twat), but more the Jet you remember way back in 2002, back before all the commercial airplay, back before they all became wankers. Lyla in their simple rollicking rock 'n roll good times tonight harkens back to that simpler (some may say more blissful blitheringly naive) age of wonder..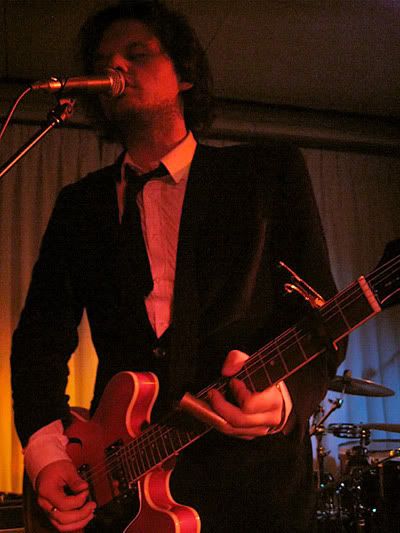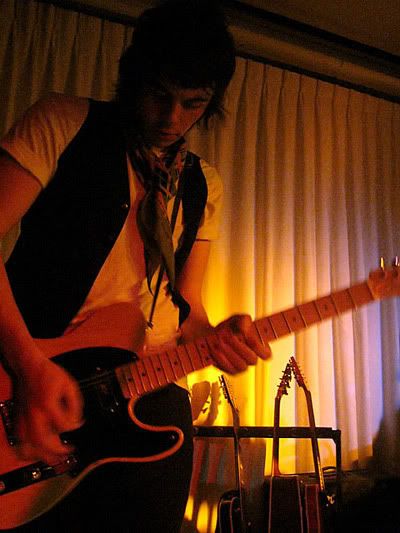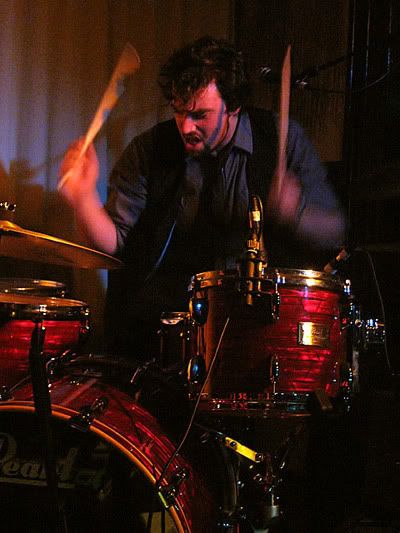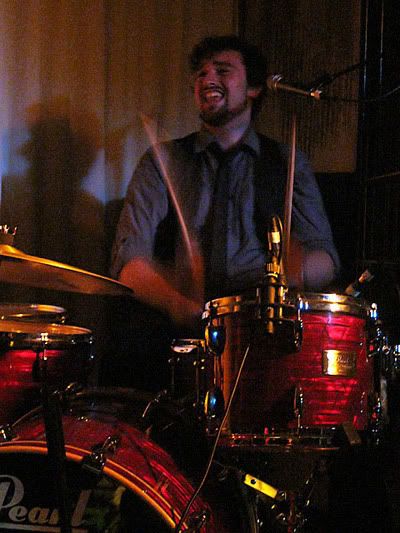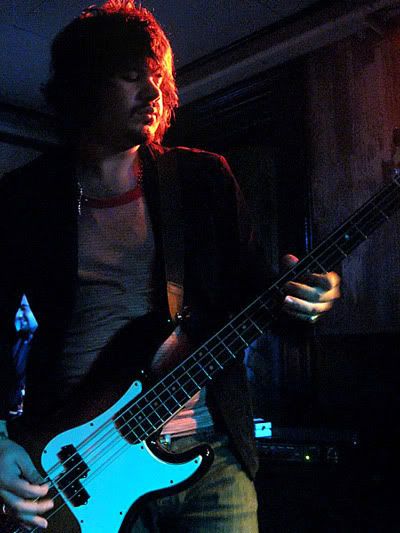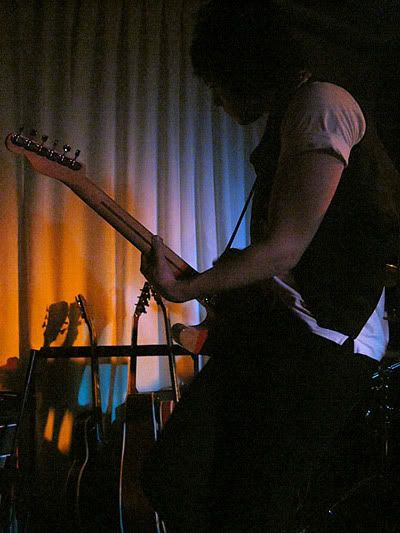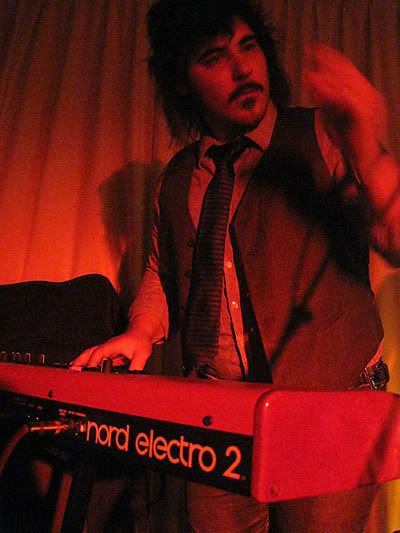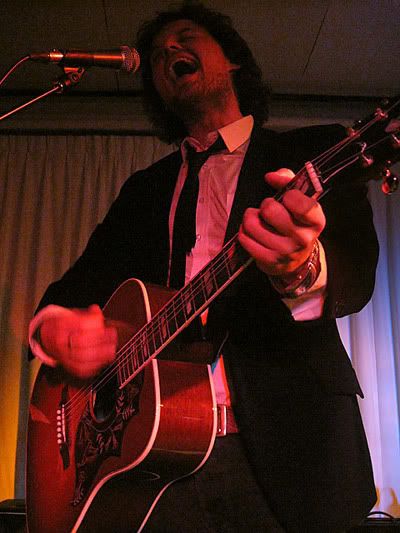 Of course clearly that's not all there is to them (as I think we all can agree the lazy comparison to Jet really ain't doing them any favours). So into this mix feel free to throw in Supergrass, Dallas Crane and You Am I. Then chuck in "Physical Graffiti" by Led Zeppelin, "Sticky Fingers" by The Rolling Stones, Chuck Berry's "Johnny B Goode" (as performed by Michael J Fox at the end of Back To The Future), their spirited cover of "Jumping Jack Flash" (Whoopi Goldberg optional), that scene out of Pulp Fiction involving Uma Thurman and John Travolta doing the wacky dance at Jack Rabbit Slim's and for some bizarre reason Kate Hudson getting her stomach pumped in Almost Famous (and no I have no idea why). When that's cranked up on full, inches away from a psychotic honkytonk meltdown you've got the essence of what Lyla sound like live (and even more so when you're as retardingly drunk as I was in which case.. awesome!). They're Matthew Minucci on leads channeling a 60's timewarp of whisky stained rock 'n roll smoking a cigarette, setting himself on fire and doing a spastic dance till he's nothing but a pile of ashes and a pair of shoes. They're David Mazzarelli going round for round with a drumkit, losing both his sticks, only to belt the cymbals retarded with his hands. They're everything that is awesome in retro rock for every reason I'd normally make fun of
The Trafalgars
for (which granted every one of them finds hilarious except for the bass player who wants to kill me). They're the genuine article. They totally don't belong to this day and age. They'd be completely hopeless with an iphone, an ipod, a DVD, CD, VCR or an internet connection, but they're rocking it out all the same. They're Lyla. Hardly original, laughably derivative, but drunk as fuck they're fucking brilliant all the same!
2:19AM
- Celebrating all our hard won victories this night. Alex from Lumonics amuses us all by attempting to drink his own weight in alcohol, only to soon realise he'd pass that limit well before skolling the remainder of this jug, only to promptly collapse on the floor dead. Initially we were a little shocked at this drastic turn of events, until Cosi informs us he's actually been dead for years, all of the other members of the band have simply been taking turns to "animate him" with a series of intricate pulleys and strings "Weekend At Bernie's" style, whilst his voice on stage is actually provided by splicing up a mixture between Paul Banks from Interpol and Tom Smith from The Editors. We were also told his original voice was not unlike that of Theodore from the Chipmunks being punched repetitively in the balls, or quite possibly just Alex punched in the balls, which is quite possibly how we got into this mess in the first place. Mmmmm beer!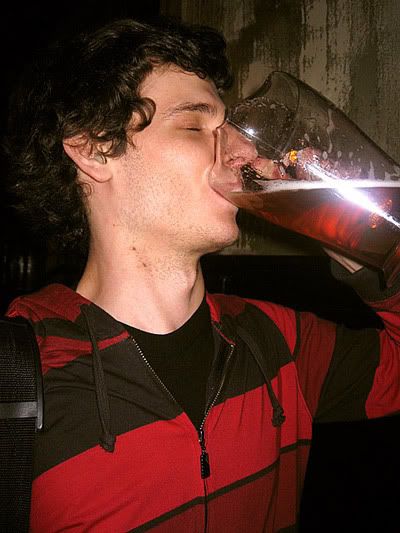 2:42AM
- Which is one of those endlessly witty and entertaining anecdotes that I would've gone into infinite more detail on if only we weren't then interrupted by W Shane Forster from Trixie Plain and his angry chihuahua "Paul" who sent most of the room scurrying for the exit signs with his incessant barking. There was flailing, screaming, what I swore was Alex being shaken around like a ragdoll when Paul got hold of one of his ankles, followed by the sound of fire extinguishers, sirens, the dull thud of a hollow metal object connecting, a whimper, then nothing. Or pretty much how every night always seems to end at the Ed Castle whenever I'm involved..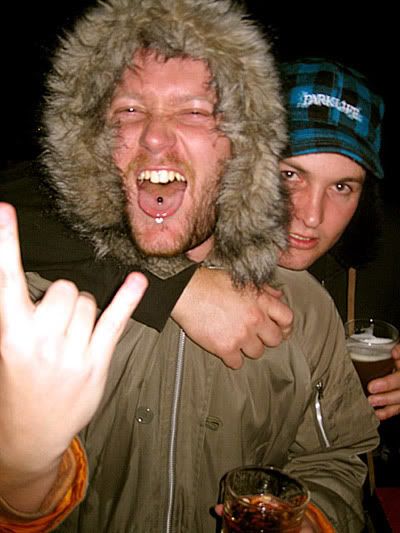 3:11AM
- Stumbling blindly out into the night, motor functions by remote control, mind full of beer (and little else swimming about in between), I make my blundering way down Hindley Street and stumble arms and legs punching down those stairs into Supermild with little more than a nod from the bouncer, an opened door and a resounding crash as I hit the bottom. And yes I know what you're all thinking but despite all other evidence to the contrary this isn't the six billionth time you've ever seen me step foot into Supermild in the the history of Spoz's Rant, I've never EVER been here, I haven't used this exact same photo countless times before, and no this isn't fast becoming a running cliche bordering on a brain dysfunction (just like the Crown & Anchor never became one in 2006 and Rocket Bar never did for 2007.. weeeeeee!).
3:25AM
- A moment later I regained consciousness, remember exactly why I've woken up in Supermild again "whoaaaa they serve beer here!? whodathunkit!" only to crawl hand over fist to the bar, prop myself up on a stool and stumble into everyone's favourite bartender Eleanor here and the endless hours of fun that is pointing a camera at her when she's laughably beyond retarded drunk, and seeing just many shots it will take before she well and truly loses her shit..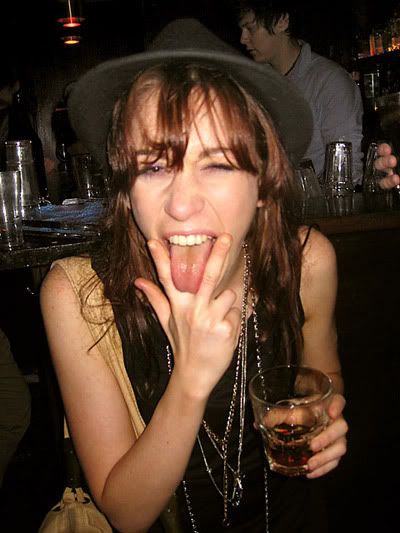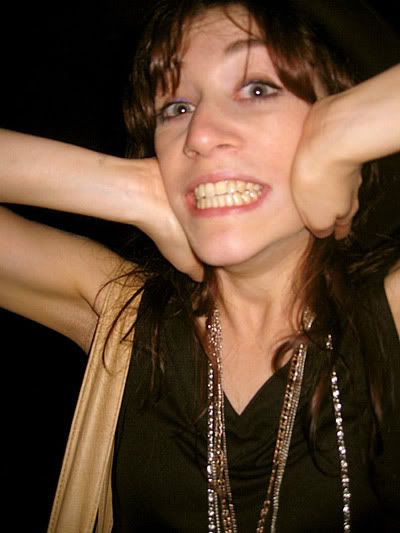 3:26AM
- Yup, as it turns out, it really didn't take all that many shots at all..
3:27AM
- And people wonder why my grip on reality is well and truly slipping down the S bend with ever night I spend out here? (wait.. you mean they haven't? they've known about this shit for months now? they've been laughing it up at my expense? and I'm just a few short steps away from typing up this blog in a baboon enclosure at the Adelaide Zoo!? awesome!).
3:35AM
- In furthering evidence towards our rapid mental deterioration (and the rapid demise of most of western civilisation along with it), we're futher entertained by Eleanor as she teams up with resident space cadet Kane Banner here who many of you may otherwise recognise as that gimp who's always at Rocket Bar (aka: one of the many freaks who've somehow found themselves on my facebook list without having next to a freaking clue who the fuck they are: damn you Jamie Bennett!) and ever mysterious dance they perform with his spastic hoodie..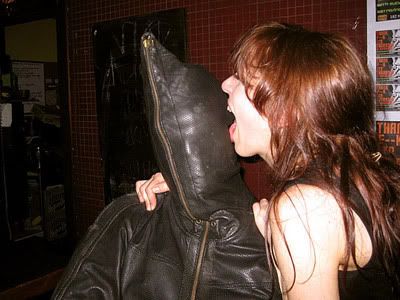 3:37AM
- Proving once and for all that nothing is entirely more fucked up in this world (and by fucked up I clearly mean the most awesome thing ever) than when you have your very own leather jacket with accompanying zippable hoodie that not only proves to be ever so infinitely stylish (for one of his infinitely scenster tragic status) but also doubles as his very own body bag to carry his soon to be twitching carcass out of this venue after a heavy night of drinking. Sure you may laugh now, but the amount of times I've woken up in a metal filing cabinet shivvering my arse off without one, makes just such an invention in this day and age a damn near necessity!
4:27AM
- And of course no night pissing your life away is ever complete without everyone's favourite bloodnut Brett (formerly from My Sister The Cop), doing just whatever the fuck it IS he's doing on the camera (no really I'm all open to suggestions: Eric the Viking? the faces of crystal meth? Nick Nolte's mug shots after a heavy night's drinking? *cough* anyone?).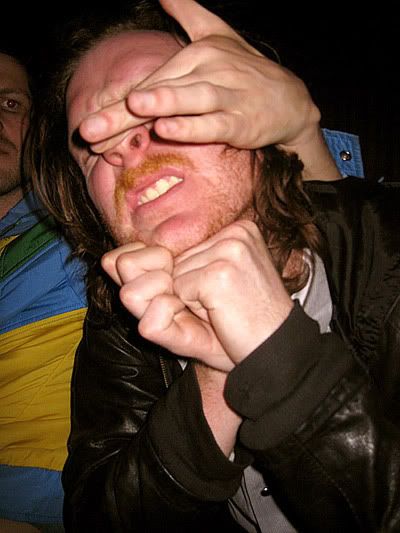 4:47AM
- And yes I would like to take this moment to tell you that binge drinking is bad, very bad, and no one should ever partake in this activity EVER as quite frankly all this shit is starting to look less like another night in Supermild and more like a scene out of Trainspotting (shit now I've done it! "Begbie"s gonna glass me with a longneck bottle!! WAAAUUHAHAHA!!). Yup, take it from me: stay in school, don't do drugs and whatever you do, don't get into that "rock 'n roll" and "hippity hop" all them kids are into these days. That shit be nothing but the devil's music!
5:15AM
- Moments after being kicked out of Supermild, quite possibly because of the face I just pulled above that triggered all the overhead sprinklers (or fuckit, maybe because it was just well after closing and we're idiots), I take a moment to pose in one those cheesy "tourist shots" with the scattering freaks outside that proves once and for that none of us have any idea what planet we're on (and no, I have no freaking clue who that gimp right of frame is either!?).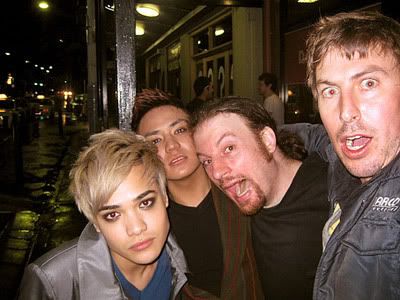 5:20AM
- Only for me to do the one smart thing tonight, jump into the one taxi cab still operating in Hindley Street not driven by a homicidal axe maniac, and speed my way home..
5:38AM
- This is the last photo I captured moments blacking out, quite possibly on this medium strip, or moments before my bullet riddled carcass washed up ashore at my front door. In it's singular twilight hue it captures just where exactly my head space is right now. Neither here or there, forever travelling between, pissing the last of it away laughing it up on life's highway!
Where does that road lead? No one yet knows, we can't see over that horizon, we can't yet know what it will surely bring in twin high beams as it smears our indelible mark all over that tarmac; but we'll be here waiting with thumbs outstretched to see just where it will take us. Asleep at the wheel, swerving across both lanes, grinding into the curb, smashing through those fences and crashing into the living rooms beyond we will find it. In this eleventh hour we will find a way!
Previously on Spoz's Rant:
Children Collide + Ben Ely's Radio 5 + Mona Lisa Overdrive