THE KILLGIRLS + KYTES OF OMAR + THE AMCATS
"WISH" @ PRODUCERS BAR / Saturday September 20th 2008
There is a thought experiment, familiar amongst quantum physicists (and mad scientists alike), known simply as "Schrödinger's cat". Into a box a live cat is placed with a can of poison. The box is closed, sealed, lined with police tape and shielded from any and all observation so as to give the cat and the poison a little privacy. Tea and biscuits are provided, some light music to entertain the guests and after a goodly sum of time we return to the box. Now here's where the fun part begins. Before opening said box, bets are made over which of two possible outcomes has actually eventuated: either (a) the cat is dead, or (b) the cat is still alive. Sounds simple enough sure, but according to quantum physicists (and thanks to the vagueness associated with the interraction between subatomic particles) there is also a third possibility: (c) the cat is both dead AND alive at the same time. Without being able to observe anything within the box, all possibilities are said to exist. Which as far as insane thought experiments go, neatly illustrates (a) why you should never invite a quantum physicist to your dinner party, (b) that this has got to be the weirdest introduction to an episode of Spoz's Rant ever, (c) any given Saturday night when I'm out on the piss. And now that I've effectively confused every last one of you "wooooo! look at all the pretty pictures!" allow for me to present a second (if equally unlikely) thought experiment..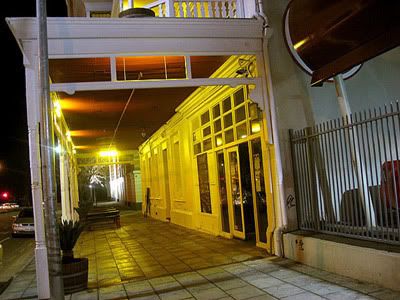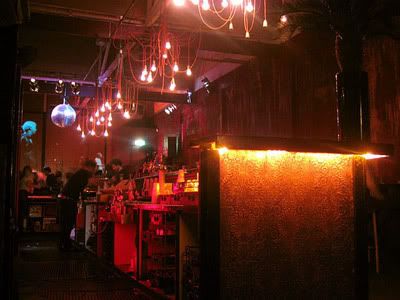 Into a Saturday night is placed two venues: Producers Bar and Electric Light Hotel. Two venues which for all intents and purposes are pretty much the SAME venue, only shot from two slightly different angles. Producers Bar: the ever darkening domain of satan worship, spit-roasting, bestiality, nudity and the occassionally no-holds barred tiddlywink tournament "ow! that fucker took out an eye!!". Electric Light Hotel: pretty much the exact same shit only with more party hats and DJs
dressed
as Chewbacca fornicating in the toilets. Both are the fiercest of rivals, the worst of enemies, constantly flinging flaming balls of excrement through the halls at each other, and utterly up to no good. If ever Adelaide was to have a hellmouth to call its very own it would be right here (or perhaps a few doors down; y'know I've never been good with specifics..)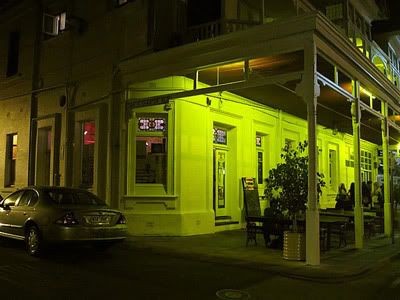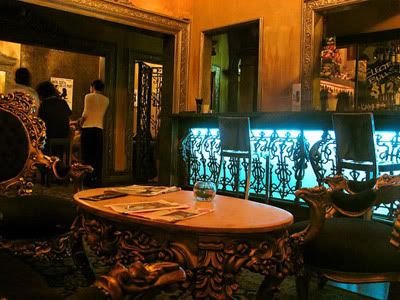 As such we're caught between two possible outcomes: do we take Producers Bar tonight and its offer of live bands as presented by "Wish": The Amcats, Kytes Of Omar, The Killgirls, a host of DJs and the best damn party going on in Adelaide (as long as two or more people actually bother to show up) "wow remember that
time
when they brought all those beach balls and we laughed and we laughed? hahahahaha nope me neither! then again, I sure DO drink a lot!!"..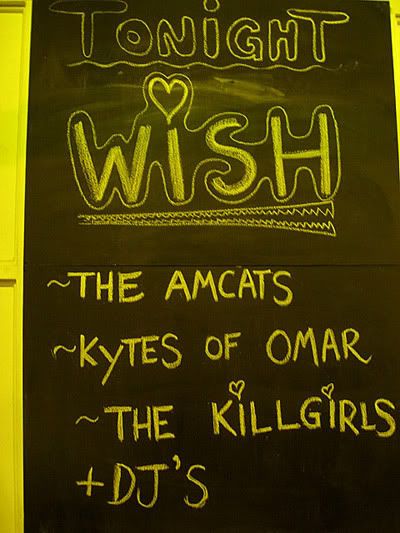 Or do we crash a party at Electric Light Hotel: hosted by identical twins Eleanor Freeman (on the left) and Miranda Freeman (on the right). The first is a bartender at Rocket Bar, the second is a writer for Rip It Up, dB and Fasterlouder. Sure we know next to nothing about either of these two twizzle sticks, but thanks to a mass Facebook invite we'll happily get drunk with them anyways; as lets face it nothing is quite as fuckoff rock as a birthday party involving twins..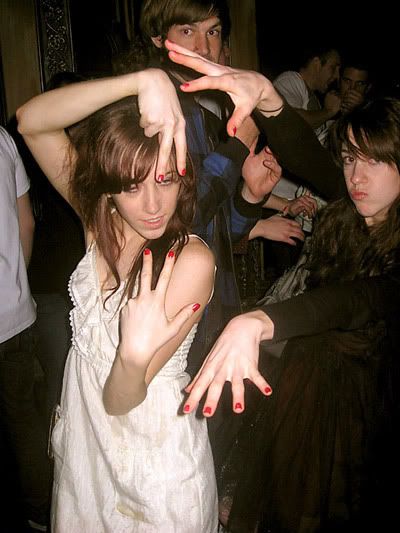 Unless of course you and your friends happen to look like this..
Into either scenario throw a few too many cans of poison that will obliterate any memory or "observation" of the events as they actually occured, leave it settle in our heads for a few days and we're actually left with three possible outcomes: either (a) Spoz went to Producers Bar, (b) Spoz went to Electric Light Hotel instead, or (c) everyone died horribly from some freak gas implosion and now someone by the name of "Klaus-Heinrich Von Liverspot" is ghost writing this episode. Even weirder, thanks to the well documented tenuous grip this location has exhibited with the laws of physics (both Quantum and Newtonian) we can now postulate a forth outcome: (d) Spoz is at both Producers Bar AND Electric Light Hotel at the SAME time. Yeah I know, I'm as confused as you are but I believe this message left scrawled on the toilet walls in Producers Bar will make it all too clear. Well actually it doesn't make anything clear (I don't even know why I'm mentioning it now) but just think about it: there's a lesson in that for all of us!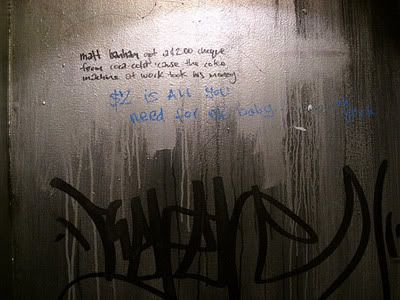 THE AMCATS
(***1/2)
myspace
::
Tonight's opening act at Producers Bar is The Amcats: an American alternative rock band, formed in 1997 in Detroit, Michigan. The group consists of songwriter Shane McIntyre (vocals and guitar) and Renee Andrighetto (drums), who have remained the consistent line-up (except for a brief period in 2003 when Renee invited Jason Stollsteimer from the Von Bondies to join them on bass, Shane had some issues with it, there was a punch up, Jason quit the band, and things have been a little weird ever since). After releasing several singles and three albums within the Detroit independent music underground, The Amcats rose to prominence in 2002, as part of the "garage rock revival" scene. Their successful albums, White Blood Cells and Elephant, drew them attention from a large variety of media outlets in the United States and the United Kingdom. The Amcats use a low-fidelity, do-it-yourself approach to writing and recording, and utilize a simplified color scheme of red, white, and black for their imagery, instruments and clothing. Playing in the punk blues style, their music stresses a raw, minimalistic simplicity of composition and arrangement predominantly inspired by blues, early punk rock, and garage rock (and occassional insane experimental shit involving xylophones, cowbells, duck whistles and a harp). The Amcats' latest three albums have each won a Grammy Award for Best Alternative Music Album (except clearly they haven't, cause we all know I ripped all this shit off from a
wikipedia entry
on The White Stripes and changed the names around a little.. YEAAS!!)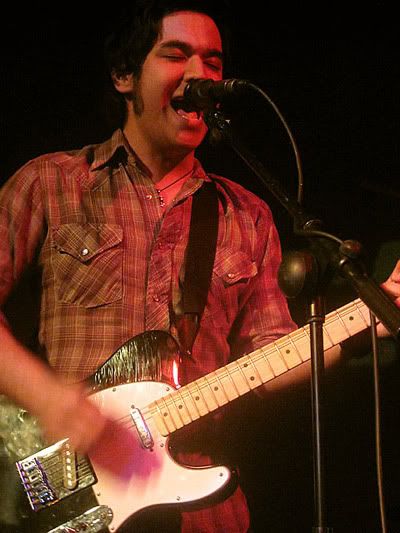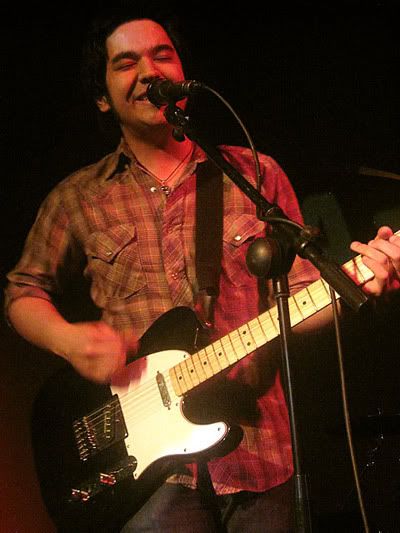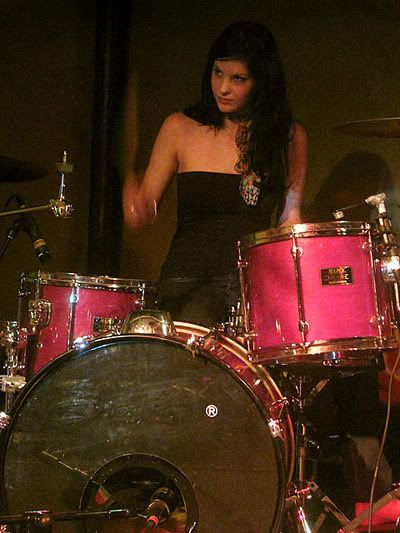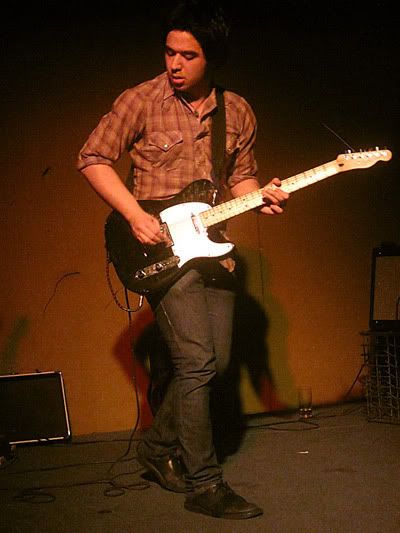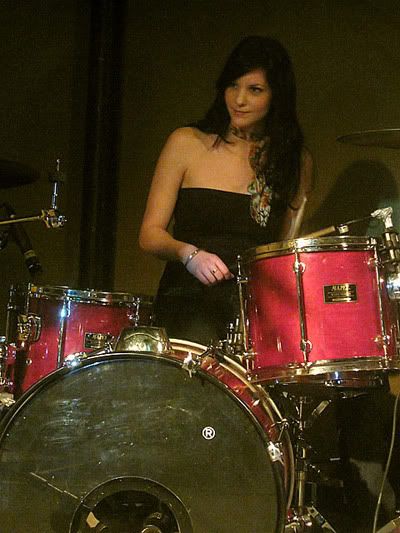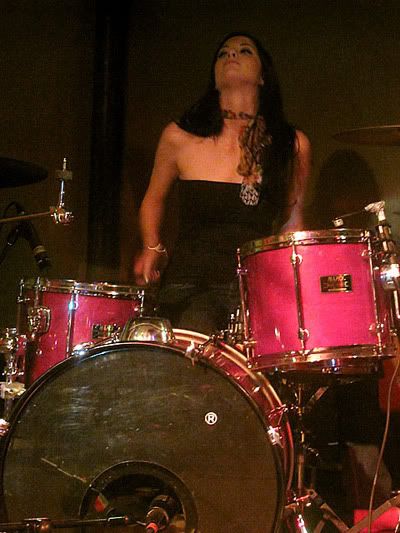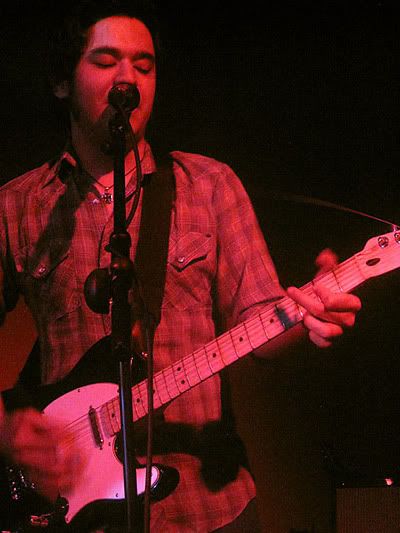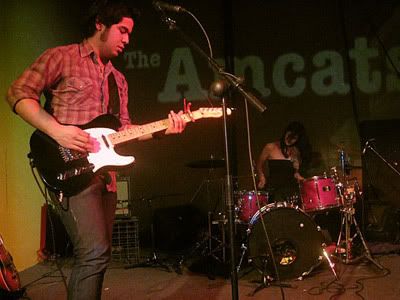 Aaaaah The Amcats! everyone loves The Amcats! The Amcats are awesome! Unless of course you happen to hate everything that The White Stripes has ever done, in which case they're shit. Still if you're a mad fan then there's a good chance you'll love The Amcats and even if you don't, then you can't deny that their drummer Renee is still insanely cute. I mean just LOOK at her all happy and smiling behind the drumkit, I hear it's her birthday too! aww how could you possibly hate this band!? I bet you hate puppies, gumdrops and rainbows too you sick sadistic fuck! The Amcats. The resemblance is uncanny. Short of Shane on leads NOT looking like Willy Wonka and the whole red/white/black brain malfunction it's pretty much the exact same shit. Right down to the shrieking tone of Shane's voice and the tilting head of Renee on drums. Of course you could also claim they're influenced by all manner of OTHER two piece bands: The Fiery Furnaces, The Mess Hall and The Black Keys, but clearly you'd be full of shit. They're The Amcats, they're just like seeing The White Stripes for $5, they're hardly original, but who could ask for more?
KYTES OF OMAR
(****)
myspace
::
If however you wanted to know which influence this second band is nicking their moves from, download the first album "Young For Eternity" by The Subways (released back in 2005), cue up track three "Rock & Roll Queen" and that'd be your monkey. Yeah I know, I only got onto this shit a few weeks ago (pfffft how late am I!?) but the resemblance is uncanny. It's like listening to Interpol all your life and only JUST discovering Joy Division. Put Billy Lunn from The Subways and Anthony from the Kytes Of Omar together and short of looking like a before and after shot on the ill effects of alcohol and fast food abuse (that makes Anthony look like a snarling hangover that eats entire planets) they both have that same voice. That same shrill lisping urgency. Those same lyrics: boy meets girl, boy writes song about girl, boy stands outside her bedroom window with a guitar shrieking "Sally" all night long till she finally calls the cops and gets a restraining order. Its just as well I totally dig The Subways (just don't tell me how much their second album blows or it'll effectively ruin it for me). Still thankfully, that's not all there is to Kytes Of Omar. They also rip off about a billion other equally awesome influences: everything from The Pixies, Kings Of Leon, Queens Of The Stone Age, Led Zeppelin to The Strokes (I mean shit who ISN'T these days!?). And yet all credit to them, they DO make this whole mongrel mess their own unique beast. It's kinda like watching a wet dog dry itself, but no less enjoyable..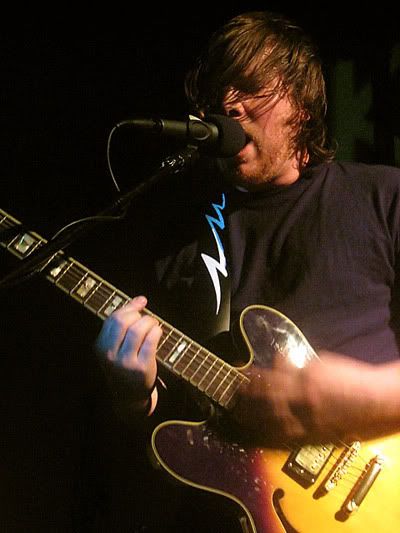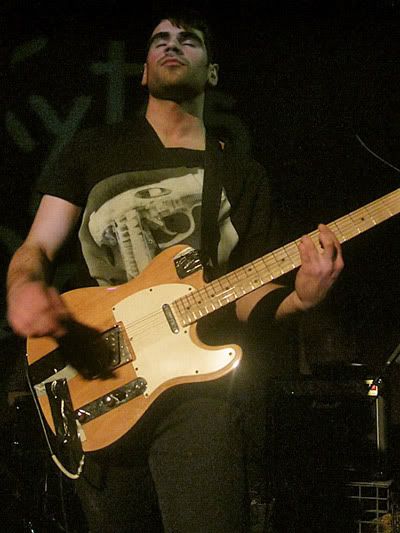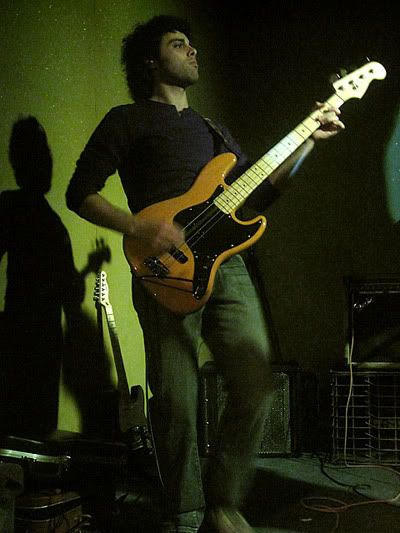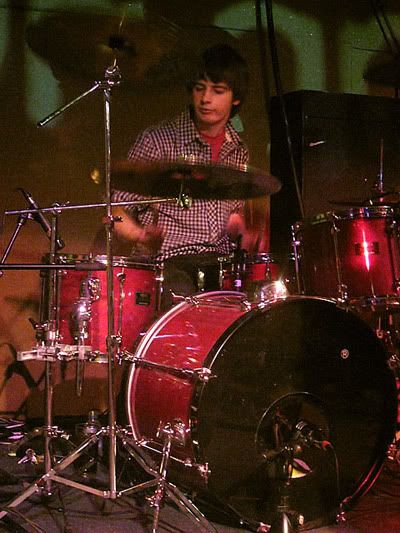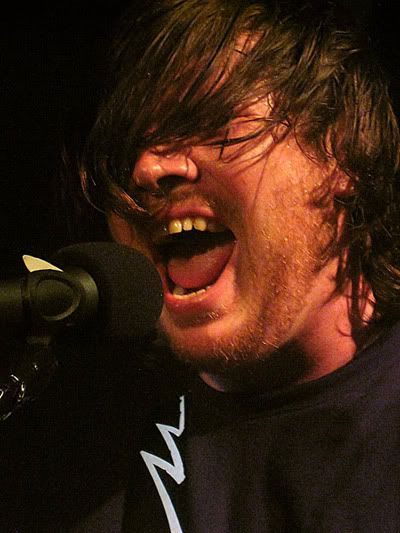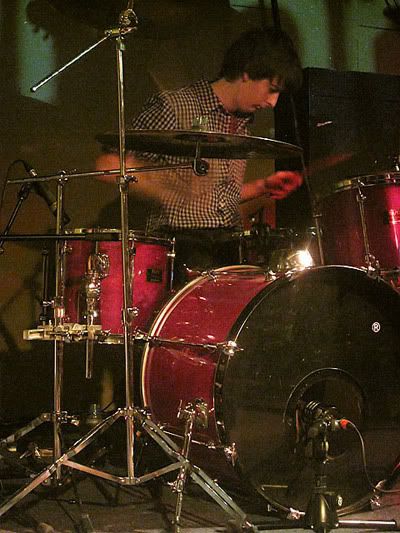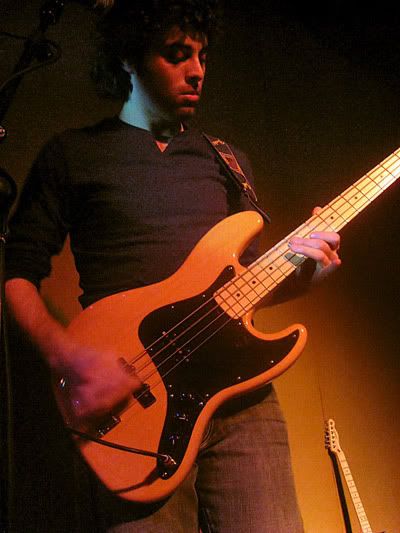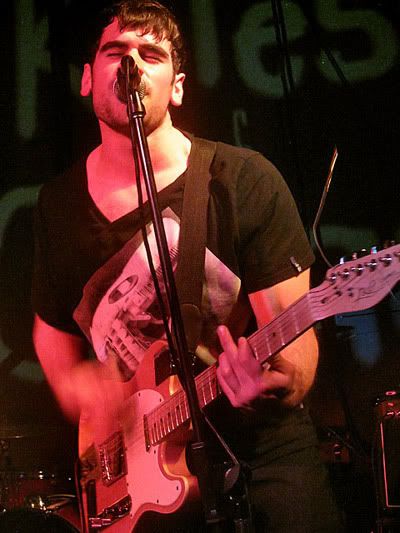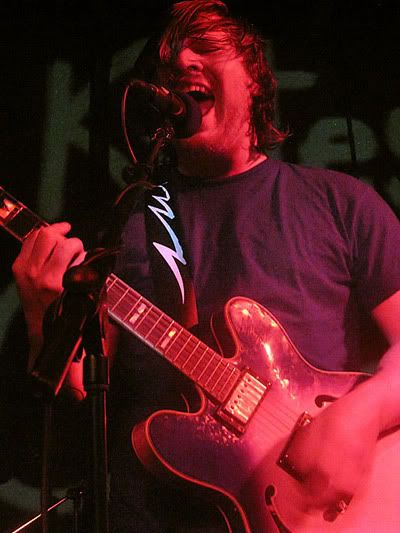 Kytes Of Omar are the live band equivalent of putting a torch under your chin, furrowing your brow and going "MUHAHAHAHAHA!!", only with a shitload more reverb. They explode onto a stage larger than life (or at least larger than most life not seen since the Mesozoic), like a b-grade monster movie, like Tokyo or Manhattan being destroyed for the upteenth time by a radioactive 50ft beast that humanity had no right to awaken from centuries of slumber at the bottom of the ocean or like Wolfman and Frankenstein joining forces to play guitar. As long as you can resist the urge to run screaming from the resulting carnage to call in air support (and if only we could find a stadium and a few laser lights to contain them) we could have ourselves a party. Then again they DID try this shit with King Kong and look how that turned out! hmmm.. scary!
And speaking of low-budget monster movies and weird special effects here's a photo of Joe Russo their guitarist and his awesome choice in footwear. Which I was inspired to photograph tonight, thanks to a funny little anecdote I heard about this band. I'm told after reviewing them for the
first time
LAST year: when I laughingly referred to them as sounding "like a Sunday session band as assembled by former AFL footy players chugging out gorilla riffs", they got all freaked out, thought I was making fun of their fashion sense, and bought all new outfits. Such is the almighty power of Spoz's Rant to fuck with your head!! (which apparently doesn't extend to footwear). Then again it's not like I can talk, I only own the one pair of shoes meself.. woooo!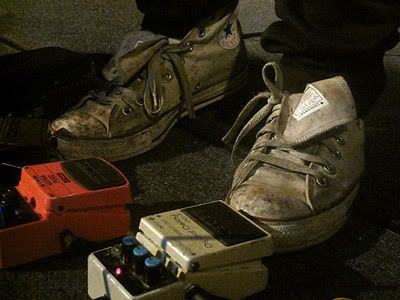 11:09PM
- Speaking of cheap shots, or more accurately the sort of cheap shots bought in trays of five at Shotz, downed repetitively till you're on all fours, on the floor barking at the porcelain; it's about time I made an appearance next door at Miranda and Eleanor's twins' party..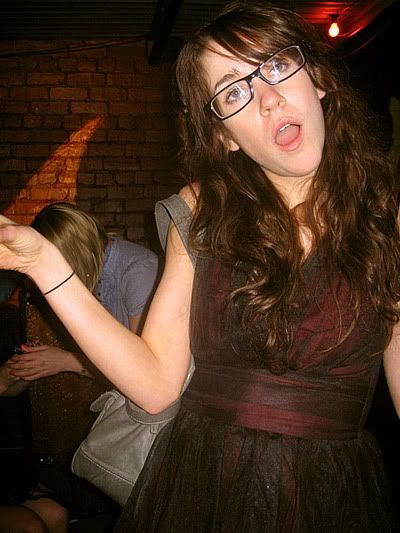 Yup, clearly nothing I've just said above about consuming vast quantities of alcohol and losing our minds has anything to do with what we're witnessing right now. Hmmm nope, not at all!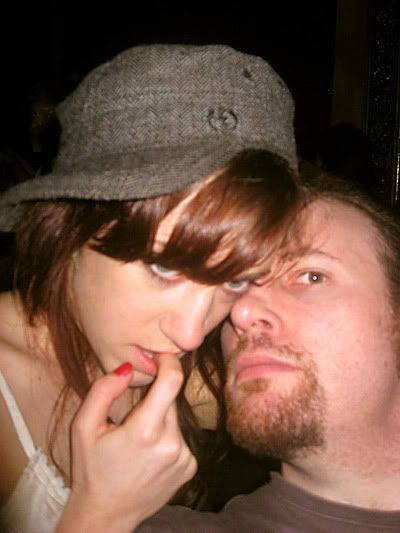 Of course you may be briefly wondering right now just how the HELL I know all these people. The fact is I don't know anyone, I'm as clueless as you are, but thanks to repetitively beating my head against a brick wall each week (otherwise known as "a wildly successful drinking habit", otherwise known as "the Adelaide music scene") everyone seems to know ME around here..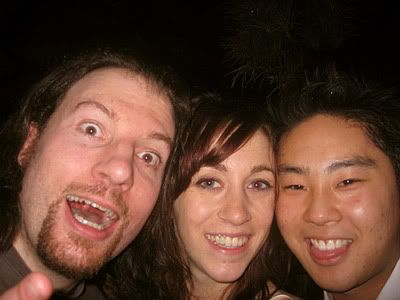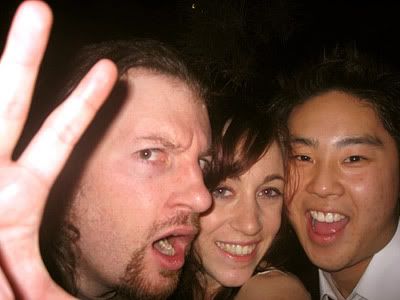 Which is just as well, because I often forget silly things like where my house is, who's glasses these belong to (what again!?) or why I'm posing for all of these ridiculous photos..
THE KILLGIRLS
(****1/2)
myspace
::
Yup we're pretty much flying blind at this point but still, what better time than now to return to Producers Bar for our headlining act? When your profound intellect is reduced to something the size that a simple focused magnifying glass could extinguished "wait, what was that tiny popping noise I heard just now!? oh never mind, hand me another beer!": nothing quite beats the insane blinking strobes and pounding 4/4 electro industrial assault of THIS band to make you grin from ear to ear and fuck everything that moves. The Killgirls. Quite possibly named after their lead singer Mario (aka: the drama queen) who looks rather like a hissyfit catwalk collision between Edward Scissorhands, Gerard Way from My Chemical Romance and a gay hairdresser (or rather like what Christina Ricci would look like as a reanimate zombie corpse in drag) are a feast for the gleefully beaten senseless. They're the blackening goth intensity of Nine Inch Nails' "Pretty Hate Machine" and Marilyn Manson's "Mechanical Animals", mixed up with all the fluoro nu-rave stupidity of The Klaxons and The Presets. They're extacy and amphetamines laced with pigs blood and cocaine. They're 24 Hour Party People meets Silence Of The Lamps. And they're the most fuckoff psychotic sound you could possibly subject your dimishing synapses to this side of the witching hour but all the more awesome for it. We are but simple putty, puppets and puppies fed into the spinning blades of their techno fury. Fire up that strobe and lets go fucking nuts!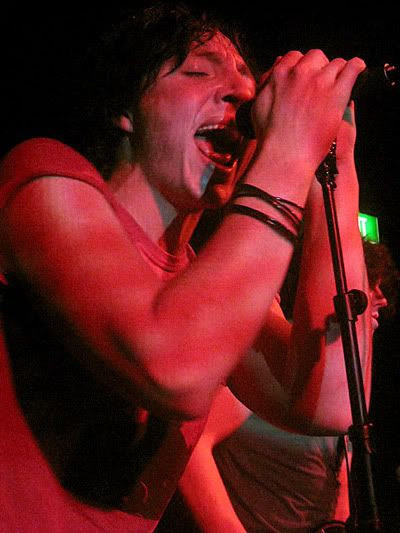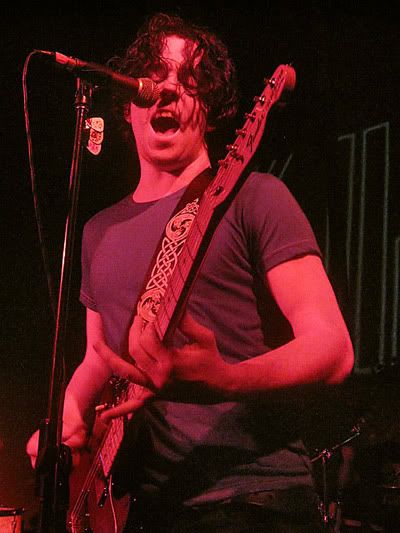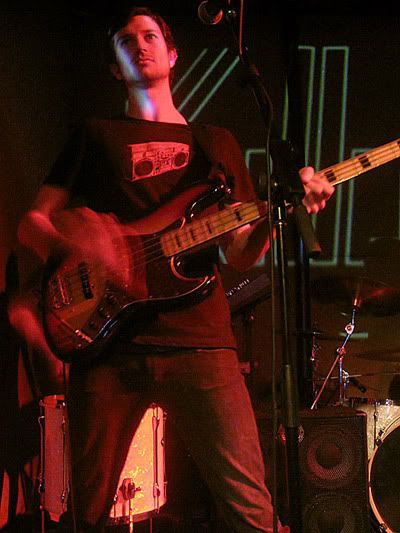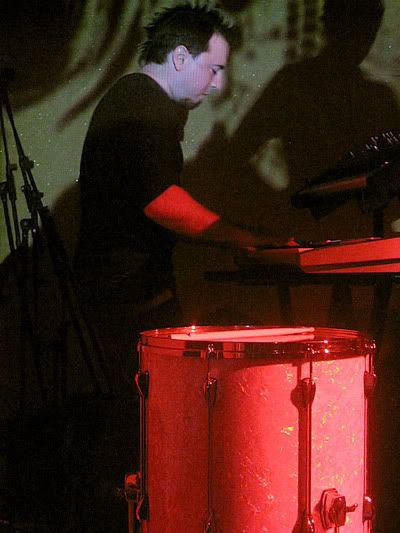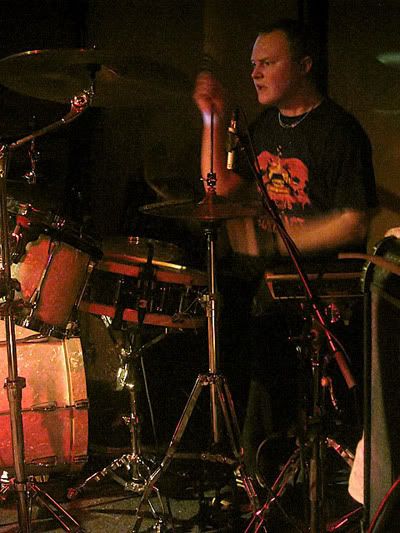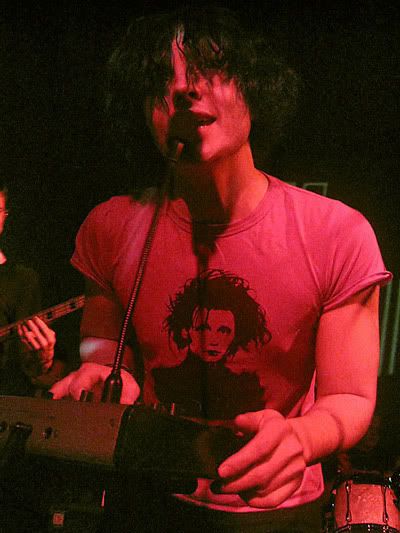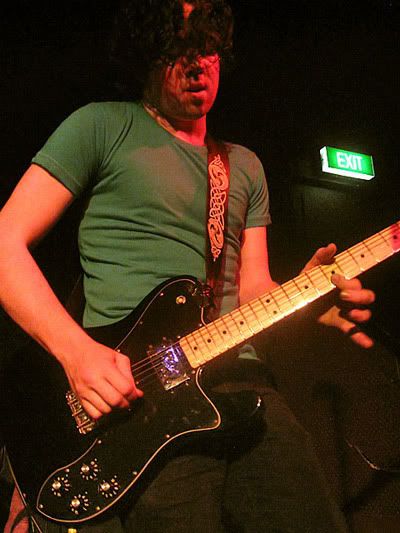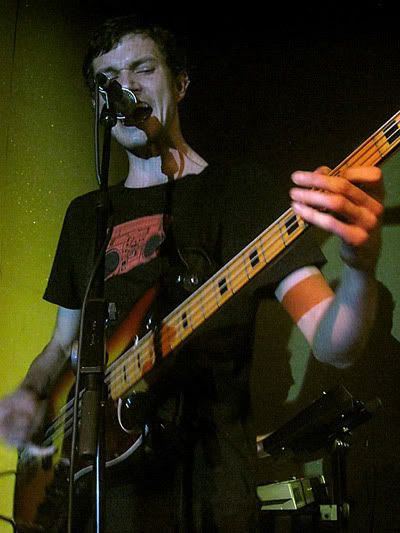 If nothing else The Killgirls sure know how to put on a show. They're all about the drama, the intensity of that drama, drama so emotionally draining that Mario damn near collapses on the floor twitching inbetween songs due to the impossible weight of it (or rather like watching Mr Burns fighting himself out of a brown paper bag). And just like all supervillians before him, he's not short of henchmen to do all the dirty work either. From Rusty their guitarist flapping his arms about hysterically like his shit is crawling with ants, to Adam on keys fuming away silently like he's Dylan Klebald moments before a Columbine massacre, to Tony on drums pounding that mechanoid beat with such cold cold unrelenting precision you'd swear Skynet sent him from the future to kill us all; they're a lethal combination! And then there's their new bass player Nick. Yeah dunno what to think of him yet: he kinda looks like Tom Hanks out there, but I'm sure they'll corrupt him soon enough. The Killgirls. They are THE sin, and they'll fuck you up!
12:22AM
- Moments before The Killgirls planned to hit the stage once more for an encore, a swirling black vortex opens up above them, a vomiting spawn of tentacles bursts forth, grabs all five members and yanks them screaming into the void. A brief struggle follows, the tearing of flesh, howling, flashing lights, followed by one lone shoe as it falls from the shrinking rift, hits the floor in front of us, spins like a dime then collapse into dust. There is silence. Stunned silence in horror of what just happened. Then one of the bartenders simply shrugs, laughs, calls forth a procession of bambi DJs from "Wish" to distract us and it's business as usual again..
Awwwww just look at them out there on the dancefloor! so cute! so blissfully oblivious to the rapidly fading memory, of the horrific slaughter of their meek and mortal kind just moments ago. Looks like just another night at Producers Bar now doesn't it? oh if only they knew!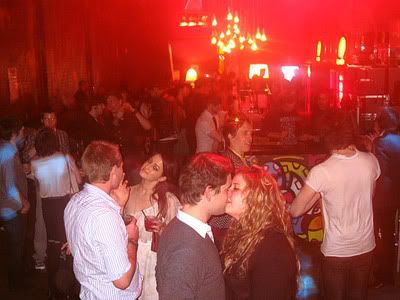 12:40AM
- Speaking of repressed memories that'll likely take years of psychiatry and hypno-therapy to get over (otherwise known as any given Saturday night you'd care to mention) it's back to Electric Light Hotel and back to Miranda and Eleanor's wacky twins' party which appears to be in full swing (although clearly not swinging with a full deck of cards)..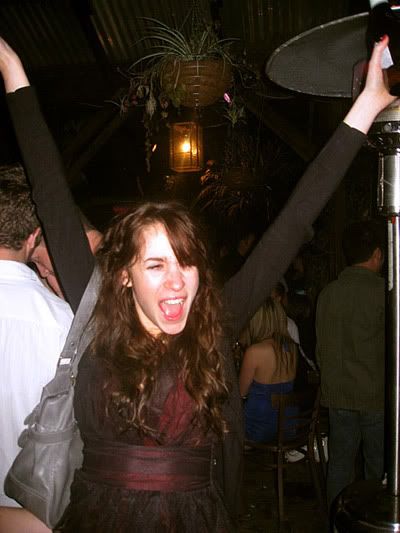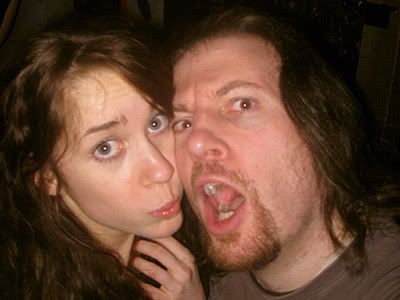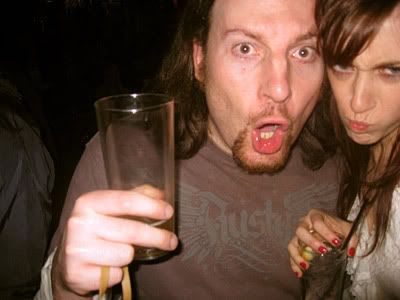 1:23AM
- Things start taking a turn for the worse for Eleanor on the dancefloor. Or if you're a photographer as notorious for capturing drunkarse trainwreckage on camera as I am: a turn for the hilariously awesome.. weeeeee! (although considering I'm equally if not MORE ridiculously retarded drunk right now it's any wonder I could actually keep this camera upright..)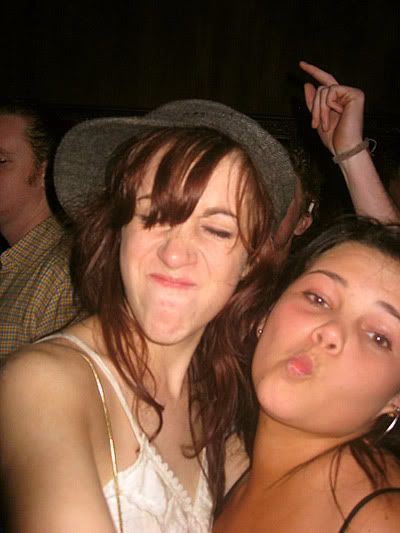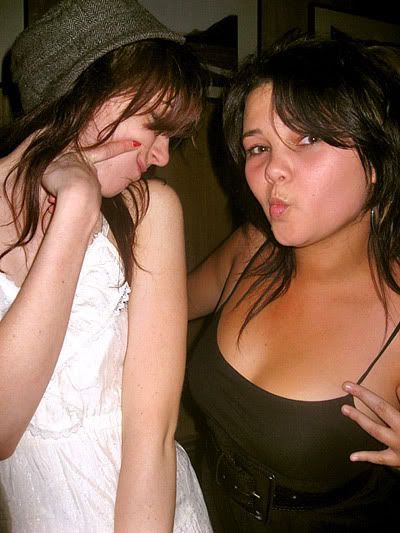 Is it just me, or are we dealing with expert camera whores here!?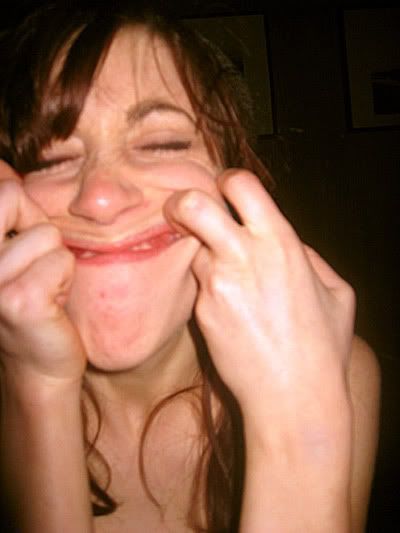 1:27AM
- Speaking of such, Bec from the Ed Castle, clearly feeling left out after not making yet another cameo appearance in my blog for all these weeks, arrives to rectify the situation (only likely to regret ever pulling THIS expression when she sees this photo later today.. tee hee!)
Oooooh yup, this one's a keeper! (and yet everywhere I go, peeps still keep begging me to take photos of them when they're drunk!? wow.. you think they would've learnt by now huh?)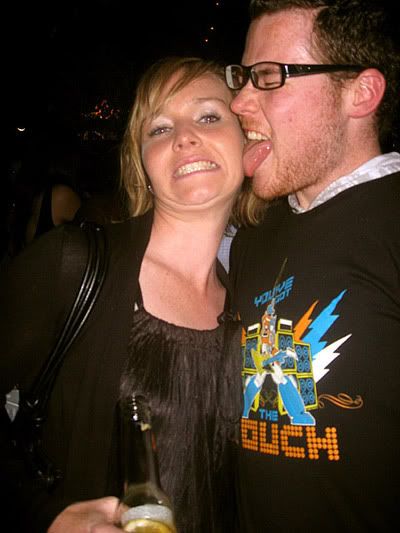 1:31AM
- I believe there was something truly horrific happening behind whoever was operating this camera to elicit such a traumatised response from me and Miranda here. Unfortunately all memory of it has since been lost (but I do believe that hazmat team that was sent into this area with geiger counters to clean up this mess is SURE to find something any minute now..)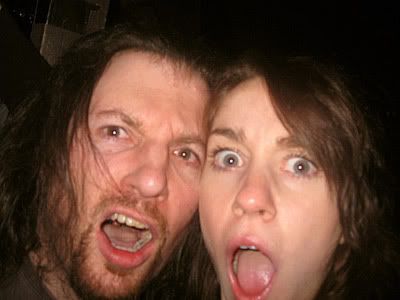 Speaking of such, I think it's about time we went back to Producers Bar.. yeeeouch!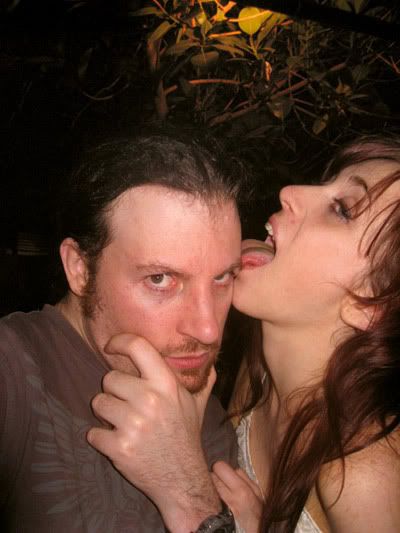 1:49AM
- Daniel Gaskin (from Newtonheath) on the DJ's decks looks infinitely enjoyed to see me return to "Wish" at Producers Bar (and perhaps also infinitely impatient for when the great Cthulhu will return from the inkly blackness to claim its NEXT human sacrifice).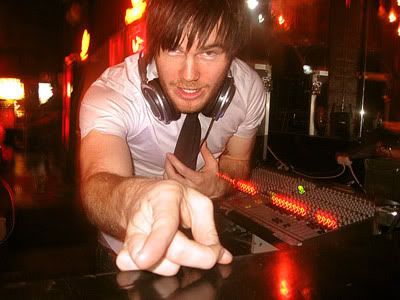 Whilst Sophie, equally overjoyed to be serving this alcoholic shitstorm tonight, suffers another one of her "blue screen of death" moments. My fellow bar patrons wonder briefly if they should ring 000, then change their minds and simply proceed to flick lit matches at her..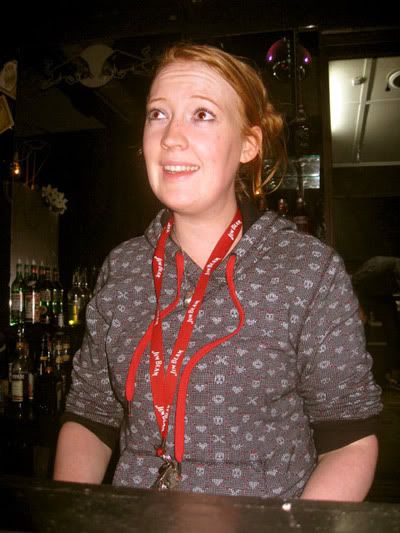 Y'know its weird to think that when I'm sober, taking all these retarded "social pics" would be the LAST thing on my mind; but after 10-12 pints of beer I can't get enough of this shit..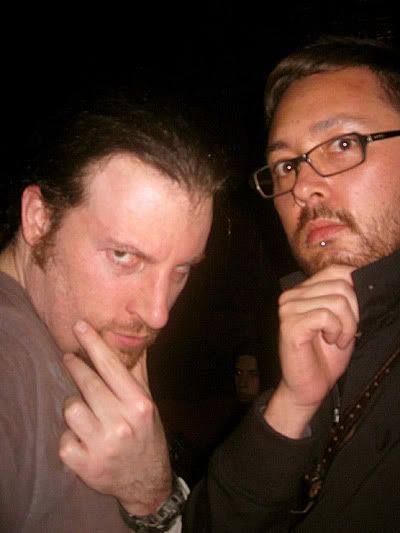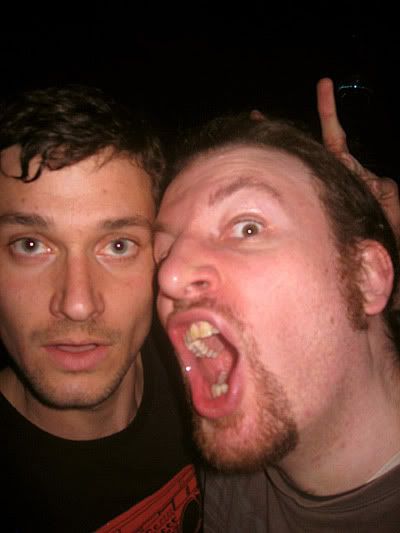 2:37AM
- Speaking of such, upon my whirlwind return trip BACK to Electric Light Hotel, I'm stopped in my tracks by Dave (from Mona Lisa Overdrive) who's enjoying one of those rare weekends when his band ISN'T playing every single live venue in Adelaide (although I'm sure you'll see them NEXT Saturday when they play the Ed Castle). As for that girl next to him? Your guess is as good as mine. Just as I took this photo she was viciously attacked by a carnivorous handbag. Nasty little buggers too; I hear they've already eaten 12 other people tonight..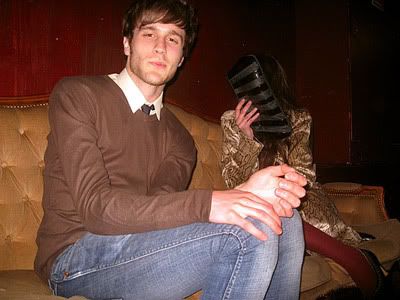 2:55AM
- We're not here. We were never here. We've all gone home already. We swear none of this ever happened. I didn't even take these photos. It's all a lie. You can't prove anything!!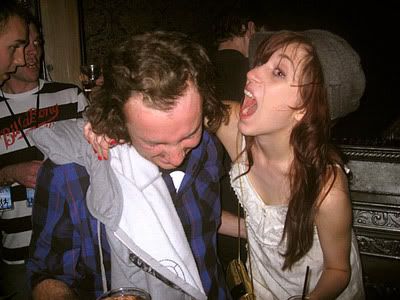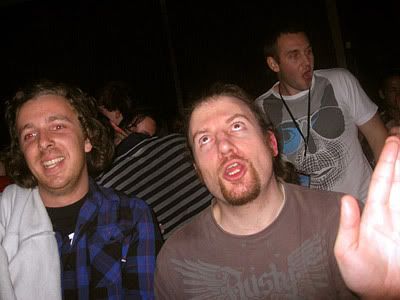 I believe Rodney pretty much sums it all up: what the fucking hell did we unleash here tonight!? and what maddening powers of the occult will be required to send it back from whence it came..
3:07AM
- Unbeknownst to me, moments earlier, a meeting has been convened. A decision has been made. I am to be sacrificed to the great Cthulhu (and perhaps also to the great Bezaor it shares the infinite with) so that others will be spared. Hmmm looks like I took the news well..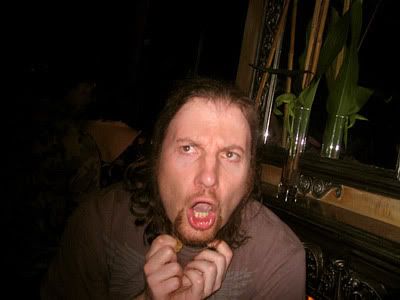 3:19AM
- I forget how I made the narrative leap from being potentially eaten by whatever dwells above (or below) Producers Bar and to here outside on Grenfell Street, fleeing the scene moments before it all went down in flames. I dimly recall it took a team of 30 animators at ILM just to get the glistening ooze on its thousand lidless eyes to "look right". Either way here we are, that scene long since lost to the editing room floor. Wow what an insane and miraculous escape!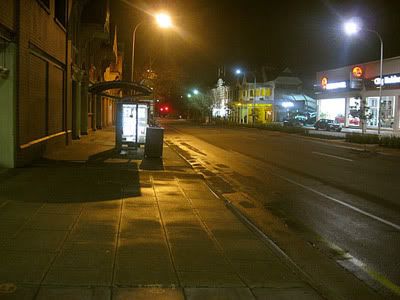 4:02AM
- I wandered the city streets for minutes, seemingly hours, quite possibly days, lost in thought over all that had occured tonight, over all the people who may've been accidently eaten for me to be alive today. Clearly I'd seen too much in one night but I couldn't go home, not just yet, I needed solace in the last possible place in all of Adelaide that could EVER provide it..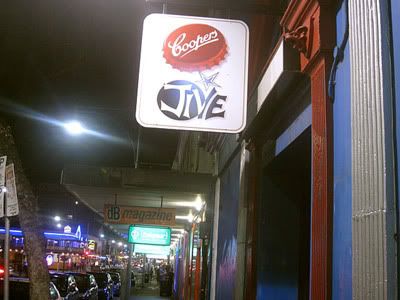 Jive on Hindley Street. At the tail end of another quiet Saturday night of "Gosh". Do not be fooled by the swirling lights and the frenzied late night activity. Just moments before I took this photo they were knitting, playing checkers, discussing musical theatre and sipping cups of tea. But y'know how these indie kids get. All this "debaucherous" reputation to maintain and all..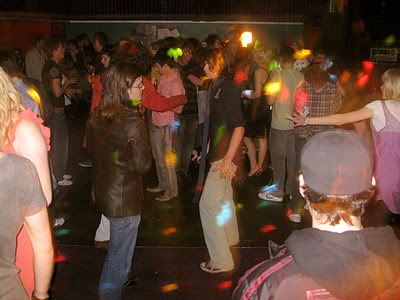 It would've been such a pleasant end to an otherwise harrowing evening. Discussing the finer points of the Schrödinger equation, the Heidelberg Uncertainty Principle, and the Copenhagen Interpretation (with this bespectacled dweeb and her attractive assistant) and how all three of them could possibly hope to explain what the hell it is that they put into Burger Rings..
Or at least it would've been, if unlike every other night I've ever attempted to get away from it all (in the most stupidly ironic of locations) I didn't just happen to get ambushed by this lunatic..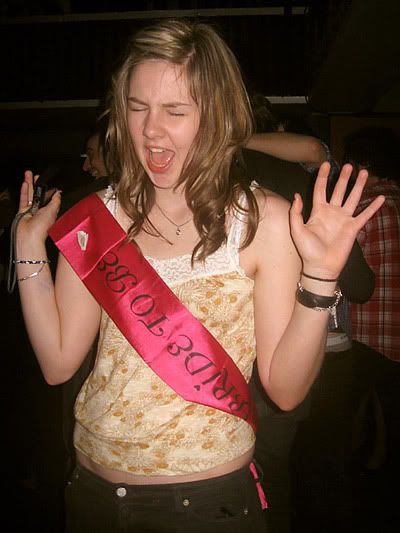 Followed closely behind by Nick Hadley from Dead Popes Of The Vatican (a sure sign that your drunken night of debauchery and wall licking insanity is going to get a WHOLE lot worse) and a whole fuckload of idiots fresh from Ross's stag party.. ooooh shit! Yup, I believe the rest of these photos pretty much speak for the smoking cavity in my skull that was once my fragile sanity..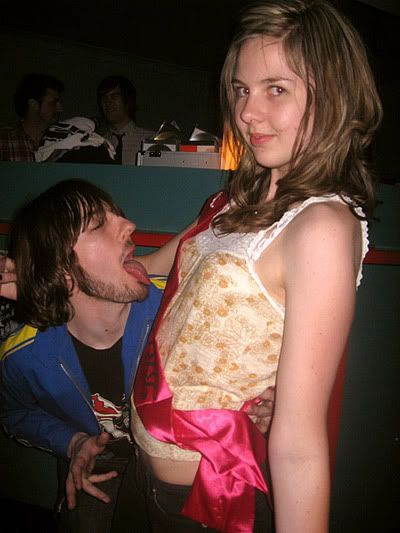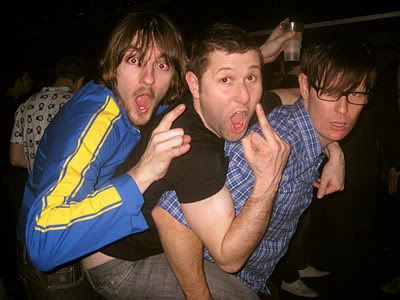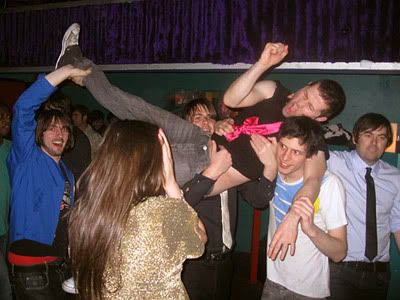 4:41AM
- Whilst these two shots at the end of the night pretty much defy all possible attempts to caption them (but feel free to leave any and all suggestions in my comment box below!)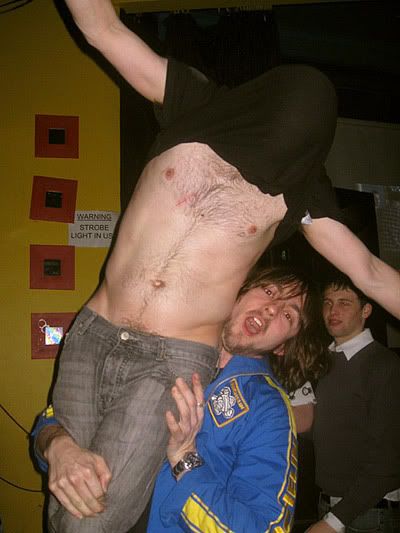 As unfortunately I have no memory over what the hell happened next. My camera lens simply shrunk back into its shell casing like a frightened turtle and would take no more.. eeeeeee!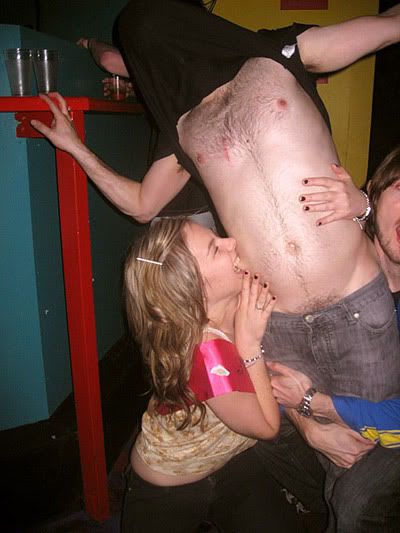 I wake up in a box. I wake up in a tree. I wake up shot out of a cannon. I wake up floating downstream and on fire, laughing hysterically to the viking funeral procession around me. I'm awake. I'm still asleep. I'm Schrödinger's cat. I'm both dead and alive. I exist in all points of the universe. I am everywhere, I am nowhere. I have ceased to exist. I've come full circle to the beginning, nothing makes sense, and I'm further into the beyond and barking up the walls than I've ever been. Or maybe I've always been here. Maybe I've never left. Am I imagining it all!? Until proven or observed otherwise: all eventualities and realities are indeed now possible!
Previously on Spoz's Rant:
Skye Harbour + Tyger Tyger + The Keepsakes