MY DISCO + CLUE TO KALO + SWORDS
LIVE @ ED CASTLE / Friday October 17th 2008
There's this increasingly popular
scientific theory
that been doing the rounds of late that claims that all the redheads, gingers, rangas and bloodnuts in our species will soon become extinct, quite possibly by the year 2100 (maybe even earlier) and no amount of misguided (or welcoming) "breeding programs" sponsored by either Josh Homme or Shirley Manson can do a damn thing about it. Disturbing I know; but what disturbs me even further, is that if THIS kinda stupidity actually counts as "science" these days, then all our genius and infallible logic will soon become extinct along with it. We as a species are pretty much finished. So long! good night! be sure to press the "big red button" on the way out! And if you thought that was retarded there's a whole lot
more
where that came from! Who could possibly forget the groundbreaking work of French "scientists" who
discovered
that fleas living on dogs backs could jump slightly higher than those that live on cats. Or the tireless efforts of one
Robert W. Faid
from Greenville South Carolina who could pinpoint the exact odds of Mikhail Gorbachev being the Antichrist (860609175188282100 to 1). Or the proud inventor of
Neuticles
(the replacement testicles for neutered pets!). Or the US Airforce for developing the "
gay bomb
". Yup, that right there is THE height of our intellectual accomplishment! We're upto our nipples in terrorism, fundamentalism, peak oil, global warming, intelligent design, economic collapse, drought, famine, hurricanes, plagues, right wing governments and an obesity epidemic that we can't do shit about; but give us a research grant and we can
find a way
to extract vanilla essence from a steaming pile of cow shit!? Awesome!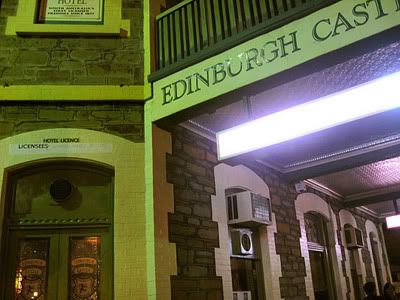 Yup, we really ain't rewarding the brightest bulbs in the proverbial christmas tree now are we? Thanks to a decade or more of rewarding stupidity over ingenuity, we're more likely to set that fucker on fire, attempt to smoke it, piss on it and then dry hump the ashes. We'd probably also film while we're at it, post it on youtube, get a million hits and it'd end up as next summer's Hollywood blockbuster: except in the cinema version the "tree" would be played by Paris Hilton and feature Seth Rogen "smoking" her ashes (although let's face it, if Judd Apatow directed it? I'd still go see it). I mean seriously duuude, what the FUCK!? Is it actually possible to switch on the news anymore without being provided with YET another reason for why our species is way too stupid to still be alive? Are there any smart, intelligent and inspired geniuses left in the gene pool to show us the way? and if so where the fuck did they go!? Did they develop super-futuristic spaceships fueled on nothing but the power of thought and fuck off to Alpha Centauri? Or have they simply gone into hiding? Here to the Ed Castle perhaps!? Nerds, dweebs and geeks alike drawing us from afar with their siren song? Fuckit, let's go and find out shall we?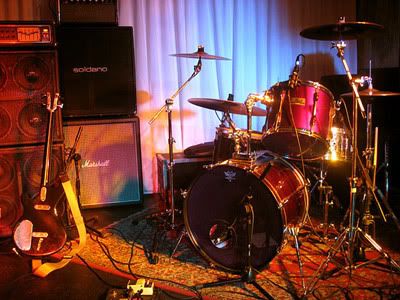 SWORDS
(****)
myspace
::
There's a few key adaptations that once distinguish our (soon to be extinct) species from the background radiation of chimps and monkeys that helped to spawn us: opposable thumbs, the ability to walk upright, self awareness, abstract thought, spoken language, a fascination with fire and a proficiency in tool making. Of course we've since forgotten most of that shit (and since lost the user's manual along with it), but sometimes it helps to be reminded. Swords. They're the hardwired DNA within all of us that enables us to cook and appreciate a really good steak. It ain't rocket science, it's just human nature, we're all born with it, meat + fire = awesomeness. Or if you're of the vegan persuasion just think of a really good tofu steak. Or if you're of the macrobiotic and multivitamin persuasion living up in a tree somewhere.. then um yeah.. you're pretty much fucked. Two bass guitarists, one drummer and a mind filled with a million barbecue flavours: aaaaaah what's not to love? Swords. They're the sound of steak knives and chopping blocks. They're the sounds of carnivore physics. They're the sounds of zen tranquility found in combining meat with methane. They're us right back at the top of that food chain aristocracy once more. Take the colour brown, drive it razor sharp till it's diamond tipped and cutting like a pendulum through the piss and vinegar of 21st century esoterica and you'll have your answer. Swords. When all the banking systems collapse around our ears and we're all living in grass huts again, they'll show us the way! When we're spiraling towards the sun, they'll bring us back home again. They ain't genius, they're survival instinct, and they're bringing home the bacon!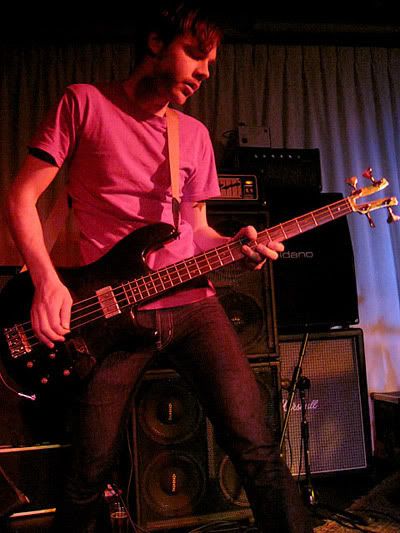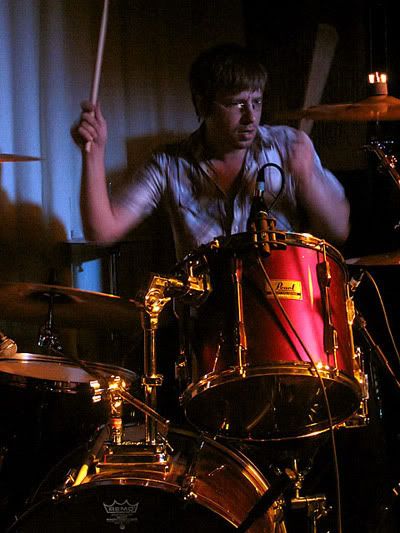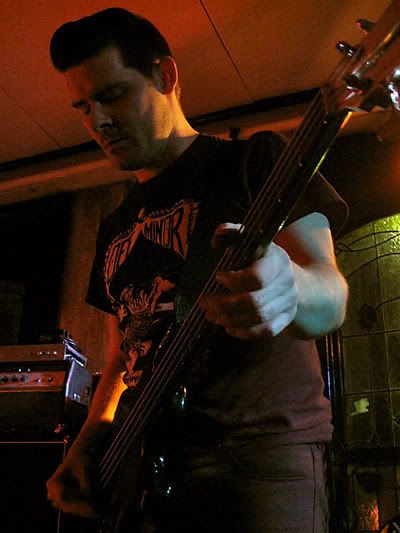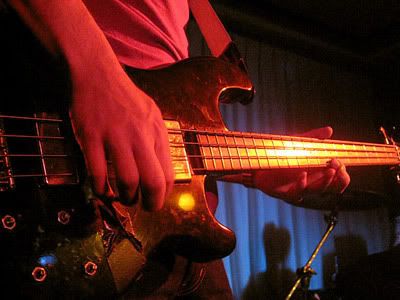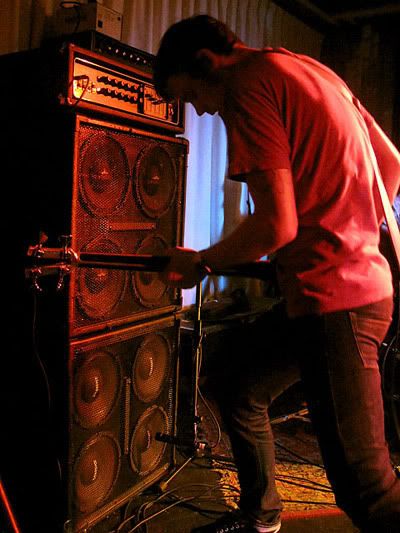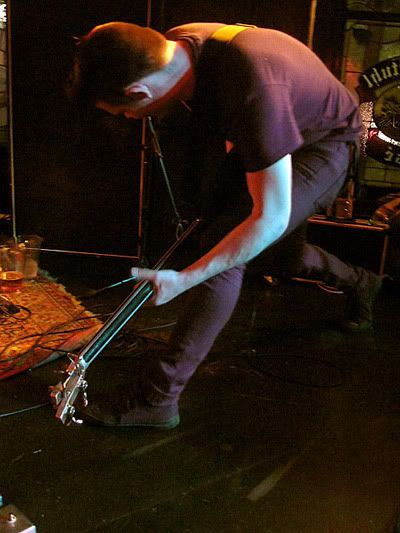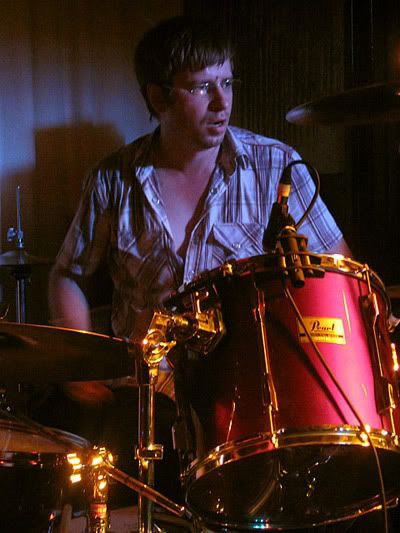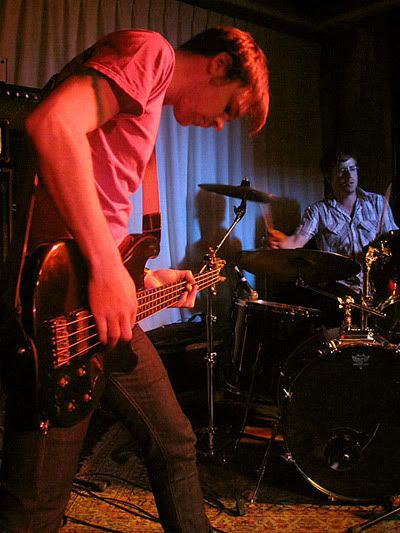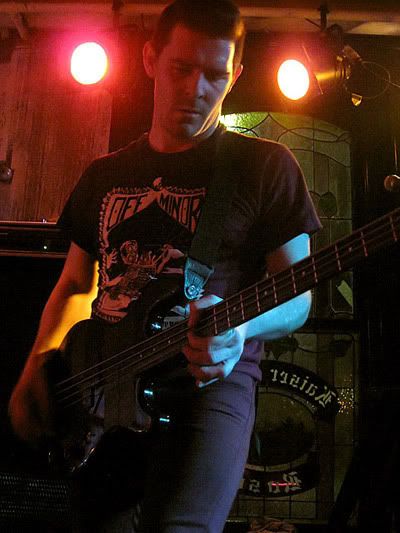 Swords. The key to their carnage tonight (and any other night for that matter) comes from the twin tuning forks of doom that both Mark and Jolan wield rather like their namesake. They're
vintage
70's Kramer aluminium neck guitars. They're the finest of their era before Kramer went all stupid in the 80's and started messing with all those pointy Van Halen disasters. Their unholy presence is unmistakable. Reined in by Steve on the drums and constantly snapping at each other's heels they drive a propellant chug and a chainsaw buzz that is both morse code abrupt and yet ever so meditative in its minimalism of brown. Swords. They're the sounds of Primus and a game of Pong. They're the sounds of Sonic Youth as performed by stick figures. They're everything our sorry excuse for a species sorely needs to reboot from our blue screen of death tonight!
11:29PM
- Thinking I'd finally found the means to bring our dribbling species back from the brink of annihilation, I take a moment in the beer garden to meditate on it some more, quite possibly over a few beers, quite possibly over a few more beers on top of that, quite possibly interrupted in the middle of it all by Bec the bartender attempting to get her own back on Penmonicus here after the
stunt
he pulled on HER a few weeks back at Electric Light, only for me to completely lose track of whatever the hell kinda gibberish I was talking about in the first place..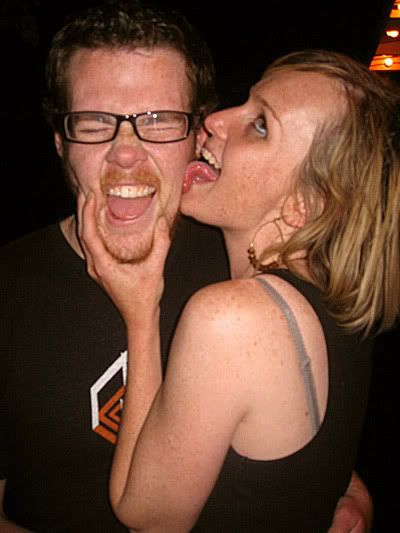 And since clearly she's been losing ground in the her aimless quest for the most amount of (entirely pointless) cameo appearances in Spoz's Rant for the one year (one that her arch nemesis Sophie from Producers Bar is winning in leaps and bounds) she thought she'd sneak in a few more (and drag me into the crosshairs) while she's at it. Yeah I know, I don't quite understand this shit either but hey, who am I to argue when they're bribing me with beer? :)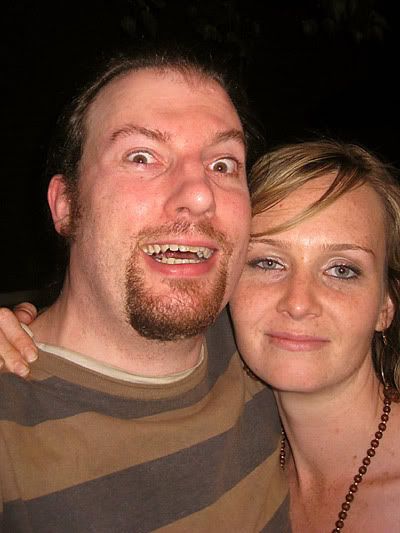 CLUE TO KALO
(***)
myspace
::
Returning to our quest for fire (aka, our search for intelligent life: buck toothed, bespectacled or otherwise) I'm interrupted instead by what appears to be a greatest hits compilation of Microsoft employees
circa 1978
that could be none other than the clueless Haight and Ashbury 60's sounds of Clue To Kalo; or as their lead singer rather neatly sums it up at the start of their set: "we're like the Monte Carlo of tonight's entertainment.. y'know, like the biscuit? no wait.. we're more like the soft bit in the middle.. between.. um.. two hard metal bits.. *clears throat* yeah, um.. that's us, hi! um.. thanks for coming along to see us tonight!" at which point most of their audience left. Yup that's Clue To Kalo! They're Mark Mitchell (aka: the Hugh Grant of awkward pauses) on leads. They're Ellen Carey (aka: the token geek girl) on keys. They're Alan (aka: Tiny Tim) on drums; valiantly defying the laws of puberty with every spider limbed snare rush. They're Curtis (aka: the bearded goon from Supermild and Rocket Bar) on mandolin and acoustic guitar; who appears to work his instrument with about as much fiendish proficiency as your grandfather trying to operate an Xbox controller. All four of them are accomplished musicians each in their own right; and you can tell, because they don't actually seem to be playing the same song at the same time! Frequently off time, off key, often off in a world all too their own. They're utterly uncoordinated yet blissfully disarming. They're one short of a box of crayons. They're Clue To Kalo!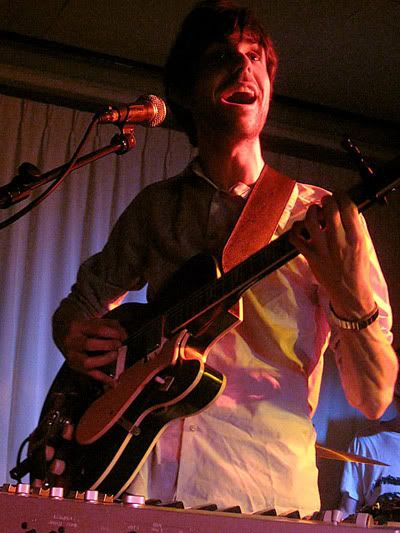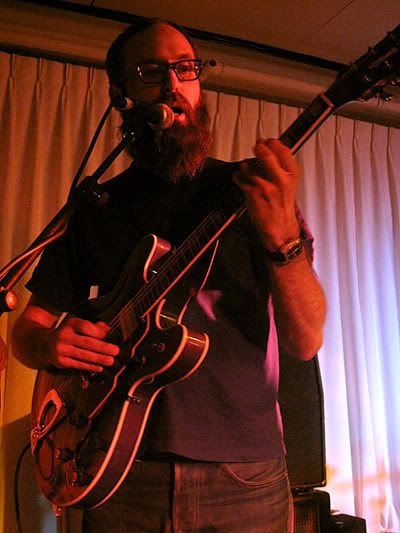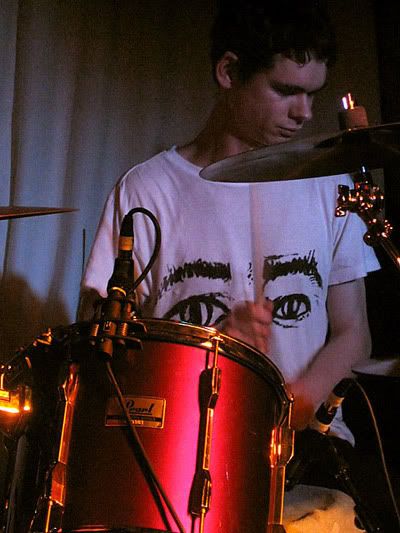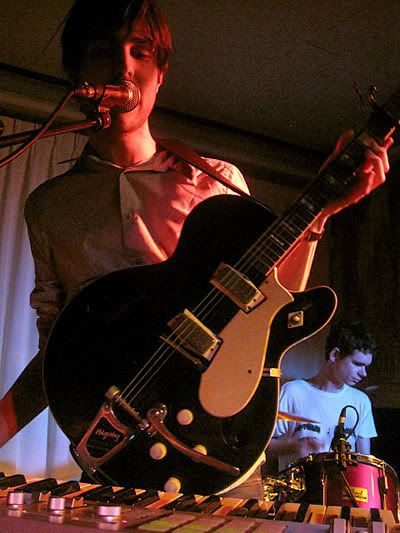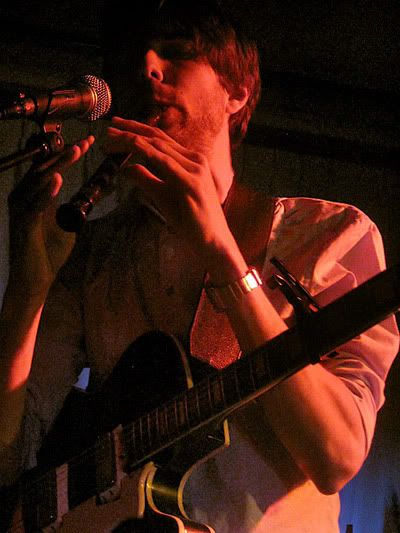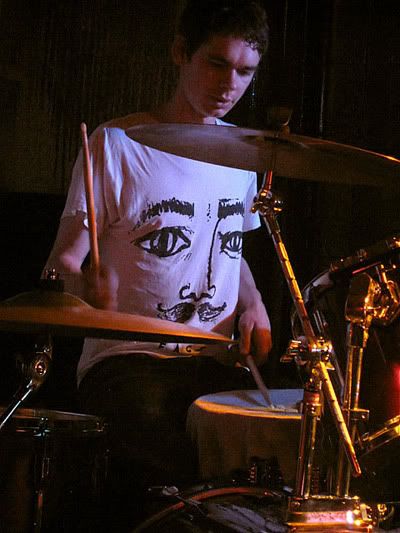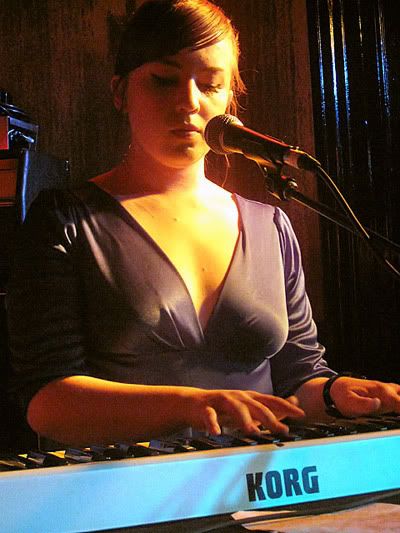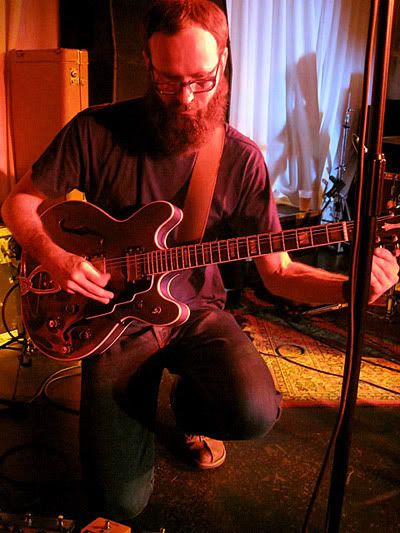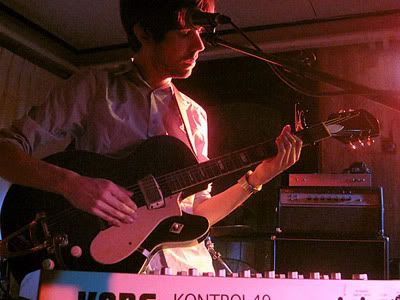 Clue To Kalo. Proof to the theory that it's always the most unlikely of suspects that ends up winning themselves a record contract; they're the summer of love anachronism of Woodstock that you all thought died (along with the 60's): when the Rolling Stones played that fateful gig at Altamont Speedway in December 1969, when that Hell's Angel stabbed a guy and everyone else died in a pool of their own vomit back in 1971. Oh yes! they're a time capsule to a simpler age of childlike innocence! They're the sounds of the Momma's And The Poppa's, Jefferson Airplane, The Beatle's "White Album", Beck's "Sea Change" and all those trippy b-sides you find at the end of a Chemical Brothers album. They're happiness and handclaps. They're a punch drunk, dislocated, drooling and flailing ode to glee. And they're the growing throng of tie dyed, cheese cloth, barefoot and bohemian chicks gathering all around me and shrieking hysterically to every clunky note. They're Clue To Kalo. The go nowhere, weird-as-fuck hippy interlude. The soft middle between two metal bits. The awesomnest ode to a brain malfunction you could ever hope to find!
MY DISCO
(*****)
myspace
::
Back when I saw this band in
April
, I wasn't ready for them. I don't think any of us were. It was too confronting, too radical, too ahead of our time. They came to us from an utopian future: klingon, human and vulcan united as one. They were an alien intelligence, not in space, but in the infinite expanse of time it would take for us shaved apes and slobbering simpletons to reach their cool and calculating trajectory. They were the near impossible hope that one day we could actually find our way to the stars and beyond. It didn't have to end here! Oh no! This was just the beginning! And quite like a tall black monolith to monkeys banging rocks they have returned once more. My Disco. They're Ossicles on bass, Incus on guitar and Malleus on drums; the three bones of the inner ear blown up to the size of sledgehammers. They once had mortal names: Brothers Liam and Ben Andrews, Rohan Rebeiro, but they outgrew their use years ago. Oh yes! This is a band that has no need for vestigal tails, appendices, tonsils or anything else even remotely resembling a verse or a chorus! They're a singular distillation magnified threefold to a trinary code. They're a pendulum, a cuckoo clock, a hypnotic metronome, a hand turning a single key to open doors in our mind. When all else is chaos, they're the herbal green tea that flushes out the insects. They're My Disco. They've come in peace. They've secretly come to kill us all!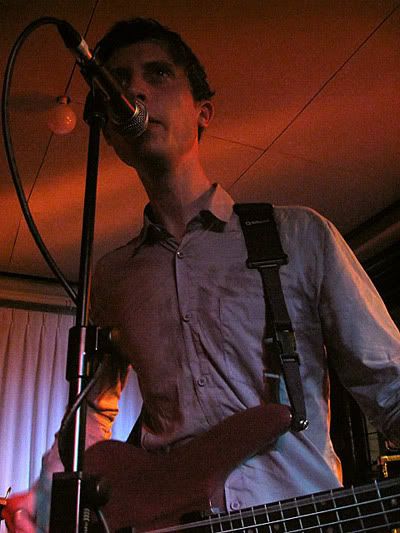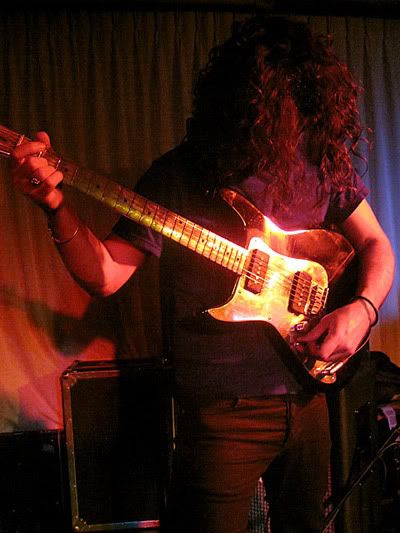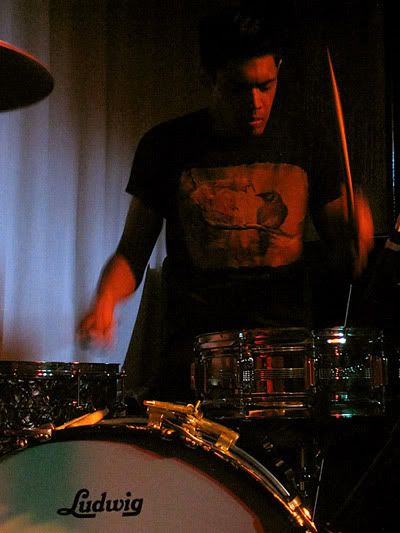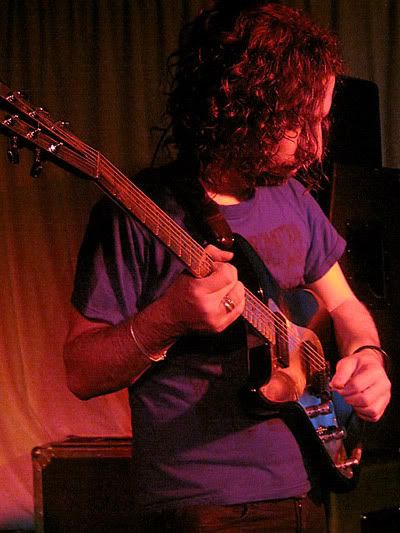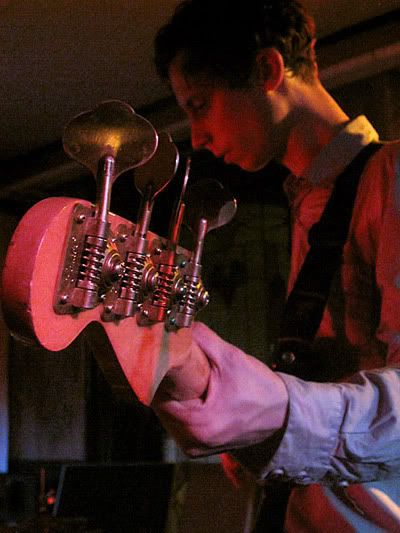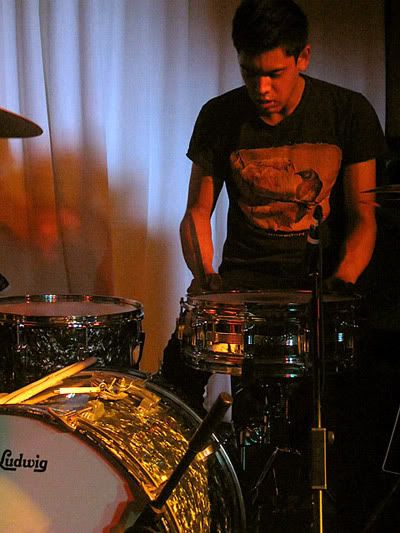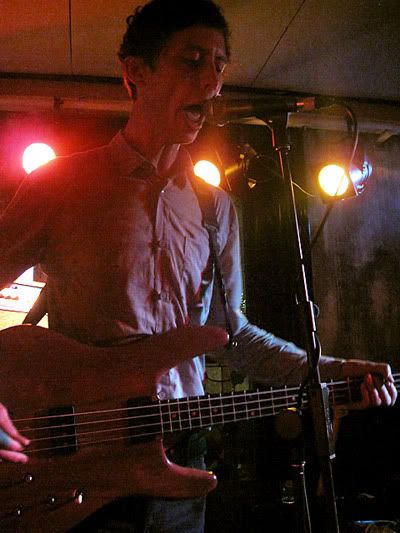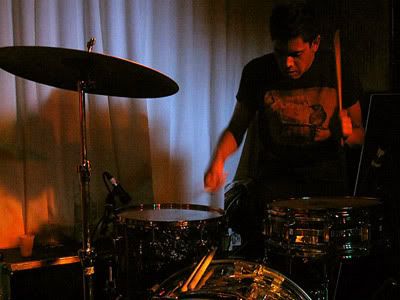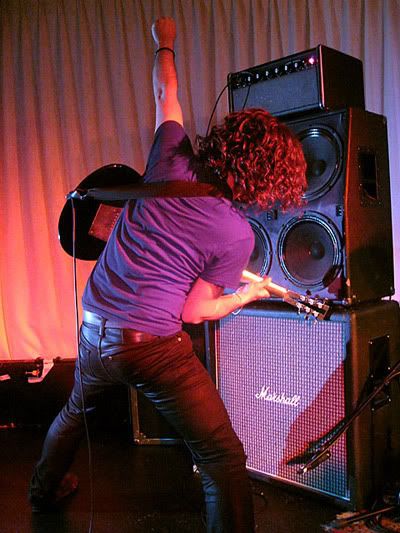 My Disco. In essence they're the same note, hammered in techno repetition by all three of them over and over in unison till our heads implode inwards on themselves and take all the light with them. They fold this over and over thousand fold like Japanese samurai steel, forge a blackhole density in their sound, a maddening simplicity that boils everything away till there's nothing left but a tiny teeny bouillon cube and then BAM! one instrument drops in or out and your head explodes outwards again. It's like getting the bends over and over, but funky! It's also all the more entertaining to watch in its delivery. In how Liam on bass bobs his head like a chicken and clucks out the lotto numbers onto the microphone. How his brother Ben hunches over like a Neanderthal bobbing for apples on the wailing wall of Jerusalem. How Rohan appears to shrink ever smaller and smaller working that same beat over and over on the drums. In my mind I picture a mechanical bird on a pivot "drinking the water" over and over and I laugh hysterically; then I'm at peace. My mind is an open book. My mind is a blank screen with a command prompt.
Granted this level of minimalism may drive most of you screaming up the walls; especially for extended periods of time. This is understandable, it happened to me the first time too, but I'm ready for them. I see it now. There's a greater appreciation found when all the esoteric fades away and you're left with nothing but the essential, or rather like everything that this live review isn't. Tool minus wank, Helmet minus the anger, The Cure's "Seventeen Seconds" minus the goth; multiplying over and over like an echo chamber spelling out all the answers in giant block letters. It's all so clear. It's fucking genius! And if you're nearly as fucking insane as I right now, you may be ready for it too! All eight minutes of it: witness this epic in entropic decay!
2:09AM
- Feeling altogether satisfied that I now had the master plan in my head and all I needed was one fresh chicken egg, a car battery, a litre of tap water, some jumper leads and a depleted plutonium fuel rod to save us all; I was ambushed by Bec for one more misguided photo opportunity with Azza from Lady Strangelove here and then I forgot what the fuck I was on about in the first place. Damn you Bec! DAAAAMN YOU!! (I so should've brought a pencil!).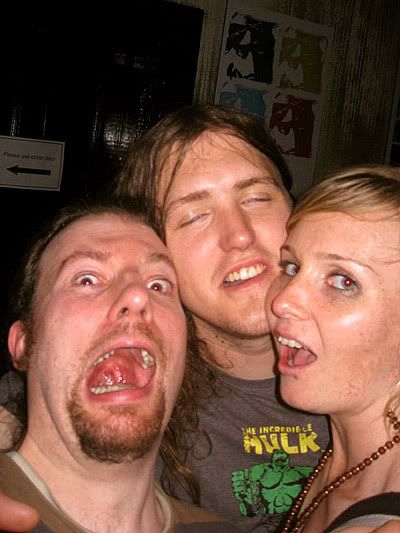 3:55AM
- Hours later after attempting to retrace my steps, building what I thought was a teleportation conduit to our intellectual overlords living in the 11th dimension; but in actual fact spawned a freaky oversized radioactive chicken that could shoot laser beams out of its eyesockets that subsequentially destroyed most of Currie, Waymouth Street and West Terrace combined (damn I knew I should've carried the decimal in that last equation!). I fled here to Supermild instead. Of all the other late night haunts in Hindley Street: all this one would need is one lead lined bunker door to lock out the flesh eating mutants out front, a few cans of dogs food, and with our ready access to alcohol and funk records (and not to mention all the stoners out back) this basement venue could ride out the storm till the next Renaissance! YEAAAAS!!
4:56AM
- And it was here: dazed, disoriented, discombulated (and quite possibly ridiculously beyond retarded drunk) that I saw it all. Here in this humble lamp light. This shining light that represents all the hope, the intellect, the imagination trapped within the tiny peanut brains of each and every one of us. We have strayed far from the path, but all hope is not lost! We may only use 10% of our brains; but we can use so much more! We could be geniuses. We could be even more than that. Übermensch. Like unto gods! We could transcend our meat shells and become pure energy, flying through time and space on a whim; just like this lightbulb right here! HA! I can see it all! I'm there maaan! I'm like SO totally freaking there! woooooo! :)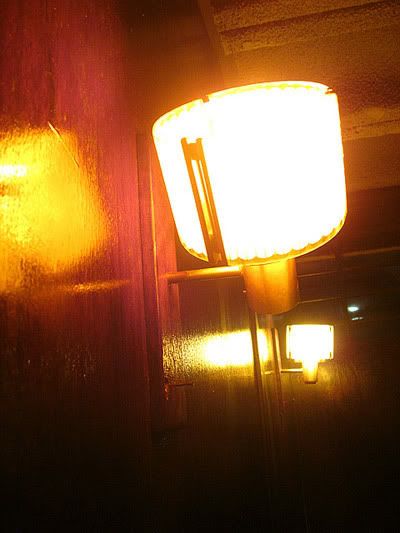 Shit, nevermind.. there goes my train of thought again. Damn you Eleanor!! AARRRGGHH!!
4:59AM
- And it was here, moments before closing (or perhaps a little after), near abouts too drunk to stand as Eleanor takes this photo of me and um.. whoever the fuck that other shaved ape with the armpit stains is standing next to me, whilst Sascha from Zeta is heard shrieking in the distance: "why didn't you mention that our fill in drummer sounded completely different in our
last gig
!? what the FUCK maaaaan!?" (and quite possibly moments after I just made a complete dick of myself on the dancefloor), that I came to that final crushing realisation..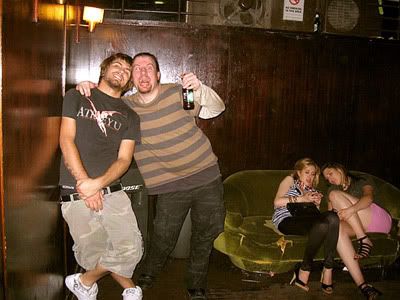 Yup we're pretty much screwed! but damn is it fun trying to prove it otherwise! :)
Previously on Spoz's Rant:
No Through Road + Like Leaves + Billy Bishop Goes To War