LUMONICS + MONA LISA OVERDRIVE
LIVE @ ED CASTLE / Saturday September 27th 2008
I've grown accustomed to a "functional" level of insanity, I've adapted to my niche, I'm an alien to everyone but the freaks I call home, I have no need for the forces of gravity. My office hours are 9-5 (9PM to 5AM / with the week and weekends flipped), I wake up well after the hours of noon; I sleep well after dawn. Sunlight is a "concept" witnessed fleetingly, I absorb my vitamin D from the moon. My week is spent inches from a computer screen, my weekend is spent inches from a zoo. I thrive on a diet of mi-goreng, alcohol and literary non-sequiturs. I dress in tones of neutrals, blacks and greys, I'm camouflaged to hide all the beer stains. I dress for war. My shoes are falling apart, I'm flat broke, I'm a freelancer, I'm living it large! I fill all my pockets with bus timetables, tickets, fliers, setlists, guitar picks, burnt CDs, demos, EPs, an ipod, compact camera, spare batteries, memory cards and a flip phone to keep my thoughts in. My wallet spills notes, keys, coins, an APRA membership (long since expired) and a dizzying array of insane debris (I still can't explain WHY I've got this hoop earring or where this squeak-toy giraffe came from!?). Everyone knows my name but I've since forgotten all of theirs, I call everyone "duuuuude!". I'm an amnesiac. My life consists of random bystanders licking my ear, flying tackles, occassional near nudity, drug abuse, head injury and amnesia. I'm a madman, I'm a mystery, I'm losing my mind. How the hell did I get into this mess and where the fuck is all of this leading to!?
I've grown accustomed to a "functional" level of insanity but sometimes I really need to take a break. Especially after these last few weeks of Spring; and yet how can I from all THIS!? "and when it's just sooooo much fun!? squweeee!!". I'm really not good at taking time off, I've had a notorious bad track record with "quiet nights out" in the past. It happens to me everytime and without fail. Just when I think I'm out they pull me back in, I wake up with weird bruises, a foggy head and a week later it all ends up on facebook (serves me right for running a fucked up website like this I 'spose), but tonight's going to be different. The Ed Castle KNOWS how to look after a rock photojournalist. I'm amongst friends now. I have professional help. They've got all the right drugs, they've got just the right "mix", they've got all the time in the world! Tonight's gonna be nothing but good tunes, good brews and me getting home at a reasonable hour! Here's to me getting back in touch with reality! here's to me NOT waking up feeling like Pete Doherty, Iggy Pop and Amy Winehouse just used me as an ashtray! and here's to me NOT eating my words by the end of this blog. It's gotta work out in my favour at least once.. riiiiight!?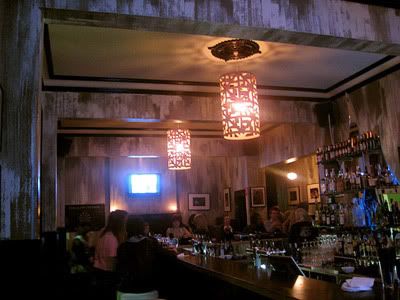 MONA LISA OVERDRIVE
(****)
myspace
::
Every band has their wayward muse to inspire them. Some choose a life lived in a perpetual haze of alcohol abuse and cigarette smoke. Some choose to trip balls on marijuana, acid and lsd. Some burn both ends on speed, cocaine and heroin. Some are simply lost in a world of extacy, ketamine and shrooms. Every one of them is obsessed with love lost and found: boy meets girl, boy loses girl, boy finds two more girls, loses a few days and wakes up next to goat: "is that you Courtney Love!?". Whilst (for better or worse) all four members of Mona Lisa Overdrive have found themselves under the influence of an entirely different muse tonight: the cold, the flu, the lurgee, the alien nose cheese, the green disease, the dripping chinese water torture, the dreaded influenza virus.. ooooh sheeeiiit! Still, when you're as shitcrazy as these 60's psychedelic space trippers, sometimes a head full of cold and flu medicine isn't necessarily a bad thing, sometimes it could even aspire you to greatness! I mean hell, Jim Morrison's been dead for years and look where it's gotten him? And yet despite this being the six billionth set I've seen in the last few months, despite me doing everything in my power to avoid crossing paths with them again SO soon (I mean seriously, how much hilarious punishment could I possibly dish out on the ONE band!?) and despite it being a little disturbing to see all them out there coughing up a lung every 2 minutes (what, are they're trying to kill themselves!?) there's something about this venue that really agrees with them tonight. Maybe it's the size of the room, maybe it's the a-grade mix, maybe it's the ecclectic crowd feeling the buzz, but duuude this was one awesome set!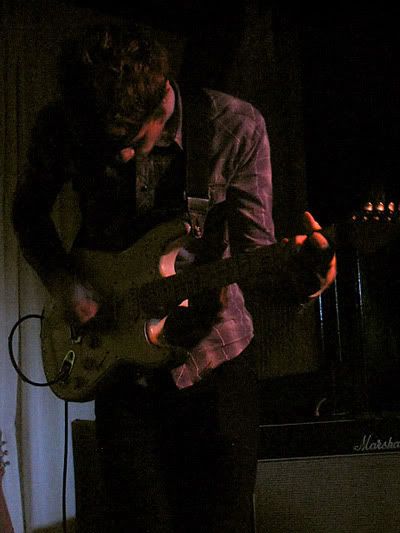 Admittedly I was flying blind tonight. You can see it in the photos, it was pitch black out there. I was driving myself to distraction taking hundreds of photos and getting nothing but flinging poo and motion blurs. Damn you! And then it all clicked. My eyes tuned out, everything else tuned in and all these whimsical details came into focus. The erractic rainman shuffle of Alex on drums, his non-sequitur ramblings, his insane freestyles on existentalism and entropic decay. Jess on the keys, swaying in and out of the organ like a swooping bird, like a tall tree in a strong breeze, hammering the keys like switches and plugs pulled on an old telephone exchange. Dave and Luke doing the ministry of silly walks on guitars, pulling bizarre shapes and shadows in the low lights. All those sounds that were once so stiff, so stilted, so rehearsed, now flowing free, forming loose associations and patterns I'd never seen before. Whether relaxed into a groove or seriously delerious on cough medicine they found their zen, they found their power animal. They were forming bubbles in the lava lamp of my mind.. duuuuude I could've lived here for days!
LUMONICS
(*****)
myspace
::
Let's get a few things straight about this headlining act. Cosi fucked up the guitar intro for the first few seconds of "Journey", he didn't get it working until Marguerita on drums tapped out the correct timing, there I've said it, I mean seriously what the fuck!? He also slightly fucked up the last few seconds of their cover of New Order's "Crystal". It's a teeny tiny thing, you could barely even notice it right at the very end, but it was there. Also Marguerita works the drums like she's vying for gold at an equestrian event and it's a little odd, I mean what IS she trying to prove out there!? And while we're on the subject Adrian kinda looks like Robbie Buck from Triple J and it bugs the crap out of me. Oh and Alex has a really large head (actually no, I'm making that up, clearly he doesn't, I don't know WHAT I'm talking about!) and that's ALL I got on them. That's my best insults. That's my a-grade material. I'm all out, I give up, I admit it, I swear: Lumonics are without a doubt one of the BEST new bands coming out of the Adelaide scene in 2008. I'm not even kidding. I'm all out of kidding. I went to the store and they no longer have "kidding" in stock (it's gonna be another 6-8 weeks). They're brilliant, accomplished, impossibly articulate, artfully genius, masters of a sweet symphony in sound way beyond their short years, a freaking anomaly of the spacetime continuum, I'm freaking blown away. There's nothing left of me but my shadow blasted against those walls. This set freaking nailed it tonight. I renounce all others and I follow only Lumonics now. I'm a believer. It really doesn't get much better than this!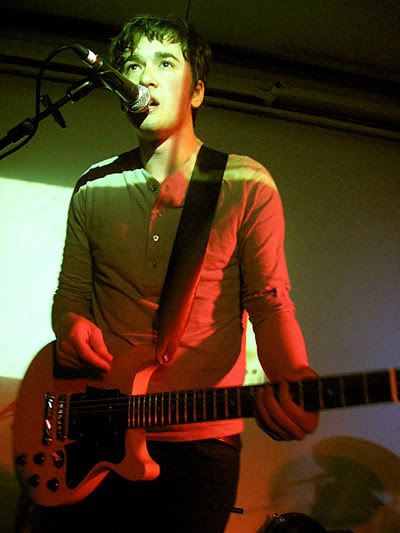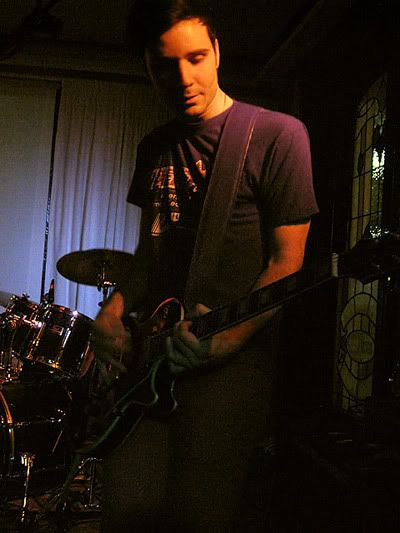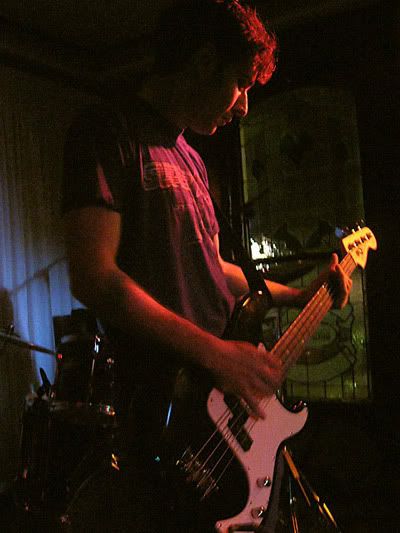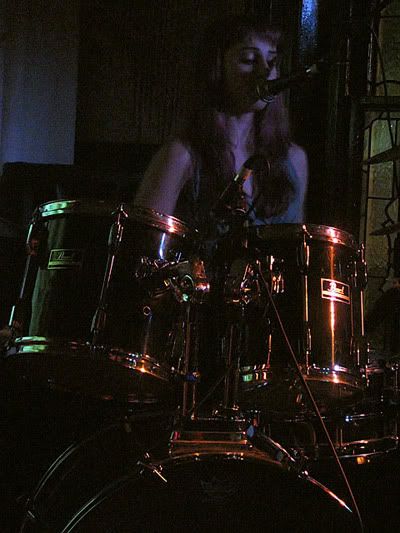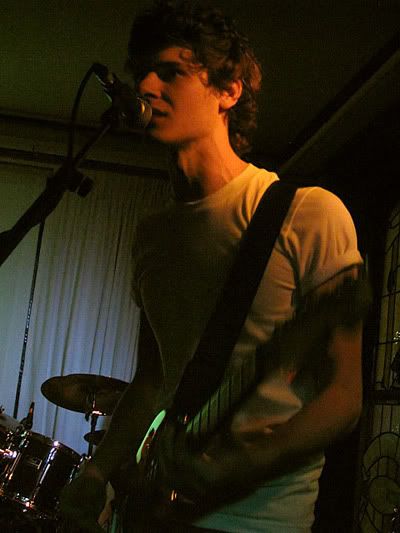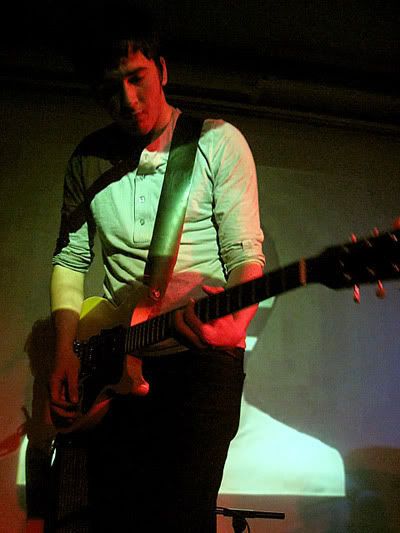 I may be a little biased too; as quite by a happy accident, in influences combined, they've nailed some of my favourite bands in the mix. Not the so-called "favourites" as ranked on any "most listened artists" last-FM
high-rotation list
, but the sort of bands I like to think are my favourite bands if I ever want to impress other music dweebs with my awesome taste in music. Interpol, Kasabian, The Stone Roses, New Order's "Get Ready", Unkle's "Psyence Fiction". They're the "fine wine" of my music catalogue. They're that dark diabolical sound: not of goth, nor cheese, nor slashing wrists but the sound of the post-industrial blues. Cinematic, widescreen, yet artfully measured and understated. The soundtrack to my life. Those layered post punk guitars. Those propulsive, seething rhythms that bubble underneath with a crunching driven beat. That insane baritone voice (the spitting replica of Paul Banks from Interpol), that comes from a human pencil seemingly one tenth his size. They're not a bland carbon copy. They're not a paint by numbers. They're not The Editors (pffft). They carve out a distinct path all to their own..
Sure they may be a little bit shoegaze, sure it was pitch black in here, sure I had one hell of a hangover from the night before (or should I say till 7AM this morning), but with the awesome projected visuals they had behind them (a custom made selection of inner city urban decay, old lightbulbs firing off and minimalist geometrics perfectly timed to punctuate the ebb and flows of their songs), with their subtle interplay between three vocalists: Alex's insane baritone, Cosi's tenor and Marguerita's upper register and with the awesome mix that filled the room and made the walls sing as one, they WERE the cure. This shit actually made me feel infinitely smarter listening to it; it was that good! and if I heap any more praise on them now, I'm just embarassing everyone involved. I know! I'm sorry, I'll promise to hurl more abuse on them in the future. I can't help it, I know one when I see one. Lumonics: oh yes, this band REALLY don't suck!
2:51AM
- And there we have it. I actually made it. I enjoyed a "quiet night out" and I actually got away with it! And better yet, I caught one of THOSE gigs. One of those chance moments of pure genius. Just like Tyger Tyger's
launch party
back in July. Or Zeta's
launch
the week before (check out the
video
to "No Direction", it's a classic!). Or Mr Wednesday when they played that awesome Sunday session with The Sea Thieves at the
Grace Emily
. Or Mammal, Sydonia and Soft White Machine at
Jive
. Or The Killgirls, Kytes Of Omar and The Amcats just
last week
. These are the gigs that make it all worthwhile. These are the gigs that make you want to come back for more. I have all I need. I'm good now. I can go home! Mission accomplished! :)
3:44AM
- Or at least I would've if I didn't get ridiculously drink with Sascha from Zeta (who was celebrating his birthday tonight), barely escaped being thrown out of the Ed Castle when all his fuckup friends built an elephant graveyard in the beer garden from all gin glasses they were smashing (hahahaha duuudes you rock!), proceeded to throw myself into a passing car with the idiots from Tyger Tyger: picked up some beers, smashed up a drumkit, crashed a party at least half an hour after it was over (ooops who WAS that topless girl we woke up in the middle of the night!?) only to attempt a quick getaway, only to have our "designated driver" carted off by a police paddywagon (wooooo!), only to chase a taxi and finally crawl my dopey drunkarse back home at 6AM, wondering just how the HELL I got caught up in this mess in the first place!?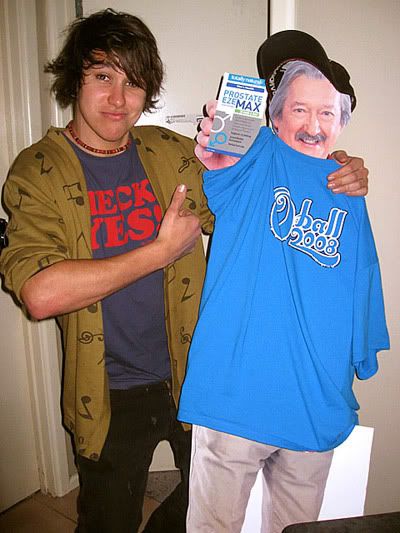 Oh that's right: this is Spoz's Rant you're reading, this shit always happens to me on a "quiet night out", clearly I've learned nothing, and YES I'm a fucking idiot. And no, I can't explain what the hell Nick is doing with this spastic mannequin either (and yes, he's possibly wearing a wig).
So instead I choose to forget all that (as I wonder why all the alcohol I drank didn't do the job FOR me in the first place) and instead choose to show you this awesome three track demo those idiots from Lumonics were giving away tonight for free. This awesome three track demo, mixed and produced by the brilliant Matt Hills, designed and housed in a spiffy black cardboard foldout sleeve by Cosi (that is way too elaborate for the fact it's just a freaking demo) and in NO way possible a product placement inspiring you to chase down one of these puppies while they're still in stock because (a) they're free, (b) they're giving them away, (c) YES they're idiots and (d) ooooh shit here comes another acid flashback from last night! duuuuude what the fuck!!??
And that's it. I've finally lost the plot, I've lost all credibility, I've jumped the shark and it's all over. It's a "dysfunctional" level of insanity, it's a feedback loop, it's a blackhole, it's a Japanese attack robot 40ft tall with laserbeam eyes and I'm the only one left out there. They're humming on through those walls. There's no escaping it. There's no running from it. They're multiplying. There's a million of them. They're all around me. They've brought in reinforcements. They're jamming up all the frequencies. They control the horizontals and the verticals. They've got me surrounded. I'm trapped here. I'm tapping out an SOS SMS with my toes. There's only one bar of a signal left and my battery's run dry. Ooooh fuck I love Spring! Let's do this again! :)
Previously on Spoz's Rant:
New Translation + Double Handed + Satan's Cheerleaders