NEW TRANSLATION + DOUBLE HANDED + SATAN'S CHEERLEADERS
LIVE @ CROWN & ANCHOR / Friday September 26th 2008
I love the Crown & Anchor, no really I do! All this constant mockery? I do out of love. We have a long history together she and I: we go way back, we're as thick as thieves and through tireless devotion to the amber arts my thoughts have grown all the thicker in her disease. She of blasting volumes and ever shrinking intellect. She of neanderthal, troglodyte and simian instinct. She of primordial, paralytic and piss dribbling disconnect. Oh for such beauty! she beckons me from afar with her majestic blue bugzapper glow. Through archways azure she regales me with tales of stooping brow and slackened jaw, of crunching glass and bloodstained floor. She's not good with words, numbers, simple shapes and colours, her smell is likened to that of a venting sewer, and yet we come one and all to bang those walls with the dull throng and thud of our internal dialogue. We speak through her. We spit teeth, leer, lurch, collapse a thousand gargling deaths prostrate in awe to her. She is the moon and our rising sun. She is all our tireless work undone. When all is said and done she IS the only one for me. Yes I admit we often disagree, I cheat on her often, constantly, consistently and with fervent glee, but she was one of the original three. Back when the eastend ghetto beckoned, she, the Exeter and the Austral stood proud and tall. Now triumvirate broken but not forgotten. She stands tall long after the rest were broken. Sowing her seeds of dissent to the senior citizens resident across the lane. Subject to the littany of screams from those who freely give up their brains. I hear them now, I hear them calling me back. Through liver's ache and shambling gait, my synaptic relays willingly riddled to her swiss cheese attack. Oh for all the braincells I now do lack, I do so very love the Crown & Anchor!
Of course I do have a funny way of showing it. So much so, if you happen to walk in there on a Tuesday or Wednesday evening can almost hear the howl of obscenities: "OH MY GAWD!! DID YOU FUCKING READ WHAT SPOZ WROTE ABOUT US IN HIS BLOG THIS WEEK!? THAT BAAAASTARD!" (hi Rhiannon! how's it reading so far this week?). Yes I readily admit I love an easy target and the Crown & Anchor always provides me with a wealth of material. Fuck I love this place! No wonder I keep on coming back! I come for the jaundice lit gloom of the bar that beckons me to wallow, belly flop and gurgle in its sweet oblivion. I come for the fights that erupt and erase like ghosts as they flit out those exit doors. I come for the dancefloor pumping for next to no-one. I come for the shaved heads, goatees and longsleeve blackshirts that always seem to congregate around the pool tables. I come to be preyed upon by a psychiatric swing door of an entire generation's degenerate past with thinning combovers and thickening white beards. I also occassionally come for the awesome live music. No really, it's the best! Here on a Friday night, here where it's all happening!? Aaaaaah duuude where ELSE would you ever want to be!?
SATAN'S CHEERLEADERS
(****)
myspace
::
As a live venue I usually know what to expect from this place. It caters to a distinct and easily recogniseable oeuvre. Those that follow the black arts, shaved, pierced, tattoed and screaming. Punk bands, thrash, metal, of diminishing faculty and freely flowing intoxication. Grunge of the howling feedback fraternity, scruffy, unkempt and violently insolent. Where there is a rage virus vector to be unleashed, this would be its patient zero. So when I heard the name of this band on the bill: "Satan's Cheerleaders". I pretty much had the review written before I even walked in through those doors. I'm phoning it in right now. They've gotta be some fuckarse insane metal band riiight!? but that was before I heard THIS: the sound of saxaphones, the sound of big band, jazz, ska and a madenning swingdance beat. This is something different, this I didn't expect, this I like. Satan's Cheerleaders. They're either 5 years ahead of the curve or 20 years behind. They belong to a bygone age: back to the late 80's where every band had some madenning freak in an oversized dinner jacket with even larger shoulder pads blaring out a
saxaphone solo
on an inner city rooftop to a slow synch fire twirler. Back when Mental As Anything, Fine Young Cannibals and They Might Be Giants ruled supreme. I thought they were long extinct in the wild. You may spot them occassionally at Fringe Festivals and Comedy galas, but THIS is a rare find indeed! Five jazz musicians and one inspired brain malfunction? and here we are living it up again..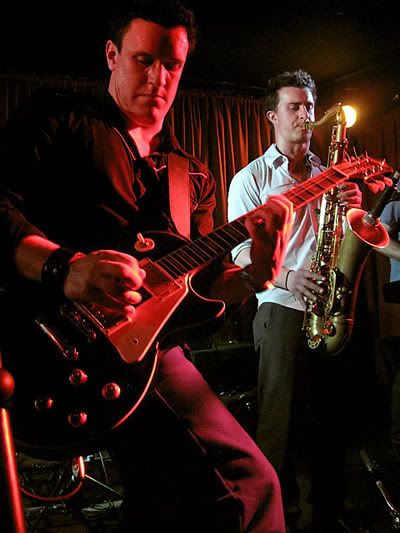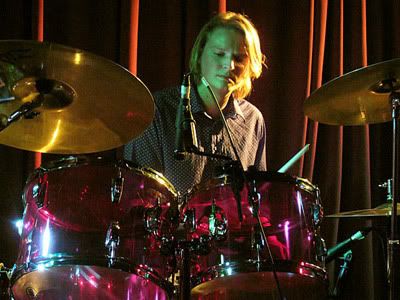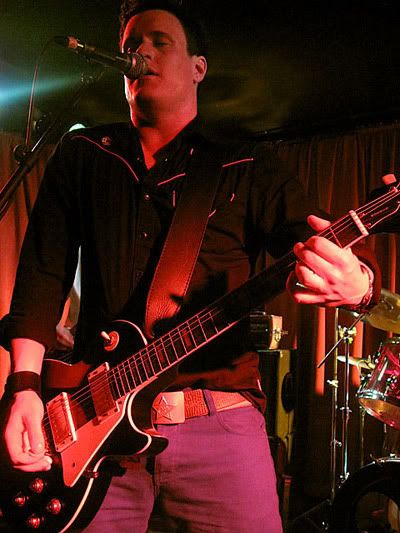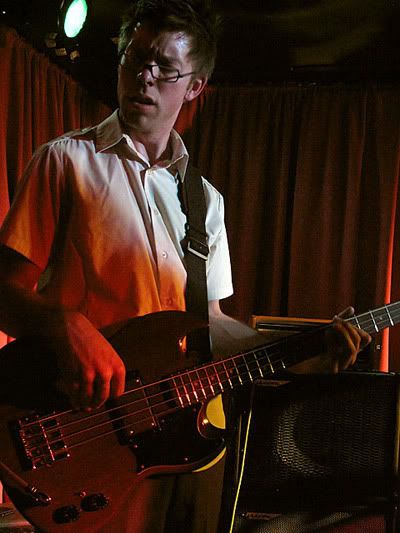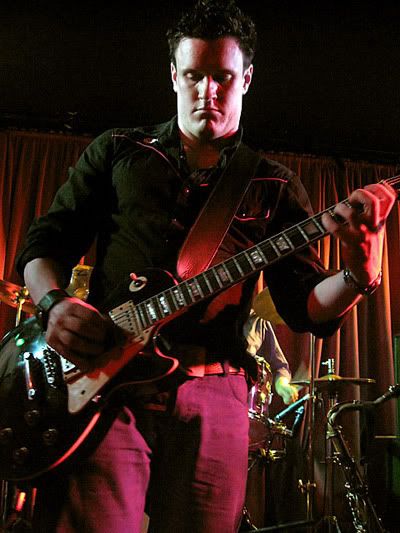 Satan's Cheerleaders. They're a schizophrenic head on collision between 1940's big band, jazz, zydeco, swingdance, flamenco and cartoon thrash. They're Faith No More's "King For A Day / Fool For A Lifetime", Propellerheads' "Crash!", They Might Be Giants, the soundtrack to Pulp Fiction and the 1957 Looney Tunes "The Three Little Bops" pig
cartoon
playing mad toe-tapping jazz. Predominantly instrumental, occassionally erratic (and possibly improvised) in its vocal delivery; there's very few bands currently existing in Adelaide quite in their insane league..
Yup you know you're onto a good thing with an opening act when you see two free spirited lunatics like THIS cutting it up on the dancefloor fresh out of a roaring 20's speak-easy. This is by no means any small feat for an opening act. You've got your semi-circle of death, you've got your dull stares and your nodding heads, you've got all that grim sobriety to stare you down but not Satan's Cheerleaders tonight.. ooooh no! this is your victory dance right here.. wooooo! :)
Damn. If THIS is how the night's gonna start, then clearly it's all downhill from here. And what better way to roll that bloated carcass down that hill than with THIS band as your second act..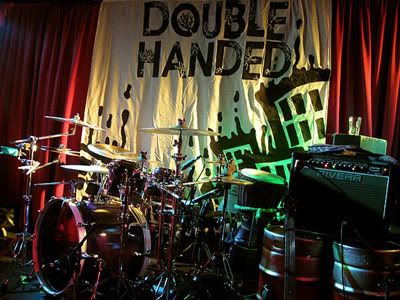 DOUBLE HANDED
(***1/2)
myspace
::
It's all there in the name. Those two words. In mental imagery alone it sums it all up beautifully. Shot artfully in black and white. Directed by Orsen Welles. We can see it now all too disturbing in its crystal clarity. One chimpanzee alone with a grin. Those two hairy palms going at it all night and all day. Two hairy palms and a stray kitten frowning through a crack in the wall: "God kills one of us everytime you do that you know!". Two hairy palms working up the evolutionary scale to shred the strings of a guitar. Ooops and now your mother just walked into the room! Double click that mouse, flog that bishop, spank that monkey; they're the coin to the expression: Double Handed. They're not alone in this, they form a circle. I need not name
names
. From progrock to progmetal they run through that A-Z to excess. In Melbourne there's twice to three times as many of them (and from the shittyarse weather who could blame them!?); but this band sure as fuck corners the market on it. It's all there in the name. Double Handed. They're the noodling lightly dappled extremities of A Perfect Circle's "Thirteenth Step". They're the batshit hysterics of Mars Volta's "The Bedlam In Goliath". They're the shrill intensity of Incubus' "Crow Left Of The Murder". They're far too many of them on stage, and it's us little by little going insane. Nick the Unabomber on leads and his bearded brethren Joel joining him on sax. Simmo the tree trunk on bass, double the guitars with Jess and Cam and double the drumming with Nick and Iggy Pop junior. Double the fist. Double the wank. Too much of this and we'd surely go blind!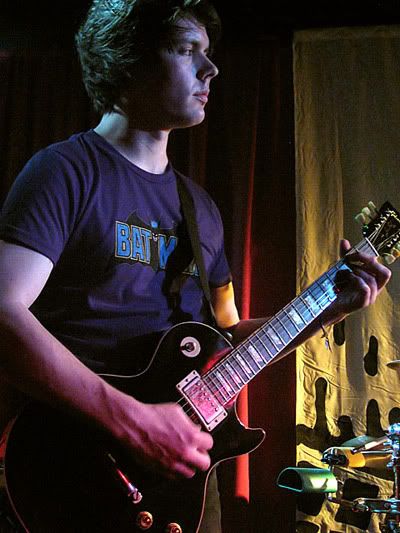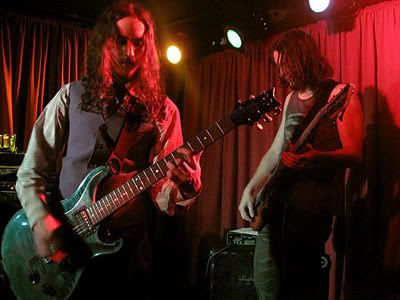 Double Handed. It's all about the moments, moments of brilliance, a whole lot of teeny tiny moments, and a little DOES go a long way or at least it would if you could find it behind all the OTHER insane shit they see fit to throw up there tonight. I say why stop there! Let's bring in some backup singers, or why not a whole choir? Why not throw in an extended string section, horns, a harp, line dancers and a 21 gun salute of fireball explosions!? Let's float it on an aircraft carrier down international waters and throw in a full laser light show that you could see from the moon. Guh it was just too much tonight! Or perhaps I wasn't nearly hammered enough (mental note: I should probably get loaded the next time they blow one out). Either way, attempting to capture ANY of this shit on video proved troublesome. The first song I captured clocked in well over eleven minutes, the second (and final song) well over sixteen. For anyone keeping score: youtube's physical limit is LESS than ten (and all that managed to fill an entire 4Gb memory card!?). Awesome! So instead, I bring you this: one of the finest moments featuring Nick Russell from Double Handed EVER captured on video. Oh yes! no need to thank me all at once..
NEW TRANSLATION
(*1/2)
myspace
::
Which brings us to another one our "finest moments" as we present to you the skullfucking, eyebleeding awesomeness that is New Translation.. YEAAS! Granted you've probably seen the score already (all of one and a half stars) so let's start with the positives shall we! Yes they CAN play their instruments! yes they can also play a tune (and most of it's IN tune too!), and yes they would also sound perfectly reasonable in any and all of the following situations: on an elevator, on a cruise ship, at a retirement village, for a charity telethon, doing dinner theatre, or somewhere far far away lost in the endless sea of suburbia where I'd never have to subject myself to this shit ever again. On the flipside they're an easy listening/acid jazz/cabaret/metal act. Which has got to be THE most awesome combination ever: right up there with techno and country, polka and hiphop or any of the above combined with a broadway musical (or in other words my personal idea of hell). They're also the most awkward looking ensemble I've ever seen assembled onto a live stage. It's all in the way that their keyboardist "Dave" (a lurching middle-aged vulture of a man) burns beady-eyed right through your soul. It's in the way their lead singer convulses and grimaces through every line as she sucks the life out of the room. It's in their drummer looking like the poo plumber from "Kenny's World" taking a dump on stage. And it's me doing my very best NOT to gnaw my arm off to flee the fuck out of here. OOOOH FUCK YEAH!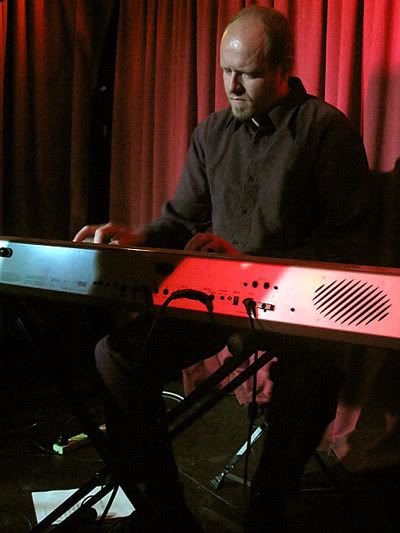 And yet I'm STILL here, despite every single instinct screaming at me to escape while I still can, because I understand not everyone will be of the same opinion as I. Some may love it, some may hate it. If I'm stupid enough to turn up and someone starts playing, I've got to cover it all right to the very end just in case you ALL disagree with me; it's only fair! Although from the looks of the room rapidly emptying out the minute they hit the stage, it looks like I was the only one left. You could cut the awkward silences with a knife, you could carve your own initials in it, you could tie your belt buckle over it, hang yourself from it and seek sweet mercy. New Translation. They're Audioslave as covered by a cabaret festival act, they're Eddie Van Halen as a light shoe shuffle, they're every next song "written by Dave" (because apparently we need to be told time and time again who to blame for this "genius") and they're me dying a little inside for every note they played. Still at least they had ONE song here that didn't totally blow goats.. riiight?
1:27AM
- The bar staff didn't take long to find me after the gig: I was the one curled up in a ball, by the pool tables, pulling out tufts of my own hair and howling hysterically at anyone who dared approach me. Granted this is a common sight at the Crown & Anchor, especially when you're an inner city pub frequented by the best and brightest exports from every neighbouring sanitarium in Adelaide. So they knew what to do: a few blue pills, two reds, a yellow, a handful of tic-tacs and a plastic cup of "water" later and I'm all sorted. Here left by the outside seating with fellow mental patient Wenna as she amused me with the always enjoyable game of "guess how many I'm holding up" (sure the answer is always "two" but y'know, it helps to humour her!).
1:41AM
- Followed by these friendly ferals next to me, amusing themselves with a newfound discovery recently excavated from the nearby Union street dumpsters: "duuuuude check it out! there's gotta be like 40-50 near complete skeletons in there.. wooooo!". Hmmm I wonder how THEY all got in there!? (no really.. I could've sworn I dumped those in the river by now!)
2:13AM
- And speaking of forensic evidence that I hope no police taskforce ever finds out about (pfffft I mean really, who EVER reads these silly blogs anyways!?). It's off to Electric Light Hotel. Yeah I don't get the segue either, as clearly I'm not at liberty to discuss any of the "activities" that I may allegedly be involved with here in Electric Light Hotel, Producers Bar next door, that weird "basement area" nobody knows about (what!?), or while we're on the subject any of the forces both otherworldly or demonic that may be unwittingly unleashed as a direct result of it all (and people wonder how I gain all these shit crazy powers to cheat death in the first place?). Fuckit who's thirsty? lets all get drunk and just forget this EVER happened.. weeeeee! :)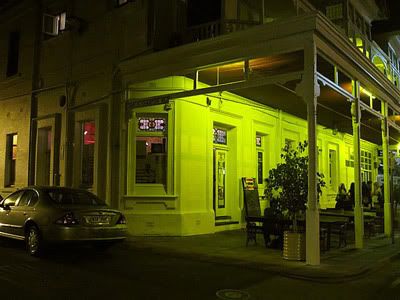 4:01AM
- And two hours later I end up here at Supermild, here on Hindley stree on the other end of town and with no freaking clue how I got here. I've also got no freaking clue what I was doing for those previous two hours either (although I assume a LOT of drinking was involved!)
Aaaah yes! there is no place quite like Supermild late on a Friday night to get your fix of alcohol poisoning and no BETTER receptacle to administer that death than this longneck of Coopers Pale Ale. OOOH YEAAH!! and I'm not just saying this in the naive hope that they'll read it and send me a shitload of free Coopers Pale Ale either... ooooh no! Product placement? what product placement!? I laugh at your foolish (and ever so frosty beer flavoured) accusations!
And speaking of alcohol poisoning: on the left we have the ever infamous
Har Mar Superstar
: legendary US disco disaster, here for the Parklife Festival on Saturday (and also the most fucked up celebrity stuntcasting you could ever hope to find in a
Friday night
episode of Spoz's Rant). Whilst on the right is Sophie: who I threw at Har Mar Superstar when he attempted to kidnap me, in the hopes he'd kidnap Sophie instead (which by the looks of it might've been for "fun and games" involving a sunken earth pit, a lapdog and a lowered bucket "to put the lotion in").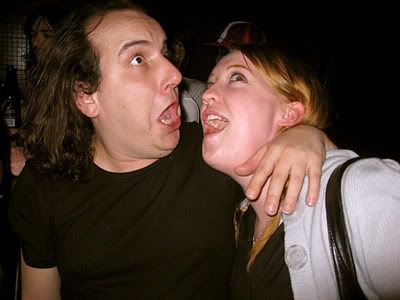 This is me laughing hysterically at my brilliantly executed plan (and attempting to make my frantic escape) to the muffled sounds of Sophie screaming and clawing herself the fuck away..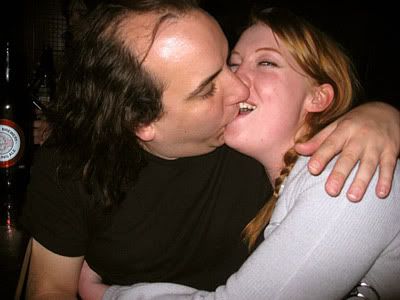 This is Sophie all too overjoyed about the "hilarious" stunt I just pulled, and in no way wanting to beat Har Mar Superstar to death with a fire extinguisher, before chasing me, brandishing the blunt end of that longneck bottle of Coopers Pale Ale I was drinking, in effort to "brain" me..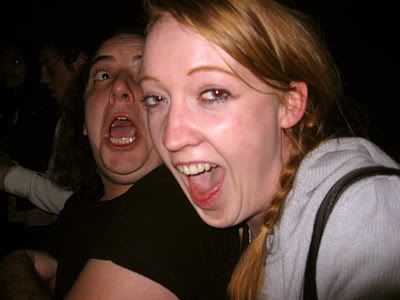 5:04AM
- And this is me waking up an hour later, spread eagled on the floor, with dick and balls drawn all over my face to the faint sounds of insane cackling diminishing into the distance (damn you Sophie!), wondering why all the lights had come on all a sudden and why my head was so damn sore. Hmmm guess it serves me right: thinking I could outsmart a bartender!? HA!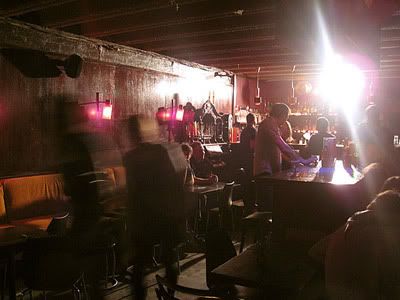 But of course CLEARLY none of this EVER happened. I never left the Crown & Anchor. I'm still there right now just as I always was! Because the Crown & Anchor is the ONLY place to be on a Friday night.. weeee! Just like I didn't find myself at the infamous
"Strathmore Hotel"
moments after "leaving Supermild" (aka: the last shithole still serving alcohol at the end of the night), or end up
"waking up in a taxi on the way home at 7AM"
. Then again clearly all this stuff NEVER happens to me everytime I walk into the Crown & Anchor in the first place either. Hmmm if I was a more suspicious person I'd almost suspect there was a link in there somewhere..
Previously on Spoz's Rant:
The Killgirls + Kytes Of Omar + The Amcats