24 HOUR PARTY PEOPLE
Once upon a time in a galaxy far far away I knew a place called Reality. We had an understanding this Reality and I. It would raise and set the sun each day like clockwork, measure and divide the flow of time into increasingly tiny fractions you could set a watch to, provide the gravitational forces to keep me well grounded and assault me with a sensory feed on 5 seperate channels that would constantly remind me of my most precarious and fleeting mortality. A Reality of Rules and Equations. A Reality in well defined Blacks and Whites: Life and Death, Work and Play, Love and Hate, Hot and Cold, Fight and Flight, Good and Evil, Taxes and Imprisonment. I would serve this Reality and I would live to see another day. Reality ruled it all. Reality held all the puppet strings. Reality knew all that would come to pass and all that had passed it's used by date. Reality could kill me in an instant. Reality was infinite, all expansive, all pervasive, lord over all it encompassed and I was nothing but an insect caught helpless in it's web. Sand to it's Sahara. The Cog to it's Machine. A Needle to it's Haystack. A Thorn in it's Side. We had a falling out. We didn't agree. We argued. Loopholes within loopholes. I found exceptions to The Rule. I slipped through the cracks. I left Reality behind and now I don't know where the fuck I am anymore. There is no compass here, no direction and no logic. I am not alone. There are others here. We are numerous. We are many colours and shapes. We appear and disappear at will. We live off the grid. We wake with reversed sleeping patterns. We laugh at the sunlight. We exist in the spaces in between sentences. We run the city streets at night. We are mad children. We are the idiots licking the walls. We are the 24 hour party people. Reality taunts me with the sleep I'm forever chasing, the money and earthly possessions I'll never have and the milestones I will never reach in my endless pursuit of this surreality. Fuck Reality if that is all it's good for. Is this braindamage? I don't know anymore. I quite like it here. Come visit sometime, I'll be sure to show you around!
(Oh and many thanks to Ezz and the T-Bird, clearly the impossible journey this week could not have been made possible without the both of you. To you go my eternal thanks, ROCK! :) )
TUESDAY NIGHT
I embark on this week's surrealist journey in sight and sound a howling carcass of incoherance mere moments after
the last week
had finished beating me senseless. 14 bands crammed into 3 nights from Thursday to Saturday, all of Sunday through the night until 9AM the next day spent in a blind panic writing it all up. Monday spent sleep deprived, hungover, cranky as all fuck and hiding out from the world hoping no-one in hell would remember it was my birthday (and you wondered why last week's episode was so dark? now you know! hahahaha!) only to crash land here at the Thebarton Theatre on a Tuesday at 6PM for the first night of the "Best Of The V Festival Part 1". I didn't plan for this so soon, I'd barely caught a wink's sleep since Thursday but I wasn't gonna let the opportunity go to waste either. Fuck it all, to the 9th plane of hell and beyond, here we go again!
NEW YORK DOLLS
First band of the night is the New York Dolls. In my utter ignorance of all things rock n roll prehistoric I'd only ever known of this act by name alone, but after some last minute half-arsed Wikipedia research I can now declare with mock journalistic authority that they were a seminal punk/glamrock band from early 70's New York City; contemporaries to such infamous proto punk acts as The Ramones and Iggy Pop and The Stooges and likely performing shittyarse gigs at CBGB's before self destructing in a pool of vomit and narcotic excess somewhere in the mid 70's. Recently reformed with the last few surviving members in 2004 and ready to rock again tonight, they remind me less of an in-ya-face fuckoff rock experience you were hoping for from such a seminal punk classic and more like one of those embarassing over 50's "good times" retirement adverts on acid. Lead singer David Johansen struts and croaks about the stage looking like Mick Jagger's less talented brother "Lenny" whilst the rest of the band look like they were unearthed from Madame Tussaud's Wax Museum at the last minute and given instruments to play. Utterly shambolic and grizzled beyond their use-by-date, these geriatics (although likely possessing the mental age of children) still made for quite an amusing comedy act.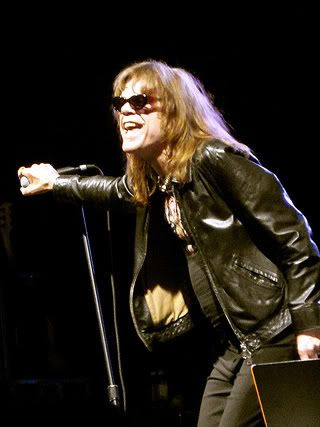 PHOENIX
Next on stage for our amusement we have Phoenix from Versailles, France. I'd never heard of these wackyarse muppets either, but again from what my hasty and entirely innacurate Wikipedia research will tell me they're an indie rock band responsible for producing such hits as "Too Young" (from the "Shallow Hal" and "Lost In Translation" sountracks) "Run Run Run" (a bouncy little single I recognised instantly from excess thrashings on Triple J Radio) and their other hit single "Everything Is Everything". Yeah I know, beats me who the fuck these guys are either, although considering they're contemporaries of the same brilliant French music scene that spawned such acts as Air and Daft Punk, they must have brough more than a scattering of obsessive fans here tonight. They sound like a mix between Soulwax and Planet Funk. Smooth filtered, electro-infected, effortlessly bouncy, catchy as all fuck Euro-cheese indiepop at it's finest. As much as I've been ignorant of their shit before, tonight they truly made an impression not easily forgotten (even if the strobing dark lights they used on stage tonight made it nearly impossible for me to get photos that didn't suck).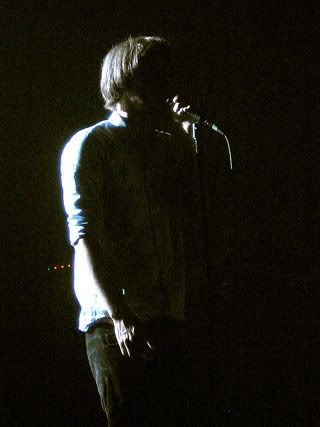 JARVIS COCKER
Up next in this ensemble of the improbable, we have solo artist Jarvis Cocker. For most of you old bastards out there, this character would need no introduction as the lead singer of the 90's most foppish and stylishly tragic britpop act, Pulp. You'd also likely remember him as the most unlikely UK sex symbol that most of your indie artschool girlfriends last decade would've secretly wanted to fuck if they near abouts had the chance. Besides releasing numerous #1 UK records under Pulp such as "Different Class" and "This Is Hardcore", lead singer Jarvis Cocker was also most reknowned for an incident at the 1996 BRIT awards where he rather abruptly stage invaded and shut down Michael Jackson's creepy christ-like performance surrounded by "adoring children", an act which instantly elevated him to the status of indie-pop hero for years to come. Of course for all of you out there too young to still know who the fuck this person is, I'll let The Countess' hilarious SMS descriptions sent to me on the night illustrate rather graphically what his solo performance was like - a) he's like "Norman gunstan on drugs with sex appeal", b) "Actually there's a bit of stephen hawkins about him" too, c) "The goodies do emo" and finally d) "I am rock god hear me squeak". HAHAHAHAHA! Yup, no better ridicule could be spoken, and to think out've all the obscure solo tunes he belted out tonight, there was no sign of "Common People" or "This Is Hardcore"!!? Dammit Jarvis Cocker! What the fuck were you thinking!!??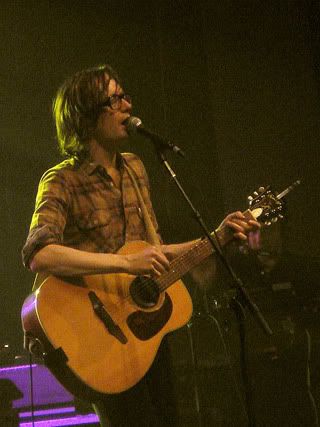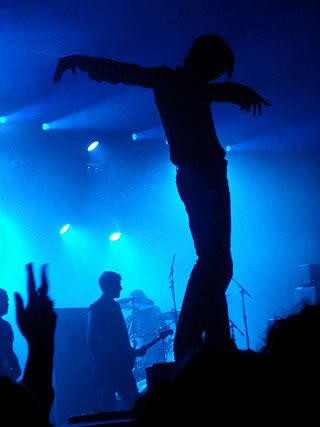 THE PIXIES
With the bespectacled praying mantis of rock finally shuffling off stage at around 9PM to muffled applause, the huddled masses waited in dribbling anticipation for the final headlining act everyone was here to see. I mean shit, lets face it, fuck the rest of the other no-name upstarts tonight, the only reason anyone paid $100 a ticket to go to the Thebbie on a lazy Tuesday evening was for these guys, The Pixies. For most of you this band would need no introduction, they were the forefathers and inspiration for the grunge movement, back in the late 80's to early 90's they were THE SHIT, they reigned supreme in the indie scene and if it wasn't for them there would've been no Nirvana (and if you don't know who Nirvana was, don't make me come over there and beat you over the head personally.. sheeeesh! you young'uns don't learn enough of ya music history now do ya!?). Likely you should be more than familiar with their classic hits like "Monkey Gone To Heaven", "Debaser", "Wave Of Mutilation" and "Where Is My Mind?" (which if you still had no clue what I'm talking about features on the closing scene of the movie Fight Club, yeah you know the one? Good! Glad we got that settled!). Of course if you know all of the above there's no point in me telling you how their set went down: if you were here tonight you'd remember with fond memories all the bumps and bruises and grinning faces from the sweaty moshpit out front, and if you weren't here? (a) what the FUCK where you thinking!?, (b) the last thing you'd want me to do would be to rub it in ya face right? Sure they may be fat middle-aged bastards by now and the drummer might be old enough to resemble your highschool science teacher, but oooooh FUCK did they still ROCK!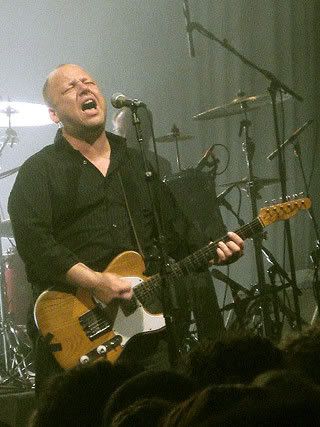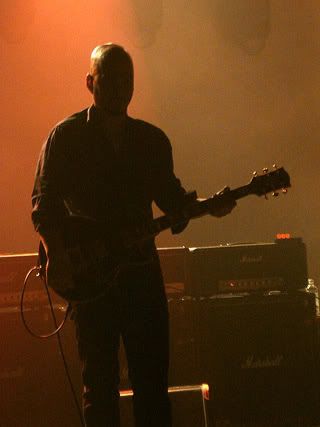 Yup, this would had to've been the craziest and most surreal Tuesday night in rock I'd experienced all year. "Whooaaaaaa!! The Pixies finally played here in Adelaide!? What the fuck dude, that's insane!" and after finally emerging at the end of it all from the cesspool of flailing greater and lesser primates stinking up the pit in a cloud of hair and sweat, it was all the more amusing to spot some of these familiar Adelaide music scene geeks looking altogether spastically extatic and destroyed over what we'd all just collectively witnessed tonight. Mmmm smell the insanity!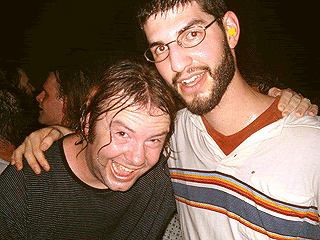 At 11PM, with the Thebbie Theatre now effectively reduced to a stinking ruin that only a highpowered fire house, a few thousand gallons of deoderant and a team of spiritually cleansing Buddhist priests could possibly ever eradicate; it was time we left our battlefield, hooting in truimph over all that we experienced as we disappeared into the witching hour and inevitable unconsciousness at the end of the night. Game over maaaan! Game over!
WEDNESDAY NIGHT

I didn't get any sleep last night, I don't think I ever find sleep anymore. Sporadic fits of unconsciousness and nightmarish mockeries of my waking life are all I'm rewarded with these days. No wonder I'm getting so fucking cranky of late! Is Reality trying to worm it's way back into my life and punish me for straying too far from the path? Or is it just that my ongoing mad scientist experiment in marathon rock photojournalism has now permanently rendered my brain so unable to switch off that I can't sleep lest I miss something in the absense? Who the fuck knows!? Thankfully I seem to be adapting, either that or I'm totally losing the plot; regardless there's little time to think such deep thoughts when another of these leviathans is just around the corner with "The Best of the V Festival Part 2" at the Entertainment Centre tonight. Oh craaaap!
Arriving at 6PM, I am greeted by Kate, fellow survivor from The Pixies massacre last night. Clearly from the signs of this photo there were no obvious ill side-effects from THAT misadventure was there? *cough* (at least nothing beer wont fix!) Mongs anyone?
THE RAPTURE
The first band of the night, New York's indie-dancepunks The Rapture, were already in full flight on stage as they'd snuck in here moments earlier to rush through their set whilst everyone was still lining up outside to be cavity searched by security. From all appearances they looked embarassed and altogether annoyed to be here tonight, especially more so over being the first band of the evening. Throughout their entire indie-disco set they could be heard barking at the mixing desk to "turn the house lights down" so as not to be reminded of just how embarasingly thin the crowds were at the start of the night (rumour has it the promoters were offering last minute 2 for 1 ticket prices at $50 just to pack the place out). The mixer was butchering their sound, most of their songs came out flat and lifeless: the indie-dancefloor classic "House Of Jealous Lovers" lacked it's bassline booty, their current single "Whoo! Alright Yeah Uh Huh" lacked it's psychotic deathgrind synth punch. Only the idiot savant Luke Jenner on guitars and vocals seemed genuinely happy to be here as he aimed his guitar like a rifle and did grinning pot-shots at the crowd, the rest of the band just wanted to get the fuck out've there. Still, for the rushed 30 or so minutes they played before fleeing off stage, they still did one fucking cool live rendition of "Olio" off the first album. As much of a disaster this gig was, that ONE song made it all worthwhile. Oh if only a venue did them justice, just think of the crazy jams they'd cook up?
GNARLS BARKLEY
Up next at 7PM we have the loony soul/funk duo Gnarls Barkley, and for all of you familiar with their infamous stage antics around the world of late (word is they've done everything from dressing up as characters from Star Wars, The Wizard Of Oz to making an appearance as the fake death metal band called "Brushfire") you wouldn't at all be surprised when you witness their entire band (including backup singers and a full string section) arriving on stage tonight as tennis players. Singer Cee-Lo Green even completed the image when he fronted up with a racket and then proceeded to lob tennis balls into the crowd before the band kicked in. Obviously after their hit single "Crazy" blew up everywhere last year to the point of overkill, Gnarls Barkley really shouldn't require an introduction, but I'll give one anywaze in case you've been licking fungus for the last 18 months. Cee-Lo, the fat grinning bastard on vocals previously hailed from obscure Atlanta hiphop act Goodie Mob, whilst the ever infamous pencil necked geek DJ Dangermouse on the synths is most formerly reknown for his underground mashup masterpiece "The Grey Album" (featuring The Beatles "White" album spliced together with Jay-Z's "Black" album) and latter for his production work on everything from Dangerdoom, Gorillaz and The Rapture. Together they mash up some seriously freaky 21st century astronaut funk and soul, blasting out all manner of songs I don't recognise and a bunch like "Crazy", "Smiley Faces" and their Violent Femmes cover "Gone Daddy Gone" that I do recognise. With the full extended band and string section going apeshit to boot they were one helluva freakjam tonight.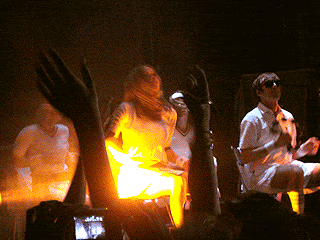 GROOVE ARMADA
Up next and third to front up to the podium tonight we have Groove Armada from the UK at 8:15PM. With a rotating procession of 2 female vocalists, a drummer, bongo percussionist, bass player, 2 female vocalists, a rapper MC and Andy Cato hammering it on the synths and laptops (is Tom Findlay actually still in this band, I can never freaking spot the dude?) they made for one fuckoff dancefloor jam to end all dancefloor jams. It was loud, it was pumping, it was funky as all fuck and with the entire crowd grooving on out as one it would had to've been THE highlight of the night, maybe even the entire week (if not for even crazier shit yet to come). Blasting out a flawless mix from "Superstyling" (complete with rapper MC and live trumpet) to "I See You Baby" and everything in between from their "Goodbye Country (Hello Nightclub)", "Lovebox" and "Vertigo" albums (they even managed to sneak a few new cuts in too) they owned the Entertainment Centre tonight.
If they released tonight's set in pillform I'd be gargling in my own vomit in a bathtub by now. If you missed this, crawl back into your mother's womb and dont come back out again, coz clearly you haven't lived (oh, and don't linger on that mental imagery too long otherwise you'll really wish you haven't lived hahahaha!). Just look at those monkeys on the dancefloor wooping it up, don't you wish you were here right now going nuts? (well except perhaps if you were right next to those armpit stains, eeeeeesh, here's hoping Kate's down wind of that!)
Yup I could leave right now, content that I'd seen it all tonight..
THE PET SHOP BOYS
..but curiousity got the better of us, so we thought we'd stick around for the final headlining act, The Pet Shop Boys (also from the UK) at 10PM. Sure we knew it was going to be cheesy as all fuck, but after 20 years on the scene and with so many catchy and instantly recogniseable dancefloor hits under their belt they gotta be doing something right? riiiiight? Well *ahem* without stepping on too many sparkle toes out there in what is likely a massive rainbow following for these grand poobah's of 80's camp disco: I gotta say guys, girls (and confused shades in between) stick to your CDs and LP's, experiencing this live is nothing but a joke! With the singer dressed in top hat and tails and the DJ dressed in yellow tracksuit top, mirror sunnies and baseball cap, they began their "theatre show" tonight with a succession of decoy dancing duos doing various backward somersaults and flamboyant moves before the final arrival of the actual Pet Shop Boys themselves. So far so good, but any greatness this duo could possibly aspire to tonight was effectively ruined the minute vocalist Neil Tennant opened his mouth. Think of a monotone chipmunk on helium singing with a bad sinus blockage and you wouldn't be too far off (they must've layered a million effects on the records so his voice didn't nearly suck so much). As hilariously choreographed as all the dancers were around them it also had the effect making the live set damn near wooden. Still as dodgy as it was, you couldn't help but laugh and enjoy the retarding spectacle of it all. Witness the female disco diva dressed like Tim Burton's worst nightmare, the corporate and sparkly military themes, the procession of instantly recogniseable and cheesy hits such as "It's A Sin", "West End Girls" and their Village People cover "Go West" all getting an airing to much hooting applause. Like a Mardi Gras crossed with Kraftwerk, fuck was it hilarious!
By about 11PM and after 2 encores, this grand pissant performance in comedic brilliance (or if you will, reign of terror) finally drew to a close and we fled to The Governor Hindmarsh to drink away any memory of what we just witnessed on stage tonight only to be interrupted in fits of laughter whenever someone fired up with a nasal rendition of "Goooo WEEEST!!". Yup, it was a mixed offering to be sure tonight (and The Rapture are likely vowing never again to play Adelaide so long as they live) but hey where the fuck else would you be on a Wednesday?
FRIDAY NIGHT
Tonight we have the much dreaded "Good" Friday before Easter, which as we all know in this sleepy retirement village of Adelaide (the city of churches) would normally spell certain doom to anyone and everyone hoping for a decent night's beer soaked depravity. With no obvious live venues open, no pubs, clubs and no bottle-o's serving alcohol what the fuck was a live music enthusiast to do around here? Well, from the looks of my SMS inbox, it appears the rest of you were likely out the Thursday before hoping for one last desperate snatch and grope before the curtains fell (whilst I wasted the night away resting my blistered feet after rendering myself lame dancing like a twit to Groove Armada the night before and limping off the bus home yeeeouch!). Yup, like you, I didn't think anything would be happening out there tonight short of a repeat of last year's bleak wanderings through
dead city
. Oh how wrong was I! Since clearly I no longer reside in the mortal confines of your base reality, such concepts as "Good Friday" no longer apply to me, and so dropping by upon Kempy's space-station of the bizarre at 7:30PM we cooked up our most diabolical plan to bust this night wide open like a coconut.
As since, thanks to a few well placed contacts; I knew of a few choice locations, a few secret parties that would act as oasises in the desert tonight and with the blessing of these serene midget buddha's here we would invade like conquering armies tonight and drink our fill of the sweet nectar of insanity rendered before us.
Hmmm, speaking of nectar, best we find strength in numbers. So for the next hour or so we load up on some mexicans to smuggle us over the border..
..before jumping onto the 9:30PM bus, to seek our destination in town. We walked through the ghost-town of Hindley St where only the most vile of hellholes such as Red Square and the Rosemont dared to open, to arrive at this ever mysterious yet oddly familiar location on Grenfell St. We pressed the intercom buzzer at number 14, spoke the secret password: "Oi let us in ya hippy baaastards!", the door promptly swung open and we were silently ushered inside.
As we arrived at Urtext Studios for their very own Friday night "Crucifixion Party". Featuring a selection of lo-fi bands, DJ's and *ahem* numerous canned beverages of the fermenting persuasion (shhhhhhh!), ooooh yes! truly this place was that one flower thriving in the desert of this city tonight! Thank fuck for spaced out art-rock hippies!
AVIATOR LANE
First feature act tonight for our rarefied entertainment at 10PM, we have what appears to be a circa 1970's George Lucas noodling out space cadet riffs on acoustic guitar *ahem* or more accurately, Michael Radzevicius from atmospheric indie fuzz act Aviator Lane. Backed by a trippy succession of projected images, Michael cooked up an exceptionally subtle and sparse arrangment of hanging notes, sustained hums and gentle tinklings that floated through the air with contemplative ease from his guitar. It was so light and dappled you'd dare not sneeze, cough, pass wind or otherwise move a muscle lest you disturbed the meditative groove of it all; but if you had the patience and let the sounds carry you for long enough it made for an exceptionally blissed out journey.
LINE HONOURS
Following up at 11PM we have the second act, with a performance from two of the monkeys from Line Honours. Featuring Ben on vocals and guitar and Margie on violin, vocals and keys they made for some sweet and subtle wrist slashing melancholy. It reminded me of just the sorta thing you'd expect on Sophia Coppola's "Virgin Suicides" as it was accented with Margie's exceptionally nifty if altogether incomprehensible French lyrics (damn, I learnt that language for 3 years and now I can't remember a thing!) just the sort've thing that made dosing yourself up with sleeping pills and drowning in a bathtub in Paris like the most beautiful thing ever. Quite like Aviator Lane before them, these guys performed with such sparse orchestration tonight you'd swear the ceiling would collapse if you even flared a nostril the wrong way; still considering all the hoards of desperate bloodthirsty zombies out there roaming the streets below looking for any signs of entertainment, it was probably just as well we didn't provoke any of their attention lest our prized collection of foamy beverages run out too soon.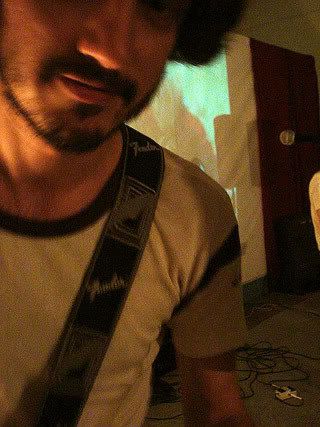 With the live music now finished up for the night and feeling altogether like my aura had been cleansed to a minty polish (aaaaaggggh! Ben's attacking the camera with a hamster shot! fleeee!!), the DJs then took over and funked out an ecclectic mix of fringe indie weirdness and oldskool classics on vinyl and laptop whilst I loaded up on more cans and joined the fellow art-freaks on the balcony for a few puffs of the leafy green wookie.
Suitably warped beyond all the normal confines of time and space by the music and loaded up on enough stupifying liquid and gaseous fermentations to bend spoons with the power of our minds, we now bid farewell to Urtext Studios a few minutes shy of midnight and headed out into the night to see where this insanity would take us.
We wandered down the cold darkening streets of the dead city this night, accompanied only by the dull echo of our footsteps, following Grenfell St east till just before it would go east no more. Our journeys east were not random. We had heard scattering rumours, whisperings in the dark, improbable and insane utterings that something truly bizarre would manifest here (fuck I'm such a lightweight when I'm stoned!). They told us what to expect, they warned us of what we would see, but we never thought what they said could possibly ever be true..
..and yet who knew we'd stumble upon this, this crowd of over 300-400 people crammed into the Electric Light Hotel and climbing the walls, all arriving spare minutes past the midnight Easter Embargo in anticipation for one of the craziest rare-as-fuck feasts of the senses you'd ever likely experience in the city of Adelaide. The kind've once-off live late night performance you wouldn't believe with your own eyes unless you were right here in the thick of it. Oh yes! for the chosen few us who were lucky to be here, there is reason for all this hyperbola..
HAR MAR SUPERSTAR
As we present the near nudifying disco disaster that is Har Mar Superstar from Minnesota as he performs on stage tonight with an allstar band that features New York's Fabrizio Morretti from The Strokes on drums and Tony Bevilacqua from US punk band The Distillers. Whoaaaaaaa!! Yup, I didn't believe it either when I heard the rumours last night and yet here we are packed like sardines to the point we can barely move to experience the improbable. Witness the ridiculously unnattractive, overweight, balding and sweaty as all fuck Har Mar Superstar (looking altogether like a mix between Jon Lovitz and porn star Ron Jeremy) jump up on the speaker stacks, perform handstands, dive headlong into the crowd, strip to his underpants, crawl and writhe around on the ground, sing in a crazy nasally congested voice, funk out to a series of cheese RnB pimping electroclash tunes all designed for getting down n dirty like only a tragically washed up disco freak ever could and then make out with a series of girls in the front row while he's at it (I dunno how the hell this maniac did it, but I counted at least 7-8 girls, damn!). Witness also Tony from The Distillers and Fabrizio from The Strokes with a lazy cigarette in his mouth kicking back with such an effortless but razor sharp metronome rhythm section that you wondered if they were banging out this shit in their sleep. Sure I might've been warped out've my mind by this point, but fucking hell was this is the most insane random shit I've seen all year! To think they snuck a gig like this in Adelaide on a Good Friday!? FUUUCK!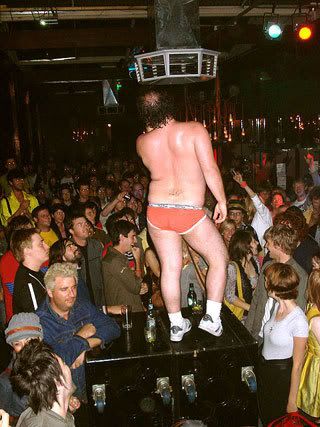 Aaaagggghh my eyes! It burns! IT BURNS!! Yup, it really escapes me how this misshapen lunatic could be such a hit with the ladies (note Sean in the foreground with his rather awkward stare off into the distance lest his retinas melt.. hahahaha!) but there you have it kiddies, just when you thought Adelaide was nothing but tumbleweeds and tombstones on a night like this, it goes and throws a curveball like THIS at you! *Phew!* I guess there's nothing more to do but to drink myself stupid with the gathering baboons here and soak up the madness aye?
Tony Bevilacqua and the mad monk Rasputin here appear to be satisfied in a job well done tonight (either that or Tony has similarily been struck blind by a near nude Har Mar performing tonight and now requires a "seeing eye dog" to take him everywhere he goes).
Being near drunk and retarded enough to not know any better, I proceed to storm the stage during their subsequent iPod DJ session and grab a hilariously incoherent photo here with Fabrizio Morretti.
Sean Kemp and one of the hairier freaks from either The Dairy Brothers or The Beards (or could it be that he's in BOTH bands!? hmmmmm nah, that's just crazy talk!) look equally as blind and in need of a guide dog to lead them astray (ie: J-Wah) as they woop it up out on the dancefloor.
Some random freaks in the crowd see that I have a digital camera handy so they use this as an excuse for me to take a photograph of them with Har Mar Superstar (thank fuck he's wearing clothes!) and obviously I'd get me drunkarse headshot in there too wouldn't I?
And since we haven't done quite nearly enough shameless music celebrity whoring for the cameras yet tonight. Here we have one final photo with Fabrizio Morretti, Sean Kemp, Tony Bevilacqua and my dumbarse self. Yup, they must get so sick of idiots like us hahahaha! (and to think that Sean slipped Fabrizio a copy of the Booster EP too, the sneaky bastard!)
So there we have it kiddies, the one moment of my blog this week you'd probably be cursing my good fortune over for the next few weeks and thus the reason why I should probably be hiding out till June lest you all chase me down the street and kneecap me with baseball bats hahahahaha!
Finally by 4AM or so, we stagger blindly from the Electric Light Hotel satisfied in a plan well executed, take one final moment to thank that spaced out hippie who had himself nailed to a tree almost 2000 years ago to make this random juxtaposition of events possible, before hitting a taxi and vanishing off into the night.
SATURDAY NIGHT
Upon reaching this the endgame of my fortnightly long epic, an epic seemingly without borders or subdivisions, I needed to find my compass bearing again. Too many international artists had flooded this backwater antipodes all at once and attacked this armpit of a town with its pants down. I could see my fellow gig photographers wandering dazed and confused into oncoming traffic and off 50ft cliffs unable to cope with it all. So many needless lives lost, what to do? Don't all these people usually fly over this city and leave us all alone? Someone should find, kidnap and gag Ben Folds, clearly he's giving this place too much of a good name. They must not find us! They must never find us! Let us hide in the hills before they ALL decide they wanna live here! AAAAUAUAGHHH!! *ahem* Yup, clearly tonight I needed direction, I needed guidance and so, quite like a peyote vision quest into the desert I sought out the answers to many of life's mysteries here at FAD Cafe in the most psychedelic mind fucking insanity I could syphon into my brain. If this won't set things back on track, then surely nothing can save me now!
Like all vision quests I needed a medium, a channeling catalyst to hone my mind's eye and perceive the truth of things. I'd done everything from Coopers Pale, Coronas, Amsterdams and Dr Tims in the last few days so it's no wonder my head was all kinds of fucked up today (let alone the wookie last night! eeeeee!). And so looking over the fringe selection of microbrews made available over the taps at FAD, I settled upon this Barossa Bee-Sting, made from 100% pure grain bee's vomit weeeeeeeeeee!
DANIEL VARRICCHIO
Up first to offer celestine guidance through the infinite chaos before me, we present Daniel Varricchio and his double fret bass and guitar onto the stage at 9:45PM (mis-spelt pun intended). Beginning his cycling guitar channelings in the simplest of light feedback hissings and singular string pluckings, slowly but surely he weaved up an ever complexifying journey of noise and cascading harmonies. Building effortlessly all the buzzing, dappled notes and droning cycles into endless layers looping over and under and weaving through each other, the entire experience drifted through us all quite like a light autumn's breeze blows through the yellowing leaves of our mind, like the ultimate guitar driven soundtrack to the yet to be written 16mm art-house film of our lives, like a three course meal. You could eat and drink this music and poo out bricks of solid gold. Oh yes, it was THAT freakingly cool!
ARTAX MISSION
Continuing the multiphasic experience into the beyond, Artax Mission next arrive on stage at 10:30PM to bring us all into the eye of the storm as they embarked on their ongoing quest to "drink the sun" and spit out wormholes to places we could never imagine. Of course like any other psychedelic artists before them, they achieved this simply by triggering so many freaking guitar pedals at once to the accompaniment of cyclic drumming and ethereal chanting and unearthly screaming that all perceptions of reality and surreality could only but shatter into infinite particles of spinning glass humming the frequency of Chi than dare to defy the madness channeling like corkscrews towards it. Sure, to the uninitiated, all Artax Mission gigs must sound the same, but regular travellers to this cosmic experience can easily pick the differences. Sometimes they may appear glaring, jolting and abrupt with a
violence of conflicting ideas
screaming to be heard. Other time they may sound like an aortic pulse driving pistons and
punching down walls between dimensions
. Tonight's set however was pure meditative bliss. Like a flowing coccoon of peace and tranquility taking us all down the river to where all waters joined the ocean. I could float in this for days. Like a fine wine, or a perfectly blended chinese green tea, this was just the thing I needed to realign the fleeing fragments of my soul and find my way home again. Oh and that 2nd encore they performed tonight? This swampy as all fuck blues track with bass player Juliet on vocals that sounded like a Lousiana church burning? I dunno what it was called, but fucking hell maaaan was it intense! Chuck that puppy on vinyl and it'll scare the ALL my demons away!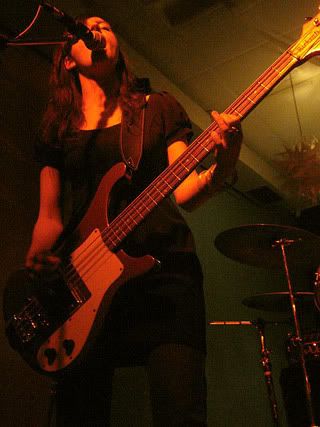 Now sufficiently centred on the many humming frequencies buzzing before, behind and beyond me and understanding all and everything in languages and dialects I could never fully speak to any of you without diluting them in translation, I drank that honey scented Bee-Sting in those fat goblet pint glasses till my eyeballs rolled out've my skull and enlightenment hit me at last.
Satisfied in my answers but still seeking more the golden bees buzzing in my skull bid me safe journey to the Crown N Anchor at 2AM, and yet I found nothing of value here.
I journeyed once more across the great divide to Shotz at 3AM and again found nothing of value.
After all that I had seen, after all that had been done; at last my work here was finally done. All else was meaningless now. So fuckit, it's time to leave and be carried upon the next waiting bus to my final resting place. My feeble brain can handle only so much before it bursts and all the green M&Ms start spilling out onto the pavement to chase the dreams away. No point undoing things. I live where your laws of physics can reach no more, Game Over! And so, arriving once more in this fleeting juncture of space and time (knowing full well that more insanity is just but around the corner) we bring to a close yet another chapter in my mad scientist experiment into the extremes of mental endurance forever spiralling towards the eye of the storm. Will I ever hope to find my peace and a few nights good sleep. Will it even recognise me if it sees me? Or will it forever elude my grasp like my ever loosening grip of reality? Stay tuned next week and find out! Or join me too if you dare! MUHAHAHAHAHAHA!!
Previously on Spoz's Rant:
Red Pill, Blue Pill