GREY DATURAS + DIPLOMAT + SWORDS
LIVE @ ED CASTLE / Saturday April 19th 2008
The Ed Castle on Currie Street. For the last few months it has become a refuge for our ragtag indie scene. As, for many months prior, these of the bespectacled, scruffy haired, cardigan misbuttoned and shoe gazingly downtrodden have been fighting a losing war in these streets of Adelaide. They've lost the battle at Rocket Bar: grossly outnumbered by the windowlicker, the glowstick, the hipster tragic, the fashion nazi and the moustachiod pornstar flooding that fortress by force of fluoro. They've lost Urtext to the swirling dusts of obscurity. Many have lost the will to live and are living out the last of their days out the back of Supermild or behind the counter of BigStar. But now they've gained a home they can call their own once more. YES! The Ed Castle: "we're not gay anymore". Where all can bask in the warming glow of guitars downtuned to fuzz, vocals hushed to mumble and drummers hammering in duplicate. On any given night of the week you may find those gnomes from Wolf & Cub spinning plates, those space cadets from Lady Strangelove dissolving in the beer garden or Matt Banham from No Through Road howlingly drunk and chucking beer bottles at the stage. Aaaaaah, The Ed Castle: what's not to love?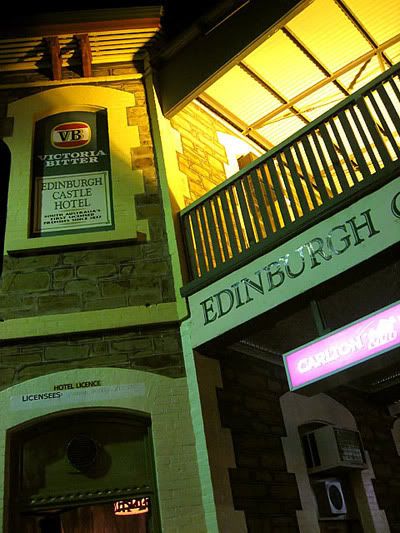 Last night the windowlickers attempted to invade THIS venue by force, hosting a "Drool UV Party" (emphasis on the drool): bringing with them a whole battalion of banging techno, electro, fluoro, misplaced machismo, laser beams, fist fights and pill popping dickheads climbing the four walls. Conveniently this was also the night a friend of mine, Erin saw fit to host her own teeny tiny going away party: "oh I like the Ed Castle, it's always so quiet and peaceful in there". Still after the STAR division and the Fire Department had been called in to clear out the joint you'd barely notice they were even here (save for a few teeth marks in the walls). Such is the almighty power of the Ed Castle and its wash and ready walls (wow did those UV lights show up a lot've suspect stains from the "good 'ol days"), that even the gross DJ spun fartiness of Daft Punk, Justice, Muscles and The Midnight Juggernauts combined couldn't hope to overpower it..
And for those of you still hiding out back of Supermild *cough* "dude do you mind passing that down my way?" *wheeze* not only do they serve meat pies at the bar (there's rumours you can even get pie floaters if you're lucky) but they've also just doubled the size of the beer garden out back.. whoaaaaa! take that Amsterdam! And with a grand lineup of math, stoner and noise rock here tonight (which I found out about thanks to a last minute SMS from Todd Smiley Man, score!) what better time to reacquaint ourselves with this dope joint tonight?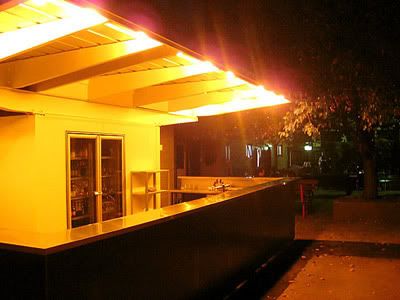 SWORDS
(****)
myspace
::
This assassin's triumvirate in opening act: Steve on drums, Jolan and The Fonz on bass have slaughtered many a standing army before them; both here in Adelaide and in other altered states. Many are the legends that speak of the fiendish forked weapons they wield: deadly in both surgeon's finess, needle-like calibre and brute bludgeoning force; weapons that speak with great volume yet have no voice. Such have been the comparisons made to Battles, Primus or The Mark Of Cain. But few of you may also know of their finer works in late night informercials. Who knew that so many simple household items could be sawed in half using nothing but the awesome power of the 50-500Hz frequency band? I for one did not know! And if you think it's impressive enough to see them pair down loaves, steaks, coconuts and cinder blocks; when you see them split a toilet seat in two? you KNOW you're in for a wild ride! Swords. usually they're an instrument of war, but tonight they've come in peace. Showing us a more contemplative and meditative path through their many dappled shades of "the brown". I for one am a believer!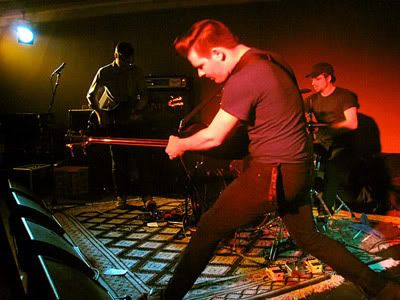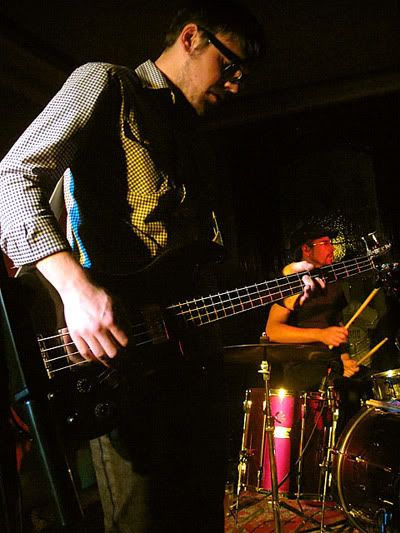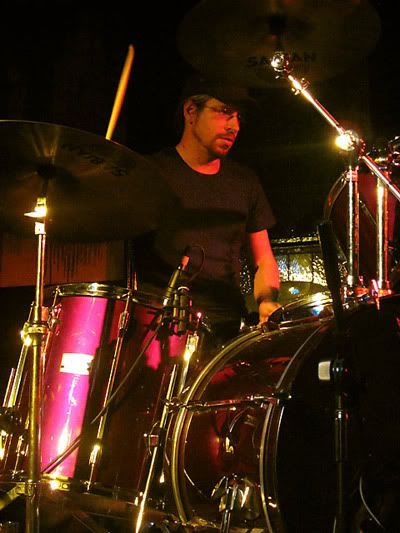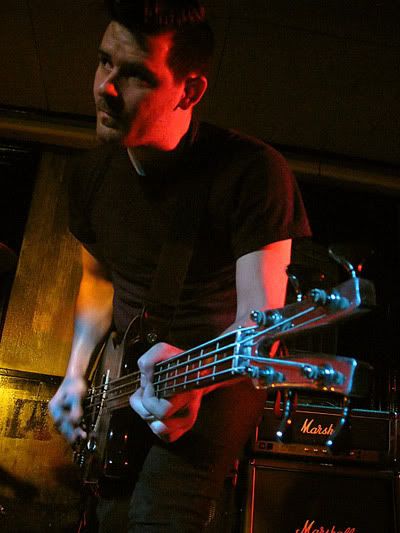 Usually this would be the point that I'd present you with some kind've fucked up live video. But since I'd already shot one of those
two weeks ago
for these idiots, I instead present this band with an assignment. If you Swords, dare to do a fucked up cover of THIS muppets song at your next gig WITH vocals (and I'm either there to document it, or you provide your own video evidence) then I will promise to write an entire episode of THIS blog using nothing but a shitty 1 megapixel camera phone and MS Paint. Oh yes, I said it.. dare me to freaking do it!
DIPLOMAT
(****1/2)
myspace
::
*cough* anyhoo.. with any lingering hangover from the night before since erased by act one. We continue our meditative path into act two tonight. A band that is as blissful to listen to as it is to sample the sweetest of birdsong before it's sucked into an engine of a 747 on take-off. Diplomat. A decade ago they were known simply as "Rash". A decade later they arguably hold the title as the loudest band in Adelaide rock. A title that has been challenged many times, a title that has
rarely
been bested since (a title that I was also yet to believe as I'd seen nary a sign of them for almost 10 years). Tonight however I finally get my chance. Diplomat. They're the soft/loud dynamic of Nirvana and The Pixies pushed to its most ludicrous extremes. They're Something For Kate's "Elsewhere In 8 Minutes" if only someone had the good fortune to off Paul Dempsey and turn the amps up to 11. They're a bomb exploding inches away from your right ear whilst your girlfriend licks the left. They're both Vishnu and Shiva dancing as one within the mushy microwaved remains of your skull cavity. And they're so insanely loud tonight, their foldback speakers are belching smoke; actual freaking smoke people! Oooh crap we're gonna die!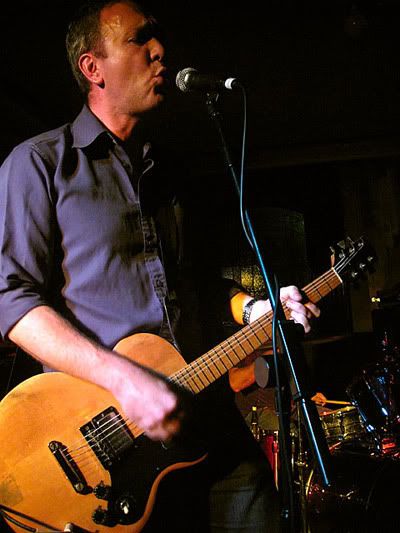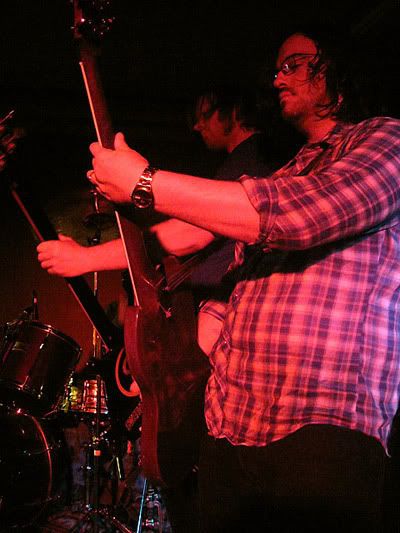 Few words can possibly describe the onslaught to our eardrums this set; as quite frankly, I'm still having problems forming simple sounds in my mouth with all my teeth rattling. But as they say the reaction is the same wherever they go: Diplomat? OOOOH FUCK YEAAAH!
Moments before I blacked out I had the good fortune to capture THIS on video. Although my camera's built in mic compressor HAS cushioned the blow and there's a good chance you WON'T die from this; it's probably best to send a test monkey in first (just to be on the safe side)..
GREY DATURAS
(***1/2)
myspace
::
If all the other bands here tonight were lined up one by one in a progressive evolution of sound, not only would we have been sliding backwards down the scale as the night progressed, but by reaching this final headlining act band we would've found ourselves returning to the very primordial soup that spawned all other musical life forms. Grey Daturas, from Melbourne. Three people interchanging on guitars, bass and drums. Nothing but white noise and feedback chugging over and over for 45 minutes uninterrupted? Sweet jebus what have we got ourselves into!?
Yup that's Grey Daturas; listening to them play is rather akin to TV tuned to static: stare at it long enough and chances are you'll start hallucinating all sorts of fucked up shit. To me it was like a blissful mix between My Bloody Valentine and Sigur Rós with the volume turned way up. But then again with enough tweaked out guitar pedals you could probably hear anything from The Wiggles, Britney Spears, Beethoven's 9th to the sounds of your grandmother reaching at you from the beyond the grave.. GUHH!! Yup, as much as I may've personally enjoyed this insanity, I suspect my tastes in music may have become a little bit too
warped
over the years to make a clear judgement. Is this a three and a half star review? is this two thumbs up? is this one cow for five of your chickens? is that whistling smoke coming out've my ears? What may've been the sound of a thousand burning leaves singing to me may very well been your reach for the fire extinguisher. As such it technically defies all rating. Still, if you like your music a little bit left of fucking bizarre and have been known to ingest copious amounts of mind altering chemicals? Grey Daturas may be just the wild return trip to the womb you've been looking for!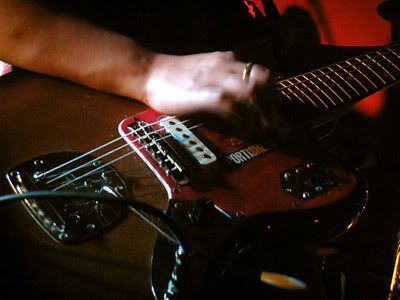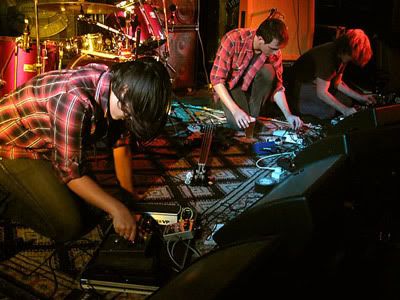 2:34AM
- Many hours later, I awake to find myself in the beer garden; dragged out unconscious by one Damian Satanek, drummer from Lady Strangelove in the ironic belief we'd thus escape all the "smoke" and "fumes" that've since enveloped the band room..
Yup, I don't know if we were both suffering tinnitus, brain damage or the after effects of all the "smoke inhalation" here, but I swear when me and Todd put both our heads up against Steve's head we could still hear Grey Daturas playing their haunting tune.. whooaaaa!
3:49AM
- Dazed and confused by all that has passed tonight (and in no way affected by anything that I might've found out back of the Ed Castle *cough*), it's no surprise that I'd soon find myself here at Jive on Hindley Street to send myself further down that rabbit hole..
Strange: despite all the people flapping about on the dancefloor, despite the presence of DJ Craig who obviously must be banging them indie cheese something fierce, I ain't hearing anything but the sounds of the ocean and one sustained EEG flatline. Hmmmm. Oh well, thanks to all the crazy party balloons here: who needs sound, when we've got all the loudness we need!
3:57AM
- And as much as I would like to explain why I always seem to find this familiar dweeb here, infinitely more garglingly drunk and partying harder than all my best efforts combined? duuude your guess is as good as mine! Perhaps he could teach me a thing or two?
4:17AM
- Yup for all the crazy shit I could be doing, that's me off in the distance there, losing every single game at the foosball table instead. Wooooo.. ROCK AND ROLL BAAABY!!
4:33AM
- And so, happily deaf, dumb and blind drunk, reduced to the level of a dribbling infact once more: I take my environmentally friendly four wheeler and I drive myself home. Only to realise 20-30 minutes later that I've been travelling in circles.. since.. well.. oh nevermind!
Thus concludes yet another utterly nonsensical Saturday night in the Adelaide music scene. Be sure to tune in next week when Spoz gives this all up to join a book club.. FUCK YEAAAH! Oh and Swords, if you're reading this, don't even think I'm kidding about all that muppets shit. Why play it safe? I think it's about time we take this insanity up a notch.. who's with me!? :)
Previously on Spoz's Rant:
Diamond Sins + Dead Popes Of The Vatican + Blow Up Betty