SWORDS + LIKE LEAVES + MEGAFAUNA
LIVE @ THE EXETER / Friday January 18th 2008
The Exeter (aka: The Excreter): nestled amongst the yuppie slums of Rundle street like a giant steaming turd in a brown paper bag, burning and yearning for the doorbell to ring. The Exeter: give us your uni student, your unemployed, your artist and your huddled masses longing to be free of their braincells and we'll bring you back to the glory days of the early 90's to laugh like demented children. The Exeter: where the luxurious and expansive foliage of their beer gardens is surpassed only by the volumes of suspicious green smoke that shrouds them. Aaaah, what's not to love about this grand moldering bastion to the east? This institution? This asylum? This sanitorium for one and all of Adelaide's illbient children to dribble thoughtless yammerings into the void? If all conscious thought is naught but a lie, then let all roads lead to the Exeter!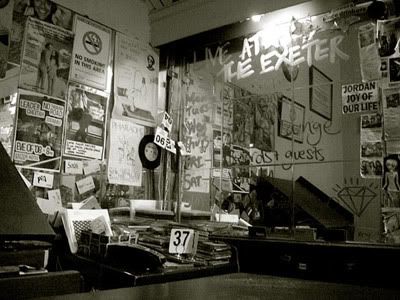 To navigate through such a disorienting haze as this, clearly I'm gonna need the services of a qualified spirit guide. But since all the better ones were
busily slapping Tom Cruise silly
this week, I found myself scraping the barrel here with Zhu Jiang: the "national beer of China". Yup, weird I know, but surely one billion Chinese can't possibly be wrong!? (except for, y'know that whole Tibet thing *ahem*). And as for the entirely trivial matter of why this entire blog is in black in white, I hereby offer the following explanations: a) I've got a visual arts degree so fuck off! b) I've made way too many stoner jokes and thus your retinas won't be needing "cones" anymore (har har), c) all my colour photos sucked tonight and this was my fiendishly clever attempt to cover for it *cough* oh yes, RollingStone magazine heeeere we come!
Yup, you just know this is going to be one of those episodes: so blitheringly dazed and confused it makes Ashton Kutcher look like
the psychotic drill sergeant
from Full Metal Jacket, which considering the subject matter at hand tonight, makes this is an all too fitting tribute..
MEGAFAUNA
(***1/2)
myspace
::
If your tastes in music extends to the most rarefied and obscure extremities of Adelaide's art-rock scene (ie: you're perhaps one of two spaced out university dropouts known to frequent Urtext Studios on any given Friday), then this band could very well be your fantasy supergroup. Featuring Kynan Lawlor (the bearded Silent Bob) from
Hit The Jackpot
, Corinna (the Ghost World chick in black) from
The Holographic Colts
and what appears to be some random homeless guy they dragged off the street for $3.55 in spare change and a few loose cigarettes; the played what loosely could be described as Sonic Youth for dead people. Prone to constantly swapping their instruments (a confusing habit inherited from Hit The Jackpot), Megafauna is a band that is effortlessly sparse, comatose, awash in seas of white noise yet also most blissfully meditative like a stoner grunge lullaby. If I was blitzed out've my skull, spread eagled on a couch with a bag of dorritos and unable to lift my head I'd be in heaven right now.. eeeee!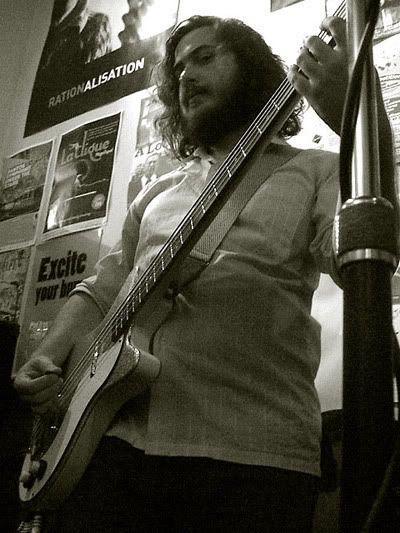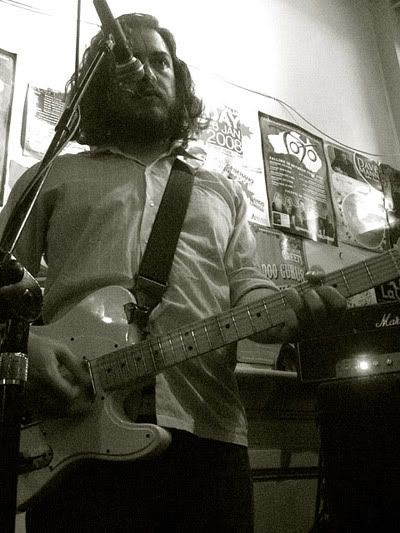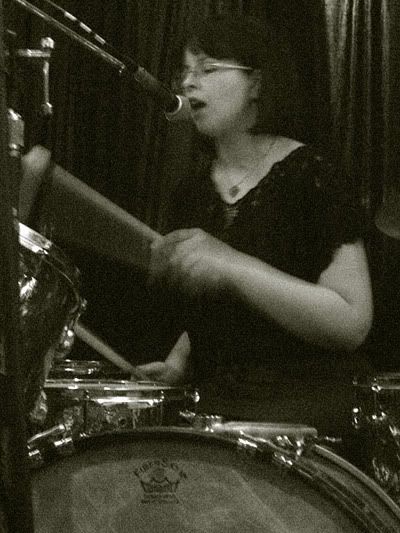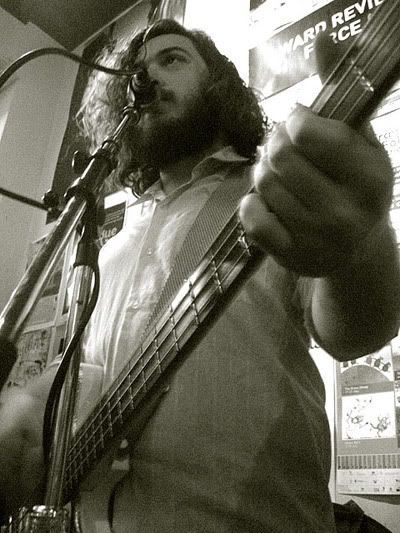 LIKE LEAVES
(***)
myspace
::
Furthering the stoner vibes into more dissociative realms, we have another three piece that ups the ante even further in the stoner supergroup stakes. One that dares to combine the brain damaging illbience of
Daniel Varricchio
on double necked guitar fuzz,
Patrick Saracino
on cyclic mantra basslines and Ryan from
Mr Wednesday
filling the trashcan percussives in between. In theory this much maddening psychedelic power in full fury would be enough to demagnitise the earth, reverse the correalis effect and send everyone flying off into space; but thankfully this collective still appears to be in it's embryonic development. As such, I couldn't quite make heads or tails of this set but as much as I could figure (huddled in foetal position and yammering inconherently in front of the foldback speakers), this sounded like late 60's Pink Floyd meets Tibetan chanting in an echo chamber meets Maynard James Keenan playing ping pong with Jesus on a heavy hit of acid. If I played this all backwards; I dunno whether I'd come up with a unified field theory that combines general relativity with quantum physics, a new recipe for dope cookies or the Zeta Reticulan's response to the Arecibo Code, either way I'm frightened!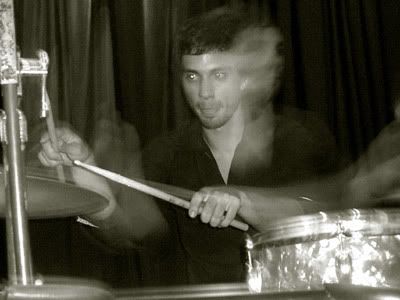 Unbeknownst to many, innocently walking the streets past that black curtain window, there's been a furious arms race at play here in the Exeter front room lo these past few years. Ever since the band stage was exiled from it's holy land in the beer garden (aka: the land of the long white cloud *cough*) due to all those pesky residential noise complaints, bands have long since sought retribution by vying for the honour of being the LOUDEST fuckoff band in the Exeter front room. Many of Adelaide's wastoid elite have laid claim to this title in the past: Trixie Plain, Artax Mission, the most recent of which being Diplomat (stoner grunge casualties from the late 90's) in their "legendary" attempt to level the block. Not to be outdone, headlining act Swords have also come to the fray with their own diabolical attempt in cochlea abuse tonight..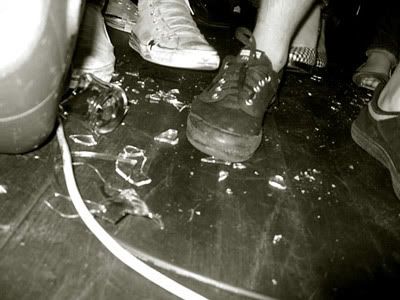 Foolishly enough (due to chronic overcrowding in howler monkeys clamouring to soak up the shockwaves), I've chosen ground zero, on stage, lying mere inches away from the band in front of the foldback speakers to document this attempt. I believe the shattering moonscape on the floorboards around me speaks for itself.. ooooo shit, this is gonna get ugly!
SWORDS
(****)
myspace
::
A Swords set in any normal test conditions can be rather akin to attempting to dodge a series of swinging blades, spikes, collapsing ceilings, enraged natives, screaming nazis and oversized rolling boulders on your way through an Indiana Jones death trap. If your face doesn't melt off at the end opening up pandora's box, count yourself lucky. *HACK!! SLASH!! STAB!! KILL!!* They are a truly band to a minimalist intent: swords fucking everywhere, thousand fold steel, piston driven malevolency and zen minimalist brutality (and this is under normal "test" conditions). Tonight however, whilst vying for Exeter's heavy weight title: Swords is rather akin to a thousand phones ringing at once in sibilant singularity from your inner ear whilst asteroids smash repetitively into your skull. If your playing at home, reinact by throwing all your metal cutlery into the microwave, tap it in for 5 minutes and enjoy the fireworks! I know I did.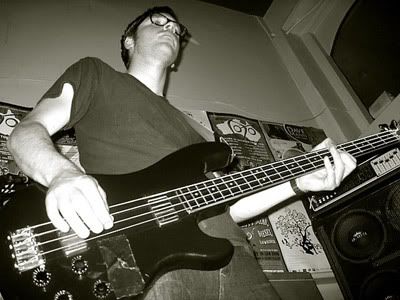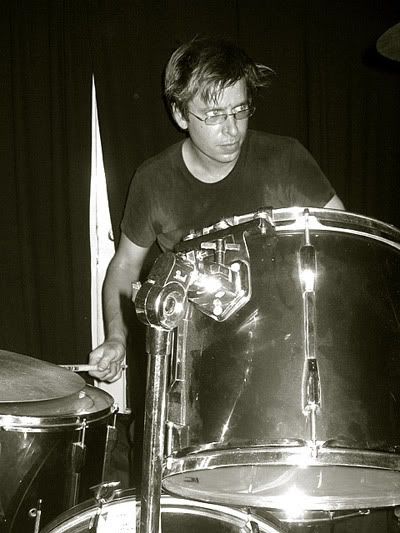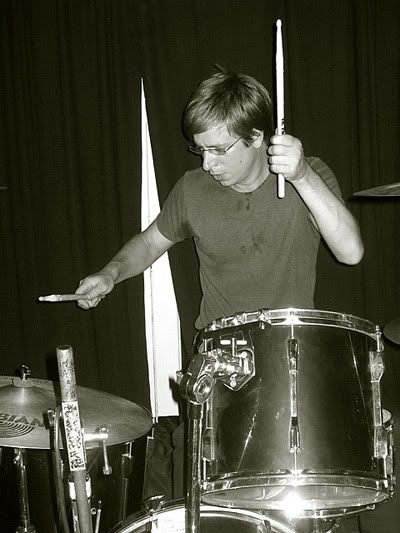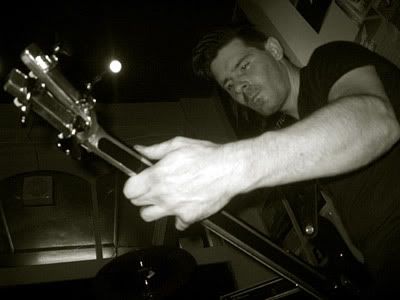 As for whether Swords managed to break Diplomat's record? Who's to know? We broke all our equipment trying to get a read of it hammering into the infra red: nothing but ear bleeds, shattered teeth grins and a car alarm encore for the next 1/2 hour.. whoaaaaaa!
Anyone wishing to contribute to the "Exeter Relief Fund" in the aftermath of this holocaust, please direct all donations and payments (we accept all brews, spirits, fungal caps, weird berries, leaf and homegrown) to the following
site
. As much as I would love to speak further of this night (and the combined carnage that drinking both Like Leaves and Swords' beer riders wraught upon the Adelaide CBD), I believe the muffled ringing in my ears speaks for itself.. ROCK!
Previously on Spoz's Rant:
Tyger Tyger + Bakewell Street + The Trafalgars