BURN MY SHADOW
Welcome to the winter of our discontent. Our hearts of darkness. Our Stygian Abyss. Our wasting lives. Oh foul cliche! Oh grating cheese and derision! Oh flatulent ruination! Oh vile blackness! We're in the thick of it now. Slave to the season. Exposed to the elements. The flicking of the kill switch. Our ever loosening grip. Uppers and downers. Zeros and Ones. Ice cold glares and bitter regret. Perpetual twilight and brooding defeat. Grim reality and seething self doubt. Why dammit why? Why must we persevere? Why, when it's just so damn fucking cold!? Increasing odds and diminishing returns. Pissing the last of our souls away to the chorus of pin drops. Shrinkingly the crowds flee. Thinning out, the herds scatter like leaves to bomb shelters and lunatic asylums. Cocoons and Hibernation. Huddled for warmth. Dull radioactive glow. Counting down the days. The war is lost. Run and retreat. Creature comforts and claustrophobic stings. They own the streets now. Zealots and grim fanatics. Cogs and dull machines. Cults to the carrion. Murder of crows. Chanting in funeral drones. Shuffling slowly, one by one, nodding their heads, ghoulish grins to their suicide machines. Bone fingers. Weeping wounds. Ebb and flow. Turn the lights down low. Nothing left to lose. Dead to the world.
And so we push that boulder up that hill. Collar up to face that wind. Fight to reclaim inch by inch every foot we lose to biting frost. Life and limb. Love and liberty. Till the break of spring. All else is lost. Too weird to live, too rare to die. Only the freaks survive!
MONDAY NIGHT

Yup, winter has well and truly kicked my arse and last week was my breaking point. Shell shocked, foetal position and cowering in the corner, the last of my marbles rolling down that sinkhole to oblivion. Such tribulations as these should never be faced alone. Help is out there for those who seek it. So upon this rarest of rare Monday nights chilled to the bone I sought my refuge, here on the steps of 14 Grenfell St. Urtext Studios: my most blessed be insane asylum.
My most desperately sought psychiatric treatment would come in the form of this lineup in the equally ill-minded. No better time, no better place to face this madness. Ooooooh yes!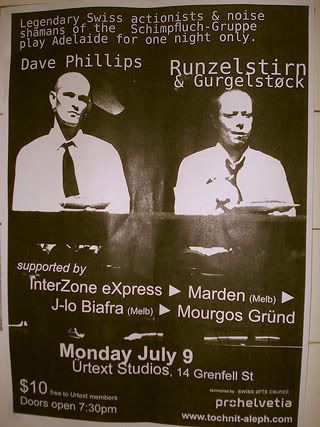 Surprisingly, despite being a chill winter's night (and a Monday no less!) and witness to the sort've fart-arse musical obscurity that would send any lesser person screaming for their medicine cabinets: Urtext studios is packing out to the ceiling tonight. It appears I'm not the only one to lose my marbles this week; A multitude of my fellow mental patients join me.
Sparse few hints or warnings are given for what we were about to expect. Scattering instruments sprawled to the floor leaving no clues to their point of origin.
The merchandise table also does nothing but confuse with alarming heralds of doom: "Rudolf Eb.er Runzelstirn & Gurglestøck - R&G full CD - legendary fully mind fuck!! Take with caution!". What the hell kinda fuckarse lunacy have I got myself into!?
To further my dementia to new spiraling lows I'm also presented with complementary chocolate cake of the vegan persuasion (minty, slightly dry but otherwise tasty) and glass after glass of a 2005 vintage "home-made" red wine made available over the bar for a few spare coins.
J-LO BIAFRA
First band to manifest in creepy silhouette form is a solo act by the name of J-Lo Biafra. The print publicity claims he's from Melbourne, although from first appearances you'd more likely believe he teleported here from one of Fidel Castro's clone farms from the dark side of the moon (and very likely the same one that spawned fellow art-rock revolutionary
Patrick Saracino
, hmmmm anyone else smell a conspiracy?). This 15 minute meditative jam on guitar conjures up sounds akin to a drawn out japanese mandolin, acid dappled raindrops and hypnotic patterns forming angels in television snow. Light and sparsely arranged, the crowd soaked up the vibes in awestruck silence, punctuated only by the light click-clacking of J-Lo Biafra's switching guitar pedals and the loud retarding squeak of a lavatory door in the distance when I attempted to duck out surepticiously for a loo break (eeek!). All in all though, a blissfull performance.
MARDEN
Following up next we're presented with another solo artist also (allegedly) from Melbourne by the name of Marden (or Fjorn Butler, depending on who you talk to). Beginning the performance with triggering soundloops in meditative crackling and temple stonerist weirdness, she proceeds to float about the floor in unspoken gesture: dispensing tamborines and cymbals to random members of the crowd who piece by piece fill the room with accompanying noise whilst she draws lines and circles of burning methylated spirits onto the concrete floor. I dunno whether to call this "music", the pyromaniac delusions of a spaced out hippy or praise it as a masterstroke in decentralised performance collaboration but either way the impact is still quite mesmerising. Lights! fire! flames! burning shit! wooooo oh so pretty! :)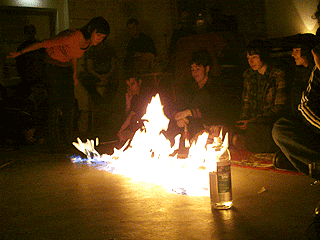 MOURGUS GRÜND
Cranking up the weird-shit-o-metre even more leeringly into the red is the next act by the baffling name of Mourgos Gründ. Again, calling this performance "music" is probably pushing it a little too far, as for the most part we're greeted in ambush by what appears to be a cross dressing twit flapping about the room impersonating a senile gypsy by way of Yoda from Star Wars, with light relief provided by a hissy fit display over kitchen utensils and a death match with a guitar amp volume knob that sounds like a light sabre fight accompanying slide whistles in a sandstorm. Yeah, I don't know what the fuck is going on either, even more when you consider the entire yabbering monologue is presented entirely in Greek. Damn! I dunno whether I should be reaching for the handgun or the pregnancy test, but either way I'm frightened!
INTERZONE EXPRESS
In following, what's left of our dribbling synapses is soon brought to it's knees by Patrick Saracino and Daniel Varricchio as they present the duo - Interzone Express. On synths and spastic hissy fit percussion they provide us with a pulsing, churning, cyclical soundtrack in madenning psychedelia (somewhat reminiscent of their guitar work) that explores all the subtle nuances between a UFO landing and being skull fucked six feet underground ground by a CV radio on an acid comedown. Surprisingly enough it's actually quite enjoyable and almost peaceful in it's interplay between meditative and cathartic extremes; either that or it's gonna take me another 5-6 days before I'll be able to recognise simple shapes and colours again.. wooooooo! :)
DAVE PHILLIPS
Such near meditative solace is shortlived however, when we're fronted with the first of the final two headlining acts: Dave Phillips from Switzerland. Appearing like a cross between a Hare Krishna and an East Berlin serial killer and with his microphone headset wired through to a harrowing array of distortion filters; he proceeds to rasp, howl, contort his frame and scream to a soundtrack of broken piano, farm animals, whip crackings and gunshot sounds whilst on screen behind him a series of increasingly harrowing holocaustic film clips flash by in rapid succession featuring everything from pigs getting their throats slit, baby chickens being battered and tumbling down machinery, monkeys tortured for medical science, elephant tramplings and other acts of gross animal barbarity of increasing intensity that become too eye-gougingly terrifying for me to possibly put into words (although constant "subliminal" commentary was helpfully provided throughout on screen as text in case the message wasn't LOUD enough). Living through this littany of abuse was quite like a cross between the tortuous mental reprogramming Malcolm McDowell received in A Clockwork Orange, the shrieking terror that was the eye of Sauron from Lord Of The Rings boring into your soul, that garbled beserker video transmission from the beginning of the movie Event Horizon, fat nazi guy's face melting at the end of Indiana Jones and the Raiders Of The Lost Ark and staring deep into the gaping abyss of Hell incarnate. Truly, without a doubt this was the most terrifying mindfuck I've ever seen all year, saying I actually ENJOYED this would be quite like saying I'd love to be the victim of a slow and painful disembowellment by fishhooks whilst rats eat me alive. The pain! OH THE PAIN!! MAKE IT STOP!! MAAAAAKE IT STOP!! (and yet I can't look away! guuh!).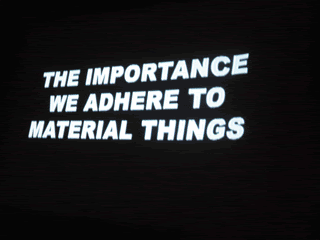 Still, funnily enough, despite the obvious (and all too violently graphic) PETA / militant vegan protesting overtones that were being punched into my skull with repeating rapid fire delivery by Dave Phillips and his ministry of pain, I was left in passing with an altogether strange craving for bacon; hmmm does anyone smell my brain burning? yeeeeouch!
RUNZELSTIRN & GURGLESTØCK
And so, in closing we present to you this: the final headlining act that is Runzelstirn & Gurglestøck. A bewildering solo display featuring THIS guy: shaved head, pig snout, dressed like a cross between a black belt Karate dogo and some kind've S&M mad science experiment. Tethered to a desk and pacing about the floodlit room like a wild animal, accompanied by a dizzying ambience of burps, farts and fly buzzings; he would interchange random intervals of leering at the crowd with sporadic singular beatings of his head square upon the grand piano. I'd like to say there was more to it than that, but no that was pretty much it. Again, calling this "music" is probably grounds for being institutionalised for life in a rubber room with a hug-me jacket, but still in it's own weird way and on an entirely reptilian brained frequency was really quite neat to watch (and all the funnier when you consider he flew all the way from Switzerland to Adelaide to do JUST this.. freeeaaaky!). Yup, if you still had a functioning weird-shit-o-metre by this point of the night, this dude has well and truly broken it. Game over!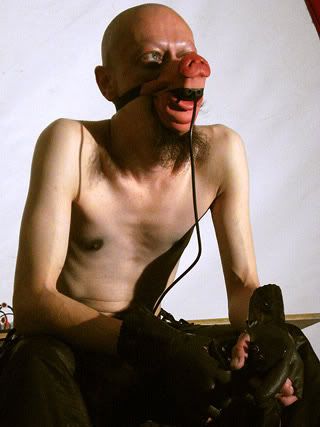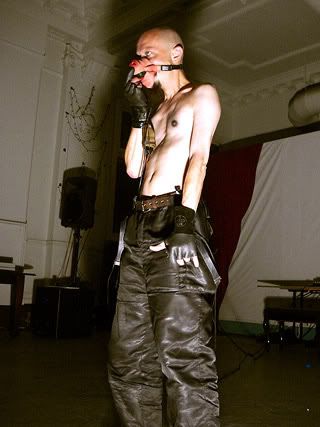 By midnight this madenning rollercoaster ride is all but over. I've consumed half a vegan chocolate cake, near to two bottles of home-made red wine (with no hangover) and lived through six of the most fuckoff bizarre face melting experimental art-noise acts Adelaide has to offer on a cold winter's night. I feel like my brain's just been given a fullblown enema. All is forgotten. All is forgiven. Tabula Rasa: the slate is wiped clean. Six more months killing myself on the frontlines of the Adelaide music scene? Fuckyeaaah! heeeeeeere we come! :)
FRIDAY NIGHT
My original plan for this evening was to return to Urtext Studios to administer the last half of my psychiatric treatment, in the form of a launch party for the July issue of "Excitement Machine": the coolest freaking underground art, culture and music scene streetpress that you'll ever (not) find (anywhere) in the Adelaide CBD (no really I ask you, where the hell DO they distribute this damn thing? people ask me and I don't have a clue!? help!). Yup, with tonight's ecclectic lineup providing such illustrious art-rock stonerisms as All Made Of Rubies, Quebec and Thunderclaw it would've been quite a trip; but alas, due to unforseen circumstances (*cough* Dinosaur Jnr playing at The Gov *cough*) this launch party has since been cancelled. And so, in effort to hastily assemble a "plan B", I'm directed in tiny subscript on the poster to "GO TO ROCKET INSTEAD... MAYBE" in search of my amusement..
so fuckit off Rocket Bar it is to see Taught By Animals, Fire! Santa Rosa Fire! and some wacky fart-arse band I haven't already seen six billion times this year: The Dardanelles. YAY!
Being as it is Friday the 13th (a day of superstition to some) the venue has been decked out with all manner of confusing accoutrements: such as the wacky balloons hung over the bar here..
the presentation of this all too confusing drink special (as modelled here by Emma Sara) that somewhat resembles a cross breed between a deep sea jellyfish, a colostomy bag and a radioactive bag of goon (which tastes just as appealing as all that sounds: cat urine anyone?)..
and of course the all too random, yet always welcome appearance by the complimentary Rocket Bar doughnut (and yes, as much as I would love to explain to you WHY they're here on irregular nights, I really don't wanna jinx it! FREE DOUGHNUTS PEOPLE!! WEEEEEEE!!).
TAUGHT BY ANIMALS
For the first band of the night, we are presented with the all too familiar yet welcoming proto-grunge / art-rock refrains of Taught By Animals. Of particular highlight in tonight's set (to subtlely distinguish it from the other 12 sets I've seen this year): we have the escalating buzz of a new song called "Unnecessary Knowing" that's armed to the teeth with the mother of all crack addict guitar riffs thats drive the chorus to a whipping boy frenzy, a brand new segue cooked up between the penultimate and finale songs called "Liquid Cat" that sounds very much like a chorus of falsetto squirrels and chipmunks doing karaoke battle on an acid bender, and an overall performance that continues to mature into ever more solidly ecclectic textural weirdness with each repeat listen (release an album already dammit!); but beyond all that, lets face it; unless I continue to take cheap shots at lead singer Jon Walsh's dizzying array of 70's stoner shirts, argyle sweaters and Neanderthal shufflings, make yet another misfired Frodo / Umpa Lumpa / Santa's elf joke at drummer Neil Clark's expense or jokingly refer to Matt Hills as "Bob The Builder" I pretty much ain't got anything new to say you haven't heard a billion times before. Bugger! Perhaps next time I see these guys I should take a fuckload of acid, smoke trees of weed, write a review using nothing but consonants and accompany it with photos of garden gnomes exploding. Fuckyeah! That shit will blow people's miiiiinds! :)
FIRE! SANTA ROSA FIRE!
And so, up next in my failing to string words together tonight is Fire! Santa Rosa Fire! You may remember them from the infinitely funnier live review I wrote on them from
two weeks ago
. So fuckit, go read that instead: you'll laugh, you'll cry, you'll begin to understand the deeper workings of the universe and your soul in ways that only extended psychotropic drug use could possibly ever provide and knowing my regular "reading" audience I probably could've just repeated word for word that review again THIS week safe in the knowledge nobody every actually reads this shite anywaze and only visits this site to pilfer photos for their myspaz profiles (which would be nice as I'd probably get less death threats that way! HA!). Yeah fuckit, what more can I say that I haven't said already? They're at the forefront of the Adelaide indie-spastic post-punk scene. They play their songs so freakingly fuckoff frenetic they cause doppler shifts, ionise the atmosphere and demagnitize credit cards and bus tickets in a 1km radius. If they ever played a double bill with Bit By Bats and the Klaxons we'd all explode and die. They are quite possibly robots sent from the future to kill us all. They freaking rock and really I should just shut up now so you can all go fucken see them already, sheeeesh! :)
THE DARDANELLES
Now that I've sufficiently made a twit of myself writing those two half arsed reviews, we at last present a band I haven't seen a million times before: headling act, The Dardanelles. Although, considering the lighting (or lack thereof) they're running out there on stage tonight it's really quite surprising I can see anything at all. Seriously, is it just me or is it getting increasingly and impossibly dark out there to take decent live photos in Adelaide these days? EEEESH! Fuck me if I'll need infra-red cameras and some kinda fuckarse echo-location bat sonar shit before to long to stop going blind crazy out there! (Lady Strangelove stop your giggling dammit, I can hear you laughing out the back!). *Ahem* aaaanyhoo... as for the entirely pissy and unimportant matter of reviewing this band beyond griping about the lighting rig? Imagine "A Forest" by The Cure, mash it up with some early 80's INXS back when they were all post-punk and tribal, mix 50% of that resultant with an equal percentage Primal Scream and Kasabian at their most propulsive, inject darker brooding animal edge post-punk with rolling techno bass rumbles and grinding synths, then picture an idiot savant lead singer fronting it all flapping his arms about wildy like a demented muppet and a 4 year old on his birthday who can't clap in time to the Wiggles and THAT would be yer monkey! A deadly combination to be sure, but still one that I damn near can't get enough of. Fuck me, but do these dudes freakin' rock! woooooooo! :)
With the live music portion of the night now done and buried, I'd originally planned in following to hit a birthday party hosted at some fuckoff epic sized mansion somewhere in the eastern suburbs. Word was it was going to be THE party of the century! One I couldn't afford to miss! but in doing so, I knew I needed to build an army of friends willing, able and near drunk enough to attend en-masse before I could attempt to scale such hooting grandeur and epic liver stainage; and so with this lofty goal in mind, I next make the most foolish of all tactical blunders by entering Shotz Nightclub in search of my conscripts. What the HELL was I thinking!?
It is here that I soon bump into Sara on the dancefloor (my first potential willing participant in suburban party-crazed mayhem) who appears to be working the time honoured strategy utilized by party girls the world over when they've got next to no cash and want a night of "free drinks" with the "boobs out for booze" tit up offensive..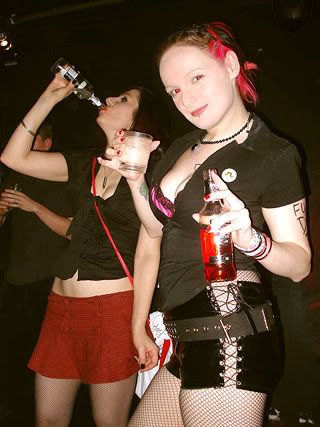 and when all else fails with getting the "girls out to play" for free drinks and merriment? you can always opt for THESE teeny tiny short short PVC party trunks.. reeeeooooooooww!! :)
*ahem* yup, clearly she's got nothing to lose from THIS fiendishly diabolical strategy but a few thousand braincells and about 3-4 hours of memory blackout. WOOOOO! Oh, and the less said about me being so retardingly drunk that I too fell for this trap and bought her drinks, the better. Damn you Sara you evil she beast!! DAAAMN YOOU TO HELLL!! :)
As for us males of the species however, we ALL know we have NO equivalent strategy for scamming free drinks short of being thrown out by the bouncers (unless you're a notorious live scene photographer *cough*) as next to NO ONE out there would EVER be stupid enough to get our arse scratching hairy species even MORE retardingly drunk on the piss than we already are. Need I use THIS as my furthering incriminating evidence? free rounds? shouts some beers? gay superhero league looking for carnage!? hello? damn.. where did everyone go? ;)
Yup try as I might to drag some of these fools out to the party, there's no way in hell I'm ever gonna get them out've Shotz at this rate; as quite like the event horizon of a blackhole, once you pass blindly drunk through those doors there is no turning back! We're gonna be stuck in this festering monkey pit all night at this rate.. AAUAUAUAGGHHHH!!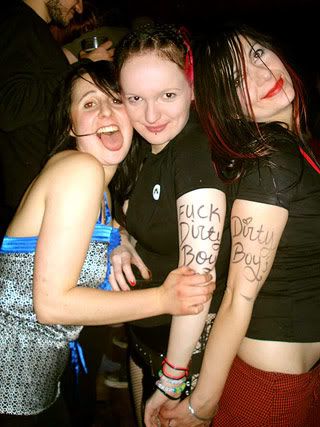 Still, come to think of it, as glaringly remiss as I was to miss THE party of the century (AGAIN!) I probably did them all a favour. Seriously, could you imagine the grinning horrors I'd unleash if I let these circus freaks loose on the leafy greens of suburbia!? yeeeeeeeouch!
And so it is here that I find myself wasting away to gargling ruin till closing time: unable to flee, unable to escape, a stalemate of drunkening convenience, yet another hapless victim claimed by the gravitational pull of Shotz nightclub. Gooooood night everyone! *clunk* zzzzzzzz..
SATURDAY NIGHT
Somehow arriving at the shores of this night no worse for wear for the ruination welcomed upon my shattering frame last night, I find myself willing to do it all again like a suicide bomber and kamikaze cannonball rolled into one for round three on a Saturday. Although since I'd clearly seen and done it all by this point of the weekend and was in no mood to undue all the good work administered by the psychiatric staff at Urtext Studios on Monday (I'm still shocked those two bottles of red left no hangover!), tonight I chose in deviancy a detour from all the usual predictable cliche haunts with the road less travelled here to the Prince Albert Hotel.
Upon the chalkboard menu tonight I would find but two humble acts for my amusement: The unfamiliar sounds of band called Collider and the all too familiar yet welcoming indie-rock refrains of 200 Motels. From winter's icey grip I find my sanctuary.. aaaaaaah! :)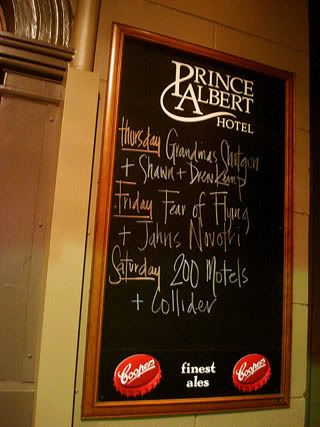 In dizzying accompanyment to the live performances tonight and with nothing left to lose but the last shred of my babbling incoherancy, I thought I'd take a walk on the wild side with some of the weirder $6 beers found on offer over the bar..
First to journey me down the rabbit hole, I start with two pints of Coopers Dark Ale. Nothing too special here: dark and earthy, existing somewhere between a hearty stew and light stout with a bold clout to knock you legless, this was still just the thing to kick off my cold winter's night..
With the first band still setting up, I next launch into the Bee Sting: a funny little honey filtered concoction from the Barossa Valley that without a doubt would have to be one of THE smoothest full flavoured beers around. Seriously, if this was actually available on tap in more areas of the CBD I'd possibly even consider ditching the 'ol Coopers Pale Ale to adopt this as my full-time weapon of choice. Well worth trying! (I believe they also serve it on tap at FAD Cafe.. woooo!).
COLLIDER
And so we in following we welcome the arrival of first band Collider to the stage. Semi-acoustic, tuneful, jangling chords and wistful melancholy: or near to stereotypically the sort've live act you'd expect to find in a wood polished haunt of this vintage ilk on a cold winter's night. They're like a watered down Something For Kate without all of Paul Dempsey's weird gibberings about quantum physics and chaos theory, or fuckit since I'm clearly crap with his kind've thing; picture the soundtrack backing to the final weepy scenes of a british rom-com just after some embarassingly foppish english git like Hugh Grant has stuffed up his chances with some American actress doing an entirely crap impersonation of a London accent (Gwenneth Paltrow, Kirstin Dunst, Julie Roberts; fuckit take your pick), leading to that highly improbable grand gesture rush to the airport that wins the day. The band you picture playing at that exact moment as the guy runs down the tarmac flapping his arms wildly for the plane to stop only to find his erstwhile love standing behind him with tears in her eyes would be THIS band. Power ballad after Power ballad. All scruffy, fragile, vulnerable and heart on their sleeves. They nail that vibe again and again and then some. I dunno how that freakish near albino lead singer manages to stand upright without crutches or nursing staff and if he saw sunlight he'd probably explode in a cloud of dust like a vampire exposed to the elements, but still, as much as I love to make fun of this shit (and if I was really mean here I'd even name-drop the Goo Goo Dolls for good measure) you gotta give them credit where credit is due, for what they do they still do one damn fine job of it. *sniff* I chooose you!! I CHOSE YOOU!! WAAUUGGGHH!! *honk*
*cough* anyhoo.. clearly this shit is gonna send me to drink, so it is here that I step into ever weirdening territory of wrong with my next exotic beer: the Mountain Goat "Hightail Ale" from Melbourne. Freaaaaky! Even though I didn't check the ingredients to be certain when I tasted it I think with a certain measure of authority I can safely declare that no actual mountain goat, trace of differential goat or facsimile ungulate of near similar goatness were harmed in the flavour constituent of this goatly brew; although chances are they may've actually had a hand in the fermenting process. Still, all goats, gazelles or antelopes aside: The flavour here appears to be midway between a dark ale and a pale ale, making for a serviceable, mildly appealing if not all too forgettable fruity vibe to losen my grip on reality upon..
200 MOTELS
Which then leads me rather randomly to the next band on stage tonight: 200 Motels. This is their setlist that I nicked at the end of their get because I couldn't be arsed remembering any ACTUAL specific details from their gig tonight. Note that it is hand written and embellished with accompanying hand written notes, clarifications and directions. This is how a setlist SHOULD look. If you're typing up your setlists up with spastic wingding fonts and whizbang formatting on your C64, Amstrad or Atari then you should be dragged out onto the street and shot. It just ain't cricket and it sure as fuck ain't rock. Even better, get the drummer to write it all out for you as they'll likely mispell half of the titles, fuck up the order and then proceed to cross out half of the songs as they've forgotten how to play them (or better yet get Lee from Tony Font Show to do it). It's these little details that count towards greatness. Up and comers, take note!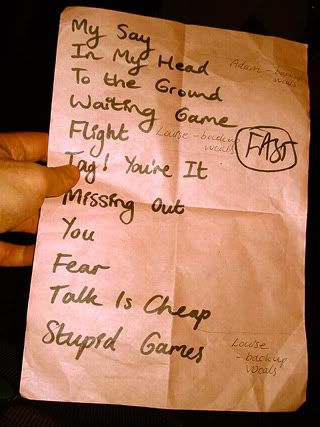 As for my lazy reporting of 200 Motels' set, regular trainspotters will notice the familiar deer-in-the-headlight opener of "My Say", the closing hissy fit screams of "Stupid Games", the welcoming and familiar hits from their debut EP getting an airing with the possible exception of "Fear" that gets cut for time (with oftime cover of Radiohead "You" also getting the chop) in favour of new songs "To The Ground" and "Talk Is Cheap" blasting out to within an inch of their lives, whilst my all-time personal favourite "Pants! Pants! Pants!" (as I refuse to acknowledge by any other name *cough*) destroys all in it's path with it's near unstoppable booty pounding death grind. The entire set blasts through like a hurricane. I swear it all blew past me in the space of 30 minutes, hit and run, fast and furious, hard edged with unmatched fury 200 Motels reduce this place to a pile of rubble. *phew* what a gig!
And so to celebrate I next head to the bar to sample a fiesty little Japanese brew by the name of Kirin Ichiban. Apparently it's a "first pressed" beer forged in secret by an ageless breed of immortal dragons resplendant with poofy poodle cuts utilising the all-too important time honoured "noble hops" ingredient. Although entirely indistinguishable by flavour from any other conventional "peasant", "prolateriat" or "peon" hops (thus tasting no different from an Asahi, Becks, Stella Artois or Heineken), it still does endow this particular brew with a very distinct and commanding authority. Drinking such an austere beverage clearly makes me feel instantly more superior and regal than everyone else around me, I feel priveledged, I feel like I could crush this land with my tiny fist in tyrant rule for millennia to come and clearly not at all like a drunken twat with delusions of grandeur who's more likely to be bowing down to a porcelain thrown than commanding power from a golden one.. weeeeeeeee!
So it is rather fitting the final beer here tonight has me crashing to earth once more, with the ever so humbling payload delivered by a funny little German brew known as Holsten Premium. It tastes just like Becks mixed with a distinctly nasty vegemite yeastiness prevalent in cheap homebrew and out've of all the beers it's clearly the most piss-weak in peasantry, although I must state for the record that if I was near stupid to also try the Budweiser for $4 off the specials menu, then THAT would've had been the new reigning champion in mediocrity. For as we all know, any good cornerstone of a civilization has got to be beer one produces: the Sumerians knew it, the Babylonians knew it, the Eyptians knew it, we here in South Australia are damn near sitting on an Eight Wonder of the World but until America learns to brew a beer that DOESN'T taste like watered down piss they'll never aspire to such greatness. I lone twit pissing into the wind drink your beer and judge your nation accordingly, feeear me!
As such, suitably enriched, emboldened and ever more the wiser from the feast to the senses experienced both musical and gastronomically monstrous at the Prince Albert, I next find myself making the journey back north to the Enigma for furthering mischief..
Whereupon I'm soon delivered full circle this week, with this tasty vegan chocolate brownie as presented by Charlie-Elf (and as mashed up all over my hand by the retarding lashings out of a particularly drunken Chelsea on the violent warpath). I dunno what the hell it was that that crazy little red haired pixie midget put into this baked good: suffice to say 6 weird beers in and one spastic vegan brownie later and I've lost all recollection of the rest of the night. However, it really doesn't take a degree in Forensic Science to figure that I once again found myself at the Cranka and then to the downward spiralings of Shotz for the second night collapsing into the gutter at the end of it all; so it's probably just as well you DON'T get ALL the details! :)
Suffice to say, despite the ever shrinking daylight, the blasting cold, the stabbing rain, the howling wind, the empty streets and the gnawing seeds of doubt hollowing out my death wish to prevail against all the madness thrown up me: like a squirrel I gather my nuts, I find my moments and live to see another day! :)
"I burn my tomorrows and I stand inside today. At the edge of the future and my dreams all fade away. I burn my shadow away.. I burn my shadow away.."
Previously on Spoz's Rant:
Scatterbrain