THE LINE BEGINS TO BLUR
sure signs this retarding lifestyle in blog is really starting to wear me thin: the accumilative lack of sleep, sore red eyes that squint and scream at the daylight, a gargling cough, scruffyarse hair like a homeless person, a stooping limp in blistered feet that oft-times gets me confused with a neanderthal, the inability to speak in complete sentences.. let alone write with anything approaching grammar and punctuation.. waking up in the middle of the night only to realise my entire right arm is dead, unexplained bruising, unexplained bite marks, unexplained tastes and then wondering if all three were caused by the same thing, auditory hallucinations of drunks yelling my name out've passing taxis, everyone knows my name and yet I don't have any fucking clue who any of them are (or where the hell I met them), my leg vibrates and I think it's the phone ringing, random fits of laughter, a space alien on my own planet, clothes that smell like a firehazard, confused and cowering from the colours of the daylight, an overwhelming sense of deja vu, constantly framing everything in sight as a potential shot, a short term memory so bad I can't remember what the fuck I did last night (let alone last week), an overwhelming sense of deju vu, the same events happening again and again with no consequence or conclusion, waking up on the bus with whiplash head movements, reality unravelling like a celtic pretzel, cogent of nothing but a test pattern a 300Hz test signal a yellow grin and a vacant flickering stare, wondering where all the time went, unable to focus, moths flittering about in my hollowed out frame, bones picked clean by scavengers, derelict and on the verge of collapse, autopilot humming with the engine on blocks, clock blinking on 12:00, the lights are on but all the residents are dead.. kill me now, reanimate whats left of me and send me out once more.. the song remains the same, reality and surreality are one, the words slur, the memories bleed, the line begins to blur..
dont push me..
coz I'm close to thaaa edge..
I'm tryiiiing not to lose ma head..
uh huh huh ha!
THURSDAY NIGHT
yeah, I know.. I really should've stayed home tonight, I was in no mood to drag myself thru this hell so soon.. fuck.. I barely survived the
nine planes of hell
I put myself through LAST week.. and yet how could I miss the official opening of the ADELAIDE FRINGE? I'm told it's going to be the social event of the year, a street party to end all street parties fuck full of bohemian freaks.. all the colours, the lights, the noise, the excitement? and with this hooting monolith dragging me out to RUNDLE ST like a moth to the flame? how could I resist? and so fuckit, against all my better wishes and better judgement to do otherwise (ack.. kill me now!), I'm here at 9PM to soak up all the crazy craaaaazy party atmosphere.. woooooweeeeeeee!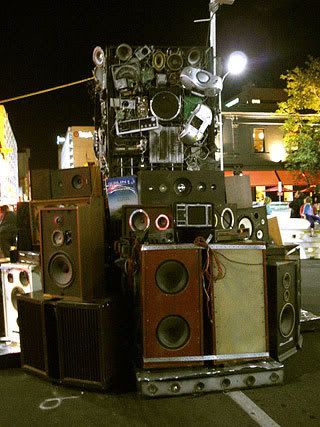 the street party was already in full swing since 6PM this evening with various stages (called "pods") situated around RUNDLE ST promoting various shows, events and live music ensembles.. but of course all of this had already blown clean through like a hurricane by the time my bloated corpse stumbled onto the scene (seriously, why should I be arsed getting here so early?) so instead I was greeted with all the alcoholic aftermath.. like these gothic twats from BRILLIG, treading the pavement, ambushing japanese tourists and busily promoting their upcoming LP and FRINGE shows.. oh, and that gimp with the feline masquarade mask? he peed on me leg.. coz darn gosh golly, I'm just THAT kinda popular around here! (come to their shows, mention my name and maybe they'll all give you a golden reception too.. weeeeeeeeeeeee! ;) )
still as much fun as it was wandering around amongst the crowds here tonight soaking up all the wondrous sights and smells, after all the pre-fringe madness of the last week (and barely a year after it last blew through town.. eeeeesh!) we were pretty much over it already.. so fuckit, it's off to the CRANKA to get drunk instead..
oh, and as much as I'd love to explain what this idiot's doing here in a rabbit suit.. dude, your guess is as good as mine (I was just thankful he didn't pee on my leg too..)
the next 2 or so hours we parked our arses on the seats outside, soaked up alcohol and watched the world go by, but finally by about 11:30PM we decided to at least make a crack at all this "party nonsense" and begrudgingly made our way for the epicentre in the east parklands.. as both the UNEARTHLY GARDENS and RYMILL PARK next door were both throbbing to the gills and humming with freaks, geeks, drunks and pillmunchers wooping it up in a sea of hands, all dancing and frolicking as one till the ugly hours of the morning.. everyone was mad up for it, you could taste all the colours and flavours, the city was alive with the beat and they were all beckoning us to join them in a maddening orgy of the senses..
yeah, fuck this shit.. we're going home..
yup, as enticing as it all was, as much giddy fun I could've had with all you circus freaks.. my accumilative hangover of dysfunction barely afforded me an hour of this shit till I had to flee this so-called "party of the year", kidnap this aerodynamic pig and fly me the fuck outta here.. no sleep, no rest and no sanity.. I was just NOT in the mood for this kinda malarky tonight..
but still, as much of a write-off as tonight was, I did keep the flying pig ;)
FRIDAY NIGHT

feeling slightly refreshed from the 6-7 hours of sleep I finally caught up with today (insomnia is sooo not a friend of mine), I head to ROCKET BAR to do battle.. on the menu tonight we have ANTONY OF THE FUTURE (the latest geek rock flavour of the month after winning the local TRIPLE J UNEARTHED competition for a spot on the BIG DAY OUT), indie dancefloor tragics FIRE! SANTA ROSA FIRE! and some arsehat band from MELBOURNE called THE DEAD FRENCHMEN.. yup, clearly I'm scraping the bottom of the barrel here tonight! ;)
and so I arrive here at 9PM, buy myself a $6 pint of pale (fuckers!) and wait for something to happen..
I drink my beer, read through all of RIP IT UP, MESS + NOISE and ONION MAGAZINE, stare at my watch after 30 minutes, wonder why nothing's happening, yawn, continue to stare at my watch, then stare at the walls..
read RIP IT UP again, attempt to while away the time taking stoner arty photos of shit around the venue (wooo! check out the mixing desk shot with a macro zoom.. looks like the fucking DEATH STAR battle scene from the 1st STAR WARS yo!)
till finally at around 10PM, utterly fed up by the lack of activity in this dump, I leave..
as I head down the road to THE GRACE EMILY instead, to catch a gig by THE FINISHING SCHOOL..
THE FINISHING SCHOOL
now you may wonder why I'd go out've my way to see these monkeys when in hindsight I could've just stuck around at ROCKET BAR for another 5 minutes and caught ANTONY OF THE FUTURE when they finally hit the stage bare moments after I left (sneaky fucks!).. I mean seriously? why FINISHING SCHOOL of all bands? why dammit? WHY!? well.. um.. coz they asked me ever so nicely that's why *cough* yup, as much as I'd never wanna admit this tactic EVER works to entice me to a gig (lest every single arseclown out there fiddling with an instrument in their bathroom attempts doing the same.. ack!) sometimes it really IS that easy..
so, here's FINISHING SCHOOL photos for your amusement.. sure, I could've also attempted to describe what the hell kinda music they played and give you some kinda live review.. but yeah, fuckit.. they didn't ask me to do that so nyaaaah! (read an
old review
if you want.. seriously, I couldn't be arsed this weekend ;) )
FIRE! SANTA ROSA FIRE!
by about 10:40PM, thinking ROCKET BAR would've at least got their shit together by now.. I ducked out just before THE FINISHING SCHOOL um.. finished their set.. only to arrive back at ROCKET BAR slap in the middle of second act FIRE! SANTA ROSA FIRE!.. grrrr dammit! to think they snuck a band past me when I wasn't looking.. you fucks!! and I was so looking forward to giving ANTONY OF THE FUTURE a shit-kicking review in my "angry weekend" too those cunning bastards.. oh I'll get you, I'll get you good!! ;)
so yeah, here's the all-too-familiar FIRE! SANTA ROSA FIRE!.. they're just like THE RAPTURE after you've taken nearly enough cocaine to make your head explode.. fun for the whole family! :)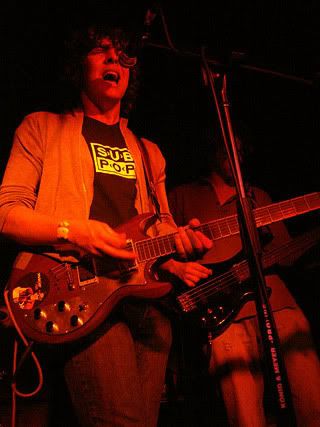 THE DEAD FRENCHMEN
after FIRE! SANTA ROSA FIRE! spontaneously combusted on stage after a lightning 40 minute set, the final headlining act THE DEAD FRENCHMEN hit the stage.. and if you wanna know what these guys sound like.. fuckit.. just think a more sadsack version of THE EDITORS as performed by some IAN CURTIS wannabee on lead vocals and guitar and some FLOCK-OF-SEAGULLS indie haircut tragic on bass and you wouldn't be far off.. and somewhat befitting this maudline post-punk groove they're kicking, it also appears whoever was meant to be running the pyrotechnics for them tonight has since ducked off to finish the last few lines of china white and exploded in the toilets, coz all we've got to work with for their entire set tonight is this depressingly near pitch black reddish murk.. still as wrist slitting indie tragics go, these guys are kinda aiiight (even if they almost make INTERPOL sound like the cartoon rock of THE GRATES ;) )
by about 12:30AM, THE DEAD FRENCHMEN take their cyanide pills and drop like flies making way for ROCKET BAR's usual host of friday night DROPOUT BOOGIE DJs to pollute our ears with their signature brand of we're-too-cool-for-you fuckoff indie disco spun wank as the dancefloor quickly fills with all manner of indie fashion-tragic chicks dancing up a storm.. and as much my dorky-arse self would like to join them and make a twit of myself out there, my ongoing mission leads me elsewhere tonight, so I head out the door to meet this oblivion head on..
as I arrive here at my next location at 14 GRENFELL ST at 12:15AM, since I'm told there's some kinda fuckoff underground magazine launch or some shit going on tonight.. but after wandering around here for the next 5 minutes I'm feeling altogether stupid coz I sure as fuck can't see any sign of it..
I was expecting some lights, some movement, bohemian party people, fuckit even SOME kinda noise that would otherwise indicate something was actually going on around here.. so it takes a while till I finally more closely examine the entrance (the old TATTERSALL building) and notice this tiny message slapped over the intercom system.. I press the button, a voice comes thru, I mention the password (well, not really.. but how much cooler would it be if I did?) at which point, the door mysteriously swings open as I'm buzzed in.. wooooo! :)
and so as directed, I stagger blindly down the dark corridoor, take the darkening stairs up to the second floor..
and arrive here, ever so mysteriously at EXCITEMENT MACHINE's magazine launch party..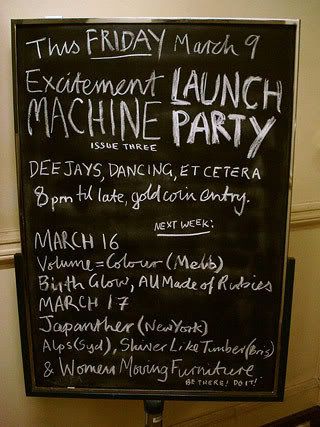 stepping inside, I find myself in a large high ceiling foyer / theatre space of some kind where a small gathering of exciteable bohemian chicks are flapping about exciteably whilst a DJ spins various 80's cheese and indie artrock tracks on the CD decks.. apparently I've just arrived here at the tail end of the party as mostly everyone else has kicked back into lazy mode on the balcony outside..
the front half of this space as I'm walking in is decked out with what appears to be chairs stolen from a 1970's airport lounge facing an exceptionally large cinema projection screen, around the DJ podium in the other half are several scruffy couches positioned at one corner, whilst a small table forming a makeshift bar is positioned in the other..
with the high decorative ceilings and early 20th century stylings, this place could either be a private eye detective agency straight out've a 1950's FILM NOIR, that fuckoff bizarre toymaker residence out've BLADE RUNNER or a place you could easily establish a decent sized ghost busting / demon exterminating franchise from..
and it is awfully odd stumbling into this place for the first time (and I must confess I did feel like I was casing the joint with my camera in tow), but the setup's pretty damn neat once you figure what these monkeys are actually trying to achieve around here.. as not only is this place (which they call "URTEXT STUDIOS") the head office for some fuckoff underground art / fashion / music and culture street press called EXCITEMENT MACHINE (which funnily enough I cannot find copies of ANYWHERE so it must be underground).. but it also doubles as a live music venue, twice weekly cinema complex and as a band rehearsal space..
yup, for only $10 a week, any 'ol arse monkey can hire out this place - "two cinema nights a week, unlimited broadband internet, cheap drinks, free 8 Ball, free admission to events and a secure space to rehearse, keep your stuff and do your creative thing.. plus access to the building seven days a week from 11AM til whenever" (from what their flyer tells me).. clearly they're fucking insane for attempting this shit.. and it's not the first time I've seen some grassroots bohemian hippy co-op like this attempted (I think the last bunch of freaks who did this in WAKEFIELD ST a few years back mysteriously devolved into a stoner treeplanting co-op in YORKE PENINSULA) but hey, you still gotta give them credit for trying it ;)
and for such a lo-fi makeshift setup it's strangely well put together too.. somehow they're paying the rent, it's well situated slap in the middle of the city (and yet conveniently far removed from any residential areas) the magazine (when I finally dug up a copy) is exceptionally lush, glossy, full colour and well produced and the views here on the 2nd floor balcony really dont suck at all..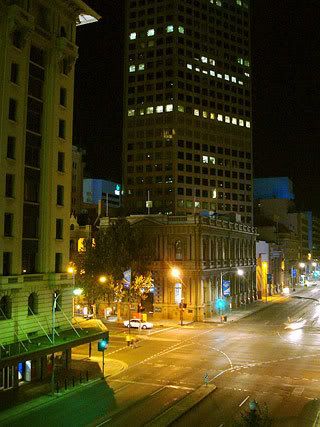 and as for the chimps to blame for this mess, we have the co-conspirator BEN here spinning the DJ decks.. I dunno what exactly he does behind the scenes, but I'm putting my money on him being in charge of the ectoplasm storage device they secretly hold in the basement..
whilst the monkey who appears to be the official voice of the whole operation, is the bespectacled STAN here who can be reached at 0421 889 253 (if y'know, you wanna send booty calls at 5AM or hire shit out or what'ever) and don't he just look reaaaaal excited about this whole venture too.. yeaah! wooooooo!!
*ahem* yup, clearly I've annoyed these monkeys for long enough already, so after drinking a beer or two, scoping out the sights and giving this lunatic operation a tentative "thumbs up", I head out the front door at around 1:30AM and head off for destinations east..
stupidly enough I thought I'd next head off to the UNEARTHLY GARDENS in search of furthering entertainment, but as the last few nights here have shown me.. for all the lights and colour of this place.. besides it being an open air venue to drink expensive beers, eat shittyarse carny food and watch all manner of nifty theatre, standup comic and music events for the FRINGE.. it's really kinda shit ;)
and so all too predictably like moths to a flame (or more appropriately like flies to shit) after gathering enough fellow alcoholics at the gardens to join me, we end up here at 2:30AM..
spending the next hour in much aimless drinking and piss farting about as per my usual perscription.. till I'm out the door at 3:30AM, on me cheaparse bus and the screaming fuck outta here..
SATURDAY NIGHT
for tonight's serving of ear bleeding tinnitus I find my weary carcass tipped out've the pinewood pox here at JIVE at 8:30PM to see DOUBLE HANDED, MORALS OF A MINOR, TOKYO CITY SEX SHOOTERS and TONY FONT SHOW.. and since I've reached this juncture in time after spending the last 2 weekends hitting it hard 4 nights in a row (and on the 3rd night of another 4 night bender this weekend) I came to the somewhat misguided decision that I probably should AVOID beer altogether tonight.. partly to save my rapidly diminishing cash funds, partly to save me an all too premature position on the liver transplant list and also for shit n giggles to see just what the hell would happen.. although, in hindsight, this will clearly be the LAST time I'll ever attempt something this stupid - me sober, surrounded by pissheads at a live music venue does NOT make for a happy pappy (I'm seriously surprised I didn't kill anyone tonight ;) )
DOUBLE HANDED
first band up on stage tonight is DOUBLE HANDED at 9PM.. usually this'd be the point I'd switch my brain off, think of anything else other than wot'ever the fuckarse retarded prog-rock doom shit they're serving up on stage and just concentrate on getting photos of them that (a) don't make them look like they're all 12 years old (except perhaps for the drummer FOX FAEHRMANN who's increasingly starting to resemble a somewhat shrunken IGGY POP) or (b) feature an incoherant blur of lead singer SHAUN HOLTON swaying like a POLIO victim in front of the drummer with his back to the audience.. since, quite frankly their music kinda annoys the piss out've me most of the time.. and yet surprisingly, even all too sober here at the beginning of the night, for the first time ever I'm actually genuinely enjoying their shit tonight.. like, they're actually rocking out something fierce.. like fuck, yeah! for obnoxiously self important po-faced progrock.. you guys actually DON'T totally suck, yeaah!! wooooo!! ROOOCK!! (note: although this still does not in any way imply that I will actually buy your EP ;) )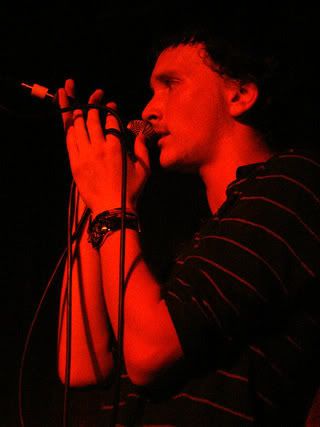 MORALS OF A MINOR
and speaking of bands that apparently don't suck any more.. *cough* up next at 10PM we have MORALS OF A MINOR cutting up the stage with their signature slice of swirling hippie rock.. a band that's altogether quite catchy and funked out with some really cool early 80's U2 sounds as long as you ignore all those weird extended bits where lead singer SURAHN sounds like a multi-octave CHRISTINA AGUILERA with a head concussion.. in fact this set tonight would've been a damn near perfect jam if not for that comical pissant SEAN KEMP behind the lighting deck who insisted on firing off all the stage (and house) lights in a permanent blinking strobe for over 40 fucking minutes.. sure, you may think the constant flashing makes for fists in the air rock n roll.. but after being dosed with more than enough of this fucking shit to send every epilectic in the crowd into spastic foaming convulsions on the floor (and cursing and swearing as I took 1000's of wasted photos attempting to punch thru it) surviving till the end of this blinking torture made me so freaking psychotic that it took near all of my will power to stop me from wanting to fucking stab someone (ie: SEAN on the lights) oh, it also obviously didn't help my mood that I wasn't drinking either.. still.. near homicidal rage blackouts aside, soundwise it was still a damn cool set ;)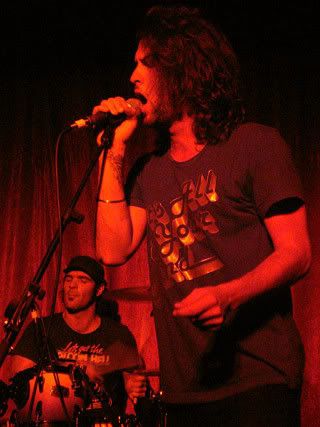 TOKYO CITY SEX SHOOTERS
and now third up for the slaughter tonight we have TOKYO CITY SEX SHOOTERS at 11PM.. in what could be considered a bit of a mixed performance for these guys tonight.. sure it's always infinitely freaking cool to see that lunatic robot dude dressed as OPTIMUS PRIME smashing it out on the drums (seriously, how the fuck he manages to see the kit is anyone's guess) and as always they cooked up some seriously fuckoff wacky early 70's psychedelic PINK FLOYD instrumental bits layered with flangers, phasers and UFO buzzing bucketbong weirdness that'd be fucking cool to drop acid and trip balls to.. but yeah I dunno, the timing just felt a bit off with most of the other more lyrically driven FRANK ZAPPA shit.. like each of the band members were playing polka, salsa and bossa nova respectively and were then badly dubbed by B-grade chinese kung-fu movie translators into something that approached a mistimed psychedelic freakfest (in hindsight, the band told me that this was due to them only getting guitars in the foldback, and thus were able to hear shit of what the rhythm section was up to) but still, as messingly stoner and shambolic as it all got, as a whole it still worked (and fuckit even if it didn't, MUTHA FUCKING ROBOT DRUMMER WITH BLINKING LIGHTS YO! WOOOOOOOO! :) )
TONY FONT SHOW
and now finally at 12AM we have the all too ridiculously familiar TONY FONT SHOW on stage.. and since there's no way in HELL I'm ever gonna see these monkeys live without a beer (or 5) in me hand (or tipped all over me as is often the case with a fuckoff moshpit as insane as these monkeys cook up) it's straight to the bar to shotgun as many pints as I can before diving headfirst into the shitstorm oblivion of arms and legs brewing in front of stage.. yup, no matter how tired, cranky, hungover, blinkingly pissed off or otherwise utterly knackered and braindamaged numb I am from weekend after weekend of this shit.. get those TONY FONT SHOW idiots firing up on stage and you can't help but wanna kill yourself all over again with a grin on ya face.. they're like a shot of adrenaline stabbed through the ribcage set to a beat you can pogo through walls with.. sure, they may be accused as being nothing but cheap funkmetal knockoffs of MR BUNGLE, FAITH NO MORE, PRIMUS or early RED HOT CHILI PEPPERS.. but with a crowd like that out there going beserk, who fucking cares? toss me in like a live hand grenade and here we go.. woooooo! :)
*phew* and now that the smoke has cleared, and all next of kin and relatives have been called to identify the bodies.. with the time ticking past 1AM and the bar closing up, it's time to get the fuck out've here and see what furthering mischief I can find..
so once again I head off to the UNEARTHLY GARDENS in the deluded belief that I'll find something marginally entertaining here.. but, meh.. this place gets boring reaal quick.. NEXT!
and so, like clockwork it's back here to this festering boghole to while away the rest of the night.. as I feature my usual drunken SATURDAY NIGHT hall of shame for the cheap amusement of my blog viewing audience..
as we feature this barely coherant piss monkey from the band LOEMAX..
this exceptionally inebriated loon from ambient act SOJOURN making an absolute twit of himself for the amusement of many (of course I could mention that they're playing a gig next weekend and even tell you WHERE and WHEN.. but meh, I couldn't be fucked this week ;) )
some scruffyarse git who's name I'll conveniently forget (as I know it'll piss him off) with MADAME CASS showing us just how classy and respectable an establishment like THE CRANKA can be at this stupifying hour of the morning (oh, and be sure to ignore SEAN KEMP attempting to mug himself into yet another photo this week for cheap publicity.. I dunno how he always manages to sneak himself in there.. baaaaastard! ;) )
and finally another photo of me in my continuing series of "we are fashion, you are nothing!".. oh yes, we really are THAT emo tonight kiddies! (and she's not even wearing pants.. wooooooo :) )
by about 4:30AM, things have clearly gotten far too stupid.. and so after being kicked out of THE CRANKA upon closing a little past 4AM and despite all efforts by SARA, CASS and the other mischevious goth twits to drag me into SHOTZ, I decide to make like a tree and fuck off home.. clearly there's no way in hell we could've topped
LAST week's
performance in there anywaze (not unless we had a full blown masquarade orgy then torched the place ;) )
and so fuckit it's off on the last pissy 4:30AM bus for me.. as we bring to close my relatively sober, reflective yet no less shambolic mess of a SATURDAY night.. *phew*
SUNDAY NIGHT

at last we reach the final chapter, salvation is almost at hand, one more night of this grinning hell and I'm free! free at last! FREEEEEE!! WOOOOHEHEHEHAHAHA!! (which is an awfully silly thing for me to say considering I actually choose to live this hell each weekend of my own free will ;) ) but of course to survive this endgame one obviously needs a fuel source .. beer alone will not do it, tequila shots won't do it, absinthe sure as fuck won't.. nay, what one needs is some good 'ol solid trashy as fuck food.. and not just any 'ol food at this ugly end of the stick either.. not FRUMPTY DACKS, CRAPDONALDS, DIGUSTIFIED CHICKEN, SLOPWAYS or PIZZA MUTT.. oh no... it's time for the big guns baby!.. bring on the CHINESE FOOD!!
yup, I can't for the life of me remember which CHINESE restaurant this was, whether it was YING CHOW, MING CHOW or PING PONG CHOW or even CHOW DOWN for the real anatomically abhorrent odds and ends.. but either way, between the 6 of us gathering gastronomic terrorists we fired up one fuck of an uglyarse (yet cheap as monkey scrotums) banquet.. damn was this shit good :)
to aid in this indigestion, I chased this all down with a fine selection of ASIAN beers brewed by dragons, wood spirits and honourable ancestors of hooting hobgoblins and sea monsters.. TSINGTAO on the left had quite a nice crisp clean taste whilst the SINGHA on the right had more a full body grunt.. either way it's just as well we got the ever so spiritually cleansing green tea to go with this glutinous mess of alcohol poisoning, black bean, honey soy and MSG or we would've all keeled over dead by now :)
anyhoo.. finally after an hour of sufficiently bloating myself stupid to the point that you could shave my head and beard, paint me head to toe in gold leaf and stuff me on a pedestal with some incense with no one being the wiser.. I somehow managed to roll my carcass up the 3 flights of stairs to ROCKET BAR at 9:30PM for the ARTAX MISSION CD launch.. originally I heard some crazy rumour there was gonna be a mysterious 3rd act to compliment ARTAX MISSION and LADY STRANGELOVE tonight featuring the lead singer from MY SISTER THE COP vs MIKEY from ARTAX MISSION (thus why I got here at the ridiculously "early" hour of 9:30PM) but since the world was clearly not ready for that unholy union, I was once again left to go slowly barking insane for over an hour till a live band would three dimensionally burp itself up on stage..
LADY STRANGELOVE
a little past 10:30PM, LADY STRANGELOVE at last rewarded our infinite patience as they chose human form, materialised out've the bubbling ether and into the prime material plane before us.. presenting us with a sound not too dissimilar to the WW2 ALLIED invasion at NORMANDY mixed with the sound of 50,000 light sabre wielding green midgets going apeshit in an echo chamber as remixed by the CHEMICAL BROTHERS.. as fuckoff chaotic yet funked out it always is (just like the spinning imaginary geometric shapes that form in the white noise of a tv set).. it seems that repeat listenings to 30-40 minutes of this insanity actually yields hallucinations of something that almost approaches coherancy.. I'm starting to hear shrieking voices that almost resemble lyrics.. sure, as like most psychedelia they tend to just sound like an exceptionally drunken ROBERT PLANT as he's trying to order a kebab at 3AM, but it's still there if you can find it.. just as I can also pick guitar parts that don't altogether sound like a flock of geese intercepting a ceiling fan.. shit, could I just be imagining things, but is it possible under all the wacky conjuring and hammering beats that drive this to frenzy point, under all the chromatic bubblings that there's an actual verse / chorus 3 minute pop song with a sing along hook? and if there was would my head explode? the mind boggles.. sure I continue to not know what the fuck any of this means.. but dammit, I like it :)
ARTAX MISSION
after spending a good solid 45 minutes staring cross-eyed into the tie-dyed swirling patterns melting off the walls in search of the ever elusive sailboat having sex with a pod of dolphins during LADY STRANGELOVE's set.. ARTAX MISSION follow up next at 12AM, hammering out such a monumental 150 dB blasting spitfire dirge in honking pan-dimensional transmogrification, third eye splitting multiphasic channelings and cascading golden showers in incandescent bat guano mixed with lead singer MIKEY's drunken 3AM ROBERT PLANT lyricism and bass player JULES's paganistic shrieking for the cherry on top.. that an entire fleet of INDONESIAN airliners could've nosedived straight into the CRAZYHORSE next door, catapulting flaming wreckage all across HINDLEY ST and none of us here in this venue listening to this would've been any the wiser.. fuckit even if one of the engines plowed right through the roof like DONNIE DARKO only to miss the drummer MARVIN the MARTIAN by mere millimetres, we wouldnt've blinked a 3rd eyelid, sneezed a 3rd nostril or twitched a 3rd earlobe, but would've instead all collectively raised our 3rd thumbs in the air in salute (hmmm, ok.. somehow that last phrase just sounds crude) yup, as deafeningly loud as this all was, as incomprensible and as utterly artistically nonsensical.. nothing quite cleans your skull out, blasts your brains out all over the walls and makes your eyeballs explode quite like these audial terrorists.. ROCK! :)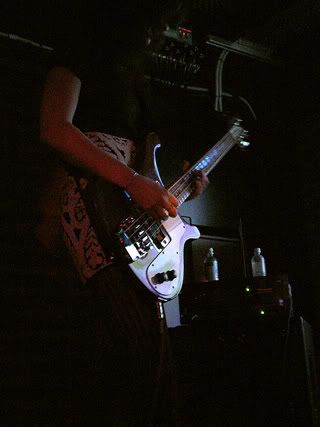 and yet it's funny to think after all this.. after surviving these last 3 weeks, these last 4 nights and surviving a double act of such face-melting magnitude that in the end there actually wasn't a CD to "launch" tonight.. as it turns out the psychedelic mini album I'd been waiting all these 3 weeks of insanity till tonight for had been delayed in transit due to a fuckup with the printers.. perhaps they lacked the crucial AREA 51 alien reverse engineered graviton pulse-drive technology that was required to print all the otherworldy colours and patterns they required.. or fuckit, perhaps they just couldn't find a sufficiently badass image of a naked chick riding a unicorn in time.. either way, I don't have a shiny album dammit! gnaargghh!!
still for a SUNDAY night in sleepy 'ol ADELAIDE where apparently nothing ever happens (shit, I can only wish can't I?) this made for one helluva tripped out night to end one fuck of a tripped out weekend.. sure, chances are it'll take me another week of intensive therapy to get back onto solid food and recognise simple shapes and colours again.. and chances are I wont even remember this week come the next (if i even survive that long) and likely I'll face yet another fucking avalanche next weekend of such magnitude that'll send me spiraling into ruin again (to the point where I'll question myself again as to why I continue with this shit every fucking week.. ack!) but truly for self destructive idiots like meself with a retarding thirst for live music, is there any other way to live? ;)
Previously on Spoz's Rant:
Clubbed To Death