CLUBBED TO DEATH
I've come to the conclusion of late.. lo these many years culminated in pissing on the ashes of rock, lo these many years of utter self destruction and damn near killing myself rotten night after night in countless seedy venues, pubs and nightclubs with all you 24 hour party people in service to the howler monkeys on stage only to be reborn again and again so squeaky clean like WILE E COYOTE that I may indeed be in possession of freakingly awesome superpowers.. sure they may not be one of those fancypants superpowers all them cool kids are fucking about with these days.. wot with all the stopping of the bullets midair, the leaping off of tall buildings and the shooting of the laserbeams out've their arses.. they may very well be really really marginal superpowers, more or less utterly fucking useless for saving the planet or holding me own in a bar fight.. but I still think they're still pretty freakingly awesome all the same.. I mean shit, how else do I explain my inhumane ability to kamikaze headfirst into the nine planes of hell that constitute this live music scene and yet come out the other end with barely a scratch on me? a happy accident with the microwave or a rapidly diminishing IQ? who the fuck knows? all I DO know is that I can no longer be killed by conventional weapons and I may very well not be of this earth, I walk amongst you, I live amongst you, I look and sound just like you but I am not one of you.. and yet despite our differences I shall forever endeavor to use these awesome beer soaking powers to serve the forces of good and NEVER for evil (although considering how much mischief I cause around here, this whole "EVIL" thing tends to be a bit of a grey region ;) )
but of course like any self respecting ubermensch, I couldn't possibly do all this without some wicked cool gadgets to fuck about with.. and as we all know the most infamous in my service would hafta be my ever faithful sidekick.. my digital camera.. my CANON IXUS v3.. in over 4 years I never did give it a name, never really felt the need to, but for the sake of all you sentimental twits who DO.. lets call her "SPARKY" - built like a fucking cockroach and able to withstand an atomic bomb, there is no less a weapon I would ever chose to go into battle with..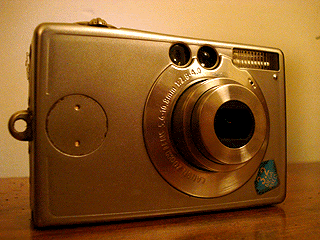 but of course, living as we all do in this fast-paced post industrial and post apocalyptic world of accelerative advances and increasing perils to our life, love and liberty, we've gotta constantly update and upgrade or be put 6ft under by the next diabolical flesh eating zombie that comes our way.. a 3 megapixel camera, no matter how bomb proof cannot hope to serve me forever.. and so, it is with this grim purpose of survival in mind that I've finally come to upgrade my camera with this brand new photographic gizmo - the SONY CYBERSHOT DSC-W70.. again, I haven't given it a name.. but for those who do like to give things names I shall henceforth christen her as "FRISBEE" after it's miraculous flying abilities as displayed in the CROWN N ANCHOR this FRIDAY at 2AM (how it didn't shatter on the dancefloor into a million pieces is anyone's guess?)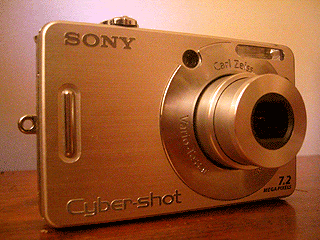 I wont bore you with the maddening details of how I came to acquire this device, as I went to no store and no cash ever changed hands in it's acquisition (and chances are you wouldn't even believe me if I told you the full scope of it anywaze) suffice to say.. being as it is the new acolyte to the fold, for all the promise this FRISBEE holds, for all it's awesome power.. it's mettle must be tested.. and what better a weekend in bowel evacuating terror than this one to truly put this camera to the challenge.. can it go toe to toe with a battle hardened lunatic like me and survive to tell the tale? we shall see kiddies.. oh yes.. we shall see indeed! MUHAHAHAHAHA!! ;)
THURSDAY NIGHT
our journey begins humbly enough here at the GARDEN OF UNEARTHLY DELIGHTS at 9PM.. yup, just when you thought it was gone for good it has once again rather covertly erupted itself back onto the east parklands moonscape like a foul hallucination fresh from the worst of BAZ LUHRMANN's wildest fantasies, just one week before our official FRINGE opening and looking for trouble.. oh may the ever vengeful sky demons have mercy upon our spleens!
you may remember this place from last year.. you may remember just like the PERSIAN GARDENS it was host to so much
infamy and retarding mischief
in one month that they had to shut it down and pack it away in boxes lest the rising tide of anarchy engulf this city whole..
this year, however it serves a duel purpose.. for not only does it attract all manner of free thinking anarchists to revel in the wild decadence of artistic depravity this place affords, but also in opening a week early it has formed a rather effective forcefield to fend off all the petrol sniffing zombie hoards in HOLDEN team shirts and fluffy mullets who've descended upon this fair city for the rubber burning fury of the CLIPSAL 500 races this weekend..
if you look carefully, you can almost see them hovering near the freshold, sniffing at the great divide.. attempting to breach this near impenetrable forcefield, only to shriek like chimps when their fingers get zapped.. "AUAUAGHH!! ART AND CULTURE!! IT BURNS!! IT BUURRRNS!!"
of course, as much as culture vultures like to go a wet patch over how wondrous it is to have this place back.. really it's not a fuck of a lot different from last year - there's that same ferris wheel, that same carousel, the same food stalls, the same chips in a cone, that same bigtop venue.. sure the trapeze has been replaced by an altogether different trampoline harness, the SPIEGELTENT has been swapped for an open air dancefloor and there's this new funky shipping container venue stuffed in a corner somewhere.. but really, it's all the same shit from last year, only with a slightly different smell.. where's the novelty I ask's ya, where's the innovation?
but why think such lofty matters when like any self respecting alcoholics there's more important things to do.. and so, soaking up the ambience with overpriced beers ($6 for a TOOHEYS and $7 for a HEINEKEN!? eeeesh!) we whiled away the next few hours watching all the colourful freaks pass us by as we thought up new and more
mischevious pranks
we could inflict upon Adelaide in the name of art.. aaaaaaah the FRINGE FESTIVAL, it's good to be back! ;)
but, being as this is my pitiful excuse for a live music blog, my rest and relaxation is shortlived as my self destructive impulses drives me to do battle here at the land of eternal twilight, THE ELECTRIC LIGHT HOTEL at 10:30PM..
TRIXIE PLAIN
first up on the menu, we have TRIXIE PLAIN on stage in a hissy fit of smashing percussion, deranged shrieking, fuzzy punk guitars and stoner keyboard flourishes.. coming off altogether like what an exceptionally ugly domestic dispute would sound like if mixed with THE HIVES.. a brilliant display in anger management (as always) and their song "CIRCULAR VIEW" was a particular highlight (hey, they mention my name in the lyrics.. woooo!) but if I listened to this for far too long with a hangover, I swear my head would explode (so remember.. as always kiddies, enjoy TRIXIE PLAIN in moderation.. this shit could kill ya!)
yup, you know this band's asking for trouble when THIS is their setlist.. yeeeouch!
KAMIKAZE
up next at 11:30PM, we have the infamous fuckoff punk act KAMIKAZE.. who've dug a rather deep hole for themselves as far as this blog is concerned as I doubt they'd ever be able to top the a-grade a-bomb performance they unleashed at the CRANKA back in
august last year
without damn near killing themselves in the process.. who could forget the splattering cows heart? the gashed and bleeding head injuries off the cymbals? the stagedives off the speaker stacks? the howling incoherance? aaaaah.. such memories.. still as much as any other performance would pale in comparison, these monkeys still gave it their all with their own peculiar brand of chainsaw buzzing demolision punk that ended in DICK DALE the singer and YUKKIE the bassist coming to blows on the floor back of stage.. messy as all fuck but like fuck did it rock :)
after the gig I spend the next hour or so pissing it up with LAKEN and SAM from ANGELIK (as they tried to convince me to go on tour with them in SYDNEY at the end of this month.. hmmm?) till the bouncers rather unceremoniously threw us out at 12:30PM..
and so its back to the UNEARTHLY GARDENS to continue to drink myself into a coma.. the misadventures of which wouldn't normally merit much mention in closing this night.. except for a rather surreal moment when I not only accidently crossed paths with KAV TEMPERLEY from ESKIMO JOE, but also witnessed a female singer from local band (who's name I wont mention *cough*) turn up, chat him up and promptly leave with him.. heh, trippy ;)
either way, by about 2:30AM and swirling into incoherancy it was time I bid goodbye to my fellow alcoholics EMMA (the welsh midget), SCOTTY, that crazy chick with the tutu and all the other carnival freaks and get me a taxi the fuck home.. granted, it's not a massive effort by anyone's measure, but something tells me this weekend is only gonna get a whole lot messier from here on in ;)
FRIDAY NIGHT
shuffling back to this mortal plane no worse for wear from last night's misadventures and with my new camera still ready to do battle.. I return once more to the fray, arriving here at the JADE MONKEY at 9PM to see what foul sorcery was afoot..
as per the norm of any given night, I was planning on my usual heavy dosing prescription of COOPERS PALE as supplied by ZAC the psychic bartender (whodafunkit he has his
own band
too!? freaaaky!) but it appears someone else has altogether different plans for my annihilation tonight..
enter the ever infamous STONER ANDY, who, looking for more refined levels in alcholic debauchery tonight opts for a bottle of red wine instead.. but only on the condition that I also drink 1/2 of it meself.. and so there I am, looking at my still near full COOPERS, looking back at the offered glass of wine.. back and forth.. lost in thought at this befuddling predicament..
aaaaah fuckit.. why not do both? what possible harm could come of this? ;)
not to let STONER ANDY off the hook so easily, I got him mixing it up as well.. clearly if I'm gonna sink to a watery grave, I'm sure as fuck gonna take this mischevious bastard to hell with me.. (we all know this couldn't possibly end well, but who are we not to try this shit at least once?)
200 MOTELS
first band of the night, 200 MOTELS hits the stage at 9:30PM.. and in watching tonight, altogether swirly on wine and beer.. I remember many moons ago when they first started, like fluffy little deer facing the uncoming headlights with their big brown doe eyes, unaware of the impending doom coming to smear them across the tarmac, like a tiny fragile yet cute chick rock mix between PJ HARVEY and THE HOWLING BELLS all nervous and eager.. but now with an EP under their belt, and a bunch of new songs well on the way.. these dudes are downright scary.. they're primal, they're freaking animals maaaan.. that new song, "TALK IS CHEAP"? with all these fuckoff diabolical tribal pounding drums and this terrorist guitar and bass grind that sounds like the demonic summoning of MAYNARD KEENAN.. and that other new concotion, "TO THE GROUND".. it's pure fucking filth.. it freaking eats people and spits out bones maaan! this BAMBI's come to FUCK YOU UP MAN!! WOOOO!! YEAAAAH!! ROCK!!! (either that, or I'm just taking the piss.. coz dammit that 1st animation is so freaking insane! bwahahahahaha! :) )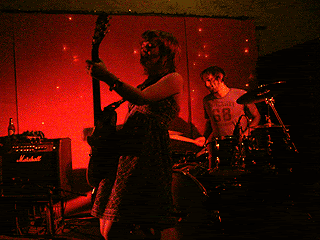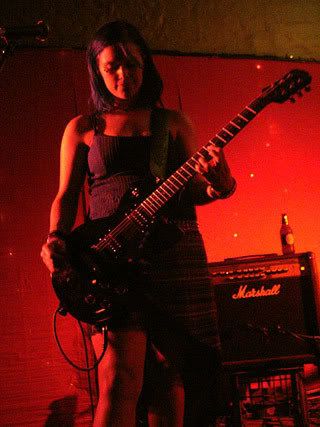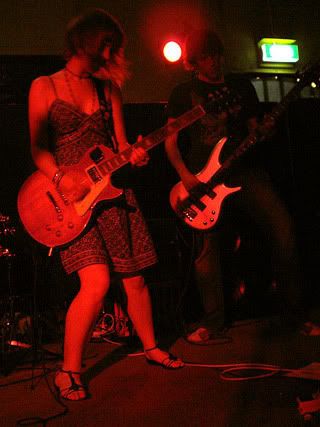 with 200 MOTELS finished, and with the splintering wreckage of their instruments hosed off the stage for the next band, I decide to make a quick detour across the square and down the road to the CRANKA.. to catch another band already in session..
KASAVETT
as I arrive at 10:20PM to catch the 2nd half of KASAVETT's set.. short, sharp, gnashing terrier tinged british style punk rock.. just like the pissy aggression of THE HIVES, the indie pop-hooks of mid 90's UK act ASH and snarly microphone inhaling sounds of GREENDAY in their prime before they sold out and utterly sucked balls with their latest emo opus "AMERICAN IDIOT".. yup, they're scrawny little fuckers (well, except for the drummer who kinda looks like HUMPHREY B BEAR with a hangover) but damn can they bash out a good tune.. well worth the brief detour methinks :)
arriving back at JADE MONKEY at 10:45PM I finish off the last of that bottle of red.. only to be greated by a 2nd bottle of wine.. and so, not to be outdone.. I front up with another beer..
TOKYO CITY SEX SHOOTERS
TOKYO CITY SEX SHOOTERS are already in full swing on stage.. cooking up a blissful swirling incoherancy in space cadet 60's funk and SESAME STREET tinged psychedelia that rather well compliments the blurring incoherancy and hooting braindamage I've reached in my furthering intoxicant'cy tonight (check it out, I just invented me a word there!).. all the swirling gonzo keyboard melodies, the fuzzing and buzzing riffs, the nursery rhyme lyrics, the theatrical masks, that wacky robot drummer in lights.. it's all making perfect sense to my brain.. like TENACIOUS D meets 60's PINK FLOYD in all their childish SYD BARRET brilliance.. it may sound like a car crash on paper.. but when yer sliding blissfully down that slippery slope of alcoholism into one helluva skull splitting migraine come tomorrow.. this shit is GOLD baby, GOLD!! :)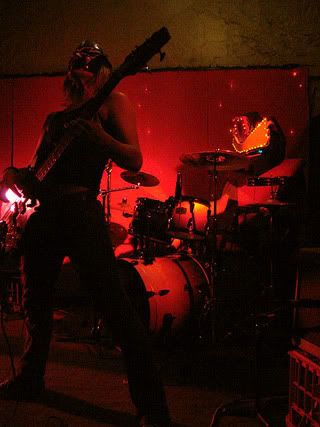 QUIET CHILD
next band.. QUIET CHILD at 11:45PM materialises as if from nowhere, perhaps they were there all along hiding in the shadows like creeping executioners.. perhaps I'm totally out've me fucking gourde.. all I do know is that the 2nd bottle of wine is already gone, I'm back on the beers again and reality is nowhere to be seen.. sonically the band are like the melodic melancholy of THE DEFTONES mixed the brooding creep of TOOL, sprinkled sporadically and made occassionally fluffy and light by all these noodling lighter songs reminiscent of TEAM SLEEP (just not nearly as wanky).. they're technically flawless, freaking brilliant musicians and yet me and STONER ANDY are still barking insane and heckling them between songs.. somehow they don't seem to mind.. sure we may be pissed out've our eyeballs and acting like dumbarse giggling dickheads.. but at least we appear to be an appreciative audience none-the-less..
with QUIET CHILD dissolving into the darkness that spawned them, JADE MONKEY slowly emptying out close to 1AM.. and with us idiots nowhere near close to ending this misadventure anytime soon, we next make our way down to the CRANKA..
making our way to what would normally be a spilling wreckage in uncoordinated flailing and projectile vomiting on the dancefloor.. we are altogether surprised when we stumble upon some familiar faces in an altogether uncharacteristic peaceful and tranquil moment of repose.. hmmmmm.. perhaps we've found them in their true natural state.. perhaps their characteristic and infamous slapstick lunacy is merely a ruse? or is JOE BLOGS here attempting to catch up on months of unpublished backlog blogs using nothing but the power of his brain? the mind boggles :P
not one to appear out've place and infinitely more attuned to the multidimensional swirling bong frequencies that only he understands.. STONER ANDY blends in with the silent gathering..
aaaaaaaw, how cute.. look at KATE and EZZ, so happy, so tranquil, so at peace with the inner flow of the universe.. can we take them home? huh? huh!?? can we!? :P
this peace of course is soon shattered when this retarded baboon comes stumbling in thru the door and fucks up everything in his path with his hyperactive dance-moves.. "WEEEE!! WAAA!! WOOO!! WOOO!!" as quite like a tornado.. SPOZ on the piss destroys all who dares stand before him! (note: for best result try playing this animation to CHEMICAL BROTHER's "DIG YOUR OWN HOLE".. it'll freaking melt your face off... woooooo!)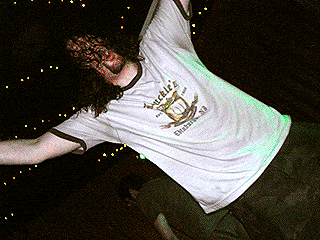 or at least he does before ultimately crashing to floor and taking several unwitting victims like SIMONE here with him (coz obviously I'm perfectly in control and the forces of gravity are at fault!)
yup, trust a goofyarse idiot like me to bust up a perfectly good bit of 1AM meditation and inner reflection at the CRANKA with my piss minder antics (and seriously, who the FUCK put that plastic cup on my head like a teeny hat damnit!!?? grrrrr..)
and so, with my corrupting influence, it's all rapidly downhill spiralling into oblivion from here..
although oblivion can look rather appealing.. hmmmmmmm.. where DID my brain go!? ;)
yup, we're class acts all the way baby! all the way to where exactly I wouldn't know (but something tells me wherever it goes, it wouldn't be able to navigate it's way thru the befuddling conundrum of whether the exit is a PUSH or PULL door.. *ow, smacked me head again!*)
and yet still as much as we're having so much fun resetting our brains to the gurgling level of a baked potato, after a few hours of this we'd clearly had enough and were seriously in need of a quick escape that won't require a confusing doorknob to navigate..
and so intellectually fulfilled, culturally enriched, and altogether vibrating at the same frequencies as the 11th dimensional quantum string filaments that hold this universe in cohesion.. we depart from our hooting monkey cage like conquering heroes disappearing into the shadows of the night, as I leave at 3:30AM and off to my late night bus home..
thus bringing to a close another chapter in my contemplative and empirical study towards uncovering the many varied cultural flavours and nuances of our post modern 21st century human condition *burp* whoaaa.. that last beer burp taste like wine.. eeeeeeeeeeeeee! I'm a goldfish! I'm a goldfish! *walls spinning.. unconciousness*
SATURDAY NIGHT
despite any and all available documented lore and word-of-mouth rumour that would claim otherwise, knocking off what amounted to an entire bottle of red and 4-5 COOPERS PALES (sometimes even at the same time.. and yes, once even gargled like mouth wash in the same gulp) did not eventuate in the mother of all hangovers today.. there was no splitting migraine, no seasick churning stomach, no furry tongue.. dammit, it was like I woke up today a clean slate.. like nothing happened.. like I somehow did indeed possess freakingly awesome yet incredibly marginal superpowers.. even more surprising still.. my new camera, aka: FRISBEE, which I christened as such after having it tossed to me across the dancefloor of the CRANKA last night only to miss my hands entirely to smack into the stage floor while it's LENS was still extended (thus leading to much frantic popping of the lens back INTO place for the next 5 minutes till it would retract) is still surprisingly (with a bit of physical therapy) fully operational and ready for round 3 of carnage I'll inflict on it tonight.. as I arrive here at the ROCKET BAR at 9:30PM..
LADY STRANGELOVE
first up tonight at 10PM, we have the welcome return of the psychedelic wingnuts LADY STRANGELOVE.. who last melted the faces of many way back in
DECEMBER
.. since disappeared to dimensions unknown for a few months.. only to return once more tonight, fresh and stinky with pungent mushroom spores to irradiate the air, reign in the pulsating chromatic folds of the infinite and spit it all out in kaleidoscopic cascades like frosty fruit loops to our malfunction senses.. (hmmmm.. shit, come to think of it, reading that last sentence I think that red wine really DID destroy my brain last night.. oh well, doubt anyone will notice) and since it's been a few months between nibbling the peyote cactus.. their sound is more direct and obvious tonight, I can actually recognise elements, even quite possibly coherant lyrics.. it's like I've had a rare moment to peer behind the wizard's curtain to see the midget pulling those wires and everything's too distinct and linear.. and yet, after a few beers and my accumilative weekend dementia, the effect still works.. even a little raw they still fuck you up good n proper ;)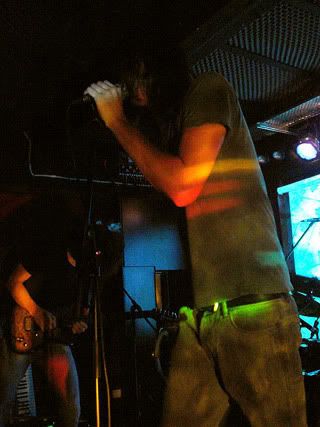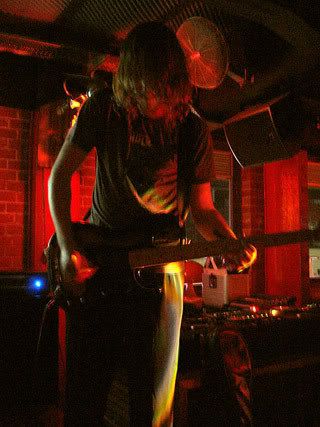 PIVOT
up next following LADY STRANGELOVE at 11:30PM, and headlining tonight we have PIVOT from SYDNEY.. a tripped out ambient / downtempo breaks act similar to MELBOURNE act MOUNTAINS IN THE SKY who last played here back in
OCTOBER
, and like their interstate contemporaries they're primarly a 2 piece act (although mysteriously only until recently they were actually a 5 piece) one member on drums, the other alternating on guitars and keys.. you could almost consider them clones.. except these guys do seem to come off as more jazzy, minimal, contemplative, spikey and skeletal in their percussion groove.. there's elements of DJ SHADOW's "PRIVATE PRESS" album in here and the visuals are altogether trippy.. but after a while your senses do tend to drift a bit.. still as a loungy listening experiences go, it's quite cool to nod your head and bug out to ;)
after the gig, I continue to piss on.. momentarily bumping into JOSH the AFRO EXPERIENCE from LADY STRANGELOVE and the two dudes from PIVOT.. likely lost in conversation over the intricate hydroponic and engineering skills required to effectively design a triple barreled gravity bucket bong that encompases your entire house whilst also acting as a backlit hamster run (although clearly I've just misheard a few words in passing, so don't quote me on this..)
for cheap retarding shits n giggles I next challenge JOSH and the drummer from PIVOT to a battle of the AFROs.. I dont think there was any clear winner in the first round since they both seem to possess spectularily large fro-domes, but after the 2nd round with the spastic rubber-necked chicken dance off, it was all too clear who was gonna claim
ultimate victory
tonight..
however with the time ticking over 1AM, and with my IQ dipping dangerously below that which would be required to safely navigate the stairs to the exit without making a piano accordian of myself.. I thought a change of scenery was in order.. and so I bid my farewell to my fellow technicolour cosmonauts and floated out've the door for journeys beyond.. journey's to the east.. journey's to further my explorations in the nuance of beer.. aaaaaaaah beeer :)
it was somewhere in the CRANKA that I soon bumped into JOE BLOGS, apparently still alive after last night's misadventures, although from all appearances considerably less mentally coherant.. apparently we were embarking on a mission to the UNEARTHLY GARDENS to seek out SIMONE.. not that you would ever know from this display in human origami as JOE BLOGS proceeded to jump off and into a series of industrial objects time and time again like an oversized lemming..
as it turns out when we collected her, SIMONE was even more howlingly drunk than JOE BLOGS was, as she'd earned her stripes this evening by spending the entire night drinking every single one of her lesser colleagues under the table at some work function.. she told us many a strange thing in our travels from the GARDENS.. such as how originally she had a matching gold cowboy hat to this themed outfit, that hat got mysteriously stolen, only to be swapped for silver tie she nicked off a gay guy, before he ducked off to get lucky, before a striptease pole dancing routine she performed on the carousel to the amusement of many passers by.. the rest of what she says gets lost in translation, but I do remember her nearly getting run over by a passing car whilst telling her story on the way to the ATM and shrieking ever so hilariously "NOOO!! NOOO!!, YOU CAN'T RUN ME OVER!! I'M EVER SO PRETTY!!" aaaah yes, SIMONE.. you do so very much rock! :)
obviously in dealing with these fine fools, and with my brain rapidly sinking into the same grinning oblivion myself.. there was only one thing for it.. and so, in a repeat performance of last night, we ended up at the CRANKA once more to fuck shit up..
it is here that we gathered a growing army of fellow idiots around us (hmmmm, this really doesn't look promising for our collective sanity but at least we've got safety in numbers.. right? riiight? ;) )
before finally deciding in our ultimate wisdom to make an early appearance at SHOTZ at 2:30AM.. how the hell they ever let fools like us thru the door is anyone's guess (although clearly if they were to refuse people like us at a time like this, this place would whistling on empty most SATURDAY nights.. thank fuck for the comedic power of alcohol aye? ;) )
upon breaching the entry, like kamikaze twits we all swarmed over the dancefloor..
along the way experimenting with such avante-garde routines as THE WHEELBARROW here..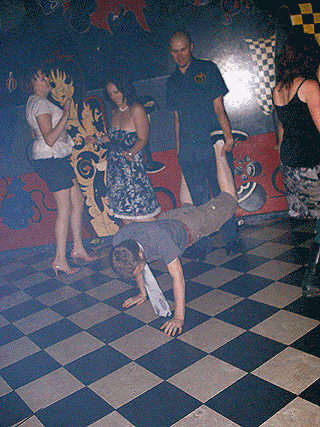 only to be completely upstaged by this guy, who in his ultimate display of retro niche 80's dance moves, busts out with the YO-YO funk jam (oh yes.. mark my words, just like all yo-yo crazes before it, walk in here next week and you'll find y'self upto your armpits in this shit.. hahaha!)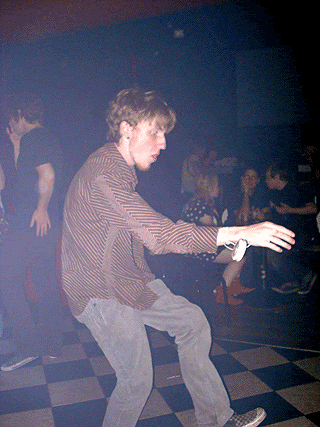 SEAN KEMP accidently stumbles upon the scene of the crime somewhere around 3AM..
and as always, then proceeds to mug for every single photo opportunity that he can (lets just be thankful he at least wasn't near drunk enough to get his
moonbeams
out tonight.. eeeeeeee!)
in fact half the time I didn't even realise the crafy bastard was there hiding out in the background till after I took the photo, spoiling this otherwise ever so stylish shot.. grrrrr.. dammit ;)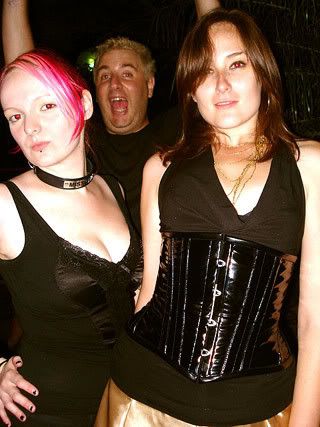 around 4AM things then took a particularly novel and mischevious twist into the surreal when SARA and SIMONE both collectively bought themselves a tray of 5 shots each.. hmmmm?
only to collectively melt the faces off of everyone around them as they indulged in a little bit.. of.. *gulp*.. oh crap.. I can't.. type.. can't look away.. yup, if the hilarious stunned goldfish expression on ZOOTROY's face in the background could say one thing.. it'd be.. "whooaaaaaaaa.a.a.aa.. duuuuuuu..uu..uu..ude.. this is soooooooo freaaaking aaaa...a.aaa.aaawesome!"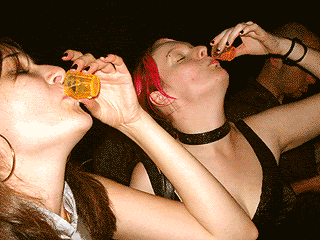 *phew* that was so damn hot, I think SIMONE actually burnt herself.. yeeeouch!
and whilst the rest of us collect our jaws that've dropped to the floor, collect the tongues that've rolled out like tickertape, the hearts pounding cartoon style metre's out've our chest and the eyeballs bouncing like ping-pong balls to the ends of the venue.. SARA and SIMONE piss themselves laughing at all the carnage they unleashed in the last 5 minutes and continue to frolick like mischevious imps.. *ahem* yeah.. I think, maybe for the saftey of everyone out there with weak heart conditions who've just died from witnessing that, it may be best for all of us if we leave the rest of the night here untold.. eeeeeeeeee!
since seriously, what good ever comes from SHOTZ at 5AM I ask's ya? especially not for JOE BLOGS who had the grand misfortune of being called by emergency SMS to his work, as apparently their computer server was punching above 28 degrees and close to suffering a critical meltdown (near critical meltdown? obviously, there's a message in there for all of us.. hmmmmm ;) )
suffice to say.. after somehow extricating ourselves from that fullmoon pheremone sweat pit.. after staggering all the way down RUNDLE MALL in an incoherant blur.. we miraculously found our way safely to waiting taxis and the hell out've there.. most of us probably none the wiser the next day of what really transpired that night.. eeeeeeee! :)
SUNDAY NIGHT
after what I've survived upto this point I should be glassy eyed and licking windows with nothing but a test pattern and a 800 Hz signal noise ringing in the empty chasm that once contained my brain.. I should be gargling peanut butter in a pile of leaves.. I should be beached somewhere on the west coast of AUSTRALIA with a lost expression on my face whilst a team of volunteers splash water on me and figure how the fuck to throw me back in the ocean.. what the hell am I doing still alive? and why oh WHY am I going out for the 4th night in a row? clearly I'm not of this earth.. I walk amongst you, I live amongst you, but by now I look and sound like a PICASO painting set to polka music.. and after the things I have seen and heard this weekend I'm very much surprised my skull hasn't shattered like paper thin porcelain china.. and yet here I am.. squinting into the sun on an unforgiving SUNDAY evening at 7PM in what I hope like hell is the final chapter of my journey.. with a new camera that still works in spite of all the incomprehensible chaos it's captured on it's tiny fragile lens..
first stop, I grab some dinner at AUSSIE PIZZAHOUSE on HINDLEY.. curiously enough with a pizza served up by no other than the former drummer of UNSPOKEN THINGS.. weeeird.. either I'm tripping balls something fierce, or this insane live music shit is starting to follow me everywhere I go now (seriously it's bad enough I get recognised off freaking MYSPACE!) regardless of this all.. my combo 12'' all meat / chicken asparagus pizza serves me well and gives me more than enough vague nutrience and fried ooze to keep me in the game without bursting into flames and collapsing into a foaming puddle of ants anytime too soon.. or at least I don't think that would happen? (checks boxers to see if they're flame retarded :P )
anyhoo, the final destination in the longest journey of my weekend, is JIVE at 7:30PM..
and telling from all the banners plastered to ridiculous overload and covering every available square inch with sponsors, promo and logos tonight.. it appears I've found myself at an MTV event - "KICKSTART YOUR ROCKSTAR CAREER".. which, in as much as you could call this a "battle of the bands" event, if you cut thru the bullshit, it all roughly translates to the live music equivalent of a speed dating event whoring for the affection of a multinational media network with a golden paycheck.. now you may be wondering? why would an otherwise cheesy and commercial event interest someone like me on the tail-end of the apocalypse? well.. not only are the 5 bands featured tonight actually worth their mustard in the live arena.. but since each are limited to a setlist of only 3 songs and are looking to impress, we're set to see some freakingly hilarious overblown rock moves captured for our amusement :)
as befits an event such as this (and quite uncharacteristic of a SUNDAY) the venue is packed to the gills tonight.. I would like to think that all of these people present are the collective rent-a-crowd faithful as gathered by all 5 bands to cheer them on and to serve the cause.. but I can't help but suspect that at least some of these people, especially the more exciteable and frisky grooving to the DJ between songs are merely some of MTV's idiotic cheer squad (they're just a little TOO frisky for a hungover SUNDAY like this to be believable.. but hey, maybe that's just me.. we weren't all near stupid enough to attempt what I did in the last 3 nights, riiiight?)
BLOW UP BETTY
first band off and running at 7:45PM is the ridiculously frenetic all girl punk explosion of BLOW UP BETTY.. shredding out a howling disscord in screaming, gnashing teeth, hammering 2-tone fuzz riffs, spastic drumming and repetive head injury sing along melodies.. quite like if you got THE SPAZZY's vs THE DONNA's in a fuckoff bar brawl of hair pulls and fingernail scratchings (only funky!).. of course, due to the very nature of their 2-minute-noodle songcraft (and admitted by the band themselves) this set is pretty much over even before they've started.. but you still gotta hand it to them tho', even in that short hiccup of time they still managed to blow my eardrums clean out my skull and splattered over the walls.. fuckit, all punk gigs should be like this.. hit n run, bash me over the head with a whisky bottle. and I'm good to go :)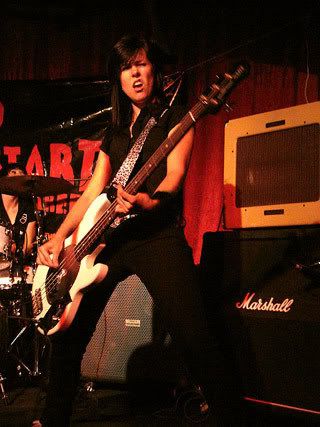 MORALS OF A MINOR
with barely a pause to sneeze and it's MORALS OF A MINOR turn on stage, and as much as I would hate to eat the ever so brilliantly crafted shit-kicking words I spat at them over that DUNGEN gig played many moons ago (read the infamous
review
here if you want a cheap laugh).. I gotta say, over those last 9 months these dudes have come a freaking LONG way.. this set today - an explosive paisely space-cadet snakehip freakjam of early 80's U2 and INXS mixed with THE POLICE, the vocals stylings of MATT BELLAMY from MUSE and some kinda pagan 60's acid shit you'd expect JIM MORRISON to deflower groupies to.. absolutely blows everything out've the water tonight.. everyone I talk to is pretty much thinking right there and then that these guys will win.. everyone else could go home now.. it's all over.. game over maaan! game over! such is the diabolical fury of this set.. and since it's presented in such condensed form, it effectively cuts out all the slow boring bits that drove me nuts during their BIG DAY OUT set (yup, I just had to taunt you guys at the end didn't I? ;) )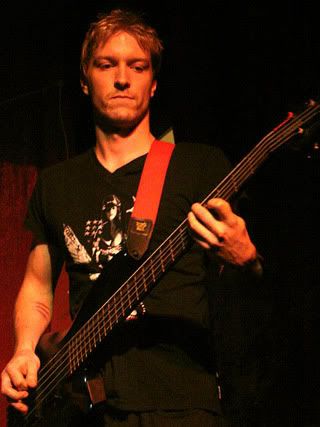 ILLICIT EVE
with barely a moment to turn left and cough, it's now time for ILLICIT EVE to take their turn on the podium.. and as entertaining as it is here to listen to their ever so fluffy pink pastel bubblegum pop harmonies as they're shredded and corrupted and throttled to within an inch of their lives like a satanic sacrificial ritual at a cheerleader pep rally gone horribly wrong.. or like the howling 70's guitar doom of LED ZEPPELIN tearing the SUGARBABES and ALL SAINTS limb by limb in a mashup that'd make those BELGIAN mad scientists 2 MANY DJ's wish they'd thought of it first.. the real entertainment (for us photographers at least) is getting as many silly photos of lead vocalist EMILY SMART looking like a confused goldfish and FLISS FREEMAN going beserk with the fluffy labradoodle as insanely possible in the space of 15 minutes.. (sure, we all like to think this blog is about the music.. but really it's all about me making fun of people) all wacky theatrics aside tho', this still makes for a damn rocking set :)
SPECIAL PATROL
next to the sacrificial altar we have SPECIAL PATROL.. a band that I'm awfully surprised I've never photographed before.. I mean shit, I swear I'd seen them play a few years ago (back in the "dark" ages before I had a camera), I've heard mention of them everywhere from every dickhead and dog, heard them spun into high rotation on TRIPLE J countless times, missed sets by mere minutes as I sprinted from one venue to another in my maddening quest to bag another "trophy head" for my photographic collection, had one particular friend of mine foam on about them at every available opportunity and yet it takes a silly event like this to finally catch them.. still, if there is anyone tonight who could challenge MORALS OF A MINOR for the trophy, it'd be these guys.. cooking up the ever so effortlessly catchy, blissfully hungover scruffy pop-rock that you'd get from cheerful UK gits like GOMEZ or the lighter hazier moments of BLUR, they're speaking volumes to every braindamaged casualty in the crowd tonight (and I'm just about fucked up and damaged enough from my misadventures to be a freaking tuning fork to this shit) sure, it's a little too tweed and hair of the dog to be the full fisted fury you'd think would appeal to these MTV judges tonight.. but damn, for all it's cheerfully cheesy likeable melodies and fuzz, it's still really fucking solid..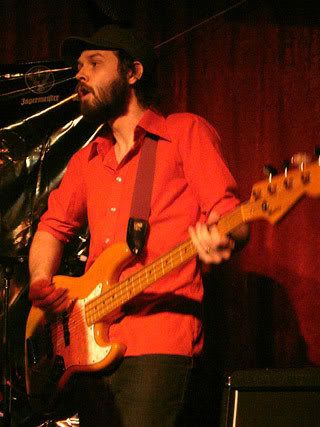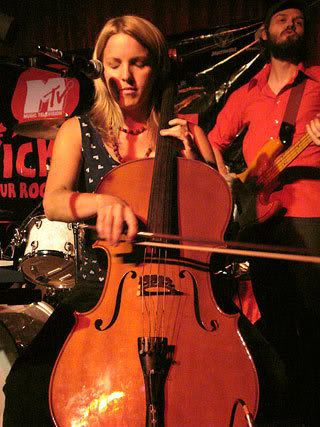 MUNCHKIN
and finally, at long last at 9PM, the final act to our firing squad arrives in the form of last minute entry MUNCHKIN, recent replacements for FIRE! SANTA ROSA FIRE! who pulled out at the last minute.. recently back to being a 3 piece again after their new (and now ex) drummer MATT mysteriously went MIA.. and since they're the last band on the bill, you just know they wouldn't have a snowball's chance in hell of going toe to toe with the flawless attack of SPECIAL PATROL or MORALS OF A MINOR.. and yet don't these plucky little electro-pop midgets give it a red hot go anyway.. tearing up the PA with their spikey metronome beats, electro booty grooves, pogo riffs and bass and lead singer KALIAH in that freakingly hot orange cocktail dress near burning up in a human fireball.. whoaaaaa, you almost forget they're actually playing music as she pulls every smouldering and slinky lounge bar move in the book short of doing a MICHELLE PFEIFFER over the laptop and crooning.. it's probably one of the best performances I've yet seen these dudes play (it appears finishing an album after all these months really agrees with them), but could they possibly hope to pull the ultimate underdog and win a ROCK award as an electronica act tonight? who knows?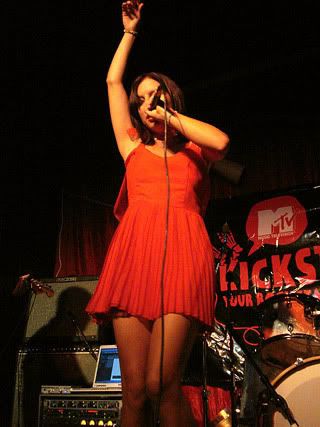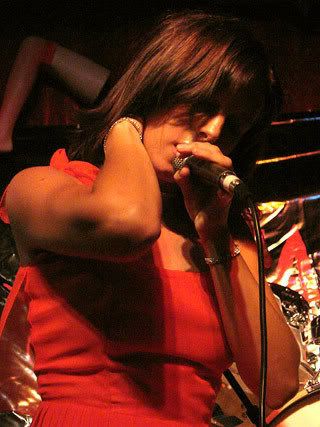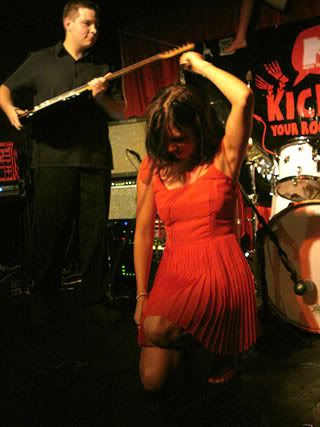 and so after MUNCHKIN have cleared off stage, and after about 10-15 minutes of dicking about.. one of the judges (a member of THE LIVING END) makes an appearances at the mic.. makes some jokes about how hard the decision is (although it's probably obvious to most of us that they already decided the winner in the taxi ride over tonight) and then announces that the winner of the $20,000 cash prize, a performance slot at the MTV AMA's and a professionally produced music video clip (or something along those lines) is.. SPECIAL PATROL.. a surprise winner (most of us seriously had MORALS OF A MINOR pegged), highly deserving all the same (after playing countless years on the live circuit it's nice to finally catch a break) but still an interesting choice for a "ROCK" winner, as SPECIAL PATROL rather jokingly play up to in receiving the award.. they really can't quite believe their luck either..
with the ceremony now over at 10PM, the DJ kicking into high gear in and all the MTV cheer squad buring up the dancefloor like there's no tomorroww.. I finally think about throwing my twitching carcass into a nice well cushioned pine box the fuck outta here..
sure, I could've continued the adventure tonight, there was an MTV afterparty kicking on at ZHIVAGO's till the wee hours of the morning that I could've attended (cheers for the invite ILLICIT EVE :) ), but clearly even someone as near insane as myself couldn't possibly push this boulder up that hill any longer.. and so, very much satisfied that I had done more than enough in this weekend to put 3-4 lesser weekends to shame, I sought my bus home for sleep at last.. for surely I'd deserve a grinning coma, a tropical island paradise and a total heart, kidney and liver transplant after what I put myself thru (and lets just forget the next sleepless 24 hours of frenetic activity it's taken for me to process these photos and publish it on the web just so all you monkeys could read it?) and yet also forwarned in the knowledge that this madness all starts anew whether I'm ready or not this COMING weekend.. seriously, why did I ever agree to this crap!!? hahahaha.. if I'm not dead by morning.. kill me now, this shit's gone too far! ;)
and yet, thru all of this.. thru 13 live bands, the asphyxiating stench of the CRANKA dancefloor, SHOTZ at it's most drunken, disorderly and disorienting.. the unholy trinity of full moon, the dawn of the FRINGE and the CLIPSAL 500 all coming to bear.. this gizmo lives thru it all without a scratch..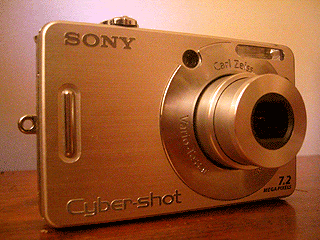 yup, if ever there was a camera stress test for SPOZ's RANT, this would be it.. the fact that I don't have a pile of crunched up plastic beads, silicon, glass and metal fragments forming a small pyramid in my wastepaper basket means that perhaps there's hope yet for this FRISBEE, and the fact that my freakingly awesome (yet utterly marginal) superpowers came to the fore once more and prevented me from keeling over dead at the end of it is all the more miraculous.. could my camera survive 4 more years of this? could I survive 4 more years of this? who knows? only the next weekend could possibly begin to hope in answering that.. join me if you dare! :)
Previously on Spoz's Rant:
Six Million Ways To Die