RED PILL, BLUE PILL
I have this reacurring nightmare that haunts me of late. Whatever hypnogogic state of frenzy I've driven myself into during my waking hour in the mindless pursuit of whatever-the-fuck soon crosses over into my dream realm and breaks my will to an infinity of unresolved futility. Here I'll be working on some inspired design job that'll pay me nothing but beer and peanuts, leave everything to the very last minute, sweat out a deadline in insignificant details till the wee hours of bleeding eyestrain and 2 minute noodles, finally, satisfied in a job well done I'll yearn for a blissful 8 hour coma but instead I'll be rewarded with yet MORE work haunting my dreams till breaking point broken over hamster wheels. On the weekends I'll dream of endlessly sifting through 1000's of blurry photos. I'll dream of forgetting the name of yet another grinning idiot who recognises me from myspace. I'll dream of endlessly wandering around the Cranka without finding a single recognisable soul. I'll dream of finding and losing that girl again and again. I'll dream of trying to catch a taxi in vain for 8 hours straight only to walk home lost in circles. I'll dream of house parties full of hours upon hours of mindless chitchat, cocktails and blaring home theatre systems. I'll dream of nightclubs pounding that same 4/4 kickdrum into my skull for 8 hours straight. Driven to the point of insanity I'll wake up feeling like I'm butter spread too thinly over too many slices of bread screaming "HEY KIDS, IT'S GROUNDHOG DAY!" My waking life, my dreams and my nightmares have become one, looping on constant repeat. Why the fuck I don't relive all the GOOD bits forever escapes me. Are my dreams nothing but the devils in the details sent to make me forget why I chose these madenning pursuits in the first place? Why do I go out every freaking night? Why do I meet all these people? Why do I go see all these bands? Why the fuck do I take all these photos? Why do I publish this all up in my half-arsed attempt in so-called "rock photojournalism" when I know NOBODY in their right mind ever reads this crap in the first place? Surely they're just here like vultures to pick this carcass clean for myspace photos, so why should I continue to still give a fuck when we all know this is nothing but an unemployable dead end? Bah! That's it! I give up! FUCK YOU ALL!!
Yup, throughout all the white noise and the insomnia clearly I'm forgetting just how much fun it is to kill myself rotten each week to live a life like this. I DID chose the red pill and NOT the blue pill here, riiiiight!?
THURSDAY NIGHT

Tonight I'm hit by the hurricane shitstorm in live music known as the Fuse Festival. It seriously escapes me why they would ever think it was a brilliant idea to showcase 50 of Adelaide's finest "export ready" bands all at once and on a Thursday night no less (and then expect the public to actually bother seeing any of this crap!?). I mean shit, even someone of my own self punishing level of devotion finds the prospect of covering this event as a near suicide attempt. In fact, I was almost ready to throw in the towel altogether (like so many of the official festival delegates who are probably busily getting drunk back at the hotel *cough* did I just say that?) when I planned for the sweet cake run of seeing the UK act, New Young Pony Club play at SoCo (just one band in a night? surely that'd be me selling out!) but after realising that would cost me $26 I didn't have? Fuckit! As always, I seek to die in a battle of increasingly odds as I choose to experience my war of terror on two fronts tonight.
Here at the ever familiar darkening gloom and stench of the Clown N Spanky..
..and here at the spastic faerie lights and shade lamps of the Jade Monkey..
..with this rat infested alleyway becoming the all too familiar conduit and escape route between the two (seriously, the sooner they install high-speed vacuum tubes like Futurama, the better!).
LINE HONOURS
I first arrive here at Jade Monkey (the western front) for Line Honours at 9PM. Although I've never seen or heard of these monkeys before, there's something oddly familiar about them and it takes a full 5 minutes staring blank and confused at them till I realise why. The lead singer is none other than Ben, one of the head honcho geeks from the creative blackhole ensemble known as
Urtext Studios
. As one would guess, coming from such a space-cadet hippie commune as Urtext (and their wacky Excitement Machine street-press magazine), the band is tragically shoegazer, indie, obscure and wallpaperingly shy. However, despite sounding dangerously close to the kind've fluffy 3AM funeral dirge the Dirty Three would slit their wrists to, they are not without their charms: a) the chicks on keyboards and violins is really cute, b) they actually come up with some really neat songs. Quite like a soothing euphanising overdose of morphine, I'd happily kill myself to this shit anytime.
THE KILLERBIRDS
Half an hour later after Zac the psychic bartender thankfully continued to refuse my ongoing requests for a bottle of red washed down with sleeping pills (no really Line Honours told me to do it!), I'm still alive and well to continue my journey to the Cranka (the eastern front) to catch the next band, Killer Birds at 9:30PM: a catchy little all-girl punk band (featuring a thrashy little midget drummer than also doubles as lead singer) that sounds quite like a messier and snarlier version of the infamous 90's riot grrl band L7.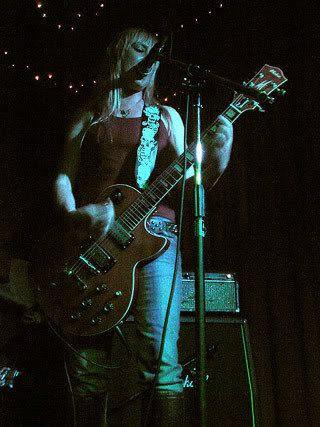 TAUGHT BY ANIMALS
At 10PM it's back to the Jade Monkey, just in time for a set by Taught By Animals. And as much as I've been continuously enjoying the songs from their self titled EP (which I've been drilling into my skull on high rotation ever since I nicked a pre-release back in mid December), I'm more than thankful to hear a whole range of shiny new tunes from these monkeys (at least 4-5 in this set from what I can remember). With the broadening depth of the new material combined with the old, their set tonight is quite like experiencing all the brilliance of the Pixies mixed with the textural stonerisms of Sonic Youth, minus having to endure a fat bloating ego of the Pixies' frontman Frank Black. Which in my books can only be a good thing (seriously does ANYONE own his solo albums?). Yup, chances are there might even be a full-length album in the works too.. woooo!
BLOW UP BETTY
Up next at 10:30PM, it's off to the Cranka again for Blow Up Betty. A fuckoff abrupt all-girl punk act that would likely finish their entire repetoir of 2-3 minute hit-n-runs before I even have the chance to finish this sentence (then again, considering my habit for run-on sentences that wouldn't be all that difficult). Although their entire set seems to consist of the kind've in-ya-face dumb as all fuck girly scream-offs that would be perfect to accompany any teenager's post breakup rampage or a tampon ad campaign from hell (for hell truly hath no fury like a woman scorned!), with all the catchy hooks they throw around in this set tonight you can't help but wanna sing along regardless (even if I do suspect they'll stick the pins in and set fire to my voodoo doll if I write a word wrong in this review).
ANTONY OF THE FUTURE
20 minutes (and probably an entire album's worth of material) later it's back to the Jade Monkey again for the 5th band of the night, Antony Of The Future; apparently the latest flavour of the month around this hairy armpit of a town ever since they won a Triple J Unearthed competition and got themselves a prime spot on the local stage at the Big Day Out. There's a lot've overblown NME style hype around the streets on these monkeys (as everyone's looking to jump on the "bandwaggon" and ride this shit to stardom) but quite frankly I don't get it. Sure they're an OK enough band, they've got some OK songs and I wouldn't exactly throw bricks at them, but I wouldn't exactly be throwing my beer in the air and wooping like a car alarm either. Imagine all the sleepy bits of The Bloc Party thrown together with a bit of white-bread britpop and you'll get a good idea what these guys sound like. So, if yer into that kinda geekrock inoffensive librarian thing (and I know a few of you monkeys are into really that kinda shit) then this'd fire right up ya like a pineapple grenade.. weeeee!
ANGELIK
Scarcely 20 minutes later (as clearly I have the attention span of a goldfish tonight) I'm back to the Cranka again for the next band, Angelik at 11:15PM; as they deliver what would hafta be the messiest onslaught of dirty-as-fuck chugging pubrock I've ever witnessed on a Thursday night, since.. um.. pretty much the last time I was out on a Thursday night (yeah lets face it, I see waaaay too many fucking gigs). Still as much as your average farm variety Angelik sets go, this was definitely one of the more feral: witness lead singer Laken flipping the bird and throwing drinks off stage before charging into the crowd, Sam the doom guitarist throwing his instrument around so erractically you swear the amps were throwing up from all the vertigo and the 2 Nick's demolishing walls to ceiling with their pounding apeshit gorilla rhythm section on drums and bass. I could've sworn I lost at least 5-10 solid points of IQ experiencing this shitstorm of rock tonight, but damn was it goooood!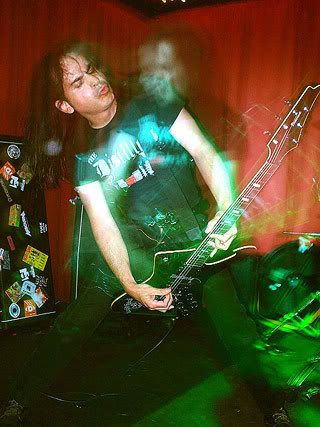 200 MOTELS
And finally at 11:45PM when most other fellow photographers would've already collapsed dead in my tracks (ha! nobody can fuck with me!), it's time for my final band of the night with 200 Motels. Now truth be told, I've always figured these guys as the sort've rock-out experience you'd expect from the elves at Santa's Workshop in the North Pole, exceptionally cool midget-rock no less, but still elves-who-sneak-into-your-house-at-2AM-and-secretly-make-shoes kind've rock. Their shiny first EP for instance wouldn't sound all that out've place alongside the likes of Mazzy Star and The Howling Bells (more than worthy peers but not the sort've music you'd easily form a mosh pit over). Make no mistake though, I've said this once and I'll say it again, but their new songs are pure fucking evil! I dunno how many of the nine planes of hell Kim Roberts and her merry band of midgets must've dragged themselves through of late to create such brilliance, but if only they set up a studio there and produced a full-length album, oh the diabolical wonders they would produce! They tested out this new song tonight. It didn't have a name, just a working title "Pants! Pants! Pants!". It was primal, It was hypnotic, it had a fuckoff stadium kickdrum and booty pounding bass attack that sounded like tectonic plates having sex under my feet and it was A-grade fucking filth! Somebody's awoken the Great Satan in this band and I want more dammit! MOOORE!!
Finally at around 12:15AM, 200 Motels, the final and 7th band I've witnessed tonight finish their set in hail of screaming hissyfit vocals and fuzzing guitars (damn 7 bands!? I think I broke another record here!). The war was finally over. I dunno if it was a clear and decisive victory or not (surely more battles will need to be fought in the following days since I never leave well enough alone) but I survived the night (whilst barely scratching the surface on the other 43 bands playing this festival) and surprisingly without any beers to aid my cause either. Yes, I know, I'm as shocked as you are! As I discovered a
few weeks ago
, attempting skoll beers down every 1/2 hour whilst running tag-team all night generally makes you a danger to public health and saftey (damn you citywide dryzone!). So I've waited till now till I could finally sneak one in, aaaaah! frosty beer! :)
After the Jade Monkey closes up, I next shuffled down the road to the 'ol Spanky as I continued my rapid slide into the vertigo enducing oblivion of Friday morning. I could tell you what went on here and even show you a few silly drunken photos, but meh.. I couldn't be arsed this weekend!
So, finally at around 3:30AM or so I throw myself into a taxi and off home, satisfied in a job well done.
FRIDAY NIGHT

Waking sleep? Sleeping awake? The entire opening paragraphs of this week's blog flickering past my eyelids like a busted up fluorescent bulb? I dunno what the fuck it was but either way I really didn't get all that much of it flip-flopping like a fish out've water after spending the final drunkening hours till dawn attempting to sort through the photographic mess I made of last night (only to have it repeat itself on a loop thru my dreams all morning.. ack!). And yet, as utterly shot up to shit I felt today, here I am the Jade Monkey regardless at 9PM for yet more "entertainment". Why? Coz I'm fucking insane and I can't get enough of this shit, that's why!
MR WEDNESDAY
Thankfully however, acting as recovery for my insomnia tonight, we are greeted at 9:30PM by the welcome return of the blissfull snooze-button in sound that is Mr Wednesday. And it's been a long time between drinks for these monkeys as it appears they've been cooking up a whole new setlist in the interim (or *cough* what they like to call a new "concept") for a possible album release later this year. Where previously they were most notable for creating the kind've hauntingly melancholic aural landscapes that wouldnt've sounded all that out've place on a wrist slashing Sigur Ros, Radiohead or late 70's era Pink Floyd record; their new "concept" is almost dare I say it, downright euphoric (you could easily bookend the old and new material together and make a trippy before and after soundtrack for a Sudafed commercial). Effortlessly sparse (to the point I had to delete most photos I took tonight as it just consisted of them standing around looking blank) this subtlely conjured journey in bliss was just what I was looking for.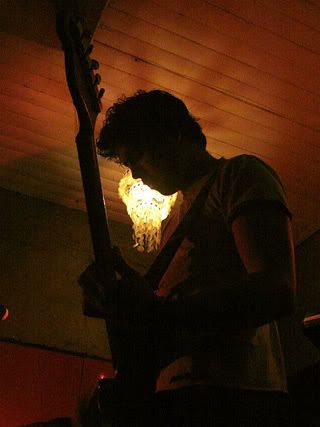 JUMP! YOU REVOLUTIONARY
Coming up next at 10:30PM we have the band, Jump! You Revolutionary, and out've all the hundreds of bands, all the thousands gigs, all the countless nights stretching to infinity I've spent in this chosen purgatory, we here are greeted with something truly great here tonight. Oh yes I relish moments like these I really do. This is one band in a hundred I can really stick the knife into. In short Jump! You Revolutionary should be renamed to "Holy Shit! You Fucking Piece Of Crap". They sounded like a half-arsed bluegrass hickville cover act mixed with the Footy Show stage band attempting a pissant rendition of Jeff Buckley with a head concussion. I dunno what the fuck they were doing here tonight or how the hell they managed to gather such a large crowd of screaming female fans (I suspect a birthday party in disguise) but what we had here tonight would hafta be the worst heaving excrement in howling ear bleed I've witnessed in Adelaide since
Circus Arcade
back in late July 2006 (or even the infamous
first gig
I saw by Morals Of A Minor last year, yeouch!). Yes, I know I was warned in advance by sources unnamed that this would be bad. They told me of an equally horrific abberation older band called "The News" (which thankfully I never had the misfortune to witness) and yet still I thought "surely they can't be THAT bad!?" but ooooh no kiddies! They're much much MUCH worse than you could ever possibly imagine! Fuck, even in my ridiculous excuse for a live band we could never've been this horrendous (and we tried, we truly did! we even had a lunatic in a silver hockey mask pee himself on stage to mistimed drumming back in 2002! wooo!) but no, this monstrosity should be neutred, kneecapped, lobotomised, locked in a lead-lined box, sealed in concrete and sunk to the bottom of the Pacific Ocean lest it breed (With so few Adelaide live venues left to play, and all these bands out there competing to be heard you'd think natural selection would've weeded out these dodos ages ago!?). Heed my warning well kiddies, avoid this and any future mutations of this band like the plague, trust me you'll thank me for it later!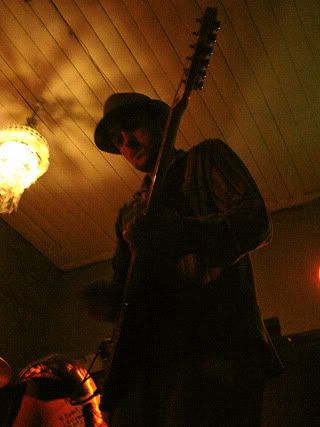 We hid out in the beer garden, we waited out the storm, it felt like forever, surely Jump! You Revolutionary didn't just play for over an hour!? FUCK! But finally at 11:30PM I hear what I believe to be the headlining act, the Offcutts playing on stage. I dunno if it's a soundcheck or the first song but I burst thru the back door anywaze as I interrupt this lone idiot pissing around silently on a guitar. I didn't think much of it and moved on towards the noise on stage..
..until it dawned on me, that this idiot was not just miming along to the sound of the band playing 10-15 metres on stage, he was actually IN the freaking band! Standing here, dicking around on his guitar with a wireless transceiver, freaking the fuck out any unsuspecting fools stumbling in from the beer garden.. oooh you crafty baaaastard!!
THE OFFCUTS
..and this was the mischevious method in which The Offcutts chose to introduce themselves as they threw themselves on stage and blasted into the dirtiest Kentucky-Fried swamp rock you'd ever hear outside of Jive. In fact, considering Jive's track record (about a billion and one Vasco Era gigs, The Drones, The Exploders, listening parties for The Kings Of Leon, that diabolical Jagermiester machine, Jimmy the bartender's moustache.. etc etc) I was really surprised they WEREN'T playing at Jive, perhaps the band just got lost on the way over and thought "fuckit this venue starts with a J, close enough!". But damn, Jive or Jade Monkey aside, this made for one helluva lunatic performance. They sounded like The John Spencer Blues Explosion set to a hammering kickdrum that could crack coconuts, featured a lunatic guitarist that ran the length and breadth of the venue and up onto the bar, a lead singer and bass guitarist who'd damn near sweat 1/2 his weight in a howling dementia, the crowd surfing penguins (hey at least Jump! You Revolutionary's zombie entourage were good for one thing!) and they finished it off with a lunatic medly where next to the entire audience ended up on stage? Fuuuuuck! With all this chaos running a tornado around the joint I didn't know what the fuck was going on 1/2 the time, but damn did it rock!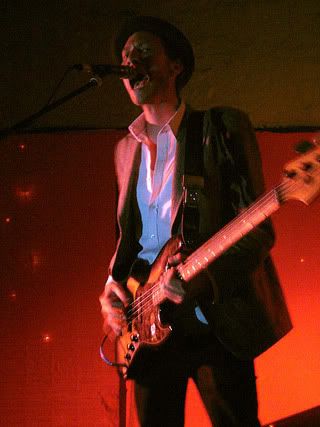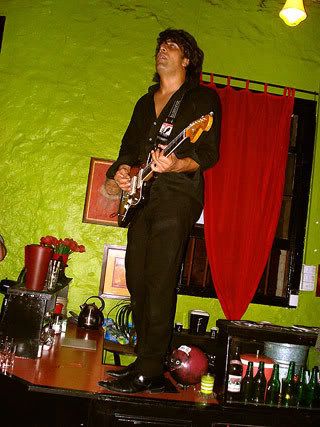 Feeling altogether like we'd all been collectively mass abducted by aliens, lost 45 minutes of our memory only to wake up in the middle of a crop circle somewhere south of Arkansas with our pants on back to front, it took a while to recover enough of my motor functions to continue; but by 1AM and a few beers later we finally found the strength to leave the Jade Monkey and journey eastward to our drunkening oblivion.
Arriving at the 'ol Frown N Wanka a little past 1AM, we noticed something was a little amiss tonight. What would normally be a seething crowd of metal patients climbing the walls of the dancefloor was nothing but crickets chirping. I couldn't quite fathom what it was at first till upon closer inspection of the music selection the truth became clear. For better or worse it really hasn't been the same since that goth reject DJ Craig Black left friday nights vacant here; as since his departure we've been presented with a hoplessly lost rotating selection of guest DJs: DJ Trip, Fatboy Slum, DJ Sid (aka: that psychedelic twat from Morals Of A Minor) and tonight with Jen X and her "Candy" night, or to put more accurately "The Poison Candy That The Creepy Guy With The Trenchcoat, Welding Goggles and Adult Diapers Offers You In His Brown Datsun Before You're Never To Be Seen Again Because You've Been Kidnapped, Arse-Raped By Midgets And Left To Die In The Desert". To put it mildy (coz I know she's probably reading this right) seriously, dude.. what were you THINKING when you played SCLUB 7!!??
And so there was nothing more to it but to flee this place. This night, when the Cranka died a little inside. Oh the horror.. THE HORROR!! *sniff* The Cranka, you used to be cool maaaan! You've changed! (although chances are more than likely we'll still be here next weekend hahahaha!).
SATURDAY NIGHT

As last night invariably spiralled into the gaping maw of merde (it's French for "shit", like.. look it up dude!), tonight we'd find ourselves where the shit truly hits the fan (pun intended) here at the Hard Rubbish Cafe in Rymill Park for the closing night Fringe party. Starring: Your Motive For, Soft White Machine, Tony Font Show and The Dairy Brothers. Truly, if you were anywhere else tonight (and not a member or audience of Booster playing at the Jetty Bar) then your name is Idiot and the United States of America is looking for YOU to run for President in 2008.
As much as I can gather, The Hard Rubbish Cafe rather neatly illustrates in extreme caricature exactly how the rest of Australia likes to see our City of Adelaide. I dunno whether this is meant to be some kinda whimsical artistic statement in irony or a gross misplacement in government funding (considering at least half the voting population in any given city is of below average intelligence I don't think they'd really get the joke anywaze) but if you didn't know any better you'd think ALL of Adelaide was just like this.
Witness the utes parked out the back.
The ever so stylish outdoor furnishings.
A wondrous selection of the finest alcoholic beverages made available over the bar.
Which you can enjoy amongst the congenial company of these fine individuals.
Whilst soaking up the exotic street performances from these world class acrobats..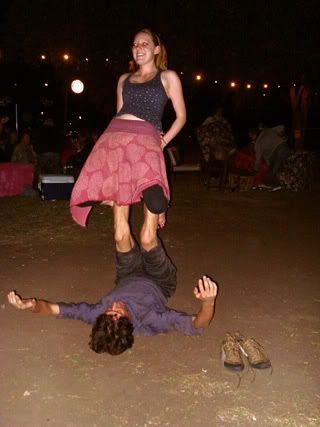 ..and sample some of the best haute couture Adelaide has to offer! (seriously, the Poodle perm and denim suit combo is SO coming back in fashion this year! JUST YOU WAIT!!)
Oh, and while we're at it.. anyone for a game of Ping Pong?
(It was like that when we got here.. *cough*.. no really!)
YOUR MOTIVE FOR
Yes, clearly with all the other crap floating to the top around here, it's just as well we at least have a vibrant local music scene to distract us or there'd surely be MORE dead bodies floating down the river Torrens (if only there was any water left in there to float anything hahahahaha!). Speaking of such (live music or dead bodies would both work here) here we present the first live act of the evening as Your Motive For hit the stage at 9:45PM. A band that could be re-introduced (as live appearances are so rare from these monkeys that entire generations would pass by between sets and be none the wiser) as being quite like the sound of severly hungover You Am I playing a Sunday afternoon bowls club match (only funky!) as lead by what appears to be the Kurt Cobain from an alternate universe where Krist Novoselic was the one who had all the talent and face planted a shotgun instead of the other way around (coz seriously, does ANYONE have a clue what that dude has done since!?). All jokes aside though, these monkeys do craft a mean scruffy pubrock pop-tune or two, and better yet it appears after all these years sitting on their arse playing videogames and scamming internet porn they're finally writing a whole slate of new tunes and even better, they're actually really REALLY good. Whoaaaaaaaaa I think bizarro Krist just turned in his grave! Yup from a band I've declared dead countless times before, they well and truly rocked the joint out tonight!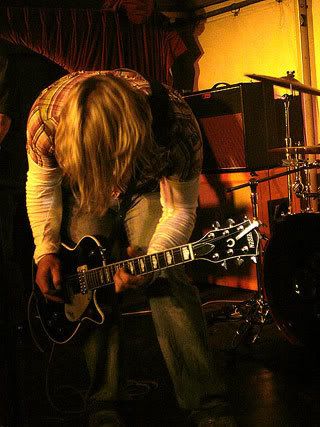 SOFT WHITE MACHINE
Up next at 10:45 we have Soft White Machine (new album "The Great Divide" out now through Capital Games!), who if you didn't know already (album launch at The Governor Hindmarsh on April 13th!) apparently have some kinda new CD out or some shit, yeah.. not like anyone would know with all the lack of publicity and all (request their 1st single "Broken Arrow" on Triple J Super Request!). Yet despite all the glowing album reviews, despite all the publicity, despite getting much deserved rotation on Triple J it's the live gig where it's truly at. For where else could you get Karl's freakish tag-team performance in contorted sex face and aeroplane guitar, the Andreas and Karl buzzsaw mating dance, Nick on drums looking like he's passing wind between each drumstroke and Jett huddled in a corner trying to hug the amps with his bass guitar. It's magic I tell's ya! MAGIC! Yup, as freakingly ear popping as their complex time signature death grinds, layering guitar chuggings and brooding melancholic harmonies may be, it's moments like these that I remember how much retarding fun it is to capture shots of live musicians doing incredibly stupid things (and if you didn't quite catch it the first time, I enlarged one for extra effect.. bwaaaahahhahahaha!). Yup, if tonight's set is any indication, this CD launch is gonna be one helluva night!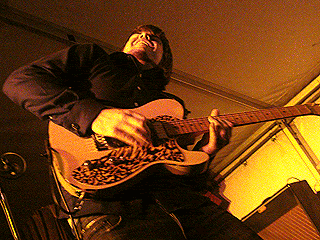 TONY FONT SHOW
With Soft White Machine rendered temporarily blind from excessively thrashing of their own instruments, the stage is now hosed down to make way for the next band, Tony Font Show at 12AM. Surely I've written enough about these idiots for over a year now, so there's no point in me going over all this shit again (but check it out, I got a photo of guitarist Rich actually moving!! HOLY CRAP!! HOOOOLY CRAP!! WOOOOOOO!!) suffice to say, when you have a moshpit like this spitting up crowdsurfers and blowing up so much dust in the air that you feel like you're living inside the
music video
to "Smells Like Teen Spirit" (wow, what's with all the Nirvana references this week?) then the photos here pretty much speak for themselves. Seriously, if you weren't here tonight bugging out to this shit, your just village called, and yup, that's right! You're their resident Idiot for missing out!
THE DAIRY BROTHERS
After just half an hour of this insane performance in disco spastic funk-metal everyone here is covered head to toe in dirt and coughing up lungfulls of topsoil. I can just imagine the rest of Australia (excusing Tasmanians of course who are obviously yet to evolve opposable thumbs) pointing and laughing at us for the being dropkick hayseed serial killing yokels that we are (to think we're only 5 seconds drive from the city too!). But if there's any doubt left, to really nail point tonight we have the final act The Beards *cough* ooops, I mean The Dairy Brothers to really bring the cows home. Yup, for all of those people who ever wondered what would happen if you combined AC/DC and The Wiggles together in a mad science lab and applied liberal jolts of electricity, wonder no more for THIS is your Frankenstein creation! No other band (except quite possibly the more ridiculous circus freaks in The Casio Brothers) could ever possibly attempt to make keyboards look this freaking badass! Sure, they may be cheesy as all hell (no dairy pun intended), what with their multicolour pimp suits and spastic poodle hair (dammit they were right it IS coming back in fashion!), but damn do they thrash out one fuckoff beserker set. Quite like what Jerry Lee Lewis would sound like today if you beat him repetitively to death with a piano, played a smoking solo with the shattered skeleton, filmed it all and then played the footage back at 10x speed at the tail end of a 4 day acid bender (violent yes, but in 30 years time your kids are gonna LOVE it!). How nobody's ever thought to make a spaced out Hanna Babara style cartoon out've these freaks is anyone's guess.. ROCK!
The time is now 1AM, I've just survived my 14th band of the weekend (whoa, what a way to finish it up too!) and broken yet another insane SPOZ's RANT record I vowed I'd never be insane enough to attempt. Somebody's managed to destroy the pingpong table (shhhhh! it was like that when we got there!) and I've near about drank everyone's beer rider dry, so there's nothing else to do but blow out've this one horse town and hit the big smoke again..
..although why the hell we'd choose to spend the rest of the night here (after the monstrosity that was LAST night) is anyone's guess. What can I say? This place attracts pissheads like flies gravitate to shit, which is why there really is no coincidence why the light outside makes this place resemble an oversized bugzapper (as much as I continue to hang out here, the sooner they burn this place to the ground, the better! hahahahahaha!).
Still, by about 3:30AM I've had just about enough of this hellhole, and so I shuffle off at last for my final bus home to hopefully sleep it all off (and not be haunted by that accursed nightmare where I spend 8 hours failing to flick a fucking lightswitch on!).
*phew*
It's been yet another insane epic journey, in a long line of epic journeys stretching to infinity. A self inflicting psychological experiment in mental endurance that attacks me at all angles like it doesn't want me to leave alone with an accumiliatve insomnia that's damn near killing me (please for the love of deifying forces I don't believe in, give me ONE night's blissful slumber I beg of you!) and then rewards me with a weekend that starts for me again on Tuesday night with the "Best of the V Festival" (oh crap!). But hey, I DID chose this hell as my escape plan didn't I? coz I'm sure as fuck taking all you fools with me for the ride! ;)
Previously on Spoz's Rant:
Punkywhitenoisething