SIX MILLION WAYS TO DIE
such maddening lives we lead, such bulletproof illusions we weave, oblivious to all the unthinkable and trivial dangers that would surely thin our herd like so many unwitting lemmings running over that cliff into the gaping chasm below.. one wrong turn, one misfired neuron, one twitch of the wrong reflex, one accidental flick of the middle finger at the wrong moment to the wrong person with the wrong dose of the wrong medication and we'd be nothing but an unidentifiable stain on the concrete with a chalk outline and a question mark.. nothing but a footnote in history, a punchline to a joke.. all it takes is that one stray bullet, that one stray golfball, that one hamster thru the windscreen, that one freak tidal wave over the holiday resort, that one terrorist bombing, tornado, earthquake, flaming asteroid, atomic bomb, supervolcano, viral pandemic, rogue nanoplague, alien invasion, blackhole, supernova, erupting bubble universe, tripped powercord resetting the matrix and we'd all be finished quicker than someone could drop a toaster in the bathtub.. and what about all the other things we're not even thinking about? turtles dropping from afar crushing our skulls like watermelons, a freakish plague of flesh eating llama's, random leprecaun kneecappings, a sudden violent allergic reaction to the green M&M, the coming of the great white hankerchief!? all this and more could sweep us all into the dustbin.. six million ways to die and yet we dodge them all!? who the fuck do we think we are to cheat death time and time again, only to return like the coyote each frame each an every time we're 10ft tall and nothing can touch us? how the fuck did we escape yet another dastardly plan with a retarding grin on our face? and why the fuck do we keep going back for more like kamikaze moths spiraling into the centre of the sun!?
why? coz it's a fuckload more fun than living in a bubble.. that's why :)
THURSDAY NIGHT
to kick off my gargling spiral into oblivion this weekend I first find myself here at the unlikely location of DRILL HALL, TORRENS PARADE GROUND at 6:30PM.. as I've finally decided after all these years of crass irresponsibility in the mean streets of Adelaide that I really should go and seek me some much needed discipline, law and order in the ARMED FORCES.. IRAN and NORTH KOREA, HEEEERE WE COME!! (bwahahaha! fat fucking chance) *cough* no, the real and much more implausable reason I'm here tonight, is because I've been invited to the ridiculously overcrowded launch of the 2007 HELPMANN ACADEMY GRADUATE EXHIBITION..
of course, obviously I'd like to think I'm here because I'm a refined intellect who likes nothing more than to soak up fine art and culture and mix it up with all manner of likewise erudite and sophisticate individuals to endlessly discuss the rarefied details of all these fine works at every opportunity.. but of course, we all know I'm just here to scam the free wine don't we? (and wtf!? they're not using the cheap goon!? it's actually in BOTTLES this time!? woooo! claaassy!)
so now for the sake of all you lazy mouth-breathing slobs who'll never bother to visit this brilliant exhibition in person (open to the public till March 18th.. just like my exhibition at JIVE *cough*) here's a quick rundown of the highlights..
this first sculpture / installation piece near the entrance by TAMARA BAILLIE, is entitled "OCEAN GHOST" - available here in this maxi absorbent size for all those turbulent high sea flows, and also in micro mini triplicate form with wrap-around wings (hidden just around the corner for all those discerning shoppers)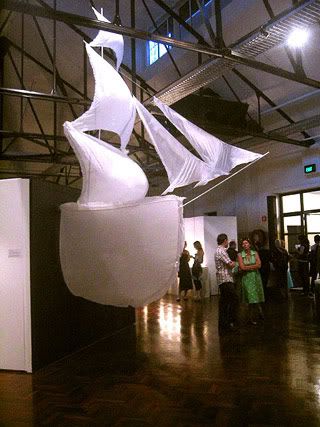 for those of the barking mad persuasion, here we have SANDY ELVERD's piece "STANDING DOG", which is also available in the "LAYING DOWN DOG" variety found elsewhere in the exhibit (whilst a third piece "LET SLEEPING DOGS LIE" would've also been on display but regrettably had to be put down prior to the show - apparently due to a violent case of hayfever, yeouch!)
ERIN LYKOS provides this series, entitled "SEDIMENT".. as a culinary alternative to all those digestive nazis who find that WHEATBIX and MUESLI BARS aren't quite cutting it on their colons no more..
this exceptional series of mix media works by JEREMY PIERT entitled "GOSH", "CANCER LIPS", "INFECTION" and "NO HOME" would be just the thing I'd wanna slap on my walls if only (a) they weren't sold for the near devilish price of $667 each, and (b) some other arsemonkey hadn't beat me to the punchline and bought all the cool ones first (bastard!)
whilst this shiny example of JOHNNY HOWARD's conservative tea drinking god fearing 50's family values AUSTRALIA (wow it's bone white, manufactured and all the craft paints are missing!) is brought to you by GUY BOTTROFF's work "A MODEL FAMILY" (2.5 kids and a frontal lobotomy sold seperately)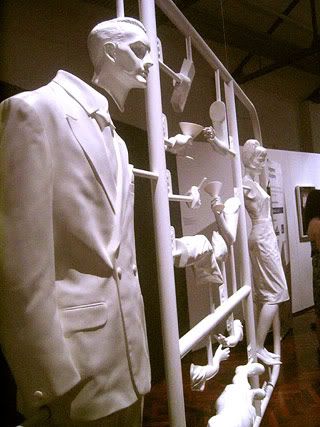 and what would hafta be the show highlight for me, is this trippy installation piece by JASON SIMS called "WITHIN OR WITHOUT" an optical device that somewhat resembled a 4 walled glass phonebooth in size and dimension with mirrored floors and ceiling and illuminated by square bordering fluorescent lights.. so that when you looked above and below, it felt like you were floating within an infinite reflective void..
as you can see the effect is really quite striking.. especially after you fuck with these images using all manner of blue/green colour filters like I did in PHOTOSHOP (hey look everyone, I'm in a b-grade late 90's sci-fi movie.. woooooo!), and perhaps this also explains how they got that TARDIS shit to work in DOCTOR WHO too.. who knew that all it took was a fuckload of mirrors to make it bigger inside? (although considering the BBC's budget.. it does begin to make a LOT of sense..)
of course as always happens when you're stuck in an infinite reflective void.. some freaking idiot decides NOW would be a good time to ring me up on the mobile (*cough* SEAN KEMP *cough*) and thus spoils the mood for me (bugger, how many times have we all been there huh?)
"hello.. this is the infinite void of reflective lights speaking.. who may I ask is calling?"
all in all tho, as exhibition launches go.. this was possibly one of the coolest ones I've seen in a long while.. sure, a lot've the pieces were kinda gimmicky and the crowd was thick with idiot B-grade celebrities (I could've sworn I saw ex premiere JOHN BANNON pissing about.. freaky!) and I did get rather nicely tipsy on all the free red wine (wooo, classy drunk!) but even for the unwashed masses amongst you it's well worth the trip.. so, come along ya bastards and support the arts! (and buy some of me JIVE works too ya cheap fucks!!)
next stop at 7:30PM, I find myself at DIGUSTIFIED CHICKEN for some artery clogging fascimile of a evening meal (wow.. who knew 2 of the 11 secret herbs and spices are asbestos and weaponised anthrax? learn something new every day.. ;) )
before blindly stumbling forth to the EXETER at 8PM for continuing ecclectic drunkenage with EMMA the welsh midget and SMASHYCAT (two of the exceptional bar wenches serving me wine at the exhibit) and a random ensemble of artists from the exhibition..
before finally making my way down to the CLOWN N SPANKA for my live music entertainment tonight, featuring the funk metal sounds of SNAP TO ZERO and MAMMAL..
SNAP TO ZERO
first band of the night, SNAP TO ZERO arrive on stage at about 9:45PM..
as the itchy trigger finger SAM MORRISON (above) and plodding HUMPHREY B BEAR impersonator SEB "BAD BOY" BOHM (below) chunk up the ether with their shredding guitar grinds, throat gargling shrieks and body popping bass rhythms..
whilst the flailing muppet arms of idiot savant SAM CARPENTER terrorises the drum kit behind them with a skeletal pounding beat, whipping the llamas and alpachas in the crowd to a neck breaking fury..
sure, you could easily dismiss what these guys do as nothing but a lo-fi cheaparse fascimile of the combined funk metal deathgrind of TESTEAGLES and COG.. just as you could equally dismiss COG as a bunch of kangaroo bounding hacks who are doing nothing but ripping off the art-metal sounds of TOOL.. as just as you could easily dismiss TOOL as ripping of a combination of KING CRIMSON, LED ZEPPELIN and PINK FLOYD.. wait? what was my point? oh yeah.. pissing off prog metal fans.. too easy, it's like shooting fish in a barrel! :)
still for what they do, they do it supremely well, tearing up the stage of the CRANKA tonight in fine form without for a single moment sounding like a bunch of pretensious wankers..
MAMMAL
aaaand speaking of pretensious wankers, here's the headlining band MAMMAL hitting the stage at 11PM..
*ahem* hahahaha yeah ok, guess I should explain myself out've this hole before these loons go and firebomb my house.. as, for all those of you who haven't witnessed MAMMAL before (or my previous
review
of these monkeys back in OCTOBER when they supported COG at HQ) may need a bit of an introduction to the madness you'd come to expect with this band..
this is MAMMAL a predominantly shirtless and smelly funk metal band from MELBOURNE.. who sound very much like a mix between LIVING COLOUR, RED HOT CHILI PEPPERS and every single one of MIKE PATTON's psychological dysfunctions thrown into a blender..
in as much as they're ridiculously funky as all fuck and hurl most of the crowd here tonight splattering against the walls in a mess of arms, legs and broken spinal columns dancing to this violent body popping insanity..
and feature the spastic psychedelic octopus armed talents of ZANE ROSANOSKI dismantling the drumkit (from the ever infamous and diabolical MELBOURNE mexican schitzo-metal known as
JIKA
.. lest we forget the carnage THEY inflicted the last time they were here..)
they also have the grand (mis?)fortune of featuring the ridiculously over inflated ego of one EZEKIEL OX on lead vocals.. I mean shit, if ya gonna give ya kid a fuckoff biblical name like EZEKIEL (wasn't he a prophet or some shit in the OLD TESTAMENT?.. bible nerds, back me up here) you just KNOW you're asking for trouble..
backed by the twin assault of NICK ADAMS making balloon animals out've his bass and human twizzle stick PETE WILLIAMSON punching out his guitar to unconsciousness.. they're a balls to the wall fuckoff assault of jugernauting energy, a chiropractors nightmare in splintering grooves.. and yet as cool as they are (and that bass player is freakingly hilarious) you can't escape the blackhole gravity spiral of ZEKE's ego..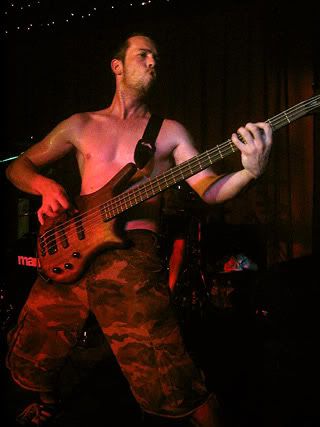 whether he'd be going off on some bizarre and cheesingly 80's cliche "social issue" tirade or hurling abuse at the back of the room for not giving them enough respect in self destructive appreciation.. you can never be quite sure whether he's just taking the piss or he's actually that obnoxious and arrogant as all fuck.. but in his own crazy way.. as occassionally insulting and otherwise comical as he may be.. he does define MAMMAL and give them their insane personality.. love 'em, loath 'em or take down that crazy bastard of a lead singer with a sniper rifle, either way you wont forget these monkeys in a hurry.. ROCK!
still, with the time creeping eeringly close to midnight, with MAMMAL showing no signs of winding up anytime too soon and with the oddly familiar inebriated crowd wooping up this venue to a splintering and smoking ruin.. it was high time for me to be a cheaparse bastard and make my leave, as I seek my last bus the fuck out've this monkey cage and off home..
*phew* not a bad effort for a lazy THURSDAY NIGHT was it? ;)
FRIDAY NIGHT
tonight I really didn't have a fucking clue what I'm doing, what with a particular infamous and rather all too
frequently mentioned band
fucking off to tour Melbourne this weekend and me being far too skint (and nowhere near retarded enough) to attempt the fear-in-loathing journey to oblivion that would entail.. I was left to my own devices here.. so, it's no surprise I'd end up somewhere as utterly vague as the GRACE EMILY for my first port of call at 9:30PM..
THE KEMP BROTHERS
here on stage tonight and providing us our first dose in live music inebriancy we have THE KEMP BROTHERS at 9:45PM..
for the last month or so these monkeys have been performing a live residency here at the GRACE EMILY every friday and since tonight is their last ever curtain call (or at least until DREW and SEAN KEMP can find another willing venue to drink dry of all their alcohol whilst providing occassional live music) I thought it was about time, just as they're piling out the door for the last time, to finally catch me a set..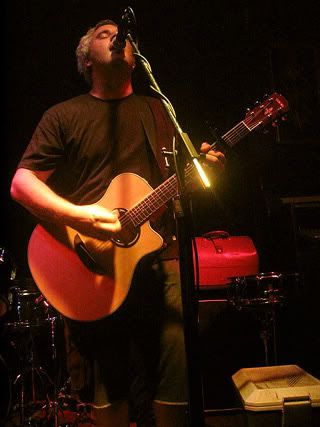 THE KEMP BROTHERS are equal parts harmonising cheese acoustic in sibling singer songwriting, shredding minimal stoner rock and a shambolic exercise in crass alcholic excess..
older brother SEAN yuks it up on vocals, acoustic guitar and amuses all whilst he runs a spastic slappy fight back n forth with brush snares on his minimal drums setup..
whilst younger brother DREW doubles up on harmonising vocals and guitars..
there really isn't all that much to it, it's not really neurosurgery or rocket science, most songs are simple two-tone affairs and not far removed from a hungover standup comedy act where the punchline gets lost in the next pint glass.. but still for all it's scruffyness, it's awfully well crafted, tuneful and just the thing for your next lazy SUNDAY recovery, retirement village box social or stint at rehab..
sure it's a weird fucking choice for the start of a FRIDAY NIGHT, but hey.. considering how many accumilating bullets I've dodged in weekend hangovers lo these many years.. buzzing out on lo-fi hair of the dog grooves such as these helps to bring back all those shiny memories of the disorienting headspins, bleary eyes and churning stomachs I would've otherwise missed.. aaaaah :)
a few minutes shy of the end of their set however, and it's time to randomly switch channels as we make the neandering journey down CURRIE and GRENFELL ST's to find ourselves at the ever darkening obsidian fortress that is the ELECTRIC LIGHT HOTEL (a more ironic name for a live music venue I've not heard) in search of the next two bands of the night at 10:30PM..
NO THROUGH ROAD
first to materialise out've the swirling darkness as we arrive, we have NO THROUGH ROAD thrashing their way thru "DIE FOR SOMETHING" - their brilliantly crafted yet howlingly shambolic indie anthem to self destruction..
as the crowd in front of 'em goes absolutely fucking batshit, or at least as batshit as you'd expect a nervous wallflower indie crowd to get with all the lights out (wow, check out all the nervous foot tappings and all those forlorn looks into beer glasses.. WOOO, YEAH!! ROCK!!!)
featuring the howlingly obnoxious, over inflated ego of MATT BANHAM having a nervous breakdown as he near about destroys himself on the microphone..
and a dizzying tag-team array of band members constantly swapping instruments behind him, who are nigh on impossible to photograph here in any level of clarity tonight (without being a total n00b and resorting to the FLASH, eeeeeeeesh!) as it appears the ancient SVARTÁLFAR ELVES who were hired to fashion this place many eons ago, cursed it with such a blackening void of evil that no light ever sinced has dared an escape to tickle our retinas..
yup, if there was ever a time I wish I possessed that otherwise utterly useless crystal blob thing that FRODO BAGGINS used to find his way out've that SPIDER CAVE on the outskirts of MORDOR, it'd be a moment like this.. fuck, even that novelty blue light cigarette lighter I nicked from that MORALS OF A MINOR gig way back in
DECEMBER
is next to useless tonight..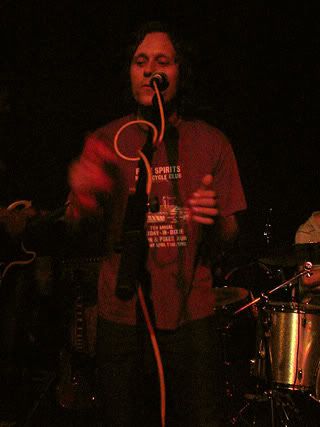 for all I know they could've had those nocturnal gremlins LADY STRANGELOVE jamming up there with them whilst 1000 black cats fornicated like crazy and I'd be none the wiser..
still as luck would have it.. with my visual senses being so utterly shrouded in an inky myopia, my audial senses soon compensated and rewarded me with such a sublime hooting chromatic flourish in deranging sounds that MATT BANHAM and his NO THROUGH ROAD cohorts had me grinning ear to ear.. as they provided me with the combined indie carnage of TAPES N TAPES and WEEZER, as if you'd stuffed both bands in a BALINESE prison, starved them for weeks on end and then got them to fight each other over the last stale piece of bread.. frenetic, chaotic, shambolic, sarcastic and tweakingly on the edge of collapse and yet all the more brilliant for it.. ROCK!
SUBAUDIBLE HUM
with NO THROUGH ROAD since dematerialising from the inky blackness that spawned them, after 10-20 minutes of random shuffling around in the dark.. we are next greeted with the arrival of the headlining act, SUBAUDIBLE HUM at 11:15PM..
chances are I would've already heard these monkeys countless times in the past thrashed to within an inch of their lives on TRIPLE J RADIO as their latest "flavour of the month" artist (and wow, whodathunkit? I even accidently have one of their songs in my MP3 list after adding TRIPLE J's "HOME AND HOSED" CD to my collection) so really, I should be quite familiar with them by now..
and yet, being mostly oblivious to all and anything that TRIPLE J sends flying thru the whistling void between my ears (don't believe the hype!) this will be the first time I'll bother to notice these monkeys even existed.. here at a gig I hadn't even planned on going to and yet thanks to the randomness of my FRIDAY night I'm now audience to.. wacky!
so as for how they sound live, obviously with a name like SUBAUDIBLE HUM you'd be expecting nothing but 30Hz brown note frequencies, endlessly looped whale song, the sounds of low rumbling thunder, TIBETAN monks droning like motorbikes and a chorus of stomach gurgles set to volume levels that'd make your bowels evacuate.. damn, come to think of it.. I kinda wish they DID sound like that, coz in this eternal twilight they'd seriously bug people the fuck out.. they'd think UFO's were landing around there ears.. it's be absolute pandemonium.. wooooheHAheHahEHAHAHAHHAHAAHAHA!!
but no, these guys were more your overly melodic layer-of-sound type acts - humming chorus of guitars, keys, droning bass, ecclectic percussion and bitter sweet swaying vocals..
very much reminiscent of their fellow contemporaries, DAPPLED CITIES FLY and otherwise featuring elements of THE ARCADE FIRE, the cruisier moments of BLOC PARTY and more ecclectic sonic fringes of RADIOHEAD.. they were exceptionally layered and lush in their arrangement, anthemic, harmonic, a swaying sea of noise.. all brilliantly executed..
of course, my pitiful camera equipment couldn't see a fuck of what was happening out've there beyond an incoherant blur, but my ears were treated with a real feast.. which sometimes is just as it should be, even if it damn near drives us camera geeks insane in the process (FASTERLOUDER are really gonna laugh at me if I try submitting this shit to them, aren't they?) so yeah, if you're into the whole lush sonic shit but find COLDPLAY much to wanky and pretensious.. give these monkeys a spin.. ;)
anyhoo.. with the bands now finished for the night, and with me finally finding the exit after stumbling around in the dark for a solid 1/2 hour (no wait, I was just drunk.. nevermind :) ) I make my leave of ELECTRIC LIGHT HOTEL at 1AM..
arriving here at SPOZ's RANT's most notoriously overused location for conveniently documenting the end of a night.. for as we all know, what happens at the CRANKA, unless ripe for hilarious photography (or ambushed by all manner of camera whores looking for infamy in a live music blog that clearly nobody should EVER read) STAYS at the CRANKA..
before, somewhat bored at the lack of life in this place (eeeesh, who up and died in here?) I duck the fuck outta here and seek me a SICKBUCKET home at 2:30AM..
SATURDAY NIGHT

there were a few things shuffling about on tonight if you were damn near depraved enough to humour them.. there was the ADELAIDE UNI O'BALL (too skint to be fucked doing that one), the DESPERATE & DATELESS BALL (which I heard a friend of mine was probably planning to gatecrash in his continuing quest to nail BREE from BIG BROTHER *cough* bwaahahahahaha!) and some fartarse MEANWELL COLLEGE vs COLONEL KERNEL gig at the GRACE EMILY that I could've gone to if I wuzn't so nearly lazy as all fuck on this night to be arsed attending.. no, despite all these options.. my choice tonight was much much worse.. as, I took the bold leap into mediocrity with yet another one in a long line of HOLLYWOOD's B-GRADE comic book adaptations.. in what I assumed would be utter escapist retarding fluff - GHOST RIDER, at ACADEMY CINEMA at 9:30PM..
*cough* yeah, in short this movie both licked balls, then gargled the foamy chunks afterwards.. like shit maaaan, did this film stink like fish guts.. sure I knew what I was getting myself into, I was prepared, I was more than willing to enjoy some exceptionally b-grade cheese, I had my brain switched off well in advance and yet this film vomited up much much worse than all expectations.. not only was the acting and dialogue so hideously woeful that it'd put fan-fiction from a crater faced dyslexic teenager to shame, or feature the worst miscasting of an character in decades by casting the PLASTIC BAG kid from AMERICAN BEAUTY hamming it up as the son of the devil, or feature special effects so cheap and nasty that it'd make the graphics on a 1980's GAMEBOY look cinematic, or plot holes so gapingly large you could fit an elephant through them (he escapes from prison after the entire city knows who he is and NOBODY bothers to chase or arrest him for the rest of the freaking movie!!?) but it also has the dubious honour of being a MARVEL adaptation so utterly shite that even STAN LEE didn't wanna cameo in it (at least not that I could find, and I'm pretty good at spotting this shit) oh, and is it just me or is NICHOLAS CAGE looking creepier and creepier each movie with the amount of plastic surgery, botox and hair plugs he's piling on? fuck he looks about as weird as ARNIE looked in the 3rd TERMINATOR film (and at least HE was playing a freaking robot, I dunno what NICK's excuse was in this film) yeah.. seriously.. avoid this movie like the fucking plague, I'd give it 1 star out've 5..
*phew* with THAT monstrosity out've the way, I was very much looking forward to getting utterly and right royally shitfaced drunk.. but wouldn't ya know it but the city's a ghost town tonight.. I ain't seeing anything out there, or any point in fighting a losing battle.. and so here I am catching the bus home at midnight on a SATURDAY NIGHT.. *yawn*
it's at this point you may be imagining tumbleweeds blowing past your computer screen.. it's here that you may wonder why I didn't choose to take that crazy tour into MELBOURNE with the rest of the grinning idiots from TONY FONT SHOW instead, I mean shit, we all know how that car crash turned out
LAST TIME
.. but of course, a little hindsight on my part and some planning can be a handy thing when you know what's just around the corner..
SUNDAY AFTERNOON
yup, that's right, it's a freaking SUNDAY gig.. if you thought a deadend SATURDAY NIGHT was weird enough in a blog like this, then this just makes it all the weirder.. like wtf maaaan!? who in their right mind is near retarded enough to host an all-ages live music event featuring 50 bands that starts at 11AM on a freaking SUNDAY in broad DAYLIGHT when most of their audience is likely still sleeping off the alcohol poisoning from the night before!? and then gets all the bands (most of them even I've never heard of) to sell entry like they're raffle tickets!? fuuuuuck.. this has gotta be so damn near stupid an idea that it's just GOTTA work! :P
yup, welcome to the hell that is SCORCHERFEST 2007 at ADELAIDE UNIVERSITY.. now, if I was ever gonna pretend to be some kinda professional rock photojournalist (ha! I wish!) I would've been here right at the crack of noon so I could've caught the mind warping sounds of DELUSIONS OF GRANDMA (12:20PM), the melonin challenged sounds of THE VAMPIRE PROJECT (1:20PM) and the prog metal / hair metal cheese of DOUBLE HANDED (2:40PM).. and yet, despite me not drinking the night before.. I'm still and forever shall be a creature of the nocturnal persuasion.. and so, it's only by about 5PM that I finally make an appearance.. accidently breaking in for free via the back entrance in the process (using the stairs leading from NORTH TCE), ooops.. guess security forgot to plug THAT hole.. and to think I had a ticket too? ;)
it was all laid out somewhat like a mini BIG DAY OUT (except with a fuckload of bands even hardcore listeners to 3D RADIO would've never heard of before) as it was split into 5 stages.. featuring the RED STAGE in the cloisters (top photo), the BLUE STAGE (amphitheatre DJ venue on ground level shown above), the BLACK STAGE (ADELAIDE UNI BAR), the YELLOW STAGE (backstage from ADELAIDE UNI BAR, as seen below) and finally the GREEN STAGE (one floor down from ADELAIDE UNI BAR).. surprisingly it was actually quite a nice setup.. once you figured out where 1/2 the fuck everything was, as quite conveniently there was no map available and most of the stages weren't even labelled..
MAYFIELD
after missing DELUSIONS OF GRANDMA, VAMPIRE PROJECT and DOUBLE HANDED.. the first band that I'd come to see, MAYFIELD, hit the GREEN STAGE at 5:40PM..
now I've already heard quite a few good things about this band hyped from various sources.. I think I even accidently found myself at
one of their gigs
at ROCKET BAR half a year ago (a CD launch no less) without even blinking an eyelid as some of my more eager alcohol fueled friends rushed to the front to hoot like exciteable monkeys in awe of their freaky grunge sounds (shit maaan, it wuz me night off, why should I give a crap?).. and yet, despite how apparently clued into the "scene" I claim to be.. it's finally taken till now, many months later for me to actually take notice.. pffffft wot an idiot am I? ;)
yup.. it's gotta be this kinda idiotic slackarse behaviour that must really drive bands out there screaming up the walls when they're gagging for attention from this fartarse website (*cough* VEGAS PARANO *cough*) but hey, when yer dealing with a website as hilariously unprofessional and self funded as this one (and one that happily spends paragraph after paragraph wasting time on pointless tangents like this instead of reviewing the band at hand) then you can't expect miracles now can ya? ;)
anyhoo.. now that I'm finally here (and their #1 fan W SHANE FORSTER is running around like a retarded toddler on a red cordial high) what have I got to say about all this? well in short, what's not to dig about these maniacs? MAYFIELD are a balls to the wall fuckoff hooting rockpig of a 90's style SEATTLE GRUNGE band, who shred their shit up like the full flailing ferocity of NIRVANA's most psychotic moments mixed with the whisky swilling aggression of the BEASTS OF BOURBON..
featuring the howling blond meat machine ZIGG WEST on vocals (who I've heard goes by a particularly ridiculous SCANDANAVIAN nickname as all he's missing to go the full VIKING beserker attack is a helmet with horns)
ED SOANG on bass guitar, who spends the entire gig running around and flailing his dreds into a headbanging MEDUSA blur as he stabs out his grooves (I've heard rumours these snake haired antics are particularly mesmerising and petrifying when your stoned out've your eyeballs - so make sure to wear mirrored sunnies..)
and finally, last but especially not least in the thrashing aggression department we have SAM KNIGHT tearing it up on the drums in a shitstorm of percussion till the walls bleed..
the overall effect is some freakingly meaty stuff.. I mean shit, if it was at all possible to drag KURT COBAIN's heroine riddled skinny whitearse frame thru the hells of basic training and boot camp for a year, taught all known forms of martial arts and the way of the samurai, fed nothing but steroids, steak, raw eggs, bourbon, cigarettes and pigs blood, subjected to nothing but fuckoff screaming drillcore drum n bass and death metal.. then injected with adrenaline and sent screaming into the battle field with enough military hardware to take down the DEATH STAR.. these maniacs would still kill him in 2 seconds flat with their outstretched little finger.. such is the diabolical madness that is MAYFIELD.. ROCK yooou mother fukkas, ROCK!!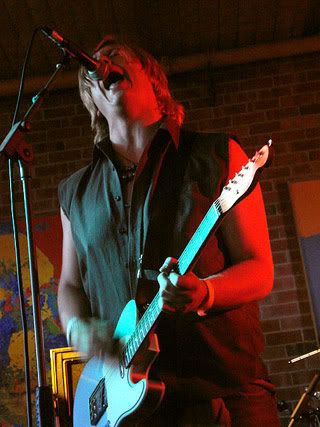 200 MOTELS
and now for a change of pace.. up next at the same GREEN STAGE at 6:20PM we have 200 MOTELS providing us with a once off improv standup comedy routine..
sure don't get me wrong, normally you'd expect these monkeys to perform something more akin to their usual hammering a-grade alterna-rock juggernaut.. somewhere between the sounds of PJ HARVEY and 2nd album YEAH YEAH YEAHS all mixed up to a shredding hissy fit of rock.. but due to various unseen forces, this evening's performance is coming off a bit differently..
first there's that weird low humming noise emanating from MATT NIKIC's bass guitar amp.. at first imperceptible, then growing ever louder till the subsonic drone overpowers the rest of the band.. it takes several attempts from the mixer (and various mixing gophers) to wiggle the electrical plugs like clueless apes till they've effectively vanguished that beast..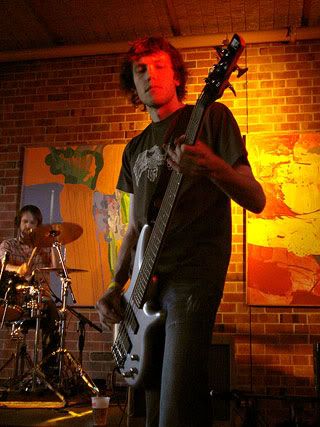 only then to be followed by one of the strings breaking on KIM ROBERTS' guitar, which grinds the set to a halt when they realise they dont have any replacement strings on hand (or perhaps the time to restring), thus creating a rather comical pause whilst a new guitar is chased up..
whilst throughout all this chaos, drummer ADAM OSBOURN and guitarist LOUIS UPHILL are blissfully playing away.. ever thankful that the burning goat sacrifices they made earlier in the day have effectively sated the insatiable hunger and burning rage of the horned demons who are secretly running this SCORCHERFEST from deep below the earth (HA! I knew there was something fishy about running a music festival on a SUNDAY!!) and thus left them relatively unscathed..
still despite all the escalating madness, rain of toads and W SHANE FORSTER's head spinning a full 360 degrees before ejecting what looked like pea soup all over the floor (it could've been a disaster until campus security thankfully dosed him with teargas grenades, dragged him off the premises and hosed down the area), their set otherwise went off without a hitch and ended in hooting midget triumph.. especially with their new song TALK IS CHEAP acting as the finale.. a song that featured such fuckoff pounding tribal drumming and shredding guitar cascades, you could've sworn they were channeling A PERFECT CIRCLE.. like whoaaaaa did that song fucking rock! get MATT HILLS and put this bastard on an EP already!!
*phew* now that I've survived that, it was time for me to hunt me up some dinner.. but since all SCORCHERFEST had on offer onsite was a crappyarse sausage sizzle and some vegie burgers, I decided to leave campus in search of other sources of nutrience.. wherein I soon enough found myself in a place where nutrients and vitamins go to die, FRUMPY DAKS at 7PM.. aaaaaaaah, greasy as all fuck BACON DELUX VALUE MEAL.. I can feel my arteries clogging as I speak ;)
POETIKOOL JUSTICE
back at SCORCHERFEST the next band I'm here to see, POETIKOOL JUSTICE ambush the RED STAGE in the cloisters at 7:40PM..
featuring the rapidfire lyrical flows of MC JAHMIN (above) and MC DEDZ (below)..
the spastic rubber chicken bass grooves of ADAM B..
metronome slamming breaks and beats by MITCHAY the human 808 drum-machine..
and looping and twisting rhythm guitar riffs by monkey man SEANY D..
as combined in force, these exciteable and endlessly pogoing lunatics cook up a diabolical storm of bouncy castle infected live hiphop and funk on stage, that draws so many swarms of crazed females in the crowd like moths to the flame to the front of stage going beserk to their pied piper rhythms.. that you wonder if this wacky shit does more to fire up the oestrogen levels around here tonight than that ever annoying yet catchy 19-20-20 song by THE GRATES does to the SHOTZ dancefloor at 4AM.. like whoaaaaaaa maaan.. it's like a seafood salad out there with nary a sausage (although if you look carefully, there IS that one hopeful twit with the mo-hawk and some other dude hoping to cash in at the front.. bwaahahahaha!)
yup, there's something about this idiotic brand of live AUSSIE HIPHOP (very much in the vein of BUTTERFINGERS and THE HERD but thankfully not in grunting self important arsehat vein of THE HILLTOP HOODS) that seems to really drives these chicks (and just about everyone else) in the crowd insane.. faaaark.. if I could like, bottle this shit or better yet dry it, roll it into some kinda leaf and sell it in psychedelic smokeable form I'd be a freaking gazillionaire with my own island dictatorship and a private army by now..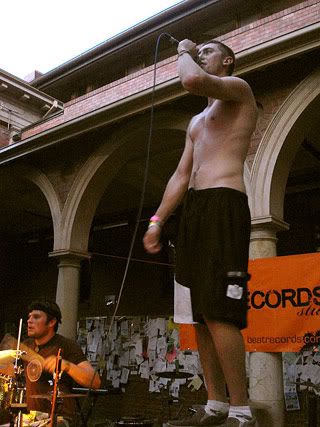 yup, for the entire 1/2 hour set, these maniacs have the crowd in the palm of their hand as they extinguished the sun and slayed everyone around them with a drilling funk jam that left no prisoners and no stone in the courtyard left un-vibrated to a freakish magnetic frequency of E..
seriously, if you missed this gig and you KNEW what you were missing out on you'd probably be throwing y'self screaming off a bridge right about now.. such is the diabolical and freaky (soon to be smokeable) power of POETIKOOL JUSTICE.. feaaar the beast!
THE DAIRY BROTHERS
and now with the unenviable task of following THAT up tonight, with have the final headlining act for the RED STAGE at 8:20PM with THE DAIRY BROTHERS.. and since I've effectively run out've every single excessively abused superlative and adjective for the previous 8 bands this weekend I'll just let the images speak for themselves.. since fuckit, if you don't know these guys already lemme give you the 2cent tour - THE DAIRY BROTHERS, they're like AC/DC mixed with BEN FOLDS FIVE and the WIGGLES.. they slam out joke songs about baboons, cows milk and singing heads in jars.. they're hairy, they rock the fuck out, the lead singer likes to use a leaf blower as a stage prop.. got the picture? good.. there's 8 more where that came from ;)
*phew* and now with the DAIRY BROTHERS winding up their tornado of rock cheese in a sea of hands at 9PM (and is it just me, or do they kinda resemble another joke band by the name of THE BEARDS? hmmmm.. I wonder?) another live music event winds to a close.. sure, I wouldnt've minded catching the tail end of A RED DAWN's set upstairs at the BLACK UNI BAR STAGE since they WERE scheduled to play for at least another half hour (rumour is the lead singer wasn't all that happy when they got cut short by 3 songs) but with the security here getting antsy and wanting to all fuck off home early.. everyone is promptly herded out and sent fleeing into the night.. as I too make an exit for the nearest bus the fuck outta here..
thus bringing to a close yet another ecclectic and infinitely retarding weekend in live music.. dodging bullets and the occassional flying turtles, throwing myself headfirst into the fray and cheating death at every turn all for the sake of the 2-3 grinning fools who still read this madenning dreck.. heh, why DO I do it? oh that's right, it's a fuckload of fun and I'm fucking insane.. that's why ;)
Previously on Spoz's Rant:
Radiation Ruling The Nation