THE END HAS NO END
at last we've reached the end game, the final frontier, the last cliffhanging episode of 2006 before the gaping blackhole that is XMAS and NEW YEARS swallows us whole in a dizzying shitstorm of last minute consumerist gluttony, wrapping paper, tinsel, tiny twinkling lights, pine needles, late hours and early mornings, sillyhats, socks and ties, department store vouchers, expressionless greeting cards, dried turkey flesh, luke warm beers, sunstroke, bloated stomachs, liver damage, disccordant singing, fugly arse relations, streamers, balloons, popping of champagne corks, overly exciteable shrieking, massive anticlimaxes, binge drinking till our eyeballs burst and misplaced affections, only to wake up the sorry side of death and disease next to an exceptionally unwelcome 2007 with a horrid case of morning breath.. OH THE HUMAAAAANITY!! WHAT HAVE WE DONE TO DESERVE SUCH CRUEL AND UNUSUAL PUNISHMENT!!?? WAAAUUGHHH!!!!! but of course with a year as insane as the 2006 I've witnessed out there on the frontlines, you know it aint gonna go quietly and without a fight.. oooooh no! it's gonna damn near drag me thru the fiery depths and back, to bring you this.. the final piece of the puzzle.. the last hurrah.. the one crazy weekend before the brink that shows us all that we've accomplished, and a faint glimmer of what is yet to come.. aaaaaaah!
so join me if you will, as we send this flaming wreckage of a year off in style! :)
THURSDAY NIGHT
for tonight's festive earbleeding, I arrive here at 8PM at the stinky 'ol PRODUCERS HOTEL near the corner of EAST TCE and GRENFELL.. yeah, a bit of a weird choice I know.. but y'see, before this place became the most reviled and wretched nightclub haunt known as "THE EXCHANGE", it was once an exceptionally shoddy but well loved live music venue.. and from the mid to late 90's, it's rundown livingroom style interior and expansive beer gardens would play host to all manner of scruffyarse rock bands.. it was cheap, it was nasty.. but damn was it fun as all fuck to hangout in.. but of course, like many lesser venues of it's ilk, it soon fell prey to the POKIES DARK AGES at the turn of the millennium.. closed its doors, changed ownership and filled up with all manner of bogans and metro's lining up around the block for a place pumping shitty TOP40 R&B eeeeeesh!
but just like the ever elusive mirage, it appears THE PRODUCERS has returned once more.. wooooo! :)
stepping inside for the first time in years, it appears the place has had quite a classy facelift of late with an interior "LOUNGE BAR" area now decked out with all manner of lush fixtures (chandeliers, fancy victorian era sofas, reflective silver hued ceiling, wall sized mirror overlooking a fireplace fixture, warm earthen style brown walls.. aaaaah :) ) making it quite like an opulent hotel suite from the turn of the 20th century.. of course I would've got more photo's of this, but with some exclusive looking corporate "invite only" product launch hogging all the interior real estate, I didn't want to push my luck with any untoward paparazzi action..
instead, I make my way thru the highclass champagne throng bopping to the DJ's inside (you got gourmet donuts too? you bastards!) as tonight they're launching a new LIVE MUSIC THURSDAY in the exceptionally more seedy beer gardens out back *cough* (who says we dont live in a class based society? ;) )
tonight's selection of proto-grunge and indie art-rock - TAUGHT BY ANIMALS, ALL MADE OF RUBIES and HOLOGRAPHIC CULTS was more than enough to entice the live music geeks like myself here.. but to sweeten the deal for all the rest of the alcoholic slobs out there, they also provided an open bar between the hours of 8-10PM.. yes, that's right kiddies FREE COOPERS PALE ALE! and I heard they're doing this shit NEXT THURSDAY as well (damn, way to bribe y'self publicity in the live music scene.. bwahahahahaha!)
HOLOGRAPHIC COLTS
first act for the night, HOLOGRAPHIC COLTS hit the stage at 9PM..
and out've all the fucked up obscure art-rock acts I've seen all year (and I've seen my fair share of weird ones) those three chicks from the HOLOGRAPHIC COLTS would hafta be the most hilariously minimal.. I mean shit, if it wasn't bad enough that the pitch black stage lighting they have here is making everything look like I was shooting in a submarine down a 10,000ft oceanic trench (which explains why I fired up my mock nightvision goggles for all the drummer shots tonight) having to endure the rarefied madness that these mischevious fiends cooked up made it all the more mindfucking to experience..
they were on stage for at least 20-30 minutes, but considering each of their songs barely lasted over a minute only to be punctuated by 5-6 minutes of awkward silence whilst they figured out what the hell to do next, I'd hardly call it a performance.. but still, if high pitched retarded shrieking, deconstructive drumming and one chord strumming guitar obscurity is really your thing (and even after 4 years of ART SCHOOL I'm coming up blanks) then hey, pop a few tabs of brown acid and give these monkeys a try.. weeeee! :)
TAUGHT BY ANIMALS
up next a little past 10PM we have TAUGHT BY ANIMALS - shrieking out a PIXIES'esque chorus of howling chimpanzees, layering guitar sonics, triggering samplist ambience and cyclic punctuated drumming..
this is the 3rd week in a row I've seen these hooting primates bang their shit up on stage.. so if you want a more coherant review.. read the one I posted
LAST
week, or the one I wrote the week
BEFORE
..
coz to be perfectly honest.. as much as I continually enjoy the lush broken guitar sounds they chew up thru the speaker stacks.. and highly recommend you go see them (trust me, you're gonna hear ALL ABOUT this band from every dickhead and their dog come 2007) I'm rather too much enjoying all the free beer they're offering over the bar to really pay attention.. *ahem*.. yeah, but seriously, TAUGHT BY ANIMALS, you dudes rock! just hurry up and release that freaking debut EP so everyone else can enjoy this shit, aiiight? ;)
ALL MADE OF RUBIES
and as my brain reaches more swirly levels of incoherancy (thanks to the 4 free beers I hoarded an hour ago from the bar) we welcome the final headlining act on stage tonight, ALL MADE OF RUBIES at 11PM..
and as much as I'm cursing and swearing over these accursed leprecaun lights tonight (one pissy green backlight, one tiny blue spotty and non reflective red brick walls really dont make for a happy live scene photographer) I'm really quite enjoying the sounds these art-rockers are cutting up on stage..
featuring RANI shrieking it up on guitar, bass and vocals.. the more nerdish and bespectacled STACI slapping up chords on guitars and bass.. and MATT thrashing it out the percussion.. they reminded me a lot of the YEAH YEAH YEAH's first volatile EP, mixed with I HEART HIROSHIMA, and the YOUNG AND RESTLESS..
or if you're drawing blanks with all my obscure references there (shame on you for being so ignorant! HA!) imagine if you will, messy as all fuck NYC style punkrock from the lates 60's / early 70's mixed with raw as fuck indie rock (hammering guitars, stabbing bass n beat grooves and primal screams) driven to a howling juggernaut frenzy of blood thirsty fury to chew your face off if you dare get to close.. it's really tripped out shit.. and chances are, just like TAUGHT BY ANIMALS before them (and looking briefly over their upcoming gigs listed on their myspace site), you're gonna hear all about these lunatics in 2007 too..
and now with the beer glasses piling up to the ceiling, the time pushing close to 12AM, and my liver close to pushing up daisies, it's time I flee this verdant hell hole in search of my last bus home..
and that was my THURSDAY NIGHT dose of live music insanity.. eeeeee!
FRIDAY NIGHT
for a change of pace today, I've been called in at the last minute to do a promo photography shoot for MUNCHKIN in the CBD at 5PM.. and of course, like all hastily put together plans.. not only has all the traffic delayed my bus by over 25 minutes, but it has also delayed all the band members who take another 1/2 an hour just to find parking spots.. thanks in no small part to a frenzy of last minute inner city shopping for an obnoxious religious festival known simply to all the capitalist pigdogs as "XMAS" (oh yes, how we do so love this time of year!) anyhoo.. after another cheerfully wasted 1/2 hour.. we eventually alight like space aliens in a back alley somewhere and try out for some badass promo shots..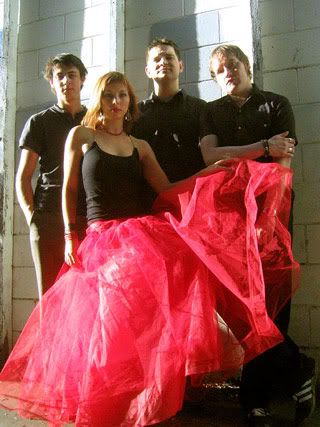 now as is obvious to ANYONE who reads this trainwreck on a regular basis.. I'm most experienced in the chaotic art of live photography.. every night I simply jump into the flailing maelstrom, go beserk with my itchy trigger finger and hope like hell I hit something without getting clocked over the head in the process.. promo photography however, is an entirely different beast.. everything here is about control - control the lighting, control the setting, and most importantly control all those damn musicians.. which, as much fun as it may sound - "yay I get to boss around rock stars all day!", really ain't as easy as it looks.. as more often than not everyone's just trying not to lose their shit and burst out laughing at how silly this all looks..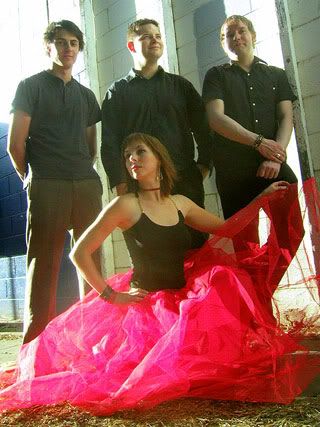 and it's this sillyness that comes particulary apparent, as you're lying in a pile of leaves in some driveaway somewhere.. looking to get a low angle epic shot, almost getting runover everytime a car goes flying by.. you're running thru your checklist - make sure DALE doesn't bust out with a CRAZY FROG grin, make sure GEDDY doesn't look like his head's gonna explode, make sure KALIAH's nipple isn't showing, make sure the new drummer MATT doesn't get lost amongst it all, not being able to see ANYTHING thru the viewfinder coz your 3 megapixel camera's a piece of shite.. and just when you're about to nail that ONE shot to finish the day, the band bursts out laughing all pointing madly to the incoherant babbling disturbance behind you..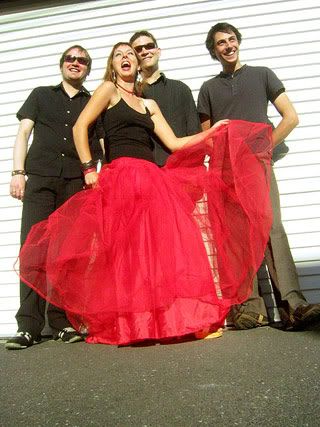 dammit, it's like EVERYONE wants to get in me freakin' photos these days.. hahahaha :)
30 minutes and 75 photos later it's a wrap (heh, always wanted to say that!), so I flee the scene of the crime at 7PM, head home, grab a bite of dinner, dump the photos to my PC, recharge my camera batteries, before emerging once more for tonight live gigs.. appearing first at HIGHER GROUND (the old IMAX) at 9PM..
MUNCHKIN
as I'm here to grab MUNCHKIN's live set as they hit the stage at 9:30PM..
it's been quite a while since I've seen these midgets play.. their last gig was at the CROWN N SCEPTRE on the same night I was rampaging thru
MELBOURNE
.. and for all the months previous to that (since late JULY) they've been holed up in the studio working on their upcoming debut album "DENY YOUR HERE"..
so it's good to see the "GNOMES" back once more in the live arena, wooping up their unique blend of triphop lounge grooves and spikey electro.. with a groove that mixes between the SNEAKERPIMP's "BECOMING X" album, the vocal stylings of PORTISHEAD's BETH GIBBONS and the slinky electro grind of GOLDFRAPP..
since the last gig I saw back in
JULY
, I see they've come up with a bunch of shiny new songs - ANOTHER SENSE, INTERCHANGE and SOMETIME AFTER MIDNIGHT (it's amazing what details you can remember when you nick their setlist muhahaha!), swapping the spikey and embarassingly electro sounds of some of their earlier offerings from this year *cough* for more slinky and refined triphop grooves.. me likes :)
and also new to their live mix is another one of ADELAIDE's growing army of hobbit drummers - MATT GORGULA.. who not only fills out the stage presence (and makes the band look less like the KALIAH ALICE puppet show), but also compliments their synth sound quite nicely with his minimalist spiky percussion..
all in all for the 1/2 hour I was there (I left after they played the song THIS IS GOODBYE, oh the irony!), it was a welcome return by these miniature sugar fueled creatures of the forest.. ROCK! :)
yup, as you may've guessed I couldn't stay for their entire set tonight.. as once again I was aiming to be in two places at once.. fleeing HIGHER GROUND at 10PM, running in a mad panic past the SANTA sand sculpture in the middle of RUNDLE MALL (woo.. so shiny!) so I could reach my next destination in time..
arriving here at ROCKET BAR at 10:15PM (yes, that is me being arty with a mixing desk)
FIRE! SANTA ROSA, FIRE!
to catch the 2nd half of FIRE! SANTA ROSA, FIRE! thrashing it out on stage..
and don't let the relative calm of the photos or the ominous gloom of the stage lighting fool you.. coz these young bastards were well n truly attacking the stage tonight like they were FIRE! PANTS ON, FIRE!
as it was announced officially on WEDNESDAY (and leaked somewhat earlier in the SUNDAY MAIL NEWSPAPER yooou sneaky bastards!) that they'll be joining the ADELAIDE BIG DAY OUT music festival for 2007.. playing alongside TOOL, MUSE, THE KILLERS, MY CHEMICAL ROMANCE, KASABIAN, THE CRYSTAL METHOD and a whole host more.. damn, nice work dudes! so, if you're too lazy to come check 'em out on the weekends (like over 20,000 of you lazy music fans seem to be for during rest of the year), come see them them fuck shit up loud at the BIG DAY OUT in 2007 when they hit the LOCAL STAGE around 3PM.. wooooo!
yup, tonight I'm dubbing them FIRE! PANTS ON, FIRE! as not only are these indie scene tragics buzzing out've their skulls from the BIG DAY OUT announcement and subsequently tearing up the stage at ROCKET BAR with an incendiary performance that'd damn near make roman candles out've the entire crowd here..
but they've also been cooking up a whole bunch of new shit.. damn.. it's only been 2 months since their EP launch - "YOU SEIZE THE CITY, I'LL SIEZE THE SKY" (get it, it's insane) and already they're surging ahead.. sheeeit.. you guys are nuts.. but from the sounds of what they're cooking up, the BIG DAY OUT wont know what hit them.. as they're working the electro booty funk elements of THE RAPTURE's 2ND album "PIECES OF THE PEOPLE WE LOVE" (good to see they've finally moved on from ripping off the 1ST album.. hahaha), with the darker manevolence of INTERPOL.. and hoooooly shit does it fucking rock! :)
to top of their explosive set, they finish up with the ultimate indie scene cliche of 2006.. with a free-for-all smashoff on the drums between lead singer DAVE "FAGSCREAM" WILLIAMS and drummer SAM "FAGGOTRON" STEARNE (yup that's
their
words in the quotations, not mine) that damn near floods out the toilets in the joint (don't laugh, it ACTUALLY happened on both floors.. eeeeesh!) *phew* and all of this hard boiled insanity before I've even had a chance to hit the beers tonight.. yeeeeouch! :)
CENTRAL DELI BAND
and speaking of drinking myself to death, it's time for the next act, CENTRAL DELI BAND to collide with the stage at 11PM with their signature facemelting mix of spastic electro, crunk, garage rock and toystore explosions.. as we welcome the kidney-stone passing screams of MATT "BULL IN A CHINA SHOP" HAYWARD..
the polka dancing, guitar riffing, death grind antics of TIM the nitWHITT..
the human bowling ball juggernaut of COREY PRICE on bass guitar..
the puppeteer's having an epilectic fit madman percussion of JIMMY BEANO..
and the twitchy caffeinated guitar riffs of human stick-insect LUKE EYGENRAAM..
TIM the nitWHITT swaps to chugging out a farting barrage on the synths whilst LUKE swaps to the drums..
before COREY "DONT CALL ME CHRIS FARLEY" PRICE attacks the synths accompanied by the spastic bursts of his whistle, as LUKE returns to shredding his guitar and 5 random audience members butcher the drums..
LUKE dons MATT "JOHNNY CASH" dinner jacket to randomly announce the LOTTO numbers.. whilst a dimensional rift opens up behind the COREY's bass amp and starts spitting out fear breathing leprecauns..
whilst the ipod running all their cavalcade of car crash samples, SOVIET RUSSIAN parade anthems, MEXICAN fiestas and warbling bird farts malfuctions in a shower of sparks.. momentarily stalling lead singer MATT in his tracks during the middle of their song GOLDFINGERING MOJO..
only to be saved momentarily on stage by DAVE from FIRE! PANTS ON, FIRE! as they join in for a duet.. whilst a cascading chromatic shower of frozen halibut rains down on the crowd from above..
*phew* now, I would've thought I'd seen enough of CENTRAL DELI BAND's spastic antics on stage this year to handle anything they'd throw at me, so nothing of what's proceeded before has alarmed me tonight.. but when lead singer MATT HAYWARD gives me this fuckoff evil glare (after trying to fire the crowd up with an inpromtu square dance routine, I kid you not!) and then screams at me.. "OI, WHY'D YA GIVE OUR SONG "BAD GIRLS" ONLY
2 STARS OUT'VE 5
ON TRIPLE J UNEARTHED YA BASTARD!!?" I knew I was in trouble..
fleeing for dear life, my only course of action to escape his wrath was to throw another hapless live band photographer into his flightpath, hoping it'd distract him just long enough until his nicotine fueled killing frenzy abated (such is the peril of being one of TRIPLE J unearthed's
review team
hahahaha :) )
and whilst the half of the band are seen regurgitating off the stage and into the crowd attempting to shoot down their lead singer with a tranquiliser gun.. every other musician in the house comes to the rescue as they hit the stage for a polka dance off (shown here, we have the guitarist from FIRE! PANTS ON, FIRE! and the drummer from the P-STICKS filling in with a frenzy of shakers and rattlers) for a harrowing finale that could only be described as the MUPPET SHOW on a violent meth amphetamine binge..
and as MATT HAYWARD finally collapses in a medicated heap over the front of stage.. another CENTRAL DELI BAND set draws to a dizzying close.. making for what was probably the most chaotic car-crash in mindfucking madness I've ever witnessed since the harrowing "CROWN N ANCHOR INCIDENT" of MAY 2006 (lest we forget THAT
bloodbath
.. aauugh!) yeah, I couldn't make heads or tails of what the FUCK any of this live set was attempting to be.. but, still.. for those few brief moments of clarity.. like when they wooped up that party anthem "CAISE (I THINK I NEED A BLOWJOB)".. they thrashed out such a diabolical electro booty death grind, they'd even have those lunatics from the MIDNIGHT JUGGERNAUTS running scared.. wooooo! :)
THE VALENTINOS
*phew* you'd think it'd be damn near suicidal to follow on from the musical equivalent of seeing that fat NAZI guy's face melt during the closing scenes of RAIDERS OF THE LOST ARK.. and yet, headliners THE VALENTINOS are gonna give it a red hot go anywaze, hitting the stage in full flight just past 12AM..
now dont get me wrong, but with a pantywaist name like THE VALENTINOS (and knowing little else about this band) I was really half expecting to witness some nancyboy indie scene tragics along the lines of DURAN DURAN combining forces with THE CURE and the worst new romantics tragics of them all, mid 80's band A-HA.. for a pirate puffy shirt, mascara running hissy fit (the likes of which, even BRENDAN FLOWERS from THE KILLERS would never dare attempt without getting beaten to within an inch of his life)
and the one song I DID randomly pick up of theirs on some music geek blog a few weeks back (I think it was
OPEN YOUR EARS TO MUSIC
) really didn't help me much either.. since, if you've heard their latest single "RAIN".. you'll know just what I'm getting at.. eeeeesh! talk about an indie tragic sook fest..
yup, truth be told, the original reason I was even gonna bother turning up to this gig was to see them local monkeys CENTRAL DELI BAND and FIRE! PANTS ON, FIRE! do their shit all in their howling glory.. and then for bonus points, get the opportunity to ridicule yet another interstate act to within an inch of their miserable lives (coz hey, it worked so well for the
MERCY ARMS
.. muhahahahahaha!)
but y'know what? douse me in flesh eating fire ants and call me MICKY but this shit blew up like fucking monkeys tonight.. sure, I could still pick up than enough 80's NEW ROMANTICS cheese to cover a football stadium full of cheese crackers, but running full throttle out've the PA, damn was it insane :)
to describe their sound is to imagine the midway point between the juggernaut hammering layered guitars of BLOC PARTY, INTERPOL and THE EDITORS combined with the freakier than shit-scared panic attack fury of dancepunk's lunatic fringe.. think of a band like BIT BY BATS or the vampire surf guitars of PERTH band SNOWMAN and you'd be well on your way to imagine the grinning horrors that assaulted our senses tonight..
delivered with such howling intensity by the ethereal vocals from lead singer NIK, who looked for all the world like a spitting image of spacecadet BOBBY GILLESPIE from PRIMAL SCREAM as he jerked around on stage..
and joined by the terrorist guitar riffings of JONNO MA, brothers ANDREW SANTAMARIA and PAT SANTAMARIA tearing it up in unison on guitars and bass, and DANIEL STRICKER thrashing out a percussive dervish with such intensity he damn near destroyed the kickdrum (only to have it replaced midway thru the set by the kick from FIRE! PANTS ON, FIRE!'s kit during a 3 person indie-cliche-free-for-all-smashoff) like hoooly sheeeiit, was this a freakjam of diabolical fury for my senses.. duuudes, you totally ROCKED!! :)
and yet, funnily enough.. after later acquiring their EP "DAMN AND DAMN AGAIN", their studio sound somehow didn't capture the madness witnessed live on stage.. hmmmmm.. guess that's the way it is sometimes.. if you REALLY wanna see a band in their element.. dont just go by their CD.. you gotta see this shit live! ;)
(although that one song of their's, MAN WITH A GUN is one seriously tripped out buzz..)
and now with my brain sufficiently smashed like mallets to a watermellon by the madness witnessed tonight and with the bands now done for the night.. I continued to drink myself retarded for the next hour or at ROCKET, before making my way down to the EXETER and then finally the stinky 'ol CRANKA at 2:30AM..
I enjoy some last drinks, throw myself stupid around the dancefloor and an hour later at 3:30AM I'm on the last SICKBUCKET (aka: the $6 "WANDERING STAR" BUS) the fuck out've here.. *phew* what a night aye?
SATURDAY NIGHT
as luck would have it, I faced yet another band promo shoot this afternoon.. and since I'd effectively emptied out all 3 of my batteries last night during my usual onslaught of live music carnage.. the only way I could possibly power up all the batteries in time was if I recharged them all in my sleep.. the problem? - I had only the ONE charger and these silly batteries tend to malfunction if you leave them running all night.. my genius solution? - before dropping off to sleep at 6AM (after filing away all my live photos for the night) and in effort to kill 2 birds with one stone.. I overdosed on 3-4 tall glasses of water.. not only did this rehydrate me in my sleep and pre-emptively killed off any oncoming hangover (trust me, water is all you need to kill the headshrinkage) it also forced me to wake up every 2-3 hours to go pee.. just the time needed to charge ONE battery and swap to the next.. so when I finally woke up at noon.. I was ready to go.. geeeenius! :)
and so at 2PM I arrive here in the leafy surrounds of KENT TOWN for my 2nd photo shoot this weekend..
today's intended victims were TONY FONT SHOW, who just like FIRE! SANTA ROSA, FIRE! (and other fellow local scensters who've also featured on this site - MORALS OF A MINOR, POLY & THE STATICS, THE AUDREYS, STRAIGHT TO VIDEO and DOUBLE DRAGON) had just won their own much coveted place at this year's ADELAIDE BIG DAY OUT FESTIVAL.. so now seemed as good a time as any for them to cough up a few new promo shots to spread their newly elevated image around (and in nifty ego boost to myself here, one of the promo photo's I took for them this time
last year
will be used for the official BDO BOOKLET guide, distributed to over 500,000 festival goers all over AUSTRALIA and NEW ZEALAND.. ooooooyeaaaah! :) )
so if you haven't seen them already, be sure to see them when they open the GREEN STAGE this year..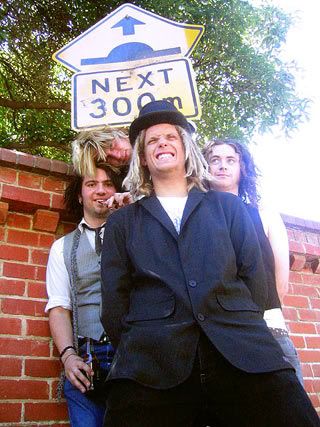 anyhoo, in contrast to yesterday's speedy MUNCHKIN promo shoot.. which was all about me attempting to portray the more difficult to capture "we're so badass, we're cooler than yer mom!" band image.. today when dealing with TONY FONT SHOW here (who look intent to channel all manner of RED HOT CHILI PEPPER style antics for their shoot) it's simply a matter of letting these idiots run riot in the suburbs and see what stupidity they come up, whilst trying not to laugh so hard that I drop the camera in the process..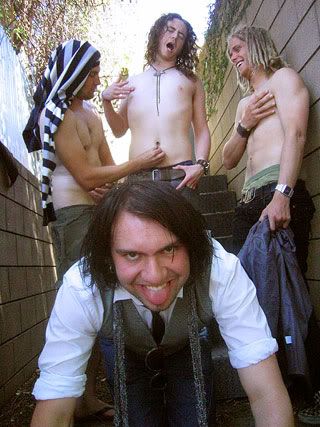 as luck would have it, KENT TOWN provides all manner of insane locations for such photographic mischief (dammit, I'm gonna need to PHOTOSHOP out that bottle of COOPERS PALE ALE in the shot.. aren't I?)
although it also helps when I'm dealing with a band, that if left to their own devices for long enough without any direction will generally wind up doing the most STUPID things just to get my attention..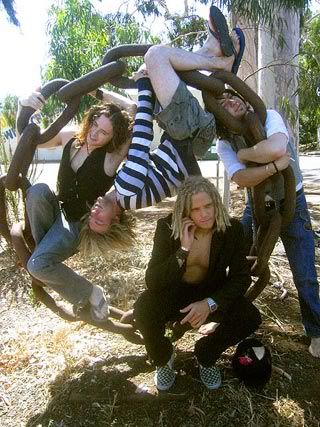 I dunno who's idea it was to pull this one off.. whether it was the twisted humour of their band manager, or the band themselves looking to do something particularly stupid.. but dammit, I'm worried (someone would later be heard exclaiming "THAT's IT MAAAN, I'M BURNING THOSE SHEETS!!" after the shoot.. hahahaha!)
and when somebody suggested we introduce ASPARAGUS the WOMBAT into the fray? we knew we'd taken the joke waaaaay too far.. *ahem*.. so, after 2 hours and 175 images of eyewatering sillyness, this shoot was wrapped up for the day.. oh, and while I'm on the subject of promo shoots.. if any of you stinkyarse bands out there are looking to hire someone to do some publicity photo's n shit? y'know.. *cough* lemme know :)
with the business end of the day now taken care of it was time to celebrate.. and as luck would have it, it was this location that was to play host to CHELSEA's birthday party BBQ drunkening at 4PM (and yes, although I know I have this continuing habit of calling her - "SHE WHO WILL NOT BE NAMED", "MY ATTORNEY" or "TONY FONT SHOW's BAND MANAGER" on this website for reasons that even I can't remember.. when it's her birthday.. fuckit, all bets are off!), of course all manner of mischief and hijinx took place (as you'd expect), but since we were all so busy drinking ourselves retarded at the time (nobody mention the absinthe.. yeeeouch!) I didn't get any of it on camera.. or at least I wouldnt've, if it wasn't for this ONE bizarre dance recital by SALLYCAT that she provided for me on the stairwells at around 8PM.. hmmmm ;)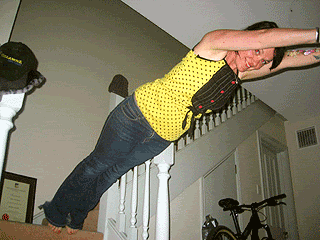 after spending the last 3-4 hours drinking my brain away on 5-6 stubbies of COOPERS PALE, a frozen MAGARITA slushy and a shot of absinthe, this was all too much to bear.. especially on an empty stomach.. so BBQ was in order.. again, no photographs were taken, but I believe I pretty much ate enough meat to damn near skeletonise an elephant (my compliments to whoever fired up that grill.. eeeeeeee!)
with my sanity rapidly going the way of this goldfish, I knew I had to escape this zoo and seek more meaningful exploits.. so at about 9PM, I made my leave from the party, blundered my way thru the parklands in the dark to the CBD (hahaha, you eeidiot!) in search of my live music destination tonight..
after making a brief stopover at another birthday party at the EXETER (happy birthday EZZA ya fluffy blond mongeese!) I finally arrived here at the twinkly lights of the JADE MONKEY at 9:30PM..
200 MOTELS
and hitting the stage for tonight's live music entertainment, we have 200 MOTELS..
who are making a triumphant return after lead singer KIM ROBERTS broke her arm 6 weeks ago in a freak KUNG FU sparring incident.. yes, that's right, I'm not just making shit up when I say she wields a stripey scarf of doom.. she damn near possesses the lethal force to use it! be afraid, be very afraid kiddies!
and along with the fluffy haired punk fury of guitarist LOUISE UPHILL, the subsonic snarl of MATT NIKIC on bass and ADAM "APHEX TWIN" OSBORN tearing it up on drums.. they're thirsting for the kill tonight..
songs from their current EP get a right royal blasting out've the speaker stacks.. with the start stop hypnotic rhythms and primal yelpings of IN MY HEAD, the dappled swingbeat stonerisms of MY SAY, the progressive chunk of WAITING GAME, the contemplative noodlings of FLIGHT and many more getting an airing.. including my own personal fave MISSING OUT (yup, no guesses that SPOZ stole their setlist again so he could actually remember what the fuck happened in the gig hahahahaha! *ow my brain!*)
creating their signature ethereal alterna-rock groove, mixing up elements of PJ HARVEY, THE HOWLING BELLS and the YEAH YEAH YEAHS and filling out the venue with all manner of lush sonics till the walls hummed.. they even had a few shiny new songs cooked up during their 6 weeks hiatus - RUNNING AROUND, TALK IS CHEAP (complete with ADAM OSBORN's nutty xylophone solo) and this kickarse howling dirge of rock called TO THE GROUND that I demand they record and release as soon as possible, coz it's 100% filth..
making for yet another brilliant gig by 200 MOTELS, despite me being so dribblingly out've my skull I could barely stand upright (and yet, notice how I still manage to take such sharp photo's.. whoooaaaa! :) )
TRIXIE PLAIN
with my gurgling headspace slowly regaining some sense of clarity.. I then head back to EZZA's party at the EXETER at 10:30PM.. making a brief stop over in the front bar, as TRIXIE PLAIN are performing tonight..
so here we have LINDOG "THE COLONEL" STARR looking all pissed off and snarly on guitar..
W SHANE "SMASHOFF" FORSTER on vocals, destroying his drumkit with another one of his temper tantrums..
TODD "SMILEY MAN" LORO hazing out with his bucket bong bass grooves..
and finally the exceptionally drunken antics of MATT and DAN WOOLFORD, who make an abrupt end to their set tonight when they stampeded onto the stage and destroyed everything in their path..
hmmmm, and speaking of lunatics quite possibly more drunk than I am.. it's high time I join in on EZZA's party celebrations already in full swing tonight, as we present to you this hilarious little sequence of images from THE ADELAIDE ALLSTAR PISSHEAD ORCHESTRA in their subtely nuanced performance of what I simply like to refer to as "WINDOWLICKERS" (I think it pretty much speaks for itself, don't you? :) )
*ahem* yup, and don't the EXETER barflies look rivetted! (dont worry.. although our art may not be fully appreciated in our lifetime.. sometime in the future, they'll come to call this artistic genius! :) )
hitting somewhere past 12AM, perhaps 1AM (really I'm too drunk to remember) we decide to take this flaming trainwreck of buffoonery to the more classy and refined surrounds of the CLOWN N SPANKA..
"oh no officer, we been *hic* drinking nothing but (fire) water tonight!"
the few survivors that made it out alive from CHELSEA's birthday party in KENT TOWN also arrive shortly at the CRANKA.. so I thought this was as good a time as any to present CHELSEA with my birthday present, the gift of SIMONE! (hmmmmm.. or perhaps this was simply arranged for my own drunken amusement :) )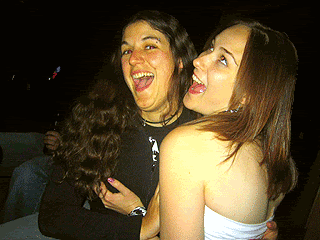 uh oh! now EZZA's looking jealous.. or perhaps she's just hungry? no wait.. could she be thirsty? in need of oxygen? hello? EZZA.. are you in there? nope, she may be still standing here, but she's loong gone :)
rounding up the night with our usual bewildering gallery of dribbling fiends.. we find guitarist PAGEY (aka: GIMLI THE DWARF) showing us the oversized fists of fury he uses to swing his chopping axe with..
DAN WOOLFORD propping up an exceptionally drunken SPOZ.. but wait.. shit, if that's me all the way over there.. who the HELL is taking the photo? (damn, now I'm really confused and need a lie down)
later we're joined by TODD who's looking a little worried of what exactly he's got himself into..
BOWIE here may appear to be still alive, but has in fact passed out hours ago with his eyes still open (not looking to leave him out've the fun tonight, PAGEY continues to wheel him around regardless..)
whilst the night ends for JOE, SIMONE and ANDREAS in an incoherant chorus of disscordant shrieking outside to the amusement of many, especially the nearby residents (and funnily enough, there's not a mobile phone in sight to capture all this stupidity for one of JOE's trademark voicemail pranks.. heh ;) )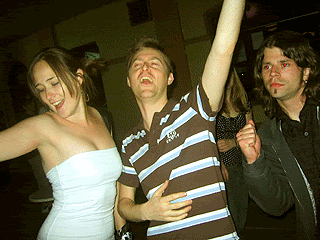 yup, it's been one helluva fucked up weekend, I've had my full of lunancy and yet I still missed out on seeing SOJOURN at HIGHER GROUND, or LOEMAX, MIRRORLINE and MAYFIELD (but hey it's summer, so I think I can afford to be a slackarse bastard after what I've done :) ) so now it's high time I get my shuffling carcass the fuck out've here, deciding to pass up on SHOTZ for the first time in months..
taking the last SICKBUCKET home at 3:30AM, arriving home in a foaming stain of gurgling ants at 4AM, and thus ending yet another insane weekend in the streets of ADELAIDE.. *phew*.. whoever says this place is a ghost-town on the weekends seriously hasn't lived like I have this last year.. yeeeouch! :)
oh and one final note - being as it is the last weekend before that silly one-two punch festive onslaught we like to call XMAS and NEW YEARS.. I'd like to take this opportunity to give myself a brief "blog holiday" from WRITING all this madness for the next few weeks till quite possibly the end of JANUARY (but don't worry, I'll still provide you with all my weekend photo's in "silent movie" format during the summer hiatus).. yup, as much as it's been a year that's exceeded all expectations for festive wackiness and I've got all of you crazy live bands and fellow friends, freaks and furry fiends to thank (no really, you lunatics endlessly entertained me and provided me with a continuing buzz for this freaky ADELAIDE nightlife in more ways than I could ever possibly put into words here, *sniff* dammit you all know who you are! I LOVE YUZ ALL!! (yes, even the really shit bands too.. hahahaha!) but now obviously it's time I seek a well deserved break, soak up some sunlight and recharge before I hit this website once more with a fiery vengeance come the ADELAIDE BIG DAY OUT in 2007.. and after that, who KNOWS where (in the world) my crazy adventures will take me? ;)
so till then, get a STINKY XMAS UP YUZ, AND HAVE YOURSELF A HAPPY NEW BEEEEER! :)
Previously on Spoz's Rant:
Dead Bodies Everywhere