DEAD BODIES EVERYWHERE
another weekend survived in the frontlines.. last shots fired, the phones in our head stop ringing at last.. ever thankful to reach the end of yet another grisly battlefield, surrounded by the rising stench of those that fell before us.. still twitching on the floor like upturned insects.. broken glass and bottle, squeaky floors in sticking puddles, the circling smoke, the tendrils of decay flaring nostrils.. gaps in our memory and holes in our lungs.. crawling out barely alive but still grinning stupid with flickering fluorescent stares.. ceasefires agreed, armistices signed, house lights flicked on, troops sent home at last.. whilst the less fortunate are carried off in taxis clutching heads to stomachs, a spilling wreckage in gaseous motion to be nursed back into health under dimming lights, muffling screams and coagulating trans-fatty acids served by cratered faces in foam and plastic.. the rest of us plot sequels upon sequels, each more stupifying than the one before.. collecting our fractured memories like fallen leaves.. freeze frames in the crossfire.. taking stock then charging head first like battering rams into the fray.. diving for cover under hail of bullets.. the near misses.. subsequent clockings over the head, snapping back like a punching bag.. taking a moment to reload under cover of speakerstacks.. a showering of shrapnel.. willingly poisoning ourselves to build resistance.. spinning, stupifying, flailing and in a trance.. a hooting mantra.. a victory dance.. hitting walls, collision course, bumper cars and collapse.. only to do the same stupid shit again the NEXT week?
such is the life of an ADELAIDE SCENE combat photographer.. how I don't get killed risking life and limb doing this shit every weekend is ANYONE's guess.. but hey, somebody's gotta be stupid enough to do it ;)
THURSDAY NIGHT
to begin this week's installment in face melting carnage, I find myself here at ROCKET BAR at 9PM..
upon arrival, I'm greeted by a hypnotic ring-of-fire drumkit (yeeouuch!) fronting a projection screen showing spaced out stock footage from a mid 70's skateboarding film.. and I tell ya wot, if you haven't seen scruffyarse hippy dudes from CALIFORNIA with feathery blond mullets and handlebar moustaches trying to ride on what amounts to little more than shonky bits of plywood with wheels down a hill like a luge, then you seriously haven't lived.. if only I was choking up to the gills on some a-grade weasel right about now I'd be flying right along right with you guys.. eeeeeeeeee!
(although, perhaps looping that same footage more than 3 times in a row to distract me from the 1 1/2 hours in delay it took till all you bands got your shit together tonight, proved a trite unnecessary ;) )
TAUGHT BY ANIMAL
after much delay in soundchecks and technical tweakery, TAUGHT BY ANIMALS arrive on stage at 10:30PM..
for tonight's film backdrop (after using DISNEY's "JUNGLE BOOK" for the FIRE! SANTA ROSA, FIRE!
launch
, and some whacked out 1960's CAVEMAN epic for their gig
last weekend
), they've chosen to go the 1960's STANLEY KUBRICK classic DR STRANGELOVE (OR: HOW I STOPPED WORRYING AND LEARNED TO LOVE THE BOMB) in homage to LADY STRANGELOVE's bassplayer AZZA, who was celebrating his birthday tonight..
MATT HILLS lopes around the stage riffing up layers of melodious guitar like a freshly shaved sasquatch..
JON WALSH cuts up his broken guitar and howls up a chorus of chimpanzees, looking very much reminiscent of ROBIN WILLIAMS when he played that homeless guy in TERRY GILLIAM's movie, THE FISCHER KING..
whilst recent escapee from SANTA's worshop, NEIL CLARK (aka: FRODO BAGGINS) provides all the percussive stonerisms and pad triggered sonic fills, from gizmo's mounted on his drumkit..
collectively filling the air with their deconstructive cacophony of proto-grunge PIXIES'esque howls, yelps, cyclic guitar textures, stomping percussive dylsexia and layer upon layer of sonic stoner bliss..
making for another brilliant devolutionary set of primate rock by TAUGHT BY ANIMALS (oh, and I think they're planning to launch their first EP early in 2007, be sure to check it out, it'll be fookin' uuge! :) )
TOKYO CITY SEX SHOOTERS
with my brain suitably reduced to a foaming stain crawling with ants.. the next act, TOKYO CITY SEX SHOOTERS, hit the stage at 11:30PM to kill off all the rest of my organs that're still left functioning..
on guitars and vocals wearing a japanese kabuki mask, we have LONE WOLF McCOY..
on bass, vocals and keyboards also wearing a whacked out kabuki mask, we have STACEY OWENS..
and.. um.. shit.. some trigger happy mechanoid freak on drums that for all the world must be the leader of the AUTOBOTS, OPTIMUS PRIME (but is otherwise cunningly disguised here by his alias "A.S.H.B.Y. 3000 THE PNEUMATIC DRUM MACHINE") yes, I know kids.. I'm scared too (and I thought I'd seen it all.. eeeeeee!)
although you'll agree, he looks infinitely cooler when he's all lit up n shit.. wooooo! :)
yup, for all the weird shit I've seen done out there in the ADELAIDE MUSIC SCENE.. from the performing halloween ghouls, the NERVOUS GERBAL multicolour fur suits, CENTRAL DELI BAND's former dancing twit in a bear suit, LAZARO DOGS' bikini chicks with guns, the DAIRY BROTHER's cow mascot, right up to the dizzying spectacle of watching an exceptionally inebriated SEAN KEMP do the dance of the 7 cellophane veils at a LEGLESS gig back in 2004.. this performing robot here tonight definitely takes that cake, defaecates all over it and then lights the whole freaking mess on fire for a-grade psychedelic weirdness..
the rest of the band could pretty much sit on their arses and blow up balloon animals all night with a deranged spectacle like that.. but thankfully the somewhat insignificant "music" portion of this stage act actually ain't all that bad.. coming off sounding very much like a ROSWELL incident between T-REX and GEORGE CLINTON's P-FUNK SPACESHIP (or an acid drenched 70's pimp rock synth disaster.. only funky :) )
and don't the indie scene tragics in the crowd go absolutely spastic for this shit.. w00t!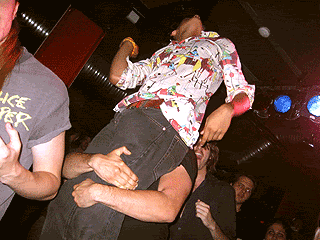 *phew*.. yup, that was one helluva face melting experience in multiple organ failure.. I think it took me near a solid hour or so afterwards before I could scrape up all the puddles and splattering remains of my internal scattered from floor to ceiling, douse it all in beer and get the fuck outta there alive..
and so I finally make my escape at 1:30AM, diving into a nearby taxi and find my safe passage home.. thus ending a particularly bewildering, yet enjoyable night in live music ecclecticism..
FRIDAY NIGHT
with the mercury stinking upwards of 41C today (or 105.8F for all you idiots out there still living in the stone age), my original plan to do the healthy thing tonight and ride my bike into the city was effectively nix'd when my transport got deep fried the minute it hit the tarmac.. yeeeouch!
and so, after securing some 4 wheeled airconditioning (cheers to SEAN) I arrive at FAD CAFE at 7PM to check out the opening night for a new art exhibit in the gallery upstairs - KLANGFARBEN 3: featuring paintings, mix media, film and photography from such artists as THOMAS BUCHANAN, WILL NOLAN, CHAD McLACHLAN, PAUL ROHAN, LUCY TURNBULL, CHRIS O'GRADY and FUISM.. which, since this is a fart-arse retarded live music blog, will mean just about zero to all you mouth breathing brain casualties out there reading this right now (oh yes, I DO rate my audience ever so highly, dont I? bwaahahahaha! :) )
BRENDAWG & THE DROID
considering the visual artists here got altogether nervous when I attempted photographing some of their work (quite unlike all them musicians out there who'll happily whore themselves in photographs at ANY opportunity *cough*) I've chosen not to show anything of what I witnessed inside.. except of course for the exceptionally stoner vague ambient electronica provided here by sound artists BRENDAWG & THE DROID.. backing the fine selection of art here with their noodling array of farts, bleeps and wallpaper white noise..
my dribbling baboon entourage barely last 10 minutes in here as the free beers are in scant supply (and for exhibiting artists only.. pffft tightwads!) whilst I barely last 10 minutes more myself staring the walls and hoovering cheese and crackers, before I too pile out've the door in search of more solid food at the DUKE OF YORK at 8PM.. oh, and speaking of my short attention span for the visual arts.. if your into this whole cerebral eye-candy thing.. be sure to check out the new exhibit in JIVE for AMNESTY INTERNATIONAL, it's uber shiny and it has me friend SALLYCAT's works in it too.. so, go along and, like.. buy up all her shit! w00t :)
anyhoo.. with 9PM approaching, my original scheduled plan was to catch VAN SHE play a set tonight at ELECTRIC LIGHT HOTEL with the infamous MORALS OF A MINOR (
rematch anyone?
) and those chuckleheads CENTRAL DELI BAND.. but since VAN SHE pulled out at the last minute to continue work on their upcoming album (yoooou slackarse fuckers!) I was left with a gaping hole in my usually insane schedule.. a hole that I could've easily filled with OTHER live gigs, but since it was too damn stinking hot to breathe tonight.. I opted to catch that new BORAT film instead, arriving here in HINDLEY ST at 9:10PM..
10:45PM I pile out've the nicely refrigerated cinema, more or less amused but otherwise unsurprised by a film, which considering I've been more or less familiar with SACHA BARON COHEN's works since witnessing all his ALI G nonsense back in 2000, pretty much lived upto, but didn't EXCEED my expectations.. still, it's funny as all fuck (the horrifying nude sequence alone is worth the price of admission) I'd give it 3 1/2 stars out've 5.. so yeah, fuckit.. just go see it already and laugh all ya bits off.. w00t!
at about 11PM or so, I next arrive at the CRANKA (near dead after staggering thru the blazing heat) and since it's essentially my night off, there's really only ONE thing for me to do tonight..
and so a few hours later, I leave for home at 3:30AM, blind drunk and dribblingly incoherant upto me eyeballs after a stupifying journey in alcohol fueled depravity that is so hilariously inconsequential (but all the more amusing) that I wont even bother illustrating any of it here.. and yeah I know, this "holiday" could've been better spent in the more erudite caffeinated surrounds of a cafe talking philosophical and scientific mumbo jumbo till we solved all the necessary equations for unified field theory, world peace and renewable energy.. but yeah, fucked if you're ever gonna see any of THAT behaviour in this blog :)
SATURDAY NIGHT
tonight I'm here at THE ENIGMA, which as we all know, is the last stinking outpost of hell I'd ever wanna step foot in if it wasn't for all them accursed a-grade bollocksing rock acts who continually insist on playing here (bastards!), sure it's not like I have any deep personal grievances with this place, but seriously.. WOULD IT FREAKING KILL YOU GUYS TO GET SOME COOPERS PALE ALE ON TAP HERE!? I'M BEGGIN YA!!
as I load up on pints of their vastly inferior SOUTHWARK PALE ALE before the show tonight (note to COOPERS BREWERY, I'm expecting free beers for life for all the good publicity I'm giving you here!) I'm greeted by SEAN KEMP here, who's doing his very best to make what amounts to a dyslexic wardrobe malfunction between 1930's CHICAGO MOBSTER and AFL UMPIRE look like ROCK N ROLL *cough* (stifles laugh)
still, I wonder.. big sunglasses are all the rage these days, ya reckon this shit could work?
BOOSTER
before I can make too much of a fashion disaster of myself tho', the glasses are soon yanked off me, as SEAN and his merry band of twits are the first act on tonight with their band BOOSTER, at 9:30PM..
featuring as always.. vocals by SQUARE EYES McGEE, smashing off on his tool kit..
an elephant stampede in bass riffage delivered by JOSH "CHOPPER" BIGGS..
and the idiot-savant riff shreddings and psychedelic guitar solos of CRAIG LEWIS..
however their blistering set (featuring as always their usual juggernaut of QUEENS OF THE STONE AGE vs THIN LIZZY style riff-rock cheese) has added a new element tonight, in the form of this newly acquired theramin (which SEAN only just purchased earlier today for $100.. wooooo!), adding an altogether sillier instrument to their already overblow cartoonesque pigrock repetoir.. which, with it's wobbling and wonking bird chirping yodel here, reminds me less of the THERAMIN treatments of PORTISHEAD or locals BIT BY BATS (or even LAZARO's DOG) but more like the sounds of someone choking to death on a slide whistle..
it's a brilliant addition, dont get me wrong.. but perhaps they should've given themselves more time to rehearse with it.. as CRAIG LEWIS, ill accustomed to the mind melting 50's sci-fi sounds emanating from the stage tonight, has just suffered himself a particularly messy three dimensional fart in his pants (otherwise known as the much dreaded "SHART", the shit that masquarades as a fart.. aaaauuugghhhh!!!)
JOSH looks suitably aghast at the unfolding horrors, and perhaps a little relieved inside that he's finally found himself a scapegoat for all the brown notes he's usually responsible for..
whilst SEAN is simply lost in his own world, going spastic on his newfound toy as their usually well articulated death machine of rock tonight, soon collapses into a chaos of twittering clown noises..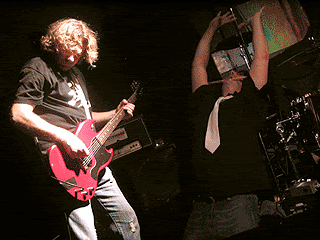 making for one fucking bizarre-arse set.. coming out all punchy as fuck with 5 rapid fire songs of volatile rock fury crammed into the space of 15 minutes with barely a gap to fit a credit card thru, before all that bird twittering chaos in the 2nd half near about destroy everything in it's path, with the band disappearing off the stage no sooner than they had arrived and leaving none of us any the wiser of what the FUCK happened.. *phew* damn, every band should get themselves a THERAMIN, this shit fucking ROCKS yo! :)
ANGELIK
a lengthy delay follows as paramedics cart CRAIG LEWIS off stage and hose down the surrounding area, followed by an extensive soundcheck to account for all the damage that SEAN's theramin causes to the live PA.. before ANGELIK can finally make their way onto the stage for act two tonight, at 10:45PM..
featuring NICK PARKER on bass guitar, as he carefully navigates thru the minefield of foaming brown puddles left scattered around him whilst thrashing out his signature breed of subsonic intestinal fury..
SAM "THE BULLET" BAROUDI chainsaws wave after wave of doom riffs from his guitar..
lead singer LAKEN, looking all too relieved 3 songs into their set that the house mixer has finally got her microphone working again (after SEAN's mischevious THERAMIN antics near about destroyed every audio circuit in a 1km radius) tearing into her set with diabolical multi-octave glee.. whilst NICK HADLEY demolished his drumkit behind them with his accompanying deathmarch in splintering percussion..
like the fullblown punkrock fury of THE DISTILLERS vs GWEN STEFANI in a meat processing plant during a hailstorm.. tonight's set may've gotten off to a shaky start (considering in the initial chaos, nothing could be heard coming out've the live PA but the guitars) but in next to no time their a-grade insanity roared back into focus like a blowtorch, leaving nothing but a scattering of singed eyebrows, shattered teeth and incinerated skeletons scattered from wall to wall and ceiling to floor.. weeeeeee! :)
AIRBOURNE
and now that the crowd has been effectively warmed up to a lobster boil.. it's time to deliver us the final killing blow, with the headlining act I've been waiting all year for (ever since their insane performance at this year's BIG DAY OUT) as we welcome AIRBOURNE to the stage at midnight..
arriving here with a giant wall of 8 MARSHALL stacks facing us, 7 front of house FOLDBACK speakers and combined with twin red and blue siren lights.. you could just imagine that AIRBOURNE were one of those gentle nuanced shoegazing acts all the indie tragics love to go all ELLIOT SMITH on (oooh, low blow!)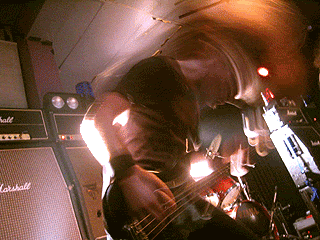 when you get hit with those monster riffs on bass and guitar, dicing all our heads clean off like a giant rotating guillotine blades swinging pendulum runs thru the venue.. you KNOW you're asking for trouble..
but when combined with a fuckoff juggernaut on drums and this insane hellspawn of a leadsinger who not only looks like the reincarnation of BON SCOTT from AC/DC, but freaking sounds JUST like him..
and combined with this fuckoff washing machine crowd of howling psycho's thirsting for blood, climbing the walls, bursting onto the stage to assault the band and otherwise near about stain each other deep into the floor boards; it's any wonder I even got out've here in anything but a zip lock bag.. this wasn't a gig for the meek, the geek, the pencil necked or the thin in spirit.. but for the sorta depraved self destructive JACKASS who'd attempt just about everything to kill themselves rotton with for grinning bloodsport, coz HOOOLY CRAP did this shit rock like nothing else on or off this planet.. whooaaaaa!!
to punctuate the insanity, about 3/4 into their set, the leadsinger leaps off stage and gets carted aloft thru the crowd in a similiar "wireless guitar" stunt to that attempted here by THE INCHES just
last weekend
.. although, clearly with somewhat more volatile results.. as it appears half of the crowd here tonight are fuckoff aggressive pig-shooters, factory workers, truck drivers, abbatoir workers and amateur boxing enthusiasts, ie: the sorta maniacs in full flight who'd damn near skeletonize a cow carcass in 30 seconds if you let 'em.. I could just imagine what would've happened if THE INCHES dared faced off against THESE lunatics ;)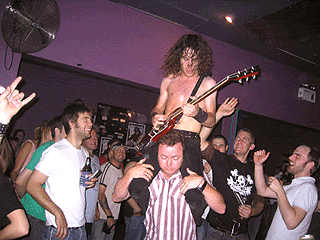 yup, here we have a band, that sounds like the earbleed fury of AC/DC x 100, cranked to the sorta fiendish demolision volumes that even your unborn children will surely feel rattling thru their skulls for the next 10 years like a freightrain.. as they play to a crowd that is doing their best to grind their own skeletons into a powder you could feed thru a fine grain sieve.. and here I was, damn near stupid and bullheaded enough to charge into the middle of THAT to take photo's.. yeah, what the FUCK was I thinking!?? but hey, if I can survive TONY FONT SHOW's CD launch, a SHIHAD mosh and the full fury of IGGY & THE STOOGES, I could be mistaken for thinking that conventional weapons could no longer harm me.. BWAAAHAHAHA!!
feeling damn near grateful to be still alive after that thunderous onslaught, we the few who were able to crawl out've that growing pile of wreckage, celebrated in style like VIKINGS fresh from a beserker killing frenzy..
by 2AM, I eventually find my way down to my second home, the CRANKA, again somewhat mystified by the muted atmosphere and dour "smurf free" lighting I'm being greeted with here.. as all manner of exaggerate rumours were now circulating speaking of the CRANKA's imminent demise (which may have something to do with all the management staff being fired 3 weeks ago.. and of course, the usual paranoia that follows) what does the future hold for the CRANKA, who the fuck knows? either way the drunks are scared! AAUAUGHH!!
yup, whenever we need the second coming of some loony, near deified prophet who can turn water into wine, wheatgrass into beer, sugar into cocaine and vitamin C pills into exctasy, then SURELY that time is now.. who needs a venue if you've got you're own walking chemistry set on hand? (although he was a little worried whether he would get charged a corking fee everytime he reached for a glass of water.. hmmmm?)
but obviously no matter how dire the situation at hand, this wasn't the time to dwell on gloomy forcasts for our much beloved east end live venue (but feel free to direct all paranoid speculation on that matter to my
OTHER
blog), as soon thoughts led us to lose all our coherant thought down the road at SHOTZ at 4AM..
much of the usual retarding hilarity, dancefloor mishaps and the beer fueled hijinx ensues.. the sorta stupidity that once again evades any and all trace of my photographic memory.. *phew*.. till, just like clockwork, our regurgitant remains are then spat out onto the pre-dawn streets somewhere past 5AM..
and as this infamous hippie seeks to puff enough weasel to fly himself home..
I stagger blindly down CURRIE ST in search of my ever elusive taxi..
arriving home at 6AM, to a house of spinning walls, blinking lights and ever welcoming unconsciousness.. and the end of yet another rollercoaster journey thru the squinting eye of the storm.. eeeeee! :)
Previously on Spoz's Rant:
My Own Summer Shove It