MY OWN SUMMER (SHOVE IT)
aaaaah here we are at last, the first weekend of SUMMER! finally, after all our slaving toils and labour, after months of clawing away at the infinite walls under grim cover of grime and darkness, after all the thankless effort, all those human sacrifices, all those lost memories stolen to the dark arts, we have finally made it here, to this spot, this oasis in the desert.. alive and well.. and discounting all the littering wreckage of befouling carcasses we've left scattered behind us rotting in the sun with mile wide grins on their faces, it has been a journey we've made safely and in one piece.. it took a lot for us to get here you and I, and we survived thru a lot.. so many horrors unimaginable and unthinkable outside the realms of science and fiction.. and yet so many of them we welcomed with open arms.. were we insane? was the risk too unthinkable? too much for any of us to bear? is this where we imagined ourselves to be at this point? who the fuck knows! that's all over.. we're here now and it's been a long time coming.. surely we deserve a well earned break you and I.. and this is our just reward! oh yes.. now is the time to soak up the sun sipping cool drinks with little umbrellas and think nothing but emptying bliss in blue skies and fluffy white clouds for the next 3 months in utter ignorance of the world beyond.. OH HAPPY DAYS!! SUMMER IS HERE! YAAAAAY! :)
which of course for lunatic music scene bloggers like myself, can only mean my worst freaking nightmare, as now I've gotta contend with even MORE of you grinning idiots out there flooding out all my venues in your thousands like starving zombies from a long winter's hiberation, all craving to lose your brains in splattering piles all over the dancefloor.. and yet, as much as it exhausts me, you're all still a welcome sight for my bloodshot eyes.. it's really nice to see all you freaks out here at last.. so come one, come all.. you're ALL welcome! the water's nice and toasty warm and slowly reaching boiling point to cook you all alive!
dare you dive in with us and sample all those freaky fine flavours.. eeeeeee? :)
FRIDAY NIGHT
aaah yes, with the weather continuing to heat up this stinkpile scene into a glorious nostril flaring stench of gurgling fervour, I'm cursed with even MORE reasons to drink myself into a vegetative coma for the sake of you mouth breathing dorks, as tonight I'm presented with the following more than worthy choices - option (A) MIRRORLINE, LOEMAX and DR INVISIABLO at the JADE MONKEY; option (B) DUKES OF WINDSOR, THE INCHES and CITY RIOTS at ENIGMA; or option (C) POLY & THE STATICS, THE PHAROAHS and THE MESS HALL at JIVE.. yup with such a wealth of live music on offer, if you stayed home tonight pulling cheese crackers out've yer arse you should be dragged out onto the street like a dog and shot!! (and don't think it's an empty threat either, I'm building up a vigilante task force as I speak.. HA!)
anyhoo.. deciding on the path less travelled (and thus giving me many more victims ripe for ridicule!) I go with OPTION (B), leading me to this most befouling dive of scum and villianry, THE ENIGMA at 9PM..
CITY RIOTS
the first sacrificial victims for our amusement, the CITY RIOTS arrive at 9:30PM..
and to begin with, I'm wondering if I made the wrong decision tonight, as the venue upstairs looks near whistling on empty to the point that I can almost see tumbleweeds blowing past up here.. shit.. maybe it's too early? maybe the infamous doorbitch downstairs has eaten everyone else who dared approach her to buy passage above? (I heard they grind up the leftovers for the sausage sizzle in the beer garden) who knows?
either way, the CITY RIOTS are still making more than a valiant attempt to thrash out to the 10 or so lucky people who've braved the trials by fire to get here with their ever infectious indie cheese pop..
as they crank out an impossibly infectious and radio friendly death grind mix of hammering indie guitars, dancepunk bass n beats and chipmunk frequency vocal harmonies..
or pretty much what you would expect if you combined the spastic pogo dancing euro trashing antics of THE HIVES and THE KAISER CHIEFS running at full tilt, with the smily brain damaging summertime sounds of ESKIMO JOE's first album "GIRL".. sure, it may occassionally pack more cheese vocal harmonies than a bout of food poisoning at DOMINOE's PIZZA.. but DAMN does it still rock out like donkey's bollocks.. ooohyeaah!
and now with THE CITY RIOTS done for the night I make a brief detour the fuck out've ENIGMA in search of some intermission amusement (why oh WHY was I drinking TOOHEY's EXTRA DRY in this place? oh yeah! that's right! YOU DONT FUCKING SERVE COOPERS ON TAP YA FUCKS!!) at first, I find myself outside of JIVE nextdoor attempting and failing to blag free entry in the hopes of catching THE PHAROAHS and THE MESS HALL ($17 on the door? faaaaark!!) before heading across the road to ELYSIUM LOUNGE..
wherein I'm joined by these grinning lunatics - JOSH the AFRO EXPLOSION (guitarist for LADY STRANGELOVE) and big man COREY (bass player potato head for CENTRAL DELI BAND) whilst they enjoy a few quiet drinks..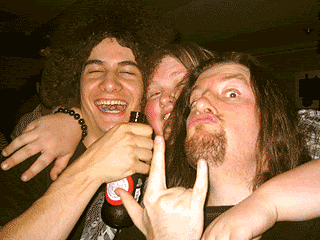 THE INCHES
10-20 minutes later, I'm then back to ENIGMA for the next act at 10:30PM..
with the doorbitch effectively subdued by animal control and a team of dragon slaying knights, the upstairs venue is now starting to pack out with all manner of flappy armed indie scene tragics all hooting exciteably for this band, yet another one of TRIPLE J's flavour of the month acts, THE INCHES..
as they kick up a storm of overdriven synths, hacked up guitar riffs and booty bass..
to an accompanying hellfire assault of pounding metronome beats and loutish beer swilling lyrical shouts..
with a sound reminiscent of the stick insect punchy 80's sounds of THE VIOLENT FEMMES or THE TALKING HEADS, or a band you might've heard thrashed to death on radio recently with their single "ALWAYS UNDERCOVER" (yeah, fucked if I know) either way, these dudes are actually pretty freaking cool..
and don't the indie scene tragics in the crowd just go absolutely spastic to this shit.. especially enjoying the lead singer's piss antics, as since he appeared to be equipped with one of those wireless radio transmitter guitar doober-flickles (I think that's even the official name for it.. ask those monkeys at DERRINGERS), he was found prone to frequent wanderings.. like to the bar here to steal CITY RIOT's beer rider.. w00t!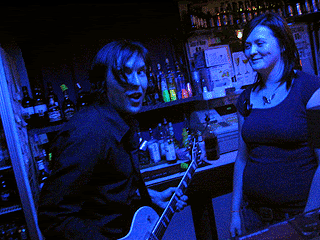 but before too long, the crowd turned on him, attacked him by force and kidnapped him for sacrificial offerings to the beast downstairs (as is always the nature of the ever fickle flavour of the month indie crowds.. one minute you're NME's best friend, next minute you get eaten alive by the doorbitch.. eeee!)
THE DUKES OF WINDSOR
with the littering pile of skeletons beginning to pile downstairs, it's time for the headliners, THE DUKES OF WINDSOR to hit the stage at 11:30PM.. ever fearful for what grisly fate awaits them tonight..
and as much as I'd like to claim I'm here to see these guys perform tonight on the merits of some extensive word-of-mouth rumours, blogger hyperbole and other such respectable underground buzz..
truth be told, I just stumbled upon their music video to the song "THE OTHERS" on RAGE a few weeks ago, thought it wuz pretty damn cool, and so for laughs I hunted them down on myspace and added them..
a week or so later these twitchy fucks buzzed me back, wondering why the hell I wasn't going to this gig tonight at ENIGMA.. so fuckit.. on a total spur of the moment, I thought I'd go check 'em out..
(of course, chances are they probably have only the ONE good song and the rest would lick hairy testicles.. but then again.. if they did, I'd have even MORE fun publically ridiculing them on this blog :) )
*cough* and yup, there goes what little journalistic integrity this website ever had a chance in building.. oh well, fuckit.. guess I better tell you monkeys what I thought of all this rubbish, aye?
DUKES OF WINDSOR are some wackyarse act from MELBOURNE that bypass all the usual record company madness, scoring a promotional deal with I-RIVER instead, which make some pretty halfway decent MP3 PLAYERS considering I own a 40 gigabyte memory version meself (even if the rechargeable battery is all fucked and only lasts 5 minutes now before it dies.. ack! stupid piece of shit!!) and since you may've noticed that I have an issue with promoting commercial products on this ere website (what with my habit of calling a particular fastfood establishment "FLUNGRY CRAPS"), I've thus made a note to avoid any photos of the huge I-RIVER logo on their drumkit (sellout fuckers!), I would however like to mention the rather humourous sign they slapped on top of that that reads "COCKS SMASH THE INCHES".. heh, you funny bastards :)
as for the sound these *cough* (sellout fucks) cranked out, it's the kinda piss funny spiky dancepunk shit that runs very much in the vein of THE RAPTURE.. "but duuuude, RAPTURE fucking sucks balls maan!".. yeah.. ok, forget the utterly shite 2nd album for a moment.. you remember their FIRST album "ECHOES" back in 2003? remember how cool that wuz with all the spastic shrieking guitars, cowbells and saxaphones n shit? yeah.. DUKES OF WINDSOR sound just like that.. only without the saxaphones but still jumping the fuck around the stage with dancepunk fury like overdosing pogo idiots on smack.. w00t!
and what with the lead singer bouncing around from place to place, jumping on both speaker stacks with dizzying frequency and piling into the crowd to the point you couldn't fucking see where he was half the time (till you realised he was just behind you screaming into your ears), with the band behind him tearing their instruments to shreds and with their MASSIVE underground following piling up to the ceiling, flapping their arms about and hooting like mad.. oooooh crap was it a MAD FUCKING BUZZ!!
yeah, I was so freaking impressed (and quite possibly pissed upto me eyeballs) I was even gonna buy their album for $20 that the keyboardist was gonna sell me after the show, till someone (who's name conveniently escapes me right now) recognised me in the crowd and helpfully offered to burn me up a copy instead.. BWAAAHAHAHA!! (yes I am evil, and I'm going to hell) oh, and dude, if yer reading this right now with the CD, can you shoot me an email in the next few days so I can forward you my mailing address? cheers!
*cough* dont worry DUKES OF WINDSOR, if it's good I'm suuuure to buy the CD sooner or later :)
anyhoo.. with the bands finishing up at ENIGMA, and with the time pushing past 1AM, I decided to drop into JIVE next door to see how THE MESS HALL gig went down.. at which point I bump into these all too familiar grinning idiots who tell me in no uncertain terms that I once again missed THE gig of the century.. damn!
and no, I have no freaking clue why MY ATTORNEY (aka: "SHE WHO WILL NOT BE NAMED") always choses to pick up SALLYCAT like this and throw her around the place when she's gargling upto her eyeballs.. hmmm, perhaps there's something they're not telling me about their "living" arrangements *ahem* ;)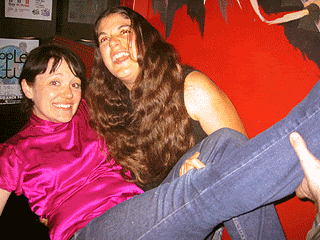 and as they vanish off into the night in search of TONY FONT SHOW (who I saw just hours before drinking themselves into a grinning stupour at the ENIGMA beer gardens) I continue to do my liver an utter disservice by drinking the foul concoctions spewing forth from the ENIGMA bar taps - TOOHEY's EXTRA DRY, SOUTHWARK PALE ALE (and dont EVER try that TOOHEY's PLATINUM eeeeeesh!) with this grinning idiot..
make an utter twat of myself in another drunken group shot with BETT's pissy threesome here..
before vanishing off into the night meself, likely to the CRANKA and beyond, where the remainder of my night thankfully didn't require the assistance of any of THESE forms of transportation.. *phew*
I believe I got home around 4:30AM or so, very likely vowing NEVER AGAIN to drink tap beer from ENIGMA for as long as I live (a promise which I will surely break come NEXT weekend.. hahahaha! *ow my liver!*)
SATURDAY NIGHT
this evening's twilight baboonery dawns with me arriving at my usual 9-10PM happy hour haunt feeling altogether disjointed and braindamaged from my foolish decision to drink TOOHEYS and SOUTHWARK the night before.. yeah, it's funny how such a subtle difference in beer chemistry can so fuck one's head over.. and yet, despite my utter failing to string two simple words together or walk a straight line without slapping myself and falling over, I'm at it again tonight for more retarding live music festivities.. weeeee!
to help administer my hair of the dog medication, I'm joined here at 9PM by these two manifestations of my innermost subconsciousness.. SEAN here is obviously representing the little dude with the halo who sits on my right shoulder dispensing nothing but good advice, whilst SIMONE here is obviously portraying the twisted red mistress sitting on my left shoulder doing her best to lead me astray.. and together with their balanced advice they're sure to send me on the right path tonight.. riiight? (yeah I don't believe it either hehehe :) )
but of course, I'm not here at the CRANKA tonight specifically for the live music.. oooh no, for that portion of tonight's proceedings I find myself down the road here at the RHINO ROOM at 9:50PM..
and it was a tricky decision to go here tonight, as every dickhead and their dog had a show on in the east-end of ADELAIDE.. I could've chosen to see (A) TONY FONT SHOW (again!?) with NITIDUS back at THE CRANKA, (B) KASAVETT and SHOOT THE GENIE playing at THE EXETER, or (C) those psychedelic idiots MORALS OF A MINOR and FORMER CHILD STARS stinking it up at the JADE MONKEY.. *phew*
but of course, I've chosen the RHINOCEROS to see TAUGHT BY ANIMALS and LADY STRANGELOVE tonight (two freaking ninja acts of mind melting insanity) because I've been challenged to the death with a live music photography shootout against this fiendish minx, LEJLA - here shown armed to the teeth (quite literally) with her A1 CANON SLR FILM CAMERA equipped with 800 SPEED COLOUR FILM (the most fiendish equipment $250 can buy) as she dares face off against my *cough* 3 megapixel CANON IXUS v3 that's seen more conflict in the live music scene than a BAGHDAD marketplace and is only still operational after over 3 years of torture (and 2 repair jobs) because of a few strategic bits of stickytape.. weeeee!
gee.. I wonder who will win out in THIS battle of photographic nitwits?
TAUGHT BY ANIMALS
first band of the night, TAUGHT BY ANIMALS, unwittingly enter the bloodbath a little after 10PM..
featuring JON WALSH on guitars, vocals and programming - who is either making for a very convincing CHARLES MANSON impersonation whilst thrashing about in a hairy mess.. or, in keeping with the theme of the film projections behind him, is the 2ND guy from the right in the ASCENT OF MAN evolutionary chart..
joined by the infamous MATT HILLS also on guitars and vocals, who despite resembling the sorta scruffy blue collar tweaker you'd call up to do your kitchen rennovations or fix the plumbing.. is of course the man singularly responsible for producing every damn freaking album or EP that comes out've ADELAIDE of late.. yeah, you name it, this freak's done it all.. 200 MOTELS, FIRE! SANTA ROSA FIRE!, MR WEDNESDAY, MY SISTER THE COP, LADY STRANGELOVE (yeah, he's even done yo MOMMA too! ziiing!) and of course the all too popular stoner anthem to bucket bonger's everywhere in WOLF & CUB's "VESSELS" album..
and of course last but not least, FRODO BAGGINS of THE SHIRE on drums.. yet another of the ADELAIDE indie scene's growing army of halfling drummers (I believe they've even got a trade union now.. trippy!)
if you love late 80's / early 90's proto grunge sounds of THE PIXIES, but always found FRANK BLACK to be a forever bloating egotistical pain in the arse (dont even mention all those solo albums he did.. eeesh!) then these are the guys for you.. as they bring all manner of fuzzing guitars, deconstructive artrock percussion and trippy ambient accents thumping out the PA is a blissful collage of tripped out ear candy whilst JON proceeds to shriek and hollar like a pack of CHIMPANZEES on a mating frenzy fresh out've the CONGO..
and as the rising crowd numbers packing out the RHINOCEROS are treated to all manner of lyrics involving poo flinging monkeys, devolution and the failings of INTELLIGENT DESIGN as an effective alternative to the scientific teachings of DARWINISM in secondary schools (yeah, not like I know anything about this *cough*) we are also treated to the circus antics of these improv dancers out in front of the stage..
featuring the zombie twitch moves of DAVE (lead singer and resident 80's indie tragic from FIRE! SANTA ROSA FIRE!) and the legendary glamrock fashion accident that is LANCE LAZER the AMAZER..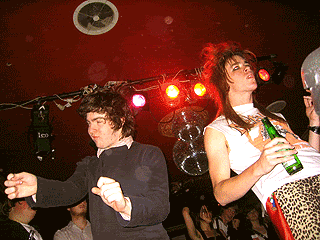 and these wild hippie chicks who did one better than those other two chuckleheads by jumping on stage to entertain us all with their bewildering array of lithe limb twists and psychedelic freakout dance moves..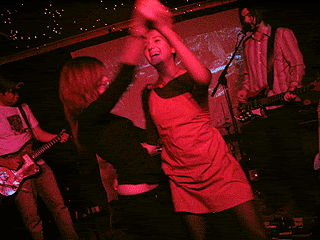 and as much as I was meant to be getting photo's of the band here, when that fuzzcut chick is pulling her legs over her head like that, you can't help but get a little distracted.. *ahem* damn you LEJLA! you sent these mischevious fiends to destroy my brain, DIDN'T YOU!! (this deathmatch may indeed get ugly!)
yup, all in all, with the transcendental art-grunge sounds, the wacky 50's caveman film projections, the packed out crowds and all the twirly hippie dancers playing in a tiny room like this.. it was one helluva performance.. seriously, you guys can all come to my livingroom and do this shit ANYTIME of the week! :)
anyhoo, speaking of my livingroom.. as much as I enjoyed the CORONA and lime's I was sampling in the RHINOPLASTY (cheers for the suggestion LEJLA! you didn't roofie any of these did you? oh well.. guess I'll found out! hahahaha!) it was time I checked back in at the BROWN N STINKY to load up on some more frosty medication and perhaps see how those TONY FONT SHOW freaks were faring in my absence..
TONY FONT SHOW
in all honesty I really had no intention of seeing these lunatics again.. since in the last fortnight alone I'd already seen them play one MELBOURNE
tour
and twice just
last weekend
(yeouch!), I mean shit.. the TONY FONT's had damn near SHOWN me everything outside of a freaking medical exam for what I'd seen on stage (PHIL, I'd get that prostate checked out, you may have a drumstick lodged in there from 2 weeks ago), but after walking into a crowd packed to lung puncturing density whilst LEE was being crowd surfed over my head to the white-hot hissyfit refrains of HOLD ON, I knew I'd arrived JUST in time.. HOOOLY CRAP! :)
MATT was stabbing at his bass guitar with such dribbly childlike abandon, it was as if the silent puppeteers controlling his moves from above were suffering a violent seizure of some kind..
PHIL was thrashing away his drumkit into a splintery ruin like he was trying to swat an imaginery plague of locusts from eating his face.. either that, or he was still feeling a little bit "stuffy" since the MELBOURNE tour and was taking his aggression out on his equipment (seriously dude, get ya PROSTATE checked out!)
whilst LEE was suffering some kind've multiple personality dysfunction, as his many on-stage screaming persona's attempted to fight over the mild mannered "MR GUMBY" for control during office hours..
even the infamous human statue RICH was flailing out there with his guitar like a twizzle stick.. whoaaaa!
the crowd was getting nasty, fuelled to ever bloodthirstier extremes as the band thrashed out their homicidal anthem "THINGS TO DO IN THE DITCH" (always a favourite of mine.. you can almost hear the point when LEE has an aneurysm midway thru the EP version and gets replaced by a shrieking labradoodle.. woooo!) yup, this was NO place for a photographer to be, I had to make my escape before it killed me..
and so with the band momentarily distracted by LEE pulling a live chicken out've his throat, I make a run for the back of the stage, hiding out near the relative saftey of PHIL's drumkit to capture all the action..
and as much as it was fun to run around on stage like an idiot getting me some crazy-arse arty angles (most of them far too stupid to publish here) I soon found RICH's feathered mullet way too distracting as it shone all halo'd in the stage-lighting there.. so as MATT fired off another diaper loading brown note and the crowd momentarily parted in horror from the widening cloud of brown steam, I leapt back into the fray..
joining JOE BLOGS here back in the monkeypit dressed as "TEENAGE MUTANT NINJA CHICKEN" (or as we liked to call him on the night, "COCKHEAD") for a closing and much frenzied mosh-off, whilst all manner of hairy primates and flaming wreckage flew past our ears and crashed into the foldback speakers ahead of us..
yup, there were many fatalities out there tonight, many tales of woe, of broken bones, ruptured organs, chainsawed limbs, bumps and bruises.. it'll take days, even weeks to truly assess the damage.. but we all agree, that this was probably one of the best TONY FONT SHOW's we'd ever witnessed.. since, well.. pretty much the LAST show hahahahaha! (and to think, I wasn't even meant to BE here tonight.. damn!)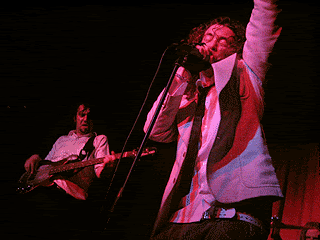 *phew* barely surviving the massacre at the CRANKA, I decide next to return to the ROHYPNOL ROOM (heh, me make funny names) to catch LADY STRANGELOVE's headlining set at 11:30PM.. but upon arrival, I'm greeted by a strangelove of a different kind when I spot these freewheeling hippies frolicking in the crowd..
"HEY SPOZ!! you better damn well put us in the blog this week!".. oh sure, don't you worry about that! you got that ALL covered.. *ahem* no really, please don't stop on my account.. WOOOHEHEHAHAHAHA! :)
moving past the fact that these lunatics, who I've never met before, somehow KNOW my name (damn, this website MUST be getting around.. coool!), and putting aside all manner of diabolical schemes I could cook up to corrupt this new found power and influence for personal gain.. I make my way to the bar, fuel up on another CORONA and lime, in preparation of round 2 of my photographic battle to the death with LEJLA..
LADY STRANGELOVE
and so, after much delay and with much anticipating, LADY STRANGELOVE finally herald their arrival on stage at 11:45PM, assaulting all 6 of our senses with a face melting cascade of machinegunning synths..
and as typical of all their previous live sets, these psychedelic space-monkeys have chosen to play tonight's LSD orchestra in the dark.. and so, getting any photo's with just the stage lighting alone, will again prove nigh on impossible (especially with my fart-arse equipment), unless I'm willing to go all experimental..
so it's at this point, as I'm capturing the chromatic waves oscillating from JOSH's afro, that I begin to suspect that LEJLA might've slipped something into my CORONA mere moments before (when I wasn't looking) to gain the upper hand.. although considering these things usually take 30-60 minutes to peak (and remembering the mutant chicken I was moshing with at TONY FONT SHOW and all the lesbian antics I witnessed just now), chances are she laced my drink long ago and I'm already hallucinating up the walls..
(although it IS awfully convenient that my camera can still capture all this manifest madness.. aye?)
after switching my HIROSHIMA grade flash unit on tho', reality soon glares back into alarming focus.. just in time to capture AZZA chainsawing his smiley face bass guitar mere inches away from my skull..
watch BRENDAN and his pencil thin moustache (dude, it aint MOVEMBER no more, time to shave that shit OFF already.. eeesh!) as he sways back and forth in hypnotic waves of shrieking incoherancy over the mic..
whilst JOSH attempts to pull his guitar apart piece by piece, with it answering in a protest of twittering and squawking overtures.. churning up a brewing storm of bird noises, bat churps, dog farts, whale song and feline implosions that rain down over my head like a pantheon of pagan gods pissing thru a seize..
and DAMIAN (THE OMEN) SATANEK has a stabbing case of tourettes over his drumkit, tearing jagged rifts into the spacetime continuum, filling the air around us with his otherworldly pounding funkjams..
just as the madness unfolded mere moments earlier at the CRANKA, the crowd here is getting much too unruly for this mere photographer to handle, bubbling over like a seething witches brew in front of stage..
my arch nemises LEJLA, being the ever crafty bespectacled elf that she is, seems more than happy to slink thru the tiny cracks in this human shield to get to her shots.. but, if I'm gonna have any chance in hell in besting her in this deathmatch, it's time to get crafty and find me some higher ground..
as luck would have it tho', this particular grade of LSD that she slipped me hours earlier has blessed me with the retarded belief that I can fly.. so with very little effort at all, I manage to launch myself over the crowd, float over AZZA here and find me a convenient resting point just behind JOSH's guitar amp..
this is me right now, smug as all hell, perched on DAMIAN's cymbals.. flapping my arms like an oversized parrot and laughing at her.. that'll learn her to mess with the likes of me.. WOOOHEHEHAHAHAHA! :)
wait.. I'm not an oversized parrot? ooooh SHIT!! (sorry about that DAMIAN, I'll be sure to replace that broken cymbal I just poop'd on.. it wasn't one of those fancy pants ZILIDGAN's was it?) *ahem* where was I? oh yeah.. far from reality! and so, returning once more to finish up this exceptionally incoherant review.. it appears tonight we were truly blessed with yet another brilliant live set by the LADY STRANGELOVE as they finish up their last live set for 2006.. crossing the synaesthesic divide between THE MUSIC, LED ZEPPELIN, THE CHEMICAL BROTHERS and PINK FLOYD's "DARK SIDE OF THE MOON" and combining it with the sound of all your father's vinyl records being played backwards at full volume during a hailstorm.. and as soon as I stop licking the walls here I'll be sure to congratulate them personally.. niiice one duudes, ROCK! :)
a few quiet celebratory drinks follow with the band afterwards for an hour or so..
and after dancing up a retarded storm to THE CHEMICAL BROTHERS spun by one of those grinning fools from CENTRAL DELI BAND, I thank my combatant LEJLA for a battle well fought tonight before disappearing back into the night, along with all the rest of the crowd who appear to have melted back into the walls.. weeee! :)
arriving back at the stinky 'ol CRANKA at 2AM, I'm greeted by a smiling SALLYCAT all too pleased to see my return, as it appears festivities have been proceeding all too calmly and civilized here in my absence.. or, at least they DID before all the usual suspects return with me to crash the party.. *ahem*..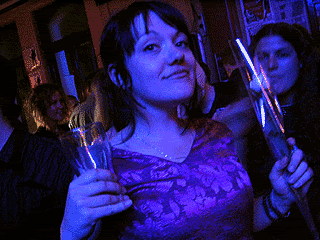 revellers from BECK's birthday party also soon arrive, fresh from causing havoc at a nearby shooting range (heh, the crazy things you do to ring the day of ya birth!).. they all try and get me to take a photograph of them hooting it up in celebration.. but since it's near on impossible to get these intoxicated freaks to stand still at the same time.. this little animated sequence manages to capture the insanity all the more effectively (note BECK's hazed over expression when that dude takes her drink away.. classy! :) )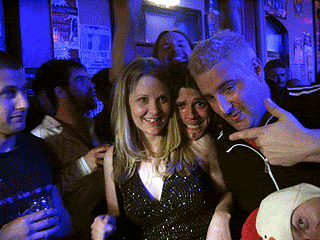 it appears that SEAN's also been living it up quite responsibly in my absence..
an illusion that's soon shattered when the COCKHEAD knocks him to the floor with a flying tackle..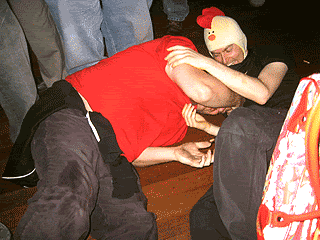 *sigh* their's is a love that few of us can truly ever hope to understand (how these maniacs continue to avoid getting thrown out by security everytime they attempt this shit is truly beyond me.. eeesh! ;) )
befitting his current level of beer fueled retardation, we figured SEAN needed a brand new look..
henceforth sent stampeding thru the crowd, he soon gravitates to what he believes is his long lost twin sister for a family reunion (LOUISE from 200 MOTELS really didn't know what hit her.. BWAAHAHAHAHA!!)
as SEAN drifts out've coherance, we thought we'd steal this wig for a little fun ourselves..
oooo I feel so gosh darn pretty right now.. perhaps I should try this look more often? *cough..choke* :)
acting as soundtrack to this escalating tide of madness, here we have FATBOY SLUM cutting it up on the decks, perhaps wondering what kinda zoo of the perverted he's managed to land himself in tonight..
and thanks to his ecclectic selection of indie cheese, the dancefloor's packing out to choking point tonight as I'm soon dragged out here by SALLYCAT to polish the floorboards when the punk anthem "KICK IT" by PEACHES and IGGY POP flares up, only to be dragged out moments later by SIMONE when the infamous "19 20 20" by THE GRATES is given the spin (oh yes.. fear the "19 20 20" for it is the BEAST!!) *phew* and people wonder how I manage to keep myself fit, killing myself rotten like this each weekend.. hahahaha! ;)
SEAN soon regains consciousness, breaks free from his monkey cage, returns to the dancefloor and attacks LAKEN from ANGELIK, whilst the rest of the crowd flees around him (meanwhile DICK DALE takes a moment to ponder how best to dispatch of his carcass, since obviously, NO-ONE can out crazy HIM at the CRANKA!)
seeing possible trouble looming ahead (we've all seen what DICK DALE can do with a
cow's heart
.. eeesh!) I decide to move SEAN along, sending him outside whilst he momentarily takes an important phonecall from out've his arse - "HI! this is PHIL from TONY FONT SHOW.. have you seen my drumsticks?"
after a confusing labrynthian journey thru the office block shortcut from FROME ROAD to GRENFELL ST, we arrive shortly at SHOTZ at around 3:30AM.. obviously with all manner of ill intent on our minds..
whilst attempting to stuff SEAN into a cardboard box and safely past venue security, we're entertained by some of the finest exotic pole dancers outside.. in the form of SIMONE the HORNY DEVIL..
and JOE BLOGS the COCKHEAD.. *ahem* (yeah, I'll let you decide who's got the better routine ;) )
soon finding solace in the rarefied ambience of SHOTZ, we languished away the rest of our night till 5AM, consumed with heated discussions on the finer points of politics, philosophy, science and technology and the furthest reaches of post modern existentialist thought (of course since we were all far too drunk at the time, there's no chance in HELL we'd remember any of the amazing breakthru's we discovered.. bugger ;) )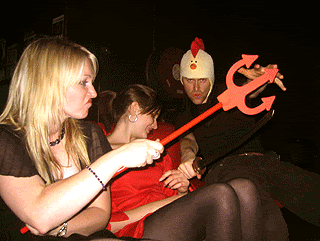 it is of course at this moment, minutes before 5AM that my photographic record conveniently grinds to a halt, as after machinegunning my camera nearly to death with this evening's battle with LEJLA (and with all the insanity amongst it) I've clearly managed to empty out all 3 of my rechargeable batteries.. *ouch*.. still, all things considered.. it's just as well I didn't have a camera handy for the madness that followed (some things are really just much safer not seeing the light of day on this blog.. hehehehe)
and without my usual photographic record to guide me, all I can remember of the rest of the night is that the few remaining survivors amongst us (ie: those who didn't find themselves stuffed into taxi's and projectile vomiting out've the windows all the way home hehehehe) left SHOTZ at around 5AM.. 90 minutes passes.. at which point we then find ourselves quite mysteriously at the infamous PANCAKE KITCHEN on the corner of HINDLEY ST and KING WILLIAM ST.. I remember quite clearly getting myself a tasty 3 stack of pancakes with ice-cream and maple syrup and attempting to beat down that wooden door to the toilets.. but as for anything else coherant that happened in the proceeding 90 minutes (or why it took us THAT long to get here) duuuude.. your guess is as good as mine.. although I'm sure either (a) some alien implants and weird scars, or (b) some photographic evidence from other people's cameras will be sure to surface.. either way, I eventually find myself home in a taxi at 7AM.. none the wiser of what the hell happened and yet, all the more enriched from the experience of it all.. aaaaah! good times! goooood times! :)
and so, in conclusion.. if you STILL spent this weekend in hibernation, staring at the TV, staring at the computer, staring at the walls and at that ceiling before you went to sleep well before midnight.. I ask ya.. seriously, dude.. WHAT THE FUCK ARE YOU WAITING FOR!? GET OUT'VE THE FREAKING HOUSE AND LIVE A LITTLE!! (and dont make me come in after ya, I know where all YOU people live!! MUHAHAHAHAHA!!)
Previously on Spoz's Rant:
We Will Become Silhouettes