NAPALM BRAIN / SCATTER BRAIN
for the last few weeks, I've been hearing the stories.. I know what some of you may be thinking, and despite all rumours to the contrary, lemme just state for the record that NO, I don't work for ROLLINGSTONE, I'm not an employee of dB or RIP IT UP and I certaintly don't freelance for the ADELAIDE ADVERTISER (suckers!) shit, if you've been reading the hilarious shite I post each week and all the laughingly amateur photo's that go along with it, do you REALLY think somebody in their right mind would actually pay me money to write THIS shit!? BWAAHAHAHAHA!! surely you're more insane than I am (but keep those offers coming!), as surely I must be for even considering I have half a chance in hell of leaving overseas for a lucrative rock photojournalist career in 4 months time (the fact anyone actually offers me that is what makes writing this blog all the funnier for me each week), but hey, crazier things have been known to happen and I'll be sure to update you with further improbable details of THAT ongoing saga as the story develops :)
fuckit, if this was professional journalism, chances are none of you grinning fools would still be reading this.. so soak it up kiddies, as my bloating ego threatens to block the sun, it can only go downhill from here :)
WEDNESDAY NIGHT
here we are.. at the midweek hump, the halfway knuckle dragging point for all you 9 to 5 cogs to the wage slave machine and a damn near zombified wasteland for anything approaching a decent live and local gig in this urine stained one horse whisky town of Adelaide.. like WTF maaaan!? why the FUCK am I STILL out doing this shit on a night like tonight? surely my time could be better spent doing something marginally more constructive to earn me money in this shithole so I recharge my liver, chillax the fuck out and soak up some of network TV's finest shortcomings in small screen entertainment..
but nooo, instead I'm here at THE GOVERNOR HINDMARSH as wouldn't ya know it, TRIPLE J RADIO are shooting one of their wacky televised gigs for JTV tonight, featuring a performance by WOLF & CUB..
WOLF & CUB
and despite the obvious drawcard of being able to throw myself headfirst like a hairy twat all over the TV cameras, snatch my 15 seconds of fame and soak up the irradiated glory that is the TRIPLE J media circus.. I am actually quite reticent to drag my hairy arse out've the house tonight.. not only because it is a WEDNESDAY NIGHT (and as I would be frequently heard to utter.. "duuude it's Wednesday, why should I give a fuck?") and what felt like a fractured rib was still hurting me from MACH PELICAN last SATURDAY, but also coz I'd already seen WOLF & CUB at their CD launch barely a
fortnight ago
.. so I'd really just be repeating myself here (you may wanna remember this point when I get to LADY STRANGELOVE later on.. hahahahaha) but still.. despite all this and many more flimsy excuses, how could I possibly refuse a free ticket? and so fuckit, here I am at 6:30PM waiting in a ridiculously long queue to get in, just like everyone else..
considering the whole thing's being televised, I really couldn't be fucked reviewing the performance tonight (just tape it all off the ABC on SATURDAY NOVEMBER the 11th at 11:30PM if ya really keen to watch) and even my photos here were just an afterthought.. no, what's much funnier in the retelling is the media circus behind the scenes and the lengths people will go to, to get their uglyarse mugs on TV.. people were throwing themselves around like crazy, smashing into each other, shrieking and flapping their arms about.. there wuz even one retarded loon next to me attempting to crowdsurf until all the security and stage managers in the house swarmed on him for blocking the flightpath of the overhead camera..
yup, you could really tell this was "made for television" event coz despite the house mix barely registering above a mousefart (lest they distorted the recording), visuals were cranking up to eye bleed level..
with 2 large broadcast cannons situated in the rear, a ceiling camera rigged to a swinging boom apparatus flying overhead, 2 cameras situated to either side at the front of stage and 2 roaming behind.. there really was no escape.. and as much as I didn't want to have any part in this nonsense.. y'know how these mob scenes operate.. before you know it, you get swept up in the madness.. so, if you happen to see the footage in 2 weeks time (don't worry, I'll be sure to YOUTUBE it) look out for the head banging hairy freak dressed in black flapping his arms about.. coz yeah, *cough* that'll be me.. all apologies in advance ;)
after one hour, a fine selection of psychedelic jams cranked out live from both their latest album VESSELS and their previous two EPs.. that wuz the end of it.. with everyone promptly herded out like sheep before the HILLTOP HOODS came charging in at 9PM to reduce THE GOVERNOR HINDMARSH to a smouldering ruin.. and cameras or no cameras, it was still a damn fine way to trip balls on a WEDNESDAY evening ;)
FRIDAY NIGHT

tonight it's opposite the CRAZY HORSE on HINDLEY ST and up the everest climb of stairs to ROCKET BAR, to see LADY STRANGELOVE and MR WEDNESDAY in support of MOUNTAINS IN THE SKY's EP LAUNCH..
LADY STRANGELOVE
first to be propped up on the raised blocks for our human sacrifice tonight, we have the nocturnal hooting wingnuts LADY STRANGELOVE cooking up their signature brew of shroomadelic spleen grinding jams..
since this has gotta be the most stumblingly pitch black stage lighting they've come up with since their gig at JADE MONKEY back in
JUNE
(seriously, yer just doing this to fuck with me arentcha!?) it's time I bust out again with my trusty and highly fictionalised night vision goggles to catch all the action..
and like wow maaaan, I dunno what to say.. I'm like totally lost for words here..
not because this live set was particularly mindblowingly exceptional or spastically and unexpectantly beyond the normal (even if it was technically the most chaotic freakout jam set they've cooked up yet.. ROCK!)
or because of the wacky twin drumming that lead singer BRENDAN and drummer DAMO launched into 3/4 into their set.. or even JOSH's always popular gravity defying AFRO fuzzing chicken dance moves..
no I'm quite simply lost for words.. coz this is the 4th freaking time in a month I've seen these lunatics live (go
here
,
here
and fuckit, even
here
if you need a reintroduction) and fuckit.. I've pretty much used up every available joke I can crack about these guys.. bugger.. perhaps I could actually resort to some SERIOUS music journalism here for change? *cough* BWAHAHAHAHAHHA! (yeah, fat fucking chance of that! :)
and so, I'll leave you with what was yet another exceptional face melting freakout performance by LADY STRANGELOVE with this spaced out image of AZZA tripping balls with his bass guitar.. eeeeeeeeee!
yup, as much as I really love to see you lunatics do ya shit (no really, you guys rock!) WOULD YA PLEASE STOP PLAYING SO MANY FREAKING GODDAMN GIGS.. FOR FUCKSAAAAKE!! I'VE HAD ENOUGH DAMMIT!! EEEENOUGH!!! MAAAKE IT STOP!! AAUUUGGHH!! (still just for laughs I'd really like to see wot happened if MATT SPURLOCK did THIS for a month.. it'd freaking destroy him maaaaan WOOOHEHEHAHAHAHA!! ;) )
MR WEDNESDAY
anyhoo.. like all creatures of the night, they are soon scared off when the house lights come flickering back on (along with 500 or so circling bats that were drawn to their gonzo hooting hurricane) clearing the stage for the 2nd act tonight, the driftingly contemplative bucket bong vibes of MR WEDNESDAY..
featuring as always, Adelaide's hardest working string section.. with LUCY and the freakishingly tiny (and quite possibly elfish) FELICITY strumming out the insect noises on violin and cello respectively..
everything but the kitchen sink junkyard percussion supplied by RYAN, yet another one of Adelaide's talented yet freakishingly miniature indie scene drummers (seriously, do all these hobbits work in santa's magic cave in the north pole in the off season or wot? one of these days I must uncover this conspiracy..)
the hunchback hobgoblins EAMON and LUKE chunking out underwater grooves on guitars and bass..
all punctuated by the idiot savant megaphone howlings and dystopiate intellectual ramblings of lead vocalist MOON.. who makes forever shuffling around in a sleep walking haze, constipated, headachy and burdened by all the circling evils of the post industrial world look like high concept musical theatre..
as the band conjures a sublime melancholy of strings, guitars, bass, percussion, synths (oops *shit* almost forgot DUNCAN hiding out there in the back.. sorry!) and contemplative vocals that mixes all the best artistic extremes of RADIOHEAD's "OK COMPUTER", mid 70's PINK FLOYD, SUGUR ROS and one of those wacky SUDAFED commercials you get during the cold and flu season.. providing just the right potent recipe to unclog your sinuses and free your mind.. "remember if pain persists, please.. see your doctor!"
to lighten the mode however, it appears tonight they're introducing a whole bunch of new numbers which are deviating from the tales of 9 to 5 office cubicle terror.. as they explore more cheerful horizons, with these rustic and bucolic flavoured tunes (but y'know, minus all the moo moo cows, sheep and chicken droppings), they really provide quite a nice contrast, and also give LUKE here a chance to go spastic on the trombone..
one does begin to wonder however, throughout all this, whether this band is just some cleverly court prescribed therapy session for lead singer MOON, as he appears to go thru all manner of harrowing and shrieking emotions for everyone's amusement (is he conducting the band, or is the band conducting him?)
as the set finishes off with MOON getting a much needed back rub from the string session, before all the angry demons circling his head go the way of the bats before and flee the stage in their hundreds..
hey just think.. after enough of these therapy sessions (or if someone was just clever enough to swap the pills in MOON's medicine cabinet) they could easily rename this band to "THE HAPPY WEDNESDAYS" and do reinterpretations of 80's MANCHESTER rave classics.. they'd be freakin' years ahead of their time ;)
now that MR WEDNESDAY have finished realigning everyone's shakra's, cleaned out their auras and flushed everyone's sinuses till they're all minty fresh (and with one venue of live music a night clearly not enough to sustain an idiot like meself) I next make my down (or to be more accurate, run like fucking crazy in the space of 6 minutes) to reach a packed house at JADE MONKEY for my next live band at 11:30PM..
as I arrive just in time for 200 MOTELS' EP LAUNCH..
200 MOTELS
featuring the tiny yet exceptionally deadly kung fu midget KIM ROBERTS, who fills the air with her sweetly melancholic vocals and layer after layer of thrashing melodic guitars..
accompanied by the radioactively haired and mild mannered punk assassin, LOUISE UPHILL, who shreds out her own harmonising riffage on guitar (it has been foretold by some that one can actually predict the ebb and flow of future events just by seeing what crazy hair colour she'll decide on next.. freaaaaky ;) )
backed by the cascading grooves from MATT NIKIC, who may or may not quite possibly be either (a) the long lost bass playing goth twin of RICH from TONY FONT SHOW, (b) a robot replicant sent from the future to kill us all with the diabolical application of the brown note, (c) a scary combination of all of the above..
and driven along by the hammering percussion of ADAM OSBOURNE on drums, who in the wrong light, could quite possibly resemble RICHARD D JAMES of APHEX TWIN or that frizzy haired freak from SQUAREPUSHER.. although thankfully, this doesn't extend to how he cranks the beats, otherwise anyone trying to dance to this tonight would be long dead by now (damn, does anyone else smell a potential for a remix? ;)
mixed on stage by MATT HILLS (the same freak responsible for producing their exceptionally shiny new EP), the sound tonight is chunking out loud and crystal clear to an eager crowd of hooting baboons..
with music that sounds like a mix between all the cooler mid 90's chickrock outfits, like PJ HARVEY, VERUCA SALT and MAZZY STAR combined with elements of the YEAH YEAH YEAHS (from their 2nd album) and THE HOWLING BELLS till it's sounding all reverby, pounding, melodic and riffing out with a melancholic and spikey alternative vibe.. I think they threw in a nifty cover of RADIOHEAD's "YOU" from the first album too.. niice :)
unfortunately I couldn't catch the entire set as I wuz channel surfing between the gig here and ROCKET BAR, so after what I guessed was most (2/3rds) of their set, I picked up a shiny copy of their CD (really digging the songs "IN MY HEAD" with the little KAREN O style yelps near the end and the catchy guitar hooks and grooves of "MISSING OUT", really ninja stuff.. w00t! :) ) before flying out the door..
arriving at ROCKET BAR in 7 minutes flat *phew!* (who says this gonzo lifestyle doesn't keep me fit?)
MOUNTAINS IN THE SKY
just in time to catch MOUNTAINS IN THE SKY at 12:15AM, about 10-15 minutes into their set..
a MELBOURNE based act I'd last seen way back in
MAY
at FOWLERS LIVE in support of MR WEDNESDAY's album launch.. with a performance that melted everyone's faces that night, cranking out a fluid combination of live chunky breakbeat drumming, trippyarse keyboard melodies and sample driven textures.. and upon walking in, it looks like they're set to repeat that performance tonight.. wooooo!
featuring JOHN LEE on keyboards and samplers.. brewing up a head nodding hypnogogic mix of otherworldly choirs, twinkling chimes, underwater pianos loops and other such freebasing 3AM monkey jazz stonerisms..
as live drummer STUART MACFARLANE chunks out some meatyarse breakbeat style percussion that whips the crowd into a swaying mass, all caught up in a trance of pendulum swinging arms and legs..
and supported by the mysterious 3rd member tonight, CORNEL WILCZEK (aka: QUA the triphop freakster) hammering it out on keyboards, guitar and occassional tag-team drumming..
creating an experience somewhat akin to more infectious moments of DJ SHADOW's first album (like "BUILDING STEAM WITH A GRAIN OF SALT" or "MIDNIGHT IN A PERFECT WORLD") combined with the chunky hiphop loops of RJD2 and THE AVALANCHES (or quite like the 21st century equivalent of one of those organ grinder acts with the performing monkey, only with better equipment and much much funker) and damn if it wasn't some seriously infectious bouncy bouncy atmospheric shit.. OOOOYEAAAH!
oh and be sure to pick up their new EP, ACCIPIO.. sure it's just one 21 minute song split into a journey of 5 parts (yeah, everyone's doing this shit now apparently.. hahahaha), but with the chunky rolling breaks and tripped out melodic backing it really puts you in a head nodding trance.. eeeee! :)
anyhoo with the live entertainment over for tonight, the DJs kick in with their signature DROP OUT BOOGIE trash electro / indie mashup shite.. I take a few moments to bug out on the dancefloor, soak up some beers and absorb the vibes.. before eventually leaving at 2AM or so, as I head down HINDLEY ST..
arriving here at the all-too-familiar "BLUE SCREEN OF DEATH" for some customary end of night beer and miscellaneous rambling stupidity, before making like a dodo to disappear at 3:30AM for the last $6 bus..
arrive home, collapse, reboot my brain, and end one helluva kickarse night of live music.. eeeee! :)
SATURDAY NIGHT
tonight I got offered the chance of a lifetime with a free ticket to go see COCA COLA LIVE'N'LOCAL at THE ENTERTAINMENT CENTRE, featuring such star studded live acts as THE HOT LIES, AFTER THE FALL, END OF FASHION, EVERMORE and the mindblowing freakingly amazing powerhouse talent that is THE VERONICAS!! WHOAAA!! HOOOOLY CRAAAAAP!! OMG!! OMG!! I think I'm gonna faint!! what an opportunity!! like.. fuck.. duuude!! I so like totally HAD to be there!! OMG!! ROCK AND ROLL!! ROCK AND ROLL!! AAAAUAUAGGHH!!
and so, here I am at THE CRANKA to see KASAVETT and ANGELIK instead.. since, unless I had a sizeable piece of my brain removed, tossed onto a wok and seared lightly on both sides before being fed to me by HANNIBAL LECTER.. then chances are more than likely you'd find me as far as FUCK away from that emo teeny bopper shite as inhumanly possible.. seriously, I don't CARE if THE VERONICAS were to invite me backstage for our own private intimate party afterwards.. IT JUST AINT GONNA HAPPEN MAAAAN!! yeaaah.. *cough*.. shit no, wait.. nude huh? ok.. lemme get back to you on that one *ahem* :)
KASAVETT
first up on stage at 9:30PM we have KASAVETT.. bringing the infectious weasel rock attack of spiky spiky drumming, minimalistic bass, shredding guitar and sing-a-long lyrics packed full of fuckoff snarly attitude..
which features the concussive head injury grooves of PHIL on bass, looking like one of those b-grade hospital extras limping around in a war movie (only if you replaced the crutches with a bass guitar)
the stabby percussion of SILVANO on drums, resembling what you'd imagine if an oversized KOALA was doped up on amphetamines, given a drumkit to mess with and then threatened at gunpoint whilst screaming "PLAY YOU FUZZY MUTHA FUKKAA PLAAAAY!! OR THE BUNNY RABBIT GETS IT IN THE FACE!! AAAAUUUGGHH!!"
and finally, guitarist and lead singer DAN, who looks like RALPH MACCHIO from the KARATE KID after suffering a particularly nasty punch up in a back alley.. oooooh, shit.. I sure hope nobody dressed as skeletons decide to turn up to THE CRANKA tonight.. wait? you mean to tell me they're celebrating HALLOWEEN here tonight? awwwww shit.. guess we're all screwed then.. aaaahahahahaha!
(it's only at this point that I remember they're actually dressed up as wacky PIRATES for somebody's birthday party tonight.. oops *shit* guess that explains everything now then huh? ;) )
as they deliver that kinda loutish "OI OI OI" rock sound that the BRIT-POP scene in the 90's were most infamous for, mixed with garage pub rock ie: combine the band ASH (from their NU-CLEAR SOUNDS era) with the pissy swagger of YOU AM I and then layer with that particular signature skittering guitar sound you hear in THE GRATES "19 20 20", or INXS from the mid 80's and that'd be yer monkey.. a crazy mix to be sure.. but somehow these twitchy crap weasels manage to pull it off in style ;)
and to make things even more confusing, they fire up with this bewildering ADAM AND THE ANTS style punk rendition of THE BANGLES "WALK LIKE AN EGYPTIAN" (you'd really hope I was joking right now.. but, nope I'm not) complete with wacky whistling solos from lead singer DAN before he proceeds to charge into the semi circle of death in front of stage and explode in a fireball of hooting rock pig fury..
yeah, I seriously think someone spiked their beer rider tonight, coz clearly this shit is far from normal.. still, as insane weasel rock acts go.. this was still some freakingly infectious shit.. ROCK! :)
now that the first act is out've the way tonight, the front of stage begins to fill with all manner of buck toothed buccanneers and whisky spitting scurvy fiends.. all eagerly waiting the arrival of the next band..
ANGELIK
as the shredding alcohol fueled carcrash that is ANGELIK storms onto the stage..
featuring ALICE COOPER *shit* I mean SAM the DOOM GUITARIST, grinding out his chainsaw riffage..
the exceptionally grumpy looking NICK PARKER and his fuzzy brown distorted bass guitar..
the spastically over excited trigger happy percussion of drummer NICK HADLEY..
and the multi-octave warbling banshee shriek of hypnotically hip swinging LAKEN on lead vocals..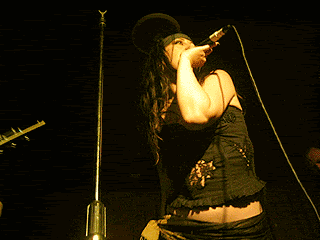 when it comes to describing the sound of ANGELIK.. few words are necessary, as it really ain't rocket science.. all you need to picture in your head is the fuckoff dirty punkrock drilling attack of THE DISTILLERS or late 80's NIRVANA as fronted by GWEN STEFANI's evil twin on vocals.. and that'd be your monkey..
it's thrashy, chugging, loud, messy, dirty and retarded as all fuck, whipping you into a hooting devil finger saluting rock frenzy of self destruction and head banging stupidity on the dancefloor..
and before too long, with the gnashing riffs of SAM the DOOM GUITARIST hacking at your brain you find yourself inspired to do some incredibly silly things in servitude to all these dark forces of rock..
as we witness the rarified stupidity that is the SPOZ's beer fueled stage invasion... oooooooh shit :)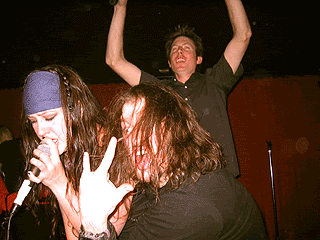 yup, you know when that happens, the gig is well and truly over.. BWAAHAHAHAHHAHA!!
and you think that would be the last of the live bands this weekend, surely I've covered enough.. surely I've destroyed enough braincells in service of the Adelaide music scene.. and yet, just when I think I can relax with a tall frosty pint of pale ale by the bar.. I'm called for one last mission at midnight..
appearing here at JADE MONKEY for the tail end of a HALLOWEEN PARTY gig featuring THE LEIGH STARDUST SUPERGROUP, HOME FOR THE DEF and the headlining vampire goth act, BRILLIG..
with the whole proceedings being filmed tonight by one of the finest rejects from the RUSSIAN BRIDE mail order catalogue of SUMMER 2006 (oh shit, wait.. that's a DUDE!? sorry.. my mistake.. *cough*)
BRILLIG
and since I'd been at the CRANKA all night (cheerfully destroying myself with beer for KASAVETT and ANGELIK.. ROCK!) I've arrive here just in time to catch the last 1/2 of BRILLIG's film noir synth pop set on stage.. playing to a tiny crowd of ever faithful creatures of the night and assembled circus freaks..
and if all the wacky outfits and masquarade masks weren't nearly enough of a clue (funny how nobody told them it was HALLOWEEN and yet they still turn up dressed for the part ;) ) these guys channel all the cheesy excess of 80's goth synth pop pushed to the most ridiculous of TIM BURTON'esque extremes..
if you imagined the characters from ALICE IN WONDERLAND gatecrashing the masquarade orgy from STANLEY KUBRICK'S EYE'S WIDE SHUT on a hardcore ABSINTHE bender, you'd barely scratch the surface of this band..
fuckit.. even if you got ROBERT SMITH, coked him up to his eyeballs to sing duets with BILLY CORGAN, whilst select members from SHE WANTS REVENGE, INTERPOL, PLACEBO and EINSTURZENDE NEUBAUTEN performed a funeral death march behind them.. it'd still sound like bubblegum pop compared to the gaping maw of doom that is BRILLIG.. they're just THAT kind've fun time blood curdling creepy ;)
lead singer MATT SWAYNE sounds like a sublime mix between the squeak of a rusting car door, a small lap dog as it's being stabbed repetively in the neck with a pencil and KATE BUSH on valium.. yeah, I know that sounds like a horrible description.. but it actually works really well here.. especially when you combine it with the shrieking keyboardist ELIZABETH REID and her maudlin violins of doom and the funeral dirge of DENNI MEREDITH's bass and the drum machines.. altogether the combination is really quite hypnotic..
yup, these undead fiends could teach those pissy little emo acts a thing or two about REAAAALLY embracing the dark side (or fuckit, they could just harvest them as a steady supply of fresh blood.. MUHAHAHAHAHA!), seriously.. if I ever need a band for my next failed suicide attempt, funeral, public hanging or baby shower.. I'm calling on you fine individuals.. for as they say on their own website, there's really "nothing like BRILLIG to cheer you up!".. oh yes indeed BRILLIG you freakingly nightmarish maniacs, YES INDEED! :)
and just to really drive those last few nails into the coffin, the night here at JADE MONKEY wraps up as members from LEIGH STARDUST's SUPER GROUP and HOME FOR THE DEF joining BRILLIG on stage with a touching sing-a-long finale of "DEATH IS NOT THE END".. aaaah.. brings a tear to me eye it does.. *sniff*..
yes, clearly this shit is far too deranged even for the likes of somebody as fuckarse crazy as myself.. and so it's time I'd best flee this madhouse of halloween horrors before someone ices up me kidneys..
returning once more to the sanctuary of the CLOWN N SPANKER to drink myself away to a cheerful oblivion, lest the horrors I experienced in the last hour come taunt me in my dreams.. eeeeeeee!
it is here that I'm joined with all manner of demented freaks, like this grinningly retarded specimen here.. who although I can't remember his name for the life of me, I'll still chose to drink beer with..
and of course, these two fiends.. the one on the left I've never met before and also can't remember the name of (shit, I seem to make a habit of this, dont I?) whilst the all too familiar freak on the right is one I'll choose to let remain nameless (as CHELSEA hates it everytime I use this joke in the blog to make fun of her peculiar wish to remain anonymous, despite always wanting to take photo's of herself drunk ;) )
anyhoo.. at around 2AM I'm rudely abducted by UFO's, and lose a precious hour of my night (sure, the rest of you would like to blame DAYLIGHT SAVINGS.. but I know better.. it's those freaking green midgets I tells ya!!), so now running an hour ahead of my usual drunkening, I take the party on down to SHOTZ..
where this photo rather neatly sums up just how messy things are getting on the dancefloor.. yeeouch! ;)
and before I know it, SHOTZ is closing it's doors for the night (damn you freaky space aliens!! DAAAAMN YOU ALL TO HELL!!) and so, at a loss of what to do now to entertain myself.. I head down RUNDLE MALL..
hehehehehe.. duuuuude.. check it out, SANTA's oversized pants.. woooooo! :)
here about 10-15 minutes later I find myself stumbling lost down HINDLEY ST.. so, fuckit.. resigned to the fate of a night cut short by DAYLIGHT SAVINGS, I try my best (and fail) to catch a TAXI home at 5:20AM..
in the meantime I find this familiar freak, W SHANE FORSTER stumbling out've ENIGMA.. looking equally as lost as just about everyone tonight with the missing time n all.. so, we swap war stories.. he heads off on his merry way.. and I again attempt and fail miserably to catch me a TAXI (seriously, is it just me.. or do TAXI drivers refuse to go to the WESTERN SUBURBS anymore!? it's freaking pissing me off!! AAARRGGHH!!)
1/2 an hour later, nearing 6AM and I'm still trying to chase up that taxi.. I receive a phonecall from the SMASHYCAT (still stumbling about lost on HINDLEY ST and looking for some further drunkening) so, meeting up on the corner of MORPHETT ST, we choose (rather embarassingly in hindsight) to end the night at the freaking STRATHMORE (the last pokie hell hole in the west end of Adelaide city that'll still serve you alcohol) till at about 6:30AM or so we all come to our collective senses and get the fuck out've there.. such is the desperate measures we're all reduced to when DAYLIGHT SAVINGS rudely cuts our fun short.. yeouch!
and wouldnt'cha know it? not a moment too soon at 7AM, I finally find me that fucking TAXI home, yippee!
and that kiddies is the end of yet another epic sized weekend in the live scene of Adelaide *phew*!
Previously on Spoz's Rant:
The Night I Lost My Head