MORALS OF A MINOR + KYTES OF OMAR
LIVE @ ROCKET BAR / Friday September 14th 2007
Fuck me dead with a chainsaw and an aquarium full of hamsters but what a crazy time it is to be alive! Wooooooweeeeeee!! Can't you just but smell it in the air!? The excitement! The wonder! The overflowing hyperboli! The phantasmagorical splendour!? Adelaide city in the springtime: host to the most shit hot, exploding in your pants, 24/7, nonstop partying, underground music scene in the whole damn planet!! and here I am in the howling epicentre, ground zero, the eye of the storm, Rocket Bar: the most sardined to the ceiling, jam packed, fuckoff awesomeness, indie music venue EVER in the history of.. um.. *shit* waaaaaait.. where did everyone go!?
Shit.. I could've sworn there was a crowd around here somewhere!? Just
last week
they were spraying the walls in punctured lungs and broken ribs as Cut Off Your Hands, Teenagersintokyo and some other fartarse local indie act make balloon animals out've our small intestines. This week who the fuck knows!? I've been looking under the sofa cushions here for a good solid hour and all I can find is some rolled up $5 notes, glow sticks, a handfull of funny aspirin with red Mitsubishi logos all over them and one empty cannister of Sarin gas.. what gives yo!?
and so *cough* it is with this most thunderous stampede of feet (and one chirping cricket) that we present the triumphant homecoming of Morals Of A Minor this week. Back in town for one last gig this year before fleeing the stampede of screaming fans, sycophants, stalkers, serial killers (and one chirping cricket) back to the relative sanity and safety of Melbourne (the place where Adelaide bands go to die.. weeeeeee!). Such is the white hot heat that has become of this local scene, this exploding zeitgeist; that it takes an entire interstate witness relocation program to bring sweet relief! If only their support band tonight, the Kytes of Omar could be so lucky..
But alas, the hyperbola and the hype has already begun.. or at least if THIS respected authority on all shit-hot music is to believed: everyone's favourite neighborhood dopefiend, aka: Stoner Andy, aka: your next Prime Minister elect. Back late in 2005 after a fateful dose of the herbal hypnotic in the beergardens of the Governor Hindmarsh he vowed to renounce all other forms of music, give up all of his earthly possessions, live in the desert as a penniless waif and follow nothing but teachings of Wolfmother. Fast forward a year to 2006 and it was nothing but a fat blunt, one candle, a lone breeze and the vibrational energies that were to be found in TV On The Radio. Now in 2007 it's all about the Kytes of Omar. Sure, this may be the same twit that's almost gotten me killed on too many occassions to count (lest we forget
THIS
mad science experiment from a few months ago), but when it comes to spotting the next big thing in music he's never done me wrong; so fuckit, it's high time I went to investigate..
KYTES OF OMAR
and so, in continuation of a growing psychotropic theme here (is that a crowd of people forming around me or did someone slip some microdots in my pale ale?) we are next presented with the headlining hallucinogenic horror that is Morals Of A Minor. In any normal night of the week this is THE brooding psychedelic prog rock band you would use to soundtrack a "say no to drugs" media campaign: they're the white knuckled, clawing at the sheets, screaming an aneurysm just as the baby drops from the ceiling onto Ewan MacGregor type of party band. They're Bob Geldof shaving his eyebrows and nipples off. They're "Requeim For a Dream" playing over and over in a loop with a strobe light at 3AM. They're Martin Sheen travelling up shit creek into the heart of darkness to kill Jabba The Hutt.. and this is on any NORMAL night! On this fateful Friday it's THE performance of their freaking career, it's the final stand, make or break, do or die, all or nothing. They're doing nothing short of peeling back all 11 layers of reality to expose the screaming eye of hell itself! Right now I can hear those sirens coming closer and closer, I can hear the rising cascade of feet up those stairs and see those paramedics come rushing with defibrilator paddles crackling blue to bring this kamikaze cult back from the brink.. OOOOOH FUCK!! I don't know where the hell they could go from here in anything other than a ziplock bag.. it's GAME OVER MAAAAN!! GAAAAAME OVER!! WAAAUAUAGGHHH!!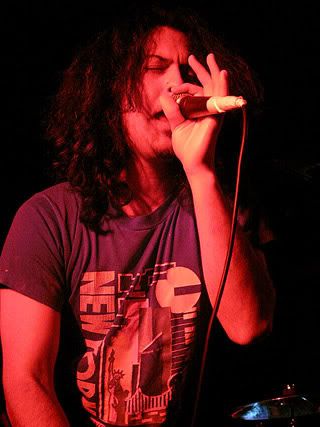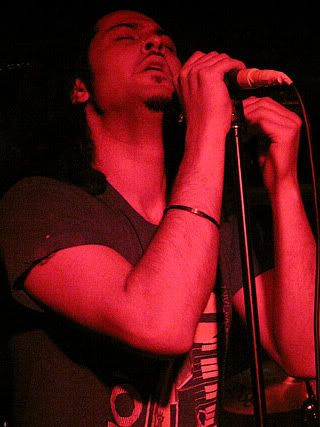 *yawn* oooops.. think I just dosed off there from the excitement of it all; wait what? you mean that was it!? That's all you monkeys had IN ya!? One pissy little thermonuclear meltdown, an hour long set and you're freaking DONE!!?? Morals Of A Minor, YOOOU SUUUCK!! :P
*cough* anyhoo.. suitably dumbstruck by the stupifying brilliance that was Morals Of a Minor, I spent an eternity tranfixed by the Space Invaders machine out back by the pool tables after foolishly nicking a few suspect bottles of what the band laughingly called their "beer rider"..
before I'm finally coaxed out've hiding moments later, yammering incoherantly and clutching onto these glowsticks for dear life, as Rocket Bar is rapidly packed out by all manner of recreational brain casualties who curiously chose the exact minute all those silly live bands stopped playing and the scenster DJ's kicked in to flood the dancefloor to retarding capacity.
From here on in the rest of the night is a complete blur. What with all the excessive foaming brown inebriants (and quite possibly gargling psychotropics) involved from here on in I could've been laughing hysterically at the walls for the next 3 hours and be none the wiser..
but from the looks of the scant and downright disturbing photographic evidence left on my camera's memory card, duuuude I'm frightened! Who the FUCK are all these people!!??
either way, unsubstantiated rumour has it that I eventually stumbled out've Rocket Bar past 3AM, dazed and confused, holding a bag of ice, riddled with surgery scars and quite possibly missing several of my vital organs (pfffft a pancreas!? who freakin' needs that!?)..
before I'm invariably kidnapped by these exciteable midgets and gnomes found congregating suspiciously outside Enigma Bar and dragged off screaming into the night. How I managed to find myself safe at home and in one piece at the end of this all is ANYONE's guess!?
Sure this episode may not've been packed to the gills with the usual contigent of 50,000 mindless blinking zombies all clawing for brains and thirsting for my blood like what happens on any OTHER given Friday night out for me (damn my ridiculously popular website for being the a-grade shit magnet for myspaz profile pic whoring!) but still, for what little this night offered in near such near lethal dosing.. whoaaaa did it still fuck me up sideways!
Yup, just like me mummy told me, it's always the quiet ones you gotta watch out for! :)
Previously on Spoz's Rant:
Midnight Juggernauts + Damn Arms + Young And Restless