COG + SLEEP PARADE + THE VAMPIRE PROJECT
LIVE @ GOVERNOR HINDMARSH + CROWN & ANCHOR / Friday June 13th 2008
They're out there. Everywhere you turn, everywhere you try to run and hide, everywhere where there's things to see and people to meet. They're out there. They're in every household, down every street corner. In every park, pub, parking space, office, stadium and shopping complex blocking up every available exit. Arms raised, stinking of sweat and hysteria, punching fists and making themselves heard. Dickheads. As seen on A Current Affair. As seen in bus shelters, collapsed down side alleys and forming pyramids in emergency wards. They're in all the queues and crowds around you, they're obstructing your justice, getting right in your face and fucking things up 24/7. Dickheads. They all got here before you. They got to all the best spots already. They're the mob, the masses and the great unwashed inches from revolt. They're the dragging knuckles, the unintelligible, the shrieking baboons pissing all over your shoes. You may recognise them from their many designer mullets, faux-hawks, trucker hats, raised collars and top 40 ringtones. Or you may not recognise them at all as they live amongst you in secret, waiting to strike. Oh yes! they're out there maaan and they're multiplying like rabbits..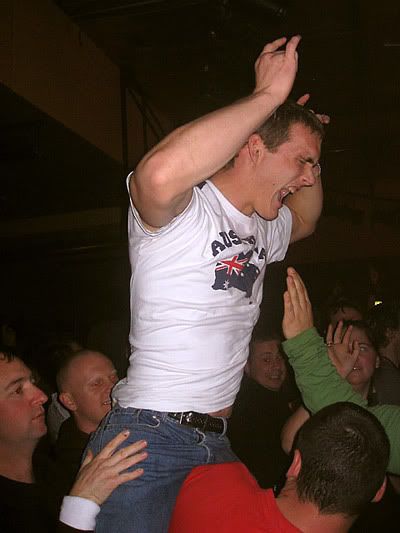 Dickheads. We've done everything in our power to domesticate them: we've toilet trained them, walled them in, given them 9-5 jobs, team sports, reality tv and dumbed down all of society because of them (we even gave them the entire suburb of Elizabeth). Yet they keep on coming. Honking horns, throwing beer bottles and picking fights. Dickheads. There is no stopping them. There are too many. They were here before us, they will be here long after we've gone..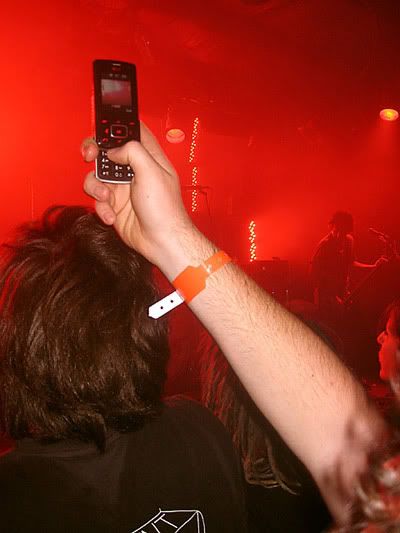 And sometimes just sometimes when you look into a mirror you'll find a dickhead staring right back at you. Dickheads. Beyond a certain blood alcohol and density; everyone becomes one.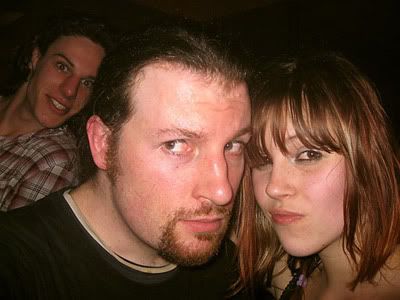 And if ever you needed a sign that your goofy little band has finally hit the "big time"; they would be it. Packing out the Governor Hindmarsh here to sellout point on a cold winter's night for Cog and a new album ironically called "Sharing Space". Mashing up against barriers and speaker stacks, hooting and hollaring, a sea of hands, sucking down beers by the bucketload. Dickheads they may be; but they will live and die for you, they will kill for you, they will go into battle, blast you out loud on their car stereos and make absolute fuckwits of themselves for you. Dickheads. They're an ugly business I know but without them all out there blocking up all of our shared space and killing each other? your rock 'n roll career would be nothing but a dream.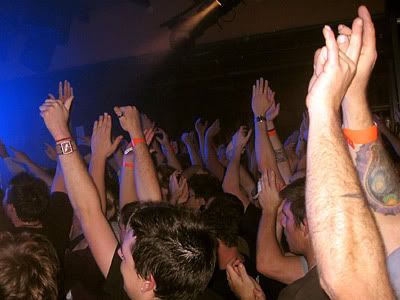 9:07PM
- So here I am tonight; ready and willing to plunge right upto my neck in it. Damn. Sure, I could've chosen any other assignment tonight. I could've chosen from a whole wealth of equally worthy contenders. The Dukes Of Windsor, Fire! Santa Rosa Fire! and The Touch at Producers Bar. The Killgirls, Femme Fatales and Futurecop at Rocket Bar. Mona Lisa Overdrive and The Amcats launching a split release 7" vinyl EP at Jive. Or how could we forget Humble Bee and The Warsaw Flowers at The Ed Castle? (no really? woweee!). Yup, each and every one of them (arguably) close to 100% dickhead free. Yet if ever you are offered bands that (through no fault of their own) attract hoards of dickheads just like these: no matter how life threatening, there is no way you can possibly refuse. Comedy like this damn near writes itself! weeeee! :)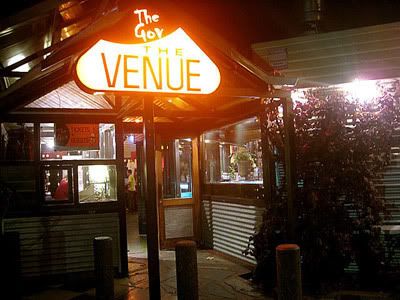 SLEEP PARADE
(***)
myspace
::
The opening act tonight was the freakingly awesome Quiet Child. Whilst this is me arriving moments too late during the second act for tonight: Sleep Parade and kicking myself retarded for missing them. Fuck! Still for those of you who DID arrive early enough to see Quiet Child, it's doubtful you would've noticed much difference between them and this next act Sleep Parade (despite the former being one of the finest prog rock bands in Adelaide); as just like Quiet Child they come from a long line of a billion and one OTHER bands I've covered on this blog who may or may not be heavily influenced by the works of Maynard James Keenan. Yup heeere we go again! As much as I may find the works of Tool and A Perfect Circle to be mind shatteringly brilliant (no really); and as much as I may truly, madly, deeply appreciate and respect the artful way in which you work those creeping bass and drums, those crooning vocals, those droning guitar arrangements and how you crank out song after song of narcoleptically epic ruminations on the futility of existence in all it's prog rock majesty; somewhere along the line I might just snap, grab a sawn off shotgun, take a time machine back to the day you were BORN and put us all out've our fucking misery for going through this shit again for the upteenth time.. FUCK! I mean shit I appreciate a great many of you LOVE everything Maynard does; but can we as a people build a FUCKING bridge and GET OVER IT already!?!? SHEEEEESSHH!!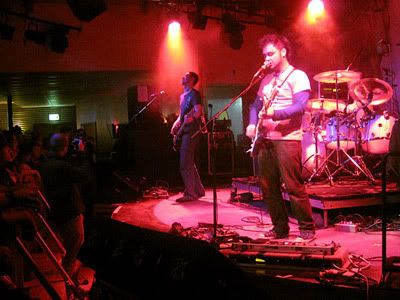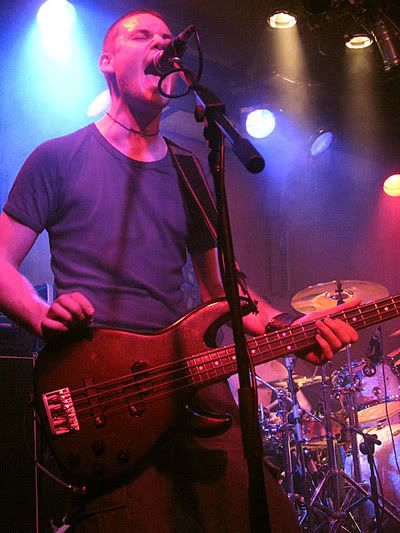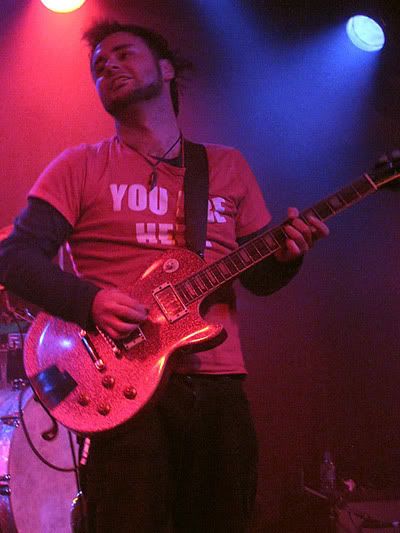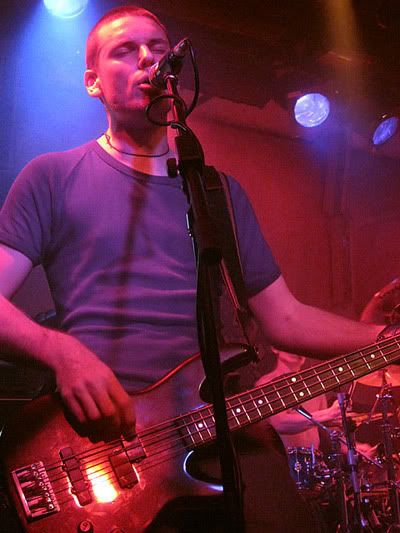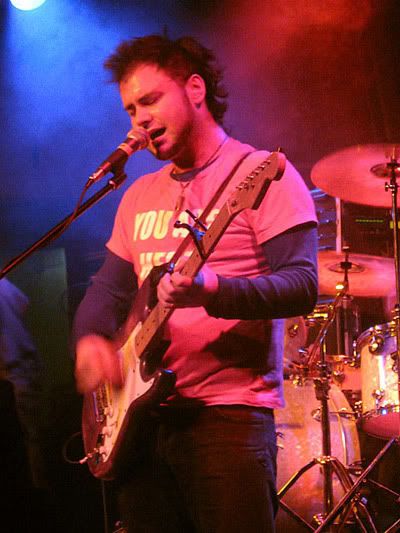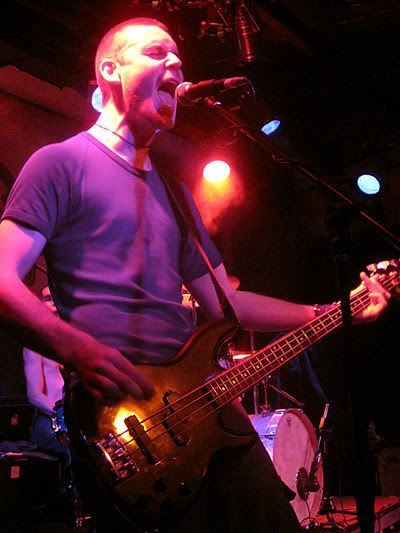 As for whether any of my misguided rant above has anything to do with Sleep Parade and their performance tonight: a performance that was so emotionally nuanced and delicate, so fragile, so broken; soaring through the air like a dream (as witnessed here tonight smashed up near the barriers within microwaving distance of the left house speakers; wincing, squinting, punching through all the dickheads in the darkness to capture photos to the right); is best left up to your own imagination. I hear their album is nothing short of sublime though. Hmmmm..
COG
(****1/2)
myspace
::
Up next, the headlining act. The one we all came to see. The one band all the aforementioned dickheads with the shaved heads, the tattoos and the skeezy mullets have flooded up the walls and ceilings of this venue to fuck themselves up retarded for. Cog. For those of you who've never heard of them before; you could consider them a mix between all the stadium rocking extremes of Tool, Rammstein, mid 70's Pink Floyd and Metallica as fronted by what appears to be an emaciated Klingon from the original 60's series of Star Trek (or you could simply send me to an insane asylum for thinking ANY of the above sounds anything like them). For the rest of you however this band clearly needs no introduction (especially not the extra creepy singalong in the form of John Farnham's "You're The Voice" they received tonight): as they're probably the main reason I'll be flamed on fansite forums nationwide for all the misguided gibberish I'll be writing henceforth in this review. So let me just state for the record that I love this band, I think they're awesome, they wrote an entirely badass 1st album (I've even played it more than once) and you should all go see them and buy their merchandise and junk; no really! (please don't kill me!)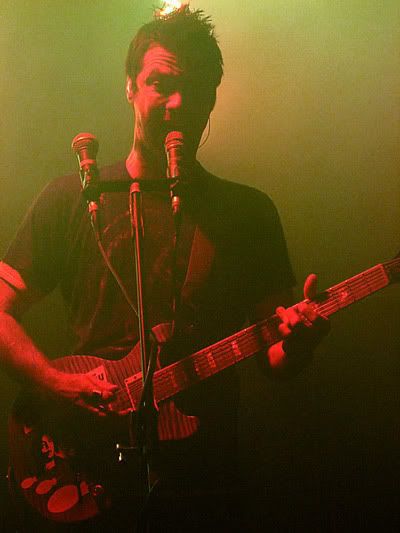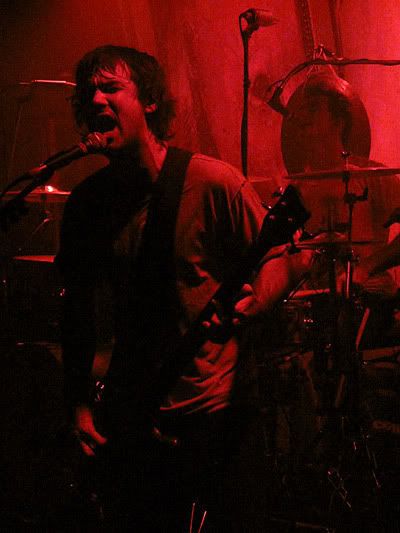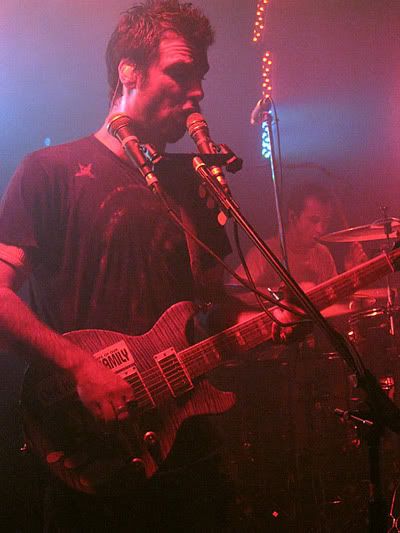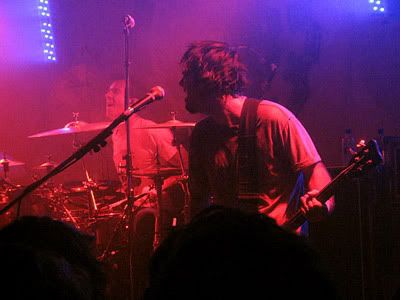 As for how tonight's set went down: despite being wedged up against the left speaker stacks again for almost two hours straight, pressing my finger over my left ear so I wouldn't microwave my insides out, attempting to take photos in the one spot in the ENTIRE freaking venue where I wouldn't get beaten to within an inch of my life by every bonehead, biker, bogan, neanderthal and lumbering thug in Adelaide with a dubious criminal record; it was still an epic blast for all five of my senses (with only three of them and the right hemisphere of my brain still functional to write this review.. weeee!). The setlist (give or take) was a mix of new and old: No Other Way, Bird Of Feather, Resonate, Are You Interested?, Four Walls, Spine, Sharing Space, Real Life, The Movies Over, Moshiach, Swamp, Lincoln, What If?, My Enemy and Bitter Pills; all blasted with psychotic precision. The prevalent vibe here? nothing short of damn near apocalyptic.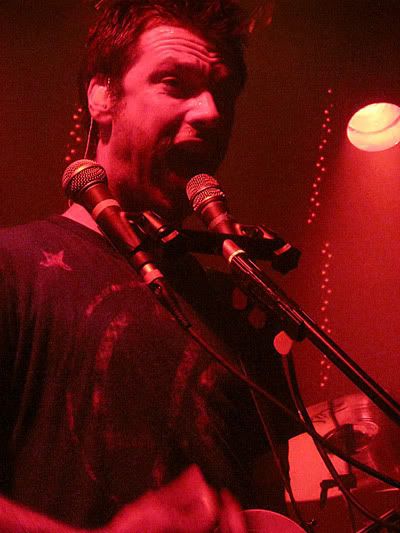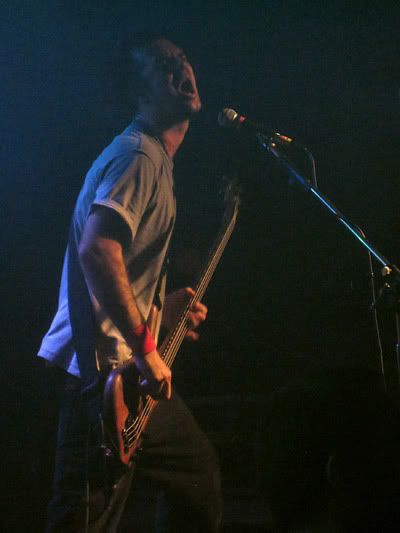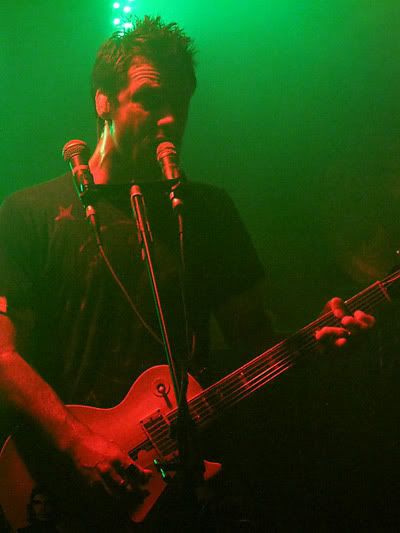 With all the smoke billowing out over the stage, the strobes, the lights, the fisting juggernaut of doom coming at us in waves; sometimes you almost forget there is a bloodthirsty mob directly to your right tearing each other limb by limb, you almost forget how stupid it's getting out here and for a moment at least you simply drift along to it all with a blissful bug-eyed grin. Hypnotised by Flynn Gower's freakishingly pointy goatee and his piercing megaphone shrill, spacing out to Lucius Borich thrashing away on drums like a cavalry charge and endlessly mystified by Luke Gower flailing around in between. Amongst all this needless carnage, this was still one mad buzz. And it was just my luck that I managed to capture this shit on video too.. ooooh fuckyeaaah!
And so there we have it: the idiot stampede, the great surge forward, another night's cannon fodder smashing themselves up into those barriers again and again in waves; all for a few teeny tiny live music acts and a whole lot've alcohol. It was an endurance, but we got out of it alive..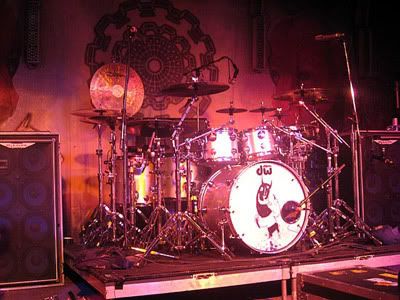 12:39AM
- In encore (and in antidote) to my night's festive bludgeoning, I followed up the Governor Hindmarsh for the one part of Adelaide where dickheads and non-dickheads alike would be thin on the ground. Here in the tumbleweed expanses of the east end ghetto..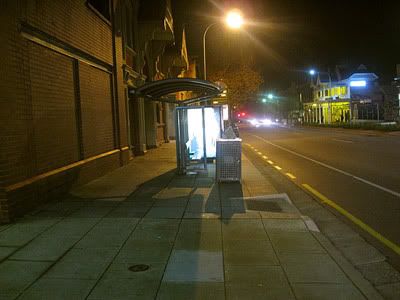 12:43AM
- For surely no one will be in this blue bunghole tonight, riiiiight?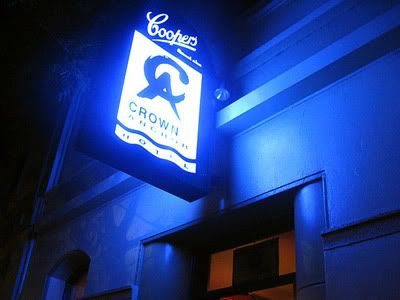 THE VAMPIRE PROJECT
(N/A)
myspace
::
Yup just my luck, that no matter where I go, another live act is sure to follow. The Vampire Project; here thrashing out their own brand of goth rock at the tail end of the Crown & Anchor's misguided "Friday The 13th" festivities. Here playing to maybe 10-20 lunatics still alive at the end of it all who weren't otherwise killing themselves retarded at every OTHER live venue tonight. Yup, it's a tough act to follow, especially on a night like this (and in a place like this) but they're giving it their all and thrashing it out something retarded despite it all. And don't they just look so happy to see me too! Hi Koral, how's your night been!? Wow! that good huh?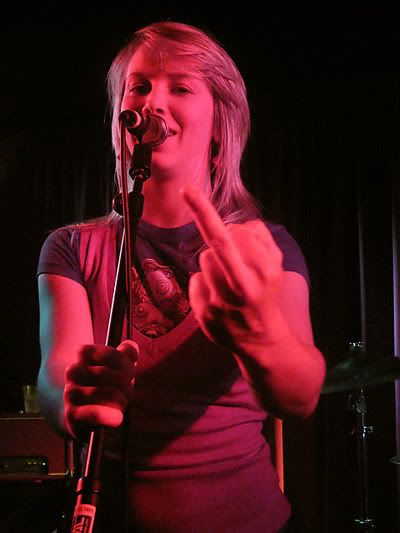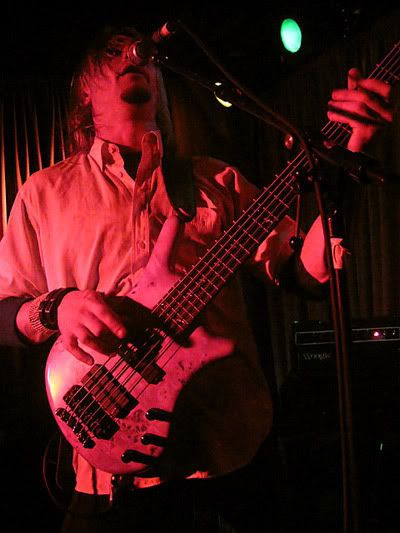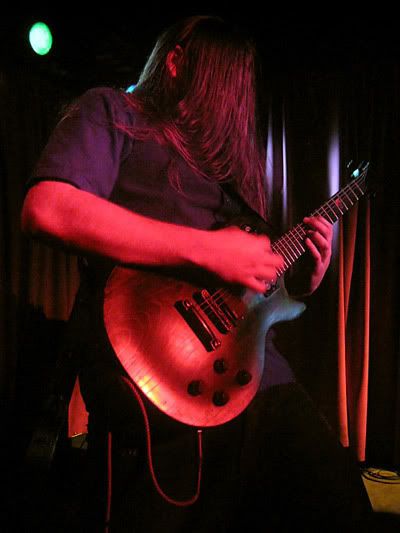 Of course this would usually be the point I'd write something vaguely approaching an actual live review, make some retarded comparisons to bands they sound nothing like (ie: Evanescence, Jefferson Airplane, a whole host of late 60's and early 70's occult rock.. etc.. etc) and then throw in a lame dick and fart gag joke good measure (and maybe even explain why I didn't give this band any kind of tangible 5 star rating.. HA!). But since they made the foolish mistake of inviting ME up on stage at the last minute to make a complete dick of myself, shrieking improvised vocals and lyrics to their last song; we all know it's instant grounds for disqualification. Yup, it may quite possibly have been the singularly most awesome thing you've EVER seen happen on the live stage of the Crown & Anchor (or more likely the most needlessly stupid) but I guess just this ONCE you just had to be there to see it for yourself; cause I ain't telling you shit! :) 2:19AM
- After a brief victory dance at the tail end of The Vampire Project's set that proves once and for all just how much of a dickhead I can be if I put my mind to it (really lets face it, it ain't all that hard!) the rest of my night is spent aimlessly wandering between both Producers and the Cranka hunting down all those needlessly drunken photos of people making dicks of themselves that I love to throw into these blogs, that otherwise make no sense whatsoever..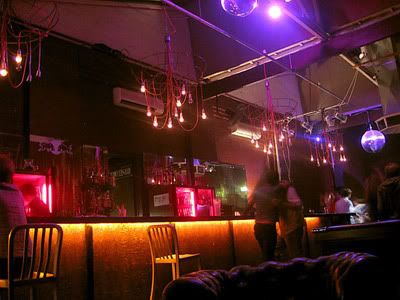 2:50AM
- For instance, here's Penmonicus displaying his freaky chameleon abilities by using his polo shirt to camoflage against the skeezy blue walls out back of the Electric Light Hotel..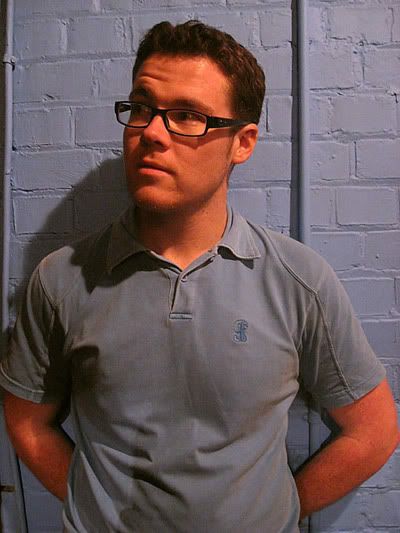 3:38AM
- This is me back at The Cranka graphically demonstrating why it's never a good idea to attempt to use the first few pages of this week's Rip It Up magazine as toilet paper, no matter how hilarious the idea sounded like in your head mere moments ago at the bar..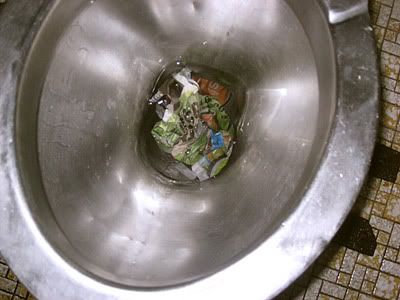 3:53AM
- Whilst this is me, that grinning twit from Poetikool Justice (and whoever the hell that other blond chick is to the left) at the tail end of the night making complete dicks of ourselves on camera. For no reasons other than we're entirely too drunk to know any better.. weeeee! :)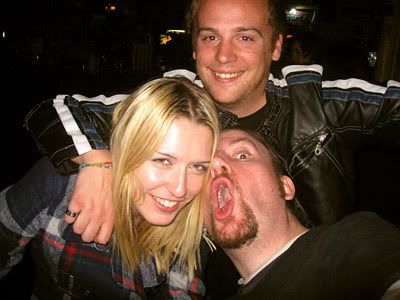 And there we have it. The colourful life of dickheads. The more we collectively poke fun of them, the more we think we're better than them, the more we make up rules to regulate them: the more we become them. Each and every one of us. Dickheads. Standing proud and tall until we're all far too drunk and we need to sit down, only to collapse on the ground laughing when we miss the bar stool. Dickheads. They're all around us, they're a part of us and there is no escape!
Previously on Spoz's Rant:
Egypt + Mindshower