IT'S WARSAW + LATE NIGHT MATINEE

LIVE @ RHINO ROOM / Friday October 12th 2007
This is Rhino Room, one of Adelaide CBD's most obscure live music venues. Situated between Rundle St and North Tce and off of Frome Road. Most notable for it's lurid purple walls and distinct lack of anything resembling an actual rhinoceros (not even a teeny tiny one you could ride like a pony? fuck, what good is that!?). Also reknown (amongst the 4-5 people that actually frequent this place) for it's wild stand up comedy nights, art gallery space and spastic hiphopper dance parties. If a tree fell on a Rhino Room and no-one was there to see it would anyone care? Oh yes Rhino Room this is the sound of one hand clapping, and it's clapping for youuuu! :)
Why am I here on a fartarse night like this you may ask? Am I reaching deep into that gleeming ivory tipped nostril, reaching deep upto my elbow and plucking out gold? Are we sneezing out a moment of glory so mind boggling in it's potency that it'll punch deep into the annals of history as one of the greatest moments this music scene has ever had? Are we uncovering the future? Ooooooh FUCK NO! Sure, you may not see tumbleweeds blowing past this sign right now but what you're about to witness may very well be THE most desperate, empty windblown husk of a night SPOZ's RANT has ever seen this year.. who knows WHAT madness I'll discover?
LATE NIGHT MATINEE
The first freakshow to assault my senses in this obsidian murk is an indie fashion disaster by the name of Late Night Matinee. Featuring two guitarists doubling as vocalists: one Jonny Zwek with the pissy "pretty boy" emo hairflick on the left and one white-trash Mathias Northway channeling all the best and worst of Rod Stewart and his pimp moustache on the right; on bass is self proclaimed Daniel "Party Boy" Partington (although from the looks of it the only parties HE'D ever be throwing would likely involve something altogether innapropriate with a pig, a bucket of moonshine and 40,000 volts of electricity) whilst hitting the sticks to metronome precision is Joe Mount: drummer for Antony Of The Future and otherwise utterly immune from any obvious visual jokes I could make about him (dammit!). Besides being oestensibly about "the hair" they also pack a surprising amount of talent, monkey grinding a mad jam reminiscent of all the howling feedback of early Radiohead, the revolutionary call-to-arms of "War" era U2 and the full flavoured aggression of Bloc Party at their "Silent Alarm" best. Sure it may be insanely over produced, over developed and over serious to the point of self ridicule but with this much buzzing ear candy beating my brain senseless, how could you possibly go wrong? :)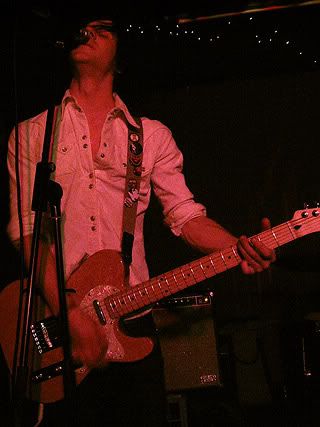 IT'S WARSAW
Final "headlining" act tonight goes by the entirely idiotic name of "It's Warsaw!", not to be confused with another new Adelaide band by the equally idiotic name of "
The Warsaw Flowers
". Yeah, I don't get what the fuck is up with all this Warsaw shit either? Have we run out've Adelaide band names that consist of entire sentences or goofy nursery rhymes? Is Poland the new Sweden? Am I licking the walls barking insane here with all this shit? Are they just handing me punchlines now? Who the fuck knows? Either way this band is surprisingly none too shit despite it all as they appear to be one of rare far and few brilliantly obtuse live acts that are near impossible to pinpoint without throwing an entire itunes library of influences at. As much as I can tell the most obvious signposts appear to be the emotional wreckage of Weezer colliding with the snotty New York punk attitude of The Ramones (especially in how the lead singer throws himself like a crash-test dummy around the stage) but this is the least of it. Throw in The Strokes, The Doors, Nick Cave's The Birthday Party, Nirvana with a shotgun to it's head and an entire kitchen sink of art-wank and by the end of it your head's more messed up than a Picasso painting grinning ear to ear. I don't know what the fuck this IS, but I think I like it! How they ended up buried up a rhinoceros' arse on a dead end night like this is anyone's guess? :)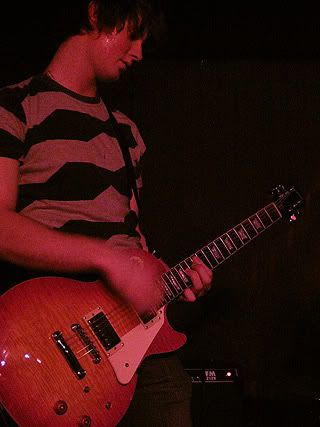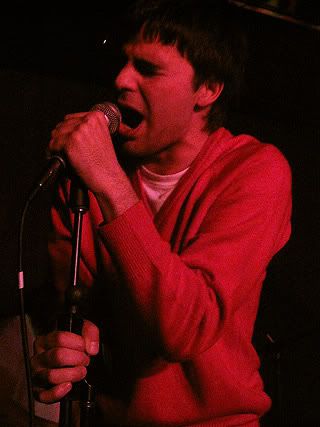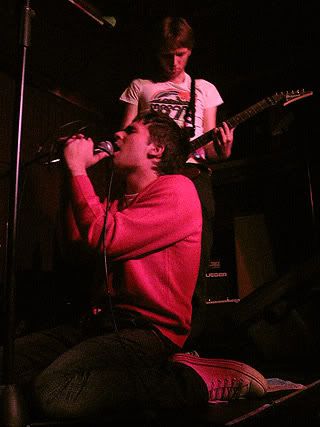 ..and there we have it. Even when you think there's absolutely nothing out there in the cold cold night but a narcoleptic taxi ride home and a sore liver, dig deep into those whistling dark sinus cavities, swirl it all about and you never know what shiny treasures you'll dig up! :)
Previously on Spoz's Rant:
The Vasco Era + The Fumes + The Novocaines