THE VASCO ERA + THE FUMES + THE NOVOCAINES
LIVE @ JIVE / Saturday October 6th 2007
I am still alive. Through these lungs I still breathe. Here still writing these hyperlative words of garbage to you: ever faithful audience of wage slaves, arse clowns, sock puppets, fashion nazis, mental patients and drug addicts (aaaah feel the love!). How I do this every damn week? I do not know. I have been killed a million times and yet I keep coming back for more. I do not rest, I do not sleep. The heat, the noise, the stupidity, the energy, all these mad kittens clawing at the thin threads of all that is left of my sanity and just when I think I've beaten them all through ever increasing and impossible odds; along comes a gig like this. The ninth circle of hell: Jive, pitch black with the lights out, packed with 300 punching fists of glee and nothing but a compact camera and a plastic beer cup to fight my way to freedom.. oh dear gawd we're gonna die!!
THE NOVOCAINES
This is the first band for the night; The Novocaines. They sound like a cross between a domestic cat shitting out an oversized house brick, a toddler having a temper tantrum with a whisky bottle mixed with all the bands that Jet have stolen their influences from (ie: everything from the early Beatles to the Rolling Stones) as performed by what appears to be rejects from a dodgy early 80's surf flick. Their songs barely push over the 2 minute mark, their rhythm section barely drops below that of a heart attack, they do one meanarse cover of Velvet Underground's "Waiting For My Man" and they play their entire set in the dark. As much as I'm cursing and swearing and falling flat on my face attempting to capture these howler monkeys in full flight, I gotta hand it to them; they sure know how to whip up one fuck of a frenzy!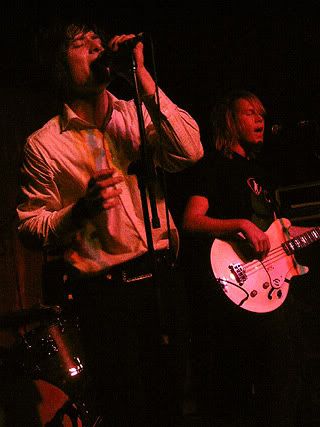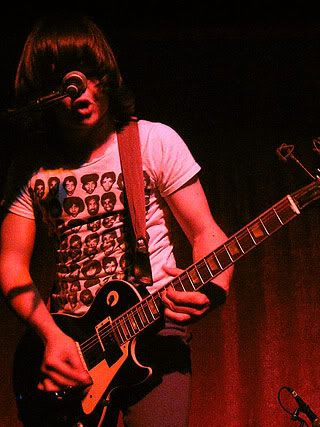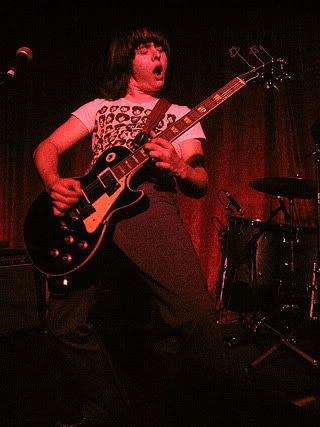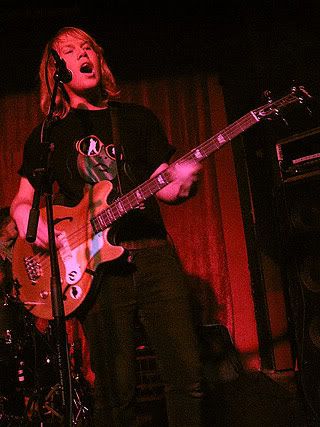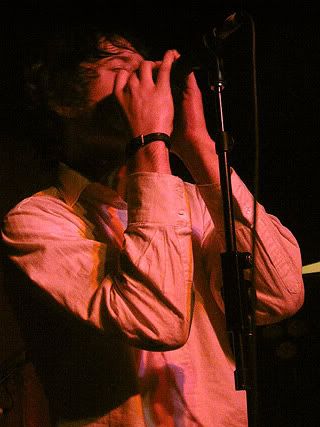 THE FUMES
As dark as The Novocaines made their opening set, follow up act The Fumes go one step even further into the blackening belly of the beast. Right now vampire bats are crashing into the walls around me and forming a small pile of leathery corpses at my feet in their futile attempt to find their way out, whilst this is me being near foolish and stubborn enough to attempt to capture all this madness without the use of a flash. Are these live photos of a 2 piece band thrashing it out to where the sun don't shine or a series of Rochart ink blot tests? who the fuck knows..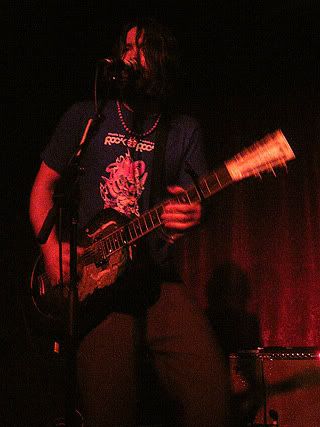 it takes almost half an hour of pointing my camera the wrong way under the mistaken impression I was taking photos of The Polyphonic Spree on casual day (whoaaa you mean to tell me these fugly-arse fools I'm pointing at is the AUDIENCE!?), till I finally admit defeat and hit up the flash: thus ending part two of tonight's ongoing bitch about the lights (although don't worry you'll be sure to read much MORE about it before this episode ends). As for the entirely insignificant matter of the live band, The Fumes? think of tonight's performance as being a pocket sized slide-guitar version of Spiderbait, the dirtiest extremes of Queens Of The Stone Age, The Eel's "Souljacker" album and The Doors at Jim Morrison's most hairy and bloated hammering out shredding guitar and drums at full fuckoff throttle. Chances are if they played this shit at AA meetings the road death toll would skyrocket overnight but we'd all die happy. Am I struck blind or blind drunk at this point? who freaking cares.. this ROCKS! :)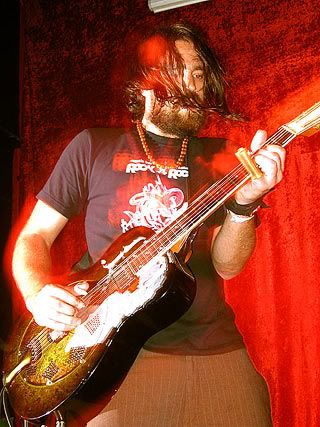 THE VASCO ERA
and now finally we have the headlining act The Vasco Era.. or at least I THINK it's the Vasco Era. At this point (from all the brilliant shrieking cacophany they're conjuring up) they could drag out The White Stripes and torture them to death with piano wire and pliers and I'd STILL be none the wiser. We're beyond the event horizon now. No light dares escape. It's getting so dark out there I swear if they flicked the switch back on NOW my pupils would explode..
and so this is my common sense finally getting the better of me as I throw the 'ol slow-synchro (arty farty blurred) flash light back on: the last resort of a desperate rock photojournalist. Oh well, it could be worse I spose, at least there isn't a fuckoff volatile crowd pushing me up into the foldback speakers every 5 minutes, knocking my beer everywhere and flying over my head tonight.. you wouldn't do that to me Vasco Era, now would you.. right? riiiiiiight?
Ooops spoke too soon, look at those crazy bastards go! Yup, I've survived my fair share of insane moshpits in the past: Iggy And The Stooges, System Of A Down, Shihad, Airbourne, the infamous punk band The Dead Bollocks (with a whipper snipper and a dozen shredded heads of lettuce), Faith No More back in 1995, The Prodigy (or even the Young And Restless just last night!) but nothing is more fucked up than fighting through THIS in total darkness.. yeeeouch!
How the fuck I survived another one of these is anyone's guess? (as clearly the 5 or less hours of sleep I've had working myself to death all this week has rendered me speechless in the retelling of it.. weeeeeeee!). Suffice to say, next time The Vasco Era blows into town and pulls THIS kinda mishief on me again, I'm bring me mining helmet and a sledgehammer.. FUCK YEAAAH!! :)
Triumphant in once more cheating death for another night, we finally emerge outdoors again; only to be struck blind by the full screaming intensity of the pale moon light of Hindley St, only to continue to render ourselves deaf and dumb at the worst karaoke joint in Hindley St..
Aaaaaah, they really DON'T write song lyrics like they used to DO they? :)
Previously on Spoz's Rant:
Young & Restless + Fire! Santa Rosa Fire!