AN END HAS A START
I have reached the end. I am rewound. I am foetal position. An end has a start. I hit the alarm. Thoughts scatter. I have my screaming fist. I have my list. I am the echoes into the ultrasound. Nothing can stop me now. No snow, nor sleet, nor hail, nor driving rain piercing ice needles into my soul. No noose loosens my grip on ruptured spleen. No way out. I am beyond the point of no return. I am laughing hysterically into the sun. I am dead, yet through these gills I still breathe. Flip flopping and flicking the kill switch. The metronome beat. The march of feet. I invade your daylight. I am in your system. I am corrupting your files. I while away the hours. Strobe light sedition. Blinking morse code repetition. Through eyelids drawn back I see the test pattern snow. Zeroes and ones. Stunned mullets and stun guns. They speak to me the ghosts of broken tomorrows. They show me the gaping chasm below. I deteriorate. I accumilate. I punch the keys. I wait. What mad worlds you weaved where once I slept. Forever staring at the watch. Forever running late. Such ministries you propagate in procrastinative hate.
Yet forever and a day I still keep clinging to these fringes, dreaming these mad dreams, these twilight scenes. They plead to me, they beg, they taunt me and they scream: Escape! Escape!
FRIDAY NIGHT
This is Rocket Bar. This is me on the Friday night. This is me half dead from the neck up taking that same damn photo at the corner next to the reflective lamp light. All this accumilative alcohol abuse, all this insipid insomnia and look at me: I am one poor arse excuse for a poet!
This is Rocket Bar hidden away in seclusion, out back where the lights hang low..
This is me thinking I'm in some kinda ski lodge, way up north where the pine trees grow. Has this working week done nothing but fill my head with white noise and snow? Whoaaaaaa!
Yup, it appears me living your 9 to 5 normality has given my mind the bends. One false move, the bubble will burst and I'll be belly up in the fish bowl. Yeouch! How you people do it every week and not kill each other dead in the street is anyone's guess? *ahem* where the fuck was I? Oh yeah! Sending this website down the toilet faster than the US stockmarket.. weeeeeeee!
SWORDS
First band for the night, in what is rapidly becoming my most wildly incoherant entry in blog history is a singular manifestation of minimal malevolence by the name of Swords. They're an instrumental act. They are two bass players and one drummer. Attempting to describe this premiere performance tonight in any clarity befitting their weaponised singularity will surely result in me throwing out a dictionary worth of pale comparisons, but hey I gotta start somewhere! Imagine bass guitars tuned fuckoff sharp as razorblades cutting with piston start stop precision. Imagine them accompanied by deconstructive start stop drum breaks. Throw in everything from the gutteral drive of Death From Above 1979, the unholy snarl of Soundgarden, the minimal blues of The White Stripes, Ministry, Tool and Primus into one fuckoff blender, leave the lid off and spin till an event horizon tomahawk's the top of your head clean off and that is Swords. It is art, it is Satan and it rocks out like the apocalypse.. OOOOOOH FUCK YEAH! :)
REPTILES
Next band for the night was apparently near picked at random by Matt Hayward (ex Central Deli Band) by channel surfing a few choice songs from their myspaz profile, so who knew what hijinx and hilarity we were in for when Reptiles hit the stage? Picture stock film footage from the 1940's to the 1960's of US test pilots experiencing multiple G forces to their face whilst their cheeks puff out like chipmunks, picture atomic bomb blasts reducing whole buildings to autumn leaves, imagine the sublime symphony that is Craig Nicholls from The Vines being tortured to death with a chainsaw. All this and more is what it is like to experience the Reptiles. They're a howling, shrieking, screaming indiepunk, artgrunge shitstorm of feedback, they are the incoherant heartattack, smashed smoke alarm and baboon flailing stupidity made flesh, they are also the venue mixer's worst nightmare and yet for all the permanent hearing loss I'm probably inflicting upon myself in attempts to write this review, I can't help but smile ear to bleeding ear. They are oh so dumb yet oh so idiotically fun. It pains me brain so, but I think I like it!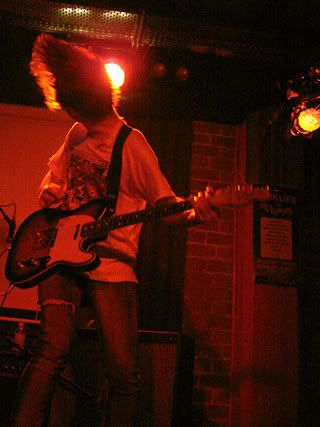 Now that the Reptiles have effectively made cannon fodder of us all: it's time to wheel in the artillery, just in the time for the headlining act. Now I've seen some pretty stupid things in my time out here in the frontlines of gig photography (and chances are I've been guilty of more than enough of it myself) but seriously, who in their right mind ever brings a freaking TRIPOD to a live gig!!? Duuuude, what the FUCK are you thinking!??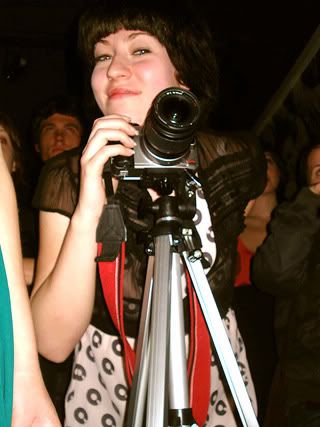 FIRE! SANTA ROSA FIRE!
As we welcome on stage at Rocket Bar for the six billionth time this year, Fire! Santa Rosa Fire! charging up the spastic indie to ludicrous speed in celebration of their brand new EP tonight called "Boy, Hush Yr Mouth. Grrl Bare Yr Teeth." (with such succinct smash hits as "Merchant Ships (I Will Father All Your Daughters)", "I'm Here, Where Are You?" and "Strangers with Knives, Twos, Threes, Fours, Fives" this EP is sure to cause hosts of radio DJ's nationwide to black out from aphyxiation in the attempt to back announce them.. weeeeee!). Tonight's set (in effort to inperceptively distinguish it from all their other recent performances I've seen) is most noteable in it's utterly uncharacteristic coherency. Usually experiencing a Fire! Santa Rosa Fire! set is rather akin to experiencing The Rapture mixed with the Klaxons on a Tokyo bullet train sped up to the point that'd give hummingbirds a diabetic coma. Tonight however it appears they've decided to slow down the epilepsy just a notch or two. Although it's not quite the same to experience Fire! Santa Rosa Fire! if I'm not twitching uncontrollably on the floor foaming at the mouth, it does kinda help that I can now actually understand near to half of what lead singer Dave shrieks like a busted car alarm throughout the set. Also of welcome addition is special guest vocalist Caitlin Duff who just about brings the house down for their encore rendition of Moloko's "Bring It Back". Confusing as always, but oh FUCK do these crack fiends ROCK! :)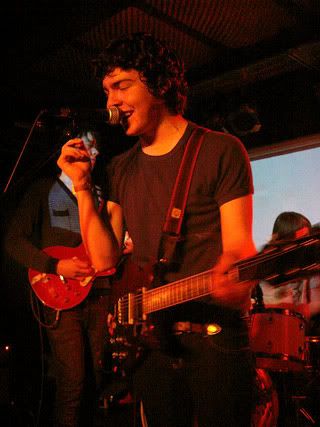 Suitably driven far beyond stupid by the spastic indie onslaught of Fire! Santa Rosa Fire! all the alcohol abuse and accumiliative week of insomnia in between, my brain's now barely running a pilot light, the gas leak is starting to cause my head to spin in ways not specified in the user's manual and I'm far too lobotomised to go on. Any other person would be sporting a toe tag in a stainless steel draw by now, but we all know this night has only JUST begun..
and so, quite like a blackhole singularity my rapidly diminishing intellect soon draws inebriated baboons from far and wide all gravitating towards my continuing downward spiral into oblivion..
before inevitably drawing in the professionals in the form of Joe Blogs and his serial braincell killing partner in crime: the equally deranged Simone. Oh Jebus have mercy on our spleens!
Prior to arriving to our impending apocalypse, Joe and Simone have been spending the last few quiet hours in the east end methodically churning through every single shot available on the Cranka chalkboard menu, with accompanying proof (and comprehensive reviews) as supplied by Simone's ever so eagerly compiled list here..
Of course none of this alcohol has had any effect on their higher brain function whatso'ever..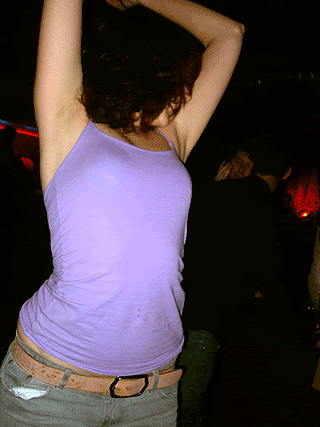 Although considering the crowds at Rocket Bar tonight, I'd doubt anyone would notice..
Oh, and as much as I would love to explain why I was flailing about the dancefloor with this blue zebra squeak toy in my mouth, duuuude.. your guess is as good as mine!
Eventually many hours (and little or no recollection) later we find ourselves piling out've Rocket Bar at 5AM and into the neighbouring Hindley St Falafel House..
At which point we depart from all coherancy this night with this final all-too appetitising sequence of Joe Blogs enjoying his hot dog with the lot. Mmmmmm.. taste the chunks!
SATURDAY NIGHT
Today I wake up to discover that my SONY CYBERSHOT DSC-W70 camera, aka:
THE FRISBEE
has well and truly crapped out it's last brick of gold. The retractable zoom-lens mechanism (for want of a better word) has gone and fucked itself up the arse. They really don't make compact digitals like they used to: although granted, having the thing crash land on it's head within it's first week of operation, trampled under foot at a recent Tony Font Show gig and given more mishandling in it's 5 short months of service than you could mention in passing really couldn't help matters (I swear even war correspondants don't torture their equipment nearly as much as I do each week). So alas, it's back to the oldskool tonight as I wheel out my ever faithful war veteran, the hilariously antiquated CANON IXUS v3, aka:
SPARKY
to do battle once more on the Jade Monkey tonight. Sure it may be held together with sticky-tape and look like a 1950's refrigerator but it sure as fuck still gets the job done! :)
200 MOTELS
Tonight the Jade Monkey is playing host to some fartarse political fundraising gig for the Greens: that wacky little idealistic political party all of us secretly voted for in the last few elections after the Democrats sold out since none of us could ever stomach the prospect of directly voting for the majors like Labor or Liberal knowing full well they'd fuck us in the arse if we ever gave them an inch *cough* whether this grand gesture of protest ever made ANY difference in how much we all got shafted by the Liberal party for over the last 10 years is anyone's guess but hey, lets all live the dream that the democratic process actually works shall we? ...what? what's that over there!? Hey kids, look! it's everyone's favourite fun time party band 200 Motels here to save the day.. yaaaaay! (please don't kill me! :) )
SPINDICKLE
Yup, clearly I should stick to making fun of local bands instead of inviting a shitstorm of angry debate over my jaded opinions on Australian politics (I can see you all now lining up to flame me in my comments box.. tee hee!) so it's onto the next live act for tonight, Spindickle, which for want of a better insult in a sentence, could easily be renamed as the Steve Buscemi Allstar Blues Experience. Whether that IS Steve Buscemi on stage, a recent escapee from a P.O.W camp or the latest spokesperson for a brand new LA based low carb aneorexic diet frenzy is really hard to tell, either way that emaciated skeleton sure knows how to crank out a sad sack tune! As for the rest of the band, imagine if you will something along the lines of Bob Dylan, Lou Reed or Nick Cave, feed it through some alt country folk rendition of some white bread rock band like Bon Jovi attempting a soundtrack to a cheesy Hollywood western and that'd be your monkey. Still as much as I may be inviting molotov cocktails through my bedroom window for the next 3 months for saying all of the above, surprisingly its actually really damn good, brilliant even! In fact it's so damn powerful and compelling in it's withering nasal driven melancholy that I just about wanna hang myself than listen to another note (and yes, that IS a compliment!).
NO THROUGH ROAD
Finally to top things off (before I personally top myself off in homage to Spindickle) we have the headlining act, No Through Road. At this point we could easily wheel out the usual comparisons to Weezer, Tapes N Tapes, Bob Dylan or whatever-the-fuck, but really the ONLY way to describe this band is to think back to the last time you were so beyond retardingly drunk late one night out on the piss happily singing along loudly to your favourite live band, DJ or jukebox selection: as utterly brilliant as you foolishly believed your "performance" to be in front of your very own imaginary "rock band" (which in reality probably sounded more like 3 cats fighting over a car alarm) is EXACTLY how this band actually sounds like on stage. They are every alcoholics fantasy band. Given nearly enough beers and we'd ALL wish we could be Matt Banham and his band: leering, lurching, crashing about the stage slurring each word, howling at the moon like wild animals. They are not a 12 step program, they should never operate heavy machinery and they sure as fuck should NEVER get behind the steering wheel but tonight they're drinking each and every one of us grinning fools under the table with one fuckoff wall spinning bender of a live set. Bottle this, sell it and watch everyone die.. FUCK YEAH!! :)
In the howling aftermath: crawling out've the wreckage of arms and legs and misplaced heads around me; I dunno whether it was No Through Road, the 6-8 beers or the roofies someone spiked my drinks with (Zac the Bartender you cunning bastard!) but it comes to absolutely no surprise that I'd soon find myself here again at the Cranka to while the rest of the night away..
If this photo doesn't sum up the million and one reasons for why I always chose to drink myself into a coma at this establishment..
then you're probably not gonna get fuckall sense out've these drunkarse photos either..
and finally just for the record, at long last here's the ever infamous Stoner Andy here to crush all those cruel stereotypes I've been gleefully spreading at his expense for over the last 2 years. Seriously I dunno how the hell I could've possibly painted him up to be such a one dimensional alcohol fueled dope fiend.. I mean, just LOOK at this fine upstanding individual! Fuck bi-partisan politics, fuck the rest of them, lets vote THIS guy as the next Prime Minister of Australia!
With Stoner Andy in power just think of all the things we could achieve: like if we diverted all of our military spending, our pesky beer excise and our entirely unecessary legal system (laws.. pffft, who needs them?) to fund the arts, education, social security, the environent and give all of us free healthcare! Sure our economy would go down the toilet faster than you could light a spliff to flush your life away, but really who needs the economy when you can fly? weeeeeee! :)
and yet, out've all the brilliant plans and genius schemes we come up with over emptying pint glasses to endlessly improve our lives, why is it that despite our supreme intellects we always end up devolving to the level of knuckle dragging simpletons here at Shotz at the end of the night? If you could answer that (and why my weekend blogs always seem to end up at a equally clueless conclusion) you'd damn near solve global warming and the energy crisis in one!
Another weekend ends. Another week starts. Another dream gets ground into the dust, only to emerge glassy eyed and disoriented for the next spin of the dice. Is this a hallucination, an illusion, hints at the grand design or are we but hamster spinning wheels into futility? Why sleepwalk through life when there's a whole world out there waiting for us to awake!
This is not the end, only just the beginning! :)
Previously on Spoz's Rant:
In Limbo