JUST DON'T GIVE A FUCK
If you've read
last week's episode
, if you've witnessed the full length, breadth, flatulent girth and fire breathing monstrosity in leathery winged chaos we unleashed upon this square mile ant hill like a thousand slam dancing Godzillas, then you'll more than understand the inevitable flaming wreckage in comedown that would re-entered the earth's atmosphere this week and leave all those smouldering craters littering throughout your suburban neighbourhoods. If not, go take a look
again
, go take a reaaaal GOOD look, don't just look at all the pretty pictures! read, absorb the words! breathe in those musty fumes, flare out those nostrils aaaaaaaaaah! and when you start to see the colours smiling back at you and everything gets a little woozy like the closing scenes of 2001, get your nearest and dearest to slap you back to consciousness with some smelling salts and jumper leads, return here and read this hilariously abrupting tale in epilogue. For without part 1 of my story, you'll thinking I've dropped the ball here faster than those silver testicles fled Rundle Mall, but no, I have my reasons. Oooooooh do I have my reasons! I've earnt my hangover! After everything I'd seen, after everything I'd done out there of late; this week, I just don't give a fuck. I haven't slept in weeks, I'm cranky as all fuck, I have murder burning in my eyes. I don't wanna lift nothing but my middle finger this week and raise it on up high into the sky. You want a blog!? You want yer steeeeiiiinkin' weekend blog!? MAKE YER OWN DAMN BLOG!! HA!
And thus, we present, for one (slackarse) time only: the white burning hot rage that is SPOZ's RANT, the multiple choice edition! woop it up yo! :)
FRIDAY NIGHT
Tonight at 10:30PM (after various unmentioneable half-arse misadventures throughout the westend) I find myself here at Rocket Bar, a place that's most reknown for:
(a) playing host to some of the finest indie/electro/artrock/psychedelic acts in Adelaide.
(b) spinning idiotically infectious hip indie/electroclash/dancepunk/ghetto funk cheese courtesy of Dropout Boogie and Sookie Sookie DJ's on Friday and Saturday nights.
(c) filling out the dancefloors till the wee hours of the morning with the sort've cute-as-fuck booty shaking artschool/indie/op-shopping girlie girls you'd never have a chance in hell of scoring with, unless you (i) owned your own record label, (ii) owned your own fashion label, (iii) dressed like a cross between an 80's porn star and a pencil necked geek, (iv) happen to be either Matt B Safer, Karen O, the dudes from MSTRKRFT or one of the Klaxons..
(d) ..thus becoming ground zero for the sort've pretentious wankers who flock to this place thinking they're all of the above. Oh how I love the Rocket Bar! :)
HIT THE JACKPOT
The first band that I catch tonight (and second band of the night), Hit The Jackpot:
(a) are a minimal proto-grunge act reminiscent of Sonic Youth and I Heart Hiroshima.
(b) are yet another wallflower indie act prone to spending their entire set staring at the floor.
(c) are the sort've band geeks that keep swapping their instruments every 2 minutes in effort to either prove that (i) they're exceptionally multi-talented musicians, (ii) they're equally as shit at everything they play, or (iii) they're in serious need to be on some kind've ADHD medication.
(d) are yet another in a long line of Adelaide bands with hilariously shit names.
(e) are making me kinda wish I didn't turn up so late tonight as I've just missed Fire! Santa Rosa Fire! who played first tonight (speaking of hilariously shit names *cough*)
(f) are still despite all this, a surprisingly exceptional band.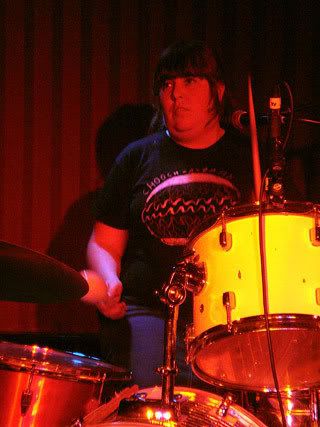 This is photo of a disembodied pair of trousers walking on top of the bar. It really has no place being here except that it's probably the most freakingly hilarious photo I took all night.
CHILDREN COLLIDE
Headling act, Children Collide:
(a) look like a b-grade celebrity fist fight between Thurston Moore, Joe Strummer and Freddie Mercury.
(b) sound like all of the above as reinterpretted by a highschool kiddie rock band on smack.
(c) make frisbees out've all their instruments.
(d) are quite possibly the most infectious fuckoff cool indie punk band I've seen all week.
As a direct result of Children Collide, I spent the next few (entirely pointless) hours:
(a) making a retarding twat of myself on the dancefloor.
(b) drinking myself into a coma.
(c) scoffing down enough complimentary donuts over the bar to make my stomach explode.
(d) subsequently get challenged by Nick from Morals of a Minor to devour these said donuts all in one bite (after all the beers I'd just drunk) without hurling chunks or passing out cold.
(e) failing to photography any of this for the entertainment of all you shlubs.
(f) and clearly doing nothing at all to impress the girls in this fashion-nazi hellhole as a result.
So, it's no surprise I'd end the night in this all-too-familiar shithole instead. 'Nuff said ;)
SATURDAY NIGHT
Arriving at Fowlers Live tonight at 7:30PM:
(a) I really wished I managed to find something more resembling "sleep" at the tail end of last night instead of the 8 hours of frequently interrupted hell in flip-flopping detox, screaming internal organs and survivalist zombie nightmares I otherwise experienced.
(b) I really wished I didn't drink all those beers (and eat all those donuts) which likely lead to this mess in the first place (and lets not mention the "Apple Bomb" I also had at Jive, yeeouch!).
(c) I'm just now secretly regretting all that disgusting-arse KFC I had just moments earlier.
(d) I'm also secretly cursing the arseclown who had the retarding stroke of genius to book Tony Font Show as the opening act at 7:30 for an all-ages emo gig. What the FUCK were you thinking!?
TONY FONT SHOW
Timmy Fart Show's set tonight, is most notable for:
(a) the frequent narcoleptic collapses of lead singer Leeroy, and his increasingly spastic "Sideshow Bob" hair of doom (seriously if that poodle perm shit of his gets any crazier, I'm gonna hafta call him the "Mushroom Cloud" and be done with it).
(b) the increasingly erratic headbanger moves of Cliff Richard, the tin-man guitarist (which has me wondering if the rest of the band had swapped his Valium pills for No-Doze).
(c) (Haz)Matt the rain-man bass guitarist almost faceplanting it whilst running back n forth on stage between the obstacle course of guitar, mic and bass leads.
(d) Phil and his exceptionally talented drumming (yeah fuckit, I got nothing!).
(e) if I wasn't nearly as hungover, I'd be killing myself rotten during "Things To Do In A Ditch".
(f) being a band more fun to watch live than watching 1000 ping-pong balls ricochet off the walls of the Playboy Mansion on tequila night.. yeeeeeHOOOOOOOO!!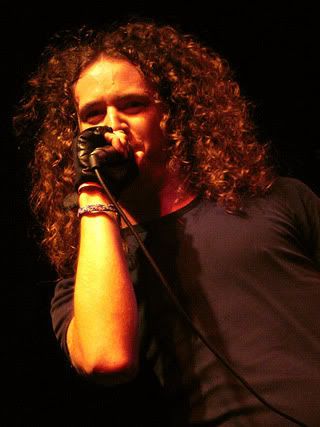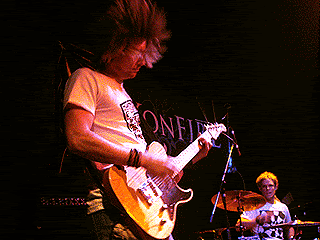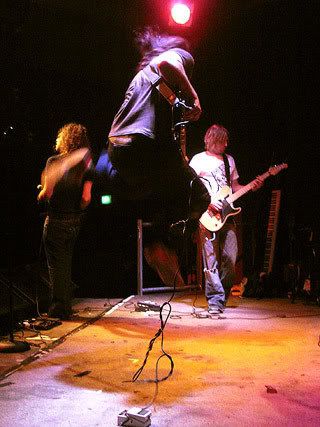 FREESTATE
Second band, Freestate from Melbourne:
(a) are the most overblown Testosterone cock-rock emo wank act I've ever seen.
(b) yup, that pretty much covers it.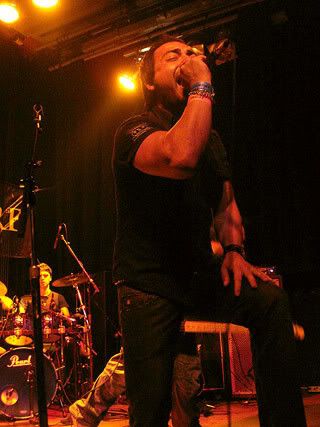 BORDERLAND
Third act for the night, Borderland:
(a) features a punchy little hobbit on lead who looks like a cross between a bull terrier and Samwise Gamgee from Lord of the Rings.
(b) are surprisingly not altogether crap for an emo prog rock band..
(c) ..no really, they rock! I'm real surprised I haven't seen them more often..
(d) ..although considering the lead vocalist has to struggle to be seen above the foldbacks, I can see why.. bwaaahahahahahaha!
(e) please don't kill me :)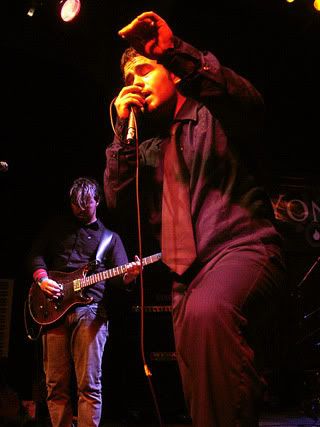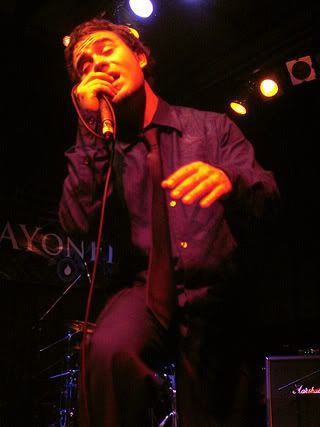 I next duck out of Fowlers Live at 10PM, before headling act Day On Fire are due to hit the stage for their CD launch tonight, because:
(a) all these emo bands are starting to get on my nerves.
(b) their whiny-arse kiddie fans are even worse.
(c) I've almost run out've beer money.
(d) Taught By Animals are playing on the Cranka..
(e) ..I can drink their beer rider for free instead.
(f) duuude, it's freaking Day On Fire.
(g) please don't kill me :)
..and yes I'm sick of writing captions to explain why I'm at this shithole again.
TAUGHT BY ANIMALS
And thus, I arrive at the Cranka at 10:15PM, just in time for Taught By Animals, who:
(a) play a blistering set of howling simian infected proto-grunge that's second to none.
(b) feature a whole host of rocking songs who's lyrics could easily be interchanged with The Pixies classic "Debaser". Don't believe me? try it into the shrieking chorus of their smash hit "Gap People" at your next house party, and let the good times roll weeeeeeeee!
(c) were supported tonight by the last minute band "The Baron" who proceeded to flood their entire set with half-arsed Sabbath and Zeppelin covers till all the crowds ran screaming.
(d) since I've effectively run out've every Charles Manson, Neanderthal Man, Man-With-No-Face, Bob The Builder, Cable Guy, Frodo Baggins or Santa's Elves jokes to describe each of the band members, I may actually have to resort to making actual intelligent critique of their set..
(e) .. so it's just as well they gave me free beer tonight, so I could be waaay too fargone retarded happy to say anything otherwise intelligent. ROCK!! WOOOOOO!! :)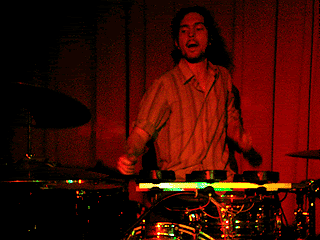 After the gig, I find myself drinking shots of absinthe at the bar, because:
(a) Stoner Andy kept on shouting them.
(b) I'm a fucking idiot.
Sean Kemp is seen here standing on top of the barstools, because:
(a) as per his usual habit, he's successfully managed to camera whore himself into yet another consequetive episode of Spoz's Rant.
(a) he's high on life.
(c) *cough* he's just plain high..
(d) ..and if you went upstairs and near choked yourself to death on THAT cloud of green smoke floating over the balcony from Stoner Andy's monster joints, you'd be up here too!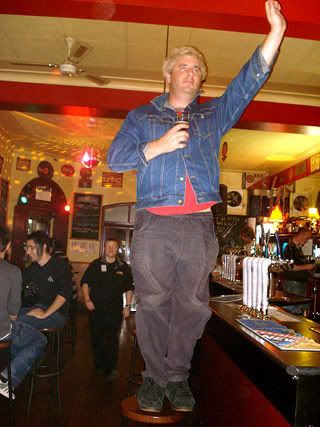 Later in the night, against all my better judgement, we manage to find ourselves at Worldsend drinking yet more shots of absinthe, because:
(a) Stoner Andy kept on shouting more of them.
(b) I'm a fucking idiot..
(c) ..and I really should've remembered to dilute it with the water BEFORE skolling it down.
(d) I'm a goldfish! *hic* I'm a goldfish! WATCH ME FLY!! WEEEEEEEEEEEEEEEEE!!!
This final photo from the night says it all. Game over maaaaaan!! GAAAME OVER!!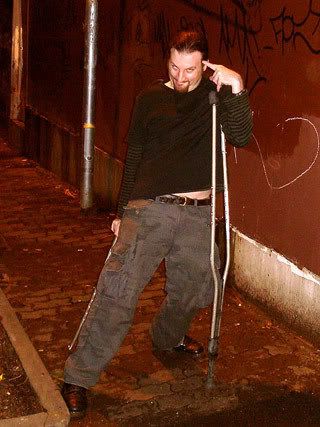 I am Jack's venting spleen.
Previously on Spoz's Rant:
The New Normal