THE NEW NORMAL
I never meant for this, I swear! It was all meant to be so easy. I'm just like everyone else I thought. I had friends in bands. I'd go see their gigs. I bought a camera. I took some photos. I got to know more bands. I took their photos too. I published the photos and wrote myself a blog. People read my blog. I get myself a myspace. I get to know even more bands.. fuckit! I'll take their photos too! I'm just like everyone else I thought. Doesn't everybody do this shit every week? and if not, why the hell not? Each week the lens clicks over and over. Each week the dominoes fall. One by one the cascade builds, the body count climbs, the volume rises and before I know it this tsunami comes knocking at my front door. I run and hide but they keep on coming. I keep on shooting but they keep on coming. I throw everything I've got at them and they keep on coming. There's no stopping them now, they're all clamouring for my attention. They're bursting through the ceilings and walls maaaaan! "Adelaide, the city where people go to die" I thought. "A city nightlife of no consequence" I thought. I'm just like everyone else. I'm just like you. Surely nothing would come of this. Doesn't everyone do this shit every week? I never meant for this, I swear! and yet, through my observation and annotation like quantum particles the results twist and corrupt before me: the subatomics change their trajectories, the social butterflies flap their chaos generators and they summon up their tornadoes and now it's all gone pear shaped. Do not adjust your web browser, do not try to escape, there is no escape! We are not in Kansas no more: welcome to the new normal!
Oh and remember; kids, do not.. I repeat DO NOT ever try this shit at home!
THURSDAY NIGHT

I had no intentions of leaving the house tonight. I'd already seen Perth touring act Snowman twice this year. I'd already bought their album. Surely I didn't need to see them again. I just wanted a normal Thursday night at home, feet up, watching the television, blowing bubbles out've my arse and forgetting it all. They had other plans. They offered me a free media pass. They knew I couldn't possibly refuse. So here I am at Jive to witness my own undoing. Surely if there's a 12 step plan here, I've pissed all over it again for you people.
BATRIDER
Snowman's support act tonight is a band from New Zealand called Batrider. They sound like a grainy 16mm black n white snuff film of Courtney Love going hard at it on PJ Harvey with a whisky bottle. They dress like a bull running circles in an opshop. They stare at the floor, they shuffle their feet, they stare dead into space like zombies but they make a screaming blood curdle that sounds like the passing of a kidney stone. They're running at the thrash extreme in a growing army of uber geeky, awkward indie art-rock acts that are beginning to infest these scene like a virus and they're way cooler than your mom. Still, as infinitely shit hot as they sound making my ears bleed with the house PA turned way into the red, attempting to photograph them as they shuffle around looking bored tonight is making me wanna slash my wrists; just close my ears and beat me over the head with that whisky bottle though and I should be fine. Speaking of such, for mine and everyone else's mental health tonight it's high time I really should hit the bar aye?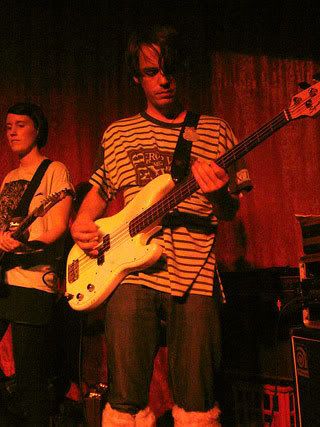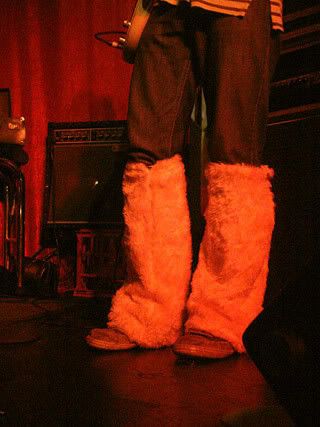 SNOWMAN
Now suitably medicated on enough amber fluids to keep the demons at bay, headlinging act Snowman arrive to bring them all right back up again in a technicolour display of shitstorm lunacy like all the best 1950's b-grade schlock horror set to surf guitars. Lead singer Andy Citawarman convulses like a Pentecostal snake handling gone horribly wrong to his own backing score of hooting, gnashing and warbling shrieks, Joe McKee lurks like a shadow to his right singing like an unearthly presence from beyond the grave on guitars whilst Olga Hermanniusson on bass and Ross Diblasio on drums beat out film noir rhythms like zombie puppets overrunning the flooding ruin of New Orleans. If you're already familiar with their stuff like I am, there's nothing really new here to distinguish this from their Jive set from
January
or from their live set from the
Big Day Out
this year, but at least the newly acquired pink smurf hats make for a nice touch.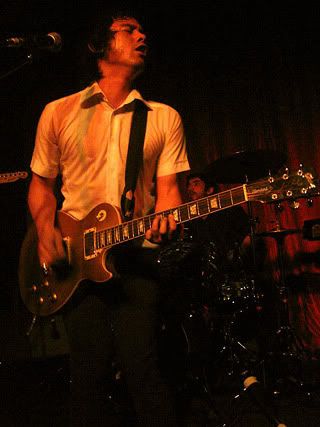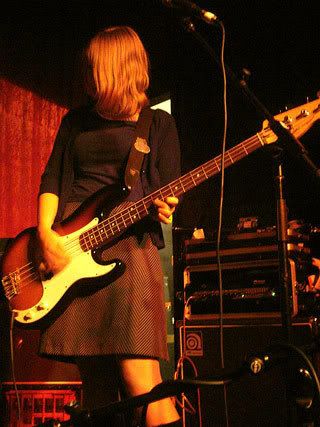 Soon finding myself in possession of the said same smurf hat when they launched it into the crowd, I goose off the remainder of their set and throw off the aim of all the live photographers around me (as clearly I'm the last idiot around here who is ever gonna take this shit seriously)..
..till finally, one of the member's from Batrider returns to front of stage to reclaim the bassplayer's footwear back at the end of Snowman's set (pheeeeuuwww, so THAT explains the smell!) I down the last of one too many beers on a Thursday night and then throw myself into the next passing loony bus home at midnight. All in all not a bad evening's entertainment!
FRIDAY NIGHT
I had no intentions of having it large tonight, as lets face it, I'd done so much of this shit in the last month and a half that future generations would be required to sift through my ashes, mix it up with black plastic and press it to 12 inch vinyl to get their fix: just one venue, two bands and I'm out've here, I swear! Of course they had other plans. They taunted me on myspace, they gave me a ridiculous challenge, a challenge that I couldn't possibly refuse, and so once again we witness yet another one of Spoz's insane cross-country inner-city sprints to fit it all in..
..as we run like idiots from point A: the Jade Monkey at the east end of the city..
..to point B: the Rocket Bar to the west end of the city..
..all the while, fueled on an ever increasing brain curdle of 1-2 bottles of red wine, 6-7 bottles of beer and 1-2 spacial distorting wookies, as surely no-one in their right mind would EVER agree to attempt this 400 metre dash without at least SOME mind-bending substance abuse to lead them astray. For surely, if gravity is to be my co-pilot this night, then we're all going to hell in a handbasket.. yeeeeeHA!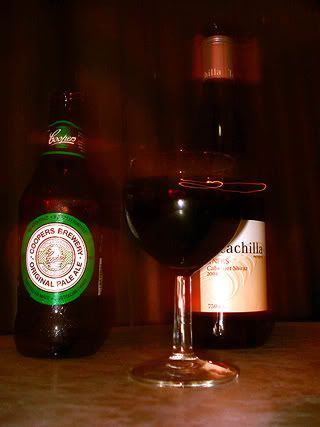 TOKYO CITY SEX SHOOTERS
I first arrive at Jade Monkey at 9PM. Zac the psychic bartender loads me up on beer, Stoner Andy loads me up on red wine, Corey loads me up on wookie, Tokyo City Sex Shooters load up on stage with their 70's freakjam astronaut funk and everyone in the crowd proceeds to unload in their pants, as for the next half hour they treat us to a stoner diaper staining brownout of psychedelic flanging guitar riffs, ice-cream truck keyboard melodies, nursery rhyme lyrics and spastic autobot drumming. Like all the best in children's television programming gone horribly (yet oh so brilliantly) wrong, Sesame Street truly has nothing on these guys!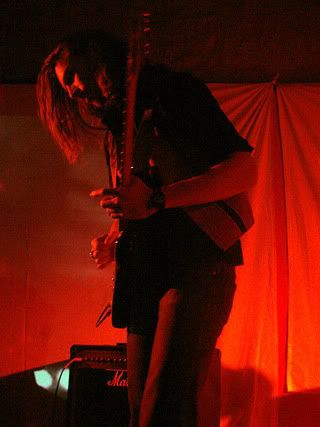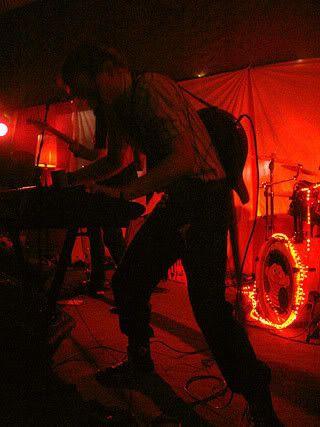 TAUGHT BY ANIMALS
Barely a wrinkle in time later at 10:30PM I attempt my first mad dash across the city, as I sprint down Twin St, Rundle Mall and Hindley St to the Rocket Bar in six minutes flat; just in time to climb up a further 3 flights of stairs and promptly collapse gasping dead on the floor barely moments before Taught By Animal's set. For those of you already familiar with Taught By Animals, they were nothing short of their usual proto-grunge, shrieking baboon, multi-textured guitar noise and pounding percussive brilliance tonight with an equal mix of old and new songs performed for our amusement. For those of you NOT already familiar, drop acid to a crossfade of The Pixies and Sonic Youth till your eyes roll back in your skull and I'm sure you'll soon catch up.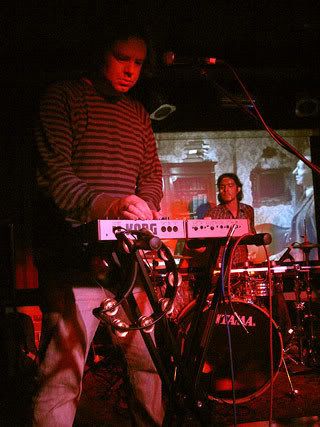 LADY STRANGELOVE
Just before Taught By Animals fire up for their encore after a blistering half hour set, I'm off again; down 3 flights of stairs, Hindley St, Rundle Mall and Twin St again to collapse dead on the floor of Jade Monkey in 7 minutes flat, only then to be near trampled six feet under by a stampede of moon-eyed space cadets all huddled around the stage soaking up the radioactive psychedelic stir-fry of Lady Strangelove tonight. Most of you should already be well familiar with this band by now: maybe you remember them as the exciteable "no name" opening act who blew those other fart-arse bands out've the water at the Wolfmother concert last
Monday
, maybe you heard their shrieking soundtrack to the new JR Surf and Ski advert this week on TV (*cough* sellouts!) or maybe you read it here first in one of my utterly incomprensible live reviews; either way.. fuckit.. you know what I'm going on about, if not just get those same two crossfaded Pixies and Sonic Youth records you dropped acid to earlier, play them at twice the speed backwards whilst also dropping additional shrooms and you'll be sure to hit Strangelove territory. Be sure to send me a postcard if you make it back alive!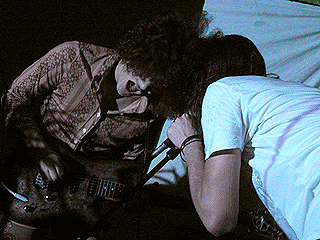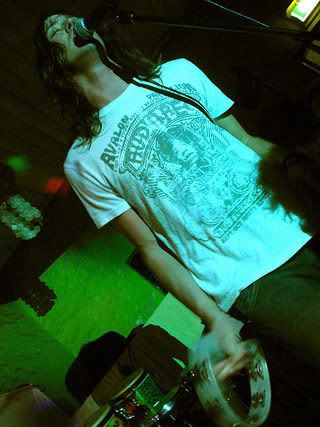 POLY & THE STATICS
With the time now kicking past midnight and with my head twisted severe I once more must depart to the west end; stumbling down Twin St, Rundle Mall, Hindley St and up those same freaking 3 flights of stairs *gasp* as I collapse dead once more on the floor of Rocket Bar in 8 minutes flat, slap in the middle of Poly & The Statics headlining set. As luck would have it I arrived just in time for them to blast out their wacky indie cheese smash hit "Chainsaw" (check out the exceptionally goofy music video
here
) as they continue to bring the set home tonight with 3 of their finest cuts of slacker rock brilliance. If Clap Your Hands Say Yeah, Pavement and Weezer all shared an apartment, smoked trees of weed in a bucket bong all day and after a month you collected that blacker than black water, distilled out all the flaky brown bits, dried them in a microwave and smoked it to those same two records by The Pixies and Sonic Youth (now playing at half speed) you've now since bent out've shape from your previous 2 sessions; not only would you get a very accurate representation of all my years of art school at uni, but you'll also get a taste for the stoner brilliance of what these guys may quite possibly sound like live (except possibly for that
one brilliant song
of their's, where they're clearing ripping off "Someday" by The Strokes, but shhhhhhhh! less said about that one, the better! ;) ).
With Poly & The Statics' set finishing up in fine style at 12:30AM and with my dim recollection of anything I've done beyond this point dribbling way off into inebriated incoherency; accurate portrayal of the night from here onwards may be sketchy at best. Still, from what I dimly recall, I drank beers till my teeth were floating here at Rocket Bar till about 1:30AM..
..fell down 3 flights of stairs, swam down Hindley St, hacked my way thru the dense concrete undergrowth of Rundle Mall and Twin St before arriving once more at Jade Monkey at around 2AM for an inpromptu and utterly incomprehensible back alley poetry recital by Corey here (former shrinking voilet stoner funk bassplayer from Central Deli Band)..
..followed up by the awe inspiring pyrotechnic show of Dave and his wacky tobaccy of doom..
..after which we washed ashore at Fidel Castro's communist paradise here at the Exeter at around 3AM, stole a box of his Cuban's and fled south of the border like flappy muppets into the night..
..until we ultimately reached our final destination here at the most glorious festering shithole that we all know (and loath) as the Crankhore, where me and Stoner Andy made festive balloon animals of our livers to entertain all the children here, till what felt like seeming moments later we were thrown out by smiling security somewhere past 4AM. I think we ended up at Hindley Falafel afterwards, I have no freaking clue how we got there and I got no idea how the HELL I managed to get home afterwards at 5AM but ooooh fuck! was that bacon, cheese and onion hotdog freaking tasty! DAMN! What a crazy fucking night! Here's hoping I don't wake up dead tomorrow.. weeeeeeee!
(oh and yes if you're asking, surprisingly I woke up the next day WITHOUT a hangover! wooo!)
SATURDAY NIGHT

I had no intentions of repeating last night's performance. I had no intention of running tag-team between two venues like a deranged idiot at opposite ends of town to the point of collapse no matter how many offers they made that I couldn't possibly refuse! OOOOOH NO! NOT AGAIN!! I may've been near foolish enough to attempt that ONCE for the amusement of all you baboons this weekend, but I sure as fuck ain't giving you an encore performance tonight! *cough* especially not when I could very easily attempt something even worse tonight; as we witness yet another record breaker on SPOZ's RANT: cramming 8 bands, an album launch and the mother of all liver staining birthday party extravaganzas into the one night, as we tag-team between 2 neighbouring venues mere projectile vomiting distance from each other to maximised the carnage.. OOOOH YES KIDDIES!! HOLD ONTO THAT TOILET SEAT FOR DEAR LIFE.. FOR TONIGHT, WE'RE AAAAAAALL GONNA DIE!!
And so for Venue #1, we find ourselves here at Jive on Hindley St for Sean's spleen rupturing birthday party extravaganza: featuring Booster, Nereeda, 200 Motels and Risemann..
..whilst for venue #2, we find ourselves next door at Enigma Bar for Bit By Bats' album launch, supported by Fire! Santa Rosa, Fire!, Belittle League and Ringo Stalin..
..and of course this wouldn't be SPOZ's RANT if we didn't also feature a whole host of camera mugging hecklers, drunks and drain circling miscreants for your continuing amusement (and to think I collected these morons at the START of the night too.. yeeeouch!).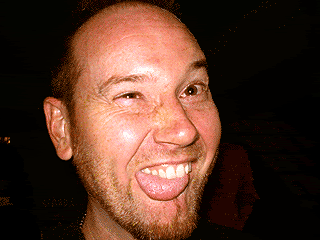 RISEMANN
To begin the night I arrive at Jive at 9:15PM just in time for the closing moments of opening act Risemann. If you want a review, in short they're a rock band. I would say something more extensive here for this exceptionally "photogenic" three piece *cough* but for once I shall refrain from the usual shitkicking as quite frankly I have a LONG night ahead of me and I really couldn't be arsed. So yeah, they're a rock band. They play rock music! YAY! ROCK MUSIC!
RINGO STALIN
So it's not a moment too soon that I flee that potential disaster as I drop in next door at Enigma at 9:30PM to catch the first opening act here for the night, Ringo Stalin. From as much as I can gather it's essentially a solo act, featuring lead singer "Ringo Stalin" (who appears to be a reject from early 90's comedy act the Doug Anthony Allstars) who's joined on stage by a revolving door of guest musicians, including here for the night: Matt Hayward on guitar (formerly from Central Deli Band), Peter J Gravestock on bass (from Bit By Bats) and some random chick (not seen here) who briefly appears for some backup vocals. As much as I can figure, it sounds like Nick Cave's early 80's art-trash band The Birthday Party remixed by Kraftwerk, or if you want a really obscure reference that'll likely fly right over your heads, think Wall of Voodoo and their nerd rock hit "Mexican Radio" from 1982 and you'd really hit the nail on the coffin. As such, most of this minimal art-trash electro would've equally gone over most of your heads: I spotted a cover of Warren Zevon's "Werewolf in London", some weirdarse mariachi influences, quite possibly a trace of Devo.. oh, and that sound you hear right now? that would be my head exploding trying to come to terms with all this shit. Still as much as it may just be complete and utter art wank of the highest order, overall I actually quite like it.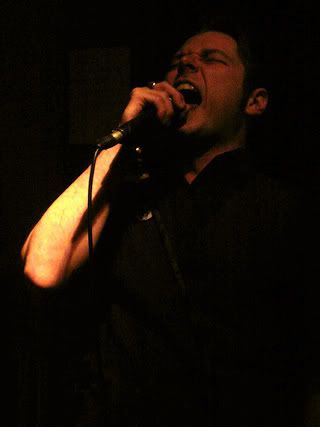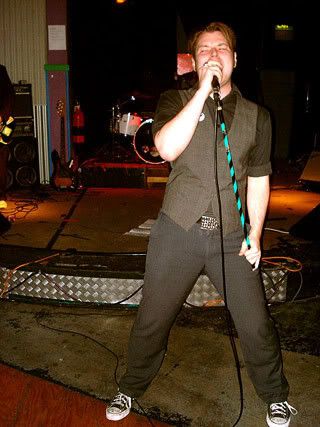 200 MOTELS
With more than enough of that arty farty to last me a lifetime, it's now back to Jive at 10PM to fuel up on beers as the second act here for the night, 200 Motels hit the stage. Tonight their lead singer Kim Roberts may look like an especially timid rabbit in the headlights about to be crushed to death by the giant microphone stand towering in front of her but don't be fooled kiddies by the subtle rock noodlings and nervous between song banter you may hear; when these mice of rock roar, they damn near tear the roof off. First song "My Say" sneaks in under the floorboards like a brooding caterpillar fart but slowly but surely they build steam on this subtle refrain with the chugging riff grinds of "In My Head", follow it up with the snarling Tool'esque aggression of "To The Ground" and "Talk Is Cheap" so that by the time they kick in with the sexed up booty funk juggernaut that is the infamous "Pants! Pants! Pants!" (dare it ever be called by any other name *cough*) and then finish up with the nuclear meltdown hissyfit that is "Stupid Games" you've got a full-scale massacre on your hands. Sure, they may be mice, but they'll still fuck you up good n proper! Fear the Beast!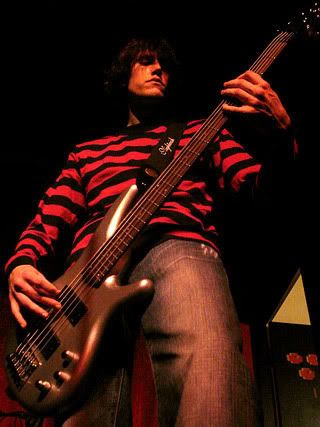 BELITTLE LEAGUE
After 200 Motels trash their equipment and drink the still beating blood of the innocent I head back to Enigma at 10:45PM, only to unwittingly stumble upon the standup comedy routine that is known as Belittle League: an excessively awkward nerd-electro act that features sole member Morgan. A person who back in his weirder art-school days (as coincidentally enough I went to the same uni in the same year) went by the peculiar title of "Morgan, Captain of the Intergalactic Space Fleet" and wore all his jumpers inside out. I think he may've done other things as well, but oddly enough that's all I can remember now. Although considering I remember in more vivid detail the crazier vegan hippie lesbians in my uni course who never wore shoes, dyed their hair different colours daily and lived nude stuffed in cardboard boxes with a group of their equally nude hippie friends stoned out've their minds for days on end with nothing but a video camera for the sake of art I could be forgiven for forgetting things.. wuh.. what? where was I? Oh yeah, Belittle League! Think of him as being in the same geek electro league as LCD Soundsystem, Hot Chip and Har Mar Superstar but with vocals like Brian Molko from Placebo (or for all of you who like 80's music references, like a much nerdier version of Gary Numan if that's actually at ALL possible). Surprisingly it's actually really good, even if it is altogether odd to see this one man band pencil neck geek fumble about with a guitar, a keyboard, attempt to trigger his minidisc playing the beats, piss about with a xylophone (ROCK!) and then charge head first into the crowd only to perform a bump and grind pole dancing routine, using YOU as the pole *cough* yup, that's art school for ya! (and you think I'M fuckarse crazy, one of the dudes the year ahead of me was on Big Brother! fuuck!)
NEREEDA
Anyhoo.. back at Jive at 11:15PM we have Nereeda. I think they're some kind've rock band, I think there's a hint of a funk swagger in here too. If I was to throw in a useful 90's reference for comparison I'd use Baby Animals or maybe even Sarah McLeod from the Superjesus. Mostly though, every near drunken male in this room (and since we're dealing with the escalating chaos of Sean's birthday party here, make that VERY drunken males) couldn't care less what this band sounds like as they're all too busy staring bug-eyed blank and goldfish vacant as their female lead singer pulls all manner of hypnotising slinky shit on stage. I of course, being the highly respected and revered rock photojournalist that I am *cough* and after years of dealing with likewise crazy hip swinging antics from Angelik's lead singer Laken, would obviously be immune to such wiles and would offer a much more constructive opinion of this gig.. except.. yeah fuckit, I'm already far too drunk.. look at her go! weeeeeeeeeee! :)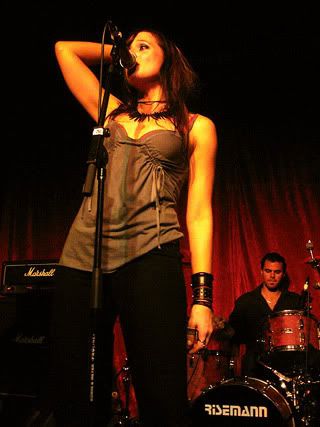 FIRE! SANTA ROSA, FIRE!
After some effort however, I finally escape the event horizon around the stage at Jive that in the last half hour has managed to pull an armada of drunken male onlookers hooting and grinning bug-eyed at the maddening spectacle, and manage to divert my attention back to Enigma again at 11:45PM, as I arrive slap in the middle of the escalating shitstorm that is Fire! Santa Rosa, Fire! A shitstorm that's fueled by excess alcohol, adrenaline and a lemming instinct for self infliction by all involved, propelled into a killing frenzy by a seething crowd climbing the walls and crashing like waves onto the stage in front of me, with a band doing their very best to spread the chaos around me by beating our eardrums senseless to a hellfire assault of spikey dancepunk, new rave, electro-spastic indie-tragic booty funk (or what'ever the fuck you'd call the wacky shit The Rapture and Klaxons churn out these days). Creating what sounds like 50,000 guitars all weaving in and out've time like chainsaws to the accompanying spastic metronome drums, stabbing synths, gutteral bass guitar booty-grinds and with lead singer Dave like a mad crack addict conductor running on and off the stage, they make the hyperactive stage antics of The Grates, Go! Team and Young + Restless sound like Brian Eno. Yup, I don't know how any of us are going to get out alive and I don't care. This fucking rocks like all bollocks!
BOOSTER
However, considering chances are all too likely that a floor collapse will be imminent in Enigma any minute now (what with this carnage erupting around me) and the only thing they'll have to pinpoint my still breathing concertina carcass will be my mobile carrier signal it's probably best I escape back to Jive if I want to continue this misadventure in one piece tonight; as through all my good fortune I've now found myself slap in the middle of Booster's set at 12:15PM. Yup, I dunno how I've survived this long and I really don't know how the fuck any this band have found themselves on stage and managed to find the right end of their instruments to play a set coherant enough NOT to sound like a band with combined blood alcohol level to flatline an elephant; but here we are regardless, witness to this hooting juggernaut of rock.
I don't remember the particulars of this set, I think they played most of their familiar shit, songs that'll be sure to appear on their upcoming album, the belching and farting monsters of howling stoner rock that wouldn't sound out've place between Queens Of The Stone Age, Eagles Of Death Metal and a bar brawl breaking out in front of a karaoke machine cranked up to 11. I vaguely remember songs like "One Minute Man" and "C-158" getting blasted out in all their shambolic glory, and I also remember for extra laughs, during the song "She's A Live One" they even got Nereeda on stage to do backup vocals (since she didn't know how the words went, I thought I'd throw meself up on stage too to help her along.. funnily enough in the escalating chaos of this place tonight nobody seemed to mind).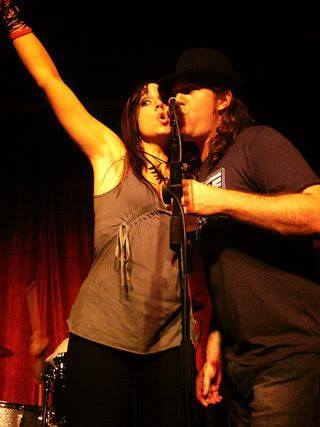 Obviously not looking to waste any time in reaching a hooting crescendo in his own festive obliteration, Sean took some time between songs to continue fueling up on alcohol..
..whilst an exceptionally sloshed Jake Barton soon staggers blindly onto stage with his camera in tow midsong, crawls between Josh's legs and takes THIS shot. Yup, it was at this exact moment in time that I knew a change in scenery was definitely in order..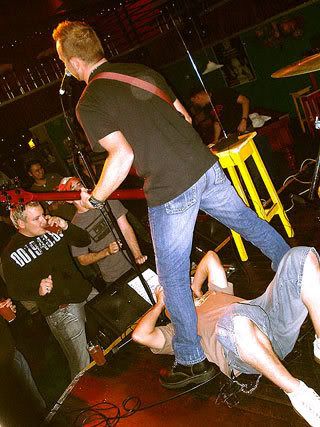 BIT BY BATS
..and so I fell out've the front entrance of Jive, blundered my way up the stairs in Enigma and stumbled blindly into the middle of this feeding frenzy by headlining act Bit By Bats at 12:45AM as they tore through their set with vampirish glee, sounding altogether like a homicidal slap happy version of The Cure stabbed with a needle full of adrenaline thrashing themselves to whiplash speeds that'd cause rainbow strobing Doppler-shifts. It was a blistering set, people were going apeshit every which way in front of stage, I was going hard at it like a carcrash pisshead, it was a mad freaking buzz and it was going off like a Tim Burton mindfuck but before too long my spider senses were telling me something even MORE insane was brewing just across the road, something I'd be stupid to miss and so drawn back to Jive I went to investigate..
..where it appears my physic powers had done me well, for as luck would have it, all hell had since broken loose in my absence here with every single deranged extrovert in the venue flooding the band for a full-scale stage invasion crushing finale to end the night. Whoaaaaa! Obviously this was something I too had to join in on, so before you know it, I'm up there to join the throng to make an absolute twit of myself front of stage.. weeeeeeeeee!
Now that Booster had finished reducing Jive to a smoking crater tonight, I headed back to Enigma once more for the tail end of Bit By Bats, arriving just in time to catch the sounds of my favourite tracks "Neon Flux" and "All Night" being throttled to within an inch of their lives (from their Lets Go Romeo EP) before culminating in lead singer Owen Eszeki shredding it out on top of the speaker stacks for one fuckoff of a finale to end their set *phew!*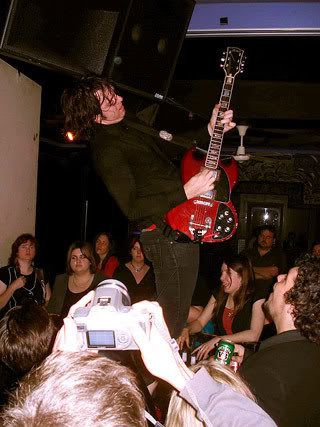 After the show, a few of us drunken idiots make a break for backstage in the attempts to steal all of their beer rider (if you look really closely in this photo too, you might notice me and Peter J Gravestock from Bit By Bats both flipping the bird to the mirror)..
..before returning downstairs to meet the incoming invasion from next door as it appears Sean has brought the birthday party along with him with this human sacrifice.
Meanwhile me and Simone decide to head up to the bar for a hit of the 'ol "Red Eye", a fiendish concoction that Dan from The Vampire Project originally cooked up
last year
. Simply order up one shot tequila chased in rapid succession by one shot tomato juice laced with 4-5 drops of tobasco and that'd be yer monkey. The burning hit of the tequila, followed by the smooth tomato, only to be replaced by the buzz of the tobasco? aaaaaaaaah what could be better?
Although it appears, Simone isn't particularly a fan of the tobasco.
Meanwhile it appears that Sean has picked up a parasite of some kind, in the form of Joe Blogs here (I wouldn't make any sudden moves backwards if I was you) as they pull a series of totem pole shapes for the amusement of many..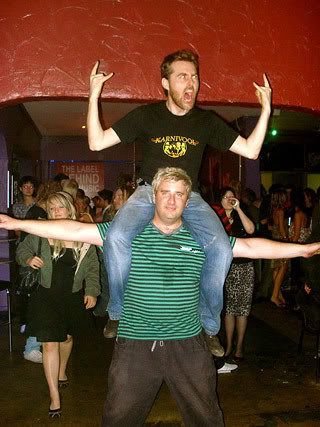 ..whilst ever the suckers for punishment, me and Simone return for another round of Red Eyes, with predictably hilarious results.
Now that we've effectively made a mess of Jive, Enigma and drunk every bartap bone dry across all of the west end, it is time we take our path of destruction through Rundle Mall to the east, although our progress is somewhat groud to a halt when we reach the pig sculptures..
..as Sean, Simone and Joe Blogs provide me with this utterly confusing public display in human origami (in all my years of studying this, it really doesn't seem to make any MORE sense)..
..continuing our journey across the infinite Rundle Mall divide, it is seemingly taking forever to make progress and already our energy levels are running on empty. We needed a pick me up, an energy boost, something to fuel us like rockets to our final destination, but alas, since this chemist here wasn't packing any of the "hard stuff", I guess Fugly Dacks down the road (and whatever fuckarse chemicals uppers and downers they put into that inedible shite they serve in there) had to do in a pinch. My small intestine is really gonna hate me come morning!
At last, after seemingly forever and a day (did it really take a freaking HOUR to cross Rundle Mall!? fuck we must've been retarded!) we finally arrive at the Down and Knackered at 3AM.
Quite possibly as revenge for those two Red Eyes I suggested she have an hour earlier, Simone somehow convinces me to join in with one of these foul cococtions known as the "Flaming Blue Jesus": which rather apt to it's title, DID very much taste like having your tongue nailed to a tree, set on fire and then stuffed into a stone tomb somewhere, before having it wake from the dead dazed and confused three days later thinking it's the immaculately conceived immortal hell spawn of a omnipotent being. It may look pretty, but it sure don't make your stomach feel pretty! eeeeeeeeeeee!
Since clearly the 'ol Cranky couldn't possibly contain our death defying madness any longer, at 3:30AM we took our accumilative liver damage to Shotz, whereupon I soon proceed to drink myself even further into oblivion before doing the dance of the Tango with some girl who's name escapes me (Nicole!?) before making a furthering twit of myself onto the rest of the dancefloor.
Snacks are randomly provided by random girls offering us random cupcakes. Foolishily enough we accept. Joe Blogs is so far-gone by this point of the night that he's near forgotten how his digestive tract operates as he attempts to absorb candy nutrients from his cupcake by evaporation alone; and with the way I'm carrying on like a disaster on the dancefloor out there, I'm really starting to wonder if I'll even have a digestive tract left by the morning..
..with me doing more than enough damage out there to destroy a dozen 20 year old me's, and considering all the stupidity in excess I've achieved at this point (how the FUCK did I see 8 bands tonight!?) I finally consider it time to call an end to the night lest I get buried here as I make a break for it and flee to the saftey of the last cheap-arse bus home; with my journey kept endlessly entertained by the sight and snoring sounds of this comatose lummocks in front of me before finally arriving and collapsing into a coma myself at my doorstep at 5AM.. aaaah!
And so there we have it kiddies, the conclusion to yet another ridiculous weekend in the life and near death defying of Spoz. A weekend that should've damn near smeared my smoking liquified remains all over the concrete in the living of it all. A weekend that was far from normal, a weekend that can't even remember what normal is anymore and if anyone else normal dared attempt it, wouldn't they all be dead by now? ;)
(oh, and if anyone suggests I repeat this performance NEXT week, you can all go suck a fuck!)
Previously on Spoz's Rant:
The Great Divide