NON-ZERO POSSIBILITY
what is this thing called reality? what is this spongiform farting world of noxious gases and solid ouchy pointy shapes that I've found myself rattling about in like a budgie headbutting mirrored surfaces? if I can see, hear, touch, taste, smell and hurl up furry chunks of it.. does it not make for quantifiable and identifiable evidence to direct me towards an understanding of it all? if we pinpoint them all to within a nostril hair of accuracy, is it any of this reality any more true? am I leaving anything out? if in the elementals it is to be shown that I can be in a million places at once and nowhere all according to observable whims.. who's to know WHAT's really going on? am I dead or alive? here in the now or viewing from afar? if I can freely create, destroy and convert energies at will and on a whim, can I bend this spoon? bend this tree? turn this car inside out and make balloon animals out've all those skyscrapers? and in the documenting, who's to say which or what of any of this is any more real to any other vantage point? what if none of this is real? what if we're all just making this shit up on the spot? who knows!? in a sea of zero or non-zero possibilities flipping charges at random, anything could happen..
and so, we bring you this week's blog.. which by all definitions of reality and imagined surreality, may or may not be utterly 100% bullshit.. you have been warned ;)
THURSDAY NIGHT
ah, what a wondrous night it is to be out! the bats are chirping, the carnivorous bugs are swarming and all around me the air hangs thick with the smell of gurgling decay and the wasting detritis of the human condition.. and so it was, on this night, with much unnerving enthusiasm for the blinkingly stupifying and the ear ringingly deafening that I did set out for the PRODUCERS HOTEL at 9PM to get my fill of such sweet insanity..
YOUR MOTIVE FOR
for the first band of this night at 9:30PM, we have a rare slackarse performance by those scruffyarse pop-rock baboons, YOUR MOTIVE FOR.. featuring the perpetually hungover HEATH WEBER flailing it out on vocals and guitar..
WARWICK "WOKKA WOKKA WOKKA" ING smashing out a cheesy ode to melodic self destruction on the keyboards..
JOSH NICHOLS thrashing it so intestinally loud on the bass tonight, that they had to situate him in the JADE MONKEY so as not to flood the audience in a sea of human born brown note effluent..
whilst drumming duties tonight were filled in by OPTIMUS PRIME the body popping mechanoid from the AUTOBOTS.. stabbing out a metronomic cascade of drilling percussion that sent the venue into a spiraling mess of limbs and internal organs flying all over the walls and ceiling.. like hooooooly crap was this one crazy fuckoff jam tonight.. whooooooweeeeeeeee! :)
*ahem* wait.. what? yup, weird I know.. but I swear it happened JUST like that ;)
BOOSTER
anyhoo.. up next at 10:30PM we have the headlining act BOOSTER wooping it up on stage..
squinting, farting, squelching, squeezing, queasing and otherwise foul stenching up a storm of QUEENS OF THE STONE AGE infected brown toilet rock the likes of which the PRODUCERS has never seen (or likely will ever see ever again) for as long as that venue stands (at least not till these maniacs choose to bomb the place up again.. eeeeeeeeee!)
a set where everything spiralled into ever deepening chugging tornadoes of chaos around us, especially when SEAN in the grand honking finale lunged out for yet another one of his signature goose imploding arm flailing theramin solos (I think JOSH's expression here says it all)..
which quite like the pied piper brought forth in it's shrilling bleeping and honking, a mass hysteria of beaming lunatics in the crowd all mooning the venue up to a blinding intensity of retina scarring.. till eventually security had to be called from 5 surrounding venues to quell the growing turmoil with fire hoses, tear gas grenades and rubber bullets.. *phew* (and seriously, where DID those red curtains come from all a sudden!? weeeeeeird ;) )
(oh and yes, I'm aware that MORALS OF A MINOR also apparently played tonight.. but wouldn'tcha know but I plum forgot to photograph em.. ha, bugger me how that could happen! :) )
anyhoo with the situation effectively controlled and the littering of bodies carried outside for public incineration.. the remaining survivors of this rock n roll holocaust shuffle out've PRODUCERS a little past midnight in search of more stupifying entertainment..
which surely leads us to the ONE place in all of the east end of Adelaide where all IQ levels are destined to hit rock bottom in a dizzying tower of pint glasses..
lesser shuffling primates such as this may or may not have been present.. my memory really starts to get a little foggy at this point.. either way, I'm scared for all our internal organs (guess there's no chance selling a spare kidney on the blackmarket after what WE did to them tonight)
but either way, at around 1AM or so.. as a lone and confused bus conveniently swings it's way down UNION ST.. I find my opportunity for escape, kidnap this hapless vehicle at gunpoint and task it into sending me on my way home..
thus ending one entirely bizarre night out on the town.. eeeeeeeeee! :)
FRIDAY NIGHT
attempting to emerge from my coffin this night, I first run into problems when I realise the angry villagers in these parts had rather mischeviously decided to nail the lid shut.. seriously, you can't imagine how much crazed clawing and scratching is required to work your way thru polished and carved wood like that.. and all the resulting bloodletting and sheep kidnapping I had to partake afterwards to get my pound of flesh? seriously, next time I slaughter one of those undertakers I really must commend their fine craftsmanship.. *ahem* where was I? oh yeah.. tonight's entertainment.. many wondrous things are on offer.. so, silly me.. I thought I'd try them all.. and so, for my first stop I arrive at JIVE at 9PM..
FIRE! SANTA ROSA, FIRE!
up on stage at 9:30PM we have FIRE! SANTA ROSA, FIRE!
and as one would expect from these ever exciteable indie tragics.. for the most part their entire set of 35-40 minutes consisted of them bouncing around the walls like crack fiends on a nose whitening sugar frenzy..
with a deranged party jam that sounded equal parts INTERPOL, THE RAPTURE, FRANZ FERDINAND and a bouncey castle kid's party on acid, cranked up to 200bpm's..
shredding it up with a wall of guitars, buzzing synths, honking bass cascades, stabbing beats, hooting and screaming..
and finally, instead of their usual retarding cover of JUSTIN TIMBERLAKE's "SEXY BACK" tonight (always a crowd favourite.. as 1/2 of them are often prone to invading the stage), for one night only, they thought they'd see how far they could push their sound screamingly into the pink, with a cover of KYLIE MINOGUE's "I SHOULD BE SO LUCKY".. or at least they damn near tried for a good 30 seconds till thankfully a freak electrical short temporarily destroyed the live PA and cut their song short *phew*.. sometimes, just sometimes.. the universe does you a solid doesn't it? ;)
and don't the crowd look relieved to see end of that reign of terror.. weeeeeeeeeeeeeeee! :)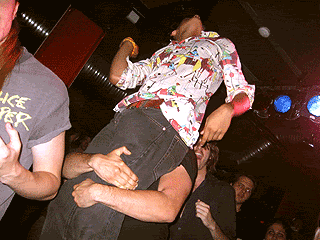 but of course, I've got no time to waste.. and so, a little past 10PM, I flee the escalating madness at JIVE, jump into my waiting vehicle (sure it's small, but you can park it just about anywhere! ;) ) as I head out in search of my next destination for tonight..
arriving here at THE GOVERNOR HINDMARSH at 10:15PM (hmmm.. so weird to see sunlight at this hour? oh well.. guess the earth's rotation is a little irregular tonight)
SOFT WHITE MACHINE
as I arrive just in time to catch the second half of SOFT WHITE MACHINE's set..
which, in all it's hooting, howling and unique brilliance looks strangely familiar..
hmmmm.. I could've sworn I've seen this all before somewhere else?
is this deju vu.. a glitch in the matrix? or is this brain damage?
hmmmm.. fucked if I know.. either way, a brilliant set all in all for these monkeys, and a sure sign we've got plenty of good things to look forward to when they finally unleash their debut album "THE GREAT DIVIDE" next month.. watch out for it.. it'll be fookin' uuuuuuge! :)
and now.. entirely against all laws of logic, it's off to another venue tonight, as I jump into my tiny 4 wheeled vehicle and arrive here at the JADE MONKEY..
200 MOTELS
just in time to catch 200 MOTELS hit the stage at 10:35PM.. featuring the fiesty midget KIM ROBERTS on vocals and guitars..
LOUISE UPHILL also on guitars, who's rather confusingly gone and dyed her hair pink again after only just having it dyed green the weekend before (weeeeeird I know, but hey.. if it was ever possible for me to predict her ever changing hair moods.. I'd surely be winning the lottery by now..)
whilst MATT NIKIC on bass and ADAM OSBOURN on drums churn up a hooting storm of a rhythm section in accompanyment.. making for one helluva hissyfit in pissed off alterna-rock.. (although, clearly their performance which I conveniently chose not to photograph LAST weekend will go down in history as the craziest gig that 90% of you people never saw ;) )
but just when you thought that was all.. to finish the set, we are then treated to a bewildering solo performance as KIM ROBERTS attacks the foldback speakers with her infamous stripey scarf of doom.. it's weird, I never thought this thing could actually be USED as a musical instrument, let along with any measure of deadly skill.. but if you set up the guitar amps just loud enough and wiggle shit around in there.. just about anything will make music to the screaming echo chambers of your skull.. weeeeee! (she should take this shit on the road!)
and look at that crowd going nuts to this shit! yeaaaaah! woooooooo! (hangon, isn't that the same freaking crowd from before!? eh.. nevermind.. must be going insane here..)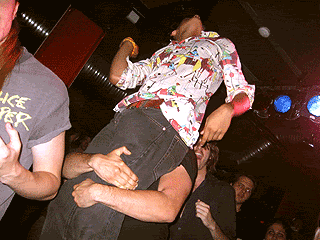 EXPATRIATE
and now with no time to spare, it's back off to JIVE where it appears the headlining act EXPATRIATE are playing.. at 11:15PM.. ah, good to see nothing's changed after a year with these guys.. even if the venue looks strangely more like ROCKET BAR than JIVE *cough* (what, was I trying to say something here? oh nevermind ;) )
QUIET CHILD
next, to defy the laws of space and time.. it's back to the GOVERNOR HINDMARSH to catch a simultaneous headlining performance by QUIET CHILD.. as they hit the stage at 11:30PM..
who in a mysterious finale, manage to present the drummer from FIRE! SANTA ROSA, FIRE! (looking altogether hairier than he did just 2 hours ago), as he helps to thrash out the last song..
and half of the crowd find themselves up on stage to join in going beserk.. (wait.. where did the rest of QUIET CHILD go? I swear they were here just moments ago.. eeeeeeesh.. something's weird going on this weekend) making for one helluva close to proceedings at the GOVERNOR HINDMARSH.. like whoa duuuude.. wot a fucking night we're having here..
and yet we're not over by a long shot.. as there's one more act I need to catch tonight (thanks to my ever faithful tonka transport) as I arrive here at the JADE MONKEY a little past midnight..
TAUGHT BY ANIMALS
to catch a particularly unusual ambient and acoustic performance by TAUGHT BY ANIMALS.. (hmmmmmm.. nope.. I don't quite understand it either.. but the crowd LOVED this shit..)
afterwards, at around 1AM or so I invariably end up here at the 'ol FROWN and SPANKA..
get ambushed by these deranged blue lit zombies..
only to be assaulted by this oddly familiar lunatic climbing up the walls of the dancefloor..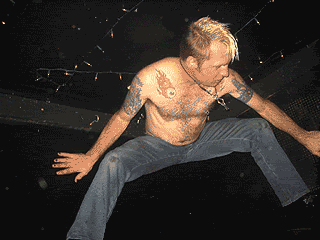 before, clearly having more than enough of this madness to last me a lifetime.. I decide to catch a lift with these 2 friendly EWOKS at 4AM and get me the fuck out've dodge.. home to the peace and quiet of the forest moon of ENDOR, and as far away from the liver staining nonsense of the CRANKA as I could (I swear that bottle of absinthe they keep there wants to kill me.. aaauuauaagghh!)
thus bringing to a close an all too improbable and unlikely FRIDAY NIGHT.. heh ;)
SATURDAY NIGHT
after finding myself suspended from my ankles in a CHINESE prison this morning, it took me a solid 5-6 hours of heavy negotiation with my local embassy before a trade-off could be established.. I dunno how the fuck I got here.. all I knew is that it took me selling the rights to the entire BEATLES back catalog, the missing ZAPRUDA film from the KENNEDY ASSASSINATION showing RONALD MacDONALD to be the second shooter (*cough* I've said too much) and a whole fuckload of moonrocks from the soundstage they faked the MOON LANDING from (little do people realise they shot that thing on MARS) before I could secure my freedom.. yeah, guess that'll learn me to take free rides from EWOKS wont it?.. you never know WHERE you'll end up :)
either way.. no matter the unspeakable acts it takes for me to get here.. thru hell and high water I still manage to find myself here at RHINO ROOM for my final dose of live music entertainment..
ALL MADE OF RUBIES
first band of the night, ALL MADE OF RUBIES prove to be particularly green hued tonight..
TAUGHT BY ANIMALS
TAUGHT BY ANIMALS.. were surprisingly enough, all performed BY hired monkeys tonight.. (hmmmmm.. wait, this can't be right, that monkey's only miming on the decks!!)
FIRE! SANTA ROSA, FIRE!
and finally when FIRE! SANTA ROSA, FIRE! hit the stage.. um.. well.. er.. fuck.. what the HELL!?
BWAHAHAHAHAHAHA! yeah ok.. clearly I've taken this too far.. as, obviously.. since I've been sick all week (and this following weekend) with the dreaded flu.. I didn't see ANY of these bands.. nor could claim any of the above events actually happened.. I was home.. I was nowhere near any of this insanity.. nowhere near a beer, a stage, a live band or a howlingly drunken dancefloor.. *sniff* I freaking missed it all dammit.. AAAAAUAUAUUUGGHHHH!!!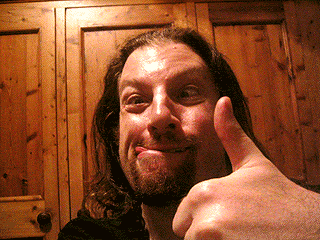 but hey.. just because I didn't see YOUR MOTIVE FOR, BOOSTER, MORALS OF A MINOR, FIRE! SANTA ROSA FIRE!, EXPATRIATE, SOFT WHITE MACHINE, QUIET CHILD, 200 MOTELS, ALL MADE OF RUBIES or TAUGHT BY ANIMALS (and many other bands I clearly didn't even realise were on any of those respective bills) in all their insane teeth shattering brilliance.. and just because I fabricated an entire blog this week for cheap shits and giggles using nothing but old live photos and stuff I nicked off of google image search.. and just because I used the worst and lamest joke in the book to end it with, by utilising the much dreaded "it was only a dream" gambit (oh yes kiddies.. we've well and truly jumped the shark here at SPOZ's RANT) doesn't mean there was any excuse for why any of YOU dribbling primates couldnt've gone out and seen all these bands for yourselves instead.. I mean shit guys.. is it like I gotta do EVERYTHING around here!??
GET OUT OF THE FREAKING HOUSE AND
BROADEN YOUR MINDS
, YA MONKEYS!!!!
(and I'll be seeing YOU out there next weekend.. muhahahaha! :) )
Previously on Spoz's Rant:
Tales Of A Scorched Earth