TALES OF A SCORCHED EARTH
this week's blog is brought to by a high fever of somewhere above 200 degrees F, a headache that feels quite like a pack of crash-helmet knuckle dusting aliens are trying to burst out've my eyesockets at all hours of the day and a grinning delirium of spinning verticies that knows no boundaries nor limits.. some may call it the common flu.. some may blame it on those absinthe shots I had both FRIDAY and SATURDAY nights at 3AM.. either way this chance window in the ether connecting my spirit world to your reality will be brief so I wont mince words.. I've already wasted a good portion of it fucking about on myspace, wikipedia and youtube.. but nay, my story must be told.. my laughable display of 3 megapixel photos of very far away blurry objects must be brought to the public.. my legacy must live on.. so, that til my reanimated corpse surely rises once more to do battle with the ADELAIDE MUSIC SCENE.. you will remember.. oh yes! tiny midgets oh so squinting at the manifest glory! you will remember all the stupidity I self inflict on my fragile frame to bring you this! my SPOZ's RANT BIG DAY OUT 2007!
oh and please excuse any swirling incoherancies in the following report.. considering the feverish headspace I have right now, this COULD get reaaaaal messy.. aaahahahahaha! *ow* my freaking brain! (as such is the willful suffering and foolish sacrifice I make for my art ;) )
FRIDAY NIGHT
I begin my journey into the spiraling maw of hell at the ridiculously early hour of 7AM and despite any and all attempts to get the full 8 hours sleep in preparation for today's BIG DAY OUT, for someone as freakingly ill accustomed to the daylight hours as I am, all I manage to scrape together amounts to little more than 1-2 hours of flip flopping unconsciousness scattering over 6 spent staring at the walls and ceiling, cursing and swearing over my geostationary jetlag.. at 7AM, feeling altogether worse for wear.. I fall out've bed, get dressed, slop on enough sunscreen to protect my vampire veneer from burning into dust in the 37 degree heat.. and then promptly throw myself out've the house at 9AM for the bus into town..
arriving at the PRINCE ALBERT at 9:30AM, I dig into a heart attack enducing breakfast of 3 COOPERS pints, bacon & eggs, hashbrowns, mushrooms and toast.. before taking the 10 minute walk into the WAYVILLE SHOWGROUNDS at 10:45AM..
TONY FONT SHOW
after searching around the inside entrance for 10 minutes or so wondering where the hell my free bottle of water went this year (didn't them stingy bastards realise it was 37 degrees today!? eeeeeesh!) my first act for the day arrives at the GREEN STAGE at 11AM.. as we welcome the all too familiar sights, sounds AND smells of TONY FONT SHOW.. who appear all too excited (and perhaps a little bit lost) with all the extra room they have to play with today..
as we once again reintroduce (for those of you who've just woken from a year long coma), the fluffy blond power mullet of ANDREW G (*cough* ooops I mean RICH!) thrashing it out on guitars..
MATT on bass, making his audition piece for the much vaunted yellow WIGGLES position (sure, I've heard they've already filled it months ago.. but ya gotta give him credit for trying!)
LEE on vocals, having a brief panic attack when it dawns on him that any minute now, SLEEPY JACKSON will soon discover that he's already stolen all their beer rider..
whilst blurring off into the distance beyond where my camera can reach, we have what appears to be PHIL on drums..
their signature thrashing guitars, hammering percussion, slap happy bass antics and spastic chihuahua vocals was pretty much what I've come to expect from these monkeys over the last year or more.. except for one unexpected highlight near the end of their set when LEE decides to throw himself off the stage and into the crowd for a little bit of the human washing machine.. and as much as I was expecting him to dent the pavement, a surprisingly eager sea of hands abruptly surged forward to spin him around for a good 5 minutes to close the set.. making for one of the coolest openings to a BIG DAY OUT I've seen in a long while.. ROCK! :)
MORALS OF A MINOR
up next I was originally planning to catch POLY & THE STATICS on the LOCAL PRODUCE stage, but mysteriously (and rather cluelessly) I couldn't for the life of me find where the hell they've hidden it this year.. so fuckit, it's back to the GREEN STAGE again at 12PM for MORALS OF A MINOR..
and as much as I've infamously ridiculed them over
6 months ago
at their infamous DUNGEN support gig (what with the screaming guitar amp, eye poking longjohn horrors and badly mangled WOLFMOTHER riffage) it's so nice to see that every gig since they've improved by leaps and bounds.. so now, they actually aren't entirely too shit a band to suffer thru ;)
as they're now sounding infinitely less like a cheap fashion disaster WOLFMOTHER knockoff, and more favourably reminiscent of the sounds of U2: circa WAR to UNFORGETTABLE FIRE albums with a little bit of THE POLICE thrown in for good measure.. thrashing it all out in a hypnotic grind of tribal grooves and howling harmonic vocal sustain..
although as much as they've improved.. when you're dealing with the short-attention spans and rampaging smorgasboard nature inherant to the BIG DAY OUT.. I found I could only handle at most 20 minutes of their set before my mind really started to wander..
and so, staggering blindly towards the main stage (searching in vain for someone I knew working at a service tent to scam me an AMA pass) I soon bump into EZZA, who in abject mockery of all I've done for the local music scene on this laughable excuse for a website over the years *ha!* has somehow "accidently" found herself in possession of a much lauded "guess pass" and will thus spend most of the rest of the day wooping it up in the resplendantly cool and shady back stage area with her frosty fresh (and readily available) supply of beers lounging it with B-grade celebrities.. grrrrr! she's evil I tell's ya.. EVIL!
looking to put my insane jealously behind me, I decide to seek out one of those wacky rainbow slushies carts and load up on a medium $5 dose of psychedelic syrupy goodness.. little did I realise at the time, but as their 1000th customer of the day, I must've drawn the jackpot with the mother of all acid trips.. I kid you not but just like the animation below my eyesight shot from normal to glaring black and white overexposure and back in two face melting pulses.. sure it could've just been heatstroke, concrete snowblindness, and gross dehydration mixing up a witches brew of a sugar rush in my head (dammit, why DIDN'T they give out free water this year!?), maybe EZZA the mischievous hippy dropped something in me drink.. either way.. for the next 10 minutes till I sought some water I was in for one helluva ride.. wooooooo!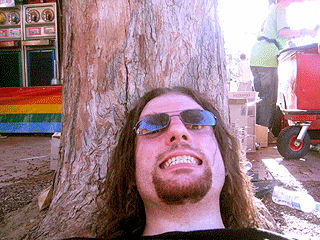 THE HERD
and so, seeking refuge in the darkest room in the house in efforts to reset my optic nerves.. I rushed myself with a $4 bottle of water to the BOILER ROOM to catch 10-15 minutes of THE HERD at 1AM.. and um.. yeah, if aussie ocker political hiphop is your barrel monkeys, then this would've been right grinning up your orifice.. but for me.. meh.. not so much ;)
SNOWMAN
with my warped PHOTOSHOP filter optics gradually returning back to normal.. I headed back to the GREEN STAGE again at 1:30PM to catch the 2nd half of SNOWMAN's set..
and a fine shrieking performance in horrorshow surf guitars and incandescent shrieking they presented to us today.. yup, if you only but catch 151 bands this year, then.. let these guys be one of them..
although, despite how infinitely cool they're sounding today.. with all the harsh sunlight screaming abuse at me from above and all the hand held hoses splashing at me every 5 minutes by the security out front.. it's really quite hard to appreciate their distinctly nocturnal grooves..
so, for a much more
coherant review
(and infinitely cooler photos) you're probably much better off consulting the fart-arse write up I did of their live set at JIVE a month go..
oh and speaking of photos that utterly ROCK, here's yet another drummer shot, once more showcasing the awesome and diabolical power of my CANON IXUS v3's all-too-grainy 6x digital zoom.. fear the intangible beast!
yup for a bunch of undead nocturnal freaks attempting to conjure a sunlight set in an all-too alien scorching hell.. they did surprisingly well.. nice one dudes!
dosing up on bottle refills 2 and 3 (from the taps, coz who in their right mind buys a SECOND bottle!?) I arrive once more to the GREEN STAGE.. wherein I bump into this all familiar idiot SEAN KEMP and his totem dwarf spirit, making a silent vigil in wait for the next psychedelic act..
THE SLEEPY JACKSON
as the SLEEPY JACKSON materialise on stage in a swirl of spacey synths and pretensious art-rock psychedelic weirdness at 3PM..
now if I'd only known about their first album and all it's cheesy face melting glory, I would've been as eager as a lemming to chalk outline to see these guys..
but after being exposed to snippets of their second album and all the overblown BRIAN WILSON extremes therein.. this would've been the last place I'd wanna find my carcass autopsied from..
and yet, as often is the case with raw live aggression vs studio polish, here in the flesh they were nothing short of brilliant.. sure they still look like utterly pretensious wankers who can't take a joke (seriously, that LUKE STEEL scares me) but with their crazy buzzing electro synths, howling guitars and more than enough signature tunes banged out with a violent percussive fury from their first album.. damn do they still know how to rock.. ooohyeaaah!
FIRE! SANTA ROSA, FIRE!
but of course, perhaps it's best not to have much of a surprisingly good thing.. and so, fleeing the scene at 3:25PM I next went in search of the LOCAL PRODUCE STAGE again to catch the tail end of FIRE! SANTA ROSA, FIRE!'s set..
and after much clueless hunting around the food stalls near the entrace, I finally found the bleedingly obvious circus tent enclosure right in front of my face..
yup.. you gotta hand it to the organisers this year, despite all their crowd control fuckups (which will become glaringly obvious later in the day) they did do ONE thing right with the local stage here.. not only was it huuuge, but.. it was thankfully also under well ventilated shade.. aaaaaaah sweet relief :)
and so I found all too welcome respite for the next 15 minutes as I downed water bottles 3-4, soakin up the wacky indie cheese of FIRE! SANTA ROSA, FIRE! firing up on all cylinders..
I may've said this a million times to the point of a broken record, but seriously.. if you HAVEN'T seen these monkeys.. then seriously.. pull yer finger out've yer arse, resist the temptation to light OR sniff it (perhaps even go as far as to wash it) and come check out one of their gigs.. then surely, you too will understand..
coz as much as an arena like the BIG DAY OUT would surely have any but the most ardent up and coming disco dweebs siezing up in white terror.. these indie tragics showed no mercy..
yup if anyone had the guts to let rip with a cover of JUSTIN TIMBERLAKE song in a festival like this, and get away with it.. it'd be these guys.. ROCK! :)
ESKIMO JOE
up next, after filling up on bottle number 5-6 (and wondering surely I couldn't just be sweating this all out) I head off to the ORANGE MAIN STAGE to capture exceptionally blurry and far-away photos of ESKIMO JOE at 4AM..
watch KEV TEMPERLEY from very far away shriek out their stadium anthems from BLACK FINGERNAILS, RED WINE with STUART McLEOD on guitars above.. and gawk and be amazed at the most diminuative and blurry JOEL QUARTERMAIN grooving it out on bass below..
and oh look, it's KAV showing his allegience to the geek masses by rocking out with the VULCAN piece sign..
yeah, fuckit.. I got nothing.. still, from as ridiculously far away as it was.. it was still pretty damn cool all the same (and makes me regret so much more that I didn't catch their tiny FOWLERS LIVE show they performed just before album release mid last year, ouch!)
up next at 4:30PM I make haste to the BOILER ROOM, pausing upon entry to pay my respects to this half inflated dark lord, that appears to've chosen the form of HUMPHREY B BEAR.. hmmmm?
PEACHES & HERMS
as I arrive just in time to catch the second half of PEACHES & HERMS..
which as much as my geek research will tell me features PEACHES (obviously) in collaboration with a backing band featuring the drummer from HOLE, the lesbian chick from LE TIGRE.. and um.. some other no-name twit with a fake moustache? yeah fucked if I know..
as much as I could tell.. this set was ALL about the visuals and the theatrics, in as much fun as it was to hear such seminal classics as "FUCK THE PAIN AWAY" dangerously close to spitting point in the boiler room..
the main focus beyond all the psychotic pendulum drumming, electro percussion bass and howling guitars.. was seemingly all the lunatic stripping antics PEACHES would get up to.. as for most of the gig, she proceeded to either strip off to nothing but shiny silver bra and panties, or dress up in crazy outfits very much reminiscent of MADONNA on a violent methamphetamine binge..
it was psychotic scary as all hell, leave no prisoners, give no mercy, tribal fucking up the walls electro stabbing minimalism.. and holy shit did it rock in ways that really had me worried over the exact chemical component of all those suspect pools of "water" I was treading in to get here.. eeeeeeee! truly if you missed this set.. you missed the event of the year ;)
THE VINES
emerging once more into blinking sunlight, I next headed for the ESSENTIAL STAGE at 5PM to catch the second half of THE VINES' set..
I was half expecting thAT CRAIG NICHOLLS would've surely had an a-grade psychotic breakdown and left the stage by now bleeting like a sheep (and to be honest, was very much hoping to at least catch it by the time I got here) but no, there was none of that here today..
in as much a surprise as to anyone who dared witness this howling hissy fit in nasally twanged stoner grunge rock.. these guys actually pulled one helluva performance..
like whoaaaa, not only did CRAIG NICHOLLS keep his shit together and actually manage to sing the lyrics to each song IN TUNE and without piling head first into the drumkit in a bleeding ruin.. but they actually almost sounded better than the record.. freaaaaaky ;)
the half set I caught thankfully contained more than enough self destructing anthems from both HIGHLY EVOLVED and the (what I believe to be highly underrated) WINNING DAYS.. and bugger all songs I could recognise from the woefully shite attention deficient VISION VALLEY album.. so all up, a class act thru and thru :)
up next, it's back to the GREEN STAGE, where I'm welcomed by these wacky bohemian spirits, SMASHYCAT and EMMA the WELSH MIDGET (just recently returned to our shiny shores)
as they burned a hole in the pavement with this all too familiar fiend on the left (who as always I'll chose not to name, in respect to her strange and otherworldy custom)
KASABIAN
whilst KASABIAN, the band I'd been waiting for all day to see went beserk on stage..
as much as everyone was telling me, these guys were the surprise highlight of the day..
which is all too surprising, since didn't anyone hear their self titled album of 2004? didn't they remember such insane stadium rocking blasts of sound as CLUB FOOT, REASON IS TREASON, PROCESSED BEAT and CUTT OFF?
did they not hear CLUB FOOT being thrashed during every single sci-fi and action movie trailer all thru 2004 and 2005 to the point of over saturation? did they miss the new album EMPIRE? with their infectious and hard drilling combination of PRIMAL SCREAM's electro driven fury mashed up with all of OASIS's bravado (and none of the twattery?) hmmmm.. the fact these guys could be a surprise to anyone anymore is really quite beyond me..
and yet, here today for all you lucky monkeys who caught this set.. you'd know all too well.. oooooohyeaaaah this shit burned even more brightly than the unforgiving heat.. definitely the highlight.. for their first visit to AUSTRALIA this was a moment none too soon.. come again soon ya spotty english baaaastards.. y'hear!? :)
with the time creeping past 6PM, I considered and flatly rejected the idea of seeing either JET or THE KILLERS.. the former because I'd already seen them a few years ago at a previous BDO (seen them once.. seen them all) and the second because ever since they released SAM's TOWN they've been nothing but overblown flamboyant twats with weedy moustaches and even worse tunes.. (seriously, dude.. as much as I loved their first album and all their drunken singalong anthems.. DONT get me started on their second.. eeeeeeeeesh!)
and so, I made the futile attempt to source something barely approaching food from the gathering stalls around the LOCAL PRODUCE STAGE.. making sure to pack bottle number 9 of water to survive the journey (and still wondering where all the water's going).. now usually this'd be the time for me to head to my favourite INDIAN STALL for the biological horror that is the BUTTER CHICKEN chased with a few TANDORI WINGS.. but wouldn't ya know it.. the fuckwits had removed that choice stall.. so all I was left with was nasty HUMPTY CRAPS, BENDY's, the all too familiar 50 or so BAKED POTATO stalls.. and an even worse selection of inedible and overpriced hotdogs, burgers, pizza and fish & chips.. waiting for over 45 minutes.. the best I could manage resembled worse than what BARNACLE DILLS would vomit up and call fish n chips.. but hey, any port in a storm.. I settle on the grass whilst SOMETHING FOR KATE play on the GREEN STAGE and devour my meager dish..
finally rushing to the main stages a bit past 7PM, with hopes to get into the D barrier.. I'm instead greeted with this.. a view many miles back, since the fucknards who ran the D barrier this year decided to swap the entry and exit points.. entrance was now highly bottle necked thru a tiny mid corridor behind the mixing tent.. whilst the exits had all the room in the world to either side of stage..
MUSE
and so, despite all sneaking acts of subterfuge, here's me many miles back capturing the ants with guitars otherwise known as MUSE..
loook! so tiny! so infinitely fragile! I could crush them with my fist I could, if only.. if only.. I COULD GET INTO THE FREAKING D BARRIER.. GNNNAAAARRRRGGGHHHH!!!! still, as ridiculously far away as they were and with the big screen plasma display left grossly underutilized to the side of stage (that would otherwise have given EVERYONE a good view.. ack! cheap bastards!) it was still a fine and fiendish performance for these dudes.. fucking cool visuals on stage too from what I could see ;)
yup, when it comes to monumental fuckups, the way they organised the D BARRIER and the glaringly absent PLASMA SCREEN display this year had to be right up at the top of the list (and in continuing mockery to all the people standing outside, peering in you could easily see that at most they'd only reached 1/2 capacity in there! aaauggh!).. yeah.. so, when TOOL started, and after many attempts to gain entry.. I had all but given up with a view many miles back..
till, after receiving an SMS from SMASHYCAT alerting to their vantage point in the right side stadiums (eh, at least it meant I could give my feet a rest) I instead spot, just from the corner of my eye that someone have rather surepticiously opened up the D BARRIER.. and so seeing my opportunity, I rushed in.. and oh what LUXURY I found in the expansive and absent lawns inside to laze and soak up the sounds of TOOL..
TOOL
phew.. so now that I had the good fortune to get here, I present you my blurring collection of TOOL photo's..
featuring a mostly indescript silohette of lead singer MAYNARD, perpetually hiding in both the shadows and facing away from the crowd (such is his mysterious art-metal ways)
this dude, who I believe is playing the guitar..
and this dude chugging up those endlessly cool spine rattling bass licks..
it was intense, it was multilayered, it was like a revelation in sound that pierced directly into my skull to transmit it's transcendent malevolence to my synapses till they were all singing in a perfect drop octave symphony.. yup, for all their 11 minute epics and their grandeous excess they made for the ultimate finale to this year's BIG DAY OUT :)
with TOOL now finished, a little past 10PM.. we had our eyebrows singed by this crazy bronze contraption known simply as "THE HAND OF GOD", but more accurately should be rechristened as "THE MOST STUPID AND IRRESPONSIBLE ACT OF HEAT POLUTION AND DEFIANCE OF THE KYOTO PROTOCOL".. still, as furnace hot as it was, felt from over 100 metres away.. it was oh so very shiny to see it erupt..
THE VOILENT FEMMES
with the main stages emptying out, we did make a faint attempt at the BOILER ROOM, but as increasingly happens with more severity each year.. it was likely barracaded off to all visitors by the start of TOOL, and so unless we attempted to make for a fire exit break in.. we had no other choice but to catch the final act on the GREEN STAGE, THE VIOLENT FEMMES at 10:15PM
and um.. yeah, you can just tell by the infinite proxity of this photo below that I really couldn't give a rats arse.. sure, they were brilliant over 15 FREAKING YEARS AGO!! but now? meh ;)
and so a little shy of 11PM, after circuling the venue one more time, I left the BIG DAY OUT for 2007 and promptly collapsed on the grass outside.. apparently walking and standing near nonstop for 12 hours straight does tend to burn your feet to fine crisp.. eeeeee!
as the BIG DAY OUT is essentially 1/2 a music festival and 1/2 a "THIS IS YOUR LIFE" in random people encounters.. I soon happened upon familiar faces.. and we collectively made the seemingly intelligent but utterly foolhardy decision to walk all the way from WAYVILLE SHOWGROUNDS.. to.. oh yes.. guess fucking where!!??
like a fucking homing pigeon I'm here to spend the remainder of the night, loading up on much needed beers at the bar (as who in the general public is near insane enough to spend 1/2 an hour getting a drinks pass, 1/2 an hour to get drink credits and then 1/2 an hour each time for flat and luke warm beers, only to find an unwelcome need to pee just as you reach the front of the main stages!? yeeeeeeeeeeeesh! no fucking thanks!)
yup, ladies, gentlemen and all manner of gender illusionists in between, this indeed is the face of somebody fucked up and exhausted beyond all measure.. yipee!!
although we did make the wise choice to stagger blindly upstairs resting up our burning soles for the next two hours on the wondrous leather sofa's on the balcony.. aaaaaah.. such bliss :)
which of course was countered by the entirely foolish decision to do THESE absinthe shots with TIBOR at 3AM.. yeah, I dunno how the fuck I got home.. but I did remember one familiar bartender remarking "dude, a friend of mine behind the bar told me to cut you off.. but I told her.. 'dude, you don't know SPOZ all too well.. DO you!?" hahahaha.. yup.. I am an idiot..
and that, at 4AM and rapid passing out unconsciousness was my BIG DAY OUT.. pheeuww!
SATURDAY
*ahem* yeah ok, if I was a smarter barrel of fish heads I would've done NOTHING tonight, I would've taken some much needed rest, caught up on some sleep, wonder how in the HELL I managed NOT to get sunburnt despite sticking my vampire self in the oven for more than 8 hours.. but, many of you know me all too well, and you KNOW that I'd never relent, even if it meant a certain and very messy crater of steaming red bits with nothing but blackened teeth to identify me.. sure, it was a late decision.. I was home at 9PM seriously considering my options.. but the lemming within me took over..
I wont present much photographic woe in this chapter, for as much as I witnessed the most INSANE and fucked up rocking 200 MOTELS gig in my life at the PRINCE ALBERT (*sigh* why do they do this the one time I refuse to take photos.. are they mocking me!?)
only to end up doing a LOT of this..
and ending up in the exact same messy brain stain as the night before.. damn you TIBOR and VLAD! daaaaaaamn yooooooou to hell!!
suffice to say, I get home at 4AM, promptly drop dead.. and a disembodied ghost is now writing this report from beyond the grave (the afterlife has got oh so much more procifient with EVP now that the underworld has protoplasmic broadband!).. yup, it was oh so grand to share the prime material plane with all you worthy primates.. we had many a grand time.. and it does oh so sadden me to go.. but the glow is oh so shiny.. and I must.. must.. follow.. the liiiight! weeee!
Previously on Spoz's Rant:
Do You Wanna Hear Satan?