THINGS TO DO AT THE DITCH
sometimes you wake up not remembering how you got there.. sometimes you don't even remember your name.. sometimes you remember somebody else's name and they're lying right next to you breathing fire.. sometimes it's a familiar name, sometimes it's not even a name at all and as the sunlight streaming in thru the curtains splits your field of vision like blades of grass.. everything gets translated from french to chinese to german and back to english via japanese and it all gets broken and lost and scattered across the scrabble board.. sometimes you recognise it coming back to you from a cornflakes packet, sometimes it exceeds your daily dietary requirements, sometimes key ingredients have been substituted for styrofoam peanuts, sometimes YOU wake up in styrofoam peanuts or carefully wrapped in bubble wrap, dusted in powdered sugar and crawling with fire ants as you're twitching in a ditch, lying face down in the dirt with a look of abject horror on your face when the realisation and the full magnitude hits you and reality unfolds before you or have your eyes gone missing and all that they have captured has gone missing along with it? sometimes you wonder what they see, do they remember? do they understand? do they have ANY clue how the hell you got here? can they communicate it back to you? make sense of this whole mess!?
and then sometimes against all odds, you live thru it all.. you wake up like me, in your own bed with not a scratch on you laughing at the insanity of it all.. one lone idiot out there with a camera, willing to document all this stupidity for the sake of one website.. this gonzo website you're reading right now..
(and to think somewhere in this mess, there may've actually been some live music too.. wacky :)
FRIDAY NIGHT
tonight, just like every other night in this freebasingly stupid hedonist mindfuck that is SPOZ's RANT, you'd expect me to be at some kinda live gig.. perhaps I'd be catching MY SISTER THE COP and MERE THEORY playing at ENIGMA.. or maybe I would've been at THE GOVERNOR HINDMARSH to catch "THE BEST OF LOCAL AENESTHETIC 3" with such steeinky acts as TRIXIE PLAIN, TOXIC SHOCK, THE TEMPS, ROADKILL 66 and THE MILTON EXPERIMENT.. or hey, why not LUKE ASHBY AND THE DAMN BURDENS at the EXETER? really, there was no excuse for YOU not to be out there seeing some of Adelaide's finest.. so, what was my excuse?
well, instead of all that.. at the last minute, I was called in to help celebrate a surprise birthday party for WOKKA at his house in HACKAM WEST.. now I know what you are all thinking, "SURPRISE BIRTHDAY PARTY!? duuuuuude.. those things are SO freaking lame!" and yes, I've seen how the cliche goes too.. deck the joint up with streamers, balloons and fuckoff sized "HAPPY BIRTHDAY" banners (often with the name hilariously spelt wrong), the intended victim arrives, at which point everyone leaps up shrieking "SURPRISE!!", and whole thing ends up about as shocking as mouse fart.. yeah, I know.. it's a big fucking YAWN riiight?
but oooh no.. we got him good.. we got him REAAAAAL FUCKING GOOD!! to see him leap back 2 metres in the air and hit the floor shrieking like a girl? to see that look of absolute terror in his eyes? PRICELESS! :)
but hey, if you saw 8 retarded freaks like THIS leap out've an open doorway screaming at you.. wouldn't YOU be terrified? (it's just as well they exercise strict gun laws in this country or we'd all be dead by now ;) )
the usual gonzo festivities follow.. featuring XBOX 360 and PLAYSTATION 2 games blasted out in 5.1 surround sound on a wall projection screen, the consumption of many MANY alcoholic beverages, absorbing all manner of hooting herbal remedies and burping down a fine selection of finger foods (*ahem* you'll hafta excuse SEAN's serving suggestion here.. it's not like we're actually advocating you SHOULD eat and drink off the floor at ANY time.. but hey, he's a drummer, so I'm sure you'll understand ;) )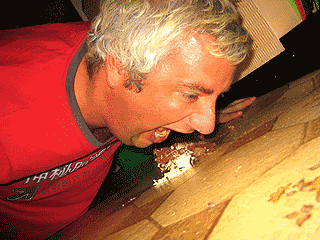 we also found some spare HALLOWEEN candy still lying around from TUESDAY night (in the form of novelty body parts) so, once again for cheap amusement our resident drummer has given us all a demonstration in the finer arts of mock appendage cuisine (yes, I do realise how many times SEAN has attempted to whore for attention on this blog in the past.. but hey, at least he's being creative with it now ;) )
the usual celebratory fire hazards are presented somewhere past midnight for our hooting amusement..
WOKKA wishes for sweet retribution (hmmm, who's idea was it to give him that knife?)
and after much malarky and beer fueled hilarity (most of it far too stupid to mention), 2AM swings by and we're the fuck outta there like dribbling children into the far reaches of the night.. and since there's NO WAY IN HELL I'm gonna end the night this soon.. quite predictably like moths to a flame (coz lets face it, this IS SPOZ's RANT your reading!) I still manage to find myself HERE at the CRANKA at 2:30AM for furthering hooting alcohol fueled retardation.. yeah I know, I'm freaking creature of habit.. kill me now ;)
after making an idiot of myself on the dancefloor with the freaks from ANGELIK (damn you LAKEN!) I throw myself out've the venue around 3:30AM.. wave goodbye to the completely random dog found parked outside on the sidewalk (WTF!?) and attempt to hunt down my last cheap n nasty $6 bus home on EAST TCE..
at which point for continued amusement.. instead of my usual bus arriving full of smelly drunks I'm greeted by a passing taxi driver, muttering in an unintelligible PAKISTANI accent "eeeeey? you looking for number 11 western suburb?".. yup.. he's claiming OUR bus broke down tonight and is offering everyone a free lift home.. and as much as my first instinct is telling me "duuuude he's a serial killer!!" (I even checked for a little hangman doll under the rear view mirror) what's life without taking a few insane risks past 2AM on a FRIDAY? so fuckit.. against all my better judgement I jump in and somehow find myself home safe and sound with kidneys, liver and spleen still accounted for.. *phew*
yup, none of this night may've made a helluva lot've sense and yet I still feel all the richer for it :)
SATURDAY NIGHT
the location tonight - FOWLERS LIVE (which may be bleedingly obvious from the photo.. but anyhoo) and the reasons? SNAP TO ZERO's CD LAUNCH filmed for C31's "NIGHT LIVE".. featuring such shiny support acts as the infamous TONY FONT SHOW, the twin duelling guitars of SOFT WHITE MACHINE and *cough* some arsehat doom rock band by the name of DOUBLE HANDED (yeah don't give those monkeys an inch or they'll quote me on their next gig poster.. hahahaha) yup, quite a lineup.. just a pity it's an all-ages gig.. I mean WTF, who in their RIGHT MIND goes to a freaking gig like this while it's STILL daylight outside? WHO I ASK YA!? WHO!!? it just AINT natural dammit!! (seriously.. the sooner all you emo kids get fake ID's, buy some handguns and sort all your problems out in a paintball skirmish field outside of town, the better it's gonna be for all of us.. *cough* no wait, forget I just said that ;)
TONY FONT SHOW
and as much as we all know sunlight, sharp wooden objects and mirrors are my mortal enemy, I'm still making the effort to venture out here at 7:30PM, just so I can catch the first band of the night, TONY FONT SHOW.. who've been absent from the live scene ever since their triumphant CD LAUNCH at JIVE almost 2 months ago.. (gosh time sure does fly when you're being a professional alcoholic now doesn't it?)
of course, this is not to say they've been completely absent.. as I've seen more than my share of these exciteable freaks frequenting Adelaide's most notorious dives during the ugly hours of the weekend.. all hooting it up and killing braincells after all the hard work they put into their shiny new EP..
and deservibly so.. the EP freaking rocks.. if you peeps out there don't own it already (you eeeidiots!), find a friend who has and burn y'self a copy already! or *cough* better yet.. GO FUCKING BUY IT YA MUGS!!
but no matter how many CD's they may sell during the "off season", no amount of cash will ever hope to finance RICH's drug habit alone.. and so, TONY FONT SHOW are back to playing live gigs once more.. and not a moment too soon.. I missed how easy it was to making fun of you freaks each weekend dammit! :)
being as they are in the rare position of being the sacrificial warm-up act tonight (and thus playing to a relatively sober audience of poker faced zombies) it takes a while for them to really whip the llama's arse into shape.. but by about 2-3 songs in.. their howling funk monkey shit's really starting to hit the fan.. as LEE the narcoleptic lead singer, RICH the tinman guitarist, MATT the hissy fit bass puppet and PHIL the voodoo drummer shred the crowd within an inch of their lives..
most of the cuts from their new EP gets a right royal thrashing, from the near identical sounding GO TO SLEEP (just missing the wacky horn sections in the EP from THE CAT EMPIRE, but sounding no less insane), the cyclic music box guitar riffage of LOADER, the full blown trouser stain of HOLD ON, the sleazy smash-off hissy fit of CANDYMAN, and my personal favourite.. the full blown hammering fury of THINGS TO DO AT THE DITCH (yup, the same exact song I name this week's blog after.. w00t!).. they even threw in a new song.. can't remember the name of it.. but if you hear something at their next gig that sounds like a stampeding hippo crossed with a machine gun and a broken cement mixer.. then that would be it..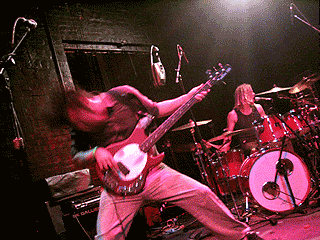 the band as always plays quite like what you'd expect a room full of MIKE PATTON's schitzophrenic side projects to sound like all jamming at once on a violent ketamin binge.. watch as drumsticks, lead singers, bass and guitars and spilt beer and gatorade go flying everywhere in a howling dervish.. until.. after 40 minutes or so, LEE finally runs out've batteries and collapses over the foldback speakers.. signalling the somewhat abrupt end to yet another one of TONY FONT SHOW mindfucking funk metal sets.. eeeeeeee! :)
oh, and since their guitarist spent the rest of the night following me around asking me (as he does after every gig) "duuude, tell me you got some cool photo's of me moving out there tonight? you saw me out there moving, right? RIIIIGHT!?" this ONE's for you.. just look at that crazy bastard go, WAHOOOOOO!! :)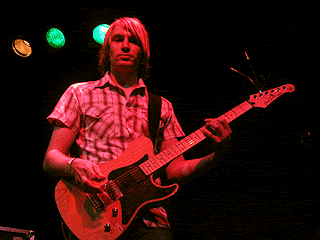 (yup, that'd be the infamous RICHARD CLIFT.. legendary guitarist from TONY FONT SHOW and the endless butt of SPOZ's jokes on this here RANT.. oooyeaah! he's gonna kill me now for sure.. BWAAHAHAHAHA!!)
DOUBLE HANDED
and now up next for our amusement, we have the epic metal fury of DOUBLE HANDED..
a band who's sound I'm next to useless in describing, as I pretty much know next to nothing about this wacky radio friendly "melodic" doom rock movement the kids are going crazy for these days (ie: what they listen to when they're not busily slashing at themselves with knives, wearing black and listening to emo..)
except that these guys kinda remind me of one of those overly dramatic rock acts movie studios love to hire to make their latest b-grade COMIC BOOK adaptation sound "cool for the kids" anytime the usual suspects NICKELBACK, EVANESCENCE or LINKIN PARK aren't freely available (or out've rehab..)
just minus all the cheesy nu-metal hip-hop refrains and me wanting to scoop out me eyeballs out with a spoon, stick my fingers in my brain and swirl them around for a while.. coz they don't actually suck balls ;)
as they're actually quite funny to watch on stage.. I dunno if it's lead singer SHAUN HOLTON continually swaying on stage like he's a blind man suffering an inner ear infection, their drummer FOX FAEHRMANN who looks like one of the kids from HANSON after years of heroin abuse, the mop haired cartoon character that is SIMON NEWENHAM on bass, or those other 2 chuckleheads CAM SANDERSON and JESS PORTER on guitars who look barely out've primary school.. but damn they're a funny band to watch.. ROCK ON DUDES! ;)
SOFT WHITE MACHINE
anyhoo.. before I can get too seasick from DOUBLE HANDED's churning antics on stage (all jokes aside.. they're actually really cool if yer into that whole melodic doom thing) it's now time for SOFT WHITE MACHINE to make their appearance.. fresh from a few months in the studio recording their shiny new album.. wooO!
as the grinning idiot-savant KARL drones out harmonising hoover vocals with the band, whilst joining ANDREAS the floppy haired guitarist in a unison attack of shredding spaghetti western style guitar riffs (somewhat reminiscent of the most middle-eastern sounding noodle extremes of SYSTEM OF A DOWN)
joined by the punctuated stompy stompy brown note rhythms of JETT on bass guitar.. giving the mix that subtle UK rock BLOC PARTY / FRANZ FERDINAND style postpunk pendulum attack..
and the stabby experimentalism of NICK the beatnick drummer (formerly the drummer for QUANTUM KAOS and also the mastermind of a new mad scientist jazzy freakout act called DELUSIONS OF GRANDMA.. trippy!)
and despite all their duelling guitar antics, it's taking a while for these monkeys to really throttle the spleens of everyone in the room.. as their signature thrashy grooves have been subdued by the mixer tonight, who must've been asleep at the wheel for the first few songs as it appears he forgot to turn KARL's mic on.. I mean shit, as much fun as it is to watch KARL do his toddler hissy fit on vocals and fly his guitar around like an aeroplane making vroom vroom noises.. it really ain't the same if you cant hear any of it ;)
thankfully, after that screaming hat wearing midget from REALIST FEW / CAPITAL GAMES / REN N STIMPY had a few kind words with the mixer in the back alley.. order was soon restored.. and SOFT WHITE MACHINE were back to firing on all cylinders.. cranking out a diabolical juggernaut of guitar chugging fury.. choiice :)
and as much fun as I like to continually make over guitarist ANDREAS and his feathered mullet shining under the stage lights, it appears tonight he's being grossly upstaged by JETT who's recently decided to go for the full facial hair helmet.. I dunno if it's meant to be an ABRAHAM LINCOLN, a DERRYN HINCH or one of those novelty BEARD OF BEES type dealies.. but either way.. I'm scared.. AAAUUUUGGHH!!
still, all hair helmets and KARL-as-rain-man jokes aside.. if yer album's gonna be anything like the sound of how ya throw yer live gigs around.. then we're really in for something truly insane.. ROCK! :)
SNAP TO ZERO
with SOFT WHITE MACHINE now leaving the stage to beat the living daylights out've their mixer with their guitars.. it's time for the last headlining band of the night to hit the lights, SNAP TO ZERO..
a band I'd last seen over 7 years ago at ADELAIDE UNI BAR in MARCH 1999, back when they apparently had some nuttyarse female lead singer and thought of themselves as a hiphop / funk act (WTF?), and it looks like I even reviewed them for laughs on my OLD (ever infamous) shitbagging "
TENDACHOOK
" site..
to quote - "SNAP to ZERO.. nice band, good instrumentals but the lead singer must've had a bad hair day or a bad hungover.. coz she was complete crap!" (gee.. no wonder I got so much hate mail back then :) )
yeah, I know I know! a LOT has freaking changed since then huh? I think they only kept that old female vocalist for a few weeks before ditching her, then they won TRIPLE J UNEARTHED (in 2000/2001?), changing their sound over a few squillion times and kept on gigging.. and here I was completely oblivious to the whole circus as I managed to not catch a single of theirs in over 7 years.. but hey, I'm here now aren't I? ;)
and shit, did I seriously miss the boat on this one.. these guys were fucking insaaaaane maaaaan.. like whoaaaa.. they were like the best chugging doom melodics of COG mixed with the stabby funk electro crunch of THE TESTEAGLES with a punchy bass beat you can damn near twist y'self to a pretzel too..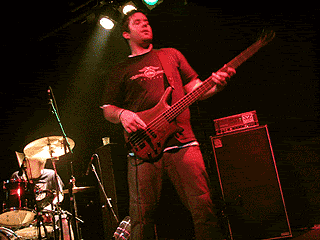 sure, the bass player may've looked like MR GUMBY by the way he was constantly spinning his bass around like a farting distraction.. but damn could they punch out one meanarse fucking jam! ROOOOCK! :)
oh, and I'll be sure not to waste another 7 years before I catch another one of your gigs I promise!
anyhoo.. with all 4 bands finished tonight, normally the time would be creeping somewhere north of 1AM.. but since this is a steeeeeiinky all-ages gig, the bands have already finished just past 11:30PM and with a venue rapidly closing up around us (they even stopped serving at the freaking bar at 11PM.. like WTF MAAAN!!), for us dribbling alcoholic baboons.. it looks like the night has only JUST begun ;)
and so for the first stop in our continuing misadventures, we hit the ENIGMA beer gardens..
for our usual dose of beer fueled retardation and festive self destruction..
and yeah, I dunno if it was just the gonzo potency of the full moon warping our brains severe..
or because there were just so many of us idiots in the same retardingly high spirits.. or quite possibly because this mischievous ever grinning imp by the improbable name of "JOY SPARKES" is in fact the devil incarnate come to corrupt our immortal spleens ;) (seriously, who REALLY gets called that besides elves in SANTA's workshop or VEGAS showgirls with the tassles on their nipples? hahahaha)
but I could just sense this was gonna be one of THOSE messy nights where I wake up the next day buried alive in a coffin somewhere in VENEZUALA with no shoes, no wallet and no passport and then hafta spend the next 3 weeks smuggling cocaine in novelty snow globes just to pay my way back to civilization..
*ahem* case in point.. when you see BLOGHEAD and KEMPHEAD pull this shit in the beer gardens, you know it's high time to get the fuck outta here before the riot police are called in to teargas everyone.. eeeee! :)
and so, a select bunch of us - ME, SHE WHO WILL NOT BE NAMED, BLOGHEAD, FLAPPY MUPPET ARMS and that drumstick monkey from BOOSTER, all throw ourselves into the safety of a passing vehicle..
as cheerfully chauffered here by EZZA, our (still moderately sober and responsible) designated driver.. obviously with aims to get HER utterly and stupendously shitfaced at our next destination.. coz as we professional baboons know all to well.. if yer gonna get THIS stupid, it helps to find saftey in numbers ;)
as we arrive here at around 1AM, at the epicentre of all that is liver rotting and resplendent in shiny blue smurf lights (aka: the CLOWN N SPANKA) for round 2 of our cheerful self destruction..
whereupon we soon hit the dancefloor like a stampede of supermarket trolleys (as only 6-7 beers will compell you to do, against all your better judgement) only to find our usual resident DJ, FATBOY SLUM (aka: DJ IAN BELL) has been wooping it up on the dancefloor instead of spinning decks where he usually is.. yeah.. I know.. I'm as shocked as you are.. clearly this IS gonna be one of THOSE nights ;)
speaking of such.. I believe this photo of SIMONE pretty much speaks for itself.. wooOOt! :)
*shit* now where wuz I? oh yeah, next stop in our downward spiral to unconciousness.. SHOTZ..
collecting a growing army of howling baboons along the way (damn.. how the fuck did that drummer from ANGELIK end up in this photo? those maniacs are freaking everywhere at this time of night.. eeeeesh! ;) )
and for a surprising turn of events (since this place IS actually called SHOTZ) we thought (y'know, in the grand wisdom that only 2AM and too many beers to remember affords you) to drink their shots menu dry.. with this absolute bargain of 5 hits for $12.50.. yup, as SIMONE would say, when yer getting shots THIS cheap you just KNOW they're all gonna taste like milky kerosine and fuck you up something fierce :)
the first round, is followed in rapid succession by a second and third round..
and then rounds 4, 5, 6.. and shit.. I'm pretty much losing count at this point..
as much as my foggy recollection will allow, I believe I downed at least 10 of these horrors in the space of 30 minutes.. I dunno how the fuck I stomached them.. but not everyone else was so fortunate (or freakishingly iron stomached as I must've been) as soon after this photo, JOE BLOGS and EZZA were seen rushing to the toilets to reboot their stomach contents.. a detail I remembered, as it was at this point of the night that JOE BLOGS rather helpfully used my elbow as a battering ram to pile me into the girl's toilet whilst EZZA was puking it up (and the less I speak about the projectile vomit I witnessed in the men's toilet.. the better ;) )
and yet, barely 10-15 minutes later, all is forgotten as we all pile onto the dancefloor.. just look at those crazy kids go.. weeeee! (and the less we speak of the JUSTIN TIMBERLAKE dance off.. the better!)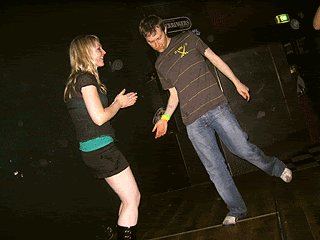 meanwhile, elsewhere in the venue.. it appears TONY FONT SHOW's paycheck tonight has paid off well, as a now rather well medicated RICH is seen lost in his own psychedelic groove near the bar.. eeeeeeeee!
*phew* it feels like it's been ages since I've had a night this particularly stupid on the turps.. and yet, didn't we do the exact same thing LAST weekend? heh.. short term memory loss, oh how I love thee ;)
but of course, all fun and games must come to an end.. and it is with the appearance of this particular freak at 5AM that reality soon rears it's moustachioed head.. and everyone runs screaming for cover outside..
damn.. they should hire ADAM more often to clear venues, the dude's obviously found his calling (and no, I don't have ANY freaking clue why he's wearing a suit, tie and vest either.. weeeeeird!)
of course, this wasn't the end of MY night by a long shot as ME, JOE and SIMONE found ourselves stumbling into FRUMPY HATS at 5:30AM (only to find it closed for the night.. d'oh!) at which point we then decided to make our way down RUNDLE MALL to see what further mischief we could find for ourselves in HINDLEY ST.. stopping briefly at the fountains whilst a gleefully intoxicated SIMONE frolicks about in the waters like the green ABSINTHE FAIRY.. and also later whilst JOE BLOGS again violated the RUNDLE MALL pigs *cough*
it is of course at this point, that my camera batteries mysteriously decided to die on me.. bugger ;)
so obviously, in the hour between 5:30AM and 6:30AM (at which point I found a taxi home), we (a) were visited by the reanimated zombie corpses of ELVIS PRESLEY, JIMI HENDRIX, JOHN LENNON, KURT COBAIN and MICHAEL JACKSON (don't go correcting me, you know he hasn't been human in years!), (b) were challenged to a breakdance contest as convened by GRANDMASTER FLASH, AFRIKA BOMBAATAA and THE SOUL SONIC FORCE, (c) saved from their brain eating body popping advances as we were soon abducted by little green aliens, (d) at which point we were then whisked away to a fucked up rave party on the rings of NEPTUNE, (e) solved global warming, the earth's energy crisis and the equation for unified field theory as it relates to 11th dimensional quantum string dynamics, (f) travelled to the future where we witnessed the destruction of the world on December the 5th 2012 (shit wouldn't ya know it? those AZTECS were right all along!), (g) only to return just in time for breakfast with the vital clue we need to save humanity.. yay!
and since I have no photo's to prove or disprove my wild claims.. who KNOWS what really happened? ;)
Previously on Spoz's Rant:
Napalm Brain / Scatter Brain