STEAL MY BODY HOME
warning: all the stunts and beer fueled hijinks in this weekend blog were performed by live musicians, professional alcoholics and gonzo journalists alike, so for your safety and the protection of the vital organs of those around you (which we fully intend to harvest at our own leisure when our own livers and kidneys fail), do NOT attempt ANY of the activities you're about to see.. no REALLY, I ain't kidding people.. don't even for a moment entertain the notion of trying this shit at home.. it almost freaking killed US to do what we did this weekend and we're freaking career professionals at this kinda shit.. so I'd hate to see how YOU would look after a punishing circus experience like this.. just don't do it.. aiiight? think of the children dammit!
and now with THAT out've the way (my attorney says I can never be too careful in this day and age), SPOZ'S RANT proudly presents the live music weekend to end all weekends.. the weekend that eats lesser weekends for breakfast and spits out nothing but charred bones and broken beer bottles.. AAUAUAAGHHH!!
oh yes kiddies! witness now in all it's gory detail, my very own "FEAR AND LOATHING IN SPOZ VEGAS" ;)
FRIDAY NIGHT
the journey begins here at ENIGMA BAR, the seediest damn live venue in all of ADELAIDE.. yeah, I dunno what it is about this place.. whether it be their refusal to stock COOPERS PALE ALE on tap, the garish neon chrome and purple wall vomit interior, all the obnoxious welder art sculptures they try to pawn off for sale around the venue, the beer garden they stick in the middle of the parking lot, all those fucking emo kiddies that swarm here in plague proportions or that unholiest of unholy door bitches who blocks the upstairs like a mythological creature of doom.. yeah I dunno, whatever the reasons.. if it wasn't for all the kickarse gigs they have here with frequent irregularity, I'd never step foot in this mockery of the human condition..
KASAVETT
and yet, here I am tonight to see KASAVETT on stage at 9:30PM for BOOSTER's CD LAUNCH..
KASAVETT, being as they are the spikey and frenetic purveyers of the weasel rock..
ie: somewhat in the vein of UK britpop band ASH, with a hint of the pissy snarl of JOEL STRUMMER from THE CLASH and the alcoholic swagger of THE HIVES mixed with the fist fighting fury of FIGHT CLUB..
always manage to draw out the mutant freaks in the crowd at ENIGMA..
case in point, the
last time
they played here their live set was accompanied by the crazy fist flying antics of this twitchy moleman dancing in front of the crowd.. I asked the band afterwards about him (just in case he was a distant mutant relative or something) but they didn't have a freaking clue WHO he is..
and yet tonight it looks like we have a repeat performance of sorts, with the appearance of this trash baggin' ol lady wooping up a storm of gnashing teeth and flapping limbs in front of the crowd..
again the band won't claim responsibility for this insanity, but I'm beginning to have my suspicions that this is all just an elaborate ruse.. especially when DAN the lead singer guitarist (without missing a beat) launches right into the crowd to join in.. hmmmmm.. should his girlfriend be worried? bwaahahahahaha!
all theatrics aside tho', KASAVETT have delivered another fine and furious shit storm of shouty sing along lyrics, gnashy machinegun guitars and stabby stabby bass and beat grinds.. just the thing to make all the rats, weasels, minks, ferrets, stotes, voles and wolverines chew up the dancefloor in style.. ROCK!
YOUR MOTIVE FOR
and now up next to rotate slowly on the spit we have YOUR MOTIVE FOR, which (for all of you out there who've since forgotten them) are a scruffy arse supergroup of indie pop that originally formed 4 years ago from the ashes of 3 of ADELAIDE's finest and most notorious serial offender pubrock acts of the late 90's..
featuring the perpetually hungover HEATH WEBER from YAKSPIT on vocals and lead guitar, demonspawn WARWICK "WOKKA WOKKA WOKKA" ING from TENDAHOOK on keyboards, the skatepunk baggy trouser antics of JOSH NICHOLLS from HONEYFIX on bass guitar and the skittish midget DIETER LINDE also from HONEYFIX on drums.. they cooked up an infectious mashup of rock sounding equal parts like YOU AM I's shambolic alcoholism and WEEZER's fuzzpop cheese.. a truly diabolical combination to be sure ;)
only months after forming back late in 2002 they scored a much coveted spot on the local stage at the 2003 ADELAIDE BIG DAY OUT, followed that up with a brilliantly obnoxious debut single "BEING AROUND YOU" which scored regular thrashing airplay all over the shit with its eye gougingly cheesy keyboard riffs and fuzz-pop melodies.. and for a while there it was like you couldn't get rid of them around the local scene without a heavy dose of DDT, napalm, agent orange and a few hundred nukes dropped from orbit..
but then quite mysteriously they vanished, only to make brief one gig reappearances every 6 months or so with the exact same freaking setlist they left with.. some claim they were incarcerated in GUANTANEMO BAY as possible terrorist suspects, some claim they faked their deaths for tax reasons.. perhaps they were cryogenically frozen for months at a time? fuckit.. either way I'm just happy to see these monkeys out've the house so we can dispell all those "alien abduction" rumours the tabloids have been spreading about ;)
tonight's gig however looks to be a return to shitkicking form.. as not only have they finally scored themselves a new drummer (after DIETER left over a year ago), but they've also managed to cough up 4 shiny new songs (which considering they've been farting thru the same back catalog their entire freaking career comes off as a damn near revelation) I mean shit, for all I know I could've been happy if they just read extracts from a chinese takeaway menu set to polka music than hear those same 3 songs from their CD single intersperced with old YAKSPIT covers and HEATH solo tunes.. but DAMN do these new songs still freaking rock the monkey bollocks.. perhaps there's life in this 'ol goat of a rock band yet ;)
I mean shit, look at JOSH go fucking apeshit here with his stripy socks.. FUCKING ROCK YO!! (just don't tell anyone that they're stripey songs he bought at a VERONICA's gig, *shit* oops.. too late! bwahahaha!)
with YOUR MOTIVE FOR's set now finished for the night (here's hoping I dont hafta wait another 3 months till they make another repeat appearance *cough*), and since no SPOZ's RANT is ever complete without me partaking in some retarded channel surfing, for the next band I decide to head on down to ROCKET BAR..
LONG WALK HOME
arriving at 11PM, just in time to catch LONG WALK HOME from MELBOURNE for their CD LAUNCH..
a band that could best be described as a mix between THE SMITHS, PLACEBO and THE RED PAINTINGS.. or the kinda fuckoff symphonic goth act fresh from 1983 that wouldn't look out've place supporting the likes of ULTRAVOX and JOY DIVISION in a wrist slashing suicide ode to all things tragically 80's NEW WAVE..
featuring ice cold droning violin and mandolin sounds by JAKE BOVILL, creepy-as-all fuck nordic style bass cyclic riffing by MICHAEL ROBB and skull pounding nightmarish drumming by AIDAN MCLAREN..
and led by this twitching zombie on lead vocals, CHARLES CAHN.. who either looks like the stuff of TIM BURTON's most feverish wet dreams or the freaky frankenstein love child between IAN CURTIS, MORRISEY and TIM FINN from his SPLIT ENZ days (seriously, he looked so freakingly alien, if he ever saw the light of day I'd swear he'd shatter into a million pieces or burst into flames screaming.. eeeeeee!)
as the venue filled with a creeping fog of smoke machines, epilepsy strobes and an array of spinning spotlights that damn near made your eyes melt out've your skull from the operatic spectacle of it all.. word is they hired their own dedicated mad magician of lights to travels with them everywhere they go just to cook this shit up every night.. and it shows.. coz without a doubt, this would've been the most INSANE light show of fuckoff mind warping weirdness I'd seen in ROCKET BAR all year (or perhaps in any OTHER venue for that matter).. oh, and LADY STRANGELOVE, if yer reading this take note, I'll be expecting this kind've display from ALL your future gigs (I'm sure you could just steal them from PINK FLOYD next time they tour ;) )
yup, it made for some truly haunting and hypnogogic shit as their serenade to creeping doom drew in all mannner of hippies, freewheeling stoners, art school rejects and astral projectionists to soak in the pulsating musical oddity that was unravelling before them.. seriously, if you missed this gig, you missed one HELLUVA fucked up experience (either that, or somebody was slipping shrooms into my drink again.. hehehe ;) )
unfortunately this was no time for rest.. as within minutes, LAZARO'S DOG were starting at ENIGMA.. so I peeled the scattered pieces of my brains off the walls at ROCKET BAR and headed back down to see 'em..
LAZARO'S DOG
now the last time I'd seen LAZARO'S DOG, was almost a year ago in late 2005 when they played a wacky
XMAS set
complete with circus freaks in animal suits and bikini chicks with machine guns.. yeah, not exactly something you'd see every day.. so I was very much looking forward to what they'd cook up this time..
arriving back at ENIGMA, I'd just missed out on one of their signature ditty's with the piano accordian during the song "HAIR" (*phew* dodged a bullet there!), walking in just as that psychotic loon of a lead singer tore into his keyboard racks with another farting arpeggio of casio style bleeps, beeps and burps..
and since their guitarists is currently off in the UK doing fuck knows what (a career in porn perhaps?) they've got some new guy thrashing it out on the axe.. couldn't remember his name for the life of me, but he did a good enough job turkey-strangling wackyarse guitar riffs out've it ;)
their set came complete with the usual mental asylum hits.. I would've kept track of whatever the hell they were, but after all the alcohol induced braindamage I've had since I'd just assume it was everything from the skittish MY SONG'S SHORTER THAN YOURS, the endlessly cheesy HE EXPRESSES HIMSELF THROUGH HIS MUSIC (YES HE DOES) to their tender love ballad FUCK AND BE FRIENDS..
and of course, their alltime classic HOME ENTERTAINMENT SYSTEM which has been rather all too effectively drilled into everyone's skulls over the last few years as that idiotically catchy JVC jingle you've all heard on TV (which considering all the royalties they got for it, probably explains their semi-retirement from music.. either that, or they had to go into hiding BECAUSE of it.. hehehehehe!)
all in all, it was a brilliantly chaotic set.. and although their relatively cruisy and loungy performance tonight could barely hold a lit fart to the pure insanity and intensity in smashing keyboards that was their ALBUM LAUNCH in APRIL 2004 (or their psychedelic santa XMAS gig in DECEMBER 2005) it was still damn good to see these monkeys on stage again making a mockery of everything in their path.. dammit, it's been too long aye? (here's hoping they don't waste another 12 months before they make another appearance :) )
MR WEDNESDAY
after 1/2 an hour of LAZARO'S DOG, I receive an SMS from my contact at ROCKET BAR alerting me that MR WEDNESDAY were just about to start.. so 5 minutes later I head on over just in time for their first song..
my time here however was shortlived, maybe two songs at most (I think they started the set with their wacky new "HAPPY SONG" and followed it up with THE WALL WHERE THE WORLD ONCE ENDED.. a short dose, but a welcome one netherless) as no sooner had I arrived here, that I received an SMS telling me to return to ENIGMA BAR as BOOSTER were about to arrive on stage for their headlining set.. *phew*
so here I am back at ENIGMA at 12:30AM, soaking up the atmosphere..
BOOSTER
making sure to capture a few exceedingly rushed photographs of the band during their first song, PROZAC..
JOSH with his shrieking falsetto, chugging up stoner rock riffs on bass guitar..
CRAIG noodling up his kaleidoscopic array of chunky guitar solos..
and finally SEAN on lead vocals, smashing up a tornado of howling percussion..
of course all of these photo's were taken in the space of barely 5 minutes, as I had just received yet another SMS before arriving HERE wondering where the hell I was.. as, little did I realise but the diabolical scheme I had originally planned for tonight, the plan that was originally gonna go down at 2AM, had now been shifted up by 2 hours to just past midnight.. and it looks like I was now running late..
*shit*
and so, before you know it.. I'm running out've ENIGMA BAR with a backpack full of gear I'd packed earlier, throwing myself into a 12 seater tourvan and off for a 9 hour drive to MELBOURNE.. eeeeeeeeee!
oh yeah, oops.. guess I forgot to mention what my diabolical scheme was huh? ;)
as, if you didn't know already (ie: from subtle mentions in last week's blog, and me bragging about it to just about everyone I crossed paths with in the last week or so) my diabolical scheme this weekend for SPOZ's RANT was the near impossible gonzo mission to hit two cities in the one weekend.. start off in ADELAIDE on FRIDAY night for 2 CD LAUNCHES and 6 live bands, then throw meself into the TONY FONT SHOW tourvan to party on with them funk metal idiots when they play MELBOURNE on the following SATURDAY night.. yup, you don't get much more freaking hardcore stupidity on a $0 budget than that.. ROCK N FUCKING ROLL BABY! :)
and so here I am, kicking back with a somewhat odd selection of beers on the tourvan..
meanwhile back at BOOSTER's CD LAUNCH (cheers to WOKKA for the photo) members from both YOUR MOTIVE FOR and LAZARO'S DOG have joined BOOSTER for a lunatic free for all mashup on stage.. I also later heard reports that near the end of their set, lead singer and drummer SEAN disassembled his drumkit on stage, dragged all the pieces into the crowd.. reassembled it on the dancefloor (I'm guessing whilst the rest of the band kept playing) attempted to get the crowd to play drums for him.. before then scattering pieces all over the venue in an utterly confusing finale.. *shit* the crazy things you miss out on aye? ;)
back on the tourvan our journey to MELBOURNE proved relatively uneventful save for frequent stops for toilet breaks, cigarette breaks and servo munchie binges (as generally happens when you stock a tourvan full of alcohol crazed baboons with the frequent and excessive need to urinate.. or in the case of one anonymous passenger, a violent bout of diorrhea in the trees somewhere past BORDERTOWN woohehehahaha!)
hours later we finally arrive within spitting distance of the MELBOURNE CBD at around 10AM..
first stop, we park our van somewhere in FITZROY and stagger down BRUNSWICK ST for breakfast in one of the many grungy little cafes scattered about.. "duuude, peeps tell me you can buy crack here.. wooo!"
looking over the menu, I decide upon the CANADIAN BREAKFAST with fried eggs, bacon, mushroom and potatoes on toast.. before then spending the next 3-4 hours shuffling about BRUNSWICK soaking up a random SPANISH FESTIVAL stuffed in one of the side streets (nothing to speak of really.. just a fuckload of market stalls), down a few pints of piss in one of the nearby pubs and try not to think about the fact I've yet to find a minute of sleep from the night before.. "bah, sleep? who needs it? beer will take care of that! :)"
at about 2PM we check in to the last 2 hotel rooms available in all of MELBOURNE at the MEDINA in SOUTH YARRA (as luck would have it.. the U2 concert tonight, 2 ROBBIE WILLIAMS concerts over the weekend and all those anarchists arriving from overseas to start some shit for the G20 conference in the MELBOURNE CBD today have effectively booked everything around us up to gagging point.. d'oh!)
staggering inside our rooms on the 5th floor, our group of 12 (6 per room) make themselves comfortable, pass out unconscious, grab spas, shit and shower and otherwise lounge about and stink up the joint.. whilst I do my very best (and fail) to catch a few hours sleep.. I dunno WHY I didn't try and sleep on the tourvan, but even now lying spread-eagled on the hotel bed with my eyes closed as AIR's "MOON SAFARI" gently washes thru the headphones of my mp3 player.. I ain't getting a wink of shut-eye.. bugger ;)
but no matter, for a few short hours later at 6PM we're out the door again, taking a short walk down the road and under a bridge to THE CORNER HOTEL on SWAN ST, RICHMOND for our dinner..
a stinky little live venue that has more than it's fair share of live acts playing in the next week or two.. including THE AUDREYS, MUPH N PLUTONIC, TAPES AND TAPES, BEHIND CRIMSON EYES and FRENZEL RHOMB.. *phew*.. say what you will about MELBOURNE, but at least it ain't short of venues and live shit to see ;)
for dinner I choose the FISH N CHIPS, washed down with a few stubbies of COOPERS PALE ALE..
my head is spinning from the accumilative alcohol poisoning I've incured over the last 20 hours which is combined with a drastic lack of sleep (kicking somewhere close to 30 hours by this point) I've got a mean case of the cold sweats, a vacant zombie stare, my hands shake and I feel like I'm being controlled by puppeteers from afar.. but I'm really quite enjoying the grungy view outside the upstairs windows ;)
but hey, at least I'm nowhere near as fucked up as BOWIE is right now.. who's still recovering from a particularly nasty bout of food poisoning he got hit with 12 hours ago and decided beer was the best remedy for it.. seriously, is there nothing beer CAN'T do? (wait.. why are you looking at me like that!? ;) )
leaving the CORNER HOTEL at 7:30PM, half of our group disappear via taxi whilst the rest of us take the train to FLINDERS ST STATION in the CBD for the gig tonight..
our destination is a wacky little venue by the name of THE PONY BAR on LITTLE COLLINS ST.. and since all the riot police, the barracades and all the wheely bin throwing anarchists have effectively locked down the centre of the city, getting there is gonna be a little tricky to navigate tonight (curiously enough.. despite all the photo's and everything I read in the paper the next day.. we saw NO signs of action or rioting on the streets in our journey.. *sniff*.. DAMMIT! guess we missed all the fun today, huh?)
the next 15 minutes or so is spent traversing all manner of confusing side streets and blind alleys past FEDERATION SQUARE (note: if you really dont wanna fuck up your cheaparse 3megapixel digital camera, try NOT to point it at the sun like I did here.. otherwise it'll take you 1-2 hours to get it working again ;) )
eventually finding our way to THE PONY BAR at about 8PM.. a tiny 2 story venue that could be best described in ADELAIDE terms as a mix between FAD CAFE, SUPERMILD and RHINO ROOM all mashed up together into a dog's breakfast of dyslexic architecture and eye bleed interior decor (salvador dali-esque fittings upstairs with heritage wood panneling and lush couches downstairs), or roughly abbreviating as the sorta place where "the drapes reaaaally dont match the curtains" in every sense of the word.. yeeeeeouch! ;)
upon arrival, we load up on pints of COOPERS PALE.. which being MELBOURNE translates into IMPERIAL SIZE pints (yup, that's somewhere past 550mL in one go for all you metric peeps out there.. yay liver damage!)
check out their most resplendent and hygienically pristine toilet facilities (yup, JOE BLOGS this bog shot's for you.. hahahaha!) where grunged up graffiti tags cover every available surface, the locks on the doors are busted up and the floor is flowing with puddles of urine and soaked up paper towls.. weeeeeeeeee!
and otherwise put our feet up, consume vast quantities of alcohol and wait for the bands to start up..
ODYSSEY
first up on stage at about 10PM we have local act ODYSSEY..
oh and despite what you may be lead to believe by the funky shots here: "subjects of SPOZ's photography may appear infinitely cooler than they actually are", coz holy SHIT did this band gargle donkey's balls..
I mean, normally I'd try to sugar coat a review with at least ONE redeeming compliment.. but since they're in MELBOURNE and I'm now safely over 700km's and a state border away in ADELAIDE writing this.. fuck 'em.. without exaggeration, what we have here is the WORST piece of shite live performance I've seen all year and considering I've seen over 120 different acts this year, that ain't putting it LIGHTLY.. AUAAGGHH!!
imagine if you will, a band with the thrashy 2 minute urgency of THE LIVING END mixed with a south of the border sloppy as fuck inbred hillbilly jugband, attempting to work elements of funk metal and commercial FM rock, to create a carcrash of sloppyarse rhythms and jarring discordance.. featuring a bassplayer that looks like a retarded hybrid of an oversized koala and the disco dad from THAT 70'S SHOW.. fronted by a lead vocalist who looks like the idiot lovechild of NICKELBACK's CHAD KROEGER singing with all the conviction of an AUSTRALIAN IDOL contestant if he had a chronic case of sea-sickness auditioning into a hairbrush (ooooyeaaah! how I love the opportunity to shitkick the really shite live acts out there.. hehehehehe :) )
I didn't know whether to feel sorry for them or to laugh at them (surely this was their first ever gig and I'm being FAR too harsh on them!? surely!!??) but either way, I really didn't wanna stick around.. so after scoring a few shots for this website (where's the fun if I can't make fun of a crap band?) I fled with the rest of the scattering fools for the relative safety of the downstairs bar.. *phew*!
hmmmmm.. does make me wonder tho', with all the wealth of venues and the endless support MELBOURNE feeds into their thriving local music scene.. does all this luxury for entertainment somehow dilute and retard the gene pool here? would morons like THIS even get a chance in hell if they lived in ADELAIDE!? and in following, does this mean our utter LACK of venues forces our own bands to compete and cooperate much more aggressively to get what little audience they can get, gain a following and make a career? and does this thus force our bands to a much higher level of relative quality? discuss ;)
TONY FONT SHOW
anyhoo.. back to the action at hand.. it looks like someone has finally put the crowd here out've their collective misery and shuffled ODYSSEY off stage after 30-40 minutes of their ministry of pain, so we can finally make way for the touring act from SA tonight.. the band we all came here from ADELAIDE to see (and MELBOURNE will get to experience for themselves for the first time) TONY freaking FONT SHOW..
now by this point of the night, lasting this long without sleep and with the 4 imperial pints of beer having their illbient effect.. I was damn near bordering on the hallucinatory out there.. english had been relegated to a 3rd language, my 1st and 2nd languages consisted of nothing but unintellible mumbling.. if it was any other band up on stage right now I'd really be in trouble, call 000, goodbye and goodnight!
but the minute TONY FONT SHOW kicked in the show with DISCO SUICIDE and our gathered rent-a-crowd of 20 strong erupted into a sea of flailing limbs around me.. with camera in hand.. I finally found my clarity..
the spastic party anthem DISCO SUICIDE was followed by the schizophrenic weirdness of CANDYMAN..
before dropping into a brand new song simply called "TRUCK STOP / FUCK STOP" - it didn't make a helluva lot of sense to me when they first tested it out at FOWLERS two weeks ago.. but tonight, it's machinegun rhythms and psychotic delivery drops like a fucking a-bomb, driving the mosh into a bloodthirsty shred..
kicking further into their howling dervish of machine gunning chaos.. they followed up next with the infectious grooves of GO TO SLEEP and the smashoff hissyfit of white heat that is HOLD ON..
whilst the next song, THINGS TO DO AT THE DITCH spirals even further into a tornado of burning wreckage as members of the audience fly this way and that to duck out've the way of all the projectile instruments and crashing speaker stands.. it's becoming the messiest set they've ever unleashed live, but the mosh couldn't care less and is smashing into walls and speaker stacks with furthering retarded glee..
yup, I dunno if I'm seriously starting to trip balls hallucinating at this point and I'm misinterpreting that weird wing flapping dance that LEE is doing up there.. but I could almost swear that he's has chosen this time amongst all the chaos to launch his brand new fashion range of MIAMI VICE 80's style white jackets..
yeah.. maybe I'm just losing my mind.. where the freaking HELL am I?
of course, as anyone who's a regular reader of this RANT knows.. the only person who can REALLY model LEE's white jacket in style has gotta be SIMONE.. *ahem*.. yeah, I know.. I already used this photo
2 weeks ago
.. but, dammit.. I just couldn't help myself! (let that be a lesson to ya SIMONE, be careful what you wish for when you request that I give you an "absentee" appearance in this weeks blog.. MUHAHAHA! :) )
*ahem* anyhoo, back to the furthering surreality at hand.. it looks like TONY FONT SHOW's set has now gone so freakingly pear shaped in the next few songs that even the tinman guitarist RICH is losing his shit up there.. like holy crap duuuude.. look at his crazy headbanging twitch up there.. YEAAAAH! WOOOOOOO!! (seriously, I think he's just pulling this shit so I'll stop taking so many hilarious photos of MATT having an epilectic fit on stage.. aaaah bass and guitar player rivalries.. gotta love to fuel the pettiness ;) )
and finally to round up their set, they unleash their ever popular rendition of FAITH NO MORE's "THE GENTLE ART OF MAKING ENEMIES" with the crowd hooting and cheering (and me headbanging like a shaggy dog out front) before LEE suffers an aneurysm and collapses to the floor, twitching like a fish out've water..
the crowd is hooting and screaming for an encore.. but as much as the band would love to bring out the defibrillators, revive LEE for another round, put another few coins into MATT's funk monkey slot machine and launch on into another attack, PHIL's managed to punch a gaping hole in his drumkit.. oooo crud! ;)
and so, declaring victory over THE PONY BAR tonight, TONY FONT SHOW's entourage spills downstairs to celebrate a triumphant set with much drinking, hooting, spilling and smashing of pint glass and bottles..
NITIDUS
whilst upstairs the final band of the night, local act NITIDUS fires up on stage..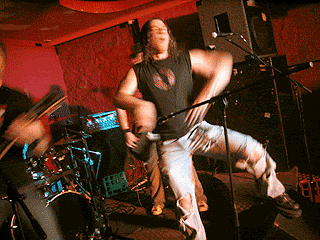 and um.. yeah, I guess I should really go on to explain what the hell these monkeys sound like and what fuckarse nutty antics they got upto on stage tonight.. I guess they were some kinda doom rock funk metal..
I could pick a few SOUNDGARDEN influences in their sound (especially the onstage energy), maybe a little bit of the harder edges of RED HOT CHILI PEPPERS, maybe even some PANTERA? yeah, fucked if I know.. all I DO know is that I haven't slept in over 2 days and my brain ain't shifting more weight than a goldfish..
I do remember however that I'd already seen these guys play a
few months ago
at THE CRANKA back in ADELAIDE.. I didn't really think much of them back then (mostly coz I was just having a BAD weekend, ack!)
but here tonight they're actually pretty damn freaking cool.. tearing up the stage in style.. getting the crowd moving.. thrashing out some meanarse guitar riffs.. the screaming.. the headbanging windmills.. ROCK :)
with the bands now finished for the night and the time creeping well past midnight, I spend the next few hours in an incoherant blur spilling around in the downstairs bar, absorbing beer, swimming around in circles and chanting "I'm a goldfish! I'm a goldfish! I'm a goldfish" over and over until my brain implodes..
by about 2AM, the band and their entourage have packed away all the equipment to take back to the hotel room (including JOSH here, who they've decided to stuff into the glovebox for the journey home)
upon returning to the hotel and after surviving the weekend so far.. most SANE people would've ended the journey here.. they would've got some sorely needed sleep and got off this fuckarse retarded circus ride already.. but of course, this ain't the way I like to party.. OH NO KIDDIES! when I go the stupid.. I like to go the whole hog, snout to trotters.. and so, we 3 idiots (ME, CHRIS the lead vampire and VLAD the impaler from MELBOURNE band JIKA) cook up a diabolical scheme on the spot to return to the CBD..
whereupon they take me and a scattering of other grinning fools (including JOSH and LEE from TONY FONT SHOW) to this place, just off of FLINDERS ST STATION called THE JOINT.. by ADELAIDE terms of comparison, think of it as being just like SHOTZ with the same hooting baboon crowds only entered via escalators like a shopping mall, filled with video screens and pumping really embarassing top 40 commercial shite..
of course by this time of night, we're far too far-gone retarded to care less where the hell we are.. as long as the beers kept coming, we could've been in a nursing home with a pack of withering octogenerians on viagra pumping out POLKA medleys and still be wooping it up like there was no tomorrow ;)
for cheap laughs in the next few hours from 2AM to 5AM, in between making a total idiot of myself on the dancefloor.. I proceeded to drunk dial and SMS everyone I knew who would likely be at SHOTZ that night.. trying to convince them to drop on over.. regardless of whether they knew I was in MELBOURNE or not ;)
"heeeeeeey.. I'm at this joint off FLINDERS ST STATION, come along ya BASTARDS and FUCK SHIT UP!!! WAHOOOO!!! YEAAAAH!!! ROOOOCK!! oh wait.. where is it? yeah.. it's in MELBOURNE YA BIATCH!! :)"
meanwhile, earlier in the night.. JOE and SIMONE, were also out've ADELAIDE this weekend partying it up hardcore in SYDNEY (jumping between GEORGE ST, OXFORD ST and KINGS CROSS and drinking every place dry), and amongst all the incoherant voicemails they left singing songs by THE KILLERS.. they also took the time to send me one of these "wish you were here" MMS postcards during TONY FONT SHOW's set..
aaaaah yes.. good to see we're all acting like such responsible adults, aye? ;)
anyhoo by about 5:30AM I had reached the end of my incoherancy, I couldn't handle it no more.. I'd been up for 40 hours straight and I was struggling to remain upright.. so after much protesting from CHRIS and VLAD who clearly thought I wasn't nearly gonzo enough, I fought my way out of THE JOINT, staggered blindly down to FLINDERS ST and attempted (and failed) to hunt down a TAXI for the next 1/2 hour..
by about 6AM or so.. LEE, JOSH and the other hooting baboons (who I can't for the life of me remember the names of) also spilled out've THE JOINT.. spotted me down the road roaming back n forth grumbling over TAXI's.. and with our combined simian intellect finally succeeded in finding ourselves back to our hotel..
spilling inside.. we headed for the elevator up to our rooms on the 5th floor, and it was during this moment of grand alcoholic stupidity at the end of the night, that one of us (who I wont name as JOSH) thought it'd be hilarious to pull a "MANGINA" stunt in front of us all.. and with the rest of us scrambled to grab our cameras in time before the elevator doors opened.. I managed to get this one shot.. a hilarious shot, which although my "attorney" advises me to show you now (and everyone else has begged to show publically) I have instead taken the liberty to hide behind a "link" so as not to horrify the public at large..
so, if you REALLY wanna see something stupid.. I dare you to click the link below ;)
*ahem* and that kiddies, is why "what happens on tour" should STAY on tour.. hahaha!
finally I reach my hotel room somewhere past 6AM and fall asleep on the couch.. or at least.. THAT's what I tried to do.. *shit*.. yeah, wouldn't ya know it.. I've been awake this long, and been drinking beer solidly for the last 40 hours which by all logic should make me sleepy.. but I can barely get more than an hour of anything that even approaches sleep.. and instead spend the next hour till 9AM flip flopping like a fish..
9AM swings by.. I grab a shower.. we all check out've the hotel at 10AM and then head on down to ST KILDA for some breakfast in a cafe somewhere.. wherein I choose what I vaguely remember to be the FUCKOFF MEAT JUMBO breakfast.. or something.. um.. yeah.. memory's seriously getting foggy at this point.. *fuck* but I DO believe it consisted of toast, fried egg, sausage, bacon and steak.. damn tasty is was too :)
with our tourvan parked conveniently next door at the PALAIS.. we next spill into LUNA PARK at 12PM.. yeah, fuck.. I seriously dunno how ANY of us idiots still have the energy either.. but here we are regardless ;)
whilst here, we enjoy all manner of shiny amusements, as deemed suitable to our current maturity level (coz hey, they only say you need to be "ABOVE" a certain height to enjoy this ride, never BELOW one ;) )
some like my gonzo attorney here, try their hand at the skill testers to win some prizes..
"YAY! I WON ME A FAMILY GUY BRIAN!! WOOOOOOOOOOOOO!!!"
and as the more foolish amongst us scatter off like smack addict children for some "upside down face" on the rickety 19th century rollercoasters.. the rest of us recovering alcoholics think better of it.. put our feet up.. lounge around outside on the grass.. soak up some of the market stalls nearby.. dip our feet into the water at ST KILDA beach and otherwise just try not to keel over dead for the next 2 hours..
and so finally at 2PM, it's time we return home to SOUTH AUSTRALIA.. so we stuff JOSH into the luggage compartment, bid farewell to this crazy dyslexic mess of a city.. and head on out onto the open road..
most of the journey back is spent trying to catch up on sleep.. or at least ATTEMPTING to catch up on sleep in my case.. as I think I managed to steal maybe 10-15 minutes at most from the insomnia gremlins in our journey in between all our regular piss break, cigarette and munchie stop-over interludes..
(obviously other people are much better adapted to sleeping on the road than I am..)
by about 8:30PM we arrive in BORDERTOWN, stopping over at the service station and restaurant diner for some dinner (and no, I've got no freaking clue why they got the plastic covers on all the tables either?)
wolfing down a hotdog with the lot and pondering just how utterly screwed up my digestive tract must be now from all the beer, potato chips, meat pies, bacon and eggs and other such rubbish I've been subsisting on all weekend and also wondering if FARMERS UNION ICE COFFEE actually has any real COFFEE in it, when nothing on the carton says anything about CAFFEINE (seriously, WTF is up with THAT!!??) discuss ;)
and as the general consistency of my brain begins to very much resemble the swarm of insects hovering over that restaurant sign in BORDERTOWN.. we jump back into the van to cover those last few 100km's home..
yup, it only took 9 1/2 hours.. but at long last, at around 11:30PM on SUNDAY NIGHT we finally return to the ADELAIDE CBD.. I arrive at my front door at MIDNIGHT, turn the key to the door.. stumble blindly inside.. flick on the light.. close the door.. drop my backpack.. and promptly drop dead on the floor.. eeeeee!
and that kiddies.. is the end of my epic "FEAR AND LOATHING IN SPOZ VEGAS" weekend.. my unrelenting beer fueled gonzo misadventure in live music depravity.. from FRIDAY to SUNDAY NIGHT, from ADELAIDE to MELBOURNE, from the land of the LIVING to the land of the DEAD.. 9 live bands and barely 9 braincells left to recount the tale.. it's been one helluva ride.. and obviously not one I could've done alone.. so many thanks to BEECHIE, JIMMY the BARTENDER and SHE WHO WILL NOT BE NAMED (aka: my attorney) for transporting all us idiots across state borders.. many thanks to CHRIS and VLAD THE IMPALER for showing us where the late night retardation was to be found in the city of MELBOURNE on a SATURDAY NIGHT.. many thanks to WOKSTAIN and the BLOGHEAD for the foreign correspondant photos.. many thanks to my fellow cosmonauts for keeping the journey endlessly entertaining (you know who you are).. many thanks to SEAN KEMP from BOOSTER and the dudes from MR WEDNESDAY for getting me in free on the door at ENIGMA and ROCKET BAR on FRIDAY NIGHT.. and of course, much appreciation goes out there to all YOU dribbling freaks on the world wide internerd who persist in reading this retarding excuse for rock photojournalism each and every weekend and making my exploits near to infamous in the ADELAIDE music scene.. you dudes ROCK :)
oh and remember kids, what'ever you do.. DONT TRY THIS SHIT AT HOME!!
Previously on Spoz's Rant:
Your Neighbourhood Spaceman