TWO MONTHS OFF
HA! I wish!! :)
yup.. looking back, it's really been a lazy and carefree year here at SPOZ's RANT.. nothing but to wander aimlessly from venue to venue, living it up large on the weekend in the Adelaide music scene like the self proclaimed D-grade celebrity that I am.. just so I could take a few lazy happy snaps of 1QA, 200 MOTELS, A RED DAWN, ADRIAN BELEW, ANDREW HIGGS & THE SAND CASTLE HARUM, ANGELIK, ANIMAL JOHNSON, ARTAX MISSION, THE AUDREYS, BACKSEAT ROMEOS, BASEBALL, THE BEARDS, BIT BY BATS, THE BLACK DOVES, BLOW UP BETTY, BOOSTER, BRILLIG, CASIO BROTHERS, CENTRAL DELI BAND, CIRCLE CLAN, CIRCUS ARCADE, THE CITY RIOTS, COLOURBLIND, COOKIE BAKER, COUNTERFEIT TRAITOR, DAMN ARMS, DESCRIBE ELIZA, DIPSTONE, DJ DEXTER, DJ SHADOW, DOUBLE DRAGON, DOUBLE HANDED, THE DRONES, DUMB EARTH, DUNGEN, EMDEE, THE ELEVENTH HOUR, ENEMY OF, EXPATRIATE, THE EXPLODERS , FAT TAILED ANTICHINUS, FIRE! SANTA ROSA FIRE!, THE GELS, THE GRATES, HEATH WEBER, HIGH STAKES, HOWLING BELLS, I HEART HIROSHIMA, ID , ILLICIT EVE, IMPARTIAL, JIKA, KAMIKAZE, KASAVETT, THE KEMP BROTHERS, KING DADDY, LADY STRANGELOVE, LATER THAT NIGHT, THE LC3's, LITTLE ICE AGE, LUKE ASHBY, MERE THEORY, MIA DYSON, MIDNIGHT JUGGERNAUTS, MIRRORLINE, MORALS OF A MINOR, MOUNTAINS IN THE SKY, MR WEDNESDAY, MUNCHKIN, MY SISTER THE COP, NATHAN KAYE, NERVOUS GERBAL, THE NEW POLLUTANTS, NITIDUS, NO THROUGH ROAD, THE PANDA BAND, PENNY IKINGER, THE PHAROAHS, POCKET ACE, POETICAL JUSTICE, POLY & THE STATICS, THE PRESETS, QUANTUM KAOS, QUIET CHILD, REALIST FEW, REJUSA, RUNNING WITH HORSES, SEXUAL DAD, SOFT WHITE MACHINE, SOJOURN, SOUTH FROM HERE, STIX N TRIGGAZ, STRAIGHT TO VIDEO, SUMI, SWAYBACK, TALVIN SINGH, TONY FONT SHOW ,THE TRAFALGARS, TRANSPORT, TRIXIE PLAIN, TRUTH CORRODED, UNPAID DEBT, UNSPOKEN THINGS, THE VASCO ERA and YOUR MOTIVE FOR (some I even saw more than once.. weee!) and not to mention all the bands at THE ADELAIDE BIG DAY OUT.. just so I can provide fleeting entertainment for all you vicarious lunatics out there (what, is it 4-5 now?) who actually bother to read this crap each week..
*yawn* yup, it's an insane life, but somebody's gotta be stupid enough to do it :)
so really? why would anyone need a holiday from THIS!? and how does one take a holiday away from what NORMAL people would consider THEIR holiday from the working week anywaze!? (damn that IS a good question!) suffice to say.. after what I'd survived so far this year.. after seeing what lies ahead for me for the rest of the year (more CD LAUNCHES than you could poke a petrified ferret at) and after seeing the relative calm this weekend could offer me.. I thought "YIPEE!! I'M FREEEEE!!" and set about imagining how I would spend "MY WEEKEND OFF".. except of course, considering (a) what I laughingly consider my REAL career pays me next to peanuts, (b) I work on this website for FREE, (c) I'd be abandoning all you monday morning office drones who rely on me like an IV coffee drip to keep you alive, (d) I got a photography folio to feed, and (e) I'm clearly insane.. there's no way in HELL I could take a REAL holiday from this now, could I?
but hey, for the next few weeks I can sure as fuck try and do both, and see what happens :)
FRIDAY NIGHT
despite vowing to avoid any and all live music this weekend.. I still find meself dragged out've the house to catch some smellyarse live bands at THE CRANKA.. and so here I am on the 8:30PM bus into town (and almost getting stabbed by some deranged drunk on the bus for my troubles too) yippee!
at 9PM, I reach the all too familiar blue door, beckoning me inside..
for tonight's entertainment - COLOURBLIND, THE ELEVENTH HOUR and NITIDUS..
COLOURBLIND
first band for the night, COLOURBLIND..
now this is where I'd usually write all manner of colourful nonsense about the band..
something along the lines of "ooo ooo! lets see how many ridiculous overblown and excessive adjectives I could cram into every single sentence till someone's head explodes! WAHOOOOO!!"
sometimes I wonder tho'.. unless this is YOUR band (hi guys! I'll write a real review next time, I promise.. hahahaha!) who really read's these gig reviews anywaze? I reckon I could just write any 'ol nonsense between these live photo's and 90% of you out there would still be none the wiser :)
"blah blah blip blop bleep sock puppets! sock puppets! I'm an articulated tree frog! WEEEEEEE!!"
sure, I realise this is totally against any unprofessional level of journalistic excellence you'd come to expect from SPOZ's RANT.. but hey.. as DANTE HICKS from CLERKS would say.. "I'M NOT EVEN SUPPOSED TO BE HEEERE TODAAAAY!".. when it's my holiday blog.. I make up the damn rules.. MUHAHAHAHAHA!!
*ahem* but anywaze, holiday or not.. in abbreviated form.. my verdict - they're what you'd typically expect from a rough n tumble "OUTER SUBURBS" pub rock band, but with some otherwise cool songs thrown into the mix (plus the lead singer chick's kinda cool doing her shit out there), 3 out've 5.. go see 'em :)
after COLOURBLIND's set.. village idiot KEMPY (from BOOSTER) once again attempts to mug himself into yet another issue of SPOZ's RANT (hmmmmm.. so very subtle of him now, innit?) before heading off to JIVE to catch a set by those swamp rockers, THE DRONES..
I jump in the car with them, so I can chase down friends of mine who've since left the CRANKA already for some random pub near SOUTH TCE (the ASTOR? the ALMA!? fucked if I could be arsed remembering) only to discover somewhere past ANGUS ST that they've all returned to the CRANKA again.. *grumble grumble*
THE ELEVENTH HOUR
so, up next at the CRANKA we have THE ELEVENTH HOUR (from Melbourne)
above is a photo of the lead singer, below is some nondescript dude on a bass guitar..
some dude wearing a white singlet, playing guitar and being attacked by rainbow stripey lights..
blip bleep bloop cellophane spongiform marshmellow yip yip wazooo! and now it's off to retrograde toilet vampire for the weather report.. lets pray the insects don't eat us all.. WAAAUAUAAGGHH!!
*ahem* and now back to more sensible ramblings as I believe people may be tuning in again ;)
my verdict for this band? - they sound very much like your run-of-the-mill prog metal / doom rock band (ie: see COG, CARNIVOOL, BUTTERFLY EFFECT.. etc) but, still surprisingly freakingly good.. as the band members near about destroy themselves and everything else on stage - 4 out've 5..
NITIDUS
up next, another band from Melbourne.. the headliners, NITIDUS..
"have you always dreamt of owning your very own pet giraffe? but live in a cramped inner city apartment complex with none of the headroom a full size giraffe demands?"
"well worry no more fellow space travellers! as we here at the world famous DGENR8 institutes of PAKISTAN have made the latest cutting edge breakthru in 21st century giraffe science!"
"as we bring you.. COMPACT GIRAFFE! all the fun of owning a regular sized giraffe, but now grown with extra stumpy legs and teeny tiny neck to fit into all those hard to reach places! COMPACT GIRAFFE!! ALL THE FUN! 1/16th the HEIGHT! and NOW! for a short time only! at 1/2 the price too! RING NOW!! doo dee doo doo da wooo! we fit the giraffes in your pocket.. pack you full of smiles to last all daaaaay!!"
*oops* better change channels, I think people might be tuning in again :)
my verdict? - shambolic, swaggering, horribly bloated, vaguely prog metal nonsense (yay! leather pants!) but still somewhat serviceable a band if yer into that kinda gnashing doom rock groove.. 2 out've 5..
with the bands now finished for the night, SPOZ invariably hits the bar..
arriving outside to say hi to SALLYCAT and her fine selection of pale ales.. "HI SMASHYCAT!!" (she bribed me with home baked ANZAC cookies, so obviously she's gonna get a mention in the blog.. hehehehe :)
before too long SALLYCAT's infamous fuzzy white coat is found lying on the chair whilst she ducks off to the loo.. so, obviously we all know where this is heading..
random stranger, white fuzzy coat.. this shit damn near writes itself BWAAAHAHAHAHA! :)
at about 1AM or so, our huddled group of mental patients (ME, SALLYCAT, LEE and MATT from TONY FONT SHOW, JOSH, a whole bunch of other colourful idiots I've since forgotten about.. ooops sorry ;) ) all decide to head down to SHOTZ.. and along the way, I feel strangely drawn to photograph this colourful assortment of spilt trash outside.. hmmmmmmm.. so very symbolic of our weekends out on the piss ;)
we stagger into SHOTZ looking for cheap entertainment..
realise the place is near about's empty (it's 1AM on a Friday Night you JACKASS!!)
"fuck this shit I'm going back to the CRANKA!!"
and yet, despite saying this.. I'll somehow find myself returning to SHOTZ again and again (at least 3 times) this night, as I'm continually in search for all manner of our dribbling alcoholic entourage who somehow managed to got lost on the way.. yooooouuuu eeeeeidiots! ;)
meanwhile back upstairs at THE CRANKA I discover the recently deceased remains of an 18th birthday party..
wooooo.. balloons.. floating balloons.. balloons reflecting in da window.. oh soooo very pretty :)
returning back downstairs, I spot the return of KEMPY.. who's found a nice cozy resting place on the floor..
despite me constantly reminding myself I'm on a "holiday" from all this insanity, LEE from TONY FONT SHOW and his lunatic friend JOSH still manage to mug for the camera "YEAAH! GET US IN DA BLOG!! WOOO!!!"
I flee for the dancefloor, where much retarded and flailing stupidity continues well into the dead hours of the night (try as I might to get away from it.. chances are I'll end up here EVERY WEEKEND.. hahahaha!)
finally leaving the CRANKA well before closing, I wander down RUNDLE ST at 3:30AM..
catch the last $6 bus.. and I'm home none too drunk, at the somewhat civilized hour of 4AM.. aaaah :)
SATURDAY NIGHT
I'd heard rumours (as I always do) that there were a few live bands doing the rounds tonight.. THE DAIRY BROTHERS were milking up the lactose grooves at ENIGMA.. whilst just next door at JIVE, some hairyarse blues band called THE FUMES were playing their CD LAUNCH party.. and yet, this being my pitiful attempt in having a "weekend off" n all.. I chose to fuckoff to the movies instead..
now if I was smart, I could've chosen something nice and cerebral tonight.. like maybe that new AL GORE climate change disaster documentary "AN INCONVENIENT TRUTH" that everyone's been telling me about (duuude, preaching to the choir here!), or maybe that new controversial suicide film 2:37.. but since I'd rather not exercise my brain any further than absolutely unnecessary tonight.. "dude.. I'm on holiday!" my choice invariably led me to use up my complimentary free pass (cheers DJ IAN ya rat baaastard!) and go see that new JACK BLACK MOVIE "NACHO LIBRE".. suuure, I knew it was gonna be an absolutely shite B-GRADE movie.. but who cares, it's FREE BAAAABY! FREEEEEE!! WAAAUUUAHAHHAHAHAHHAA!! :)
10:30PM and 1 1/2 hours later, I walk out've the cinema.. somewhat mildly entertained by the b-grade comical trash I DIDN'T pay $15 to go see (seriously save ya money and bootleg it from the internet.. BWAHAHAHA!) and head off to the ENIGMA for a beer, whilst I decide what else to do with my night..
at about 11PM or so, I receive a message from SALLYCAT.. she's stuck at some deranged "WORK PARTY" down at EMPIRE POOL HALL tonight (next to HQ / former HEAVEN2, or just opposite MICKY D's carpark on WEST TCE) drinking free champagne and looking to flee to the relative saftey of THE CRANKA.. so, with nothing else to do I think "hey, why the fuck not? seriously, how BAD could this possibly be!?"
so after fighting thru all the crowds hooting exciteably to the SUGAR BABES, SEAN PAUL and other such ridiculous RnB and BLING HOP rubbish spun by the DJ's downstairs.. I discover the party upstairs (filled with all manner of middle aged and exceedingly drunk work colleagues running trigger happy with cameras), find SALLYCAT and attempt to flee the scene.. but not before her middle aged boss manages to jump me in a bear hug as she shrieks.. "PICK ME UP!! WAAHAHAHAHAHA!! PICK ME UP!! WEEEEEE!!"
hmmmmmmm.. yup, high time I get the hell outta here.. eeeeeee!
and so, sure enough.. after leading a somewhat exceptionally SMASHYCAT all the way down HINDLEY ST, RUNDLE MALL and RUNDLE ST.. we finally reach our all too familiar destination..
SALLYCAT, who after 5-6 champagnes is feeling somewhat at a disagreeance with the forces of gravity.. soon disappears into the night.. and so I continue at THE CRANKA with my table outside filling with all manner of beer and fellow beer fueled lunatics soaking up the randomness on this aimless Saturday night..
after an hour of philosophical nonsense downstairs, I feel the urge to wander.. so I head to the upstairs bar where I spot an episode of ASTROBOY being projected on the walls inside.. woooooo trippy! :)
take a moment to haze out on the selection of mindless knick knacks.. yay nipples!
wander back downstairs again.. stare at all records stuck on the ceiling.. play and lose a horribly drunken game of pool with MATT from the LC3's.. talk shit with the gathering baboons here n there..
whilst FATBOY SLUM gets all the indie kids packed to sardine density on the dancefloor going spastic to his 80's cheese pop grooves.. and sure, I normally would've joined them myself in my own flailing drunken stupour.. but when I heard the monstrosity that was NEW ORDER's BLUE MONDAY being mashed up with a MADONNA song, I knew I had to get the hell outta there before my head exploded..
but before I can leave, I'm then ambushed by SARA downstairs, who's shrieking exciteably when she sees me, flapping her arms and yelling "DUUUDE!! make me the animation on ya website!! I WANNA BE THE ANIMATED GIF!! I WANNA BE THE ANIMATED GIF!! I WANNA BE THE ANIMATED GIF!! WEEEEEEEEE!!"
as you ALL should know well by now when it comes to SPOZ's RANT - be careful what you wish for :)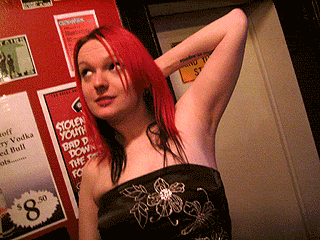 anyhoo.. thinking I've got enough loons out here tonight to fuel this stupidity well into the ugly hours.. I leave CRANKA for the next messy east end destination.. passing by this all too familiar sight along the way (dammit.. that red wheelie bin really doesn't know how to hold it's liquor ;) )
as I wander into SHOTZ for the second night in a row, looking for any signs of unintelligent life on and off the dancefloor to keep me entertained until 5AM.. hmmmmm ;)
but since my usual entourage of hooting baboons have mysteriously scattered (or were otherwise dribblingly incapacitated tonight on the couches.. HI TONY FONT SHOW MATT!) my adventures here were somewhat short lived.. and so at 4:15AM, I think "fuckit, it's about time I get the hell outta here!"..
looking to save myself a lazy $2-$3, I decide to walk down GRENFELL and CURRIE ST to HINDLEY to find my taxi fare home.. since hey, how hard could it be to find a taxi at this time of night? piss easy, riiight?
walking down city streets alone at this time of night really starts to mess with your head..
"whoaaaa duuuuude.. this fence looks like it wants to eat me.. AAUUUUUUAAGGHHH!!"
arriving at the corner of MORPHETT ST and HINDLEY ST would usually be ground zero for taxi visitations at 6AM - 7AM.. but since I arrived here about 2 hours too early before the "rush hour" of scrambling alcoholics hit.. I can't catch myself a cold, let alone catch nary a sign of a vacant taxi.. *grrrrrr*
sure enough tho', a few likely looking freaks recognise me wandering around looking dazed and confused.. and start forming a crowd around me, all shrieking exciteably.. "YAAAY! SPOZ!! GET A PHOTO OF US IN YA BLOG!! WEEEEEEE!!" (this really has become the theme for this weekend now, hasn't it? hahahaha!)
and so.. yeah, fuckit.. wot with nothing else silly to photograph tonight, why the hell not?
here's scaryarse RACOON DUDE (aka: lead singer of KASAVETT) with his girlfriend..
a bunch of all-too familiar looking drunks at the tail end of an all too messy night..
and even the infamous STEVE (aka: PEE WHACKA) makes a surprise cameo appearance..
finally after chasing all manner of taxi's up and down HINDLEY and CURRIE ST.. I manage to trap and corner one hapless victim loitering around outside of THE ROSEMONT.. and task it into sending me home..
(hmmmmmm, fluffy animals and tissue boxes on the dashboard? is this a sure sign your taxi driver's a skin eating serial killer on a murderous rampage thru the streets of Adelaide? discuss ;)
thankfully tho', since this taxi driver must have had his fill of victims tonight, I manage to arrive safely outside my house at 5:30AM.. with all vital organs still accounted for *phew*
thus drawing to a close my all too random and idiotic attempt at a "HOLIDAY WEEKEND" or what I like to consider my continuing study in the limits of my own recreational insanity for the sake of the music scene - "JUST WHEN I THINK I'M OUT.. THEY PUUUUUUULL ME BACK IN!!" yes AL PACINO, yes indeed! kill me now.. then reanimate my still twitching corpse and SEND ME BAAAACK FOR MORE!! WOOHEHEHAHAHAHAHAHA!! :)
Previously on Spoz's Rant:
From The Ritz To The Rubble