FROM THE RITZ TO THE RUBBLE
weekends this ridiculously large don't need a lengthy introduction, they don't need explanation, exposition or an excessive preamble.. clearly you know WHY you're here right now.. you KNOW what to expect.. you understand the risks to my and your sanity this whole gonzo enterprise involves.. and if you don't.. well clearly, experiencing a weekend of this hooting magnitude (even vicariously thru the secondary writings and photos of this blog) would create such an overwhelming shock to your system you may very well be reduced to a gurgling ruin of foaming ants and subatomic particles.. oooooh no, this ain't a weekend for the faint hearted.. this weekend is THE BEAST! FEAAAR THE BEAST!! AUAUAUAAGGHHH!!
but as they say, "what doesn't kill us, makes us stronger" ;)
WEDNESDAY NIGHT
whoaaaaa.. wot the fuck is THIS!? why the hell am I out on a Wednesday night? do I have no shame!? no common sense of decency? is there no LIMIT to the extent at which I'll destroy myself, simply for the sake of reporting for this ere retarded blog? hmmmmm.. apparently not.. as wouldn't ya know it, but I'm here at the GRACE EMILY on "MIDWEEK HUMP" night for ELLICIT EVE's MERCHANDISE and LOGO launch party.. yay!
oh, and before you all go and correct me in the comment box about my horrible spelling mistake.. I don't care WHAT you say, it's "ELLICIT EVE" not ILLICIT EVE! (clearly that blackboard does NOT lie :P )
BOOSTER
and so, to begin the night's entertainment.. we have support act and bong rockers extraordinaire, BOOSTER blaring it up on stage in a steaming cloud of their own smelly rock n roll excess..
featuring as always - JOSH the screaming falsetto bass assassin (now with 50% less hair! wooooo!)
KEMPY the spastic beer machine with hooting baboon vocals and smashy smashy drums..
and CRAIG the rain man guitarist, lost in the swirling haze of 70's style chunky riffs and prog rock solo's..
as all 3 of these lunatics filled the tiny venue with a howling rock juggernaut fury (equal parts QUEENS OF THE STONE AGE, THIN LIZZY and WEEN) so diabolical it could be heard blasting out've the GRACE EMILY from over 100 metres away as I was walking in tonight.. ROCK!
all this hooting rockpig intensity is just a little too much for my fragile brain to bear on a Wednesday Night.. so after BOOSTER's set I take a brief refuge in the beer garden.. discussing all manner of deep philosophical musings with MANUEL the emaciated cattle skull..
"Friday has a feel, Thursday has a feel, Tuesday has a feel, I know all too well about Monday.. but Wednesday? duuuude sometimes I just don't know if I'm coming or going.. y'know?"
yes MANUEL, I know all too well.. but at least I'm not nailed to a wall right now (at least not YET anywaze ;)
ILLICIT EVE
*ahem* anywaze.. on with the show then, as ILLICIT EVE hit the stage to launch their shiny new range of merchandise, their new band logo (both of which I somehow accidently designed sometime earlier this year.. like whoaa, how did THAT happen!?) and also to raise much needed petrol (translation: BEER) money for their wacky interstate tour they'll be undertaking in the next few weeks..
as they fill the air with what sounds like a bar brawl between L7 and LED ZEPPELIN..
CHEWIE the drummer chews up kicks, snares, hihats and cymbals and spits out bullets..
EMILY hammers all manner of crazy guitar pedals and shrieks up a sweetly harmonised hissy fit storm..
whilst FLICK, the ever infamous poodle pitmonster of doom explores new dimensions in slappy slappy bass warping funk thermodynamics.. bringing the stage crashing around everyone's ears in a screaming climax of face melting brown noise and kidney punch psychedelia..
yup, I think CHEWIE just wet himself.. such is the diabolical fury of ILLICIT EVE on a Wednesday night.. even the band themselves can't help but feel overcome by the madness of it all.. woooo! yeaaaah!! ROCK!! :)
phew.. and that's just about more carnage than any mere mortal can handle on a "school night"..
just one lazy beer (cheers to ILLICIT EVE for letting me nick their beer rider) and I'm outta here..
all in all, a damn fine selection of live music on a MIDWEEK HUMP.. aaaaah :)
FRIDAY NIGHT
the location: THE EXETER.. the bands: 200 MOTELS and TRIXIE PLAIN.. and after all the accumilated insanity of 9 months solid live scene coverage and Wednesday night's hooting rock piggery I'm just about exhausted beyond all repair, pale as a ghost and not fit for anything more in this life but to be slice n diced and processed into canned dog food.. and yet, here I am out tonight regardless.. why? coz I'm fucking insane.. THAT's WHY! (oh, and also coz I happen to like seeing these bands live.. heh, go figure? ;) )
200 MOTELS
first up we have the exciteable rock midgets, 200 MOTELS firing up on stage..
and as wholly exhausted as I am, there's no way I can run around like a loon taking all manner of crazy photographic angles, let alone even stand upright tonight (I'm THAT knackered..)
but thankfully, since we're out here in the front bar filled with all manner of chairs and tables.. I just plant myself in a conveniently placed chair out front.. kick back with a beer in my hand.. absorb the sounds, and take some cruisy photo's at me own leisure.. aaaaah :)
as 200 MOTELS tear into song after song of gnashing guitars, sweet harmonies and stomping diminuative rock, quite like what you'd get if you mixed PJ HARVEY, 90's band THE CLOUDS and the sounds of YEAH YEAH YEAH's latest album at high speed in a blender with the lid left off..
highlights include an exceptionally ninja cover of RADIOHEAD's "YOU" (off the 1st album) but their best song by far has gotta be the chugging doom rock melancholy of "MISSING OUT" (seriously dudes, if ya chuck that puppy on ya upcoming EP and then like *cough* send me a copy.. that'd totally rock my world :) )
with 200 MOTELS finished, and my energy renewed somewhat by the 2 beers I drank, I next receive a phonecall with news that some of JIKA's deranged entourage has flown over from MELBOURNE looking to cause some damage in our fair stench of a city and have all congregated at the CRANKA to piss on up.. so, what else was I to do, but join 'em for a lazy beer or two (it was just down the road afterall :) )
1/2 an hour later and buzzing on more beer fueled energy, I return back to the EXETER.. only to find some deranged homeless guy trying to make off with all the drum equipment (it took me a while to realise this was actually W SHANE "SMASHOFF" setting up for the 2nd band tonight.. heh! ;) )
TRIXIE PLAIN
as before too long, W SHANE FORSTER and his band TRIXIE PLAIN launches into yet another exploding circus of deranged shouting, screaming and drumkit smashing..
who's joined on stage by LINDOG, cranking up the guitars to appendix rupturing frequencies..
and featuring new member TODD SMILEY MAN tearing it up with his signature brand of stoner lo-fidelity bass grooves.. as former keyboardist SHELLY V had since left the band under mysterious circumstances (when in doubt, just blame it all on random acts of vampires.. I know I do!)
forming what could be considered Adelaide's most hilarious (and ridiculously loud) protest bands.. as every single song acts as one of W SHANE's fiery tirades against anyone, everyone and anything in the world at large that pisses him off (yup, there's no problem too trivial, too personal or too obscure to escape the reach of W SHANE's smashy smashy wrath.. AAAAYAYAYA!!)
with TRIXIE PLAIN's deafening onslaught of gnashy rock spilling out onto the neighbouring streets and beyond.. it doesn't take long for some of the gathered lunatics at the CRANKA to feel strangely drawn to the front bar of the EXETER.. as we witness the arrival of one of JIKA's crazed entourage: CHRIS (aka: MAYNARD, aka: "if only the lead vampire was here WE WOULDN'T BEEE IN THIS MESS!!") showing his appreciation..
um.. yeah, ok.. we got the point now.. can you stop harassing TODD SMILEY MAN now? cheers ;)
*ahem* meanwhile TRIXIE PLAIN continue to smash away relentlessly with song after song of protest and howling alcohol abuse.. featuring what I could swear were at least 3 songs all about pissed off neighbours and their noise complaints (or did you just play that one 3 times?), a song proclaiming the love of VODKA, a song bitching about pretensious wankers and much much more smashy goodness in between..
punctuated by wacky wurlitzer style keyboard flourishes by TODD SMILEY MAN..
rather like a REN N STIMPY nervous breakdown as performed by a HUNTER S THOMPSON lookalike to the sounds of THE HOLD STEADY and THE STOOGES turned upto 11, or the sound of a sack of cats fighting each other to the death during a NYE fireworks display.. either way, oooh maaan is it fun to watch :)
after TRIXIE PLAIN finish with their epic 1 1/2 hour set.. it's now time for more recreational stupidity at the EXETER.. which (as often seems the case after I've had enough piss) usually involves me having some retarded fun with silly hats (this instance being one of W SHANE'S more exceptionally silly beanies ;) )
KIM ROBERTS from 200 MOTELS works up the fuzzy beanie like a swedish milk maid..
whilst TODD SMILEY MAN manages to resemble an exceptionally drunk WW1 fighter pilot..
(sure, this shit ain't high art yet.. but, give it a few years.. LONDON, NEW YORK, PARIS.. it'll be huuuge!)
anyhoo.. with our fill of fun had at the EXETER and with all the band equipment packed away for another night.. it's time to head for the CRANKA.. and in doing so, I soon pass by this rather decorative display of regurgitant on UNION ST, that I just feel the urge to share with you all now.. aaaah ;)
and wouldn't you know it, but tonight's dose of high culture doesn't end there, as upon entering the CRANKA, I spot one of the barstaff cheerfully defacing the frosted ice on the bar taps with her own engravings..
as for what this particular art piece actually means in the greater scheme of things, we may never know.. hmmmmm.. pause and contemplate.. and then pour me another one so I can contemplate some more ;)
joining me in witnessing these fine culture exploits (and furthering my downward spiral into stupidity) we find space-cadet SIMEON and one of them crazy chicks from NECROMANCY goosing it up in style..
the hooting baboons from TRIXIE PLAIN, wooping it up after a hard night's work..
and the ever radioactive freakiness of SARA and MADAME CASS, soaking up the moonbeams outside..
head back inside as we proceed to make absolute twits of ourselves on the dancefloor..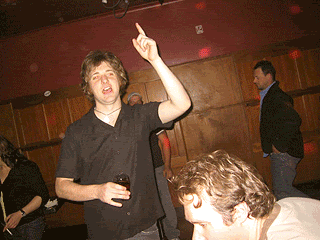 to the accompanyment of many beers, much smashyness, blurriness and grinning brain damage.. and finally, I'm on the last $6 bus out've there and home at 4AM.. weeee!
yup, I may've started out the night feeling like death, and I may've damn near killed myself stupid tonight.. and yet, oddly enough, thanks to all you grinning lunatics out there I'm all the better for it.. niiice :)
SATURDAY NIGHT
tonight we bear witness to the local rock gig to end all rock gigs.. the most diabolical gonzo howling shitstorm of fucked up shredding ROCK intensity ever to be let loose within the confines of JIVE on Hindley ST.. I had prepared and trained myself weeks in advance for the hooting carnage I was about to witness here tonight.. and yet even a hardened veteran like myself was caught off guard.. this shit was fucked up.. this shit was full throttle gonzo exploding depravity punching holes thru the walls grinning ear to ear.. ooooo yes, I can only be speaking of one thing when I speak of this level of hooting stupidity, and that would be TONY MUTHA FUCKIN' FONT SHOW's CD LAUNCH party extraordinaire.. OOOOOOOH SHIT is it gonna get messy :)
THE BEARDS
and to begin the night in style.. we have the first support act on stage, THE BEARDS..
a side project from those grinning maniacs THE DAIRY BROTHERS.. a side project identical in every way to their normal cheese rock act (HA! a dairy pun!).. except.. instead of being called THE DAIRY BROTHERS and featuring a giant dancing cow.. they were called.. THE BEARDS..
they sung songs about BEARDS..
they played songs about BEARDS..
they wore facial hair, that very much resembles what you would call BEARDS..
they told us before each song, that the next song was about.. BEARDS..
and with songs as brilliant as "IF YOUR FATHER DOESN'T HAVE A BEARD, THEN YOU'VE GOT TWO MUMS!".. and with their ever inspiring odes to all things BEARDS and their heartbreaking ballads to BEARDS lost.. *sniff* dammit.. there wasn't a dry whisker left in the house.. it made BEARDS of us all dammit.. every last one of us.. it made ME PROUD TO HAVE A BEARD.. HOLD MY BEARD UP HIGH.. and say.. YES I HAVE A BEARD!! I LOVE MY BEARD!! MY BEARD IS A FREAKING WORK OF WONDROUS BEAUTY AND WE SHOULD AAAALL BE THANKFUL FOR EVERY BEARD WE GOT!! WAAAAUAUUAUAUAUAUUAUAUAGGHHH!
(such a brilliant band *sniff* oh sooo brilliant.. so hairy.. they'll make glorious BEARDS of us all!! *sniff*)
and that kiddies is THE BEARDS, any more questions? no? ok.. we'll continue shall we?
for the next support band tonight we have TRANSPORT from Brisbane.. they had a high rotation song on TRIPLE J RADIO late last year called "SUNDAY DRIVER".. you may've heard of it, the kids went nuts for it (what can I say, it wuz freakingly catchy).. anyhoo.. back in NOVEMBER last year, they thought it'd be a good idea to play a tour in smelly 'ol RADELAIDE, with a gig at
THE CRANKA
.. or at least it would've been a good idea until they crossed paths with all us lunatics after the show.. as always, chaos ensued :)
(I still have NO freaking clue WHERE that tiara came from or why everyone was drawing on each other's arms?.. but I do suspect MATT from CENTRAL DELI BAND had something to do with it.. hmmmmmmm ;) )
TRANSPORT
flash forward back to tonight, and it appears TRANSPORT have tempted the fates again with all us grinning primates, returning to Adelaide once more to play in support of TONY FONT SHOW..
as they funked the pants off the joint with their unique mix of post punk ska grooves vs stoner funk metal.. quite like wot you'd get if all the members of early 80's band THE POLICE, THE SPECIALS, RED HOT CHILI PEPPERS and JACK JOHNSON to team up together to smoke bongs and jam fucked up nutty jams in ya garden shed, only here with a much better live PA and a 300 strong crowd going beserk..
they cranked out a kickarse rendition of RUN DMC vs AEROSMITH's "WALK THIS WAY" that damn near caused a spastic dancefloor riot amongst the growing crowd of hooting baboons..
but once, you get 'ol SMASHYPANTS here running the house lights, you KNOW you're asking for trouble..
lead singer KIER NUTTALL is soon lost in a hypnotic swirl of strobing light changes..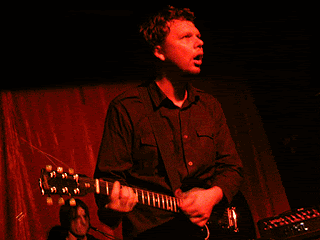 whilst drummer STEVE POPE is starting to dribble incoherantly as his brain's goes to mush (and yet still somehow manages to hammer the drums without missing a beat.. funny that ;) )
yup, this is just like the sorta deranged mind experiments the CIA used to do in the sixties (only set to a wacky backing track of head bopping, skanking spastic chicken funk) the crowd are really starting to fear for their saftey out there as time and space start to unravel all round us..
mysteriously enough, bassplayer SCOTT SAUNDERS seems to remain largely unaffected..
"I am evil SAAAAAUNDERS.. I am evil SAAAAUNDERS!".. *ahem* ok, perhaps not..
as it looks like SALLYCAT and our merry band of misfits have damn near reduced TRANSPORT to dribbling incoherancy (and yet in doing so, helped produce one HELLUVA crazy kickarse jamming live set.. niiice :) )
TONY FONT SHOW
and as the members of TRANSPORT are carried off by paramedics to the waiting ambulance outside.. the air fills with bowel gurgling anticipation.. as we're soon to witness the arrival of TONY FONT SHOW..
as we present on stage..
LEE COWAN - lead vocalist and professional crashtest dummy..
MATT O'CALLAGHAN - bass guitarist and LSD flickering muppet dancer..
RICHARD CLIFT - lead guitarist and human statue extraordinaire..
and PHIL MEAKIN - drummer, gonzo surfer and voodoo chicken slayer..
as they bring forth a funk rocking, disco metal insanity explosion of epic proportions.. with MATT and RICH's dueling slap happy bass and cascading freak out guitar riffs, LEE's trigger happy rapid fire bi-polar vocals and PHIL's machine gun drumming driving the packed out crowd of hooting baboons in JIVE to a seething storm of arms, legs and misplaced baboon heads as shit goes flying freaking everywhere..
amongst all the growing chaos.. LEE is soon joined on stage by none other than KARL from SOFT WHITE MACHINE for a beserker rendition of FAITH NO MORE's "THE GENTLE ART OF MAKING ENEMIES"..
interspersed with all manner of insane cuts from their new EP like GO TO SLEEP, HOLD ON and ROKJOCKS..
all manner of stoner classic cuts from their first EP, like CHILL BIT and SOCIAL COMMENTARY..
as MATT, lost in his own psychedelic brain space.. fires up volley after volley of hammering bass riffs..
driving the mosh pit into a veritable human washing machine of kamikaze crowd surfers, body slammers, whacked out muppet dance moves, blow up sex dolls, heads flying directly at speaker stacks, spills, breaks, bodypops and a rainbow of bruises.. the size of which I have never seen before at a local gig like this (even in a place as dribblingly insane as JIVE is at full tilt.. weeeee!)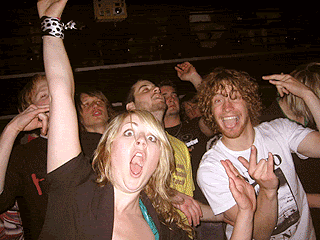 LEE being the human crash test dummy that he is, thought it'd be funny if HE had a go in the mosh.. throws himself in headfirst, and barely makes it out alive.. whoaaa!
even the usually unflappable RICH is tripping balls at how insane it is out there..
yup, it's been an absolute freaking shitstorm of hooting rock insanity.. LEE's about to dissolve from the intensity of it all.. the walls are splattered across JIVE with all manner of misplaced limbs.. it has well and truly been the most fucked up insane shit I've ever witnessed at a local CD launch.. verily it is, THE BEAST, the DESTROYER OF WORLDS.. and it has killed us all :)
the crowd goes beserk with hooting appreciation..
all the beer fuelled freaks in the mosh can't get enough of this shit..
even the delicate wallflowers hiding out in the street are impressed (bwahahahaha!)
and *phew*.. shit.. guess it's time to go home aye?
except of course, as we all know, this being the blog of a self proclaimed idiot like meself, you KNOW this ain't gonna be the end, as I proceed to THE CRANKA to continue the stupidity well into the night..
as I'm joined in my drunken misadventures by JIMMY the PIRATE (arrrrrr!)
this wacked out hippy metal dude who's party I gatecrashed 2-3 weeks ago, since added himself to my myspace list (and yet I still can't remember the name of ;) ) so, fuckit.. I'll call him GOATBOY..
the ever slinky SIMONE and all manner of colourful pirates.. (wtf wuz up with that!?)
and here's one for JOE BLOGS, we even managed to dig up THIS infamous bearded freak..
hmmmmmm, I think he might be from ZZ-TOP.. or perhaps he's THE BEARD's band manager? ;)
we all hit the dancefloor like crack addict toddlers to FATBOY SLUM's indie 80's fueled disco cheese..
SIMONE busts them funky bodypopping moves (several people around her lose an eye..)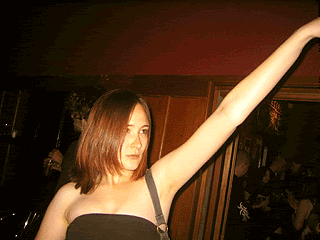 this then all invariably leads to SHOTZ..
when SHOTZ closes at 5AM, it all leads to HUMPTY FLAPS..
some freaks like JOSH here, are so buzzing out've their skulls, they STILL think it's a dancefloor..
as we make a total mess of this fine *cough* eating establishery with all manner of burger wrappers, pickels, chips, bent straws, ice, chewed up chicken bones and other such rubbish.. (as you do)
ending the night somewhere near here, discussing all manner of incoherant dribble with SIMONE outside the STATE LIBRARY.. including the finer plot points of BUFFY THE VAMPIRE SLAYER, genetically engineering POCKET MOOSES (MEESE?) and COMPACT GIRAFFES (no neck, short legs - ideal for inner city living!)
until the burning sun shot up in the sky somewhere around 7AM and scared all us children of the night away..
and thus bringing to an end, one HELLUVA epic night out.. which ironically, in it's gargantuan scope of rhinoceros melting fury actually managed to effectively restore all the energy I needed to continue DOING all this deranged gonzo rock photojournalist stupidity well into the future (it's funny how the CRAZIEST weekends are often the easier ones to live thru and write about, heh :) )
SUNDAY AFTERNOON
"whaaaaaaat!?? you meaaaan there's STILL MORE!!?? wot kinda fucked up party machine ARE you!??"..
well, yes.. I understand that it may seem incredibly silly to continue this rollercoaster journey after what would kill any NORMAL person on a Saturday Night.. but hey, considering the monumental brain damage I'd inflicted upon my self last night (alcohol + a total lack of sleep does NOT a genius make) there was NO WAY IN HELL I was gonna be upto the task of writing this weekend BLOG on the Sunday.. I needed an excuse.. no fuck that.. I needed the perfect "HAIR OF THE DOG" excuse and supplementary gig to make a fitting epilogue to this weekend to end all weekends..
and so, as luck would have it.. fate provided me with just such a "HAIR OF THE DOG" excuse in the form of the YHA (YOUTH HOSTEL ASSOCIATION)'s free hippy PEACE FESTIVAL held today in LIGHT SQUARE..
arriving here at about 4:30PM, I find all manner of live entertainment in the form of live bands (I JUST missed MICHAEL FRANTI's surprise set when he played about 20 minutes before I arrived - D'OH!) playing along with all manner of Brazillian, African, Indian and Indigenous dancers..
a fine selection of exotic foods, including this particularly nasty looking chicken dish *cough*..
and wooooo! look kiddies! ICE CREAM!! YAAAAAAAY!!
(yes, clearly I'm braindamaged after the weekend I'd survived.. but hey, it WAS "RUM and RAISIN" mixed with "CARAMEL and TOFFEE", so technically this counts as HAIR OF THE DOG remedy in my books ;) )
THE AUDREYS
and the highlight band of the day, were the soothing folk and blues sounds of THE AUDREYS...
featuring one of the burgulars from HOME ALONE, TRISTAN GOODALL playing the banjo..
LINDON GRAY strumming away on upright double bass..
MIKEY G on the violin..
DAVID ROSS MACDONALD providing a light fill on the drums..
and the ever so slinky smooth TAASHA COATES providing sweet melancholy in vocals, and wacked out fluting instrumentation with what looked like a breathaliser for drunken keyboardists (I heard, as long as you blow a B FLAT, you should be under the limit and fine to drive your P-FUNK spaceship home ;) )
highlight songs include the ever so cruisy "YOU AND STEVE McQUEEN", the sweetly seductive "OH HONEY" (both getting high rotation on TRIPLE J RADIO, so you may've heard of 'em)
and a tripped out rendition of INXS's "DONT CHANGE A THING"..
sure it was light, fluffy and ever so breezy (and would normally be the last thing you'd find me catching on a rockpig FRIDAY / SATURDAY night), but here on a lazy SUNDAY afternoon with the sun about to set, and with my brain reduced to a grinning mush.. this was just the soothing hangover cure I needed.. aaah :)
MIA DYSON
up next we had MIA DYSON.. I thought this worth mentioning here, coz hey.. apparently she has a lot of fans, and I'd be utterly remiss if I didn't at least throw ONE photo in for all you freaks out there.. but hey, fuckit.. as good as she may've been (and peeps tell me she's a freaking maniac or something) I'm near about running on empty now.. and so, it's time we're moving on ;)
we make a brief aborted trip to JIVE in the hopes of seeing the DAIRY BROTHERS, but it was $10.. eeeeeeeesh! (only later did I realised sifting thru these photo's that this was because it was GRANNY FLAT's CD LAUNCH.. which possibly explains why we couldn't all sneak in for free.. hehehehe) so we head back to JIMMY ROWE's on the corner of LIGHT SQUARE, grab a quick pint of HAIRY DOG.. head back into the festival to absorb some final hippy psychedelica.. and I'm off home at last at 7PM..
and THAT now is FINALLY the end of my weekend.. *phew*
it's been an epic journey, and for all you here who survived it till the end.. both out there staggering broken and bruised on a SUNDAY afternoon, and all you people here reading this now.. I hope it proved as enjoyable and mind warping experience as I had.. coz DAMN wuz this a BIG one :)
(oh, and I SWEAR I'm taking next weekend off.. hahahahahaha!)
Previously on Spoz's Rant:
Somewhat Damaged