TUESDAY NIGHT SMASHOFF
hiya kids! yup, I'm back much sooner than expected with yet another one of these retarded blogs.. as obviously it's not enough for me to be covering the live music scene on the weekends for this monkeyarse website no more.. oooooh no! now I've gotta be out there doing all sorts of ridiculous shit during the midweek as well.. fuuuuuck!
and so, here I am on a TUESDAY NIGHT at this all too familiar venue.. a venue I frequent so damn often I might as well get my mail redirected to this place, as clearly I live here now ;)
TRIXIE PLAIN
for tonight's entertainment, we have TRIXIE PLAIN (a flowery-arse name for an otherwise none too shite garage rock act) here to deliver 2 sets of ringing tinitus screaming from the house speakers to a small but otherwise loyal gathering of midweek alcoholics..
featuring in TRIXIE PLAIN, we have..
W SHANE FORSTER - who smashes the drumkit into tiny bits of shrapnel with about as much subtlety as attempting to swat a fly by nuking an entire continent from orbit.. whilst singing soothing songs about killing yourself with vodka, bitching about having to deal with pretensious wankers who fuck your life up and having endless screaming arguments with your neighbours over noise disputes..
he is accompanied by LINDOG - who hacks relentlessly at his screaming wreck of a guitar until it sounds like a cross between 50 chainsaws attempting to cut through a block of concrete, a jackhammer running loose in a sandstorm and death by a mexican firing squad..
whilst SHELLY VEE here is happily lost in her own little world; noodling away the subtle brown flavoured synth grooves on a wacky WURLIZTER styled keyboard, quite like the way you'd expect the organ player to sound at one of those lazy saturday matinee dance-offs at the retirement village (only much much cooler)
and amongst all the smashing hissy fit originals a selection of wacky cover songs also make an appearance.. which is capably assisted here tonight by NAZZ (from KING DADDY) who's acting as CUE CARD monkey, since SHANE couldn't be arsed remembering any of the words ;)
this is followed by special guest hiphop MC, COPY ONE.. here to join the killing frenzy on stage as they perform their incomprehensibly bizarre thrashing rendition of SALT N PEPPA's "PUSH IT".. which, despite all their attempts to fuck it up beyond all measure of human decency, comes off sounding like a freaking funk masterpiece that damn near destroys the joint with much hooting appreciation..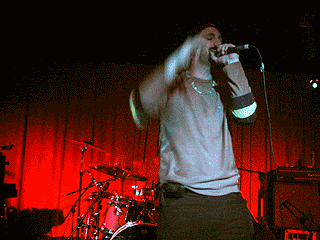 and if that doesn't nearly cause enough irepairable braindamage.. here we have a nice soothing acoustic styled number to bring the performance to a close.. aaaaaah it so fluffy and gentle to my bleeding ears!
yup, with an ecclectic mix of gonzo this blissfully INSANE.. TRIXIE PLAIN should never be let out in public.. they should all be strapped to geurneys and muzzled like HANNIBAL LECTER in SILENCE OF THE LAMBS.. stuffed into shipping containers filled with styrofoam peanuts, blasted out to the farside of the moon in a lead-lined box, where they should then be buried under miles of compacted granite for all of eternity lest they escape and destroy all of humanity in an unholy cataclysm, the likes of which the world has never seen since that fateful asteroid plowed into the YUCATAN PENISULA of MEXICO and wiped out all those DINOSAURS back in 65 million BC..
but, HOOOOOOOLY SHIT does it still ROCK the flaming dog's bollocks on a TUESDAY NIGHT :)
with TRIXIE PLAIN now finished for the night.. and with all the rubble cleared out and all the survivors accounted for.. we while away the rest of this midweek dose of cheerful dementia, relaxing to the spastic chicken grooves of DJ NAZZ.. mixing everything from EAGLES OF DEATH METAL to LED ZEPPELIN..
and much too soon, it's struck midnight and it's time for all us dribbling mental patients to go home..
thus ending an exceptionally trashy, yet highly entertaining TUESDAY NIGHT out :)
Previously on Spoz's Rant:
Every Planet We Reach Is Dead