TERRITORIAL PISSINGS
out've all the countless retarded misadventures I've experienced out in the howling concrete musical wilderness that is the city of Adelaide at night.. it's those quiet weekends you really gotta watch out for.. sure, they may appear all well natured and carefree.. with their large doe-eyed cheery innocence.. all fluffy and white.. frolicking about with their long pink floppy ears and bounding thru the soft grass so fancy free inviting you to tag along and join them.. ever so blissful whilst the sun shines nothing but smiles and rainbows at them from above.. and you may be promised nothing but good intentions.. and you may think you can let your guard down just this once.. you think you might finally be able to relax.. switch off from the usual alcoholic grind and bludgeoning noise and just float thru the grinning lo-fidelity stonerism of it all.. thinking "aaaah THIS is the weekend I can escape it all.. this is the weekend away from the weekend!!" BUT! don't be fooled kiddies.. it's all a cunning disguise.. the quiet weekend is PURE EVIL I tell's ya.. oh yes, just when you THINK you are safe.. just when you think it wont get to ya.. that's when they go at ya face with all the fangs and the rotating blades.. like a schitzoid domestic kitten that thinks it's a dopemine snow leopard.. you'll be there.. all comfy in yer big comfy chair.. stroking your big dumb furball of a pet.. and BAM! out come the claws..
*OW* FUCK!! DAMN YOU QUIET WEEKEND!! you almost took a FUCKING eye out! yooooo steeeiinky little BITCH!! AAUAUAUAAUAUAAAAUAUAUAAAARRRRGGHHHH!!!!
as such was this weekend.. I thought it wuz just gonna be a night off, a few bands on the next night, nothing huge, nothing insane, nothing epic.. OH HOW WRONG WUZ I! yup.. it seems no matter what I do now, no matter how far I run, no matter how much I try and hide.. I can't escape it.. it ALWAYS FINDS ME.. it drags me out onto the street kicking and screaming.. and it DAMN WELL SHOWS ME A GOOD TIME!
and thus.. we face once again.. yet another fucked up weekend on the SPOZ.. so help me angry snow demons for we know not wot monster we have unleashed upon the world :)
FRIDAY NIGHT
originally I had planned for a civilized night tonight.. nothing but a movie, "SUPERMAN RETURNS", maybe a few quiet beers afterwards at the CRANKA.. maybe dinner out beforehand (at the PRINCE ALBERT, had LAMB SHANKS in a COOPERS DARK ALE gravy with mash potato and peas, DAMN wuz it good :) ) then duck out home around midnight before too many people knew of my whereabouts.. coz hey, I didn't THINK there'd be any bands on tonight.. so I thought it'd be safe to assume that NOBODY would be out and I could let a Friday night slip by with little incident for once..
*OOOOPS!* with a retarded blog like this, I just knew I'd spoken too soon..
stepping out of the ACADEMY CINEMA's at 11:40PM, I calmly switch my mobile on, only to be avalanched by a flood of fucked up SMS and voicemails all hooting exciteably, singing and screeching away in all manner of off colour frequencies urging me to head to the ROCKET BAR where much cheerful retardation and beer fueled hijinx would await me..
and so predictably (never one to turn down such nonsense) I appear at ROCKET BAR 15 minutes later and promptly make my way to where the beer taps may be found..
from wot I could tell, there wuz some band on tonight called "MAYFIELD" (sounding very much like a howling throwback to classic early 90's style grunge) who were having a CD launch tonight for their latest EP or some junk.. and yeah, I wuzn't really paying attention to all this insanity (since, this was MEANT to be my night off dammit!) but it appears, despite my utter ambivalence for live music tonight, these chimps still won more than enough new fans to fill the place up to the ceiling with flailing drunks.. ROCK!
(aaah yes, W SHANE FORSTER.. always good value on a night out on the piss :) )
a few beers later.. I next found meself at the DUKE OF YORK, for the vaguely non-regular FRIDAY NIGHT "TRANSMISSION" DJ mashup party upstairs..
and despite all my best efforts to keep a low profile tonight, I still managed to draw a crowd of hooting baboons from the ROCKET BAR along with me..
speaking of primates, here's DAN from SWEEPER chilling out in the back of the venue with cult myspace celebrity,
TIMMY THE MONKEY
..
until W SHANE FORSTER gets all jealous..
lunges in for the attack..
and a very confused scuffle breaks out on the floor..
such is the maddening hysteria that breaks out whenever TIMMY THE MONKEY is in town..
hmmmm.. yes, obviously all attempts for a quiet night of sobriety have now since evaporated in the widening chaos.. damn you SIMONE.. DAAAAMN YOOOOOOU TO HELL!! AUAUAAAGHHHH!!! :P
meanwhile, throughout all this nonsense.. DAN and SHANE continue their bewilderingly drunken performance art on the floor.. whilst venue security remains none the wiser..
oh, and speaking of such, check out this week's RIP IT UP.. if you happen to see a fucked up drunken human pyramid in the DUKE OF YORK photos, look for the hairy idiot in the bottom row left of the frame.. that'd be me (I really dunno HOW the fuck the photographer roped me into that idea, but I must use that trick for meself sometime.. muhahahahahaha! ;) )
finally.. after too many beers and much retardation, it's hit 2AM, DUKE OF YORK is already closing up for the night and we all hafta make like trees and fuckoff..
the thought of us leaving a venue like this where the pints are only $3.50 and vodka's are only $4 is starting to make us feel so horribly emo right now *sobs* *cries* OH THE STABBING PAIN!!
thankfully tho, salvation is still at hand as we all just fuckoff back to the ROCKET BAR to continue our drunken rampage well into the retarded hours of the morning instead.. weeeee!
whereas I'm soon found staggering around the venue tormenting random idiots at the bar and making a twat of meself on the dancefloor to all the fuckoff crazy shit those DJ's seem to feel fit to mix up in this joint in the ugly hours (cheers for the
mixtape
peeps, ROCK!)
at about 4AM or so, JOE BLOGS makes an exceptionally drunken last minute appearance.. as his level of drunkeness manages to far exceed the combined liver damage of everyone else present in the entire venue.. whoaaaa scary.. (and no, I can't explain why he's wearing the tuxedo either)
suitably shocked by the litany of comical strangeness JOE BLOGS then proceeds to exhibit at the bar, we all run screaming the hell out've there.. and I make my way into a taxi at about 5:30AM or so.. eventually arriving home at 6AM and swirling narcolepsy soon afterwards..
*phew* and I wuz planning for such a QUIET night too..
SATURDAY NIGHT
I'm here tonight at JIVE to catch 4 bands - 200 MOTELS, REJUSA, BOOSTER and ILLICIT EVE, in wot likely promises to be a gnashing hurricane of shredding guitars, drum solos, toilet bowl bass grooves and freaked out alternative pop-rock stonerisms..
200 MOTELS
first up on stage to entertain us we have the alternative rock midgets, 200 MOTELS..
these guys could best be described as the sounds of PJ HARVEY as performed by the former disgruntled elf employee's from SANTA's workshop in the north pole..
it's gnashing, it's angry, it's oh so melodic and addictively melancholic..
and it's got more pop hooks than a fisherman's basket..
and yet for all it's intensity, and it's heartfelt seriousness..
you can't help but think "awwww.. look! it's performed by elves!! how cuuute!"
yup, I swear, the lead singer KIM has gotta be no taller than 4ft tall.. it's really quite trippy to watch (and it makes me wonder in my warped imagination who would win out in a MATRIX style ninja fight.. KIM ROBERTS of 200 MOTELS vs the equally tiny KALIAH ALICE of MUNCHKIN? hmmmmm ;) )
*gulp* uh oh.. she's giving me that evil look.. must stop making fun of tiny musicians, lets they chase me with tiny sticks.. wooohehehehahahahha ;)
*ahem*.. anyhoo.. for all the jokes I make here.. let us not forget the ageless wisdom of the equally diminutive YODA, who once said "thru the force, size matters not!".. these guys may be tiny.. but no less is the intensity of their howling rock aggression they punch out screaming with tiny fists from the speaker stacks.. like whoaaaa maaan.. look at that guitarist go.. WOOOOOOOOOO!!
REJUSA
anyhoo.. with 200 MOTELS now finished for the night, and now busily drinking the bar dry (tiny people, large appetites for beer), it's now time for the next act to hit the stage, REJUSA..
these guys sound like all the intensity of early 60's BEATLES (y'know back in their underground HAMBURG years, before RINGO, before the MOD, whilst they were still all garage rocky and pissed off n shit..)
mixed with the metronomic indie fuzz guitar grooves of THE STROKES..
the fuckoff percussive aggression of the nastiest pubrock act hitting you like a sledgehammer..
with the kinda alternative catchy-as-all fuck smashoff pop sensibility that drives the kids nuts..
and for some inexplicable reason, more so than any other band tonight.. they managed to draw a huge crowd of screeching female fans - everything from the predictable mix of groupies and overenthusiastic girlfriends, to a much weirder mix of mothers, aunts, sisters and cousins..
I mean shit, look at all that shit gathered in front of the stage.. freaking handbag city maaaaaaan!
I dunno if it wuz all the fuzzy pop rock sensibilities, their powers to amass a serious large scale rent-a-crowd (or the more logical reason that this hooting crowd tonight wuz due to a friend of the band having a "going away party", but all the men decided to fuck off to watch the footy tonight instead) but DAMN did these monkeys pack the joint out (and rightly so) ROCK out you maniacs.. ROOOOCK!!!
with REJUSA now finished for the night, and the steam of exciteable oestrogen now levelling out to standards deemed acceptable by the EPA.. it's time for the next act, the gods of bongrock to hit the stage, BOOSTER!
*oops* wait.. that's not BOOSTER.. that's just their drumtech chimp LEY fucking about with their kit..
"OI! LEEEY!! GET OFF THE STAGE YOU FOOKIN' EEEIIDIOT!!"
BOOSTER
aaaah yes, witness the howling dementia that is BOOSTER, featuring SEAN KEMP on drums and vocals.. bashing out those beats like an exciteable gorilla..
the toilet bowl shaking fury of JOSH (aka: CHOPPER BIGGS) on the bass..
and the twitchin' autistic fury of CRAIG's psychedelic guitar solo's..
making these guys sound more and more like the perverted lovechild between WOLFMOTHER and QUEENS OF THE STONE AGE each and every time they launch it live..
as each gig gets that much more crazy and fucked up out've control..
if yer hunting for the tell tale signs of impending doom.. look to the normally sedate guitarist.. when CRAIG starts to seriously lose it, you KNOW yer in trouble..
as CHOPPER works some fucked up mojo on the drummer..
and before you know it, SEAN has launched off the stage and is now seen climbing the balcony..
out've all the possible photo's I COULD'VE taken of this event, my camera had the ultimate (mis)fortune of FINALLY firing off a flash at this exact moment.. thus making for what could be considered the funniest (and quite possibly smelliest) live gig photo of the night.. BWAAAAAAHAHAHAHA!!
CRAIG's now totally lost his shit all over the floor.. with the noise from his guitar swirling a howling gutteral churn that's making milk and other dairy products curdle in a 1km radius..
and finally, in a crushing finale.. the gig ends with 1/2 the drumkit piling into the crowd with SEAN helplessly pinned underneath hooting like a retarded baboon..
yup.. these guys just get more and more fucked up everytime I see 'em.. absolute fucking carnage :)
ILLICIT EVE
with the stage hosed out, fumigated, and SEAN carried off by the paramedics.. it's now time for the final headlining act for tonight, ILLICIT EVE to hit the stage..
a band that could be best described as ALICE IN WONDERLAND..
in a cagefight to the death with LED ZEPPELIN..
whilst some lunatic with a haircut like ASTRO BOY demolished a drumkit around them..
yup, that's the vocalist EMILY SMART, aka: ALICE IN WONDERLAND, aka: BUFFY THE VAMPIRE SLAYER (or at least according to my comically warped imagination) she's tiny, she's blond, she sings like a tiny canary.. but DAMN does she packs a mean fuckoff axe..
whilst bass player FLISS FREEMAN is lost in her own little world firing up epic stadium rock levels of ZEPPELINESQUE wall shaking bass carnage.. WOoOoO YEAaAAH ROOOOOCKK!!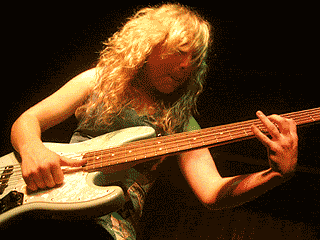 yup.. at this point, I wuz making a total twat of meself out the front, headbanging like a shaggy dog trying to dry himself off after swimming in an ocean of noise.. oooo fuck wuz this shit insane!
after an hour or so of this, FLISS loses all concept of reality and has to be carried off stage.. thus ending their set of chugging guitar noise and howling distortion.. and making for one helluva freaked out night of chugging rock fury WOOOHEHEHAHAHAHAHA :)
after the gig, I stagger around JIVE for the next hour or so sinking a few beers to stop the ringing in my ears.. till I'm scared off by KIM ROBERTS and her tiny stripey scarf of DOOM.. AAAUUAAUAUAAAGGHH!!
seeking refuge from that madness, I flee to the relative saftey of ENIGMA BAR next door, till I'm then scared off by these glowing blue demon skulls.. eeeeeeeeeeee!
sufficiently warped out've my mind by my psychedelic experiences tonight.. I figure the only way to clear my head is to flee to the opposite side of town, and seek solace at the CRANKA..
upon walking in.. I am horrified to discover that another evil scarf is seen swirling about on the floor.. freaking out, I hurl the offending demon talisman into the ceiling fan.. and then flee the CRANKA..
after this, I then foolishly decide to walk all the way BACK to the ENIGMA again.. thus wasting over an hour or two on a foolish drunken odyssey that in the end amounted to very little (even if it did prove quite amusing at the time walking back n forth the entire drunken extent of the inner city..)
it's now past 3AM, my wallet's near about emptied down to $5 and potential taxi fare home, so I decide to blow the last $5 on one last bite to eat at the FALEFEL HOUSE on HINDLEY ST..
and so finally at 3:30AM after much retarded nonsense, I decide to do the sensible thing (HI EZZA!) take the last $6 bus and head on home..
THE END
(or... at least it would've been if my phone didn't happen to ring at 3:34AM just as I was heading out to the bus stop.. D'OH! guess I couldn't sneak off home that easily could I?) yup.. apparently those lunatics JOE BLOGS and SIMONE had been pissing on all night at some party in eastern suburbia, and were now looking to extend their reign of terror into the city.. oooooh CRUD!
I wuz damn near broke and didn't want any part of this..
"dude.. we got free beer!"
fuckit, that's it.. I'm staying out! :)
and so, once again (against all better judgement) I somehow find myself walking aaaall the freaking way BACK to the east end of Adelaide, as I head into the haunting green fog of SHOTZ at 4AM..
it is here that I bump into SIMONE with cans of COOPERS they'd swiped from the party..
my evil twin IGOR (damn me and my drunken fascination with silly hats.. aaahahaha!)
a whole host of refugees from the recently closed CRANKA nearby..
and JOE BLOGS, upto his usual level of recreational alcohol abuse..
pause for a moment to reflect on yet another stolen silly hat photo..
as SIMONE praises us all on the size of our rapidly dwindling intellects ;)
after much retarded nonsense on and OFF the dancefloor and all sorts of adventures too stupid to either remember or document on camera.. 5AM swings by and the venue is soon hosed out of all the hooting drunkards.. leaving nothing but a wasteland of beer stains and cigarette butts..
obviously 5AM is still too early to end the night.. so we take the crowd over to HUNGRY JACKS (aka: FLUNGRY SPLACKS) for much continuing drunken stupidity.. and thus giving us the opportunity for yet another installment in our infamous "dumb fun with silly hats" series..
and it really continues to amaze me they actually let idiots like us get away with this nonsense ;)
yup, if under NORMAL circumstances you spotted any of these lunatics in a dark alley at 5AM you'd likely be seen running away and screaming in the other direction..
yet after 12 or so beers at HUNGRY JACKS at 5AM, this shit actually starts to look normal..
actually.. no, scratch that.. this shit is FAR from normal..
and yet we thought this wuz the funniest shit around at the time ;)
yup, of all the documented symptoms of excessive alcohol..
this would hafta be the least understood..
hmmmmm.. yup..
let this be a lesson to the kids out there..
be VERY wary of the effects of alcohol and silly hats or THIS could be YOU on next week's blog! ;)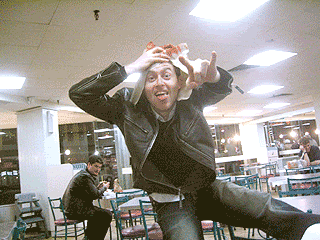 obviously tho.. we couldn't leave the joke at that, so we then attacked the guy cleaning the tables..
followed by the dude behind the counter..
and finally with the manager..
it's now well past 6AM and when you see half of your friends on the floor like this, you know it's reaaaaally time to go.. also freaky to note that we had to all leave, coz HUNGRY JACKS was closing for the night.. CLOSING!?? you mean to tell me this place on PULTNEY ST actually CLOSES!!?? I THOUGHT IT WUZ OPEN 24/7 AHAHHAAHAHHAHA.. sheeeeiiit.. this HAS been a reaaally long night :)
and thus.. I leave these lunatics on PULTNEY and proceed to walk all the way BACK to the west end of Adelaide (yet again.. faaaarrk!) in effort to make my eventual taxi all that tiny bit cheaper home.. yes.. yes indeed.. I am an idiot :)
and finally at 6:30AM I fall thru my front door home..
thus ending what wuz originally planned to be a QUIET WEEKEND out on the city.. and yet somehow ballooned into a horribly demented monkey rollercoaster into grinning oblivion.. as such is the unpredictable way of the gonzo music journalist :)
Previously on Spoz's Rant:
Idioteque