THE PRIVATE PSYCHEDELIC REEL
"one pill makes you larger.. and one pill makes you small..
and the ones that mother gives you don't do anything at all..
go ask alice when she's ten feet tall..
and if you go chasing rabbits.. and you know you're going to fall..
tell'em a hookah smoking caterpillar has given you the call..
call alice when she was just small..
when men on the chessboard.. get up and tell you where to go..
and you've just had some kind of mushroom and your mind is moving low..
go ask alice I think she'll know..
when logic and proportion.. have fallen sloppy dead..
and the white knight is talking backwards and the red queen's off with her head..
remember what the dormouse said..
FEEEEEED YOUR HEAAAAD!!! FEEEEEEEEEED YOUR HEAAAAAAD!!"
- White Rabbit (Jefferson Airplane)
sure, I could never claim to've ever taken enough surreality enhancing pharmeceuticals or otherworldy fungi to be worthy of such wacked out 60's song lyrics as these.. but on a seriously mindwarpin' mini weekend adventure such as this, horse tranquiliser, smurf hats and smiley faces weren't even necessary.. just drop the toaster into the bathtub when the insanity peaks, laugh hysterically as your brain cooks to a golden brown and you'd be halfway there.. coz whoaaaaaaaaaa duuude wuz this a fucked up trip! I can smell the colours and taaaste the muuusic maaaan! WEEEHAHAHAhahaHAHAhAhAHAhaHahaHA! :)
warning: do not operate heavy machinery or mix other medications whilst ingesting this blog.. symptoms may include seeing spots, dizziness, lapses of memory and the incomprehensible appetite for potato chips and 24/7 servo hotdogs.. tread with caution!
FRIDAY NIGHT
after last weekend had effectively hollowed my frontal lobe, filled it with fire ants and BBQ sauce and let it free to run rampage thru the city streets.. I knew I needed time to recharge.. I knew I needed some time off to rebuild wot sanity I had destroyed so gleefully in weeks past.. but of course, I knew I couldn't stay home and leave you poor monkeys living vicariously thru this site in the dark, huddled in foetal position in the corner of the room screaming in need of a fix.. so.. I headed out regardless, seeking a quiet and relaxing night on the town instead (or at least wot I considered to be "relaxing" hahaha)
and so, my adventures begin with a movie - PIRATES OF THE CARIBBEAN 2, at GREATER UNION in HINDLEY ST.. and um.. yeah.. I know most of you apparently LOVED this film, thought it wuz heaps better than the 1st and it's raking in absolute monkey loads of bank at the US box office and all that bollocks.. but after putting up with 2 1/2 hours of this shit, I really dont get wot the fuss wuz about.. (a) it was too fucking long, (b) most of the crucial plot points were explained to us by characters who were either drunk or dribblingly insane (seriously, did ANYONE understand wot that fucken voodoo woman in the amazon wuz ON about!?) and (c) most of the fight sequences (although funny in their own way) amounted to nothing more than slapstick and did NOTHING to move the story forward.. *cough* yeah, um.. I dunno.. I mean sure, that squid faced pirate dude DAVY JONES looked freaking awesome.. and there wuz some funny moments and some cool SFX.. but overall, I just didn't get it.. 4/10..
anyhoo, with the film near about frying what was left of my fragile mind, at 11:30PM I then left the cinema in search of some light relief to regain my sanity and went wandering off to JIVE to go look for it..
it was here as I'm walking in, that I spot this selection of funny looking novelty ashtrays.. I really didn't think much of it at the time.. but in hindsight, if I actually KNEW what these crazy things would represent, I could've been more prepared for what I saw next..
as I gatecrashed this truly bizarre west african dance party known simply as "JIGGI FRIDAY", featuring a selection of west african and jamaican DJ's banging out a fine selection of subsonic pounding bongo grooves and world rhythms, haphazardly cutting up the mix and taking turns to MC in wacky accents..
as the sub tropical heated venue filled to the ceiling with grinning african and jamaican dudes bumping and grinding with RnB style chicks to crazy world music rhythms and bongo drum percussive grooves on the dancefloor.. it wuz totally freakingly bizarre and did me head in sideways to witness it all (and the photo's don't nearly do it justice) but damn wuz it cool to watch (at least for the 2 beers I had here, before my brain couldn't handle it any more and I fled to the relative saftey of the CRANKA.. eeeeee!)
it was here, at the 'ol CLOWN N SPANKA, that I then bumped into the usual assortment of familiar looking grinning drunks, joined them in their usual cheerful dementia and enjoyed my usual toxic dosing of COOPERS PALE ALE.. or at least until the gas pipes feeding the beer taps broke and I wuz forced to seek all sorts of other ridiculous alcohol alternatives instead..
such as this infamous (and as yet unnamed) concoction of one shot tequila chased by one shot tomato sauce and 4 drops of tobasco.. with an additional ingredient tonight of cracked pepper sprinkled on top.. a damn tasty mix to be sure.. but I think the addition of the cracked pepper tonight wuz perhaps a little TOO much to handle *cough*.. ;)
obviously more stupid hijinx went on than wot little I'm mentioning here (it wouldn't be SPOZ's RANT any other way) but the hilarity of that particular photographic monstrosity I'll leave for later this week.. as fuckit.. I'm on holiday's tonight.. and I've written enough as it is..
suffice to say.. 4AM swings by.. we're all thrown out of the CRANKA after another exceptional (yet strangely relaxing) night out on the piss.. and I stagger blindly off into the night..
where I'm soon home by taxi at the oddly civilized hour of 4:30AM.. freaaaky ;)
SATURDAY NIGHT
now somewhat recharged and refreshed by last night's lo-fidelity dose of silliness.. it's back to the frontlines tonight for another round of live bands to do battle with my senses.. as I find myself at RHINO ROOM to see kaliedoscopic strangeness of CIRCUS ARCADE, ARTAX MISSION and LADY STRANGELOVE..
and it's been almost 2 years since I'd step foot in this wacky shoebox sized venue, since RHINO ROOM's utter lack of any detailed street gig listings has left me with the mistaken impression that this venue had just become an exclusive standup comedy and hiphopper haunt.. I mean, shit.. how wuz I supposed to know they had gigs here if NOBODY told me!!?? YOOOOU EEEiiiDIOTS!!
oh, and for random shits n giggles tonight I thought I'd also mix my stomach with equal measures COOPERS PALE ALE and HEINEKEN.. just to see where it would lead me.. hmmmmm ;)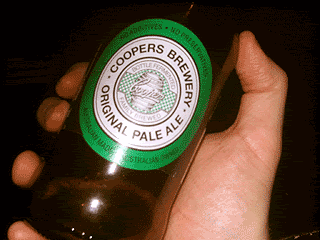 CIRCUS ARCADE
anyhoo, first up.. we have CIRCUS ARCADE on stage..
and yeah.. either this was their 1st ever live gig, so I really should go easy on 'em (all apologies if it wuz) or somebody was suffering a really violent case of food poisoning out there on stage tonight.. coz, holy crap did this shit lick some ugly arse donkey balls!
imagine if you will a cross between the thrashy sounds of "WAR" era U2 (with all them early 80's style funk wah-wah bass licks and two-tone militant grooves) mixed with the sounds of a dumbarse highschool band jam and led by a scruffy 5 o'clock shadowed lead singer who sung so whiny and horribly off key it made me wanna douse meself in petrol, light a match and throw myself out've a window to escape it all.. and you'd get an idea of what I had to endure here.. eeeeeeesh!
in all fairness tho' I reckon the backing band is still salvageable (I'd just lose the lead singer)
finally.. after an hour of this howling torture (an hour waaay too long) the band finally leave the stage and my bleeding ears find sweet relief as some lunatic DJ (one of the freaks from CENTRAL DELI BAND) whips up a cut up funk selection of tunes from his ipod to entertain the crowd..
ARTAX MISSION
which then brings us to the next band, ARTAX MISSION..
filling the venue with their wacky mix of artrock stonerism, squealing guitar noise feedback and ethereal delay pedal screaming from Adelaide's coolest freaking indie scene bass guitarist..
and this ever scruffy looking bong intellectualist guitar player, hammering out the kinda wacked out sounds that'd bring UFOs crashing around our ears..
I dunno if I'll ever really understand wot the fuck 1/2 of this shit really means..
as most of the songs consist of nothing but incomprehensible swirling strangeness, otherworldly howling and gutteral fuzz, intersperced with light percussive fills as it all bleeds into this one amorphous blob of a mind melting experience dripping from the walls..
and yet.. if yer ever into mind expansion and tripping balls into other existentialist planes of reality (and hey, who isn't?) then this is just the kinda smiling recreational brain damage for you.. coz hey, who can deny this midget bass player from hell, DAMN does she rock my world :)
obviously these lunatics have had a potent effect tonight, as their swirling cauldron of dissonance has come to attract all sorts of dribbling artrock enthusiasts, mental patients and chemical cosmonauts to fill RHINO ROOM tonight to damn near packing point..
LADY STRANGELOVE
as they're here just in time for the headliner act tonight, LADY STRANGELOVE..
and the weird-shit-o-metre flies a hard right turn into the red..
as the venue fills with the craziest, most fucked up, sublime audial cascade..
channeling what could only be described as the experience of a thousand chirping birds being sucked into a vortex whilst a field of low flying cows also spin around your head at hurricane speeds.. as we cue much screaming barely heard over delay pedal kaleidoscopic guitar, bass and keyboard textures.. tamborines.. melting saxaphones and hypnotic drumkit, machine and bongo beats..
making for some seriously mindfucking bizarre space alien shit you can actually dance to.. weeee!
yup, the place was packed to the ceiling with people flying off the walls and going fucking beserk on the dancefloor, the sound was pounding my eardrums to dribbling submission and all sorts of hypnotic spinning UFO lights were spiralling around in the near darkness at supersonic speeds.. the mothership had well and truly landed here at RHINO ROOM tonight.. hooooooly craaaaap wuz it insane ;)
for the next 1/2 or so after LADY STRANGELOVE finished, I wander around in an audial enduced narcotic haze looking for all the marbles that fell out've my brain, scattered all over the checkered dancefloor.. and attempt to dance like a retarded chicken to a selection of beats played from an ipod mix, constantly hijacked and kidnapped by a revolving series of idiots huddled around the DJ booth.. as I wondered wot the hell all those mismatched beers had done to my brainspace..
leaving RHINO at 1AM, I next find myself at the CRANKA.. where I then spot a few of the lunatics from TONY FONT SHOW.. only to be kidnapped by them, thrown into a passing car and relocated to ENIGMA.. where I spend the next hour or so drinking a few bottles of TOOHEYS with the resident xenomorph..
this then leads to ROCKET BAR at 3AM, where I proceed with the retarded chicken dancing to a gonzo mix of underground stoner hiphop, funk and indie electro.. and finally, as the vaguely civilized hour of 3:30AM flies by I then flee the scene.. floating thru the hindley cinema tunnels to north tce..
where I find my way home on the last $6 bus home.. making for one very cruisy night of mind melting psychedelic strangeness and funked out kaleidoscopic bliss :)
yup.. it may've just been a tiny weekend.. but, it's proved all the more fucked up bizarre as a result.. as not only did it feature a WEST AFRICAN DANCE PARTY and a MIND MELTING PSYCHEDELIC SET, but it has also been followed up today on SUNDAY by a 90th BIRTHDAY PARTY (whoaaa..) and will next be followed up this MONDAY NIGHT with the stoner ecclectic turntablist grooves of DJ SHADOW at THEBARTON THEATRE (stay tuned for shiny photo's of THAT later in the week!)
aaaaaaah.. can you just but SMELL the insanity in the air? :)
Previously on Spoz's Rant:
We Are All On Drugs