CORTEZ + DEJA ENTENDU + BEN REVI
LIVE @ THE ED CASTLE / Friday July 17th 2009
The world as we can envisage it is bursting with endless potential. I've been told for one that the human eye can distinguish anywhere upto ten million different colours and five hundred different shades of grey all within a visible wavelength spectrum of 380nm to 750nm. I've been told that the human ear can detect any sound from 16Hz to 16.384kHz in a 140dB dynamic range. I've been told that with nothing but the 26 letters, one million words, syntax, spelling and grammatical constraints of the English language we can express an almost infinite range of thoughts, feelings and expression. We have over ten thousand taste buds, three hundred and fifty smell receptors and anywhere between 1.5m and 2m surface area of touch and temperature sensitive skin. There's
approximately 6.7 billion of us
living on this planet (two hundred thousand more each day) all blessed with wildly different personalities and backgrounds, accumilating over thirty five thousand years of inherited culture (more than five thousand of which is recorded), adding over 161 exabytes (1.61 billion gigabytes) alone to the internet each year
and that's only by 2006 estimates
. In fact in just one human brain alone there's so many synaptic pathways at work that they actually outnumber the gross quantity of atomic particles in the known universe. It's all around us, it's everywhere we go, it's in our heads, it's constantly communicating back and forth, it's an information overload day and night, and we can't get enough of it. Sports, theatre, politics, food, drugs, sex and religion. Movies, television, radio, phones, books, magazines, newspapers and the internet. Myspace, facebook, twitter, youtube, bittorrents and wikipedia. It's a riotous explosion of colour, there's so much to see and do, we're scrambling to keep up, and then all of sudden winter comes along and now I've got nothing I can freaking write about!? FUUUCK!!
Once the rains kicked in I knew I was in trouble. It happens every year. The city all but shuts down and
goes into hibernation
. Within weeks its like a sensory deprivation tank. Nothing but long nights, dark days and flashing command prompts. Nothing but DVD boxsets, Hollywood blockbusters, reality TV and lame repeats (thanks to the US "summer silly season") nothing but grim survival. I probably should shut up shop till spring but I'm digging through the ice like a crack addict in search of anything to inspire me, in search of anyone still foolhardy enough to party in the frozen food section. They're few and far between but
they're still out there
, I'm sure of it, I'll take anything I can get my hands on! I'll take that bus into town tonight, not at all concerned that I'm the only one on it save for that "axe murder" with the shit eating grin. Barrelling down emptying streets strewn with windswept garbage, littered with cop cars flashing sirens, swerving to miss prams and shopping trolleys scattering midstream. It might be "
Shaun Of The Dead
" for all I care, it might be the
apocalypse
(again!?) but if there's fires still burning I WILL FIND THEM! Yup, this won't be me scraping the bottom of the barrel here at The Ed Castle, no matter how "weirdly ecclectic" it may appear on the surface. This is ANY port in a storm. This is me insane in search of asylum. Let the bears sleep in their caves tonight, there's still plenty of adventure to be had!
BEN REVI
(****)
myspace
::
Which makes our opening act all the more welcoming. Just when you're running out've words to write this winter, he's a gift that keeps on giving. You may recognise him as the lead singer for
Cheer Advisory Council
(the name he's billed under for tonight's performance). You may recognise him as one half of
Humble Bee
(the awesomest two piece twee "glock rocking" act you've never seen). You may even recognise his name as my running punchline whenever I compare any of Adelaide's
upper echelons of gangliness
to his head exploding levels of "
über goober
". In fact if ever you've seen me use the term "newborn giraffe" before and wondered just where it came from: right here would be your answer (thanks to the expert "team of puppeteers" acting on his behalf whenever he fronted
Meanwell College
). Yup that's Ben Revi. I could practically write a book on this guy and it'd be nothing short of New York Times best seller. He's "Curb Your Enthusiasm: The Musical", he's Adelaide's answer to "Woody Allen", he's "E.T. the Extraterrestrial" with a six string guitar; and he's absolutely shitting himself over what I might write about his solo set tonight. So much so in fact that he suggested I should whip up an article detailing the political turmoil gripping Iceland instead (as they argue over whether they should join the European Union) as surely THIS would be so much better than
anything else I could come up with
at his expense. Which granted, would've been genius at the time: as their 63-seat Alþingi parliament was STILL locked in heated debate over the issue (and had been for the last five days), surely providing plently of high drama in lieu of a live review. But since they've
subsequently voted by a narrow majority
to set in motion an application to join the EU: Ben Revi's valliant attempt in misdirection has been rendered all but moot. Still he has very little to worry about (and you gotta give him credit for trying) for Ben Revi is a more than accomplished solo artist. With a performance style somewhat akin to The National mixed with the guitar work of Mazzy Star (and a singing voice rather like an HP pencil) he'll take to a stage with a humble yet articulate flair. Beginning the set with an inspired cover of an obscure
Swedish singer songwriter
(Jesper Norda's "Tomorrow You'll Be Forgiven But Tonight You'll Have Your Teeth Knocked Out") he sets a blissfully melancholic mood. A mood he'll reinforce with witty banter like: "when I'm not sleeping or feeling sorry for myself I like to play in a band" and "how's everyone going? all good? well let me try and fix that by playing depressing songs about bad things". His songs breathe with contemplative spacing and richly anecdotal phrasing. Even without his band
Cheer Advisory Council
to back him up, his extensive selection from that repertoire still shine through: thanks to the stage sound (with its strong use of reverb and delay) giving Ben's voice a light "backing harmony" (almost as if a ghostly chorus is singing along with him). It suits the quiet desperation of winter beautifully, it draws the crowds in from far and wide like moths to his flickering flame. Yup, as far as opening acts go tonight, you really couldn't ask for better!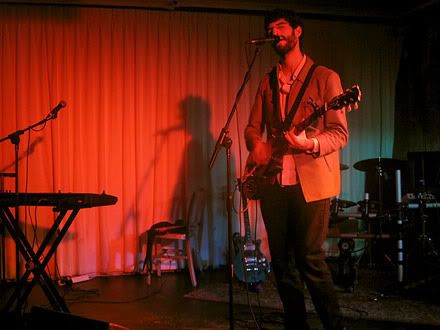 DEJA ENTENDU
(***)
myspace
::
Which makes our second act (one loud and proud "candy pop" ensemble from Melbourne) all the more confusing in following. Still they're not totally alien from the outset. You may recognise their lead singer Jack Arentz as the former fifth member for
Skye Harbour
. You may recognise their lead guitarist Anthony Wignall from such Adelaide luminaries as
The Keepsakes
,
Oh My Guard!
and
Zeta
. You may recognise their exciteable keytarist Claire Rayner from
any given episode of Video Smash Hits
(circa 1985 to 1989). You may also have been given fair warning what to expect tonight thanks to the most ridiculously extensive sound check I've ever seen undertaken at The Ed Castle since
The Waterslides
debuted here back in
August last year
. Yup, in many ways Deja Entendu truly mean "business". Think of the inspirational anthems of Nickelodeon, Disney and the collective works of Aaron Spelling. Think of the stirring Japanime themes to Dragonball Z, Pokémom and Astroboy (and how they make you want to shoot flames out of your arse and fly). Think
P3
and
The Peach Pit After Dark
. Think of the raw power of "
Sparkle Motion
" from Donnie Darko. OH YES! they're that kind of insane! In Jack Arentz you hear all the pop hooks of Iva Davies from Icehouse mixed with the impassioned pleas of Patrick Robertson from Motor Ace (most especially "Death Defy" the former theme tune to Australian drama "
Secret Life Of Us
"). In Claire Rayner (with her bouffant hair and short short skirt) I'm reminded of all the eye-gouging awesomeness of Samantha Fox, Hilary Duff, Collette's "Ring My Bell", Christina Applegate in "Married With Children" and a shortlived thing I had for "
She-Ra: Princess Of Power
" back in the late 80's (don't ask); in every sense of the word she's the epitome of "Rock 'N Roll Barbie". Even weirder the minute Anthony Wignall takes the lead, they sound just like The Shins (so much so that many may wonder just how the fuck he ended up in this band!?). Yup, Deja Entendu truly makes my head explode in the "best way" possible! They make my ears piss rainbows of pure joy! With all their radio friendly vocals, children's television inspired power ballads on the keys, menacing techno breakdowns of Corey Schneider on the drums and Anthony's shredding hooks on the guitar it's a lethal combination; they hold NOTHING BACK. Is it Daft Punk's "
Discovery
", Linkin Park, Roxette or
Rick Astley
? who the fuck knows!? They have so much to offer me all at once that I'm twitching in a corner attempting to put all of it together. Understandably it makes for a mad jumble of a performance as they switch between all their insane extremes (sometimes in the same song) but in what they lack in focus live they more than make up for in enthusiasm. So when Claire Rayner grabs the microphone and pulls a "
girl's night out
" on that second to last song: like the bastard child of Suzi Quatro and Cindi Lauper.. duuude it's like all my Christmases have truly come at once! Deja Entendu: they're like nothing else I've ever seen.. what's NOT to love!?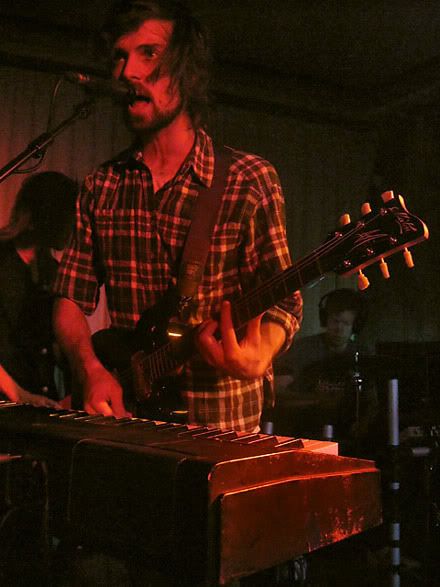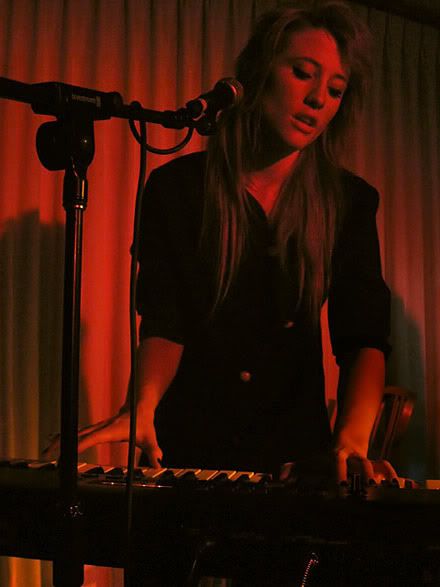 CORTEZ
(****1/2)
myspace
::
After everything else I've experienced from our opening to our second act, I have no fucking clue where my head is at. From Deja Entendu to our headlining act (an archetypal blue collar 90's guitar shred no less) the contrast is no less extreme. It's like an explosive hit of the bends, there's a soda stream of bubbles shooting for my brain, and if it weren't for all the beers I'd been slamming down fast to "balance this equation" I'd be long gone and licking the walls by now. Still it doesn't make THIS band any less welcome, far from it, I welcome the insanity! Cortez. In a nutshell they're a time capsule to the Adelaide scene circa 1995: back when grunge, indie fuzz, funk metal and prog reigned supreme. Back when you could've heard all manner of artists just like Cortez playing gigs at The Austral, The Exeter, The Royal in Kent Town, The Tivoli, Producers, Seven Stars, Madlove Bar and The Crown & Anchor. Back when it was all about the east end. Back before the pokies and all those noise complaints fucked it all up for almost a decade. Back then there wasn't any myspace or facebook. Back then there was hardly even an internet. It was next to pointless trying to be a "fashion band"
even if everyone STILL dressed alike
. It was raw as fuck. It was all about filling a room, cranking that volume, drinking yourself retarded and rocking out. Sure most of the bands were shit but we couldn't care less, it was ALL about the buzz. And in many ways Cortez encapsulate that "buzz" with NONE of the shortcomings. Featuring Tom Spall and Ben White (formerly from
Mirrorline
), Gabe Phillips (formely from
Loemax
) and James Hasting (formely from nowhere in particular.. he just liked to hang out with 'em and drink a lot) they're grizzled war veterans through and through, scene survivors from the depths of the dark ages. It shows in the desperation and conviction in which they tear into their instruments. It shows in the precision in which they carve up a live stage. They've been at it for years. They've truly got an axe to grind. In their songs tonight you'll hear everything from Helmet, The Mark Of Cain, Grinspoon and oldskool Something For Kate. You'll hear You Am I's "
Berlin Chair
", Shihad's "
My Mind Sedate
" and Nirvana's "Scentless Apprentice". In many ways they share a lot in common with
Children Collide
too: only Cortez are that much heavier. In all their angst, their agression and their shrieking catharsis you can't help but let loose like a wild animal. Every instrument is gunning, blunt edged, bludgeoning and carved out of meat (which is all the more awesome considering half the band are vegan). In the dumbest way possible it appeals to your Y chromosome (whether actual or abstract), your inner caveman and makes you want to unleash. In the smartest way possible it articulates that shit beyond a cliché, personalises it and helps it to find peace. Yup, it's not all that difficult for me to dig this shit, in all honesty this is where I began. Better yet, after all these years broadening my tastes to
ever more ecclectic extremes
it still hasn't lost its buzz. Cortez. If ever you're looking to defuse that ticking time bomb, if ever you're looking for release.. this is where you'll find it!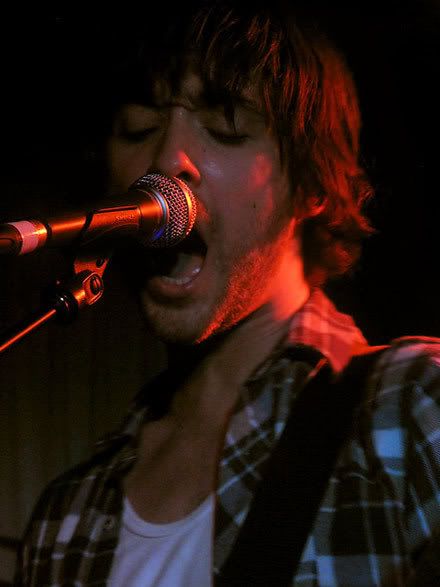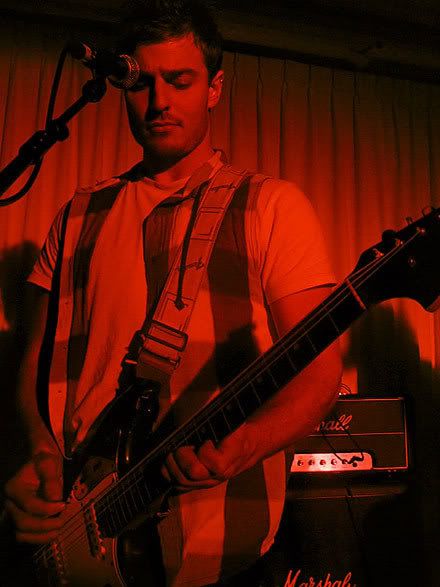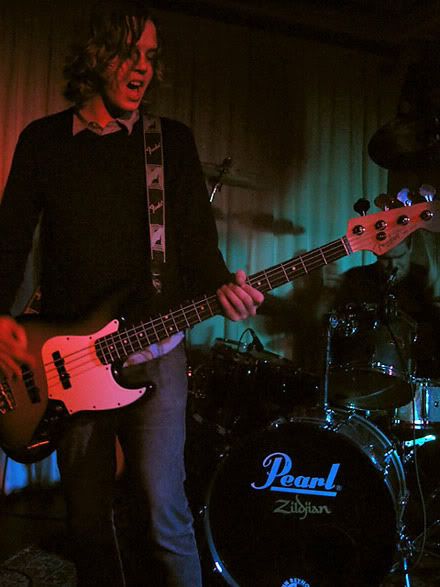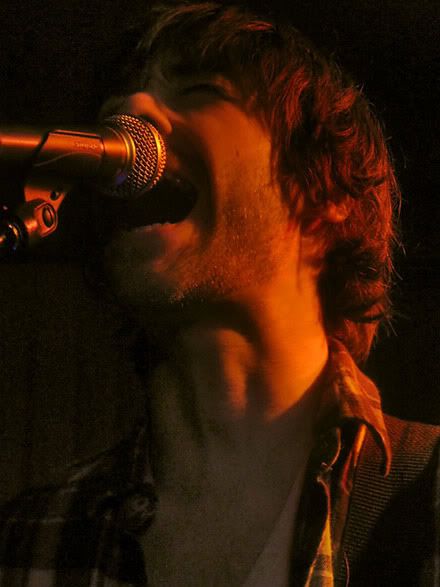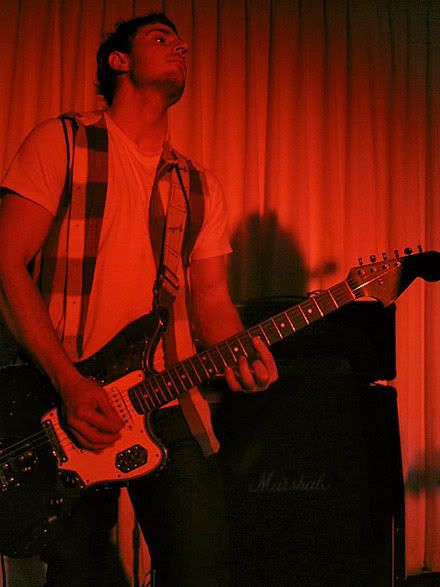 1:32AM
- With the live entertainment all but over for another night (short of throwing bottles at the buskers in Rundle Mall and defiling the bronze pigs once again.. aaaah good times!) the crowds scattered for the beer garden and the bar again to drink their fill of the night. In following I chose a little of the former and a LOT of the latter: the details of which were clearly SO skull fuckingly awesome (in the next hour and a half that I was here) that not only was THIS photo of Ben White's drumkit the absolute highlight, it was the only photo I felt worth publishing. I know! isn't it awesome!? I mean as much as I would have loved to give you photographic evidence of the ridiculous new "Sideshow Bob" dredlocks that
Nick Bastiras
(formerly of
Tyger Tyger
) is now sporting, or how hilariously drunk
Travis Williamson
(their former lead singer) might have been, or any details concerning
Azz Strangelove's
DJ set!? Right HERE is where it's at maaan! Just look at how high those cymbals are!? SHIT DAMN duuude.. it really don't get crazier than that tonight!!
3:02AM
- Upon leaving The Ed Castle I'd all but given up hope that there was still life left in this city: nothing save for the muffled sound of my own footsteps, the fleeting glimpse of taxis fleeing down the wrong sidestreets and the menacing chill of boney white fingers stripped of green reaching out into the void (wow, and I make it sound so poetic too?). Until I caught whiff of THIS sign down Currie street and I shit you not maaan it changed everything! Sure I couldn't be certain what it read, whether it was: "no entry", "no gherkin entry" or maybe it was simply meant to be ironic and there were actually gherkin's aplenty (hmmm come to think of it I really didn't WANT to know!) either way it was clearly THE place to be! Once I figured out the arcane and intricate mechanism by which I could enter (as obviously I WASN'T a gherkin) surely a stupendous realm of fantastical riches would await me.. or *cough* maybe I simply fucked off to Supermild instead.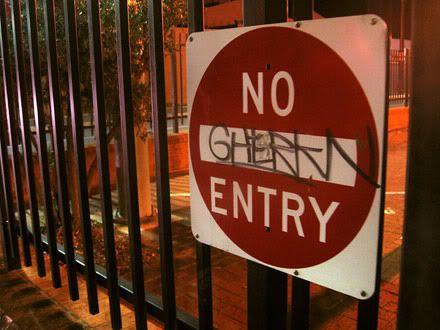 4:23AM
- And it was here that I found them: deep underground, huddled for warmth, like an entire ecosystem exploding into life around a deep oceanic vent (or perhaps just down a small flight of stairs on Hindley Street.. I mean shit, let's not get TOO dramatic!). OH YES! winter has no meaning or measure for these brave fools, out at all hours, drinking their fill of the night. Like Lee and Rich here formerly from
Tony Font Show
: who's sole reason for appearing in this blog tonight is because they bugged me for a photograph for the past five minutes and I was way too drunk to argue.
4:47AM
- Or this bag of "mixed nuts" leaping out from behind the DJ decks just now. Look at all their smiling faces! Doesn't it make you want to scream hysterically, throw furniture at them and run like hell!? yup they're MY kind of people alright.. no wonder I go here so damn often! YEAAAS!!
4:54AM
- In fact everywhere I turned it was a hive of activity. It was a locust swarm, an exploding shitstorm, the be all and end all box social, shindig AND hootenanny of the century. So much so they had to call in extra security to contain it, then the police, then STAR division, then the army, then they simply gave up altogether, brought in the bulldozers and sealed it up in concrete like Chernobyl.. WOOOOO!! Or yeah, maybe everyone simply fucked off home moments later because it was closing time. Still for pissy 'ol Adelaide in the dead of winter it was better than nothing!
In winter it's all about survival. It's a vibrant colour spectrum reduced to a black and white. It's a symphony orchestra reduced to a dialtone. It's the entire universe reduced to the basics: eat and drink, work and sleep, life or death. It's your mind playing tricks on you in the absence of light. Do whatever you can to get by: be that squirrel, gather those nuts, stock those shelves and ride out that storm. It's only three months, we're already halfway through. It may feel like an eternity but it'll all be over soon! And if worse comes to worst and there's absolutely nothing left to see or do!? look on the bright side: at least there's always videogames and an internet full of porn!
Previously on Spoz's Rant:
Yves Klein Blue + Philadelphia Grand Jury + The Shiny Brights