TAME IMPALA + LADY STRANGELOVE + LIKE LEAVES
LIVE @ ROCKET BAR / Thursday November 27th 2008
Of the many illbient, illogical and insane subgenres known to frequent the Adelaide scene, none so are more prevalent and readily misunderstood than the "psychedelic". Born from an ever expanding suburban ghetto of decriminalised marijuana and existential ennui, they are the fungal spores and stem cells from which all other musical memes invariably spring to and fro in search of their meaning. They are the gatekeepers, the soothsayers, the shamans, witchdoctors and idiot savants to the unassailable (yet frequently incoherent) truth. Indigenous to the western suburbs, to the southern expanse, to the sandy beaches, overgrown foothills (and pretty much anywhere else that there's a lecture theatre, foodcourt, dole queue or crawlspace to sustain them) they're the ones showing us through the doors and stumbling head first down those stairs in the feverish following. You'll find them in abundance at the Ed Castle, the Metro, Supermild, Urtext, and The Exeter. You'll find them huddled in your beer gardens, slowly swaying, heads bowed, smoking trees of weed. They're the chronically unemployed acolytes to the infinitely inspired. They're the ones clad in mad rags, tie-dyed, tea cosied, corduroy unkempt, dredlock bedraggled with wild staring eyes. United by a love of Syd Barrett, Jimi Hendrix, Led Zeppelin, The Stone Roses, Chemical Brothers and The Music's first album. Vehemently opposed to all things metrosexual, angular, skinny jean assymetrical, post punk, geometric, electro and The Music's third album. They do not begin and end with MGMT or Empire Of The Sun and it takes more than just a lava lamp, two tabs of acid and an indian headdress to define them. I've been studying them for years: ever since artschool and those endless nights of Ren & Stimpy, The X-Files, UFO conspiracy theories, Star Wars, Lord Of The Rings and The Matrix. I've lived amongst them, played their game of hacky sack, observed the many wild and whimsical shapes with which they craft their bongs: in double barrelled, bucket and gravity; in wizard, water bottle and novelty pez dispenser. It's taken forever an age to truly understand them, to walk amongst them, to be accepted as one of their own and yet I'm ever so proud to call them sisterhood and brethren, mad children of the moon and sun, I've cheered as they've thrived and grown; as they do not accept outsiders so readily. Hidden from view, forever vigilant in clouds of altered consciousness rendered resolute and inviolate; they're the much needed antidote to everything that is mainstream and monopolised by the "man"..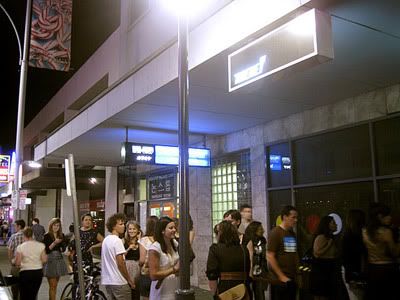 And yet tonight their cherished status as the impish outsider will be challenged like never before. They'll be overwhelmed by the tourist, the token traveller, the daytripper and the dilettante. They will face off against the popular, the mainstream, the monopolised, and everything else that they've fought against: all thanks to an interstate invasion by Tame Impala, their record label Modular and all the hype and hysteria that follows from being a high rotation artist on Triple J. We've seen it all
before
, we'll see it all again. They're the million and one emails I've been getting every damn week for the last three months detailing their every waking move. They're the fevered word of mouth, the buzz on the streets, the posters and the flyers and me beating my head against a wall everytime I hear "Desire Be Desire Go" thrashed to within an inch of its life. They're the "next best thing"! They're the "new Wolfmother"! They're the ridiculously long lineup of people waiting outside extending all the way from Rocket Bar to the Rosemont for over an hour before the show! They're the hellborn beast (of near mythological proportions) that all psychedelic scensters vow to destroy! Don't believe the hype, defy them at every turn, make those fuckers pay!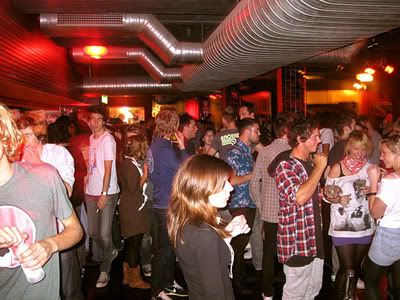 So the plan was clear and simple, we knew with grim determination what had to be done. And yet there would be no malice here, no animosity nor open acts of aggression this night, oh no! We would never stoop so low. We would simply welcome Tame Impala with open arms, we would kill them with nothing but kindness! We would welcome their brainwashed masses, their blithering idiots and their "popular vote" to our wonderland of weed and whimsy with nothing but smiles! Then we would show them just what our Adelaide psychedelic scene REALLY had to offer.. OOOH YES! There'd be blood, teeth and bat guana all over the walls. There'd be claw marks on the ceiling. There'd be nothing left at the end of it other than a vapour trail of green smoke, a mile wide crater, a chorus of blasted shadows burnt into the surrounding buildings with beaming smiles and three hapless fools from Perth wondering just what the FUCK hit them! They'd crawl back home with their tails between their legs tonight and they would tell this mad and improbable tale for generations to come. Why? who the fuck knows why!? does anything this shitcrazy scene do ever make a dick of sense? fuck no! but we're sure as fuck going to do it anyways! No pissy little interstate psychedelic invasion ever encroaches our shores without swift retaliation!! This will be their Vietnam flashback, this will be our shining moment of glory! This will be THE territorial pissing contest to end all territorial pissing contests! YEAAAAS!! We will own this night!!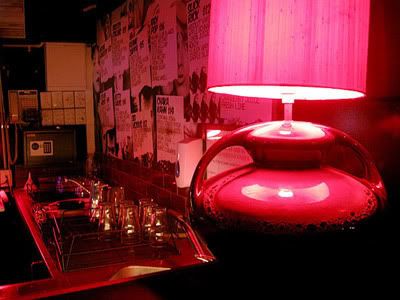 LIKE LEAVES
(****1/2)
myspace
::
And thus we present the first wave of our attack (or what we laughing like to call our first "support act"). They begin their set silent but deadly with an instrumental, like a creeping fart in delay pedal and guitar that slowly fills the room with a soothing gas, drives us deleriously out of our minds, then lights the match to finish the job. Or in more tangible terms rather like what Neil Young and Eddie Vedder might sound like performing the filmscore to an existential crisis involving a few too many mad hits of peyote, a five hour "blackout", and you waking up as a triple homicide suspect, locked up in a Mexican prison, missing your left shoe. An odd choice to be sure (and even stranger in the mental imagery it conjures) but more than fiendishingly effective all the same. And yet this barely covers the half of it, the real magic mushroom is unleashed in the second song the minute Patrick lets loose on that bass. It's that unmistakeable chugging groove: midway between a cyclic mantra and a burning pig on a spit, like Les Claypool from Primus crossfaded with a spaghetti western, that coupled with Ryan's articulate percussion and Daniel's hypnotic guitar work takes this mad trip to a whole new level of BBQ flavour. Like Leaves. They're everything that is awesome about Josh Homme's Desert Sessions mixed with My Disco, in a trance, stoned on shrooms, and growing fur in all the weirdest places. They're the ultimate road movie that pits Easyrider against Mad Max 2 and then throws in the closing scenes of Close Encounters Of The Third Kind as an encore. They're an entire audience burnt to a crisp, exposed to the elements, bones picked clean by the circling buzzards, and yet loving every damn minute of it! You can smell it, you can damn near taste it. Like Leaves. They're a psychedelic sight and sound you can feast on for days!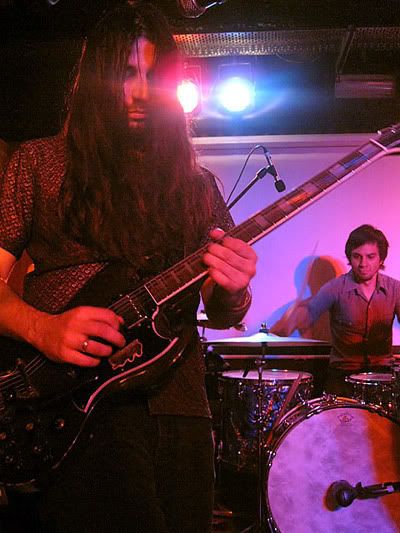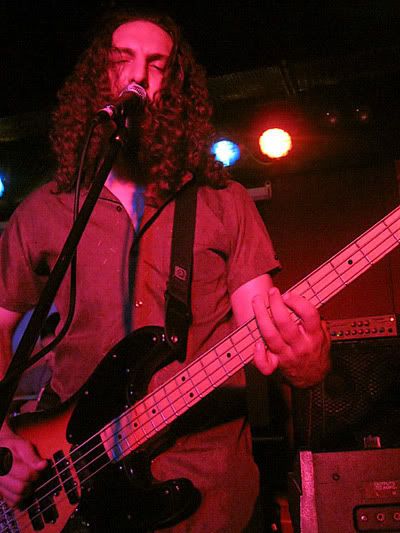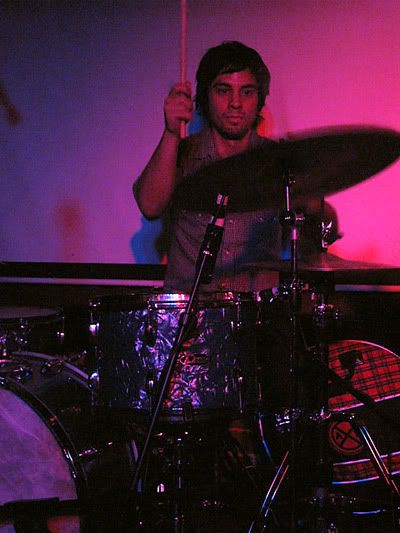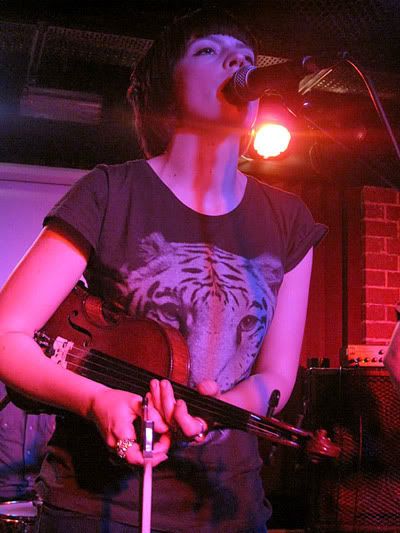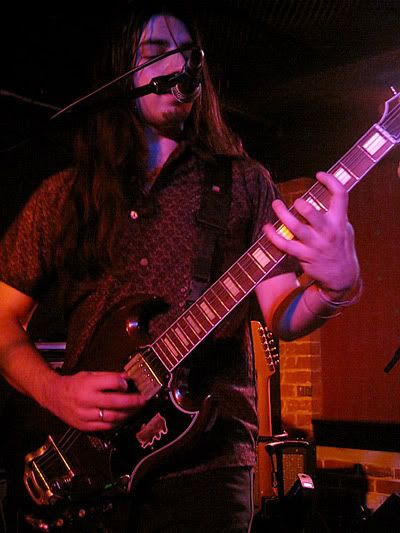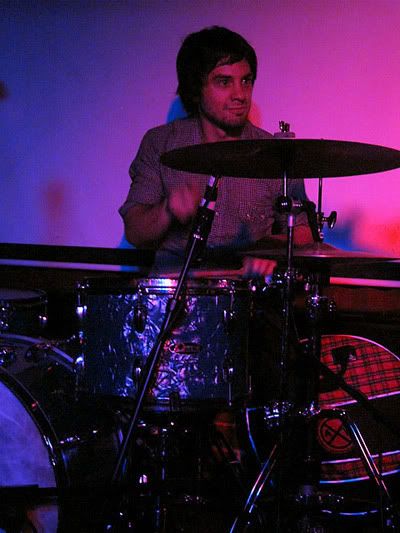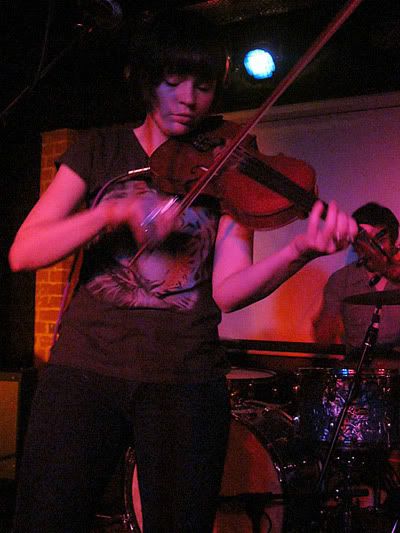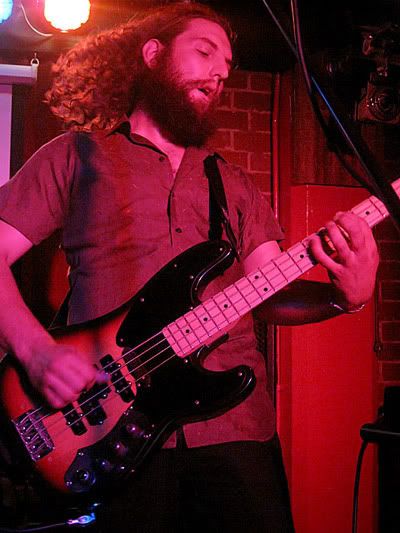 And tonight with this entire performance all boiling down to just how much they could upstage those "interstate upstarts" Tame Impala, piss all over their ashes, pause, then piss all over them some more (aaaah you gotta love sibling rivalry dont'cha!?) you just knew there was no holding back! This was war! This was every one of those shoeless hippies you'd find in the beer garden afterwards at the Ed Castle actually being able to look you in the eye! This was everything! It was that mad jam they did that channelled all the best moments of Gerling's "Children Of Telepathic Experience". It was the face melting funk blast that sounded like all the best moments of The Mars Volta's "De-Loused In The Comatorium". And it was the sight of Will Spartalis totally losing his shit out front here (which short of Thomas Mayhew from Wolf & Cub passing you a monster spliff is the highest honour you could possibly EVER bestow) when they paid homage to the posthumous birthday of Jimi Hendrix with an awesome free-wheeling ode to "Manic Depression"..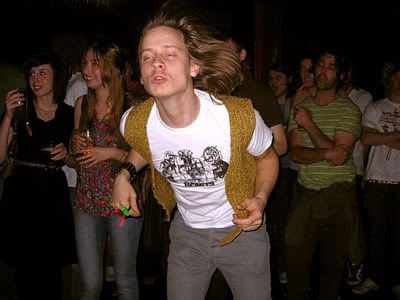 But that wasn't all. Not willing to settle for just passing that camel through the eye of a needle, followed by a herd of buffalo, a breakdancing giraffe and a pod of whales, they pulled out the ultimate trump card: they brought Juliet Hunter. Yes, THE Juliet Hunter. The ever infamous female bass player, co-vocalist and living legend from none other than
Artax Mission
, the most fuckoff awesome ode to seeing all of creation implode into your third eye and explode out of your third nipple since, well, pretty much the last time that shit has ever happened (and I dunno about you but I haven't experienced THAT unique buzz since
April 7th 2007
). Oh yes! The look on your face halfway between bewildering confusion "duuude.. who the fuck is Juliet!?" and dumb struck recognition says it all. This was no mean feat. This was the impossible made possible. And this song that they performed together: sounding like all the best bits of My Bloody Valentine, Interpol and Sigur Rós all at once is nothing short of a moment in history, splattered as a headline on the front page of a toilet roll of blotter acid, that this teeny tiny youtube in following (and its waveringly erratic audio capture) couldn't possibly hope to contain in all it's illbient genius. FUUUCK!
Now you're probably thinking that this would be more than enough shit to put any headling act through. We've proved our point. We're whiny little bitches. We've got a chip on our shoulder the size of a small orbiting moon. We've been dumping all our shit on Melbourne for decades, we've been dumping shit on everyone, we've been dumping it all floating face down into the River Torrens cause we're homicidal maniacs. Let's face it, we're jealous of the opportunities all those other bands get in every OTHER city in this country, we truly think we're better than all of them and THIS is the real reason why the rest of Australia hates us. I mean what the FUCK!? Tame Impala don't deserve this. Nobody deserves this. I'm sure they're perfectly decent once you get to know them. I'm sure Modular's tireless investment in them will make up for all the damage they've caused to everyone ever since they signed Muscles (*cough*). But we all know Adelaide won't leave well enough alone. Not when we've got another insane offering up our sleeve. Not when we can piss all over them some more with THIS our second so called "support act"..
LADY STRANGELOVE
(****1/2)
myspace
::
Lady Strangelove: in those two words alone you just KNOW we ain't fucking about with this shit. They're a blind terror that knows few equals in the Adelaide psychedelic scene that in the experiencing of is rather akin to a mix between the world's most awesome rollercoaster ride and you being found by the cops five weeks later, yammering about space aliens lost down an interstate highway somewhere missing a spleen. And I readily admit, it's been a long time coming since any of us here (or anywhere else in any other plane of reality for that matter) have stood ground zero to a skull-fuck sensory overload anywhere near to the magnitude they unleashed tonight. There is no richter scale to define this level of carnage. There is no electromagnetic spectrum that possibly could hope to contain it for objective analysis. They are a doppler shift beyond all other reference points (save for the most stupifyingly incoherent of nonsensical phrases I often employ in effort to describe them). Lady Strangelove. You may remember them from the last time I wrote a review that involved an amazonian rainforest imploding through the singularity of a blackhole, followed by a pantheon of pagan deities crapping into a windtunnel. You may remember words involving a pyramid of hippos pulled inside out and letting lose a golden shower of singing tree frogs and lickable toads. You may remember me referencing all the above, the closing scenes of 2001 Space Odyssey, the book of Revelations, and one of those Japanese cartoons that causes seizures. Yes, they're one and the same, they're Lady Strangelove; and yes it truly HAS been a long time since they've pulled a set quite like this! They haven't tapped quite this level of psychotropic shitstain since all of their musical equipment (and a sizeable amount of Josh's "brain medicine") got stolen back in May, since the many months of rehabilition that followed soon after when they had to teach Josh how to walk and talk simultaneously without bursting a kidney, or when Damien wore
THIS
hat, or when Brendan and Azz drove Craig Nicholls
insane
and The Vines had to cancel their Australian tour (or anything else I could've ever hoped to capture on video before) but tonight, they're well and truly back with avengeance!
That's Lady Strangelove, that's the first song of their brand new set, and this is me writing this live review using nothing but the faint binary flickering of my left eyelid hooked up to a mind machine interface, as surely after witnessing all of THAT insanity first hand all my innards and my endoskeleton have since swapped places, gone all the colours of the rainbow, opened up a wormhole in time and space (and that alternate dimension without shrimp) and pretty much shat itself. Yes, I know, this ISN'T the first time I've faced this band in the field of battle (not by a
long shot
), I should've learnt well enough by now, but it's amazing how soon you forget all the "finer details". Lady Strangelove. For those of you still unitiated: they could loosely be described as existing anywhere between Chemical Brother's "Come With Us", Led Zeppelin II, The Music (only the first album, never the 3rd), Pink Floyd circa 1965-1973 and any sentence that would otherwise involve me tripping balls and crapping out a thesaurus. On record this would just about cover it. Live however is an entirely different beast. Live they're next to impossible to listen to for extended periods of time shitfaced drunk without suffering a fullblown psychotic breakdown on the dancefloor, they're next to impossible to photograph in any kind of clarity without defying most of the established laws of physics (which apparently I no longer have any problem with) and in the combination are quite like standing in the eye of an atomic blast wearing nothing but a pair of novelty boxer shorts and holding up a tiny umbrella whilst someone screams incomprehensibly inches from your face. Or in other words, duuuude they're just MY kind of batshit insane!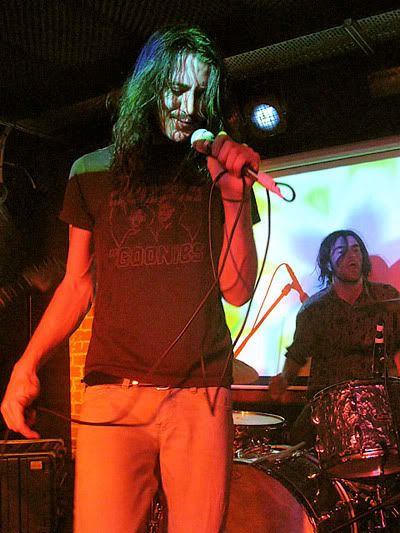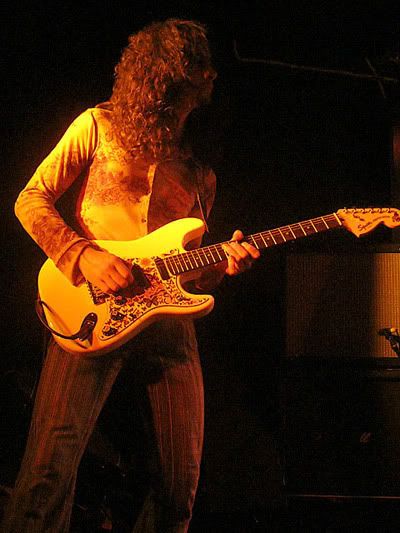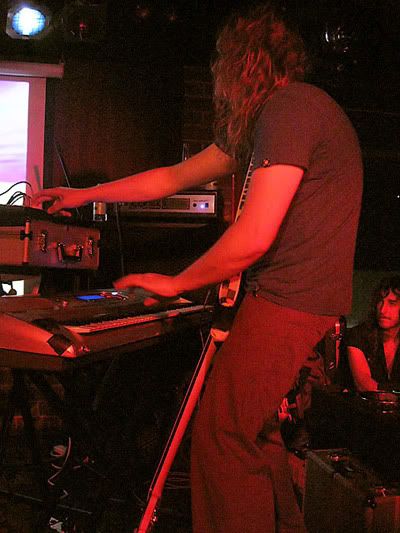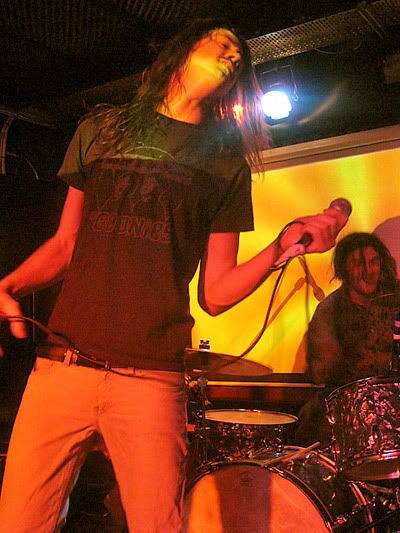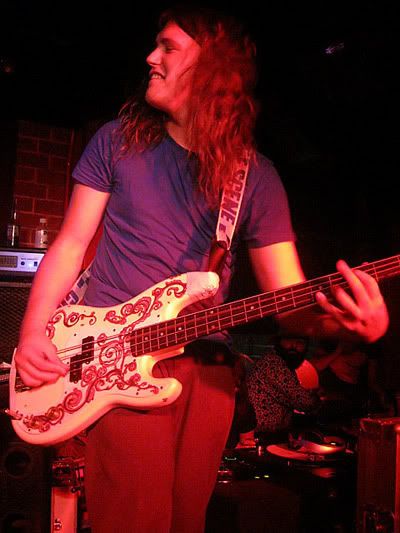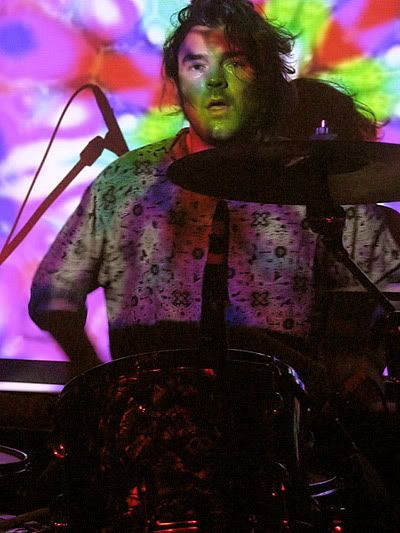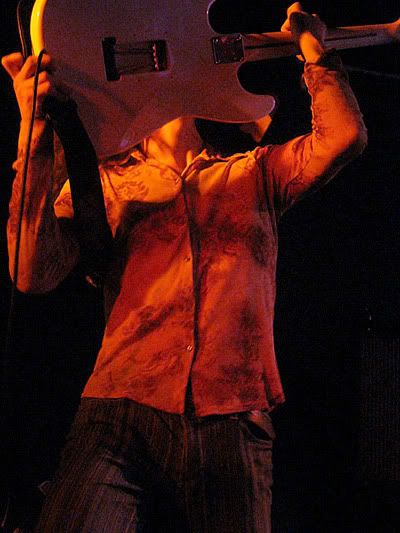 Lady Strangelove. If ever you wanted to experience what it would be like to have every molecule in your being converted into pure energy, ones and zeros, shot through a Star Trek transporter device and remolecularised at the other end only to repeat the whole process like a strobe light back and forth for an hour at a time: THIS would be it. If ever you wanted to experience your own birth again whilst channel surfing through every one of your former and future reincarnations in between on a lethal dose of LSD: this would be it. Or maybe the first few seconds after the Big Bang that created the entire universe as seen inside of a giant kaleidoscope? Passing through a blackhole singularity gang fucked by clowns? Snarfing an entire packet of Pop Rocks whilst skolling a Pepsi whilst being shot in the groin repetively by a paintball gun? With Lady Strangelove all things are possible (with the possible exception of being able to survive THIS live video without welding goggles, bulletproof shielding, scuba gear, and a full nursing staff present). Few headlining bands could ever hope to withstand such an insane (and totally unwarranted) terror as this. This is another amendment to the Geneva Convention. This is your teeth being scraped off the walls behind you with a spatula. This is all the rest of you stuffed into a "doggy bag" and taken home by your next of kin. This is the end of life as we know it! Welcome back Lady Strangelove! Fuck DAMN it's been too long!
TAME IMPALA
(****)
myspace
::
Which brings us to our headlining act, and to put it mildly, they were well and truly shitting themselves out there: they were shitting bricks, cinderblocks, coconuts, pineapples, refrigerators and cars large enough to fit at least nine clowns, who in turn were shitting themselves even tinier bricks, cinderblocks, cococuts, pineapples and so forth. I believe some kind of analogy to a series of russian dolls could be referred to at this point (quite possibly to distract you from all the other talk of nonsensical novelty fecal matter I seem to see fit in throwing into this live review) but I believe Tame Impala said it best when they were heard to remark in the opening of their set: "whoaaa you totally blew us off the stage, we should've been supporting YOU GUYS instead!!". They knew Adelaide wasn't to be fucked with. They knew they'd faced against a more than worthy adversary. And it was at this moment that we soon realised just how foolish we'd all become with this "contest" and that none of this shit (figurative or otherwise) truly mattered. We embraced this band, not with knives behind our backs but with genuine admiration and respect (whilst also secretly wondering just what we should do about all those explosive charges we may've "accidently" wired up in their touring van). Tame Impala, they're one of us now! Sure they're not the volatile shred of Lady Strangelove phase shifting through dimensions of time and space, sure they're not the hypnotic suggestion of Like Leaves with a thousand dappled notes cascading before us, sure they didn't nearly have the same impact as the two of them combined but in many ways they didn't need to. They're a different recreational buzz altogether. They're the chillout set we all deserved after all that apocalyptic onslaught. They're the slow acting, slow release, languid groove of an entirely different mental disorder. They're a body stoned jam of blurring shapes and colours. They're a Sunday afternoon spent staring into space watching the sunbeams dance. They're everything that is awesome about a world full of nerf, poking your outstretched fingers into all the spongy surfaces and laughing retardingly at just how awesome it feels after a few too many "funny brownies". They may come from another world, their customs may be altogether strange and they may produce curious smells but they've come in peace: they've come to unite us all!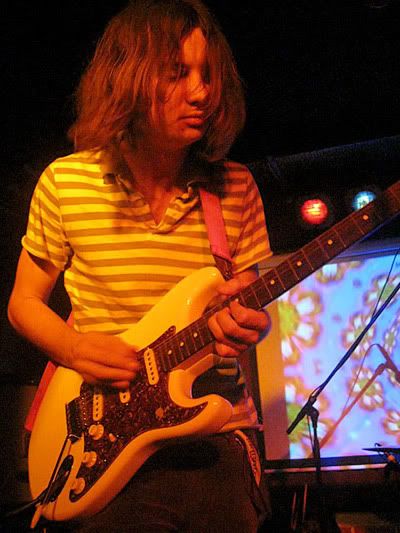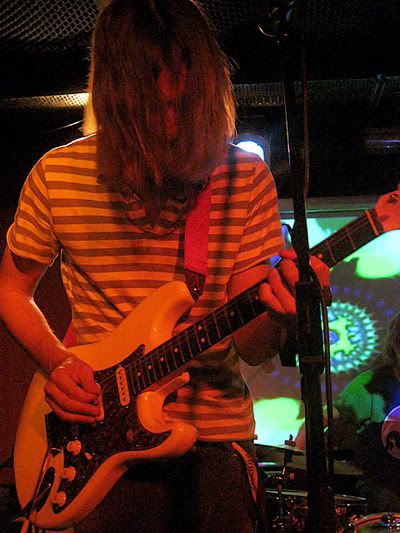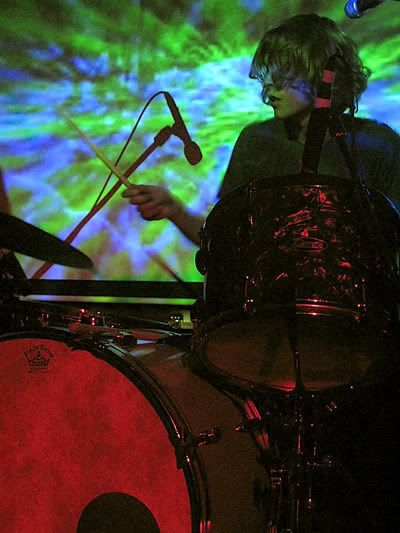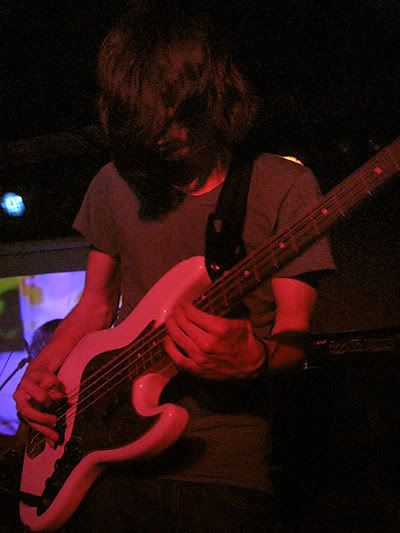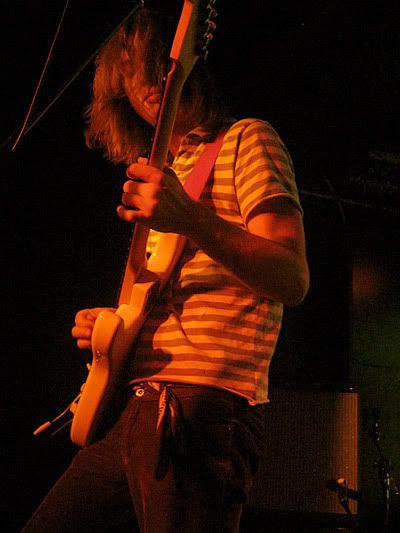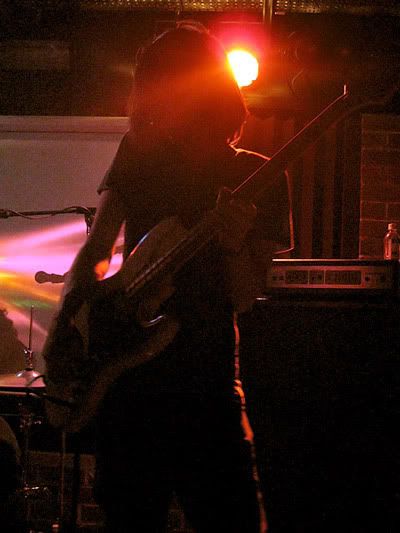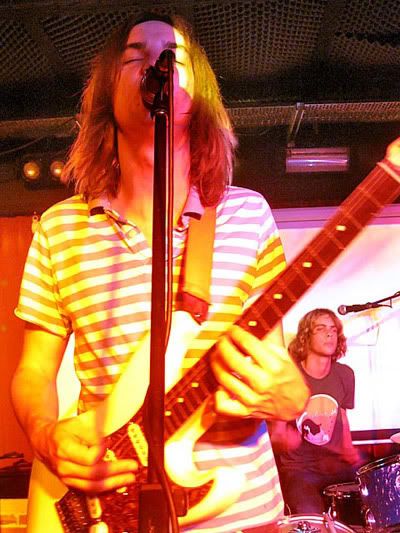 Tame Impala. In sound they very much resemble "Exit Planet Dust" by The Chemical Brothers crossfaded with "Vessels" by Wolf & Cub. They're that loping beat of forever, the hues of burnt orange and yellow, the sunshine percolation and the tripped out rhythmic oscillation of the former mixed with the haunting narcolepsy, the droning vocal and the blurred out echo chamber of the latter. Into this swirling fog there's a liberal dose of Dungen, the essence of Black Sabbath and the living spirit of Jimi Hendrix swaying back and forth inhaling the fumes from his own guitar. They also do a sweet cover of
"Remember Me"
by Blueboy (which would be an utterly obscure reference to anyone unless you're otherwise familiar with illbient frontiers of triphop circa 1994 - 1997) which brings nothing but smiles from the blissed out crowd stammering braindead before them. They're a chilled out groove. There's nothing angular in their sound. Nothing abrupt. Everything sort of melds into each other as one song flows onto the next. So much so, you could almost crack two eggs into this, add flour, melted butter, sugar, cocoa powder and baking soda, cook for a good forty five minutes to an hour on a live stage and we'd have more than enough brownies and baked goods to fry all our braincells with enough potency to dim out every light bulb in Hindley Street. It's far from genius, in fact it's far from anything approaching a coherent thought; and despite what anyone would claim (record label hype or otherwise) they're hardly the next Wolfmother (or the next Wolf & Cub for that matter), but all things considered this also means they're not the next overblown ego of Andrew Stockdale either (which I think we can all agree is something we can all be infinitely grateful for!). Nay, the sounds of Tame Impala are MORE than welcome in this town!
But along with Tame Impala and all their good intentions tonight comes a whole host of other unanswered questions most other psychedelic acts wouldn't even begin to consider. As much as all the hype and the hysteria has helped pack this crowd to capacity for their first ever show in Adelaide, as much as it's for the most part "paid off", it's also made their job all the more harder. It's the double edged sword of being the "next big thing" and attempting to appeal to them. It's the ever fickle "Triple J effect" and the high rotation mindless zombies who'll turn up in droves, simply because they were TOLD to turn up. All those blank stares in the crowd, all those "tourists" who are simply waiting for them to play "Desire Be Desire Go", they're the ones who'll disappear the minute the next high rotation song comes up. Sure to their infinite credit Tame Impala still won ME over in the end (no mean feat) despite personally thinking "Desire Be Desire Go" was the most piss annoying song ever written (in the history of songs not otherwise written by Operator Please or Architecture In Helsinki) and it's left me curious to see just what else they have to offer: but for all the hype and the hysteria, you can't lose sight of your true fans to appeal to the masses. There's a fine line between The Music's first album and The Music's third album. Learn well from their mistake. Alienate your paranoid psychedelic fanbase at your peril!
Still who knows, maybe in return visits most of this crowd will be back. Maybe they'll appreciate Tame Impala for the spaced out hippy freaks they truly are. Maybe they'll want them to follow them wherever they go. Maybe Lady Strangelove and Like Leaves will steal some of this crowd for themselves. Maybe we'll all profit from this insane enterprise and grow as artists, as people, as a society. We'll be showing Tame Impala around this town. We'll be teaching them all that we know. We'll introduce them to all those weird berries we grow out back in the Ed Castle beer gardens that are packed full of so many toxins they'd flatline a rhinoceros (and quite possibly killed Craig Nicholl's tiny peanut brain) but we down daily like tics tacs. We'll accept them as one of our own. Shit, we're just happy that there's other bands like this still out "there" in the wastelands that extend past our borders. We're grateful for anything we get. Shit, maybe in introducing us to all these crazy new sounds, this whole "music industry" might not be so bad afterall!?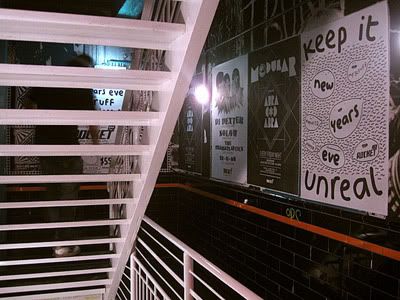 But there is forever a fine line travelled in the psychedelic scene: between those that we accept as fellow space trippers and those that we reject as the enemy. It's the fine line between The Music's first and third. It's the warning glances we give to Wolf & Cub every day in passing and all their mad experiments in album two. It's the sellout. It's the innappropriate use of drum loops. It's The Presets second album (come to think of it, it's also their first album too). It's the Daft Punk rhythms and a Transmission DJ clouding up our headspace for one Friday in every month. Trivial concerns for many maybe (and they sure as fuck baffle me with their swift dismissal) but it's a fevered debate that rages constantly wherever the clouds hang low. They are the keepers of the intangible truth, they're the smoking ghosts of their ashes. They will show you the way, just as surely as they will mock you if ever you go astray. Fuck with them at your peril!
Previously on Spoz's Rant:
Roger That + Kytes Of Omar