TYGER TYGER + RADIO STAR + IT'S WARSAW!
"WISH" @ PRODUCERS BAR / Saturday August 30th 2008
Adelaide's nightlife. Wow those two words SO don't go together do they? Adelaide has a freaking nightlife!? pfffft since when!? We've been sending in probes and satellites and manned missions with chimps in pressurised space suits for years and there ain't nothing here but tumbleweeds, cattle skulls and a small sign swinging ominously on rusting hinges that reads "all hope abandon ye who enter here!" (we sell a bucket load of 'em in the gift shop!). Adelaide has no nightlife! no social scene, no A-list, D-list, or any other celebrities save for that shitcrazy aboriginal guy who does the hulu hoops down Hindley Street. The last time Richard Wilkins dared go anywhere near here for an interview, we shot him in the head, skinned him alive and ate him; I think he tasted a little like chicken (mmmm crispy!). Everything you've read here is an outright lie! My name is NOT "Spoz", my name is Armin Tamzarian and I used to write for the New York Times. I do all of this in my spare time in between working shifts at Micky D's and building suitcase nukes in my toolshed. You may remember me from all those other shit crazy stories I made up involving me, your mum and a jar of peanut butter. Don't believe everything you read! Adelaide's nightlife is a myth: right up there with life on Mars, the Apollo moon landings, the theory of evolution, global warming and the freedom of information act. Everyone left for Melbourne, it's all over, I've been doing all this shit with nothing but sock puppets, duct tape and mirrors and you've all been none the wiser! Wow dude, you should see the look on your face right now.. priiiiceless!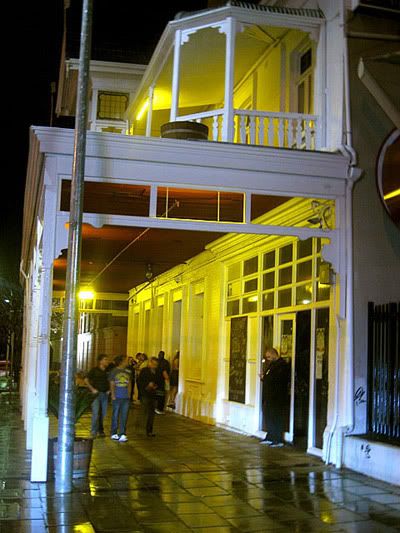 Still it's amazing what you can achieve these days with nothing but a kid's chemistry set packed with equal parts frozen orange juice concentrate and gasoline, powered by a few spare plutonium fuel rods, wired up to a quantum supercomputer and hit repetitively with the blunt end of a fire extinguisher. Sure, it's not exactly nightlife as we know it (and its DNA sequencing looks rather like a scrabble set just sneezed up all over itself) but for us it'll do! and where better to setup this mad science experiment than right here in the east end ghetto and down at Producers Bar!
Built on the nexus between two ley lines, opened as a "blood bank", condemned as a fire hazard, ground zero to that blackhole implosion that took out half of the Adelaide CBD back in the 60's (Beaumont children!? what Beaumont children!?), only to be burnt to the ground, rebuilt from scratch, reopened as a methlab and abandoned ever since? Yup, right here (or perhaps a few doors down) is right where the party's at tonight! Mmhmm! lick those walls, smell that urine, the rat droppings and taste the adventure! OOOH YES! we're in for one helluva party toniiight!
IT'S WARSAW!
(***)
myspace
::
Our first band for the night is (to put it mildy) the WORST fucking band in the entire Adelaide music scene. They're really that fucking bad, I mean they're terrible, I mean they're horrible, I mean.. arrr fuckit! there isn't even words to express just how much they defile the very basic tennants to which all music, or even the signal noise that Aphex Twin cooks up in his spare time with a busted up turntable needle and a few sandpaper discs could EVER aspire to! Shit damn! this feels good to let it all out finally! Seriously, I don't even know HOW this fucking band has managed to hold on for this long! Don't art-punks like this self destruct after 2-3 gigs and take all their audience of assymetrical haircuts and fashion weirdos along with them? Fuuuck I'm not even kidding! let's go through this point by point shall we? their drummer George can't keep a beat going to save his life, it's all *stomp stomp stomp snap clunk* "OH SHIT I just broke a kick drum!", bass player Tim and guitarist Scott barely know two chords or a rhythm between them, like they're strangling a cat out there thinly disguised as a melody, and don't even get me started on the rare strain of mental illness that drives Christian to distraction on lead. They can't hold a tune for more than two minutes, everything degenerates into noise and insult, they are without a doubt the WORST fucking band in Adelaide! Aaaaaah FUCK I love these freaks! :)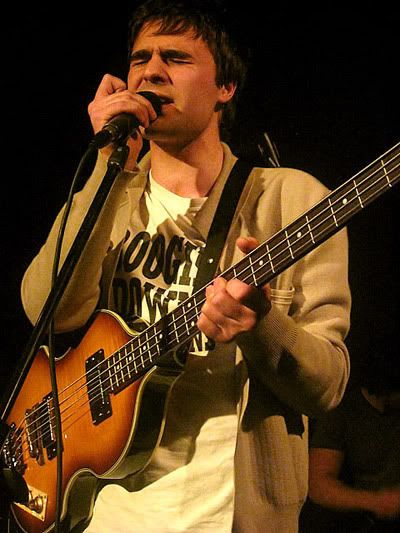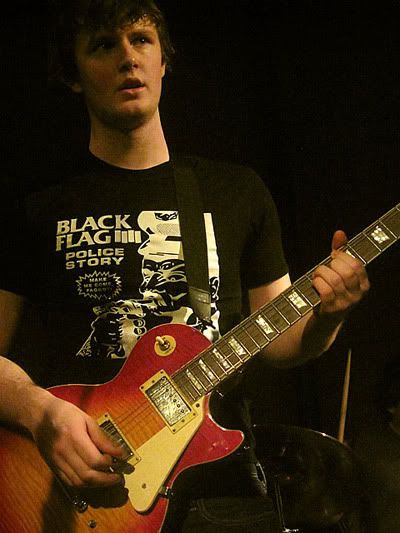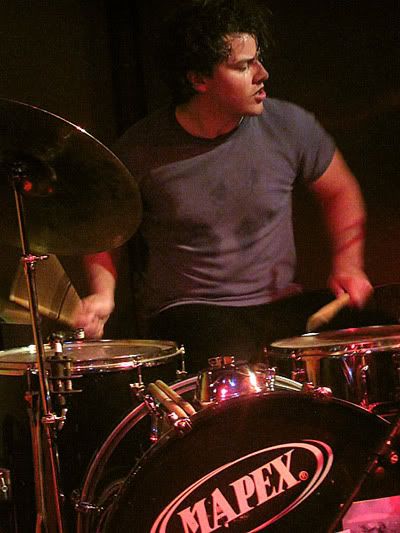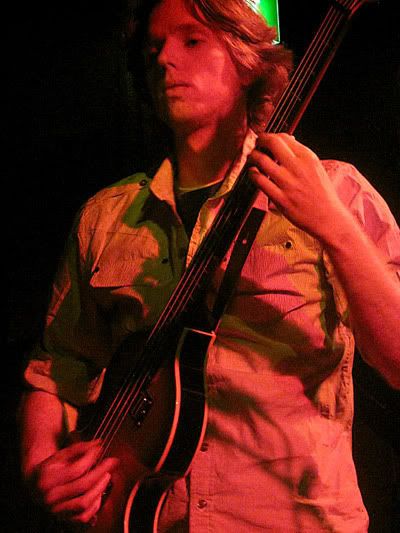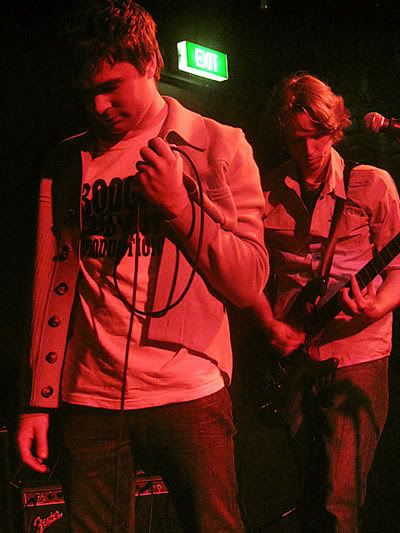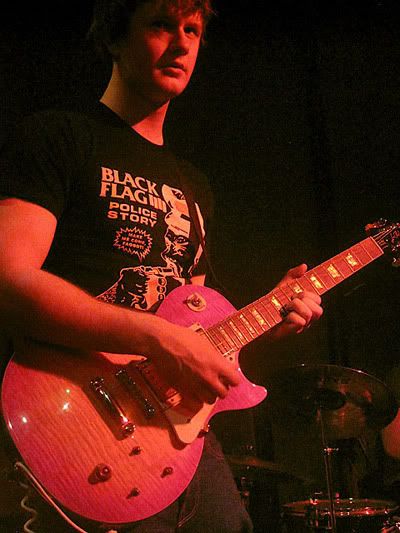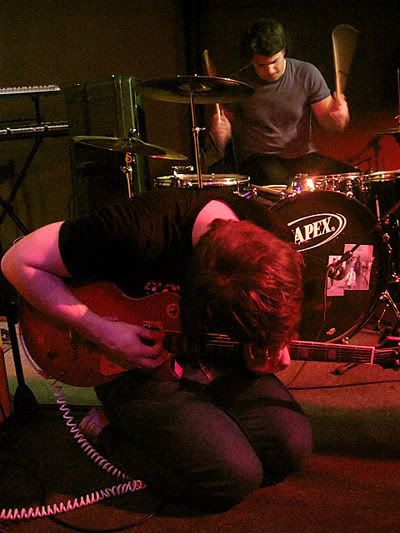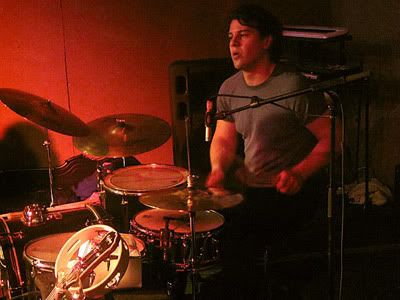 Yup, out've all the other shit Adelaide bands out there (and dude, don't make me name them all or we'll be here all day), it takes just the ONE shit band to take all their utter lack of talent and make something truly inspired and insane from it. It's Warsaw! are that band! Like Central Deli Band before them they're the ONE shit band that's perfected the art of being "shit". They've found that loophole, they've found their niche, and they're hammering it hard in ALL the wrong places. Call it punk, call it avant-garde, call it post modern, call it every name out've an episode of Gordon Ramsey's "Hells Kitchen" and you'll STILL piss balls out laughing everytime they fuck up a song, Christian curls up in a foetal ball screaming, collapses backwards off the stage, breaks half of their shit, attempts to fight everyone within arms reach, only for the whole thing to end abruptly the minute the venue staff pulls the plug on them. It's Warsaw!? awesome!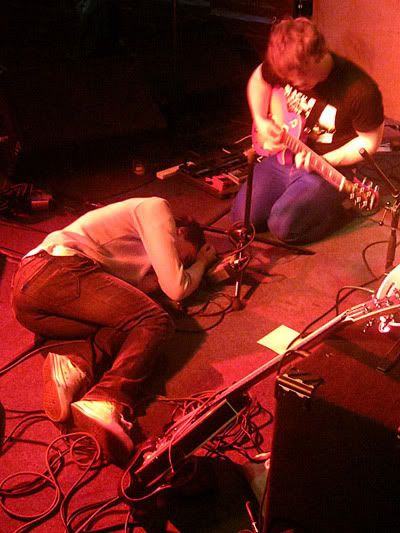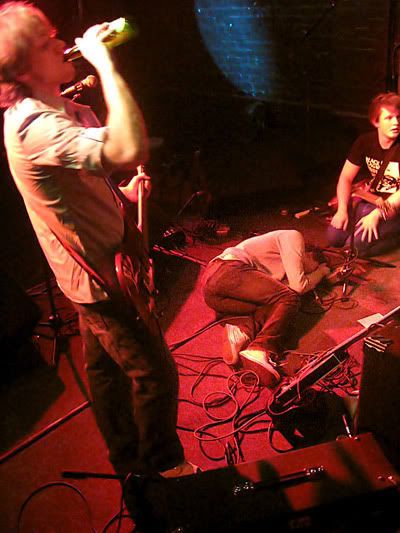 Well.. *cough* except for tonight, this gig was kinda shit. I mean fuck, besides a brief scuffle between Scott and Christian on stage (that ended up with Christian on the floor) they didn't even ONCE try and break a single piece of equipment or pick a fight with an audience member! I asks ya, where's the fun in that!? I want blood damnit! BLOOOD!! Still they DID get one or two good songs out there (I think?). This wasn't one of them, but I got it on video anyways.. enjoy!
And now for absolutely no reason whatsoever (except perhaps to distract you from that LAST review I just wrote): here's a photo of me wearing a stupid fuzzy hat I stole off Fox just moments earlier. Why? because it's a fuzzy hat, that's why! Yeah I know, I probably could have come up with a better explanation, but I don't have one *cough* aaaand we're moving on!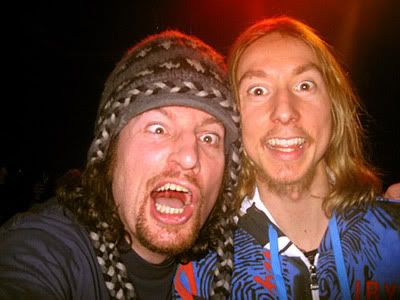 RADIO STAR
(***1/2)
myspace
::
Our second band tonight comes all the way from Melbourne, or more accurately (in the case of Zach Buchanan) comes all the way from that same chance spatial anomaly that all lead singers with Robert Smith (from The Cure)'s freaky vocal chords hail from. Science has yet to pinpoint their exact origin, or whether they possess the ONE set of vocal chords between them all and simply take turns, but we do have plenty of case studies to draw upon. Look no further than Kele Okereke from Bloc Party, Blain Harrison from the Mystery Jets, Owen Eszeki from Bit By Bats, Ben King from Expatriate or even that trigger happy Wolfgang from The Shiny Brights. The sound is unmistakable: that same shrill, wildly hysterically, wimpyarse timbre that belts out like a smoke alarm cross faded with a cat being run over, only slightly more melodious. It's hard to say whether this quality alone makes Radio Star infinitely more piss annoying or awesome but it's just ONE of many shitcrazy quirks that Radio Star have to offer tonight as clearly the voice is NOT the first thing you'd notice. No, that allergic response would go to the tangled forest you'd find yourself hacking through that appears to be a cross between an afro, a labradoodle and a hayfever sufferers worst nightmare. Why they decided to coordinate their haircuts and not their wardrobe is anyone's guess: but credit to them, they sure makes a memorable impression!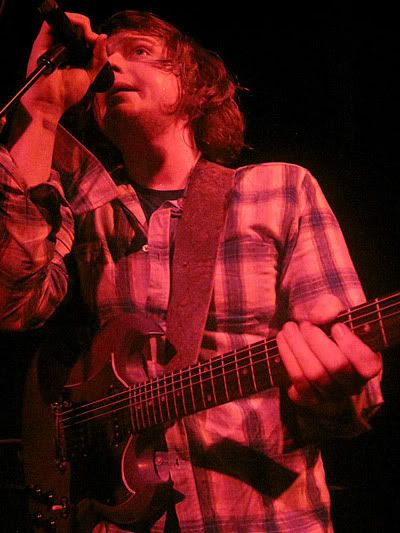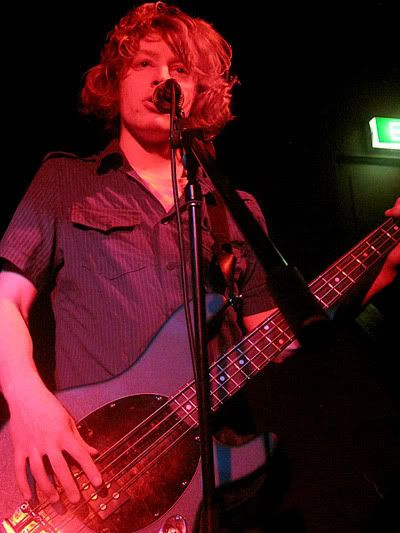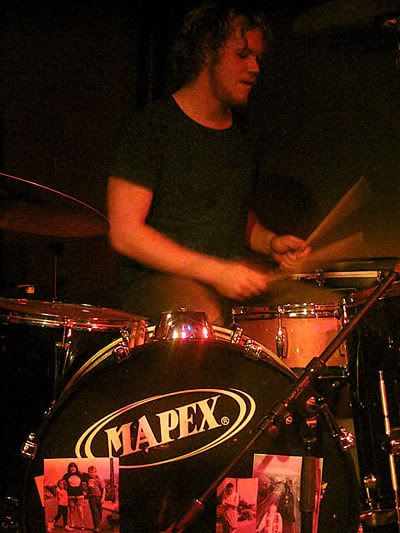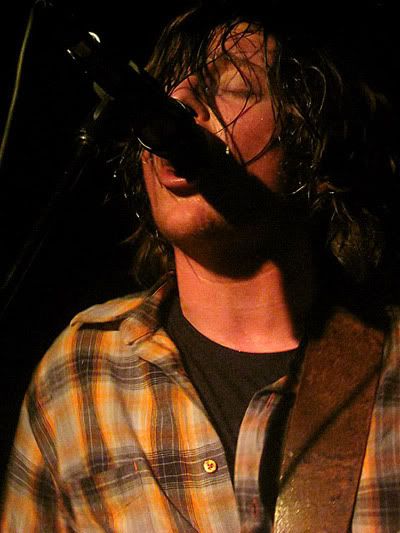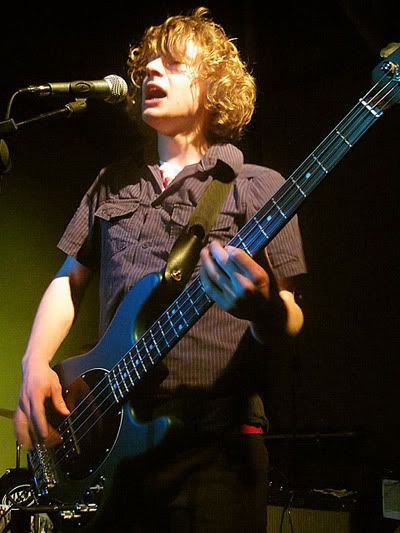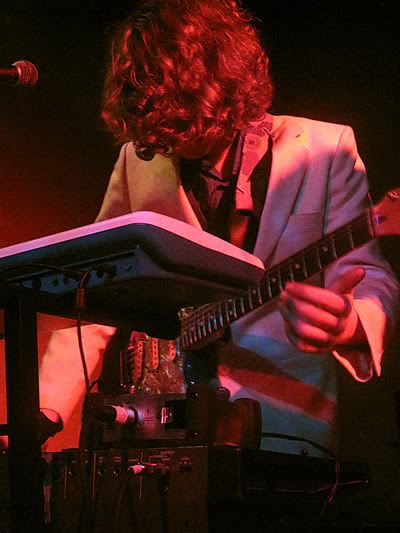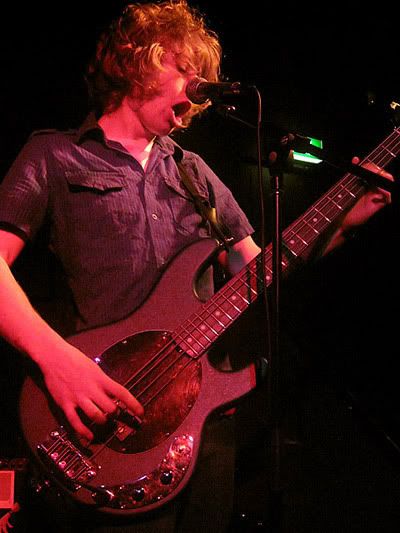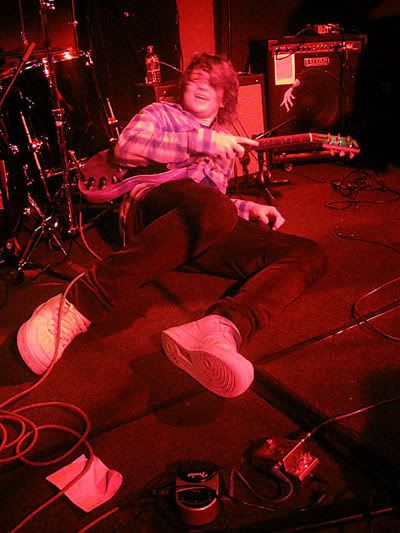 As for what the hell any of this mess actually sounds like? Radio Star sits somewhere between The Cure's "Why Can't I Be You?", The Wombat's "Kill The Director" (and all manner of other piss annoying anthems The Wombats may have concocted recently that makes you want to poke two of your fingers through your eye sockets, into your brain and swirl them around for a while), throw in a tiny bit of Panic! At The Disco, pull the pin on the grenade and ruuuun! It's spastically happy, upbeat, overwraught and enthusiastic to the point of a mental illness; but for the most part it works, and by "works" I mean "OOOH CRAP WE'RE ALL GONNA DIE!".
TYGER TYGER
(****1/2)
myspace
::
And speaking of shit that may quite possibly kill you if it was served up in a Japanese restaurant, raw, covered in seaweed and with a strobe light flashing, up next is our third and final live act for tonight: Tyger Tyger. Yup, we all know THESE idiots well enough by now. They're the all kinds of stupidly lethal you read about in tourist brochures that scream "come to Australia: get bitten by something weird with no known antidote, stay for the racism!" not necessarily because they're actually any good at what they do (especially not Trav on vocals we all know he's shit!), but more for the simple fact you'd want to be five flavours of fucked up drunk to truly appreciate the "finer qualities" of their sound. Which not only makes them a brilliant headlining act for any live venue in Adelaide where the plumbing that services bar taps is infinitely more sophisticated than the poor excuse for a sewerage leak that's currently flooding out the toilets (weee!), but also because they'll provide you with an instant "get out of jail free card" anytime you find yourself waking up in a car, up a tree, through someone's bedroom wall and with no clue how the fuck you got there. Tyger Tyger: they're the cause AND the solution to all of your drinking problems!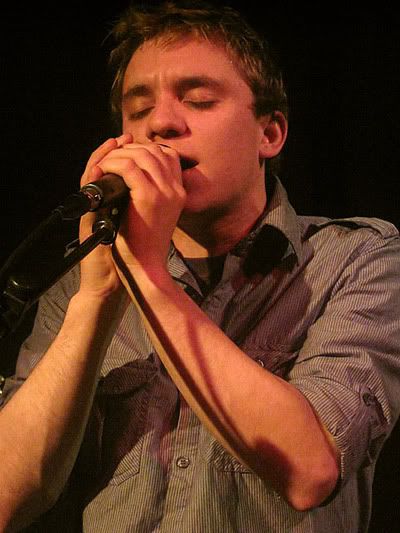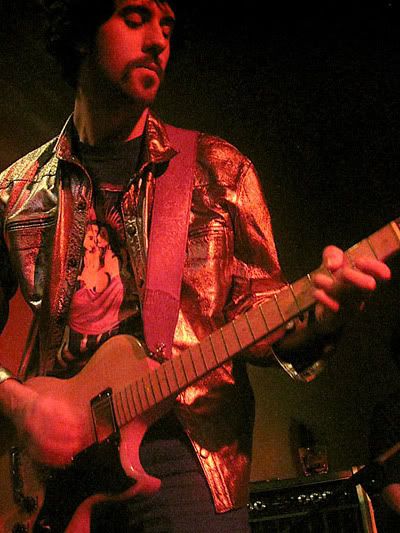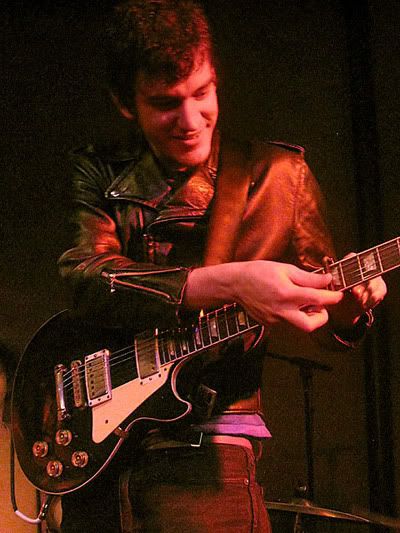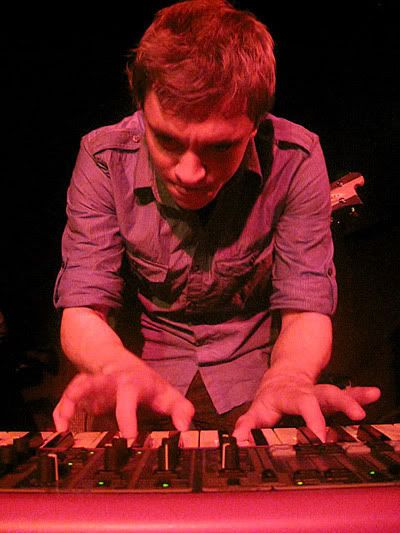 Tonight they come fresh from winning the state finals of the National Campus Band Competition, which I find a little odd, simply because from the looks of their drummer Mannix (who's gotta be what.. 12!?) I thought they had more chance in hell of qualifying for a high school battle of the bands than any six of them had a chance in hell of meeting the minimum IQ requirement to get accepted into university (which let's face it would be rather more fortuitous for their lead singer Travis, as high school is where he trolls for all his "prey" these days.. yeeeouch!). Still either way, congratulations guys, you deserve it! I'm sure it's aaaall going to be downhill from here!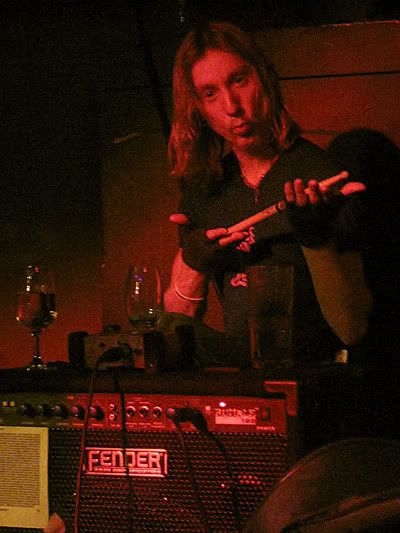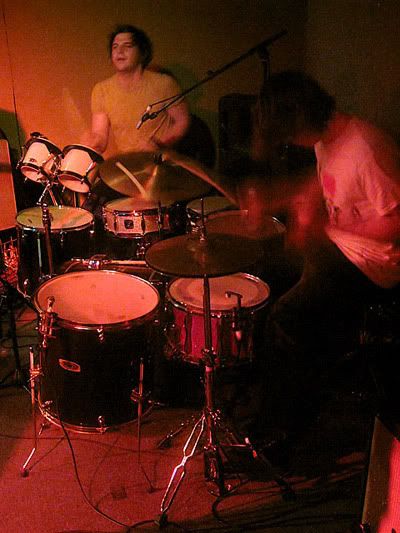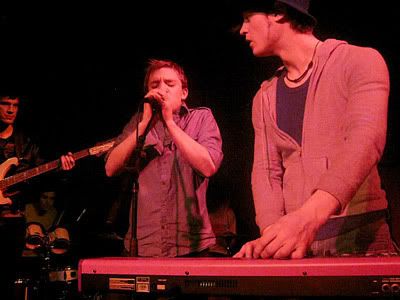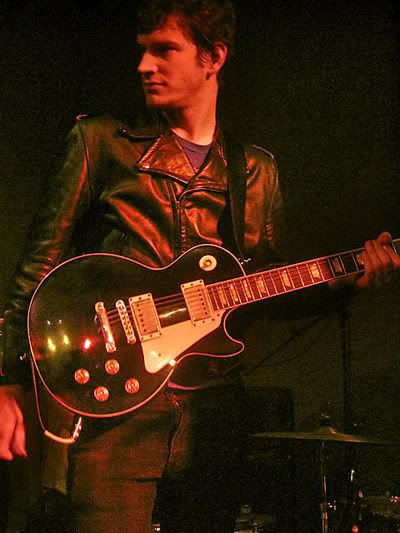 As for their set tonight: they're the Artic Monkeys of thrashing guitars and obnoxious lyrics that are more shouted than sung. They're The Strokes of arsehole arrogance in everything but the fashion sense. They're a mixed bag of all those wacky 80's britpop bands like Madness or The Specials that throw in a trumpet solo for no good reason (although granted "Buttons & Levers" IS the coolest fucking shit I've ever heard). And they're also six too many band members, plus Fox on drums from Double Handed and the keyboardist from Billy Bishop Goes To War on the bongos making an absolute mess of "Play Rough" here (otherwise known as the singularly most awesome yet stupid use for a bongo ever attempted on a live stage at Producers Bar). Yup, for all this and many
more reasons
I'll be drinking myself retarded and cheering them on. Thanks Tyger Tyger! I'll be sure to send all my medical bills your way when they find me circling the drain come Sunday morning suffering chronic liver failure after your set tonight.. weeeee! :)
12:56AM
- Moments after a freak stage collapse wipes out all eight extended members of Tyger Tyger (only for them all to crash land relatively unscathed in the straw filled "sacrificial" antichamber that Producers Bar has in their basement to store all the goats and chickens to feed their many "benefactors"). The bar staff board up the stage (to the sounds of muffled screams), scrape all the fingernails and teeth embedded into the walls, provide some "light refreshments", and the festivities continue well into the night as DJ Tr!p spins the decks and fills the dancefloor with geeks, nerds, dweebs and other exciteable misshapen freaks here for "Wish" tonight..
1:24AM
- This is one of those establishing shots that endeavours to show just how much insane fun you could've had if you too showed up to "Wish" tonight (and in now way is meant to distract you from all the blood curdling screams of Tyger Tyger being eaten alive by the great Cthulhu)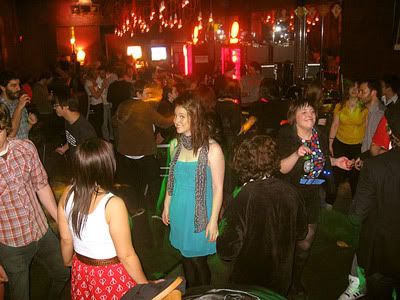 1:42AM
- Here's all the shiny happy people, simply overjoyed to be here tonight and in no way sweating in blind terror over whether they too would become the next victims to the slaughter..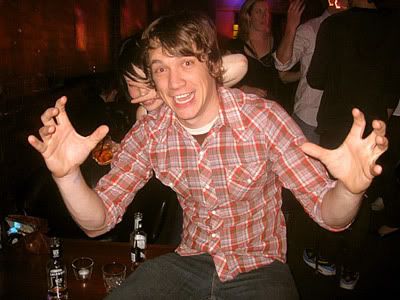 1:47AM
- Whilst also providing me with prime examples of the latest 2008 Spring Season's geek couture: such as THIS matching twin set in rectalinear frames and accented argyle..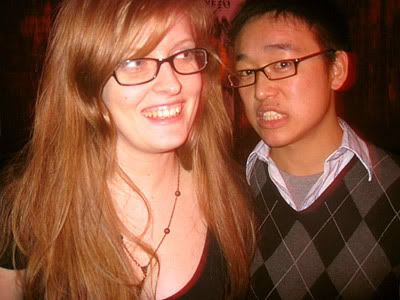 and this genetic defect in swimming googles, shirt, tie and blazer that is either (a) Where's Wally's scaryarse cousin "Waldorf", (b) Rick Moranis, (c) The Red Baron, or (d) Igor the ever helpful lab assistant of Dr Frankenstein on his "night off" celebrating out on the town..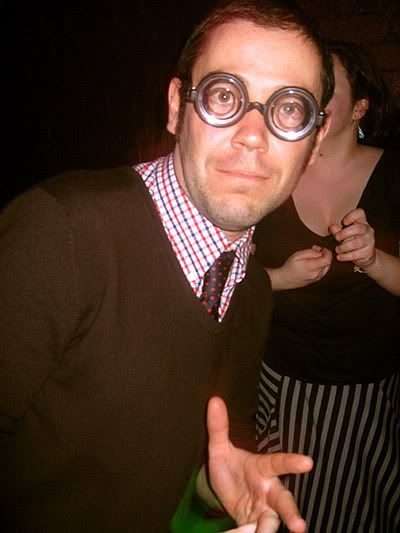 Hmmmm I wonder: which one of these two dribbling lunatics do YOU think is more likely to attack you with a hankerchief dosed in chloroform, drag you off to the nearest medieval castle / mad science laboratory (I hear there's one hidden in the basement under the Jade Monkey) only to harvest your brain, heart, liver and kidneys for their pet "reanimation" project? If you're answer is: "duuude.. the answer is obvious! clearly they're both working as a team, because that's a TWO man job!" then you're smarter than most and we'll be after YOU next!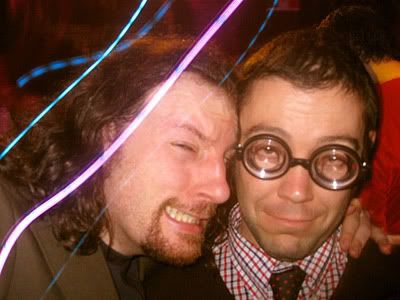 1:57AM
- Aaaah the simple joy that is drunks flourishing in their natural habitat! Don't you wish you could just take them all home for milk and cookies? and by "milk and cookies" I mean.. wait, what did you think I meant? ooooh you sick twisted fools! (and shit, why didn't I think of that!?)
Still if ever you want to make yourself look infinitely classier on a night out: nothing quite beats getting yourself photographed with people who are infinitely more hilariously shitfaced drunk than you are. Which would've been a brilliant scheme for just about anyone unless you just so happen to be as hilariously shitfaced as I am. Which is why both Emily and Stephanie are more than happy to appear in this photo (and also why I secretly hate them both.. youuu bastards!)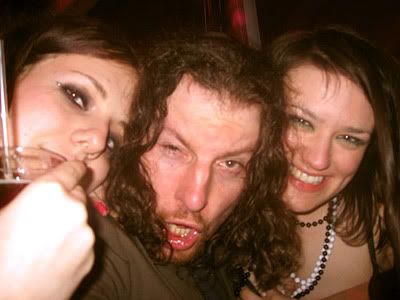 Although chances are just by posting all these drunkarse photographs in my blog for the ridicule and wonder of hundreds, I'll get my revenge! OOOOH YES! isn't that right Stef? weeeeee! :)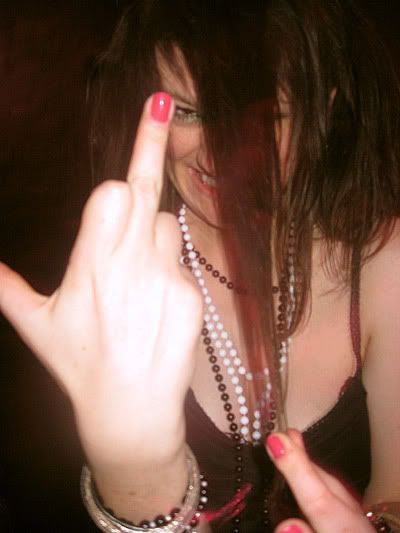 3:28AM
- Still, alas, all good things must come to an end and when Producers Bar implodes out of our plane of existence like the freaky Poltergeist mansion that it is: all creatures both undead and unliving disappear back into the fiery cracks of the earth, leaving the rest of us dribbling fools (mortal or otherwise) to seek our continuing entertainment down westward way..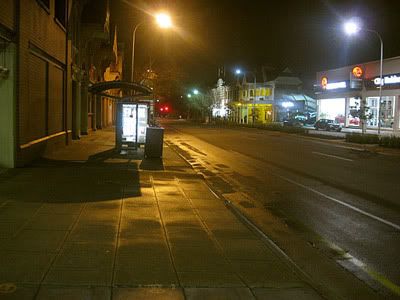 3:47AM
- Which leads me all to predictably to this seething cesspool of shit down Hindley Street teeming ripe with a bubbling primordial swamp of drunks, punks, pissheads, airheads, alcoholics, inebriates, invertibrates and other such creatures of indeterminate species or origin to while the rest of night away in fun and frivolity (or in other words: kill ourselves retarded with beer!)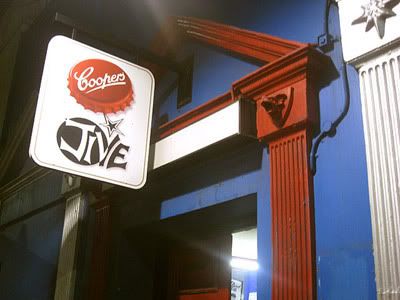 Or in other words NOTHING like what this photo represents as conclusive evidence of anything. As clearly all this shit (and anything you've seen above) is nothing but the work of hired actors shot on a sound stage down in west Hollywood (and filmed in front a live television audience!). It's fake, it's bogus, it's a conspiracy to hide the truth and you'll wake up moments later to realise it's all a dream. Why? because we all know Adelaide DOESN'T have a nightlife, it NEVER had a nightlife and none of this EVER happened! but still, doesn't it look like a whole lotta fun? :)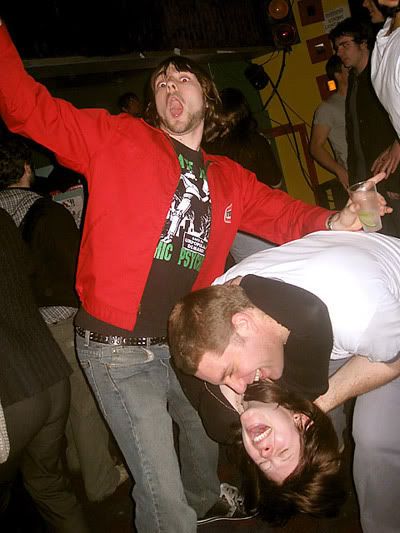 4:29AM
- And clearly this isn't me at Supermild afterwards celebrating yet another night's successful hoodwinking with all my fellow co-conspirators who make all of this possible each and every week (not shown for obvious reasons). Aaaaah the fun times we've had fooling you all over the years! You should see the wacky shit we can pull with an open field of wheat, a plank of wood tied to an extended length of rope and some surveying equipment. Crop Circles, UFOs, The Loch Ness Monster, Bigfoot (wow is that hangover a bitch!)? that's all us baaaaby! wooooo!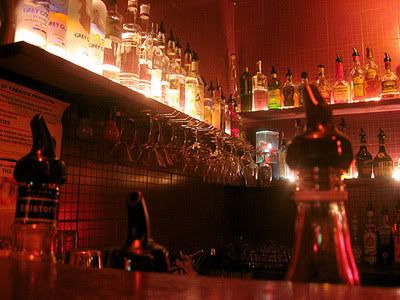 So, till next we meet for yet another exciting episode of Spoz's Rant: keep sending in those audition tapes, keep sending those scripts and resumes (and myspace requests) and you TOO could be part of the action! Adelaide's nightlife may be a myth, but we're living the dream! :)
Previously on Spoz's Rant:
Rocket Science + The Shake Up + Mona Lisa Overdrive