TONY FONT SHOW + IMPARTIAL + SUPERBEE
LIVE @ FOWLERS LIVE / Saturday March 29th 2008
Aaaaaaah, nothing sucks quite like an all-ages gig! No wait, scratch that, there is always room for infinite more suckage: you could be stuck with a battle of the bands, a highschool rock & roll eisteddfod, a fundraiser gig, anything involving the Underground on Waymouth Street (alcohol free my arse!), anything involving 18th birthday parties, weddings, shopping centres, reality tv, retirement villages or otherwise endorsed by the Paradise Community church. Still, an all-ages gig come a pretty close second. Don't get me wrong, I appreciate the effort, I really do! Being a teenager blows chunks: all those hormones, none of the braincells, nothing to do all night but drink goon, masturbate, fuck minors, blow up letterboxes, prank call Pizza Hutt, steal gigabytes of shitty emo, goth and torture porn movies and flip off your parents.. fuuuuuck! It's great that we have all-ages gigs so you can get out've the house 'n all, but do they have to be so freakingly lame!? I don't even know where to begin with this shit but when you're old enough, you'll understand: when you see one of those pink wristbands coming your way? you ruuuuun!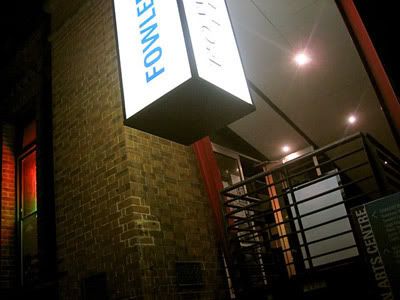 SUPERBEE
(***1/2)
myspace
::
Case in point: here we have the ear bleeding funk metal killing machine that is Superbee. They're everything that is entirely awesome about having both your arms ripped off whilst Henry Rollins punches a chainsaw into sheet metal inches from your face; here playing their very last ode to the apocalypse to a "roaring" crowd of 10-20 people at 9PM on a Saturday. The second band for the night, already over and done with moments after I walk in through the door. Why? because it's a fucking all-ages gig, that's why! All those smoke machines, all that punching fury and all we got in response is five pissant headbangers and a semicircle of death? fuuuck! Still, credit where credit is due, the spare few minutes I did catch of Superbee was well worth the price of admission. Give them a midnight headliner at a seething shitpit like Enigma Bar and watch that body count tick over well into the three to four figures.. oooooh fuck yeaaah!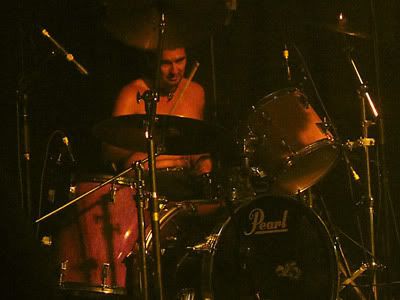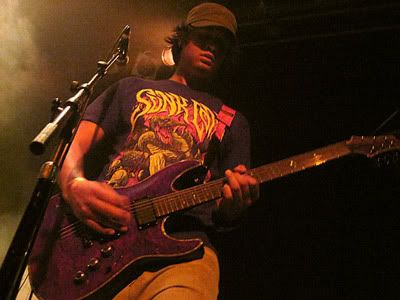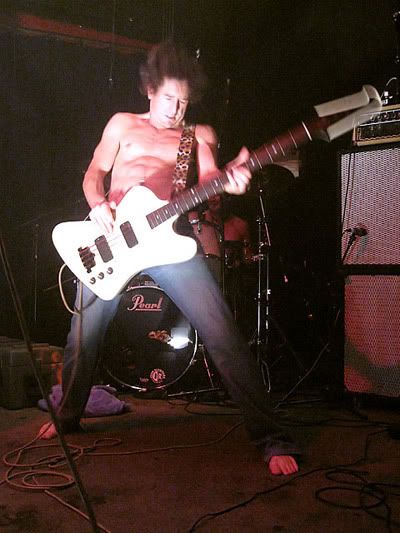 IMPARTIAL
(***)
myspace
::
Coming up next is another classic example of the all-ages gig: the "emo" band. Yes I know, I could see this coming from a mile off too, but before I get too carried away with yet another one of my ridiculously overwraught tirades (aaaah you gotta love it!), let me just state for the record that Impartial are surprisingly talented at what they do and if I was a skeezy underage Edward Scissorhands with gender identity issues and a fondness for pain I'd actually be bitching that this band wasn't nearly emo enough. As such, my limited knowledge would put this band somewhere in the territory of 60 Seconds to Mars or Angels & Airwaves. Think anthemic and epic emo, full of sweeping crane shots through the desert with large fans blowing shit everywhere, something dangerously close to a Christian Television advertisement, or yet another one of those PSA's on drink driving brought to you by some twat from Good Charlotte; only funky! Still there is plenty of entertainment value to be found here, especially in the exaggerated facial spasms of lead singer John. Watch as he flails, contorts, squints and squirts out a pineapple whilst the rest of the band plod about like stop-animations from a bad 80's sci-fi movie. Like puberty recorded and played back at highspeed, it's no wonder the pencil neck dweebs go apeshit to this! YES!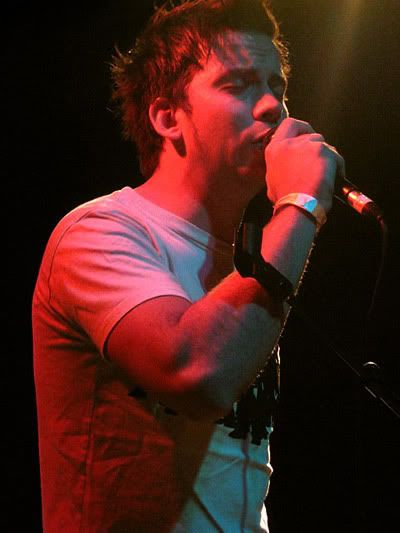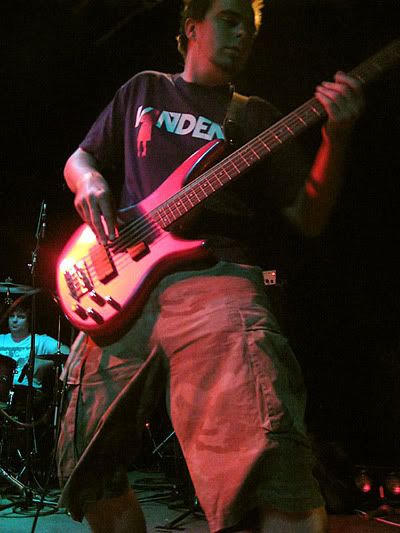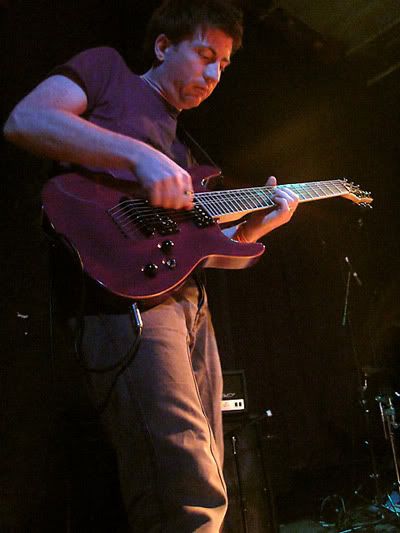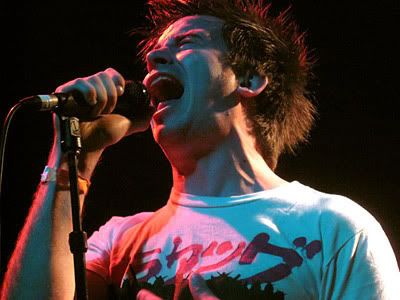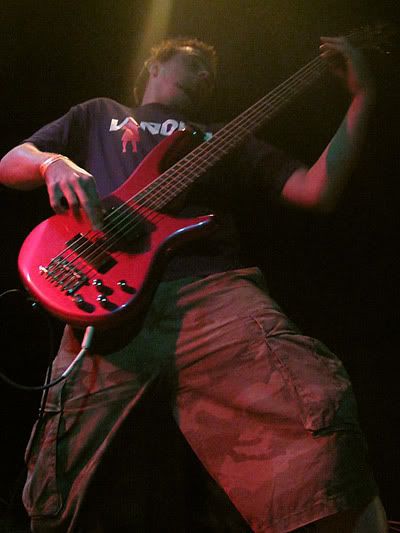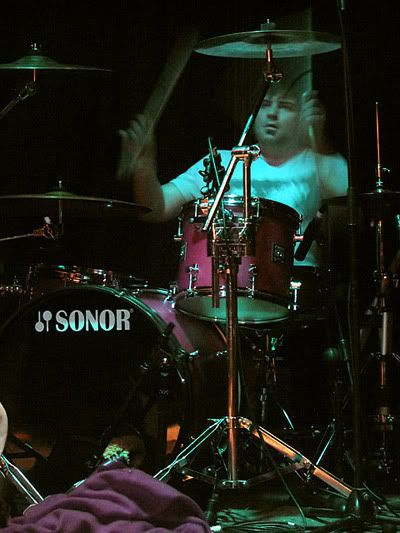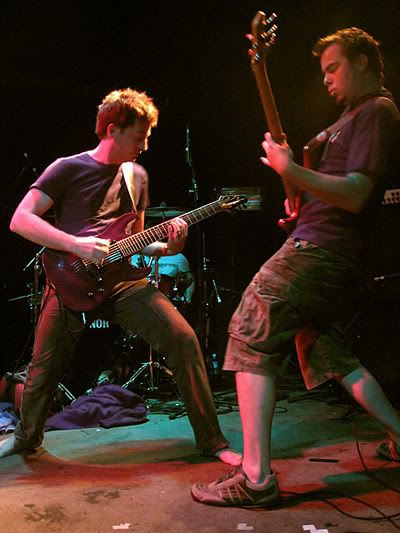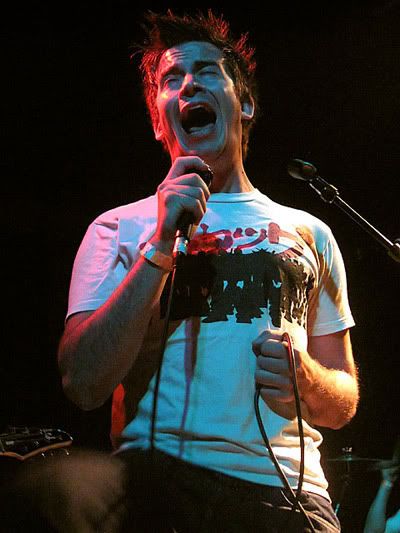 TONY FONT SHOW
(***1/2)
myspace
::
And finally here is the one reason I was entirely stupid enough to (accidently) front up to this disaster in the first place: Tony (Fucking) Font Show. Since I've written entirely too much shit on this band already (and chances are this is simply thinly veiled propaganda as we ALL know I'm on their payroll) I have only a few trivial observations to make about this particular outting: 1) attempting to photograph a band dressed in black, against a black background with nothing but back lighting to illuminate them is nothing short of a suicide mission: "oooh look! here's a blurry photo! here's another one! here's 100 more! fuck I'm awesome!", 2) Lee, growing ever increasingly paranoid that the rest of the band may finally be catching up to him in the "big hair" stakes opts for a well placed fan and some strategic lighting to resemble what Sidshow Bob would look like with his dick in a lightsocket, 3) this was all over by 11PM!? ROCK AND ROLL!!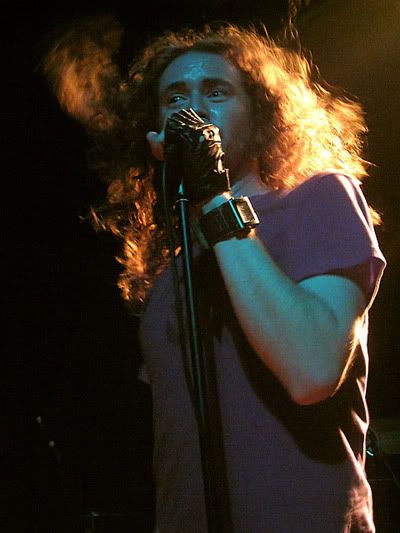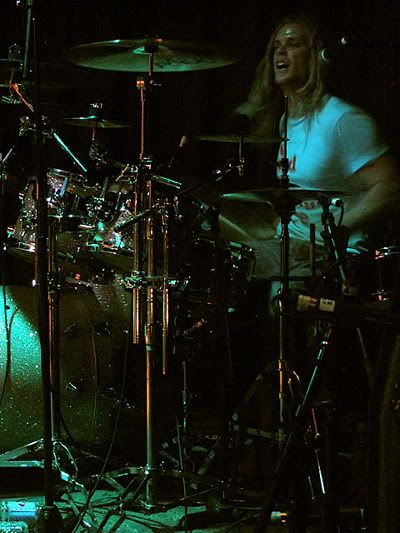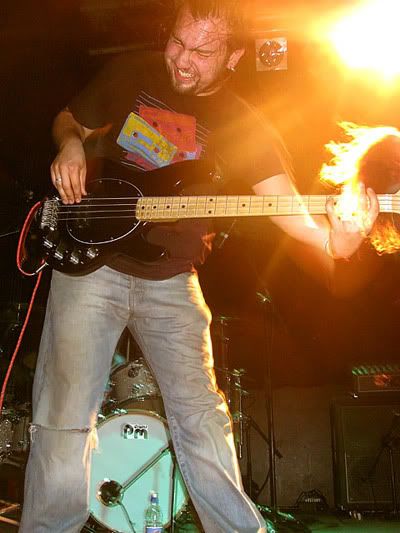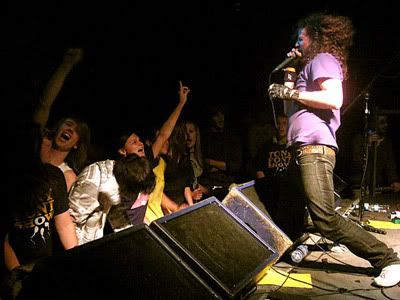 Yup you call really tell you're in for a lame all-ages gig; when Lee goes for his customary stage dive into the seething crowd around him, only to fly headfirst into the floor with an echoing thud; all because none of these pint sized dweebs could possibly hope to hold his weight up. Fuck yeah! And people wonder why I never get bored covering this shit every weekend? woooooo! :)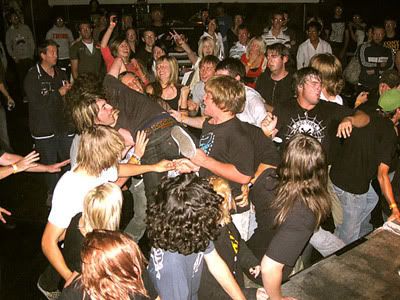 11:16PM
- But just when things are starting to get entertaining around here; like every one of these gigs before them it's lights out and game over well before midnight. Leaving me at a total loss as to what the fuck to do with the rest of my night. Damn, and I'm not even drunk yet!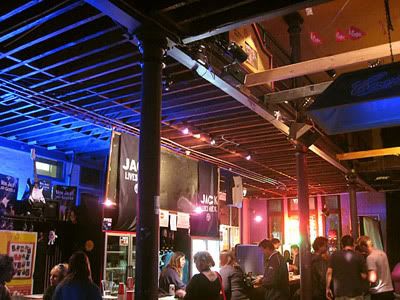 11:39PM
- So, after spending a good 10-20 minutes blowing bubbles out've my arse outside of Fowlers Live, I eventually figure to look up my phone's mobile gig guide. Sure, it's probably the most fuckarse unreliable way to check for what's on in Adelaide (since we all know you're better off just SMSing ME drunk on a night out), but since even I didn't have a fucking clue what's going on, this'd have to do in a pinch. Numerous options scrolled past the screen, but the one that really caught my eye was Tyger Tyger and Poetikool Justice playing a gig at the Grace Emily.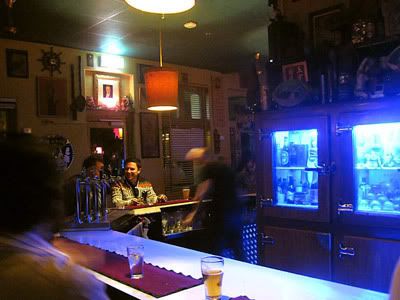 Of course this would usually be the moment I'd bring you straight to the action, the front lines, right in the thick of it and in everyone's faces, giving everyone the finger and cutting them off with my camera lens. But after suffering a ridiculously underwhelming defeat in my first round of battle tonight, I wasn't really feeling killer instinct for the second bout. So here I am spacing out at the bar instead of giving you what would've been the most freakingly awesome Tyger Tyger blowout you peeps would've ever seen! fuck they went apeshit up there and YOU missed it!? Damn. If ever there was just cause for lowering the drinking age to 16, this would be it!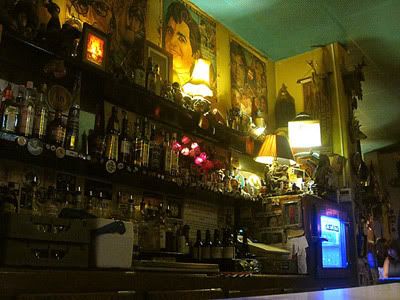 12:35AM
- So instead of covering second band Poetikool Justice blowing the roof off this dump, here I am capturing all the tiny details most of you would normally miss: such as this fine array of idiot ales and action figures found in the Grace Emily smurf blue refrigerators..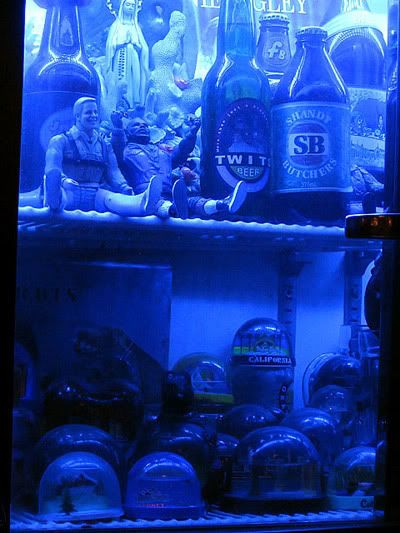 ..this most freakingly awesome (and damn near impossible to photograph) Chinese dragon figurehead hanging up on the rafters between the pool tables and the seething crowd of drunks currently going apeshit to whatever stoner aussie hiphop flows (likely about bucket bongs, surfing and unemployment) MC Jahmin and Dedz are cooking up on stage..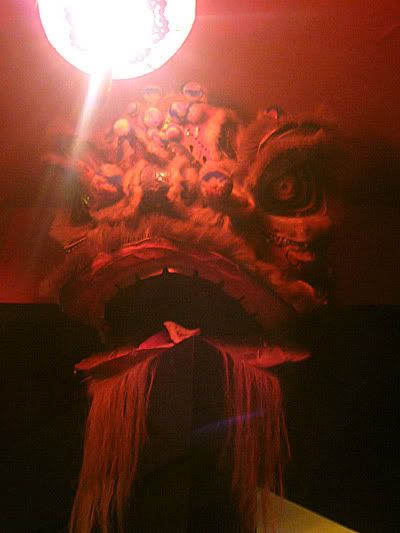 ..this random dude headbutting a dB magazine into a wall outside..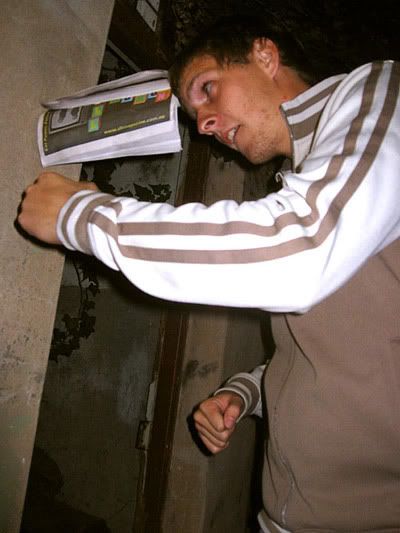 ..awww isn't that cute, it's some random drunk girl wearing a tiara! weeeeeeee!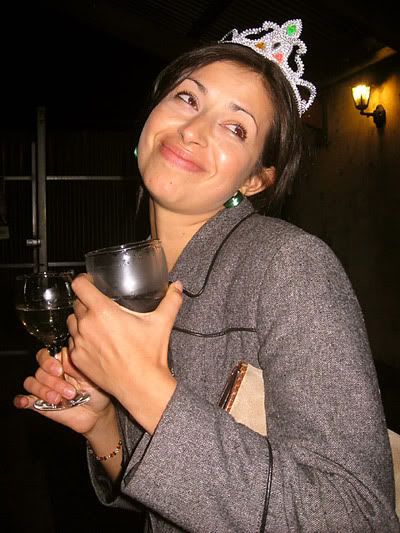 ..and of course, who could possibly miss the excitement that is Mannix, drummer from Tyger Tyger biting the head off a white sticky-tape penis effigy that he made on the back of this dude's leather jacket!? HA! and you think I don't bring you the finest Adelaide has to offer!?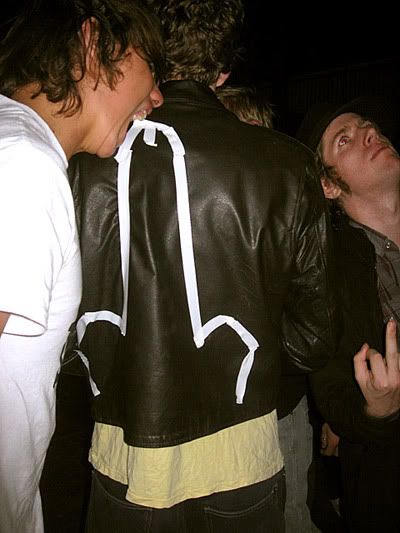 3:16AM
- Many hours, many beers and much inconsequential conversation in a Grace Emily beer garden later (oh the stories I could tell!), we mysteriously find ourselves down at the Ed Castle. for pretty much more of the same shit as before, only with slightly more foliage..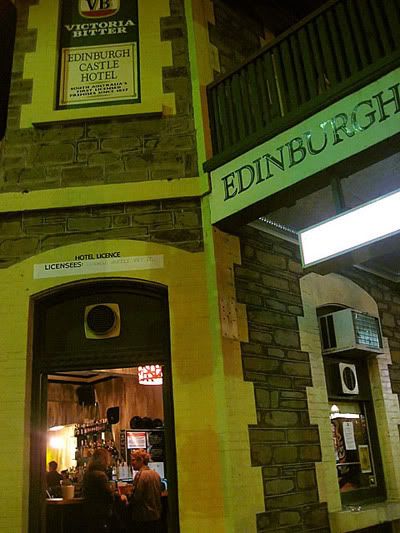 And if you think this Saturday night's episode of Spoz's Rant couldn't get any more lame, then you haven't witnessed the face melting brilliance in photography that is random drunks getting photographed with "dude who look like white MR T". Oh yes, we are all kinds of badarse!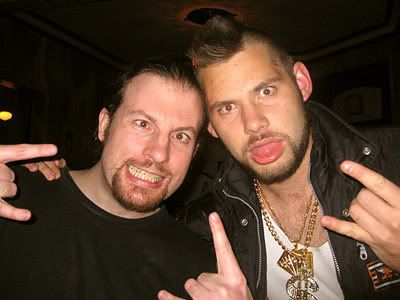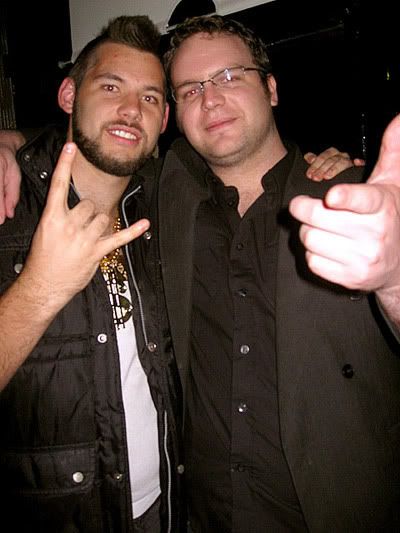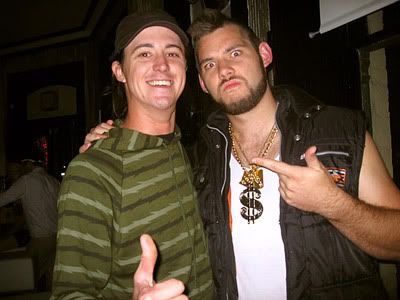 Yup, let this be a lesson to all of you up and coming gig photographers out there. You may think it's nothing but sex, drugs and rock & roll; and of course you'd be dead right (*cough* I wouldn't lie to you about all THAT would I?) but the high life of the alcoholic, the idiotic and the infamous is never without it's many perils. For every awesome gig, there's a gig gagging for your blood. Never lose sight of your drink, keep those suckers in your sniper scope, and if some loony band ever attempts an all-ages gig quite as stupid this: run, run for your freaking lives!
Previously on Spoz's Rant:
Lumonics + Love Stereo + It's Warsaw!