WHERE I END AND YOU BEGIN
Why am I still here? How many laws of physics did I break to get to this point. How do I still live and breathe through unpunctured lungs when so many others before me now form the littering corpses that I step over in my twisting path to infamy? Surely the end is nigh. Surely I'm doing everything in my power to kill this thing off. Surely nothing will be left alive. Live by the sword, die by the sword: gleefully machine gunning one and all until the last bullet empties from the chamber to breathe fire into my swiss-cheese skull. Wait till that head hits the pavement, whistle me that tune when the pupil dilates. Smiley faces and smashed bulbs. Shellshock screaming and foetal positions. The chaos and the crescendo. Such wonder. Such beauty. So many willing victims interchanged for death threats and unpaid sleep debts. Living life dangerously knowing I have nothing left to lose. Yet it still persists and here I am grinning ear to ear: this fleeting glimpse, this icarus spiral, this litanny of infinites and absolutes. It's gone on for far too long. It's gotten too big, too insane, too many people want to BE in it. Kill it. Kill it before it breeds. Kill it before it kills me. Sell my soul to the 9 to 5, take this blog and bury me with it!
Yet here I am. Forever and a day and writing this long into the night. Through thick and thin and the middling void in between we've travelled you and I. Beyond the breaking point? Beyond the point of no-return? Who knows if we'll get out've this alive?
FRIDAY NIGHT
Tonight I had the perfect plan: Femme Fatale and Morals of a Minor at Electric Light Hotel. Take the absolute piss out've the new band, rubbish them for all the world, bitch about the lighting, take insulting photos of Morals Of A Minor giving me the finger, get mauled by their fangirls front of stage (aaaaah!), stumble out drunk, find myself at the Cranka for sweet oblivion, make an absolute dick of myself and then fear for my life over the next 6 months after Femme Fatale read what I wrote about them. It would've been large, it would've been all-time, you would've laughed, cried, wee'd a little and I would get sued. Good times, gooooood times! :)
And then at the very last minute, the gig gets cancelled. Fuck!
So here's my hastily assembled plan B: Academy Cinema. 9:15PM and The Simpsons Movie.
Stumble out've the cinema after 87 minutes of half-arsed entertainment (2 1/2 stars out've 5), wander aimlessly around a dead city for almost an hour, say hello to The Grace Emily's friendly neighbourhood Buddha, then fuck off home.
Yup, such a quiet night as this could mean only ONE thing: tomorrow we're all gonna die!
SATURDAY NIGHT
Behold the blinding terror that is the benefit gig: nothing is more deadly, more harrowing and more white knuckled terrifying to a low-life music photojournalist than this. Dear cocaine-filled porcelain Jebus what the HELL was I thinking putting myself through this hell again!? The last one I was near foolish enough to attend
2 months ago
almost claimed my life. So many bands, so much noise, all those angry crowds, all packed into such a tiny space!? Who else but the insane organisers of a benefit gig would ever dare present so much spleen bursting depravity? And yet beyond all sanity here I am at Fowlers Live at the ridiculously early hour of 7:30PM for "Raising The Barn" a fundraising benefit for AWESAM TV. If ever there was more evidence required to prove that the very last marble in my skull had just fled for freedom in running this website into oblivion week by week; it would be this!
Witness the many spastic party balloons that may or may not resemble multi-coloured mutant genitalia from Chernoybl. Laugh hysterically as I use the "HA! that dick has 3 balls!" joke over and over beyond the point of it ever being funny..
gawp bug-eyed and amazed at the resplendent display of porcelain farm animals..
stand paralysed and transfixed by the pyrotechnic display of fire-twirling hippies flapping about outside (especially that really cute chick whom you never manage to get a good photo of)..
jump for joy as you encounter all manner of hilarious D-grade Disney knock-offs..
and, oh dear gawd what the fuck is going on here!? help! HEEEELLLPP!!!
*ahem* where the hell am I again? oh yeah.. this ridiculous excuse for a website!
EMILY DAVIS
First live act for this freakshow is Emily Davis. You could easily dismiss her as being a card carrying member of the faceless multitude in melancholy singer songwriters that romantic comedies love to shove down your throats during their weepy scenes (or worse yet, butcher to death on repeat during sappy-arse shows like "Grey's Anatomy" or whatever the fuckarse other crap they play on Channel 7 these days.. yeeeouch!) but still, giving credit where credit is due she has one damn good singing voice on her. Yer mum would LOVE this!
APHELION
Second act is Aphelion. As the announcer LeighStarDust rather helpfully informs us at the beginning of their set: "Aphelion" is term to describe the furthest point from the sun the Earth reaches in it's yearly orbit, or in other words "a really pretensious band-name that screams self importance whilst simultaneously sounding like the name of a South American rodent that eats ants". Featuring the ever infamous bald screaming Tony on lead vocals (previously from Adelaide deathmetal act Burn The Ashes), gyspy violins and ever present tribal war bongos, this band also nicely illustrates the weirdness in folk eccleticism that death metal freaks inevitably go to when they "retire". As much as it may sound like a deranged cross between the sort've call to arms hippy revolutionary act you'd expect to find whipping up a bar fight in Northern Ireland and the soundtrack to a Tim Burton movie, somehow it all works.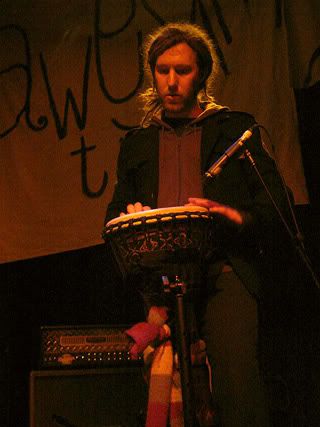 POETIKOOL JUSTICE
Next up is Poetikool Justice. They sound like Butterfingers mixed with oldskool 80's Beastie Boys and they make it near impossible for me to photograph them tonight as they spend their entire gig bouncing around like retarded pogo sticks. They're also one of the most spastic infectious party hiphop acts in Adelaide. As annoying as it can be to chase these monkeys from one end of the stage to the other, you can't help but jump around like a pogo y'self. Rock!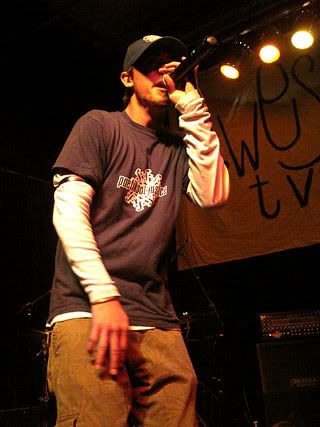 LATE NIGHT MATINEE
Fourth act for the night is Late Night Matinee. Imagine all the arrogance of Oasis, the malevolence of Interpol, the squealing intensity of 1st album Editors and the booty bass grooves of The Cure from the early 80's. Into this mix, throw in their dyslexic 80's fashion sense, spastic indie mullets and their angular thrashing guitars and this band screams "Rocket Bar". They're nothing but utmost po-faced seriousness and they deliver a brutal set that sounds like 50,000 guitars bleeding nails but still as alienating as it all is, they still rock out like all fuck!
TAUGHT BY ANIMALS
Coming up next is Taught By Animals and um.. yeah.. fuckit, you've read about it all already ;)
TONY FONT SHOW
Equally over-exposed to the point of self mockery on this blog is sixth band Tony Font Show. They played, shit happened and don't even ask me what the fuck is going on with that last photo, because I have NO freaking clue! Seriously, Lee.. what the HELL were you thinking!?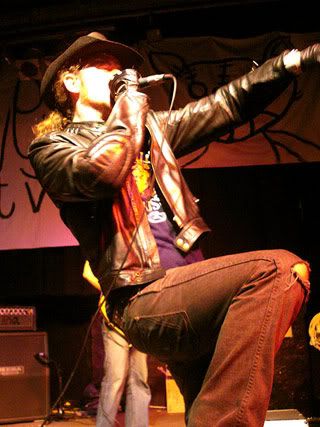 FRAUD MILLIONAIRES
And now for the final headlining act, Fraud Millionaires. They sound like a cross between The Police and The Cat Empire, they mix up bouncy reggae, ska and deep dub and I would've written something far more intelligent and incisive in review here but since (a) I'd been drinking myself retarded since 7:30PM to leave any meaningful notes about this band and (b) I spent the next hour or two backstage laughing myself silly whilst Tony Font Show fumbled their way through an interview with AWESAM TV and after some lunatic with a duck's head proceeded to violate their guitarist Rich as he attempted to pack up his shit; I'm really quite surprised I've got anything to show for this band at all. Still from what little I heard of these guys, they cooked up one fuck of a crazyarse party jam. Well worth the effort if you're into this shit :)
To add to the confusion during Fraud Millionaire's set, rumours were now circulating that members of US band The Shins were here at Fowlers Live tonight pissing on after their set at Thebarton Theatre. Since I knew next to nothing about their music, let alone what any of these monkeys looked like in real life (but thought it'd be hilarious to get some photos of them anywaze) I decided upon my own brilliantly concocted drunken process of elimination: simply photograph myself with every twit at the bar with an American accent till I found them.
As to whether I was successful or not is anyone's guess?
and could this very well be actual photographic evidence of their bass player doing a spastic dance with a head of a duck? who the fuck knows? either way.. pure comedy gold! :)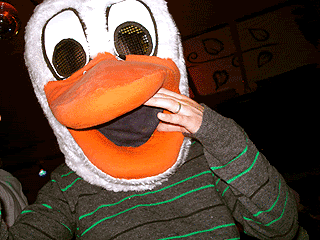 And now, beyond the point of all dribbling incoherancy and with Fowlers Live rapidly closing up around me (I swear I ducked backstage for only a minute during Fraud Millionaires and next thing I know it the place is freaking empty!? where the fuck did everyone go?), there is only one thing left to be done on a night as stupidly insane as this and that is to piss the last of my marbles away in a hell hole such as the Enigma. As much as I would love to tell you what the hell happened since I didn't take any photos, your guess is as good as mine. Gee, I hope I had fun?
and thus we bring to a baffling and somewhat abrupt end this nonsensical weekend in the life of Spoz and in an equally abrupt and baffling way an end to an era too. For the last 2 1/2 years I've willingly killed myself stupid attempting to cover this Adelaide music scene with maximum expediency: late nights and insane Monday to Tuesday morning deadlines. It's been a wild ride and I've taken a growing number of you grinning freaks along with me; but tomorrow it all ends. Tomorrow I sell my soul and join the 9 to 5 rat-race. Tomorrow I'm saying goodbye to late nights and insomniac ramblings for good and next week your blog won't be arriving with your morning coffee. As to when it arrives next week and in what form it'll be is anyone's guess?
Is this the end? is this the beginning? is this where I end and you begin? stay tuned! :)
Previously on Spoz's Rant:
My Alcoholic Friends