DIE FOR SOMETHING
This has been my 26th recorded suicide attempt for this year. Each week I keep killing myself, each week I keep coming back for more. The war never ends, the battles never cease, unspeakable horrors taunt me in my dreams: unrelenting gunfire, screaming, pounding artillery, oh the depravity! I keep on shooting but they keep on coming. The sounds may change but the song remains the same. The burning bodies pile up around me. Their thick black smoke rises to blot out the sun. I throw myself deep into the heart of dead man's land yet I cannot die; oh how have I tried! The vultures circle overhead and curse my name. Many have fallen before me. There is no escape, no way out, I built this machine and the gas keeps turning up higher and higher. I have not been alone. Many have been implicit in my assistance: I've been used as a pole dancing implement, screamed at, given the finger, thrown into headlocks, stalked, licked, chewed at, mooned, jumped on, hug tackled, wrestled to the ground, thrown into walls, dragged for miles, invaded too many stages and too many moshpits to count, threatened by life and limb, had my pee carried the length and breadth of the Crown & Anchor, sung backup vocals to Tony Font Show, played theramin with Booster, worn Batrider's fuzzy legwarmers on my head, put my nipple in Bob Log's pineapple, performed the drunken mariachi dance onstage with Wolf & Cub, fed enough liquid poison to flatline an entire nationstate and have numerous unnamed bands put out contracts for my expedient assassination. What the FUCK am I still doing here? Why do I persist? Why do I not relent? Why do I choose these means for my execution yet forever pending? Surely if any other I should be dead by now? Surely I've earnt my final resting place in Valhalla by now? No Rhyme, no reason, no wisdom to be gained, no character arc to be revealed nor conclusion wraught; like Houdini I always find a way. Kill me now! KILL ME NOW!! THIS MADNESS HAS GONE ON FOR FAAAR TOOO LOOONG!!!!
Aaaaah fuckit, who am I kidding? I've gone beyond the point of no return, there's no hope for me now. Die for something or die for nothing? fuckit, I might as well have fun doing it either way! riiight!? RIIIIGHT!? :)
hey.. wait.. where'd everyone go?
FRIDAY NIGHT

I begin this weekend at the tail end of a sleepless 5 days dragged broken through the shifting sands of hell. Late nights, early mornings, coughing up green and choking up a chemical weapons division in my punctured out lungs. If my travels have taught me one misguided wisdom on the matter, it is that beer is best administered for but two instances during a heated viral infection: at the beginning and at the end. The former kills it in it's tracks, the latter speeds it well on it's way to oblivion; anywhere inbetween would lead to 24hour nursing care. Friday night, Rocket Bar, loading up on my battlefield medicine, what the FUCK am I doing? Am I trying to kill myself AGAIN!? Rock 'n roll baaaaaaby! Rock 'n roll!
FAKE LAKE
First band to arrive on stage is a minimal two piece offering called Fake Lake. Something looks all too familiar about the lead singer here but I can't quite place it. This may be a side project, it may be the Manhattan Project; either way the stage is set near dark enough to blot out the light from 1000 suns and with the deep doom in cold melancholy projecting forth, this setting couldn't be all the more fitting. For an instant soundbyte on where to place this: fire up a torrent search, hunt down The Lost Highway soundtrack, seek out a song by Lou Reed called "This Magic Moment" download and blast in full. There's bridged recognition into those deep yet subtley nuanced vocals, the distorted wall-of-sound guitar sonics, those arty noodlings, the cinematic leanings, David Lynch on fire and screaming all played backwards in black saturated 35mm film. Part suicide score, part exploration into endless existential angst, sprinkle in some TV On The Radio for good measure and dammit but if I can't get enough of this shit! :)
ANTONY OF THE FUTURE
Up next to fight through the intangible murk we have everyone's favourite "next-best-thing": Antony Of The Future. Yes, I've heard all the hype, and yet as we all know I react very badly to the hype. Previous experiences have neither been positive nor negative to help matters but merely placed them in that annoying limbo zone that requires me to write excess paragraphs to fumble myself through whilst completely missing the punchline. Tonight was the decider. I still don't know what all the ridiculous hype is about, but from the buzz of this gig alone this band is really starting to grow on me. As much as the sound goes you could either figure it as The Beatles mixed with The Ramones, The Strokes mixed with early 90s band Ratcat or post-punk done up the duff with a catchy dose of FM radio pop polish. Driven angular guitars gnashing up against cheesy lyrical verse/chorus and sing-a-long melody; it's a bit middle-of-the-road for my taste, but it still tears down that same road with a lot of fuckoff energy. Worth checkin' out!
FIRE! SANTA ROSA FIRE!
Third on stage it's everyone's favourite resident indie-spastics: Fire! Santa Rosa Fire! or a band that could be better refered to as "Wham! The Next Generation!". It's been a few months since I've last seen these dance-punk dweebs in full flight: they used to play fast, now they perform so freakingly fuckoff frenetic they'd give hummingbirds a headspin. Lead singer Dave lopes around stage with his guitar like a bobble headed toy speeding over train tracks whilst the rest of the band cause an epilepsy fit combining the full fury of The Rapture, The Klaxons and a Japanese Gameshow on a cocaine bender with 50,000 volts of electricity blasted through the nipples. If you translated this into subtitles it'd read as: "ZOMG! TIGERS! LOL! ROBOT SEX MONKEYS! ROTFL! TEH AWESOMNESS! EXPLOSIONS!! LAZERBEAMS!" and a few moments later smoke would pour out've your head to let you know that your brain just got microwaved. I would now like to take this moment to apologise to everyone in the crowd tonight for the fuckoff irregular dancemoves this music caused me to spaz out with. Next time you see me at a Fire! Santa Rosa Fire! show, bring a stungun. This shit should come with a warning label!!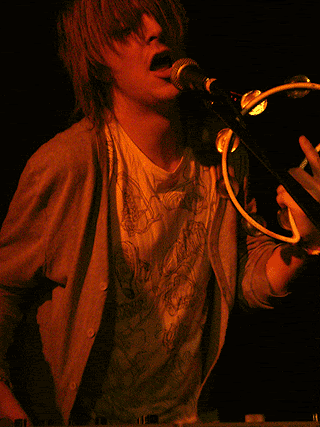 NO THROUGH ROAD
For the final headlining slot tonight we have No Through Road; returning triumphantly back to Adelaide for the final homecoming leg of their nationwide tour to help promote their album "Too Much Or Not Enough". Not to be outdone by the 240bpm shitstorm that F!SRF! have just let loose on the crowd moments earlier, these mad hatters in follow up by unleashing a rollercoaster performance so terrifying in alcoholic excess it'd make running with the bulls in Pamplona look like a Sunday drive or quite what it'd be like to survive a southern fried church minister as he performs a wall sweating pentacostal snakehandling rite on an angel dust binge. Shards of glass, band members and crowd members are sent flying everywhere into the floor and onto the stage. Nowhere was safe. The band would take turns on instruments. I never expected to see that pencil neck geek of a drummer lunge at the crowd like that with mic in hand yet there he was parting the seas. Lead singer Matt Banham does the same and barely makes it out alive. A butterfly flaps it's wings in Tokyo whilst someone's head explodes in Manhattan. Chaos Theory is this band's bitch. I could continue to explain more concretely that this band sounds rather like Tapes And Tapes or Bob Dylan fronting Weezer with a flying whisky bottle to the head, but clearly nothing else matters: we ain't getting out've here alive!
Die as I might I somehow crawl out've the resulting wreckage spewing forth from Rocket Bar in the wake of No Through Road for a fate worse than death here at Snag In A Bag. Apparently it's a new eatery that's just spewed forth midway along Hindley St; although clearly the term "eatery" is perhaps a questionable one. Foolishly we chose it in passing because we couldn't get over how hilariously rude the name was. Clearly we are too drunk for our own good here!
As our choice in cullinary execution (as modelled here by Stoner Andy) we chose the horrifying monstrosity that was the "Pizza-in-a-Dog": $4.50 from the menu (note: quoted name may merely be fabrication to make up for hole in drunken memory). The taste to be found in this soon to be splattering chunks in gutter-filler, puts it somewhere a little north or south of the quality you'd expect from a powder dry Wendy's hotdog with cheese. With the vastly superior melted cheese, onion, bacon, toasted bun and dog concoction found just down the road at Hindley Falafel you're much better off avoiding THIS particular Snag-In-A-Bag quite like the plague in salmonella you'll be hit with moments later from attempting to digest it. To think our first choice in The Village wasn't open for service either, for shame! FOR SHAAAAME!!
So it's no surprise that as drunk and stupid as we were, we'd soon find ourselves here. Lose all ye hope for finding your liver still intact ye who enter here. *Burp* end of fucking night!
SATURDAY NIGHT
Cue time lapse footage of the sun rising, following the sky to racing clouds before sinking into the horizon once more. Where I ended the night before, I begin the night anew. I would like to think that I went home in the interim, found food, rest, a change in clothes, sunshine and a fucking clue but we ALL know better by now. This place keeps my headstone: it has my name, my year of birth and dare I say it the day I die too. Come visit my final destination: The Crown And Anchor Hotel, I'm just here to pickup the mail (no really!).
TONY FONT SHOW
I find myself dragged kicking and screaming back to this hell hole, as none other but 2006's number one serial offender is gracing the stage tonight: The Tony Font Show in support of some other band's CD launch who's name since escapes me. You'd think it would be entirely rude of me to be so ignorant of the headlining act, but seriously which band in Adelaide is STILL near foolish enough to book a disco-spastic-metal act as brilliantly retarding as THIS as your support act and hope to keep even a portion of their ADHD riddled fans around for your remainder of the night!? Surely you jest Hekyl! surely you jest! AH HA HA HA! (say what you will, but you know that I'm right! please dont kill me! I'll catch ya next time!). As for the trivial matter of Tony Font Show's performance tonight, little needs to be said as you've heard it all before: it's like Mike Patton's head exploding set to music and each time they play the crowd just gets worse and worse (and oh what fun it is to throw myself a head injury in the thick of it!). Worthy of particular mention however is a shiny new song by the name of "Selfish In Bed" that featured stabbing guitar loops that sound like all the best bits of the Prodigy smashed up against a Rage Against The Machine backing (Rich, you rock!), the always welcome brain injury that is Things To Do In A Ditch, oh and in leaving one final note: Lee if you're reading this, seriously pull your freaking pants up! is that a freaking belt around your ankles!? fer fucksake maaan! get a grip and hoist it upwards! You may defy death diving into the moshpit like that but you ain't no superhero, underpants go on the inside of the pants! THE INSIDE!! *cough* there, I've said it! Fucking good set as always though guys, I pity the fools that followed them! :)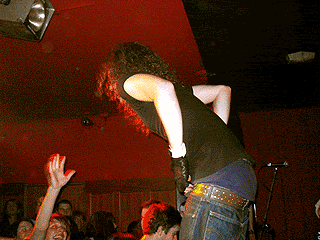 Not looking to wash up somewhere dead myself in the wake of THAT tsunami, for my next sampling of the nightlife (and quite possibly the boogie) I find myself here across the road at the ever creeping obsidian fortress that is the Electric Light Hotel.
I'd never be one to encourage this kind've behaviour but this random non-sequitur in my night was thanks in no small part to a friendly myspace request from a band who asked me ever so nicely over a week ago if I wanted to come along and hear their stuff. Silly me, I thought just this ONCE I'd actually take a band up on this invite and check out what they had to offer. Yeah I know! this sorta dumbarse myspace solicitation never works on me DOES it Double Handed? (Shit it MUST be a cold winter this year if I'm resorting to tactics like this already!). So here we have the very first debut appearance by The Amcats, a plucky little 2 piece from little 'ol Adelaide and.. oh wait.. shit, what the fuck are THESE photos doing here!?
THE AMCATS
*cough* sorry I really don't know how THAT happened, my apologies! So... clearly in absolutely NO relation to anything you've just seen above, here's the Amcats: featuring Shane on lead vocals and guitars and Renee on drums. Dressed ever so stylishly in matching primary colour outfits: are they brother and sister? boyfriend and girlfriend? husband and wife? the hellspawn of Satan? will they go on to release a totally befuddling record featuring 13 songs played on nothing but a xylophone with the lead singer looking altogether like a b-grade Willy Wonka? will Petstarr from
Bland Canyon
develop an entirely unhealthy fixation on Shane as a result? (wow that blogger injoke just went totally over everyone's head) Who knows!? The endless mystery! The beguilment! Drummer Renee playing doppleganger to that drummer Meg (from a band who's name since escapes me) right down to all the head flipping mannerisms. Lead singer Shane sounding like a deadringer to that other singer guy from The Raconteurs / Saboteurs only slightly less shrieky and with longer sideburns? freaaaaky! They even cover that song "Dead Leaves and The Dirty Ground"? fuck yeaaah! Clearly this is going to be the easiest live band to review EVER! and wow, to think I just wrote that entire thing without even ONCE mentioning The White Stripes? wooooo! (shit, hangon!) Still all jokes aside, as much as The Amcats may sound and act a little too like an all too famous band from Detroit for their own good, they still manage to do a damn good job of it. So if you love The White Stripes you'll be sure to love this. If not, come along anywaze and watch their endlessly cute drummer Renee whilst she frisks around the drums on stage, it'll make you happy! (as clearly I have absolutely NO unhealthy fixation on Meg White what'soever! *cough* please don't kill me! :) )
After drinking myself near retarded to survive the retarding moshpits of Tony Font Show and after continuing to drink myself further into oblivion to The Amcats (Detroit style two-tone whisky blues tends to have that effect) I was in no condition to stick around for headlining act Kytes Of Omar tonight (which is more the pity since they have a ridiculously catchy name). So quite like moths to the flame, I depart the Mines Of Moria here at Electric Light..
inextricably drawn as I am to the otherworldly smurf-blue glow that is The Cranka across the road, as I seek the further diminishing of my IQ, the shortening of my lifespan, and the ever furthering long list of up and coming punk bands in Adelaide who may or may not want to kill me for past, present and future transgressions on this website.. yeeeeouch, this shit's really becoming dangerous work I tell's ya!
As always my depravity loves company, as provided by such fine photogenic fools as these..
before being sent into screaming retreat by bohemian hippy freak Charlie-Elf as she presents to the camera this terrifying (and all too confusing) performance piece with the ice cubes..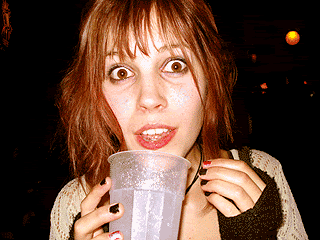 at which point I found myself at an all too certain and untimely doom here at Shotz. Damn how the fuck does THIS happen every damn time I get drunk on a Saturday night!? Seriously, is it something they put in the beer!?
So all apologies to the Scottmeister and the Welsh Midget for missing your combined birthday parties tonight as clearly I've just spent the very last of my taxi money I could've otherwise used to cover eastern suburbs and back and have now since dropped dead on the checkered dancefloor pissing the last of my life away, missing all my vital organs and four pints of my blood (damn you black market harvesters!). I'm just betting it was THE a-grade box social exploding shindig hootenanny of the century too? fuck! how did I freaking miss that!? WHAT THE FUCK WAS I THINKING!? oh that's right I'm a fucking idiot, nevermind! Oh, and the less said about me wasting a good 45 minutes trying to catch a taxi on Hindley St before I finally found one fleeing the BP on the corner of Currie St and West Tce because I was far too drunk and missed my last bus at 4:30AM the better! How I managed to get home alive is anyone's guess!?
Yup, I sure have one fucked up photographic hobby now don't I? To think I kill myself over something as trivial and meaningless as THIS site each week? What the hell am I thinking!? :)
Previously on Spoz's Rant:
Chase The Devil