BURIED ALIVE
This week's comical excerpt in the ongoing oddball odyssey that is Spoz, is, just like the many others that have passed before it: a cautionary tale in howling extremities that should never be attempted by ANYONE but the most criminally insane and downright suicidal. As much as I would love to inspire each and every one of you dribbling primates out there to just but nibble upon the many rainbow colours sprouting forth from this fertile music scene like the spores of an ever exploding psychotropic fungus; to attempt a dosage anywhere near to that which I've submitted myself to each and every week (and especially THIS week) would surely result in your imminent and painfully squishy deaths. I cannot in clear conscience bear to have all your blood on my hands; I love you all too dearly for that. I may not have ever met you, I may not even know your name; I may've even forgotten your name, appeared wide eyed with horror, thrown furniture to block your advance, reached for my shotgun and ran screaming towards the nearest available exit pumping round after round of burning lead at your head at the mere sight of you as I dial for the police; but I still love you all too dearly to wish this hell upon you. It is too much for one man or woman to bear upon their fragile candy coated peanut shell in one single lifetime. I've said it once, I've said it many times and I'll repeat it again and again lest the streets run red with your scattering remains in tribute.. do not EVER try this shit at home! EVER!!
I am not human, I am Spoz. I am the beast. FEAR ME! :)
THURSDAY NIGHT
This is the Governor Hindmarsh Hotel, 5PM Thursday on a lazy winter's evening. Quiet, reflective, meditative and peacefully grazing upon the sparse yet loyal patronage of fine dining alcoholics spilling out've the western suburbs. Little could they expect the grinning shitstorm of rock that would manifest within it's walls this fateful night. Little could they prepare for the onslaught, the avalanche, the stampede! Oh, the horror.. THE HORROR!!
Our imminent demise quite like a force 5 hurricane, arrives in the form of the unassuming Australian launch party of a goofy little organisation called "Rock The Vote": an initiative that aims to inspire our multitude of disillusioned minions to get engaged in the democratic process. An initiative that fiercly claims it's non-partisanship: unbiased by political party, preference, creed or cult; although personally I like to think of them more as a try-partisan organisation as they'll near about's try ANYTHING to inspire YOU into vote for a brighter future (which considering totalitarian regimes and police states appear to be all the rage these days, could only be a good thing!). Of course I could write more misguided twaddle on this subject and lead all you astray, but you're much better off visiting their beautifully designed
myspace
instead (*cough* a site design that I obviously had NOTHING to do with) to find out more. Oh, and in case it isn't already bleedingly obvious from the outset, the following opinions expressed in this blog are by no means the shared opinion(s) of Rock The Vote, their sponsors, their supporters or any of the many artists performing tonight. I merely say this of course, so I can proceed to take the mickey out've anything and EVERYTHING (as is my style) with a clear conscience.. please don't kill me, I gotta have my fun somehow! :)
..still you gotta give credit to the organisers here, as they really know how to sway my journalistic bias *cough*: as not only am I'm invited to the pre-drink festivities at 5PM - 7PM, awarded with a ridiculous rainbow array of all-access passes (above) and presented with mountains of complimentary free food and alcohol (below) but I'm also given my very own exclusive VIP section so I can hobknob with all manner of Z-grade celebrities and bottom dwelling sycophants (politicians)! Aaaaaah, such bliss is this! I really should sell out to the lowest common denominator more often! :)
Official MC for the night appears to be some walking haircut who's dubious claim for fame is starring in some pissant show on Channel 9 called "MacLeod's Daughters". Since I've never seen a single episode and I'd dare say neither has 99% of the target audience, this brilliantly inspired moment in event stuntcasting is a bit of a lost cause. Still you gotta commend the guy for his amazing ability to stand upright and read off a piece of paper without falling over: as Australian TV celebrities go, he's commendable for his freakish sobriety.
Also providing light entertainment throughout (between the juggernaut onslaught of 10 live acts come to crush us all) we have the talents of JvE: DJ Josh (pictured) and a mysteriously unseen DJ Ericson as they spin up a fine selection of cutup breakbeats and remixed stadium electro rock anthems on vinyl and laptop to keep the growing crowds pumpin' (which considering they consist of an uneasy and potentially violent mix of hooting rockpigs and hiphoppin' gangbangers, is an easier said task than done.. YEOUCH, IS THIS SHIT GONNA GET UGLY!!).
LAURA HILL
The opening acts kicking off the night make for a curious choice in herbal obscurity. No surprises here that it was freewheeling hippies and 60's acid casualties who organised THIS event. Although I'd readily admit that we're being gifted here with a wealth of Australia's finest talent in blues and roots music; telling from the confused expressions of the crowd, most of the audience doesn't have a freaking clue what they got themselves into. All credit goes to the first act Laura Hill however (sounding altogether like the cuter hillbilly cousin of The Audrey's), who gives it a red hot go anywaze by inviting a host of stage invaders for her utterly confused guest accompaniment. How nobody got killed during this festive lunacy is anyone's guess.
CHRIS FINNEN
Coming up next: the comical facial contortions and exciteable strumming blues guitar antics of Chris Finnen, or as the drunks in the crowd would mistakingly refer to him during the night.. "YAAAAY!! IT'S ROLF HARRIS!! GET OUT THE WOBBLE BOARD!! WOOOOOO!!" As much as I can gather here, the main entertainment value besides his endlessly amusing interchange between "lemon face" and "lion face" appears to be his extensive and expansive virtuoso ability to near abouts demolish a guitar to a dizzying accompaniment of acoustic plucks, stabs, squeaks, slides and hammerings. Sure, it may occassionally appear like the mad ramblings of a homeless person, but it's certaintly not without it's endless scruffy charm.
CAL WILLIAMS JNR
..and finally in closing the opening blues and roots trifecta we have the hippy slide guitar surf grooves and stoner roots rock of Cal Williams Jnr: imagine a more chilled out mix between John Butler Trio and Jack Johnson and you wouldn't be too far off. Despite the brilliant musicianship on offer here and the numerous global touring credits projected proudly on the screen behind him, most of the crowd still don't know what to do with this band. The hiphop heads in the crowd are especially confused as they have yet to find a beat they can bounce their bitches and ho's to. "duuuude.. this shit's so freakin' oldskool it's mesolithic yo!"
THE DAIRY BROTHERS
So it comes with distinct relief (especially to rock photojournalists of my rapidly diminishing intellect) that we're finally greeted by the "Rock" portion of the night with the welcome arrival of The Dairy Brothers, all thirsting to milk each and every one of the crowd for all their worth. Watching them perform tonight is quite like watching a Wiggles DVD on 2x speed with the volume punching into the red, as they manage to compress into 20-30 minutes what usually takes an entire hour's worth of cheese rock immolation to achieve. By the end of this set, I swear the PA speakers were lactating.. WHOAAAAA THIS MAKES MY NIPPLES ITCHY!! WEEEEEEEEE!! :)
CAM GOODALL BAND
Up next however we're treated by the curious return to blues and roots with the appearance of the Cam Goodall band (formerly from The Audreys): think easy going Sunday afternoon country pub rock accompanied by flutes, double bass and other ecclectic accoutrements of the musically hillbilly persuasion. Some may consider it a curious choice to slot this band this late into the proceedings after The Dairy Brothers and their stadium rock shitstorm, but if you could imagine the rioting that would've otherwise broken out if the organisers had run 4 blues and roots acts in a row to a crowd THIS volatile, it appears they really dodged a bullet here. As this sorta hillbilly thing goes (and obviously I'm not much of a judge here) it's all quite brilliantly accomplished. If I was still suffering the aftermath of the 1929 stockmarket crash this easy-going tuneful shit would be just to thing to make my next failed suicide attempt off the Empire State Building that much more blissful.. aaaaaaaaah! :)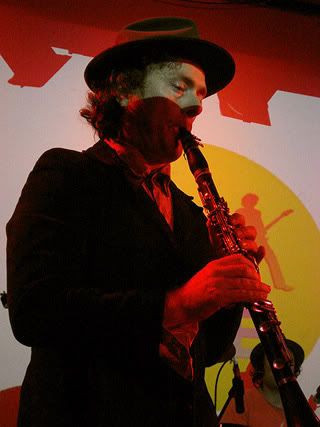 FIGHTERPILOT
Back onto the rock 'n roll juggernaut we have the full fisted antics of Fighterpilot: Adelaide's answer to Nickelback! YAY! Or in other (slightly LESS comically insulting) words imagine Velvet Revolver minus Scott Weiland, Audioslave minus Chris Cornell or Guns N Roses minus Axel Rose (I believe there's a clever punchline in here somewhere but I've quite conveniently forgotten it). Still, as much as I could make endless fun of these guys for being everything that I found hilarious about late 80's cock-rock, you've gotta hand it to them they really DO know how to fuck up a guitar amp in style and put on one helluva lunatic spectacle.. ROCK!!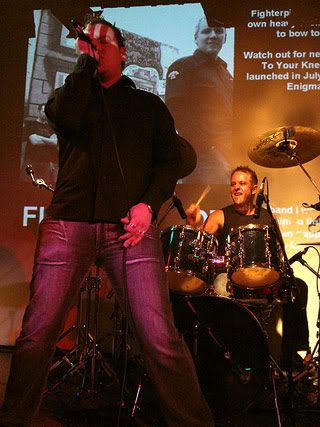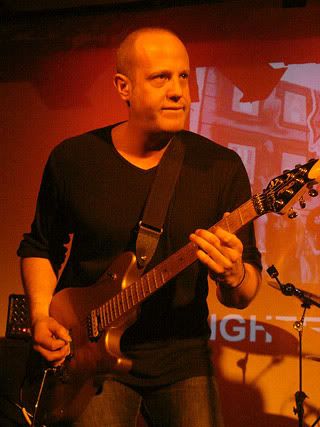 The following photo from the increasingly volatile mosh at front of stage could only mean ONE thing (besides (a) showing off how retardingly drunk Dave is at this point of the night, or (b) that he's in serious need of some nasal hair trimming and some breath mints) and that would be the imminent and most ludicrously anticipated arrival of the next band..
TONY FONT SHOW
..as the spastic disco metal party band that is Tony Font Show erupts onto the stage. Obviously there's no point in introducing these circus freaks again as too much has been said about them already. So in short, tonight's set was most notable for (a) featuring a set list of predominantly new material, (b) being one of the messiest disjointed sets in howling rockpig fury I've ever heard them play, (c) fueling a tornado in flailing limbs from left centre of the mosh that could only be the result of drunken Dave and his cohorts going beserk, and (d) being the ONE performing band on the night with the retarding gall to diss the event they were invited to play at, as Lee would cluelessly remark during the set: "ROCK THE VOTE? hahahaha.. dude, what the fuck is that?". Aaaaah, ya gotta love Tony Font Show dont'cha? forever winning scores of new fans and mortal enemies alike wherever they go! WAHOOO! :)
SOFT WHITE MACHINE
By the time the final "rock" band hits the stage you could sense the crowd beginning to turn against them. Where previously the rockpigs had held sway, thrashing up a washing machine frenzy during The Dairy Brothers, Fighterpilot and Tony Font Show; with the feverish anticipation of the headliners reaching critical mass (thanks to Terra Firma and the Funkoars): the hiphoppers were starting to vastly outnumber the rockpigs with an air of impatience and imminent violence to all that dared to stand in their way. The only thing that stood between this band and the bloodthirsty mob standing impatiently before them was a sparse few foldback speakers and a wall of guitar noise; and into this fray stepped Soft White Machine. Any lesser band would've begged for an electrified fence and a fully armed security detail on stage but they valiantly fought on regardless with an absolutely blistering set of power driven prog-rock malevolence that somehow managed against all odds to hold the crashing waves of rioters at bay. How they ever managed to get out've there alive is anyone's guess but for having the balls to play to a crowd THIS hostile this late in the night, Soft White Machine, I freakin' salute you!
By this point of the night the venue was beginning to pack thick as thieves with the scent of ultraviolence. As such few crowds could quite terrify me like this one did. I've handled metalheads with ease: I just get my long hair out, go beserk, rush the front of stage whilst everyone devilhorns me in salute. Rockpigs: exactly the same thing just with more alcohol and demented screaming. Indie-scensters: fold like a wet napkin before me. Ravers: too pill'd out've their skulls to focus on anything but a kickdrum. But hiphoppers?: it didn't matter if I had a rainbow of all-access passes without a safety barrier to protect me from the mongol hoard there was no way in HELL I was gonna get anywhere NEAR front of stage without someone finding my body floating down the River Torrens in a week's time with 50 bullet holes and a few hundred knife wounds to my back. I know I'm crazy, but I sure as fuck ain't THAT crazy!
TERRA FIRMA
And so, we present the first of the final two headlining hiphop acts: Terra Firma, from side of stage and from safely afar blocked by a sea of hands all dyslexically bobbing up and down out've time with the beat (aaah, don't you love wiggas?). I'd be fucked for describing this shit in detail as quite frankly I know next to nothing about the Aussie hiphop scene beyond 1200 Techniques (as most of my refined tastes in hiphop merely extend to international shit like The Roots, Black Star (Mos Def & Talib Kweli), Jurassic 5 (before Cut Chemist left) and RJD2) but overall, since they effectively manage to NOT piss me off quite as much as The Hilltop Hoods always manage to do when they open their mouths I'll give them the grinning thumbs up and mad props of gratitude. Of particular highlight tonight beyond all the usual predictably bouncing funk jams, lyrical flows and rolling breaks was this utterly blissed out groove called "The Night the Heavens Cried" featuring guest female vocalist Jodie. I could attempt to describe in words how sublime this sounded but yeah fuckit.. watch this
live video
instead and you'll get the idea (cheers to
Marcus
from the Rock The Vote myspace for providing this, dude you rock!).
THE FUNKOARS
And finally as the crowds pile up to the ceiling we drop the a-bomb in the final headlining act. A local hiphop posse I've never heard of and would know next to nothing about but apparently every dickhead and dog in hoodies and chains out there is killing to see: the Funkoars. They play hiphop, they slam it loud, brutal and raw as fuck: anything else I really couldn't be arsed in describing (would it be too pigheaded of me as a live music reviewer to say that this shit pretty much all sounds the same to me? hahahaha!), either way whatever the fuck these monkeys are jamming the crowds are going absolutely freaking apeshit for it and reaching critical mass in exploding fury when to the shock of pretty much no-one present tonight, they present MC Suffa from the Hilltop Hoods as he makes for a surprise appearance on stage to join the Funkoars for one fuckoff insane finale that damn near blows the roof off. As hiphop acts and block party jams in Adelaide go, few get bigger or more fuckoff insane than this.. WHOAAA!
The crowd goes beserk, the gig runs half an hour over schedule, the cops are called in, the toilets get trashed, two girls descend upon a third and stab her relentlessly with the pointy end of their stiletto shoes whilst a pack of graffiti vandals proceed to tag the walls outside. It's an absolute freaking pandemonium out there tonight and there's a good chance that most of us won't get out've here alive without an army and air support being called in to extract us, but all in all, considering this shitstorm all begain as a simple and naive launch party for a goofyarse non-partisan organisation setup by freewheeling hippies to encourage kids to enrol to vote: by the power, nay the stampede of foot traffic alone, this night was nothing short of a roaring success!
Originally there was going to be an afterparty well into the messy hours of the night, but after this plague of locusts had already made a mess of the Governor Hindmarsh only to flee screaming into the night to terrorise the neighbourhood, everyone was well and truly partied out. If I was any other lesser gonzo of a live music journalist I would've accepted defeat at the hands of a greater combatant and headed home after an event this, but to the surprise of absolutely no one, we all went into the city afterwards and pissed on till 3AM at the Cranka (I would've taken photos, but clearly you've lived thru enough already *phew!*)
Oh and just in case you've clearly forgotten what all of this madness was in aid of: fuck the system and
ENROL TO VOTE!
It's the one thing THEY fear the most! Get rowdy yo! :)
FRIDAY NIGHT
I should've been long dead pushing up daisies by now and yet the weekend had only just landed; besides there was no way in hell I was gonna let 8 bands, 2 hiphop crews and 1 DJ the night before be the be all and end of me. I am Spoz! I cannot be destroyed! (and I've quite possibly lost the last marble rolling around in my head in the process!) MUHAHAHAHA!! As such, in my continuing downward spiral into the heart of darkness where even the mumbled ramblings of Marlon Brando as Walter E. Kurtz starts to make perfect sense, I find myself here at the Rocket Bar to continue the slaughterfest.
ALL MADE OF RUBIES
First band tonight is All Made Of Rubies: equal measures in off-key wailing hissy fit garage rock and spiky art-rock experimentalism. The two lead females Rani Cooke (the one that kinda looks quite like an enraged ferret) and Staci Wilson (the bespectacled vampire sibbling of the chick out've Ghostworld) take turns stabbing on bass and guitar making unearthly shrieking noises; whilst Matt Burgess swings wild patterns in the air, syncopates the beats quite like an arabian swordsmen out've an Indiana Jones movie just before Harrison Ford gets bored and shoots him in the head. Overall they sound just like what you'd expect Le Tigre would sound like if they were homeless, living off the streets and had already hocked off their keyboards to score their last hit of hash. They're scruffy as all fuck, and sometimes they sing quite like a heavy metal chair dragged across concrete, but dammit if I can't get enough of this shit! :)
With the indie scene of late floating up to it's back teeth with every dickhead and dog coughing up yet another angular riffing 80's throwback in spiky body popping post-punk, sometimes bands have to go to some pretty extraordinary (or retardingly stupid) means to get noticed. Take this next band for example who decide to open their set tonight by sending their lead singer into the crowd to run riot like a cross between a coiled spring and a crashtest dummy. Also note the indie scenster crowd choosing to ignore the theatrics of this flailing twit so as to maintain their detached sense of fuckoff scenster cool (well.. *cough* all except for that one twit mugging out the front in frame 3 who'll surely be dragged off and killed for breaking ranks)..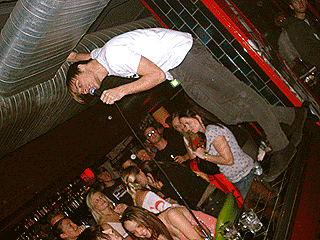 CUT OFF YOUR HANDS
..as we're introduced (in off-stage theatrics) to the second band tonight: Cut Off Your Hands (from New Zealand). They sound quite like what you'd get if you took The Futureheads, The Rakes and The Klaxons and then fed them nothing but cocaine, fruit loops and red bulls for a week and they make the insane bpm drilling extremes of Bit By Bats sound like Depeche Mode on a comedown. Some people would like to pigeon hole this kinda shit as being something pretensious like "New Rave" but personally I like to think of it as "Spastic Disco" or "Itchy Itchy Spazco". It may cause heart-attacks, epilepsy and hysterical blindness in large doses, but dammit in a venue as downright silly as this it CAN'T be beat! :)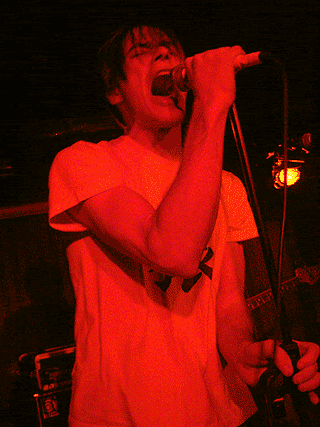 YOUNG AND RESTLESS
As fun as that just was, we've still yet to peak out've our eyelids as the main reason I'm here tonight, the band I've been itching to see for the last six months since I last saw them explode all over the Governor Hindmarsh back in
January
would be THIS band: The Young And Restless. These crazy bastards damn near rock my world. Think of them as Karen O from the Yeah Yeah Yeahs having violent, noisy and angry animal sex to an army of dentist drills, machine guns, chainsaws and jackhammers all buzzing to a beat you can dance like a spastic pogo pretzel to and you'd be right on the money. They exist in that crazy limbo realm where post-punk meets hardcore speed metal. Throw 1000 glowing pingpong balls into a dark room with 1000 mousetraps, fire up a strobe, watch and grin stupidly till your eyes roll back into your skull: and THAT is Young and Restless! I hear they've got an album coming in a month's time and I can't fucking wait! Somebody buy me up a cemetery in advance, coz there's gonna be a freaking massacre when that comes out.. WOOOOO! :)
With the Young And Restless near about killing everyone in a 4 block radius and reducing the rest of us to the level of dribbling simpletons, I partied on with the sparse few lunatics still alive and coherant to tell the tale for future generations..
..before inevitably ending up here in hours hence..
..til inevitably finding myself BACK at the scene of the crime for the killing end (hi Joy Sparkes!) as the paramedics dragged my still twitching carcass off of the dancefloor and into a waiting ambulance to send me home.. aaaaaaaah! :)
SATURDAY NIGHT
No this weekend is not over yet; yes this is still ME writing this. No I have not been replaced by a stunt double, test-tube clone or cyborg sent from the future to kill us all; yes I realise I'm near fucking insane to push myself to this bleeding extreme for the sake of YOUR entertainment. If you haven't been replaced by a stunt-double, test-tube clone or cyborg yourself and you are still alive to continue reading this insane adventure then I commend your rapidly dimishing attention span! (whilst I bet the rest of you are on dialup are still waiting for those Tony Font Show photos to load bwaaahahaha!) Fuckit, without further ado.. heeeere we go again!: round 3, Saturday night. What doesn't kill me, surely must speed me ahead on the organ transplant waiting list.
In tonight's suicide mission of rock, my kill targets are split across 2 venues: from the Enigma Bar..
..to Jive down the road (note: members of The Dairy Brothers and Screaming Gibbon not necessarily always included - your results may vary!)..
..whilst running shotgun to my lunatic escapades tonight is extra "special" guest star Sara, aka: Decadence, Pretty Kitty, Crazy Faerie Lady or fuckit.. lets just call her "The Purple Menace" and be done with it. I will likely try and fail on many occassions to explain the reasoning behind the monkey or the cavalcade of other lumiscent zoo animals that will frequently accompany and speak for her tonight in cameo appearance.. but yeah *cough* I was told by her psychiatrist to avoid questioning her on such things so it's probably safer you don't ask.
LADY STRANGELOVE
First band of the night at Enigma Bar is Lady Strangelove. Fucked if I know how they ended up in a hellhole as bizarre as this: since outside of dropping them in the Antarctic to play lazer-tag with penguins I couldn't think of a more alien surrounding for them to play. Still, considering the Enigma Bar also has the dubious honour for being one of the WORST live music venues in Adelaide to photograph in, and combine that with Lady Strangelove's growing reputation for playing gigs by sonar echo location alone: this whole arrangement couldn't possibly be more appropriate. The house mixer tonight, bewildered by the otherworldly psychedelic onslaught before him has no idea what's going on and in retaliation has decided to mix Josh's bird explosion guitars out've existence lest everyone's faces melt off. The remaining mix sans guitars and heavy in the bass makes Lady Strangelove sound quite like they're playing inside a bucket bong on the bottom of an oceanic trench whilst a tsunami flies overhead or quite like 1000 toilets flushing at once, but somehow it STILL works. Frequent Strangelove afficionado and circus freak "Lance Lazer The Amazer" (yes, that would be the Sebastian Bach lookalike) flaps about like all his christmases have hit him at once with a money shot to the face. He is soon joined by lead singer Brendan for a dance off whilst the crowd dismantle reality into shredding fragments around them. The rest of the crowd dunno how quite to take it, and yet they still can't get enough of it. Many new fan is made and heard screaming for more. As fucked up acid trips set to underwater filmscores go, this was STILL one wild magic carpet ride!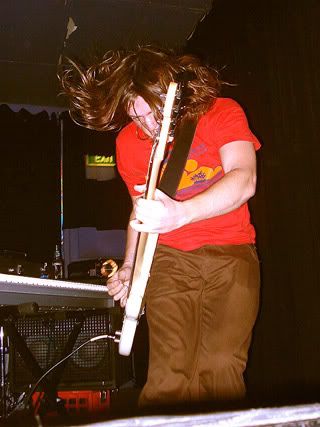 Up next, it's over to Jive where we're under the mistaken impression that The Dairy Brothers were set to play any minute now. I've got no idea if they're playing or not however (despite the stage being a mere 10 metres away) as I'm strangely hypnotized and distracted by this spastic chernobyl zoo of animals that have newly erupted around my pint glass. At first I suspected it was merely an after tremor in the ether from Lady Strangelove's set (trust me, this is not the first time shit like this has happened), till I eventually realised it was simply Sara fuckin' about instead..
..although this escalating paranoid delusion is in no way helped upon closer inspection when I realise to my horror that the little bastards are trying to breed.. AAAAAUAUAGGHHH!!!
KIDS IN CULTS
So it takes me a good 10-15 minutes focusing on simple shapes and colours again till I realise that this trio of Jehovah's Witnesses playing on stage right now are NOT in fact The Dairy Brothers donning a cunning disguise but are merely one of the many other wacky support bands on offer tonight: Kids In Cults from Melbourne (although considering the myriad of aliases and side projects The Dairy Brothers are known for, I'd be forgiven if this was just them under a different guise). In short, for all of you who arrived late to the party these guys are bogans who do punk, or quite like what The Ramones would sound like as covered by The Angels with a bit of The Hold Steady thrown in for good measure. They're catchy in an entirely dumb and infectious kind've way. The knuckle dragging crowd in attendance are well on their way and lapping this up with glee; gimme enough time to kill enough braincells and I'll be sure to join them.
FORMER CHILD STARS
Back at Enigma, I arrive just in time to catch Former Child Stars. In a nutshell they sound JUST like The Kings Of Leon minus the lazy southern rock swagger sprinkled with some of the frenetic extremes of The Strokes. I could elaborate further, but yeah fuckit.. on a weekend as insane as this beyond any kind've peanut allergy for nutshelling, that pretty much nails it to a green tea and a fortune cookie. Although they have a tendancy to sound a little too generic for their own good; they still deliver it all with hammering efficiency to a party fueled intensity.
And if nothing else could be said for this band: they sure as fuck can draw the party chicks to the dancefloor like moths to the flame. Just look at 'em out there in droves going nuts to this shit!
I dunno whether it's the retarding "pretty boy" element they're all going stupid for, some kinda pheromone brown note phenomenon or what'ever fuck but dammit either way, it appears they can't get enough of it..
So irrestible is this insane groove, even The Purple Menace can't tear herself away from it. Hmmmmm, perhaps this is simply a translation of the infamous "Jeff Buckley" phenomenon or there's some kinda wacky vibrational clitoral stimulating energy I'm not savvy to that's like catnip to the female of the species; either way if I could bottle this I'd be a freaking billionaire!
REJUSA
Still before my brain near breaks in half in the attempt to decipher THAT mad spectacle at Enigma Bar (methinks more research is necessary), it was high time for me to switch venues once more to Jive so I could catch the next musical act on the menu tonight: Rejusa. Attempting to express this band in full is quite like trying to describe the entire history of rock 'n roll on a postage stamp. They're like freaky chameleons of rock and they frustrate me to no end in my simple efforts to pigeonhole them. Predominantly they sound like early Beatles or The Strokes at their most polished and yet there's also the extreme rock edges of Muse. For cheap laughs lead singer Justin is even throwing in the vocal stylings of Flynn Gower from Cog to the mix. I don't quite know where the hell they're coming from or where the hell they're going, but overall they rock out like Satan drilling a precision killing machine direct through my skull. It is verily the beast! Fear the BEAST!! AAAAUAUAGGGHH!!!
THE DUKES OF WINDSOR
With most of my internal organs now effectively blasted out all over the four walls of Jive (don't worry, with the wacky paintjob and paintings on display in there I'm sure nobody would notice!) it's back to the Enigma Bar once more for the final headlining act: The Dukes Of Windsor. A band that's best introduced by the retarding meerkat antics of lead singer Jack here as he poses with one of the many OTHER serial gig photographers who've been haunting me like a shadow of late.. "dude, you look bored maaaan! what's wrong? me band not doing it for ya?"
For clearly no live review of this band is ever complete without at least once featuring a live photo of the lead singer either (a) jumping up on top of the speaker stacks like a human pogo stick, (b) running out've the fire escape at the back of stage looking confused, (c) attacking me in the audience when I least suspect it (at which point I conveniently fail to aim the camera properly.. grrrr dammit!!), (d) running like a lost toddler elsewhere and damn near everywhere in efforts to elude my camera.. just like in THIS shot taken moments before he pounced on the bass player for a right royal midset rogering.
Yup if you haven't guessed already, The Dukes of Windsor, quite like Cut Off Your Hands from last night at Rocket Bar are yet another in a growing army of "Spazco" acts running riot through the live venues of Adelaide in the last year. You may've heard their annoyingly catchy song "The Others" thrashed out on the radio late last year, you may've remembered their obnoxious marketing campaign with all the iRiver MP3 players, or you may've even seen them
closing
this year's Australian MTV Music Video awards; either way these candy coated idiots get around quite like their attention deficit of a lead singer gets around on and off a stage. They sound exactly like The Rapture, only the most insane and colourful extremes of The Rapture you'd imagine if they were all made into a TV Cartoon series as animated by the guys who did Spongebob Squarepants and the Ren & Stimpy Show. In short, they are probably one of the most hilarious live bands you'll ever see outside of seeing The Wiggles on a bad acid trip. I can't quite figure out if they're annoying the piss out've me or if I'm diggin this shit, but either way quite like a four lane pileup I can't look away, this shit's damn near hypnotic.
After the band had effectively torn a hole through the spacetime continuum to the accompanyment of the lead singer running the entire length and breadth of Hindley St in a spastic marathon, it was The Purple Menace's mission in life to meet the band. Since apparently this is the kind've insanity I can arrange for people (fuck when did THIS happen?) for cheap laughs I throw her into the backstage area, take this photo and run away before security could be called to haul her freaky purple arse out've there.
Evading said security we flee through the back entrance and back downstairs to the circus freaks amassing downstairs, whereapon we soon bump into the ever mysterious bohemian disaster that is Charlie-Elf in full flight. Obviously it's at this point of the night (when I'm clearly too drunk to argue otherwise) that the luminous zoo animals make a return appearance, as they feature in this utterly confusing and at times downright otherworldy art photography series.
This first shot I like to consider a triump of composition: witness the delicate and meditative balance between opposing red and blue light energies as offset by contemplative half lit moon shadows, witness such brilliance in positive and negative spaces! (sure it also happens to predominantly feature an exceptionally drunken Sara attempting to eat a radioactive red monkey, but that's besides the point! it's freaking ART yo!)..
Whilst this animated sequence in photos will be sure to give me nightmares for years to come.
Deeply horrified by the space alien freakiness we'd unleashed upon the unsuspecting denizens of Enigma Bar, we flee scurrying off into the night and east through Rundle Mall in search of more mischief to unleash. Once again The Purple Menace strikes again; since quite frankly if it ain't entirely obvious by this point to everyone in the audience she is a self proclaimed camera whore and PROUD of it (and of course, I'm more than willing to endlessly ridicule her for this very fact). One wonders why it always seems to take upto an hour to traverse this pedestrian mall when idiots like THIS are present.. *ahem!*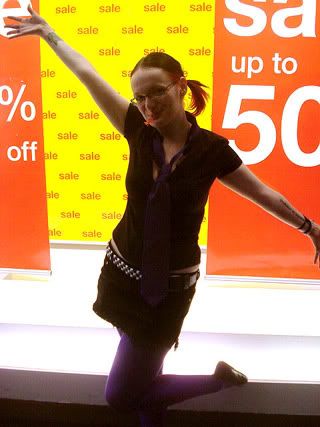 Arriving upon my predictable east end haunt for the usual tail end of the night in alcohol poisoning I'm altogether shocked to discover that after months of living in the dark ages, the bar staff here have finally decided to reward us all by switching the bugzappers back on. I think you'll agree that this pestilent dive is infinitely more photogenic and alluring to us barflies as a result.. YAY SMURF LIGHTS! :)
The next hour or so is spent with me variably hypnotised by these blue lights and otherwise making an absolute twat of myself on and off the dancefloor..
..before the arrival of THIS freak effectively scares everyone off the dancefloor and into years of expensive psychotherapy. If ever an award could be given out for "creepiest random photo of the year in a live music blog" it would be for this one.. yaaauuggh!!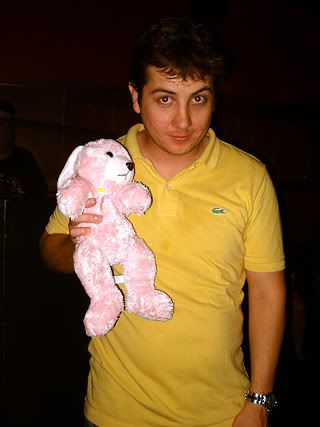 And so it is here in refuge, down the road and around the corner at the ever infamous Shotz Nightclub that this night draws to a dizzying close. As much as I would love to once more illustrate in graphic detail the many lurid and laughable mind warping monstrosities that burped out've the ether this night (and as much as the Purple Menace tried her very best to continue to sneak herself into yet MORE photos in this week's blog.. *cough* CAM WHORE!) like so many a dizzying night before in this cesspool of human corruption: "what happens at Shotz, sure as fuck better STAY at Shotz lest it hunt us down and kill us all in our sleep" and so it is here that we part ways this week, buried alive under all the littering corpses of lesser fools that dared follow in my footsteps. I dunno about the rest of you fools reading this "war and peace", but at the tail end of writing this all, I'm freaking exhausted! How the fuck did I do this again without sustaining irreversible braindamage is anyone's guess!?
Oh and if anyone out there ever dares me to repeat a performance as near stupid as this anytime too soon: then I DARE YOU TO JOIN ME FOOOOOOOOL! I'LL TAKES YOU ALL ON!! JOIN ME IN HELL!! I KILLS YA!! I KILLS YA'ZALL!! WAAAHAHAHAHAHA!! :)
Previously on Spoz's Rant:
Time And Relative Dimensions In Space