HITS FROM THE BONG
This week's grand musical journey in face melting stonerism is brought to you in no small part by the kaleidoscopic wonder that is the South Australian Decriminalised Marijuana Act. For a skinny schematic of what this means exactly for all you prospective space trippers looking to astrally project yourself into our plane of existence, consult this handy
information booklet
. For the rest of you 99.99% who couldn't be arsed reading that (or are far too blitzed out've your skull to focus on the tiny lettering) the law states in brief - "Possession by adults of not more than 100 grams or one non-hydroponic plant is not criminal but carries fines of up to $150.". Meaningless words to most but to anyone who is a part of our farty arts scene (or lets face it pretty much everyone else who has ever enrolled in at least half a semester of the University / Tafe education system around here) these simple words makes our fair state damn near Utopia for free-thinking expression (or at least relatively inexpensive-thinking that wont get you jail time or a criminal record). Sure we may have dwindling live venues, dwindling government funding, mushrooming inner city residences filled with increasing numbers of semi-retired yuppyarse baby boomers turning volumes down to zero with excessive noise restrictions and a pandemic scourge of pokie machines multiplying like rabbits to choke out everything else in it's path; but when all else fails in the deadening heart of this cesspool city we can still count on one thing: thanks to our prevalence and reverence for the happy high herb, Adelaide's expansive suburban sprawl has become one of THE riches breeding grounds for cultivating the finest freakiest sounds you'll ever hear.
So, for the finest crop in herbal harmonies and ganja grooves coming fresh and stinky out've the Adelaide suburbs, look no further than the wealth of talent brought together for you amusement this weekend. Grown locally and exported globally we are well and truly making hits from the bong! *cough* *choke* weeeeeeeeeeee! :)
FRIDAY NIGHT
My first strong hit of the musical wacky tobaccy this week leads me here to the Rocket Bar for the bucket bong grooves of Lady Strangelove and the panic attack mania of the Ground Components. It was a tough call too, since on the same night we also had The Howling Bells on offer at The Governor Hindmarsh. Still, as much as I would've loved to
return
like a lovestruck goldfish stupified to the soothing sights and sounds of Juanita Stein singing the broken blues (aaaaaah wouldn't we all?), I'd always been meaning to see the Ground Components. I'd heard many a good thing about the Ground Components and yet I'd continually find myself missing the necessary components to land me at one of their gigs; this time however with Lady Strangelove in tow and on a Friday night, I no longer had any excuse. Roll one up and let that freak flag fly, this is gonna be one fucked up magic carpet ride!
LADY STRANGELOVE
First band for the night and setting the mood for our face melting journey is Lady Strangelove. A band that should be more than familiar to anyone who's ever pretended to read this blog, and even anyone out there who hasn't (as you really can't go past Josh the guitarist and his radioactive afro). If you need a reintroduction to what to expect here (and you could be forgiven for the short attention span on a weekend like this) Lady Strangelove are one of a growing crop of uber talented psychedelic acts to emerge from the Adelaide scene. They sound quite like a speeding freight train packed with buzzing chainsaws cutting a path of technicolour destruction through the Amazonian rainforest, all accompanied to an explosion of bird noises. They're also quite fond of doing all of the above whilst under cover of absolute darkness: with tonight's set being so nightmarishly dark, even bats armed with nightvision goggles and deep sea sonar would be leaving dents in the walls attempting to navigate through this shit.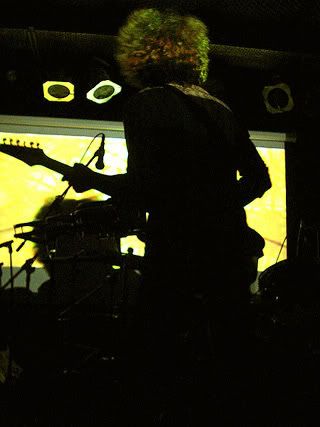 Under such darkening circumstances most gig photographers would simply switch to flash and proceed to bore you stupid with a series of cold and lifeless live shots, but since I have a particular hatred for flash photography and will avoid said photography at all costs, I can only but respond with the experimental, which considering the subject matter at hand is probably the most appropriate and insane response (so much so you wonder if they plan it from the outset *cough* bastards!). Yup, if you've ever wanted to know what a live band looks like bleeding through the walls under the influence of some heavyarse chronic, then take a mad hit of this shit!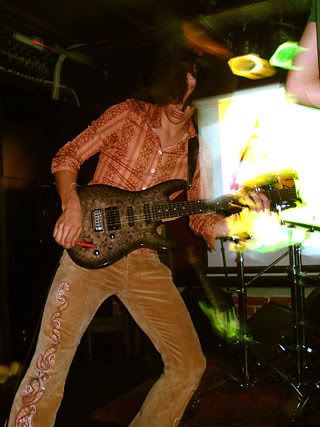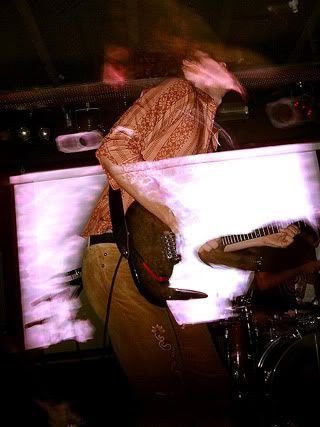 All blackouts, tripouts and head butting blindness in psychotropic visuals aside though (whooaaa did I see Bambi melting on screen there?) Lady Strangelove are all about the music, and that they served up with diabolical machine gunning brilliance. I particularly liked how cyclic, bluesy and cruisy their new material was too, you could almost leave flame trails meditating to it. You don't need pissy 'ol herbs to get high to this shit! Stay clean and hit y'self up with a mad dose of the Strangelove.. weeeeeeeeee! (ooops, there goes my brain again!)
GROUND COMPONENTS
With our higher brain functions now effectively blowtorched and lobotomy smeared all over the ceiling by the support act, what better to follow than the Ground Components to finish us off. With nothing else standing in the way, these guys spoke directly to the deranged reptilian core still beating within; with a full throttle shitstorm experience quite like the thrashy freneticism of early 60's Beatles as reinterpretted by The White Stripes performing an exorcism accompanied by a chorus of screaming babies. Yup, there is nothing at all subtle about Ground Components, just like there's nothing all that subtle about letting off 50,000 firecrackers at an airport during a US presidential tour. Still, as utterly stupid as this may be to watch (especially when the lead singer lets loose the shirt and goes all lankyarse Soy Bomb on us) you can't help but be swept up by it. There's something so retardingly primal and inescapably wacky about it that you can't help but love it by the end of it. I'm nothing but two smoking thumbs up and the gaping hole where my head used to be.. YEAAAAAAH!! ROCK!!!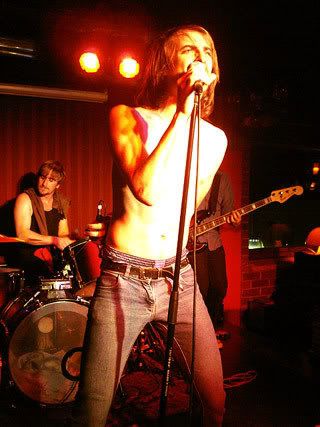 Oh, and this final live shot here? this is just to remind me there was actually a keyboard player behind all this insanity. What with all the chaos going on around him, you'd be forgiven for thinking he was getting ignored.. *cough* what? why are you looking at me like that!?
With the live music festivities done for the night and with Rocket Bar rapidly dutching up with it's after hours contingent of 80's indie electro fashion tragics, I did what I'd normally do on any other given weekend and fled eastside to the Cranka for some (relatively) fresher air. This was easier said than done however, as my progress tonight was effectively blocked off by the newly erected Berlin Wall on King William St splitting the city in half. They call it the new tramline extension, I call it a fucking nuisance. The only way to cross Hindley Street to Rundle Mall and beyond on a night like this was either by detouring up to North Tce, or by taking the road down south to Victoria Square. Foolishly in my drunken stupour I chose the latter. If anything could graphically illustrate in metaphor the miscommunication between left and right hemispheres of my brain after the shitstorm in sound I just put myself through, it would be this. Why the hell they didn't allow pedestrian access is anyone's guess?
My drunken non-sequitur through the mad jumble of blockages eventually leads me past this equally spaced out non-sequitur on Grenfell St..
"Mummy, I'm frightened!"
..before finally crash landing me here at this all too ridiculously familiar hellhole. This watering hole that I refuse to acknowledge beyond narrative necessity as I'm dare near sick of uttering it's name in mixed company. Fuckit, tonight, I'd like to call it the Grenfell drop-in centre.
Awaiting my arrival tonight is my lovely assistant Simone as she provides for the alcoholic portion of my evening with this delectable round of tomato, tequila and tobascos, aka: the Red Eye, aka: "Tesquila Tamasco!!" aka: what'ever the fuck you wanna call it outside of a south-of-the-border-bloody-maria. Either way it continually surprises me that Simone continues to aim for these head shots, considering the result is always invariably the same..
For instance, this is what happened when she tried one of these a month ago at Enigma..
..followed by THIS repeat performance later on the same night (fuckit come to think of it, we've even got
video footage
from a year ago if I'm not mistaken).
Yup, you'd think she would've learnt her lesson by now, but nope, here we go again! :)
It's at this point that I really start to wonder about the diminishing mental faculty of the people I'm associating with these days.. hahahahaha!
Speaking of mental, what's a shot of tequila without chasing it up with one of.. um.. what'ever the fuck THESE things are supposed to be? hmmmm, I dunno whether Simone is simply using this as a counter offensive for all those tequila shots I keep sending her way, or whether she's endlessly fascinated by the pretty blue flames, either way I'm frightened..
..of course we all know where this story is heading and it's heading right here where the worst of the worst of the most foul chemical concoctions live and propagate in their thousands, Shotz Nightclub. Oh Flaming Blue Jebus! May you have mercy on our shrivelled monkey spleens!
Somehow I'm convinced in drinking half of this blue Vodka cruiser, followed by tray after tray of 5 shots for $12.50 that get me so garglingly retarded I end up drinking from the tray. If all else fails, blame Simone, she's evil I tell's ya.. EVIL!
And so, fueled to ever stupifying levels of inebriation, Simone then proceeds to demonstrate to our blog viewing audience all her incomprehensible free-basing dance moves at the bar..
..whilst the alcoholic trainwreck that is Joe Blogs (newly arrived from a harrowing experience that was his work sponsored Mexican piss festival) provides us with yet more cumiliative evidence that he's not gay in the slightest when he's on the piss.. *ahem*.. nope, not at ALL! why
anyone
would get that
impression
is
ANYONE's
guess!
(and no, we got no idea who that other dude is either, hmmm, I wonder if he's reading this right now? hahahaha!)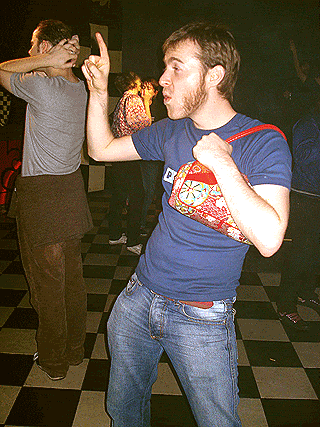 Predictably enough, it's not long after before I find Joe Blogs passing out on the stairwell outside..
..at which point (after making sure to document said drunken hilarity for the sake of this blog) I make my exit the hell out've this human zoo, before gravity and spiralling cement claims me too. How I managed to survive the 10 beers, 1 tequila, 1 flaming blue jesus, 1/2 a vodka blue cruiser and tray after tray of shots and STILL stay standing is anyone's guess. Something tells me these festive trainwrecks have gone through at least twice that.. ouch!
So, tell me guys, how was the taxi ride home? ;)
And there we have it kiddies, yet another chapter in the increasingly hilarious tale on why none of you crazy kids out there should drink alcohol, EVER. It's the devils drink I tell's ya! Hmmm, come to think of it, why do WE ever drink this shit? are we insane!? who the HELL writes these damn scripts! Someone call my agent, I demand a raise!! and you wonder why THIS stuff is legal whilst so many other home grown substances aren't? Where's the justice in this world!?
*ahem* where was I? Oh yeah! Pass me that spliff won't you? time we return to the mission at hand before it gets MORE out've hand..
SATURDAY NIGHT
Returning to the psychedelic gravy train tonight (after that alcoholic excursion at the tail end of last night left me more jittery with the detox DT's than Mohammed Ali shaking hands with a jackhammer), I find myself here at Adelaide Uni Bar for the stoner jams of Wolf & Cub, Artax Mission and Leader Cheetah. If anything would provide me with the hair of the dog remedy I sorely needed at a time like this, it would be the bliss from this monster sized musical spliff.
LEADER CHEETAH
First act to appear from the swirling blackness on stage is a brand new band called Leader Cheetah: featuring two former members of The Pharoahs. As much as their former musical incarnation was ostensibly about the lead singer's edgy propagation of abnormal facial hair and their exceptionally angry and angular new millennium post-punk, this new incarnation appears to be all about channeling the wafting blues of early 90's slacker rock. It's hard to place the influences exactly (they seem to be veering in all manner of stonerarse directions), but I think I can pick up a distinct whiff of Pavement and perhaps a few hints of Dinosaur Jnr in the mix. It's bluesy, languid and downright narcoleptic in it's energy and for the most part it's quite accomplished, but for reasons I can't quite fathom Leader Cheetah wont leave well enough alone, they appear to be angry at the crowd, almost arrogant and bitter with sarcasm that nobody's feeling this new "buzz" as much as they are. Maybe I'm leaping to judgement waaay too early (it IS only their second gig afterall), but thanks to this arrogance on stage I'm really not feeling this buzz and telling from their abrupt and unenthused exit from stage, they don't seem to be feeling it all that much either. Still, I'd be curious to see where they go with this, although this dope cookie feels a little bit undercooked; with their obvious talent and with this new project veering closer to their "real musical influences" (from what people tell me), they might yet come up with the goods; since hey, if all else fails at least the band name sounds cool!
ARTAX MISSION
If the first band was a bit of a downer, then surely second act Artax Mission will save the day, although I must confess the start of their set had me worried. Not only did they do the weirdly conventional move of naming the 1st song of their set, but they then kicked in with a carbon copy of the first three songs from their EP. Everything from T.A.R.D.I.S., Brain Freeze to the first few refrains of the extended jam that is Love was here note for note. As enjoyable a journey as it was, it scared me to no end, it was like being able to predict the precise flightpath of a hurricane into the centre of the sun. Surely knowing this much would lead to madness, blindness, organ failure and the rupturing of the continuum, so it was with great relief at the 10 minute mark when they dived off into deep end of the great unknown and manifested that truly unpredictable shitstorm beast in psychedelic feedbacking guitars, cyclic drumming and ethereal screaming they're reknown for. Yup, as you can see from my fumbling attempts in word here, Artax Mission are near about impossible to describe under concrete and specific terms. Simple things like influences and genres are meaningless here. You experience a live set; and hours, days, sometimes even weeks will pass till you finally have an understanding of what the hell it all meant. It's an understanding that can only be stated in a web of near intangible emotions and transmitted in waves. Still, as much as my brain can spit out this soon in the aftermath I can declare tonight's set to be the peaceful crossing between anger and bliss, peace and volatility, tension and release, homogenity and incongruity. Attempting to describe this any further will potentially cause my brain to implode into a singularity and engulf reality. Overall though, I believe I very much enjoyed it. You could toast marshmellows to it :)
Brendan and Josh from Lady Strangelove seem to be equally at loss for words to describe the bliss of what they just experienced and have decided to opt for interpretative dance instead. I believe they continued to do this same hypnotic move for another 3 hours till finally security wheeled them outside, hosed them off and gave them a sedative. It might take them a few weeks to get back onto solid foods and speak in complete sentences again but they sure look happy. If someone made this into a screen saver you'd solve the energy crisis.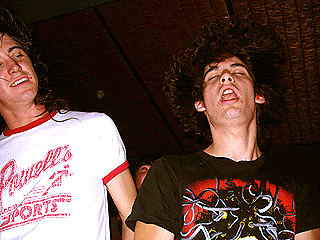 Whilst Nikki and Lejla here, momentarily startled by the camera focused on the front row, immediately opt for the "myspace tragic" defense. I dunno how exactly this relates to Artax Mission or the deeper harmonic frequencies of the universe, but give me enough time and kill enough braincells and I'll be sure to find out.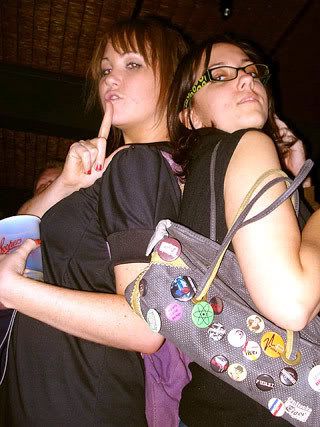 WOLF & CUB
With the crowds now effectively numbed to the level of incoherant babbling children, it was now Wolf & Cub's mission to bring us all safely home again. This was no all ages gig, there was no barrier fence, there were no tiny fragile teenagers to crush underfoot in my deranged stampede to the front lines; I found my ground zero nestled between the foldback speakers mid left of centre stage, I kicked back in first class luxury and I enjoyed the show. As such this position would prove to be both a blessing and a curse in disguise. The blessing would of course be in the form of their trascendental set tonight, as bar none this was one of the most perfectly delivered mixes in smooth psychedelic cascading polyrhythmic freakiness I've ever heard these monkeys deliver in a long time. Everything was bliss, nothing was out've place, everything ran like a smooth column of smoke from one recogniseable jam through stoner segway to another recogniseable jam, everything from the cheesy hits like This Mess and A Thousand Cuts to all the upredictable stoner interludes in between. Cousin It on vocals and guitar was swaying side to side like a tree in the breeze, Chewbacca spent the entire set absorbing the bass frequencies from his amp like a sponge, whilst the stick insects Thom Yorke Jnr and The Other Guy (playing his last ever show *sniff*) jammed up a blissful storm of cyclic percussion. Adding to the infinite tonight they also brought along a few friends in the form of Dan Varricchio on second guitar and drummer JC's sister on backup vocals and tamborine. This was one mad buzz. I could've lived here for weeks on end, feeding on nothing but the humming noises from the foldbacks :)
Of course, being so well positioned at the front would also prove to be a hilarious curse. As it turns out, not only did they read that particular
vicious gig review
I wrote about their Wolfmother show a month ago (how they ever find that is anyone's guess.. hahahaha!) but they were also rather vocal about it, when in the middle of the set, lead singer Joel was heard asking if a "Spoz" was present in the audience, finds me metres away grinning like an idiot only then to yell at me for what I wrote: "FUUUCK YOOOU MAAAN!! YOU SAID WHAT ABOUT US!!? FREAKING COUSIN IT!!? THOM YORKE JNR!!? WTF MAAAN!? WE WORKED HARD FOR THAT GIG MAAAN!! YOU DISSED US!!? FUCK YOOOOU MAAAAAAN!!"
Still, as much of a buzz as it is to be yelled at by an international touring act (duuude I SO gotta do this more often.. hahahaha!) the situation soom spiralled even more out've control when in sequel they decided to invite me up on stage to join them for the final killing blow at the end of their set. Why they ever thought this would be a good idea is ANYONE's guess?
Of course, I would've taken shots of this myself but mysteriously I was otherwise occupied at the time.. *cough*.. and so, we present to you these following shots the
kid
from Almost Famous provided me with (what this midget lacks in photographic ability, he more than makes up for in machine gunning trigger finger freneticism.. nice one!)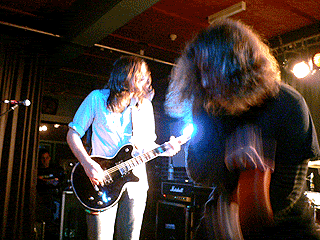 I sincerely apologise for any psychological trauma, blindness or sickening bouts of nauseau that these stage invasion antics may've caused to anyone out there in the audience for the 10 LONG minutes that I was up there. This kinda shit doesn't normally happen I swear! (excluding of course any past stage invasions during gigs by Tony Font Show, Angelik, The Black Doves, Central Deli Band, Fire! Santa Rosa Fire!, Taught By Animals, Meanwell College, Booster or The Presets.. *cough*). Yup, I'm really milking this for all it's worth aren't I? ;)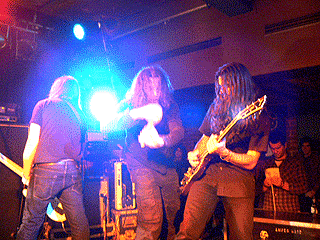 With my antics effectively ruining what would've otherwise been a perfect Wolf & Cub gig (since there's no way in hell I could've writen a shit review after I'd made a total arseclown of myself up there) I knew I had to make a quick getaway before the crowds turned against me and tore me limb from limb, stealthingly making my way to the all too predictable destination here..
..before quickly discovering (a) this place is kinda shit these days, and (b) this hilarious sign they've put up inside in efforts to scare all the stoners away (something tells me I know the two space cadets who dutched the upstairs balcony to the point this sign was required too.. *cough*.. not naming names STONER ANDY!). One beer and I'm the fuck out've here..
..and thus, crossing the Berlin Wall divide I followed the littering path of destruction down Hindley St left by hundreds of Wolf & Cub fans all struck by the munchies at once..
..before arriving at Rocket Bar, where most of the hippyarse freaks who hadn't otherwise found themselves leaving a puddle of vacant drool at the Kava Hut, were to be found pissing it up after the Wolf & Cub gig for the after party..
..such as this hippyarse freak, Damo Satanek: drummer from Lady Strangelove, looking altogether like the reject 4th member of the Klaxons after 3 months on a Jim Morrison bender..
..and of course this all too familiar nuisance *cough* who spent the next 2 hours doing robot chicken moves and spaced out hippy flailing shit on the dancefloor, to the amusement of few and the horror of many..
..with the rest of the night spent drinking myself to oblivion on and off the dancefloor amongst the 80's fashion tragics and being endlessly entertained by the radioactive glow of this desk lamp, before finally throwing myself into the last magical mystery bus home.
SUNDAY NIGHT
Tonight I really should've stayed home, I mean shit, WTF was I thinking!? I could've written this weekend blog in no time, I could've gone to sleep at a reasonable hour but instead I'm at it again (and writing this at the tail end of 9:30 on a Monday morning). To explain why I am here at the Grace Emily tonight, we need a visual aid to explain; namely in the form of this innocent little ditty I wooped up in the space of 10 minutes earlier in the week. I dunno why exactly I chose a cover design stolen from Animal Farm of a pig eating a bowl of pumpkin soup, I don't know why I thought it would be hilarious to put the head of Meanwell College's Ben Revi floating in that same said bowl of soup but little did I realise the insanity in controversy I created. Y'see, this wacky old geek I know simply as Ben Revi also happens to be of the Jewish faith, a trivial footnote to be sure as much as anything else is concerned, but when you consider the juxtaposition feast I created here of a pig (an unclean animal) eating his head, the resulting Kosher malfunction was almost too much for him to bear.. ouch! Still, as near a Mel Gibson disaster as this potentially was, from the looks of all the resultant myspace chatter erupting on their
band-site
, I knew this was the sort've comedy event I couldn't afford to miss :)
Still as hilarious as everyone eventually found all this (phew) I was a little hesitant to leave the house tonight, lest I'd get stoned to death by an angry mob the minute I stepped through the front door (excuse the pun). Thankfully though, the minute I got on the bus I received just the positive sign that would tell me that everything was gonna be alright. Oh yes, the geeks were well and truly smiling good fortune on me this night..
MEANWELL COLLEGE
..and so I arrive more or less unscathed (but no less utterly hungover and incompacitated) at The Grace Emily just in time for Meanwell College's set. Watching this band play tonight my mind is filled with all manner of seemingly random and disjointed imagery: I am reminded of a baby giraffe learning to walk, I'm reminded of a shaved alpaca, I am reminded of Millhouse from The Simpsons, I am reminded of a bobble headed toy, I'm reminded of a shaggy muppet playing the honky tonk piano with oversized fluffy hands, I'm reminded of stop motion claymation from the 70's; what exactly this has to do with Ben Revi however is anyone's guess (really, I don't know why I mentioned it? hahahaha!). The drummer Benn Hansen on the other hand is equally as remarkable in that besides playing the drums and playing them moderately well, he's managed to make himself near utterly immune to any jokes I can throw his way. This frightens me. He may in fact be Satan. Clearly this makes for one deadly comedy duo. The sound as much as I can describe it appears to be a mixture of Weezer, Something For Kate, a busking act and the sort've mad jumble of rhythm presets you'd find on an 80's Casio keyboard. As much as they should steer clear of some of the wackier piano numbers, the minute they tear into one of their spastic gangly fuzz tracks like Downshifting and the guitars go beserk, they well and truly nail in blissfull golden tones of squealing feedback just how utterly destroyed my head feels on a Sunday night. Yup, as broken slacker fuzz rock goes, they're pretty damn spiffy. Next time I get carried off in an ambulance I want this as my soundtrack when I flatline!
After 30-40 minutes of this stoner madness. This exceptionally hungover (yet oddly enjoyable) set in jangling chords finishes in a flurry of deranged promo, as Ben Revi's "Going Away To Europe" flyers explode like confetti over the stage (before rather apologetically, moments later he runs around to pick it all up hahahahaha!). I could of course mention when this gig IS, but yeah.. fuckit.. you'll be sure to see one of my obnoxious myspace flyers soon enough ;)
Following up next we have the headlining band. A band I wont name by name, since quite clearly they've already managed to sneak their way into next to every issue of this blog by either supporting every band I'm likely to see in Adelaide, or by headlining any support band I wish to see as well that I don't need to name them as you already well know what I'm talking about.
If the poster above isn't enough of a glaringly obvious clue, or this photo of this maddening collection of psychedelic FX pedals..
..or this strangely familiar setlist of songs..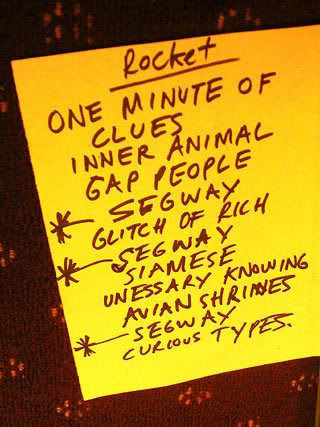 ..or these following sequence of live photos, then really there's no hope for you and you're all going to hell. Still, despite this being the 9th gig this year that I've seen of these maniacs you gotta give them credit, with all the new songs they're continuingly cooking up and all the mad multi-textured sounds percolating away within each of them, you never get bored of them. In a weekend of double-barreled-gravity-feed-bucket-bonged stoner brilliance from the likes of Lady Strangelove, Artax Mission and Wolf & Cub, these guys are like a mad case of the munchies at the end. Sure, the blog reading audience here may likely revolt, sharpen their knives and accuse me of journalistic bias for such frequent coverage but dammit, can I help it if they play soooo many freaking good gigs!? They're like 2007's answer to Tony Font Show, no matter where you go there's no escaping them. Thank fuck these motley tribe of primates are brilliant or I would've gone insane by now ;)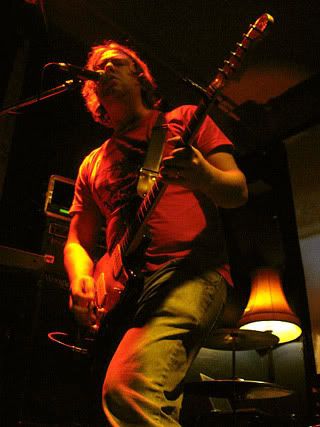 *cough* Taught By Animals *cough* there.. I've freaking said it, happy now!?
Anyhoo, as the final note hits the air (and the less mentioned about my encore stage invasions during both sets tonight the better) my mission this weekend is finally complete. As much as inhumanly possible I've damn near seen it all and done it all for you monkeys! Time I leave the Grace Emily and deal with the epic and frantic nightmare that is writing this to deadline (what can I say, I love treating my brain like an extreme sport!)
And so, we once more draw to a close another one of my maddening weekends. A weekend that (more so than any other) was so full of mind warping, expanding, shrinking, transmogrifying psychedelic, transcendental, multitextured and wondrously kaleidoscopic face melting sounds that smoke alarms throughout this city would've been shrieking off in ear splitting unison. I don't claim to have all the answers here, I don't even remember half the questions, At the tail end of writing this, I'm even having trouble remembering my own name; but I DO know one thing - without the ganja, the herb, the sticky icky, the wookie or what'ever the hell you mad kids call it these days, this city just wouldn't be the same. Raise your wizard bongs, hose pipes, water bottles, metal pipes and spliffs on high, reaaal high South Australia! This madcapped journey is all thanks to you! :)
..and to think I didn't even INHALE one olfactory tickling folicle in the telling of it either. HA!
Previously on Spoz's Rant:
Wake Up Dead Man