ENTER, SPACE CAPSULE
it doesn't take a genius (or even an insane person) to realise that
last weekend
I really pushed my gonzo exploits in the Adelaide music scene waaaay too ridiculously far.. sure, dont get me wrong, it was a fuckload of fun and I'd easily do it all again if the opportunity presented itself.. I got me some kickarse photo's and I gathered more than my share of crazyarse stories to tell.. but after surviving 4 nights and 12 bands in a row doing this shit, ducking and weaving and charging thru seething moshpits taking 100's of photo's each night, staggering home at 4AM or so to file them onto my computer in howlingly drunken stupor, spending all of the next day with a blinding hangover attempting to sift, sort and prepare the photo's to publish (only to charge out again the next night to repeat the whole process) and then at the tail end of it all when I'm utterly beyond destroyed, spend 16 hours straight in a mad panic till 10:30AM on the following Tuesday writing the whole insanity up.. yup, it wouldn't take a genius to figure I was going to be "rewarded" for my efforts, as in the following week I was struck down with one of those pesky "summer colds" to slap me silly - sore throat, blocked up head, scratchy red eyes, sleep deprived, coughing up lungfulls of chunky goodness.. OOOOOYEAAAH!! GOOOD TIMES!! GOOOD *cough* *hack* *choke* *gasp!* *wheeeze!* TIIIIMES!
so obviously in need of a brief respite from the insanity before I damn near kill myself off for good.. I decided to counteract last weekend's volatile juggernaut of YANG, with this weekend's ever so meditative and fluffy YING.. and in doing so, restore some much needed equilibrium to my gonzo universe.. aaaaah! :)
FRIDAY NIGHT
as luck would have it, it was a relatively quiet night out tonight in the live venues of Adelaide.. sure, there were still SOME options available - THE KEMP BROTHERS (SEAN KEMP from BOOSTER and his brother DREW) were playing a set of ecclectic beer fueled acoustica with COLE THOMAS (from AUGUST FALLS) at THE PRINCE ALBERT tonight, and all manner of other quirky and colourful shit could probably be found if you were desperate and willing enough to hunt them down.. but after killing myself with a grinning overload of live music last weekend, I decided to seek out more mindless entertainment instead..
and so I find myself here at ACADEMY CINEMA at 8:45PM to catch SCORSESE's new film "THE DEPARTED"..
and for all those peeps out there who'd lost faith in SCORSESE like I did in recent years after he went all "JAMES CAMERON" on our arses with those woefully cheesy period epics (namely THE AVIATOR and GANGS OF NEW YORK), for all of you who yearned for him to return to his A-MATERIAL with his hilariously grotesque mobster / hoodlum flicks (namely GOODFELLAS, THE CASINO, TAXI DRIVER and RAGING BULL) then THIS was the film you've been waiting all those years for.. OOOOOOOYEAAAAAAH.. this wuz the shit! :)
set amongst the IRISH MOBS of SOUTH BOSTON, we follow two main protagonists from their cadetship in the BOSTON police academy - the first, MATT DAMON, plays a smug self assured arsehole of a guy, raised by the mob and sent to infiltrate the BOSTON police force as a double agent.. he rapidly rises thru the ranks and has an absolute ball of a time twisting and corrupting the law to serve his crime boss JACK NICHOLSON.. whilst in direct opposition we have LEONARDO DICAPRIO, playing a hard done by pissed off weasel of a guy, who upon attempting to join the SAME police force, instead gets sent deep undercover to inflitrate the mob (and gets right royally fucked over every inch of the way in his torturous climb up the ranks)
watching these two monkeys for 2 hours or so as they're unwittingly sent by JACK NICHOLSON towards their final nasty confrontation, makes for damn near comedy gold.. in a movie that contains some of the BEST smack talk ever comitted to cinema (MARKY MARK almost steals the film as an exceptionally nasty police seargent) and where nearly everyone buys a bullet to the head at the end.. sure it kinda drags a bit in the last 45 minutes (as most of his recent films are prone to do) but daaaamn if SCORSESE doesn't come as close to 21st century SHAKESPEARE as yer ever gonna get.. go see it, I rate it 4 stars out've 5 :)
with the film finished at 11:20PM, I next venture down to that ever infamous (all-too-frequented) location on GRENFELL ST, as I join SARA and her flatmate for their combined BIRTHDAY PARTY MASSACRE tonight..
proceed with the mass consumption of both light and dark ales, as modelled here by SIMONE..
intersperced with some of the CRANKA's finest selection of SHOTS - available from the menu in a wide range of colours, flavours and skull splitting brain malfunctions.. as hand modelled here by JOE BLOGS..
whilst SARA choses to accessorise her radioactive hair with a fashionably matching VODKA SUNRISE..
and SIMONE proceeds to klepto every single hat she can find within a one block radius for our photographic amusement (damn she really knows how to pimp it up to the cameras now, doesn't she? weeee! :) )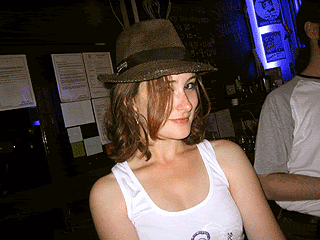 yup, despite all my best intentions tonight to simply have a "have a quiet one out on the town" after the film (no really, I swear I wuz only gonna be out a few hours.. BWAAHAHAHA!) you just KNOW this will invariably lead to much dribbling and flailing social retardation into the stupid hours of the morning.. bugger ;)
at about 1:30AM or so, we next all decide to head upstairs for a change of scenery..
where further drinking and hooting like retarded baboonery continues..
aaaaah yes.. two birthday girls looking to party! (I could easily make all manner of hilariously off-colour jokes involving this photo but I'll leave that upto your suitably warped imaginations.. tee hee ;)
at about 3AM we leave CRANKA and head to SHOTZ, leading to all manner of retarded misadventures on the dancefloor.. none of which (rather conveniently) manages to find itself captured by my camera lens..
at 4AM, we next throw ourselves into a TAXI and charge upstairs like spastic muppets into ROCKET BAR..
although it appears some of us are having much more trouble navigating the stairs than others.. yeouch!
by this point, everyone looks dead.. our brains have fled our whistling skulls long ago.. we've long since lost SARA, her flatmate and the rest of the birthday party entourage to the spiraling chaos of the night..
and yet beyond all the dribbling carnage, beyond all that is sane in this world, there's SIMONE still smiling away without a care in the world.. ooooo, she's evil I tell's ya.. EVIL!!! EEEEEViiiiiiL!! ;)
it's now nearing 5AM and ROCKET BAR is closing up, so we fuel up on some last minute complimentary glasses of water (always a pre-emptive detox for what will likely make for an exceptionally seedy hangover the next day) before heading off to our final destination of the night, the HINDLEY ST FALAFEL HOUSE..
along the way however, we're ambushed by these familiar looking fools (BETT, LEY and their merry band of drunken bafoons) as they spill out've BAR 108, all too ridiculously excited to see me and my camera..
and yup.. as you can see.. no matter how much you've drunk in any given night..
chances are, sooner or later yer gonna stumble upon a group of grinning baboons out there in HINDLEY ST that manage to put even your A-GRADE drunkenly retarded efforts to shame.. ROCK! :)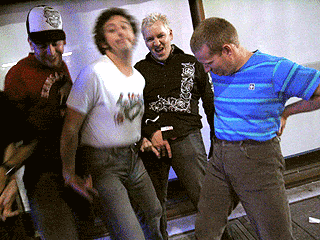 and finally, after wolfing down what I vaguely remember to be a HOTDOG + CHEESE / BACON / ONION at the HINDLEY FALAFEL, and with the sun slowly creeping it's way up over the horizon.. we all go our seperate ways.. as I throw myself into a waiting taxi, arriving home a few minutes shy of 6AM..
thus making for one exceptionally stupid, yet fun filled night of beer fueled self destruction.. aaaaah! ;)
SATURDAY NIGHT
normally I'm a damn near professional athlete when it comes to sleeping off all manner of beer fueled self destruction.. but after last night's genius tag-team action of chasing every pint of COOPERS PALE ALE with an accompanying SHOT.. when I finally did get to sleep, I was hit was one of the supremely fucked up dream / nightmare sequences that only an A-GRADE alcohol detox can provide.. in one dream I'd be in the middle of an exceptionally violent home invasion, captured, tortured, face cut up with knives.. only to "wake up" into a different dream, where after checking for bleeding cuts to my face in the bathroom mirror, my relief that it was "only a dream" soon turns to horror when my nose falls off.. only to wake up from THAT monstrosity to greet an equally weirder follow up dream sequel.. with this whole surrealistic journey continuing for the entire morning (thankfully, no head spinning babies crawling on the ceiling tho'.. hahahaha!)
thankfully, one LAKSA MIRACLE HANGOVER REMEDY later and I have effectively put that fire out.. *phew*.. and so, I face yet another SATURDAY NIGHT out.. and as is often the case with the flip-flopping nature of ADELAIDE's live music scene.. where last night I faced an absolute SAHARA for gigs, the next night sees venues everywhere in ADELAIDE packed to the gills with all manner of trippyarse options..
option 1, would potentially see me at JIVE catching NO THROUGH ROAD's ALBUM LAUNCH.. option 2, would have me seeing SOFT WHITE MACHINE play with MELBOURNE instrumental act LAURA at ENIGMA (both more than worthy gigs to see in their own right) but for my money tonight.. I was banking on option 3 instead.. the road less travelled, with the ecclectic sounds of DAPPLED CITIES FLY supported by LADY STRANGELOVE, TEMPER TRAP and THE CRAYON FIELDS at JADE MONKEY.. and so it is here that I arrive at 9PM..
LADY STRANGELOVE
first up we have LADY STRANGELOVE on stage..
and chances are, you'll remember these psychedelic space monkeys already from one of their previous gigs
last weekend
(or perhaps from their
CD LAUNCH
the weekend before) either way, fuckit.. being the 3rd weekend in a row now to feature these guys, there's really no point in me repeating myself here ;)
as the set this week, more or less plays like last weekend.. with the same hammering chainsaw / spastic breakbeat hissyfit that opened their previous set.. it doesn't sound nearly as cool with the tiny JADE MONKEY sound system here.. but oooooh FUCK does it still fuck shit up like deep fried exploding dogs bollocks! :)
another highlight of this set, appears to be a new tune where lead singer BRENDAN teams up with drumsticks to bongos with DAMIAN the drummer in a synchronised percussive smash off.. sure, one could claim it's just a direct rip off of WOLF & CUB's twin drumming attack.. but DAMN it still sounds freakingly awesome :)
and of course, beyond all the darklight swirlings, the psychedelic harmonica interludes, all those squeaking bird cascade guitar noises, the buzzing bass attacks and the stabbing drums.. no LADY STRANGELOVE gig is ever complete without JOSH the oversized AFRO doing his spastic chicken dance on stage.. ROCK! ;)
(seriously, if you haven't gone and seen these lunatics play live already, drag y'self out of the house and go see 'em.. you'll be tripping balls and hallucinating wacky shit for weeks.. WOOOHEHEHEHAHAHAHAHA!)
TEMPER TRAP
and now up next for our dribbling entertainment, we have TEMPER TRAP from MELBOURNE..
who are basically yet another one of those shredding indie UK style guitar acts that all them pencil necked, floppy haired 80's fashion disasters like to go spastic to on the dancefloor these days..
sounding like a one-two punching mix between the white noise shred extreme of THE RAPTURE's first album (minus all the silly keyboards and saxophones n shit) combined with the driven urgency of the BLOC PARTY..
and fronted by this crazy BRUCE LEE itchy trigger-finger vocalist of a dude, who delivers every song with the sorta howlingly urgent nasal driven whine that could either make you wanna jump screaming out've the nearest window to avoid, or make you wanna go absolutely fucking apeshit on the dancefloor to..
still, they're kinda cool in their own minimal thrashy indie rock kinda way.. they've got all them spikey dancepunk beats, the reed thin shredding guitars, the one-two punching bass grooves..
and although most of the huddled mental patients here tonight are looking a little confused as to how to react to this after LADY STRANGELOVE's psychedelic shitstorm destroyed everything in it's path.. for taking on the insane task of having follow a band like THAT tonight, with a hippie crowd like this, I salute you!
THE CRAYON FIELDS
and now, from one shredding weird musical extreme to the next, we witness the rarefied gonzo strangeness that is a geek rock band with XYLOPHONES.. as we welcome THE CRAYON FIELDS onto the stage..
a band so freakingly wimpy, awkward and thick rimmed glasses geeky, you could easily imagine all 4 of them losing horribly to a hissy fit slap fight with RIVERS CUOMO from WEEZER.. as the lead singer eeringly resembled what actor NOAH TAYLOR would look like if he was confined to a hospital bed for weeks on end with some kinda muscle wasting disease (I seriously wondered how he had the strength to stand up!)
with the music existing somewhere between the fragile sounds of WEEZER, PAVEMENT and HOTCHIP.. they filled the air with a mouthbreathing mix of tinkling xylophones, toy keyboards, tiny buzzing guitars and squeaky vocals (it was so light you dared not sneeze lest you accidently killed a band member.. hehehehe!)
I dunno how the hell they managed to survive the harsh stage lights without suffering a nose bleed, twisting an ankle or developing an allergy of some kind (or how they managed to load up their equipment up in the alley outside without getting beaten up by all manner of leprecauns, gnomes and fairies) but overall, as geek acts go, if I wasn't targeting them for their lunch money.. I'd give 'em a thumbs up.. ROCK! ;)
DAPPLED CITIES FLY
now that THE CRAYON FIELD have been swept off the stage, folded like laundry and packed neatly into their cardboard boxes.. it's time for the final headliner act from SYDNEY tonight, DAPPLED CITIES FLY..
presenting one of them bittersweet shredding indie geek acts.. where 1/2 of the lead singer's lyrics consist of melancholic cries, shrieks and yelps echoing into the haunting shadows of the night..
sung over building layers of oceanic guitar fuzz, till the air is swimming with 1000 chromatic textures..
complimented by a gentle wash of warbling and tinkling keyboards, subtle droning basslines and a panic attack spinning dervish of light fluffy percussion.. creating a chaotic hissyfit of joyous melancholy..
it was some seriously cool stuff, really spaced out, deep, ghostly and haunting.. even if I did get the sneaking impression I'd heard this all before with the CANADIAN band THE ARCADE FIRE (check out their album "FUNERAL" from 2004, it's really freaking good) as these guys were pretty much a spot on replica (just minus all the wacky violins and strings n shit) still, despite their freaky similarity, DAPPLED CITIES FLY didn't suffer at all from the comparison.. if you're a fan of THE ARCADE FIRE, you'll be sure to dig these guys too ;)
and now with the time kicking it just shy of 1AM, and with the last band done for the night, I leave the twinkly red stonerisms of the JADE MONKEY (still surprisingly sober after only 2 beers) and head on down to the ever infamous "bleedingly obvious port of call" to see what insanity I can find..
I bump into some familiar freaks (who as always, wanna mug for the attention of the cameras) have a few last drinks.. have a quick look around.. realise I'm waaaay too freaking sober for this time of night..
and so I'm off to catch the next bus home, at the uncharacteristically early hour of 2AM..
and sure, this may be a pissy lightweight of a weekend according to my usual brain destroying regiment of kidney bursting mayhem.. but after all the stupidity I captured last weekend for all you monkeys (and the resulting fallout.. *cough*) I pretty much figured I deserved a break.. so NYAAAAAAAH! :)
(rest assured tho' kiddies, these next two weekends are gonna fuck you up.. WOOOHEHEHAHAHAHA!)
Previously on Spoz's Rant:
Break On Through (To The Other Side)